Details: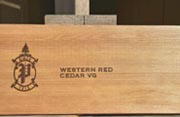 We specialize in the highest quality North American Softwood Lumber including Douglas Fir, Western Red Cedar, Alaskan Yellow Cedar, Hemlock and Southern Yellow Pine.

Founded in 1915, Patrick Lumber Company has provided Superior Service and Quality Products for nearly a century.

To satisfy the domestic and international demand for high quality woods, we have established a reliable and efficient distribution network.

With our diverse product line, distribution network, and dedicated team of professionals, Patrick Lumber Company is in the business of exceeding expectations.