Details: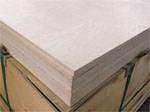 PLY SUPPLY INC is a privately-owned wholesale distribution company of BALTIC BIRCH PLYWOOD, Film Faced Plywood, and accessories to the woodworking community.
Our Head Office is located in Toronto, ON Canada with additional distribution centers in Tashkent (UZ), Belgrade (SE), and Moscow(RU).
PLY SUPPLY INC has been servicing its customers across the USA, Canada and Europe since 2014...