The forest sector is an important contributor to Canada's economy, serving as a key source of prosperity for people and communities across the country. The Canadian forest sector has traditionally manufactured products such as lumber, panels, wood pulp, newsprint and other printing and writing papers. However, new non-traditional products are added to the forest sector's repertoire each year to meet the needs and demands of our ever-changing world. The forest sector serves as an important source of economic opportunity for people and communities, employing Canadians from every province and territory except Nunavut. The economic contributions from the sector are particularly important in many rural, remote and Indigenous communities, where forest-related work is often the main source of income.
Canada's wood product manufacturing output nearly doubled from $9.99 billion in 2016 to $19.82 billion in 2021, according to the 2022 State of Canada's Forest Report.
The annual report released by Canada's Minister of Natural Resources sheds light on the positive impact the flourishing forest and wood products industry has had on Canada's economy at large. With 362 million hectares of forest area, covering 40% of the nation's landmass, the wood product, logging and pulp and paper industries combined to contribute $34.8 billion to Canada's nominal GDP in 2021, according to the report. That represents an impressive 53% increase over the 2016 total of $22.7 billion and an 87% increase compared to the 2011 total of $18.6 billion.
According to Statistics Canada, the nation had nearly 7,300 secondary woodworking establishments in 2020. More than 5,800 of these operations produced household and institutional furniture and kitchen cabinets. What's more, their payrolls totaled approximately $2.2 billion..
Exports of Canadian forest products, 2011–2021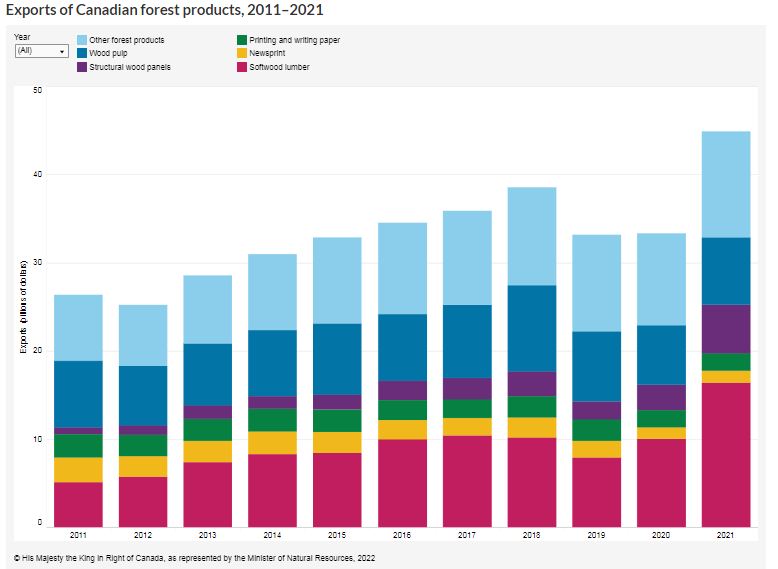 This graph shows the value of forest product exports in billions of dollars for each year from 2011 to 2021 in total and for six product categories: softwood lumber, newsprint, printing and writing paper, structural wood panels, wood pulp and other forest products.
Overall, forest product exports increased from over $26 billion in 2011, to nearly $45 billion in 2021, with a 2-year dip from 2019 to 2020 with export values around $33 billion.
Softwood lumber exports have made up the largest share of Canadian forest product exports on average, followed by other forest products and wood pulp, and lastly by newsprint, printing and writing paper and structural wood panels. Overall, softwood lumber, other forest products and structural wood panel exports have seen increasing exports between 2011 and 2021; wood pulp exports have remained on average about the same, whereas newsprint and printing and writing paper exports have seen overall decreases in this same period.
Source
: nrcan.gc.ca