Japan Wood Products Prices
Dollar Exchange Rates of 25th Feb 2023
Japan Yen 136.40
Reports From Japan
Recession avoided
Japan's economy rebounded but at a slower pace than
expected in the final quarter of 2022 despite the impact on
growth from reopening of the country's borders to visitors
and a recovery in private consumption. The economy grew
just 0.2% in the final quarter of 2022.

The modest growth meant that Japan avoid a technical
recession but the rebound was weak highlighting the
difficult task for the incoming next BoJ governor as he
attempts to unwind the massive stimulus programme
without derailing the fragile recovery.

See:
https://www.japantimes.co.jp/news/2023/02/14/business/economy-business/japan-gdp-fourth-quarter/

'Now or never' to reverse population decline
Japan has one of the lowest birth rates in the world the
Ministry of Health has reported there were fewer than
800,000 births in 2022, the first time since records began
in 1899. Japan also has one of the highest life expectancies
in the world and these trends have driven a growing
demographic crisis with a rapidly aging society, a
shrinking workforce and not enough young people.

Japan's Prime Minister recently said the country was "on
the brink of not being able to maintain social functions due
to the falling birth rate and it is a case of "now or never" to
secure the sustainability and inclusiveness of our nation's
economy and society'. He added that the government will
prioritise child-rearing support for families.
.
Inflation at 40 year high
With core consumer inflation hitting its highest levels in
41 years, there are signs that wage growth in Japan is
about to begin trending upwards. But, where job security
is prioritised over pay, there will need to be a long term
commitment on the part of companies to lift wages and the
issues of structural and demographic reforms have to be
addressed to create labour market flexibility.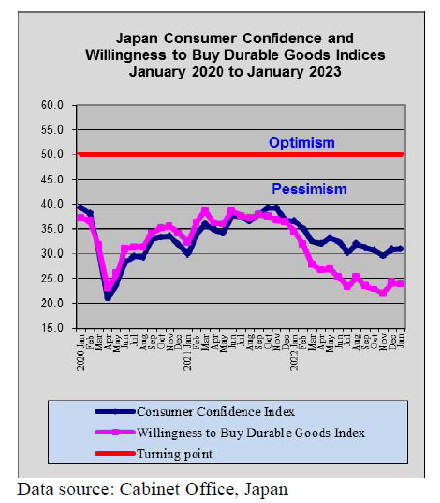 Plan to attract talent
The government intends to introduce new immigration
regulations making it easier for high-income earners and
graduates of prestigious overseas universities to invest or
find employment in Japan. When speaking to the press an
Immigration Services Agency spokesperson said the aim is
to simplify the process and add incentives in order to
attract top-level talent.

Yen dips again
Kazuo Ueda, the next Bank of Japan (BoJ) Governor will
face many challenges when he starts work in April this
year. Inflation hit 4% in December 2022, the highest level
since January 1991. The new governor will have to decide
when and by how much, the BoJ needs to start paring back
its ultra-loose monetary policy while allowing enough
monetary slack to allow the economy to grow.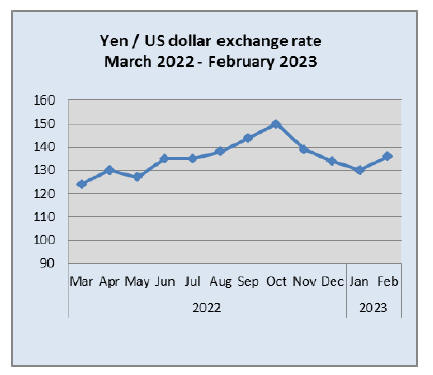 The US dollar yen exchange rate has become more volatile
since the middle of January as traders try and decide
which way Japanese monetary policy against a US dollar
will move especially as the dollar has strengthened after
the recent strong US employment report driving the yen
down to 136 to the dollar.

January housing starts higer year on year
January 2023 housing starts were up around 6% year on
year. This was partially due to the mild winter which
allowed building work to continue longer than usual.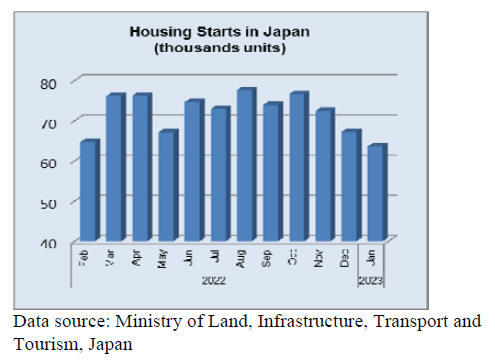 Import update

Furniture imports
There was a partial recovery in the value of wooden
kitchen and bedroom furniture imports in 2022. The value
of 2022 imports of wooden kitchen furniture (HS940340)
were up 15% year on year and the value of wooden
bedroom furniture rose 25% in 2022 compared to 2021.
There was an encouraging rise in imports of both kitchen
and bedroom furniture in the first half of 2022 but demand
sagged in the second half of the year as households saw
costs rising and the yen weakening which pushed up
import prices.

In contrast to the year on year rise in imports of wooden
kitchen and bedroom furniture, the value of wooden office
furniture (HS940330) imports in 2022 was down 10% on
2021.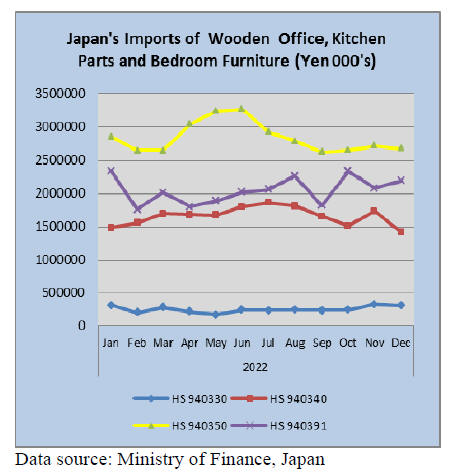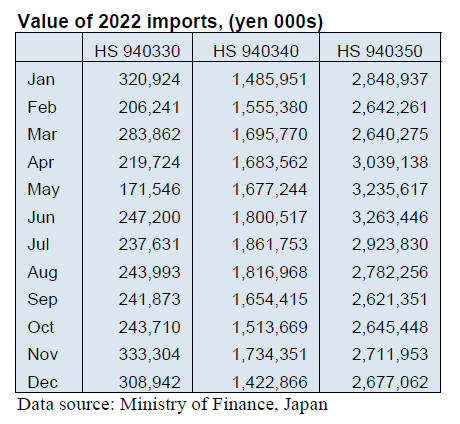 The Ministry of Finance in Japan began reporting the
value of wooden furniture parts (HS940391) in 2022. The
statistics show that there were 55 supply countries in 2022
and the top 5 accounted for over 85% of the value of
imports. Shippers in China topped the list of suplliers of
wooden furniture parts in 2022, accounting for 41% of the
total value followed by Indonesia (18%), Vietnam (13%)
Malaysia (10%) and Thailand (3%). The value of monthly
shipments of wooden furniture parts shows little vaiation
with monthly imports averaging around Yen 2,000 mil.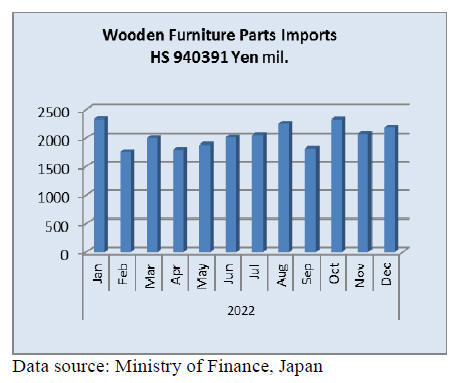 Wood pellet imports surge 40%
Japan's imports of wood pellets expanded over 40% yearon-
year to 4.4 million tonnes in 2022. The value of
imports jumped 60% to almost US$900 million. Imports
from Vietnam jumped to over 50% of Japan's total wood
pellets imports in 2022 with Canada, the US and Malaysia
as other major suppliers.

See: https://www.lesprom.com/en/analytics//

Trade news from the Japan Lumber Reports (JLR)
The Japan Lumber Reports (JLR), a subscription trade
journal published every two weeks in English, is
generously allowing the ITTO Tropical Timber Market
Report to reproduce news on the Japanese market
precisely as it appears in the JLR.

For the JLR report please see:
https://jfpj.jp/japan_lumber_reports/
Total volume of imports in 2022
Japan Lumber Importers' Association totalized the volume
of imported logs, lumber, plywood, laminated structural
lumber, MDF, particleboards and OSB in 2022. The total
volume is 1.8% higher than 2021.

The volumes of Russian logs and New Zealand logs
decrease 100,000 cbms. North American lumber declines
21% and European lumber rises 18%. Plywood is 1,500
cbms more than European lumber. MDF records high. The
third woodshock started in April, 2021 but the prices of
domestic / imported softwood products stopped rising
within 2021. Moreover, the prices of domestic structural
softwood plywood kept rising until June, 2022.

It had been controlled the volume of arrival since the
beginning of 2022 because the imported lumber was
overstocking but the movement of lumber was slow.
Therefore, the volume started to decline in a second half of
the year. European lumber increases because the volume
of 2021 was very low, which was 2,212,000 cbms.

New Zealand logs are less than before because buyers
prefer cedar logs. The prices of cedar logs are lower than
New Zealand logs. Chilean lumber is 20,000 cbms higher
than the previous year.

Russian logs were banned to export in February, 2022.
Additionally, Russia banned to export veneers and chips.
Russia faced economic sanctions because Russia invaded
in Ukraine on 24Th, February, 2022. Also, Japan banned
to import logs from Russia.

Russian lumber falls nearly 8% from 2021. Some reasons
are that Japanese buyers hesitated to do business with
Russian sellers and there were problems on remitting
money to Russia. South Sea log increases 46,000 cbms
from the previous year. South Sea plywood remains on the
same level. Laminated structural lumber is 9% up. Glulam
is 75,000 cbms up. MDF is 124,000 cbms up. Particle
boards and OSB are 110,000 cbms up from 2021.

Domestic logs
There are not many domestic logs, especially in Western
Japan due to the snow. The snow covered through the
nation and the log prices are still high.

The prices of 3m cypress logs for posts are over 20,000
yen, delivered per cbm. 4m cypress logs are around 23,000
yen. Average prices of 3m cedar logs are about 15,000
yen. In southern part of Kyusyu area, the prices are around
20,000 yen and around 17,000 yen in Northern part of
Kanto.

A wave of extremely cold weather that used to happen
only once every 10 years occurred and there was a heavy
snowfall in Western Japan. Therefore, it has been difficult
to hold log markets since the middle of January due to a
shortage of logs. Cypress logs used to cost around 30,000
yen in 2021, under 20,000 yen in last summer and then the
prices increased over 20,000 yen in last autumn. Cedar
logs were about 20,000 yen at the end of 2021 and about
15,000 yen in last summer.

The log prices at log markets in Kumamoto Prefecture,
Oita Prefecture and Miyazaki Prefecture have been high
even after the woodshock ended and the prices of cypress
in Kumamoto Prefecture would increase again. 3m cypress
logs were around 21,000 yen at the end of January and 4m
cypress logs were around 23,000 yen. These are 1,000 yen
higher than the previous month. 3m cedar logs were
around 21,000 yen and 4m cedar logs were around 19,000
yen.

In Miyazaki Prefecture, 3m and 4m cypress logs were
21,000 yen. 3m cedar logs were 17,000 – 18,000 yen.

There are also not many logs in Okayama Prefecture but
the prices of cypress logs are not high. The prices of 4m
cypress logs in Northern part of Kanto area are 26,000
yen. 3m cedar logs are 17,000 yen and 4m cedar logs are
17,500 yen.

South Sea logs and Lumber
Demand and supply of South Sea logs are balanced. The
volume in 2022 is 46,809 cbms, 121.7% higher than
2021. There were many orders for lumber used as a plat
form in Western Japan. Since there was a shortage of
workers in South Asia, South Sea lumber
was not produced enough. That is why Japanese buyers
purchased South Sea logs instead.

A problem is that ships arrive to Japan once in three
months. It takes a lot of times. It is able to
deliver logs to Japan by container vessels, but it takes a
lot of money. Now, it is a rainy season in South
Asia and there are not enough logs Japanese
buyer concern about how many logs would be there after
March. The prices of laminated South Sea
/Chinese boards are enjoying temporary lull.

The prices in South Asia and China started declining
since a second half of 2022 but there
were not enough orders.

Suppliers South Asia and China wish to avoid
lowering the prices. Especially, Indonesian suppliers are
concerned about the strong Rupiah against dollar.

A trading company worker in Japan says that Chinese
suppliers also would stop lowering the prices
because there was the Chinese New Year's holiday and
was not enough orders.

Export cedar logs to China
Cedar log prices for China are in a bullish trend since the
beginning of the year. The Chinese government eased
restriction on the zero-Covid policy and the economic is
lively again. The prices of radiata pine logs from New
Zealand rose due to the torrential rain at the end of January
in New Zealand. Japanese exporter says that inquiries for
cedar logs in Japan are increasing.

Cedar log prices declined to $100 from $110, C&F per
cbm at the end of 2022. Now, the cedar log prices are
$115 – 120 in the middle of February, 2023 because the
prices of radiata pine logs in New Zealand are higher than
before. It takes about 10,000 yen to export logs and the
price has not changed since the end of last year. There was
a log market held in southern part of Kyusyu area on 6th,
February and many exporters bought curved of damaged
logs.

Freight is $40,000 – 45,000 in the middle of February and
this is lower than $60,000 at the end of last year. Freight
would rise if there were not only wood products but also a
lot of other products. The selling prices depend on each
Japanese exporter and if the selling prices are $115 – 120,
there would be a deficit slightly.