Report from North America
Strong jobs report is bad news for inflation
The economy added 263,000 jobs in November while the
country's unemployment rate was unchanged at 3.7%,
according to Labor Department figures. While the
November total was below the 2022 average monthly job
gain, it was more than the 200,000 economists surveyed
by Dow Jones expected.

While this is good news for workers, it's less so for the
economy, underscoring that taming inflation is proving
more difficult and will require more time. Some experts
worry that the new data might make Federal Reserve Chair
Jerome Powell reconsider his suggestion that the pace of
rate increases might start to moderate as soon as the
December meeting.

Construction employment continued to trend up in
November gaining 20,000 jobs, in line with the average
monthly gain seen this year. Manufacturing gained 14,000
jobs, about half the 2022 monthly average. Retail trade,
however, lost 30,000 jobs with 3,000 cut from furniture
and home furnishings stores.

Furniture manufacturing sector contracts
Economic activity in the manufacturing sector contracted
in November for the first time since May 2020 after 29
consecutive months of growth, say the nation's supply
executives in the latest Manufacturing ISM Report On
Business.

Furniture and wood products industries reported some of
the worst contraction as 12 of the 18 industries surveyed
by ISM indicated contraction. "The U.S. manufacturing
sector dipped into contraction, with the Manufacturing
PMI at its lowest level since the coronavirus pandemic
recovery began," said Timothy R. Fiore, Chair of the ISM
Manufacturing Business Survey Committee."

With Business Survey Committee panelists reporting
softening new order rates over the previous six months,
the November composite index reading reflects
companies' preparing for future lower output."
See:https://www.ismworld.org/supply-management-news-andreports/reports/ism-report-on-business/pmi/november/
Experts predict better affordability for 2023 US housing
The housing affordability crisis could be easing, according
to economists for real estate website Zillow.
Zillow's economic research team predicts the following
for next year:

Despite mortgage rates doubling since 2019, affordability
will improve in 2023 as home values are expected to
remain relatively flat or even fall in some markets.

The Midwest will be a hot market. Prices have not risen
there as elsewhere and there is inventory to be had.
Zillow's research shows mortgage costs are within reason
compared with incomes in Missouri, Kansas, Iowa, Ohio
and some areas of Illinois.

More family and even friends will be pooling resources to
make a purchase. In a survey from earlier this year, Zillow
found 18% of recent home buyers had purchased with a
friend or relative who wasn't a spouse or partner.

More new construction will come from the rental market.
There is a glut of single-family housing in the wake of the
pandemic boom, but builders focused on multifamily units
are feeling more bullish. Construction starts for
multifamily have increased, up 8% in October since prepandemic
levels.

See: https://www.furnituretoday.com/research-and-analysis/5-things-happening-in-the-housing-market-that-are-worthwatching-for-2023/
Tropical sawn hardwood imports level off
Imports of sawn tropical hardwood held level in October.
Imports fell less than 1% in October to 20,613 cubic
meters. Large gains in imports of Keruing (up 123%) and
Balsa (up 117%) offset lesser decreases in imports of
Sapelli (down 31%), Ipe (down 38%), and Mahogany
(down 63%).
Despite the monthly gain, imports of Balsa remain down
50% from 2021 year to date while most other woods are
up sharply.

Imports from Ecuador, Malaysia and Peru all saw strong
gains while imports from Cameroon, Indonesia and Congo
(Brazzaville) declined.
Canada's imports of sawn tropical hardwood fell 21% in
October but were still 25% higher than the previous
October. Total Canadian imports of sawn tropical
hardwood are up 39% over last year through October.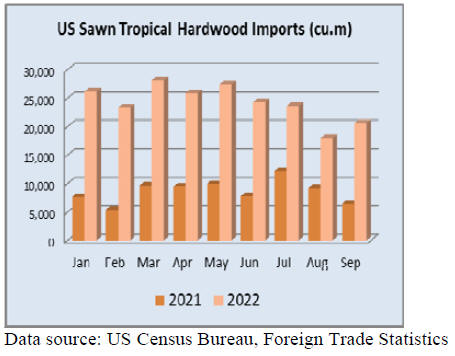 Hardwood plywood imports rebound
US imports of hardwood plywood rose 12% in October,
rebounding from a weak September. Even with the
improvement, the 280,533 cubic metres imported was 11%
below that of October 2021.

After a sharp decline in September, imports from Russia
rose more than 500% in October to their highest level
since Russia's attack on Ukraine. Imports from Malaysia
more than quadrupled in October and were triple that of
October 2021. Total imports of hardwood plywood are up
18% over last year through October.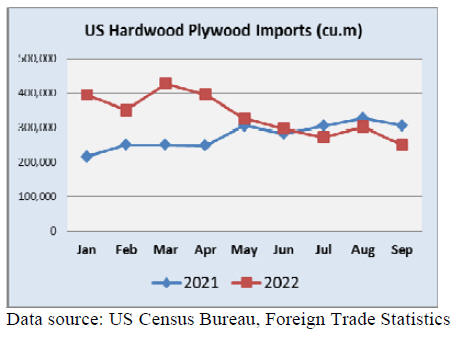 Veneer imports leapt in October
Imports of tropical hardwood veneer came back strong
from their annual September swoon, rising over 200% in
October over the previous month and more than doubling
the import dollars of October 2021.

Imports from Italy rose more than 15-fold as imports from
several other countries more than doubled. Imports from
Italy, by far the top U.S. trading partner, are up 22% for
the year so far, which is among the more modest gains by
a partner this year. Total imports year to date are up 53%
with imports from China, Ghana, and India all up in the
75% range.

Hardwood flooring imports advance while assembled flooring panel imports lag
Imports of hardwood flooring rose by 33% in October to
outpace the previous October total by 22%. The rise was
driven by strong increases in imports from Brazil,
Indonesia and Malaysia. Imports from Malaysia were up
138% year to date over 2021 through October. Total
imports of hardwood flooring were up 11% over last year.

Imports of assembled flooring panels saw their weakest
month of the year in October, falling 22% from the
previous month to a level 3% below that of last October.
Imports from Thailand fell 55% to their lowest level in 17
months. Imports from Vietnam fell by a quarter and
imports from China fell 17%. Despite the poor showing,
total imports of assembled flooring panels were ahead of
2021 by 31% through October.

Moulding imports slump
US imports of hardwood mouldings fell 10% in October as
imports from China made a steep decline. Imports from
China dropped 53% in October to their lowest level since
April 2021. Imports from Brazil and Canada were both
down in the 10% range. Even with the declines', imports
for the month were up 6% over October 2021 and were
ahead 26% year-to-date over 2021.

Wooden furniture imports tick upward
US imports of wooden furniture ended a four month slide
in October, rising 3% over the previous month. At
US$2.02 billion, October imports surpassed that of
October 2021 by 22%.

Imports from Canada and Malaysia both rose more than
10% over September totals while imports from India fell
9%. Total imports of wooden furniture were up 7% year to
year over 2021 through 0ctober.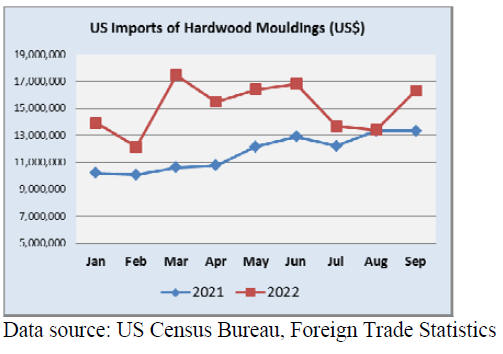 Cabinet sales continue to drop monthly but outpace 2021
Cabinet sales dropped again in October according to
participating members in the Kitchen Cabinet
Manufacturers Association's monthly Trend of Business
Survey. Overall cabinet sales fell 6.7% in October
compared to September 2022. Custom sales were down
1.6%, semi-custom sales dropped 1.3%, and stock sales
decreased 11.4%. Compared to September, the estimated
cabinet quantity was down 8.6%.

Yet, 2022 sales remain strong compared to last year.
Cabinet sales were up 14.6% in October 2022 compared to
October 2021 figures, continuing the trend of year-overyear
sales growth for the industry. Custom sales were up
20.2%, semi-custom rose 24.5% and stock sales increased
6.9%. The estimated cabinet quantity decreased 2.6%
compared to last year at this time.

The Trend of Business Survey shows overall cabinet sales
for the first 10 months were up 17.3% when compared to
the same time period in 2021. Custom sales were up
16.4%, semi-custom sales increased 16.8% and stock sales
increased by 17.9%. The estimated cabinet quantity
decreased 0.8% according to the survey.

See: https://kcma.org/insights/october-trend-business-report

Construction sawnwood prices at lowest since 2020
The continued slowdown in the US housing market has
taken its toll on softwood prices which fell to their lowest
level since June 2020 on 5 December. The essential
building commodity tumbled 9% in three days to a low of
US$382.80 per thousand board feet, below the US$400
level that has served as key resistance since 2013.

Prices are down 64% year-to-date. The weakness stems
largely from this year's deceleration seen in all facets of
the housing market, as soaring mortgage rates helped slow
down sales, rein in home price growth, and put a serious
dent in home builder confidence.

See:https://www.msn.com/en-us/money/realestate/lumber-fallsto-its-lowest-level-since-2020-as-us-housing-market-activitycontinues-to-slow/ar-AA14YzP5

Disclaimer: Though efforts have been made to ensure
prices are accurate, these are published as a guide only.
ITTO does not take responsibility for the accuracy of this
information.
The views and opinions expressed herein are those of
the correspondents and do not necessarily reflect those
of ITTO