4. INDONESIA
Ministry seeks Presidential Regulation on social
forestry
The Ministry of Environment and Forestry (KLHK) has
asked the government to immediately enact a Presidential
Regulation on Integrated Planning for the Acceleration of
Social Forestry Management. Secretary General of the
Ministry of Environment and Forestry, Bambang
Hendroyono, said social forestry is a national strategic
programme that needs support from every ministry or
institution in Indonesia.

A presidential regulation is considered vital in accelerating
the distribution of social forestry so that the target area of
12.7 million hectares can be achieved.

There are three main elements for accelerating the
distribution of legal access namely forest management,
technical assistance and improving forestry business
development.

See: https://lampung.antaranews.com/berita/627113/klhk-desakperpres-perencanaan-perhutanan-sosial-segera-diresmikan

Strengthening Global Cooperation – the answer to
world forest management
Indonesia believes that innovative solutions and
strengthened cooperation are needed to address the
challenges of sustainable forest management around the
world and much will depend on economic recovery after
the Covid-19 pandemic and efforts to mitigate climate
change. This was the view of the Indonesian delegation at
the High Level Roundtable of the 17th Sessions United
Nation Forum on Forest (UNFF).

Agus Justianto, Head of the Indonesian Delegation said it
was necessary to emphasise the role of the UN Strategic
Plan for Forests (UNSPF) as a tool to encourage
sustainable forest management based on the principle of
"common but differentiated responsibility and respective
capabilities" in accordance with the sovereignty of each
country.

Some of the issues that must be resolved are bringing
together public and the private sectors in the framework of
sustainable forest management and to promote sustainable
timber trade and food production.

See: https://forestinsights.id/2022/05/14/unff17-sepakati-aksipengelolaan-hutan-lestari-indonesia-andalkan-folu-net-sink-2030/

Perhutani's products expand to Europe
Perum Perhutani's non-timber forest products (NTFPs)
have successfully penetrated Asian markets of India,
Pakistan, Turkey, Vietnam, UAE and in 2022 expanded to
European countries such as Portugal and Italy through
direct selling supported by the Perhutani online sales
application (POTP).

Head of the Commercial Division of NTFPs, Perhutani
Sukasno, said that the sales of NTFP products, namely
Gum Rosin, Turpentine and derivatives contributed more
than 40% to the company's total revenue.

See: https://www.medcom.id/ekonomi/bisnis/GNlW81GKproduk-perhutani-tembus-pasar-asia-dan-meluas-ke-eropa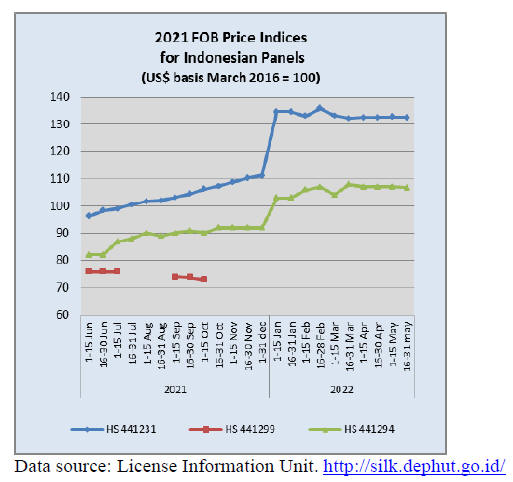 Indonesia/US MoU to support forestry
Indonesia, through the Ministry of Environment and
Forestry (MoEF) and the United States, through the United
States Agency for International Development (USAID),
agreed to work in partnership on the Government of
Indonesia's long-term vision for climate-resilient, lowemission
development.

A memorandum of understanding (MOU) was signed by
MoEF Secretary General Bambang Hendroyono and
USAID Mission Director Jeff Cohen.

"Through this MOU, we are pleased to deepen our
partnership with the Government of Indonesia to address
the challenges of climate change by supporting the
MoEF's leadership on sustainable land use and protecting
valuable forests across the country that are so vital for
Indonesia's prosperous, resilient, green future," said Jeff
Cohen.

Among the activities envisioned under the MOU, MoEF
and USAID plan to partner to support ongoing reduced
deforestation and forest degradation; sustainable forest
management, including tree planting and land
rehabilitation; management and restoration of peatlands
and mangroves to limit greenhouse gas emissions and
Indonesia's efforts in conservation and biodiversity.

See: https://id.usembassy.gov/indonesia-and-united-states-signmemorandum-of-understanding-to-support-forestry-and-otherland-use-net-sink-2030-goals/

Forest Biomass power, Association explores funding
Indroyono Soesilo, chairman of the Association of
Indonesian Forest Concession Holders (APHI), said the
Association supports the government's programme to
develop forest biomass power plants as an alternative and
renewable energy source. Indroyono said APHI is seeking
green financing for the development of forest biomass
power generation.

In a meeting with Nina Jacoby, Senior Advisor at Business
Finland, Indroyono said he hopes that developed countries
can provide green investments for the development of
clean energy to reduce greenhouse gas emissions. Ms.
Jacoby said she was ready to facilitate potential investors
in Indonesia communicate with financing sources in
Finland.

See: https://forestinsights.id/2022/05/20/kembangkan-listrikberbasis-biomassa-hutan-aphi-gali-sumber-pendanaan/

April exports a record
The value of Indonesia's exports reached the highest on
record at US$27.33 billion in April this year according to
Statistics Indonesia Head, Margo Yuwono. Compared to
April 2021, the export value surged by almost 48%. By
sector, non-oil and gas export between January–April
2022 increased 29% compared to the corresponding period
of 2021 while exports of agricultural, forestry and fishery
products swelled 12% and exports of mining and other
products shot up by 106%.

See: https://en.antaranews.com/news/229869/indonesias-exportstouch-record-us2733-bln-in-april-bps
5. MYANMAR
New developments - the currency and banking issues
According to the latest order from the administration
private and government institutions can now accept only
MMK for all payments. Most hotels quote their rates both
in US dollars and MMK and many restaurants popular
with foreigners have been accepting dollars. The change is
notable since it now includes government institutions.

It is not clear how the recent order will be enforced for all
government institutions including the Myanma Timber
Enterprise (MTE) which has required payment for logs in
US dollars. MTE's sales of logs have declined because
products milled from MTE logs cannot be marketed in the
EU (for logs sold after June 2021) and US (for logs sold
after April 2021).

For the US and EU markets manufacturers source earler
harvested logs from private stocks but asking prices are
higher than for fresh logs from MTE. Manufacturers are
paying strict attention to the requirements in the EU and
US markets and continue to buy old and often lower
quality-logs but output recovery is lower than from fresh
logs.

Millers complain that, as yet, there has been no official
information from MTE on its tender sale procedures under
the new rules. Currently incoming US dollars must been
converted into MMK so millers are unsure how to retain
dollars to meet the MTE requirement that payment for logs
must be in dollars. MTE has not yet reset their regulation
to accept only MMK in line with the new regulation.

Previously, MTE accepted direct international
remittance from the importers on behalf of millers
however, after MTE was sanctioned by the EU and US last
year direct remittances to MTE were halted. Now, because
of the new banking regulation, millers have no dollars to
pay MTE.

Exporters have urged MTE to accept MMK in equivalent
to their sale price in dollars.

In other news, companies which had export licenses
withdrawn have been attempting to get them reactivated
but the process is complicated (and according to some
inconsistent) involving the commercial banks, the Central
Bank of Myanmar and the Trade Department.

Economic uncertainty and growing poverty
Over the past two weeks Myanmar has experienced a fuel
shortage and this is further undermining the economy.
According to Focus-Economics the economy is expected
to have contracted significantly in FY 2021 but likely
improved in FY 2022 (October 2021–September 2022).

However, current business activity has been impacted by
energy shortages, sanctions and currency controls which
are now impacting the lives of ordinary people in the
country as Myanmar depends on imports for many daily
necessities including edible oil, fuel oil and medicines.

The United Nations Office for the Coordination of
Humanitarian Affairs (OCHA Myanmar) has said of the
54 million people in Myanmar about 14.4 million are in
need of humanitarian assistance. The statement said that
25 million people about half of Myanmar's population,
were living in poverty.

As of 2 May this year, according to OCHA, 249,500
people have been displaced since February 2021 in
southeastern Myanmar due to the conflict and
humanitarian access to conflict-affected areas is
immediately needed to provide assistance.

See: https://www.focus-economics.com/countries/myanmar.

and
( https://elevenmyanmar.com/news/about-144-million-of-54-million-people-in-myanmar-need-humanitarian-assistance-ochamyanmar)
6. INDIA
Wholesale price indices for April 2022
The Office of the Economic Adviser, Department for
Promotion of Industry and Internal Trade, has published
wholesale price indices for April 2022. The index for
manufactured products increased to 144 in April 2022
from 141.6 in March.

The increase in the overall index was mainly contributed
by rises in prices of basic metals, chemicals and chemical
products, textiles, machinery and equipment, electrical
equipment and food products. Some of the groups that saw
prices drop were motor vehicles, trailers, computers,
electronic and optical products and leather goods.

The year on year change in annual rate of inflation was
reported at 15.1% for April 2022.

The high rate of inflation in April 2022 was primarily due
to rise in prices of mineral oils, basic metals, crude
petroleum & natural gas, food articles, non-food articles,
food products and chemicals & chemical products.

Price inflation for wood products and cork items over the
past six months to April 2022 were 5.49%, 5.32, 4.11%,
4.55% , 4.65% and 4.77%.

See: https://eaindustry.nic.in/pdf_files/cmonthly.pdf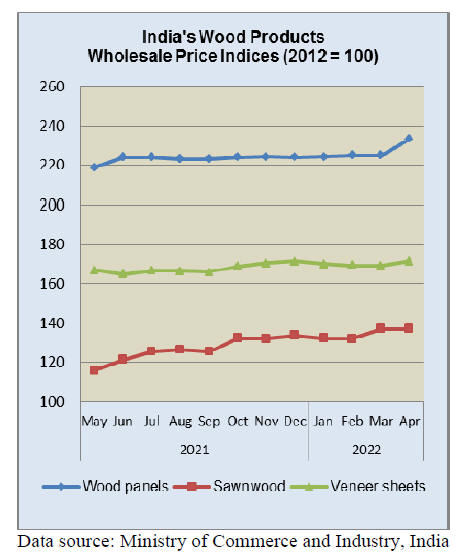 Heatwave – 49 degrees
The Indian economy has been impacted on many fronts
and a recent heatwave and then floods caused disruption of
transport and manufacturing. Delhi saw a new record with
temperatures rising to 49 degrees. Many other parts of the
country including Uttar Pradesh, Rajasthan and Madhya
Pradesh continue to suffer.

First quarter growth likely below expectations
Local economists expect a downward revision in 2022-23
growth forecasts and also a lower than expected growth in
the first quarter 2022 which could mean growth for fiscal
2021-22 will be lower than expected.

The National Statistical Office will publish GDP figures
for the first quarter 2022 at the end of May and on 8 June
the Monetary Policy Committee of the Reserve Bank of
India will publish its GDP growth forecasts for 2022-23.

Corporate leaders attending the World Economic Forum
said, when meeting the media, that addressing the surging
cost of commodities and food items should be the top
priority of the government and the Reserve Bank of India.

They added, while Covid control measures caused
disruptions and the Russian invasion of Ukraine has
resulted in an uncertain world the Indian economy is set to
grow in the mid-to-long term.

In related news, Borge Brende, President of the World
Economic Forum said India's GDP is set to grow 7-8% in
the current fiscal year, much higher than the global rate of
3%.

See: https://www.businesstoday.in/wef-2022/story/taminginflation-will-help-bring-consumption-back-on-track-india-incat-wef-334769-2022-05-23

Positive outlook for Indian real estate sector
The India Real Estate Show (IRES 2022) in Dubai will
bring together some of India's biggest real estate players
and provide both non-resident Indians and foreign
investors in the UAE with the opportunity to secure
purchases and financing opportunities.

Analysts write, "the outlook for the real estate sector in
India remains positive as growth delivers wealth to the
expanding middle class driving demand for housing and
office space". According to Knight Frank's latest market
evaluation report, despite the third wave of the Covid
pandemic, quarterly sales in the first quarter of 2022 were
robust with Mumbai recording the highest sales and Delhi-
NCR recording the highest year-on-year growth in the
sales.

See: https://www.zawya.com/en/world/indian-subcontinent/india-real-estate-show-offers-lucrative-deals-skyc1rdq
https://indianrealestateshow.com/

Particleboard production to expand
Kerala is emerging as another centre for particleboard
manufacturing according to authors of a story from
Plyreporter, the India timber sector magazine. There are
five new production lines to be installed in the state this
year. Presently Kerala has 4 particleboards manufacturing
lines producing around 600 cubic metres of particleboard.

See; https://www.plyreporter.com/article/92998/kerala-adding-5-new-particle-boards-lines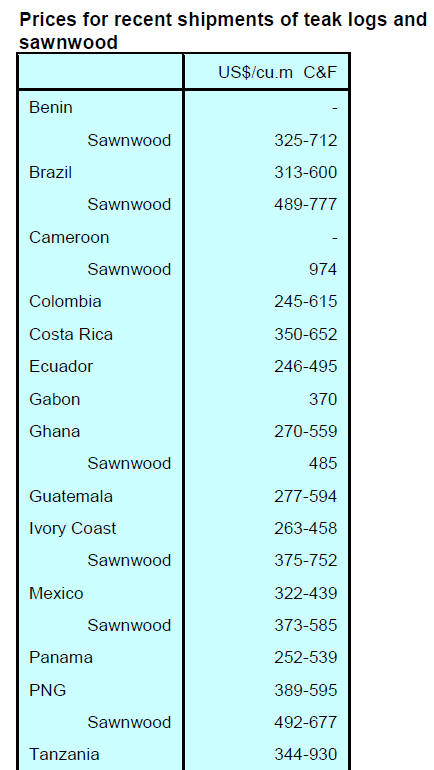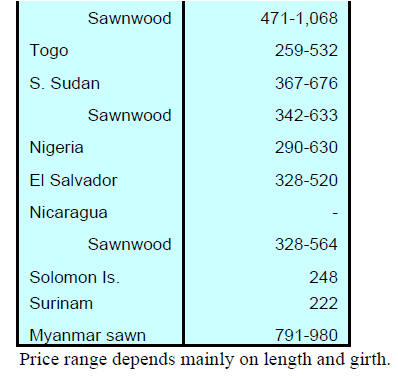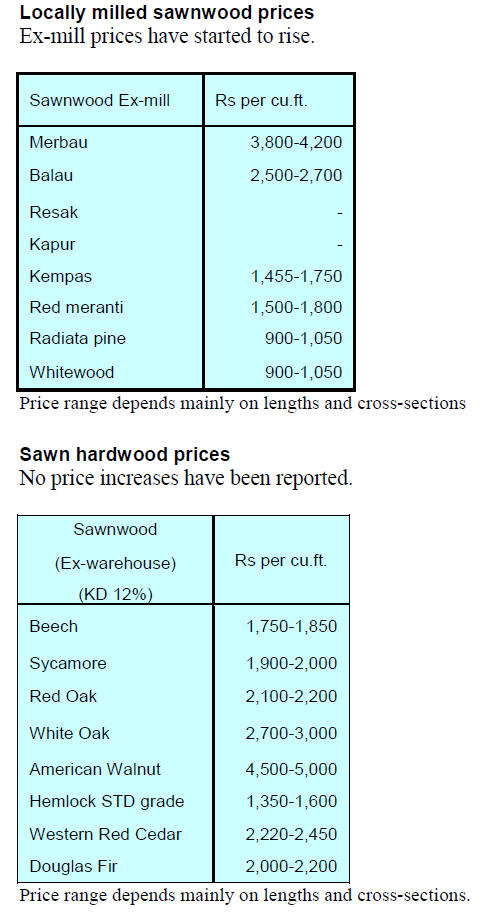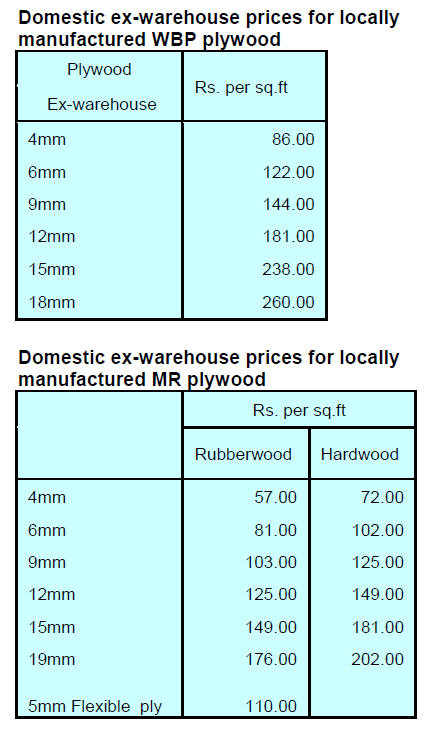 7. VIETNAM
Trade Highlights
Wood and wood product (W&WP) exports in April 2022
topped US$1.59 billion, up 12% compared to April 2021.
In particular, WP exports reached US$1.14 billion, up
5.5% compared to April 2021.

In the first 4 months of 2022, W&WP exports totalled
US$5.6 billion, up 6.7% over the same period in 2021. WP
exports accounted for US$4.17 billion of the total, up
2.6% over the same period in 2021.

In April 2022 Vietnam's W&WP exports to the EU
reached US$57 million, down 10.9% compared to April
2021. In the first 4 months of 2022 exports of W&WPs to
the EU reached US$259.3 million, up 3.2% over the same
period in 2021.

W&WP exports to Australia in April 2022 reached
US$18.3 million, up 27.5% compared to April 2021. In the
first 4 months of 2022 W&WP exports to the Australian
market amounted to US$64.3 million, up 17.8% over the
same period in 2021.

Data from the General Department of Customs show that
W&WP imports in April 2022 were valued at US$273.7
million, up 15.0% compared to March 2022 and up 3.8%
compared to April 2021.

In the first 4 months of 2022 imports of W&WP reached
US$952.1 million, down 4.2% compared to the same
period in 2021.

Vietnam's imports of tali wood in April 2022 reached
31,100 cu.m worth US$12.7 million, up 1.9% in volume
and 1.5% in value compared to March 2022. Compared to
April 2021 the imports of this species increased by 9.7%
in volume and 11.2% in value.

In the first 4 months of 2022, tali wood imports from all
sources reached 160,100 cu.m worth US$65.2 million, up
20.6% in volume and 20.7% in value over the same period
in 2021.

Imports of log and sawnwood from Southeast Asia in
April 2022 were 88,000 cu.m worth US$31.0 million, up
24% in volume and 17% in value compared to March
2022.

Tali log and sawnwood imports
In the first 3 months of 2022 tali log imports were
recorded at 72,900 cu.m, worth US$27.1 million, up
14.6% in volume and 11% in value over the same period
of 2021.

Imports of tali sawnwood reached 54,600 cu.m worth
US$5.0 million, a year-on-year growth of 39% in volume
and 40% in value.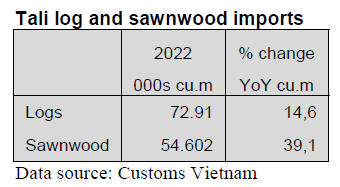 Price of imported tali
The average price of tali wood from non-African sources
reached US$436.4 US$/cu.m, down 17% compared to the
same period of 2021.

The price of tali from Nigeria was reported
US$242.0/cu.m, down 4.8%; from China US$394.3/cu.m,
down 25.4%. In contrast, the price of this wood from
Cameroon reached US$409.1 /cu.m, up 3.7% over the
same period of 2021.

Tali sources
In the first 3 months of 2022 Vietnam's tali wood imports
from Cameroon, China, Nigeria, Laos, Cambodia and EU
increased.

Tali wood imports from Cameroon contributed 66.6% of
total imports in the first 3 months of 2022 .

After Cameroon, imports of tali wood from China, as an
intermediary supplier, reached 8,300 cu.m worth US$3.3
million, a sharp increase in volume and value over the
same period of 2021.

Tali wood imports from Nigeria amounted to 5,480 cu.m
worth US$1.3 million, up 137% in volume and 125% in
value.

Tali wood imports from some other sources in the first 3
months of 2022 increased compared to the same period in
2021 such as from Laos where imports increased sharply,
from Cambodia, from the EU and from British Virgin
Islands.

In contrast imports of tali wood from some sources
dropped. In particular, imports from Congo decreased by
29%, from Gabon they dropped 17%, from Hong Kong
down by 18.5% and from Thailand imports dropped 1.5%.

Vietnam's wood imports from Southeast Asia
increasing
According to the General Department of Customs imports
of wood from Southeast Asia in the first 3 months of 2022
was 208,580 cu.m and valued at US$72.72 million, down
23.5% in volume and 5.9% in value over the same period
of 20.

Imports of wood from Southeast Asia in April 2022
amounted to 88,000 cu.m, worth US$31.0 million, up 24%
in volume and 17% in value compared to March 2022. The
total imports from this market region in the first 4 months
of 2022 reached 296.58 thousand m3, worth US$ 103.72
million, down 21.5% in volume and 5.6% in value
compared to the same period in 2021.

SE Asia suppliers
In the first 3 months of 2022 Vietnam's imports of wood
from Southeast Asia decreased due to a drop in shipments
from Thailand, Malaysia, Cambodia, Indonesia and
Singapore.

In contrast, imports from Laos continued to increase. The
detailed information and data on wood imports from this
region is as follows:

Thailand:
Thailand is a major supplier of wood material (mostly,
wood-based panels) for Vietnam. Imports from Thailand
in March 2022 reached 36,002 cu.m, worth US$9.79
million, down 23% in volume and 5% in value compared
to February 2022 and decreased by 54.4% in volume and
45.5% in value compared to March 2021.

In the first 3 months of 2022 imports of wood from
Thailand reached 126,390 cu.m, worth US$31.14 million,
down 29% in volume and 21% in value over the same
period in 2021.

Wood materials imported from Thailand are mainly
fibreboard and particleboard accounting for 97% of the
total wood imported from this source.

Laos:
The Laos government has issued regulations to reinforce
the control of logging as well as the inspection of timber
transportation and trade.

Accordingly, except for wood harvested from planted
forests, export of all wood materials of natural forest is
banned. However, roundwood and sawnwood derived
from natural forests in Laos continues to pose a threat for
Vietnam's wood industry.

Imports of wood from Laos in March 2022 amounted to
23,640 cu.m worth US$12.74 million, up 135% in volume
and 126 in value compared to February 2022 and
increased by 95.7% in volume and 102.9% in value
compared to March 2021.

Over 90% of the wood imported from Laos into Vietnam
in the first 3 months of 2022 was sawnwood that
amounted to 51,300 cu.m worth US$31.14 million, up
89% in volume and 73% in value compared to the same
period in 2021.

Imports of round wood from Laos in the first 3 months of
2022 were 4,450 cu.m, worth US$980,000, up 42% in
volume and 74% in value over the same period in 2021.

Malaysia:
Vietnam's wood imports from Malaysia in March 2022
reached 5,685cu.m worth US$2.04 million, up 190% in
volume and 163% in value compared to February 2022
showing a decrease of 42% in volume and 34% in value
compared to March 2021.

The accumulated imports of wood materials of all kinds
from Malaysia over the first months of 2022 reached
11,580 cu.m worth US$ 4.13 million, down 61% in
volume and 52% in value compared to the same period in
2021. The overall decline was because of a drop in imports
of

The 3 major types of wood materials imported from the
Southeast Asia into Vietnam are fibreboard, particleboard
and sawnwood.

National Strategy on Climate Change
The Vietnam Law and Legal Forum magazine provides an
anlysis of how forest protection and management will be a
part of the National Strategy on Climate Change for 2050
with a focus on enhancing restoration, community
participation and employment opportunities in the forestry
sector.

This was compiled from the proceedings of a workshop
jointly organised by the Ministry of Natural Resources and
Environment, UNDP, and GIZ in Hanoi to discuss the
draft National Strategy on Climate Change for 2050.

More information can be found at:
https://www.vn.undp.org/content/vietnam/en/home/presscenter/speeches/consultation-workshop-on-draft-viet-nam-nationalclimate-change-.html
and
https://vietnamlawmagazine.vn/national-strategy-on-climatechange-for-2050-to-focus-on-forest-protection-48528.html
8. BRAZIL
Project to create economically sustainable forests
A project "Amazon Movement" developed as a
partnership between an environmental conservation
organisation and the Federal University of Amazonas
(UFAM) aims to find a balance between people,
agriculture and the forest.

With support from the Secretary of the Environment and
the Government of the State of Amazonas 20,000 trees
will be planted to create agroforestry plots in three
communities in the Amazon Forest. The seedlings will be
special selected taking account of the biome of the area.

Incentives for conserving the Amazon
The "Forest+ Amazon" project, an initiative of the
Ministry of the Environment and the United Nations
Development Program (UNDP) with resources from the
Green Climate Fund will reward those who protect and
recover the forest and contribute to the reduction of
greenhouse gases emissions.

The initiative will recognise the work of small rural
producers and family farmers, support projects by
indigenous peoples and traditional communities as well as
innovation focused on sustainable development in the
Legal Amazon.

Export update
In April 2022 Brazilian exports of wood-based products
(except pulp and paper) increased 22% in value compared
to April 2021, from US$380.5 million to US$465.3
million.

Pine sawnwood exports grew significantly (29%) in value
between April 2021 (US$59.7 million) and April 2022
(US$77.2 million). In volume, exports declined slightly
over the same period from 285,500 cu.m to 281,100 cu.m.

In April tropical sawnwood exports increased 17% in
volume from 35,000 cu.m in April 2021 to 40,900 cu.m in
April 2022. In value exports grew 31% from US$14.4
million to US$18.8 million over the same period.

Pine plywood exports faced a 4.5% drop in value in April
2022 compared to April 2021, from US$104.7 million to
US$100.0 million.

In volume exports also decreased (2.9%) over the same
period, from 241,000 cu.m to 234,100 cu.m.
As for tropical plywood, exports increased in volume
(7.7%) and in value (34.3%), from 7,800 cu.m (US$3.5
million) in April 2021 to 8,400 cu.m (US$4.7 million) in
April 2022.

As for wooden furniture, the exported value declined from
US$72.2 million in April 2021 to US$52.8 million in April
2022, a 27% fall.

Record exports to the US
According to the Brazilian-American Chamber of
Commerce (AMCHAM Brazil) in the first quarter of 2022
bilateral trade between Brazil and the United States
totalled US$19 billion with unprecedented exports and
imports between the two countries.

In regional terms, trade between Paraná (southern state of
Brazil) and the US recorded growth of almost 40% in the
first three months of 2022 compared to the same period of
the previous year.

The state's exports to the US had the highest value in the
historical series for a first quarter, equivalent to US$411.3
million, a 50% growth. Shipments from Paraná accounted
for 5% of total exports by Brazil and the positive result
was driven by sales of processed wood products (+47%),
coffee (+47%) and pulp (+96%) among others.

Exports from Paraná to the US in the first quarter 2002
were the highest ever since records were kept. Overall,
total Brazilian exports to the US grew 36%, reaching
US$7.6 billion while imports totalled US$11.4 billion in
the first quarter, both figures are records for the period.
The general increase in Brazilian shipments was driven
mainly by sales of wood products and other agricultural
and mining items.

Sustainable forest management drives exports
In the first quarter of this year Acre, one of timber
producing states in the Amazon region, registered US$20
million in exports and surpassed the value in the same
period last year. In 2021 Acre exported US$48.8 million
and imported US$3.7 million which represented a new
record in foreign trade. Wood product exports were the
main driver of the increase.

The most exported timber species from the state of Acre is
Dipteryx odorata, known as tonka-bean. Although this
species is not the most valuable in the forest it is abundant.
The main exported product made from tonka-bean is
decking. The main export markets were in Europe such as
Germany, France, Belgium, Denmark and the Netherlands.
There were also sales to New Zealand, Australia and
China.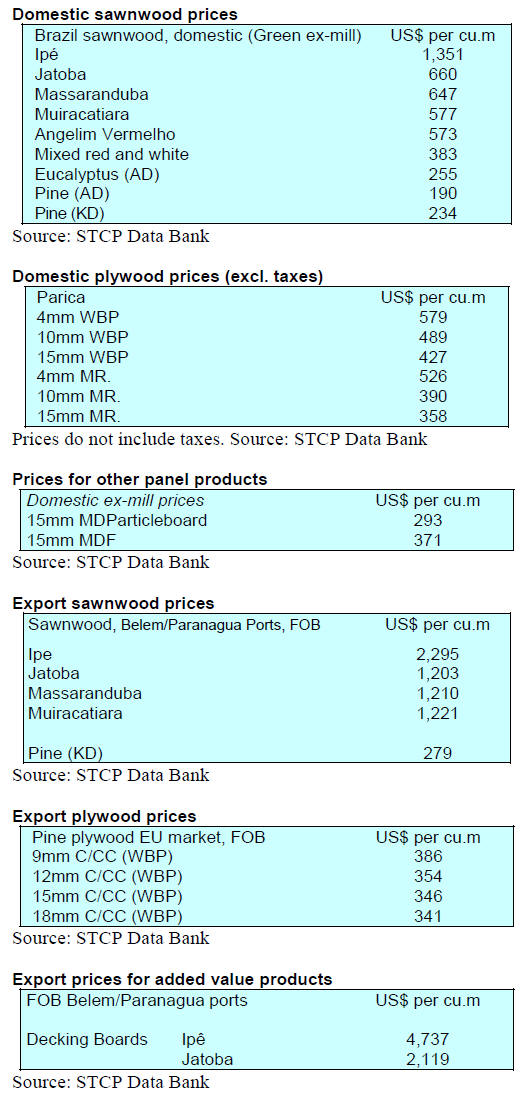 9. PERU
Shipments of semi-finished wood products recovering
The export of semi-manufactured wood products in the
first quarter of this year reached US$20.5 million, up
around 24% compared to the first three months of 2021
according to the Management of Services and Industries
Extractives Division of the Association of Exporters
(ADEX).

The rise is explained in part by greater demand from
countries such as France (2nd place in the ranking) and
Belgium (3rd position) which increased their orders by
37% and 212%, respectively.

The main markets were China (US$6.8 million a 33%
share) up around 3%. The other top five markets were
France (US$6.1 million), Belgium (US$3.1 million),
Denmark (US$1.8 million) and the US (US$0.82 million).
The main export product molded tropical which
represented 55.2% of the total.

Other products exported were other profiled wood, slats
and unassembled parquet friezes (US$ 3.6 million); slats
for unassembled parquet (US$3.5 million) and misc.
profiled wood (US$1.5 million).

The main producing regions for semi-manufactured wood
goods were Lima (US$10.8 million), Ucayali (US$5.8
million) and Madre de Dios (US$3.9 million). These
products were mostly exported from Callao Port.

Cooperation on degraded land restoration
The National Forest and Wildlife Service (Serfor) and a
consortium made up of international organisations have
agreed financing and technical assistance for projects that
will contribute to meeting Peru's goal of restoring
2,150,000 ha. of degraded hectares.

The Executive Director of Serfor welcomed this initiative
to help Peru implement and promote restoration through
the Forest Landscape Restoration Implementation Hub
(FLR-Hub Center), a technical facility involving IUCN,
WRI and WWF as this will contribute to the Sustainable
Development Goals and the fulfillment of Nationally
Determined Forest Contributions.

Promoting investment
Andina has reported that Cesar Landa, Minister of Foreign
Affairs and Oscar Graham, Minister of Economy and
Finance participated in a Americas Society/Council of the
Americas (AS/COA) event aimed at promoting business
opportunities in Peru.

AS/COA is a leading US organisation in the promotion of
understanding and dialogue as well as in discussion of
strategic issues of foreign policy, development, trade,
economy and politics.

The meeting, chaired by AS/COA CEO Susan Segal,
served to deliver the Peruvian Government's interest in
promoting business and investments.

See: https://andina.pe/Ingles/noticia-peru-fa-finance-ministersmeet-with-businesspeople-and-investors-at-ascoa-event-894842.aspx

Technical internship on timber industry cluster
In May at Tarma, Oxapampa and Villa Rica a forestindustry
cluster internship was conducted aimed at
strengthening awareness, knowledge and skills in
technologies and good practices in the production chain
for plantation eucalyptus, pine and some native species.

In Oxapampa and Villa Rica professionals from public and
private entities involved in the wood chain, including
senior management from Serfor, Sede Central y
adminstaciones tecnicas forestales y de fauna silvestre
(ATFFS) as well as the private sector observed harvesting
in a 500 hectare plantation as well as a housing complex
with houses built entirely with eucalyptus wood from
commercial plantations. A visit was also made to a nursery
and groforestry plots with commercial and native species.