Report from North America
Tropical hardwood imports held steady in October
Imports of sawn tropical hardwood rose only 2% in
October as imports for 2020 continue to lag far below
those of 2019. The 13,491 cubic metres imported was
more than 38% below the volume imported in October of
last year. Year-to-October imports remain down 36% from
2019.

Imports from Ecuador and Malaysia each rose by 39% in
October, yet they remain the two countries whose exports
to the US are down the most for the year.

Year-to-October imports from Ecuador are down 68%
while imports from Malaysia are off by 44%.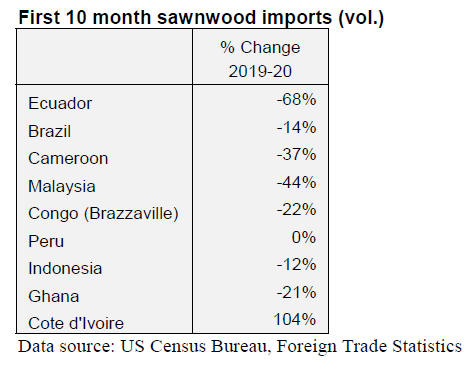 Balsa import volumes rose in October by 29% but were
still only about one-third of what they were for October of
last year. Balsa imports are down 67% year-to-October.
Similarly, imports of Keruing, while rising 39% in
October, are down 49% year-to-October.

Canadian imports of tropical hardwood rose 7% in
October but are down 16% year-to-October.

Hardwood plywood imports continue to rise
Imports of hardwood plywood rose by 17% in volume in
October, the strongest month of 2020 at 254,178 cubic
metres. Imports from China rose 76% to the highest level
since January and for the first month this year outpaced
volume from a year ago.

Year-to-October imports from China are down 43%.
Imports from Indonesia also surged in October and are
now up 32% for the year to October. Total US hardwood
plywood imports remain up 3% year-to-October.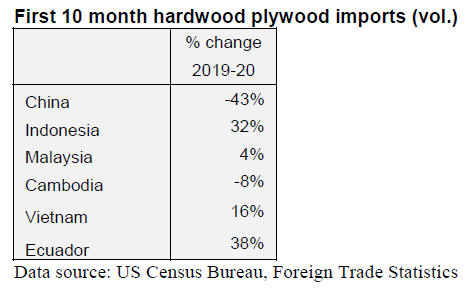 Veneer imports still weak despite rebound
While US imports of tropical hardwood veneer grew by
15% in October, imports for the month were less than half
of the previous October. Year-to-October imports are
down 31%. Imports from Italy and India recovered
somewhat from September¡¯s poor numbers but imports
from Cote d¡¯Ivoire and Ghana both fell by about half.

Imports from nearly all major trading partners are down by
more than one-third year-to-October. However, imports
from Cameroon had more than doubled by October.

Hardwood flooring imports end growth streak
Imports of hardwood flooring fell by 1% in October
ending a streak of four months of steady gains. Imports for
the month were more than 10% below the previous
October as imports remain down from 2019. Year-to-
October imports are down by 27%.

Imports from China rose 17% in October but are down
54% year-to-October.

Imports of assembled flooring panels fell 7% in October,
retreating for a third straight month. Despite the decline,
imports were nearly 18% higher than the previous October
and year-to-October totals moved ahead by 6%. Imports
from Thailand saw their best month since January, nearly
doubling from the previous month.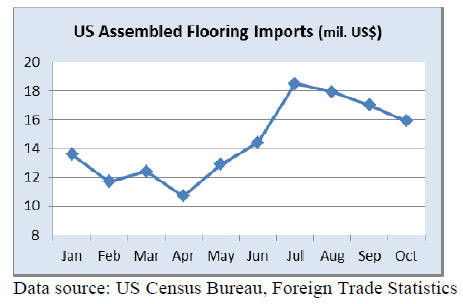 Moulding imports bounce back
Imports of hardwood moulding rose 24% in October,
climbing back from the worst month in more than 10
years. Imports from Malaysia rose 143% to their highest
level since May 2019, while imports from Canada grew by
28%. Despite the gains, October imports were down more
than 8% from last October and year-to-October imports
are behind by 16%. Imports from Brazil dropped by 34%
in October and are down 53% year-to-October.

Growth in wooden furniture imports continues
Imports of wooden furniture grew for a fifth straight
month in October, rising 3% to over US$1.95 billion.
Imports from China rose by 13% in October but are down
38% year-to-October. Imports from Malaysia fell by 7%
in October but remain ahead by 50% year-to-October.
Total imports are behind 2019 by 4% year-to-October.

Demand for residential furniture continues to be strong
according to the Smith Leonard Furniture Insights report.

New orders in September were up 43% over September
2019 orders. This followed a 51% increase reported in
August, a 39% increase in July and a 30% increase in
June. Orders were up for 91% of the participants for the
month of September.

The September increase brought year-to-October orders up
to an 11% increase over the same period last year. Some
56% of surveyed manufacturers and distributors are now
reporting increased orders year-to-October after the
significant declines reported in March and April.

Cabinet sales rise
A press release from the Kitchen Cabinet Manufacturers
Association¡¯s (KCMA)on its monthly Trend of Business
Survey, participating cabinet manufacturers reported an
increase in overall cabinet sales of 9.8% for October 2020
compared to the same month in 2019. Custom sales are up
7.7%, semi-custom increased 7.9%, and stock sales
increased 11.6%.

When looking at the month-on-month comparison, cabinet
sales increased as well. Overall sales were up 2.3% in
October 2020 compared to September 2020. Custom sales
increased 1.1%, semi-custom sales increased 5.7% and
stock sales increased 0.4%.

Overall, 2020 year-to-October cabinet sales are up 0.5%
when compared to the same time period in 2019. Custom
sales decreased 1.5%, semi-custom sales decreased 3.9%
and stock sales increased 4.1%.

See: https://www.kcma.org/news/pressreleases/october_2020_trend_of_busines_press_release

Employment growth slowed sharply in November
Data from the Department of Labour shows US non-farm
payrolls increased by just 245,000 in November, well
below Wall Street estimates as rising coronavirus cases
coincided with a considerable slowdown in hiring. The
November gain represented a pronounced slowdown from
the 610,000 positions added in October.

In all, the economy has brought back 12.3 million of the
22 million jobs lost in the first two months of the crisis.
There are still 10.7 million Americans considered
unemployed, compared with 5.8 million in February. The
total of permanent job losers remained at 3.7 million in
November but is up 2.5 million from February.

The November job gains would be considered strong
under normal circumstances, but the pandemic has left
millions of Americans out of work from jobs lost in the
early stages of the crisis. The total represents the slowest
job growth since the employment recovery began in May.

Resurgence of COVID-19 slowing manufacturing
growth
Economic activity in the manufacturing sector grew in
November with the overall economy notching a seventh
consecutive month of growth according to the latest
Manufacturing ISM® Report On Business.

Of the 18 manufacturing industries surveyed, 16 reported
growth in November, including the Wood Products and
Furniture and Related Products industries.

The November Manufacturing Index registered 57.5%,
down 1.8 percentage points from the October reading of
59.3%.

ISM Chairman, Timothy Fiore, said ¡°The manufacturing
economy continued its recovery in November. Survey
Committee members reported that their companies and
suppliers continue to operate in reconfigured factories but
absenteeism, short-term shutdowns to sanitize facilities
and difficulties in returning and hiring workers are causing
strains that will likely limit future manufacturing growth
potential.¡±

See: https://www.ismworld.org/supply-management-news-andreports/reports/ism-report-on-business/pmi/november/