Japan Wood Products Prices
Dollar Exchange Rates of 10th December 2020
Japan Yen 104.02

Reports From Japan
More money to keep recovery on track
Japan's Cabinet has approved an additional economic
package worth 73.6 trillion yen (US$707 billion) to keep
the economy on a recovery track. The package includes
extensions of subsidy programmes aimed at promoting
domestic travel (currently suspended), spurring
consumption and helping companies maintain employment
as well as incentives for digitalization and carbon
reduction.The government estimates the stimulus
measures will boost Japan's GDP by around 3.6%.

To boost tourism and as a trial for the August Tokyo
Olympics, Japan plans to eventually accept small group
tours. In March a center for monitoring the health of
visitors from overseas will be established and visitors will
be required to register their passport numbers with the
center and report daily updates on their health condition
for two weeks.

Forecast machinery orders
Orders for new machinery placed by Japanese companies
with Japanese makers are indicators of how businesses
perceive of short to medium term prospects. The latest
Cabinet Office survey of machinery orders received by
280 manufacturers operating in Japan fell by 4.4% in
September from the previous month on a seasonally
adjusted basis.

In the third quarter of this year there was an increase of
around 8% compared with the previous quarter with
October orders rising further and November orders rising
8%. There was a 22% rise in November orders from
overseas but domestic orders dropped 15% according to
the Japan Machine Tool Builders' Association.
The Cabinet Office has said for the final quarter of 2020
the value of machinery orders is forecast to decline.

See: https://www.esri.cao.go.jp/en/stat/juchu/2020/2009juchue.html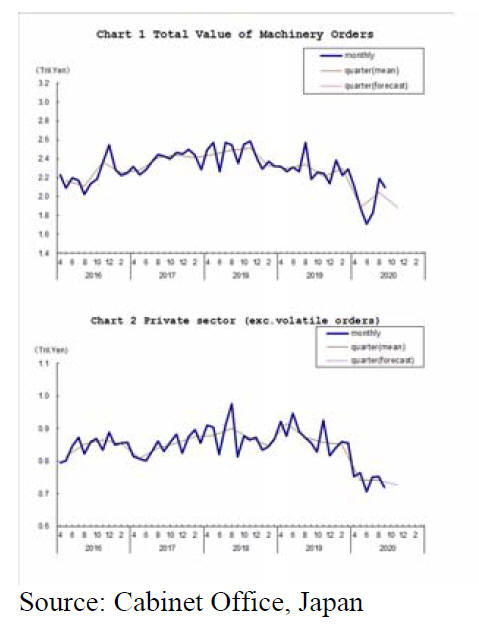 Business conditions improving says Cabinet Office
The Cabinet Office index of business conditions for
November continued its upward trend rising 5 points from
the previous month to 89.7 against the 2015 base of 100.
The November month-on-month rise was the secondlargest
increase since records started in January 1985. The
business index reflects improvements in the Japanese
economy which has trended higher for 5 months.

See: https://www.esri.cao.go.jp/en/stat/di/di-e.html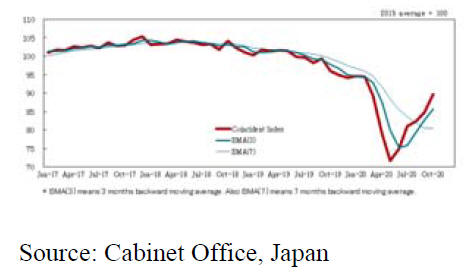 Consumer confidence up in November
Cabinet Office data shows consumer confidence in Japan
improved for the third consecutive month in November
but the pace of improvement slowed. The rapid rise in
coronavirus infections, especially towards the end of
November dented sentiment. The Cabinet Office
maintained it earlier assessment saying that consumer
confidence ¡°remains bearish but continues to show signs
of picking up.¡±

Of the four component indicators, overall livelihood and
income growth improved, while employment worsened.
The indicator on willingness to buy durable goods
remained unchanged.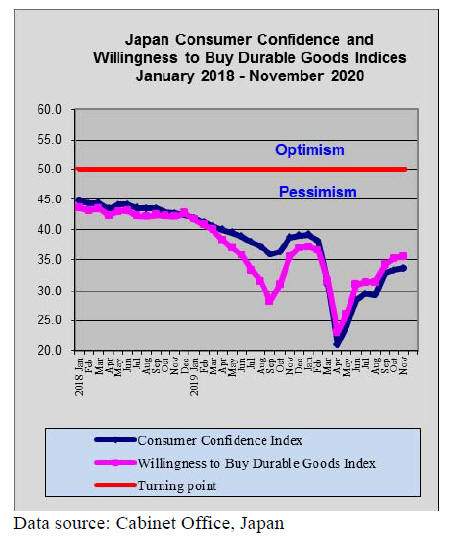 Yen holds steady against the US dollar
The yen/US dollar exchange rate has remained within a
very narrow range throughout the year. In early December
the dollar strengthened to above yen 104 as a result of
signals of a swift introduction of a corona relief package in
the US. Currently the yen remains steady at around 104 to
the dollar.

The yen/dollar exchange rate this month appears to have
been driven chiefly by stock movements rather than risk
sentiment.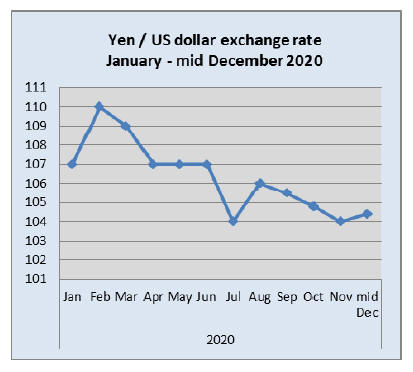 Low interest rates and more time in the home drives
interior improvements
As is happening in other countries the response of people
having to spend more time at home has been to focus on
making home more comfortable.

In Japan this has translated into spending on interior
improvements, new furniture and creation of home-office
spaces with purchases of office furniture. The current low
interest rates have provided an opportunity to finance
home improvements.

The housing market has got a boost from changes in tax
structures for home loan borrowers established to support
housing demand which has suffered due to the pandemic.

In the first nine months of 2020, housing starts in Japan
fell over 10% compared to the same period in 2019. In a
depressed market it has come as a surprise that the average
price of existing condominiums in Tokyo rose by around
4% in the third quarter of this year while the average price
of new condos fell by the same amount in sharp contrast to
the 14% increase last year.

See: https://www.globalpropertyguide.com/news-japanshousing-market-remains-fragile-4161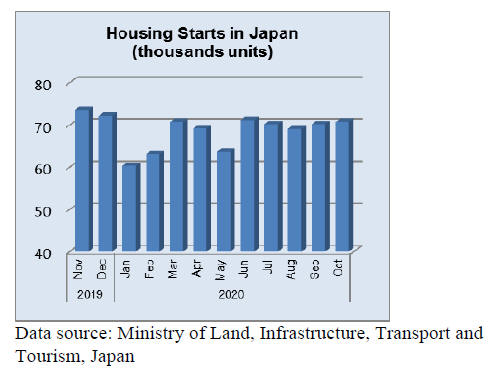 Furniture imports

First 3 quarter 2020 imports
The decline in consumer spending on durable goods in the
first three quarters of this year impacted demand for
furniture but not by as much as expected. The value of
imports of wooden office furniture (HS940330) was down
8% from the same period in 2019. The lower than
expected decline could be explained by spending to adjust
home furnishing to the work-from-home style of work.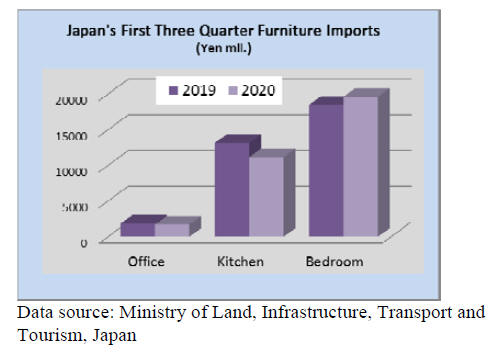 There was a much more severe decline in the value of
imports of wooden kitchen furniture (HS940340) in the
first three quarters of 2020 compared to the modest decline
in office furniture imports. The value of kitchen furniture
imports was down 15% year-on-year in the first three
quarters of 2020.

In contrast to the lower value of imports of both office and
kitchen furniture, imports of bedroom furniture
(HS940350) in the first three quarters of this year rose 6%
compared to the same period in 2019. One possible
explanation for the rise in imports/demand for bedroom
furniture is the trend among those foreseeing work-fromhome
continuing to relocate.

Office furniture imports (HS 940330)

September office furniture imports
Year-on-year the value of wooden office furniture imports
fell 5% but month-on-month the value of September
imports were down 22%.

The main shipper, China saw exports fall but still
accounted for 63% of all wooden office furniture imports
followed by Portugal (11% and Poland (10%). Malaysia
was within the top 20 shippers in August and September
but September exports to Japan dropped sharply.

Kitchen furniture imports (HS 940340)

September kitchen furniture imports
Two suppliers, the Philippines and Vietnam accounted for
around 80% of the value of September imports of wooden
kitchen furniture into Japan. Other shippers appearing in
the top 20 were Italy (4%) and Thailand (3%).

Year-on-year, the value of September 2020 wooden
kitchen furniture imports were largely unchanged but
month-on-month there was a 9% rise in the value of
imports with exporters in Vietnam accounting for most of
the rise.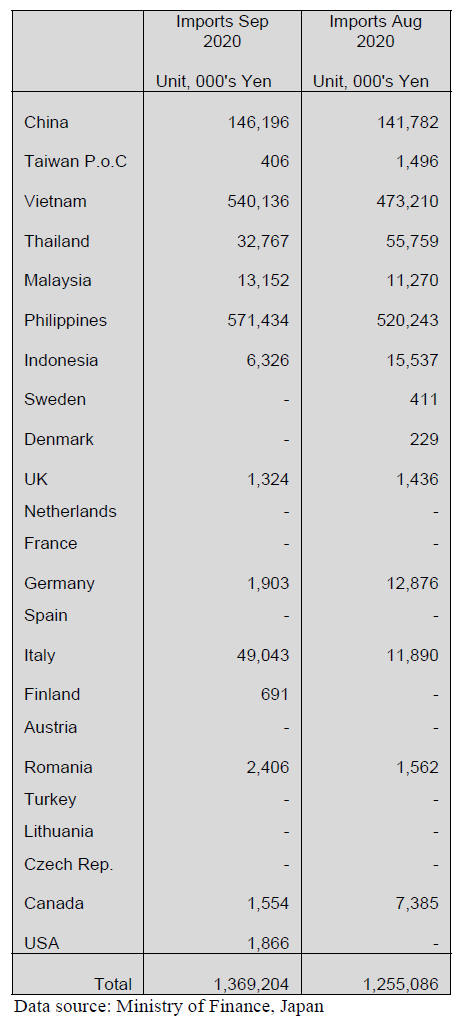 Bedroom furniture imports (HS 940350)

September bedroom furniture imports (HS 940350)
As indicated above, there was a rise in the value of
imports of wooden bedroom furniture in the first three
quarters of 2020.

Year-on-year the value of September imports was up 20%
while month-on-month the value of imports fell 5%.

There was a strong recovery in the value of imports
following the steep drop in the first quarter of this year. In
the second and third quarters the value of imports was
consistently higher than in the same period in 2019.
Around 90% of the value of September wooden bedroom
furniture imports is accounted for by those from China
(60%) and Vietnam (31%).

Malaysia once again features as a significant shipper in
September and has maintained its share of the value of
imports to Japan at around 4%.

Trade news from the Japan Lumber Reports (JLR)
The Japan Lumber Reports (JLR), a subscription trade journal
published every two weeks in English, is generously allowing the
ITTO Tropical Timber Market Report to reproduce news on the
Japanese market precisely as it appears in the JLR.

For the JLR report please see:
https://jfpj.jp/japan_lumber_reports/

RCEP signed
Effective date is undecided yet but early start is aimed.
Duty will be reduced step by step on 91% of industrial
products and agricultural and marine products by
participating countries. RCEP was initially proposed by
ASEAN in 2011.

Main members are Indonesia, Malaysia, Singapore, Thai,
Philippines, Vietnam, Myanmar, Laos, Cambodia, Brunei,
India, Australia, New Zealand, Korea, China and Japan.
These nations cover about 50% of global population, about
30% of global GDP and trade.

Japan has concluded Japan-ASEAN EPA or TPP 11 with
13 nations except for Korea and China so for these 13
nations, duty on wood products will not be reduced or
abolished but China and Korea are two nations with EPA
for the first time. Japan imports 151.3 billion yen of
laminated lumber, wood products for construction and
kitchen parts from China a year and 1.7 billion yen of fiber
board, particleboard and lumber from Korea.

With RCEP, duty on 30 items from China and 63 items
from Korea are either reduced or abolished but they are
minor items so there is not much influence. Duty on major
items of plywood, lumber, laminated lumber and
particleboard is unchanged from current rate.

It is agreed with China that export duty of 2% on softwood
plywood, 3% on processed wood will be abolished after
11 years since RCEP effective date. For Korea, 8% duty
on wood products like window, door, beam and piling will
be abolished after ten years. This includes precut materials
so Japanese traditional post and beam style house export
will be promoted when they become duty free.

China stops import of Australian logs
The Chinese government stopped import of Australian
logs since early November. Reason is that log fumigation
is not satisfactory but true reason is recent deteriorating
political relationship between two nations.

About 2,800,000 cbms of Australian logs are imported to
China for the first eight months of this year. Annual
import volume would be about 4,000,000 cbms, which is
fourth largest source for China behind New Zealand,
Germany and Russia. By this measure, Chinese users look
for substituting sources and the most likely source is New
Zealand then Russia and European countries and possibly
Japan.

Export prices of New Zealand radiata pine logs for China
in November are US$123-125 per cbm C&F and
December prices seem to be higher because of supply in
New Zealand would decline due to Christmas vacation.
Then the prices would be much firmer if China wants
additional volume to replace Australian log supply.

It is reported that log inventory in Shanghai is three
million cbms, which is low compared to past level with
active shipments so the Chinese log buyers will be busy
looking for substituting supply sources.

Domestic logs and lumber
It is full log harvest season now but nationwide log supply
is less than usual years. Meantime, lumber orders have
been active in October and November so sawmills are
actively purchasing logs. Therefore, logs for lumber
manufacturing are tight everywhere and the prices are
firming.

There are sawmills, which are not able to run in full
capacity because of log shortage so lumber supply is tight.
Lumber delivery to precutting plants is tight-roping.
Sawmills are hurriedly intending to increase the sales
prices.

Lumber prices are higher than last summer but not high
enough to cover high log cost. Reasons of tight log supply
are price drop in summer, demand drop of logs and
plywood mills and wood chip plants continue curtailing
the production.

Cypress is firming everywhere. Cypress log prices have
been at high level with 19,000-20,000 yen per cbm. Cedar
log prices for post cutting are unchanged at 12,000- 13,000
yen but in Kyushu and Northern Kant where large mills
are, they are as high as 15,000 yen. Lumber demand now
is the most active after corona virus epidemic started in
last spring.

3 meter KD 105 mm post prices were less than 40,000 yen
until middle of August but they are now 48,000-50,000
yen with the highest spot price of 52,000 yen.

4 meter KD cypress105mm sill prices are 58,000-61,000
yen from bottom price of 55,000 yen in last summer. 3
meter KD cypress 105 mm post prices are now 57,000-
58,000 yen by sudden increasing orders from bottom of
50,000 yen in last summer. These seem to be ceiling
prices.