2. GHANA
Businesses continue to feel impact of pandemic
Even 3-4 months after the lifting of restrictions to combat
COVID-19 businesses are still suffering. In August and
September the Ghana Statistical Service (GSS) conducted
a second survey which showed that businesses continue to
feel the impact of the disruption to businesses due to
COVID-19 control measures. The latest GSS survey
updates an earlier exercise May and June this year.

A total of 3,658 firms were interviewed by the GSS on
their operations and workforce and a summary of results
are shown below.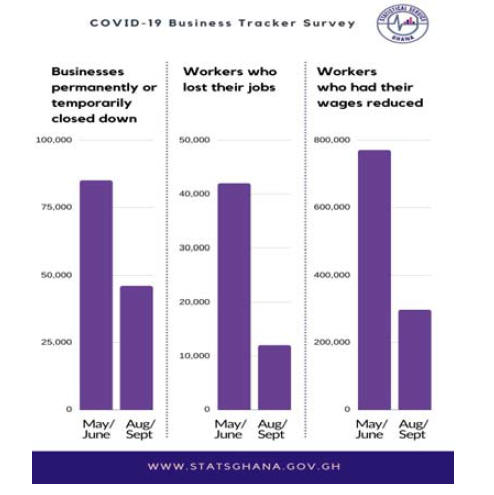 Source:
https://statsghana.gov.gh/gsspublications.php?category=MjE5MDQ4Nzg5MS4yNDk1/webstats/p289p3ssr9

Secondary products account for most exports
Shipments of wood products by road and sea from Ghana
are classified by the Timber Industry Development
Division (TIDD) under one of three main headings
Primary Products (PWP), Secondary Wood Products
(SWP) or Tertiary Wood Products (TWP).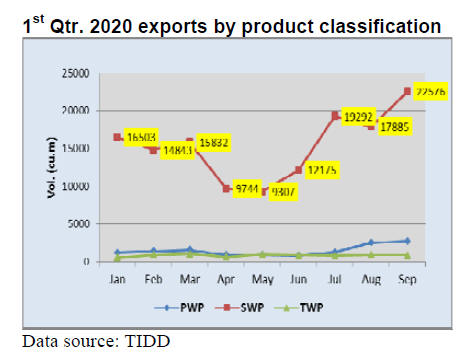 Primary products (PWP), which are mainly billets (short
logs), go to markets in Asia especially China and India and
this group of products accounted for around 8.5% of first
three quarter 2020 exports.

Secondary Wood Products (SWP) comprising sawnwood,
plywood, veneer, kindling, boules and briquettes formed
the bulk of wood exports accounting to close to 87%
during the period January to September 2020.

Monthly export volumes dipped from 15,832cu.m in
March when Ghana recorded its first COVID-19 case and
restrictions were imposed to 9,307 cu.m in May 2020.
Production by local mills began to ramp up from June
when restrictions were eased and reached a level of 22,576
cu.m in September.

Tertiary wood products (TWP) comprising mouldings,
dowels and doors represented 4.8% of total exports in the
first 9 months of 2020.

Exports to the ECOWAS sub region included SWPs
totalling 19,940 cu.m (against 20,612 cu.m in 2019) which
helped buoy overall exports.

Nigeria is considering opening its Eastern border with
Ghana which was suddenly closed for trade in August
2019 in order to stamp out smuggling. Nigeria is a leading
market for Ghana's plywood and other wood products
delivered by road.

New application to support Wood Tracking System
Sources of wood products from Ghana can now be public
identified through a new public portal which will be linked
to Ghana's Wood Tracking System (GWTS). This is to
enable industries in the sector to showcase their wood
products along with the information allowing tracing from
the forest or plantation and along the supply chain.

The Project Coordinator from the Nature and
Development Foundation (NDF), Glen Asumaning, said
the portal was developed in response to complaints from
the private sector who said an interface with the GWTS
platform would be more useful as they could then upload
their own specific information.

Stakeholders in the industry were involved in the
development of the portal which is a web and mobile
phone based application for easy access to the GWTS.

See: https://www.modernghana.com/news/1046557/timberfirms-get-space-on-wood-tracking-system.html

Banks financially strong to support businesses
The Governor of the Bank of Ghana, Dr. Ernest Addison,
has said the Ghanaian banking sector remains financially
strong and adequately capitalised to withstand adverse
shocks and support the country's recovery efforts from the
pandemic.

The Monetary Policy Committee (MPC) of the Bank of
Ghana (BoG) has maintained its policy rate at 14.5%
reflecting the health of the economy. The timber industry
struggles with such high interest rates. Year-on-year
inflation for November was 9.8%.

Source:
https://www.ghanaweb.com/GhanaHomePage/business/Ghana-sbanking-sector-remains-highly-liquid-BoG-Governor-1118546

President re-elected
The Electoral Commission (EC) of Ghana has declared the
incumbent President of Ghana H.E. Akuffo Addo, winner
of the 2020 presidential election. In his acceptance speech
the President promised to continue policies and
programmes initiated in his first term. He also assured the
nation he will continue to work extra hard to reverse the
effects of COVID-19 so as to improve the lives of
Ghanaians and businesses for a full economic recovery.

See: http://presidency.gov.gh/index.php/briefingroom/speeches/1844-akufo-addo-speaks-on-his-re-election-aspresident-of-the-republic-of-ghana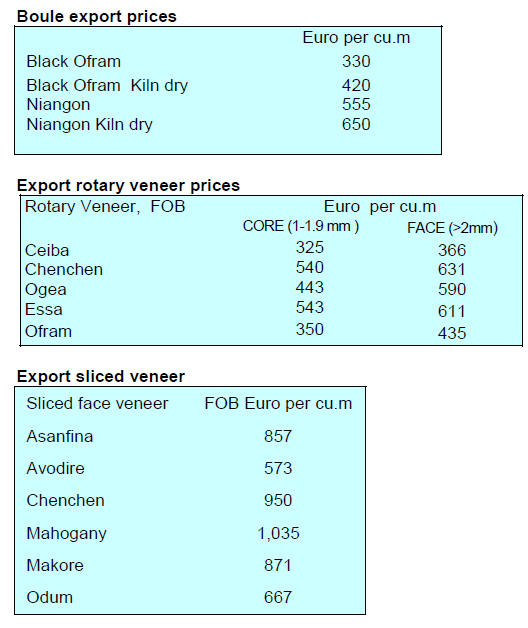 3. MALAYSIA
First half exports better than expected
The Malaysia Timber Industry Board (MTIB) has reported
on the export performance of the timber industry in the
first half of the year to see the effects of the Covid-19
pandemic on exports.

The value of exports of all wood products for the first half
of this year was RM9,601 million some 9% below the first
half 2019 exports of RM10,565.21 million.

The value of Malaysian wood product exports in June
2020 increased 50% month-on-month to RM1.9 billion.
However, cumulative exports for the period of January to
June 2020 dropped by 9%.

Sawnwood exports in June 2020 increased both in volume
and in value. Cumulative exports for the period of January
- June 2020 declined 36% in volume and 37% in value to
584,869 cu.m worth RM1.1 billion.

Exports of MDF in June 2020 increased month-on-month
in both volume and value to 36,897 cu.m worth RM55.2
million. Cumulative exports for January-June 2020 fell
38% to 278,433 cu.m and were worth RM380.7 million.

Exports of plywood in June 2020 increased both in volume
and value by 31% and 26% respectively to 116,328 cu.m
however, cumulative exports for January-June 2020
declined by 48% to 790,203 cu.m and by 15% in value to
RM1.5 billion.

Exports of mouldings in June increased by 48% in volume
and by 46% in value however, cumulative exports for the
first six months of 2020 declined year-on-year by 31% in
volume and 29% in value to 83,876 cu.m worth at
RM313.2 million.

Exports of veneer in June 2020 grew month-on-month by
47% in volume and 75% in value to 2,959 cu.m and
RM6.2 million. In contrast, cumulative exports for 2020
January- June compared to 2019 declined in volume by
48% to 28,892 cu.m and in value by 47% (RM46.1
million).

Builders Joinery and Carpentry (BJC) exports in June
2020 jumped 21% in volume and 19% in value to
10,430,859 cu.m and RM85.4 million month-on-month.
Total BJC exports in the first half of 2020 compared to the
corresponding period last year dropped 12%.

Exports of wooden and rattan furniture for the period of
January to June 2020 recorded mixed trends.

President of the Malaysian Furniture Council, Khoo Yeow
Chong, writing in the Malaysia Furniture News Oct 2020
(no.12), said the furniture sector is recovering and he
continued "statistics provided by the Malaysian External
Trade Development Corporation (MATRADE) has shown
that the export value from January – June 2020 was
RM5.06 billion compared to January - June 2019 at
RM4.92 billion, an improvement of 2.9%.

He said that while this performance is lower than
anticipated "the Malaysian furniture industry remains
resilient in the face of adversity under various challenges
and restrictions". One particular success mentioned by
Khoo was the increase in exports of wooden kitchen
furniture in the first half of 2020.

See: https://56c92c85-3939-45a6-8e5eef7a38127127.filesusr.com/ugd/fd8b5c_c73e98f2d0da4994bed0
3b529f8701cc.pdf

Engineered wood promoted for construction
A Engineered Timber Product Seminar was hosted in
Kuching by the Sarawak Timber Industry Development
Corporation (STIDC) in collaboration with Universiti
Teknologi Mara (UiTM) Shah Alam. The aim was to
promote and develop engineered wood products for the
use in buildings in Sarawak.

At the seminar opening the Assistant Minister of Urban
Planning, Land Administration and Environment, Len
Talif Salleh, said Sarawak industry needs to forge
collaboration with higher institutions as well as research
agencies to develop engineered timber products.

Salleh also revealed that the STIDC is collaborating with
Woodsfield Glulam Sdn Bhd, a Johor-based company
which specialised in producing engineered wood products
and has successfully exported its products.