Report from North America
Home construction continues to show strength
U.S. homebuilding increased more than expected in
October as the housing market continues to be driven by
record low mortgage rates, but momentum could slow
amid a resurgence in new COVID-19 infections that is
putting strain on the economic recovery.

Housing starts rose 4.9% to a seasonally adjusted annual
rate of 1.530 million units last month. That lifted
homebuilding closer to its pre-COVID-19 pace of 1.567
million units in February. Economists polled by Reuters
had forecast starts would rise to a rate of 1.460 million
units in October. Homebuilding has surged 14.2% on a
year-on-year basis.

Permits for future homebuilding were unchanged at a rate
of 1.545 million units in October, the highest since March
2007.

Housing starts in the densely populated South region rose
by 12.9% as the region accounted for 56.1% of
homebuilding last month. Groundbreaking activity also
rose in the West and Midwest but tumbled in the
Northeast.

Single-family homebuilding, the largest share of the
housing market, raced 6.4% to a seasonally adjusted
annual rate of 1.179 million units last month, the highest
level since April 2007. Single-family starts have increased
for six straight months.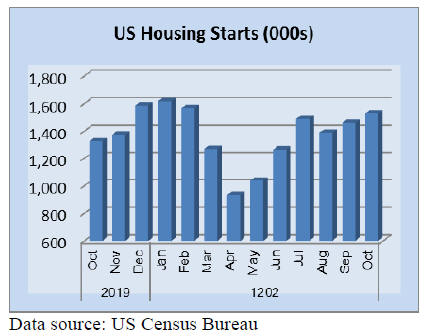 Existing home sales continue to soar
Sales of existing homes in October soared well past
expectations, rising 4.3% compared with September and
up 26.6% annually to a seasonally adjusted annualized rate
of 6.85 million units, according to the National
Association of Realtors.

The NAR¡¯s chief economist, Lawrence Yun, called the
annual increase a spectacular gain. ¡°The surge in sales in
recent months has now offset the spring market losses,¡±
Yun said.

The annualized sales rate is the highest since February
2006. The highest pace ever was in 2005 at 7.1 million
units. Sales could likely have been stronger if there was
simply more inventory available for sale. There were 1.42
million existing homes on the market at the end of
October, a 19.8% drop compared with October 2019. At
the current sales pace, that represents a 2.5-month supply,
the lowest on record.

The extreme shortage of homes for sale is adding more
fuel to the fire under home prices. The median price of an
existing home sold in October was US$313,000, up 15.5%
annually. That is the highest median price on record and
reflects the far stronger sales on the higher end of the
market.Regionally, month-to-month sales in the Northeast
rose 4.7%. In the Midwest they increased 8.6%. In the
South they were up 3.2%. In the West, they rose 1.4%.

See: https://www.nar.realtor/newsroom/existing-home-salesjump-4-3-to-6-85-million-in-october

Builder confidence reaches a 35-year high
The National Association of Home Builders and Wells
Fargo Housing Market Index, a measure of builder
confidence, rose five points to 90 in November ¨C the
highest score the series has ever recorded since its
inception 35 years ago and the third month in its history
the score broke 80.

Based on a scale from zero to 100, the index gauges
builder perceptions of current single-family home sales
and sales expectations for the coming six months.

In November, all indices, including current sales
conditions, sales expectations, and traffic of prospective
buyers, posted their highest readings ever. In fact, current
sales conditions jumped all the way to 96 ¨C a nearly
perfect score.

Regionally, the West showed the greatest promise, with
builder confidence in the three-month moving averages
jumping up four points to 96. The South also climbed four
points to 86, while the Northeast gained two points to 83.
The Midwest increased six points to 75.

According to National Association of Realtors Chief
Economist Lawrence Yun, median home prices are rising
¡°much too fast.¡± Yun suggests transforming raw land into
developable lots to boost supply is clearly needed to help
tame the home price growth.

But it is not just availability of land that¡¯s causing all of
the upward pressure. An October report from the National
Association of Home Builders (NAHB) revealed that
lumber prices have soared 120% since mid-April, but are
down 20% since mid-September. The U.S. Bureau of
Labor Statistics estimates roughly $16,000 has been added
to the price of a typical new single-family home because
of the lumber price increase.

On Oct. 20, the NAHB, along with 100 members of
Congress, sent a letter to President Donald Trump that
asked the administration ¡°to bring all stakeholders to the
table and work to find a solution to address lumber
scarcity and subsequent price spikes that ensures
everyone¡¯s needs are met.¡±

See: http://eyeonhousing.org/2020/10/builder-confidencecontinues-record-climb/

Unemployment drops on back of job growth
Employment growth in the U.S. was better than expected
in October and the unemployment rate fell sharply even as
the U.S. faces the challenge of surging coronavirus cases
and the impact they could have on the nascent economic
recovery. Total nonfarm payroll employment rose by
638,000 in October, and the unemployment rate declined
to 6.9%, the U.S. Department of Labor reported.

While the biggest job gains came in the recovering leisure
and hospitality sectors, construction posted a healthy gain,
up 84,000, while transportation and warehousing increased
by 63,000 and manufacturing was up by 83,000, even
though the sector remains well below its pre-pandemic
level.

However, there are signs of concern as the U.S. has since
surpassed 250,000 dead from coronavirus and new cases
have surged past the 100,000-a-day barrier in recent
weeks. A retightening of restrictions to public activities
has begun in many areas across the U.S.

COVID-19 worries may have led to an uptick in
unemployment so far in November. The Labor
Department listed 742,000 new unemployment claims for
the week ending Nov. 14, an increase of 31,000 from the
previous week.

The Department said there are almost 6.4 million
continuing claims, which lag initial claims by a week.

Consumer confidence surveys suggests Americans
are worried about their future
Consumer sentiment fell in early November as U.S.
consumers judged future economic prospects less
favorably, while their assessments of current economic
conditions remained largely unchanged, according to the
University of Michigan¡¯s consumer sentiment index.

The outcome of the presidential election as well as the
resurgence in COVID-19 infections and deaths were
responsible for the early November decline. Interviews
conducted following the election recorded a substantial
negative shift in the Expectations Index among
Republicans but recorded no gain among Democrats.

It is likely that Democrats' fears about the COVID-19
resurgence offset gains in economic expectations.

Manufacturers report growth in October
Economic activity in the U.S. manufacturing sector grew
in October, with the overall economy notching a sixth
consecutive month of growth, say the nation¡¯s supply
executives in the latest Manufacturing ISM¡¯ Report On
Business¡¯.

Survey Committee members reported that their companies
and suppliers continue to operate in reconfigured factories;
with every month, they are becoming more proficient at
expanding output. Panel sentiment was optimistic (two
positive comments for every cautious comment), a slight
decrease compared to September.

Demand expanded, with the (1) New Orders Index
growing at strong levels, supported by the New Export
Orders Index expanding moderately, and (2) Customers¡¯
Inventories Index at its lowest figure since June 2010.

Of the 18 manufacturing industries, 15 reported growth in
October. After leading in growth over each of the past four
months, the Wood Products and Furniture & Related
Products industries were among the middle of the pack
among the growing industries for the month.

Likely that US-China trade rivalry will continue under
Biden
President Donald Trump spent much of his term setting up
Beijing as Washington's greatest political and economic
adversary. Do not expect drastic changes when Joe Biden
takes the helm, even if he eschews the bluster and
unpredictability of his predecessor.

Economists and trade experts believe that the United
States and China will move further apart on trade and
technology as Washington continues to scrutinize virtually
every aspect of its relationship with the world's secondlargest
economy.

Washington has become increasingly wary of Chinesemade
technology and whether it could be used to spy on
Americans. That fear has caused lawmakers ¡ª
Republican and Democrat ¡ª to view China as a major
threat to U.S. national security.

"Biden has been pretty clear about how he wants to
proceed, and there has been bipartisan support for a tough
line," said William Reinsch, a trade expert at the Center
for Strategic and International Studies who served for 15
years as president of the National Foreign Trade Council.
He added that the president-elect "will be under constant
critical pressure from Republican China hawks in the
Congress to be more aggressive."

Foreign policy and trade experts do say that Biden will
bring a softer, more diplomatic tone, and will be more
likely to follow long-established procedures before
pursuing any new tariffs or sanctions.

There is also agreement the two countries will both
continue the trend of disentangling their economies,
particularly in the technology sector.