US Dollar Exchange Rates of 25th November 2020
China Yuan 6.5919
Report from China


Pace of home price increases slows
Data from the National Bureau of Statistics has shown the
housing market remained stable in October but month-onmonth
growth in home prices was slower in major cities.
New home prices in four first-tier cities -- Beijing,
Shanghai, Guangzhou and Shenzhen rose by 0.3% month
on month in October.

Between January and October this year real estate
investment was up 6.3% percent year-on-year and
residential investment increased 7%. In the same period
land purchases by builders fell 3%.

In October, the real estate development climate index
(referred to as the "national real estate climate index") was
100.50, almost 1 point higher than in September.

See:
http://www.stats.gov.cn/english/PressRelease/202011/t20201117_1803435.html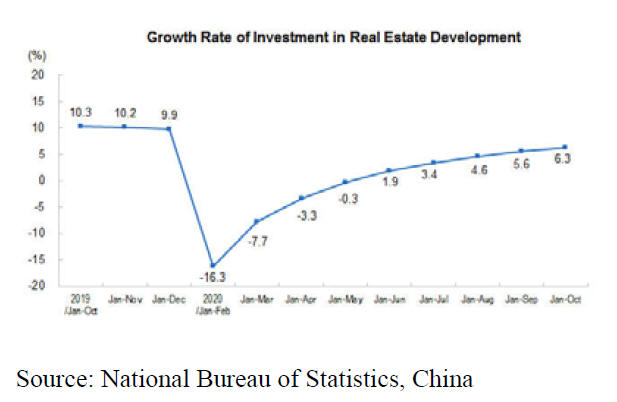 Retail sales of consumer goods inches up
In October, retail sales of consumer goods rose 4.3% yearon-
year, 1% faster than in September. Of the various
categories assessed it was reported that October furniture
sale dropped around 8% month on month.

From January to October, the total retail sales of consumer
goods reached 31,190.1 billion yuan, down 5.9 percent
year on year. Among them, the retail sales of consumer
goods excluding automobiles totaled 28,142.8 billion
yuan, down 6.0 percent.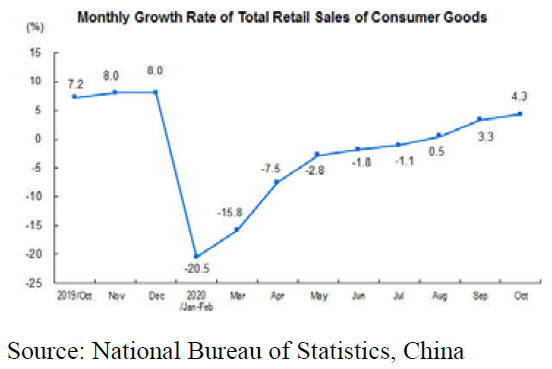 See:
http://www.stats.gov.cn/english/PressRelease/202011/t20201117_1803442.html
Rise in wood products exports from Linyi City
While China¡¯s wood product exports have fallen since the
beginning of the pandemic, wood products exports
through Linyi City, Shandong Province rose 23% in
October and in the first 10 months of this year exports of
wooden furniture expanded by 65%.

In order to effectively adapt to the impact of the pandemic
Linyi Customs has introduced a range of measures to aid
wood product exporters such as simplifying the
registration process, switching to completed online
document processing and done away with on-site audits.
Additional efforts are being made to gather information on
foreign market opportunities and import policies on behalf
of exporters.

See:
https://new.qq.com/omn/20201116/20201116A063AM00.html

Green Household Industry Development Summit
A ¡®2020 China Green Home furnishing Industry
Development Summit¡¯ with the theme "Green Home
Furnishings Intelligently Makes the Future " was held in
Dongbao District, Jingmen City, Hubei Province in
November. More than 300 participants from involved in
production and sales of wood products, raw materials and
auxiliary materials discussed the development of the green
household industry.

Production of green building materials and prefabricated
construction products are leading industries in Dongbao
District. The local government in collaboration with the
Science and Technology and Industrialization
Development Center under the Ministry of Housing and
Urban-Rural Development has created a green building
materials and prefabricated building industrial park.

The Dongbao green building materials and prefabricated
construction industries are at the core of provincial growth
strategies.

It has been reported that during the 14th China Five Year
Plan period, Dongbao District will further accelerate
investment in the green household industry and could
attract 300 enterprises to join green household industry
chain.

Furniture exports from Harbin City recover
Because of the pandemic furniture exporters have seen
many overseas orders cancelled and enterprises in Harbin
City, Heilongjiang Province have slowed production.
However, the rise in work-from-home in the many
countries has created demand for furniture suited to this
work style.

Manufacturers in Harbin City were quick to link overseas
e-commerce companies to take advantage of this new
market and the preference of man consumers to shop online.

In the first 10 months of 2020 furniture exports are up
rather than down compared with the same period of 2019.
In some cases enterprises report rises of 30%.

One company in Harbin City exports 80% of its
production worth around RMB200 million annually. Since
the resumption of work in February this year the company
has seen a gradual increase in orders such that delivery
dates now extend to February 2021.

The company in question has focused trade with ecommerce
companies such as Amazon, Wayfair,
Overstock, Alibaba and other e-commerce companies
which are all driving the growth of furniture exports. In
the second half of 2020 ready-to-assemble furniture
suitable for consumers at home have become popular.

See:
https://k.sina.com.cn/article_1710390641_65f27d7102000q4jd.html?subch=onews

Improving the supply chain in the redwood carvings
sector
The government in Dongyang City, Zhejiang Province has
vigorously promoted the transformation and upgrading of
wood carving redwood industry. As part of this thrust a
new focus is on what is called locally the ¡®whole-chain
industrial system¡¯.

In terms of the layout of the industrial chain the
government sectors in Dongyang City strive to build the
national timber trading center for rosewood carving a
cluster zone and trading market.

Through the Dongyang Timber Trading Center, which
integrates timber import, trade, processing, bonded,
warehousing, logistics and financial services the supply
chain can be shortened and made more efficient.

Around 30 new enterprises with annual output value of
more than RMB20 million and another 10 enterprises with
annual output value of RMB100 million will be
established in Dongyang City by 202.5

See: http://www.xinhuanet.com/travel/2020-11/16/c_1126746792.