Report from North America
Economy grew at record pace in Q3
The US economy grew at a record pace in the third quarter
of 2020, bouncing back from an unprecedented COVID-
19-induced collapse early this year but activity has slowed
agian as the infection rate rises.

GDP increased at a seasonally adjusted annual rate of 33%
in the July-September period as consumer and business
spending soared according to the Department of
Commerce and consumer spending jumped 41% and
business investment increased 20%. Forecasts suggest
growth will slow to 2.5% in the fourth quarter.

See: https://www.bea.gov/news/2020/gross-domestic-productthird-quarter-2020-advance-estimate

Wooden furniture imports buoyant, strong demand for
residential furniture
US imports of wooden furniture rose by 7% in September,
marking the fourth straight month of growth. At nearly
US$1.9 billion for the month, imports are more than 29%
higher than the previous September as furniture remains a
bright spot in the 2020 US economy.

Imports from Vietnam grew by 14% in September while
imports from Malaysia rose 15%. Year-to-date imports
from Malaysia are ahead 47% and imports from Vietnam
are up 26%.

Demand for residential furniture remained high during the
summer months and into autumn according to the Smith
Leonard Furniture Insights report. The report says August
orders were 51% higher than August 2019 orders,
following a 39% increase reported for July and 30% in
June. Orders were reported to be up for about 88% of the
participating companies, about the same as last month.

See: https://www.woodworkingnetwork.com/furniture/furnitureorders-jump-august-smith-leonard

Cabinetmakers cry foul
A bipartisan coalition of US senators and representatives
sent a letter to the US Commerce Department and to
Customs and Border Protection expressing concern over
alleged fraud on kitchen cabinet imports from China. The
letter says ¡°There is evidence that Chinese cabinet
manufacturers have sought to undercut the US industry by
circumventing antidumping and countervailing duties.¡±

The US industry was provided with protection in the form
of antidumping (AD) and countervailing (CVD) duties in
April 2020 ranging from 13.33% to 269.91%. Since that
time, the cabinet makers say evidence suggests Chinese
producers may be engaged in transshipment,
circumvention and evasion of the AD/CVD duties.

The industry has taken steps to combat customs fraud and
as a result, filed a series of e-allegations and an allegation
through the Enforce and Protect Act to end these
fraudulent practices and restore a level playing field for
the domestic industry. These allegations remain pending at
Customs.

See:
https://www.woodworkingnetwork.com/news/woodworkingindustry-news/cabinetmakers-say-china-committing-customsfraud-pursuit-response

US tropical hardwood imports hit slowdown in
September
US imports of sawn tropical hardwood slowed in
September, falling by 11% from the previous month after
steady gains throughout the summer. The 13,384 cubic
metres imported was nearly 30% below the volume
imported in September of last year. Year-to-date imports
remain down 36% from last year.

Imports from Brazil jumped 41% in September and were
ahead of imports from September 2019 by more than 15%.
Imports from most other trading partner state were down
this September and are down year-to-date between 13%
(Ghana) and 68% (Ecuador).

Imports of nearly every type of tropical hardwood are
below 2019 levels year-to-date, the exceptions being
Iroko, which is up by 170% and Mahogany, which is up
1%. Balsa imports fell by 16% in September and are down
67% year-to-date while Teak imports fell 40% in
September and are down 61% year-to-date.

Canadian tropical hardwood imports surge
Canadian imports of tropical hardwood more than doubled
in September over the previous month to reach their
highest dollar amount of the year. The majority of the
gain appears to come in the form of Sapelli from
Cameroon, as imports from Cameroon more than tripled in
September and Sapelli imports rose 134%.

Despite the gain, overall imports as still down 16% yearto-
date with most woods other than Sapelli down much
sharper than that.

See: http://www.ic.gc.ca/eic/site/tdo-dcd.nsf/eng/Home

Surge in hardwood plywood imports from Vietnam
US imports of hardwood plywood rose by 10% in volume
in September making it the strongest month of 2020.
Imports from Vietnam were especially notable for the
month as volume rose by 31% yet unit values of its
plywood fell sharply, resulting in import dollar amounts
rising by only 2%.

The US is importing from Vietnam more than of any other
country and volume is up 17% year-to-date through
September. Imports from Indonesia gained 8% in
September and are ahead 28% year-to-date. Total US
hardwood plywood imports are up 3% year-to-date.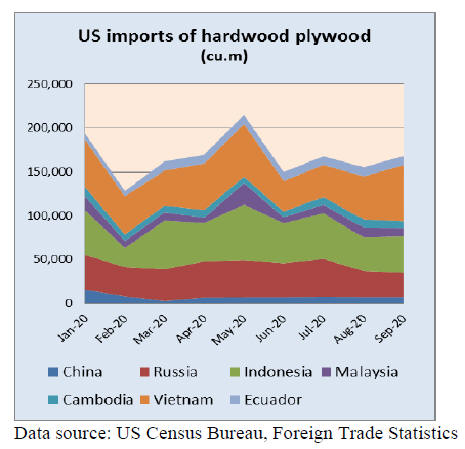 Veneer imports fall sharply in September
While US imports of tropical hardwood veneer usually
decline late in the year the 52% drop from August was
even steeper than in previous years. Year-to-date imports
are down 29%. September saw absolutely no imports from
Italy and Cameroon.

Despite there being no imports in September, year to date
imports from Cameroon are up 114%. Imports from Ghana
were up 406% in September but are still down 65% from
2019 year-to-date.

Imports of hardwood flooring continue steady growth
US imports of hardwood flooring rose 7% in September,
the fourth monthly gain. Yet the gains are still not enough
to catch last year¡¯s imports as the monthly total was still
more than 20% less than that of the previous September
and year-to-date totals remain down nearly 30%.

Imports from Indonesia, for example, rose 51% in
September but were still not half that of the September
2019. The bump in imports from Indonesia accounted for
much of the month¡¯s growth as imports from most other
countries were relatively flat.

Imports of assembled flooring panels fell for a second
straight month, dropping 5% in September. However,
even with the modest step down, import levels for the
month were 23% higher than the previous September and
remain near the 10-year high reached in July. Year-to-date
totals are ahead by 5%.

Imports from China fell 41% in September while imports
from Vietnam rose 12% for the month and are ahead 45%
year-to-date.

US moulding imports continue to slide
US imports of hardwood mouldings fell below US$8
million in September, an 8% drop from August that
dragged imports below the worst months of the pandemic
and to the lowest totals in more than 10 years.

Imports were down more than 35% from the previous
September and year-to-date totals are off by 17%.

Imports from Brazil are down 52% year-to-date despite
rising 69% in September. Imports from China also gained
considerably while imports from Malaysia and Canada
declined.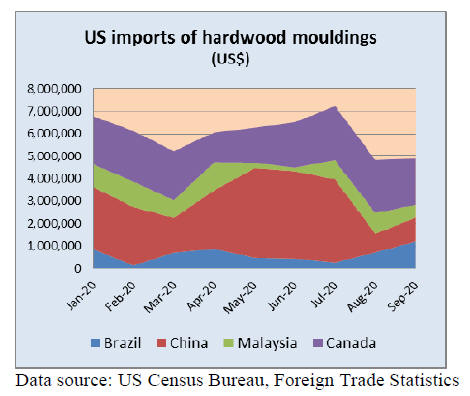 Industry not impacted as much as feared
According the latest survey results from Woodworking
Network the impact of the COVID-19 pandemic on the
woodworking industry is diminishing even as there seems
to be a new surge in infections.

When Woodworking Network first surveyed the
woodworking industry about the pandemic in March,
some 36.5% predicted it would have a major impact on
their businesses. Today, that number has dropped to
21.3%.

The number who predicted the impact would be serious
but not major is relatively unchanged, going from 35.8%
in March to 34.7% in the October survey. By contrast,
respondents who predicted a minor impact in March
(23.7%) swelled to more than one-third (34.7%) in
October. Similarly, the percentage who saw no impact
from the pandemic in March (4.1%) has more than
doubled to 9.4% in the October results.

When it comes to specific impacts from the pandemic,
disrupted schedules were cited the most by respondents in
March (69%) and in October (61.8%). More respondents
cited disrupted supply as an impact in October (53.7
percent) compared to March (46.8%).

While more than half of respondents reported loss of
business in March (55.1%), for October, that number has
dropped to 47.8%. Similarly, the impacts of mandated
shutdowns (39% in March) dropped to just 26.5% in
October. Cancelled orders plagued more than a third of
respondents (34.5%) in March but have dropped to 26.5%
in October.

See:https://www.woodworkingnetwork.com/news/woodworkingindustry-news/updated-survey-charts-pandemic-impactwoodworking-industry