Japan Wood Products Prices
Dollar Exchange Rates of 10th November 2020
Japan Yen 104.70

Reports From Japan
Third wave imminent
The number of coronavirus infections in Japan from July
to September was four times higher than the figure for
March to May. Although Tokyo still accounts for most of
the new cases virus hotspots are emerging in many
prefectures. It would appear that Japan is about to
experience a third wave of infections and that the numbers
of infections could exceed those in the period of the
second wave.

The Japan Medical Association has urged the government
take action before it's too late. However the Prime
Minister remains undecided on declaring a state of
emergency or reviewing the "Go To Travel" (subsidized
travel) campaign.

Manufacturers more optimistic but jobs disappearing
The Cabinet Office survey of business conditions in Japan
has reported an upswing leading government analysts to
talk of signs of recovery even as the country appears set
for a serious third wave. The survey also signaled that
retail sales remained sluggish and the job market
worsened. Business sentiment among Japanese
manufacturers and service-sector firms was the least
pessimistic in nine months in November.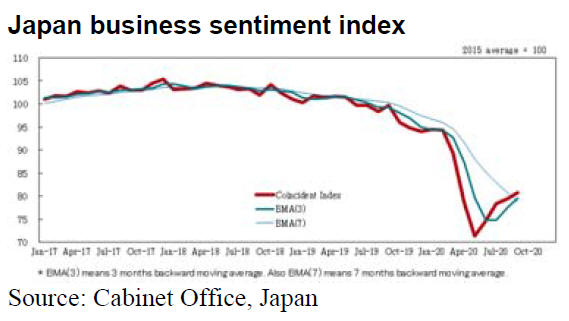 In related news, the Japan Center for Economic Research
has reported Japan's real gross domestic product expanded
1.1% in September from the previous month due to
increases in domestic and external demand.

Housing investments rose 1.3%, while consumer spending
climbed 0.8%. Japan's exports increased over 5% driven
by car sales to the US.

The latest data on household spending shows that there
was a 10% decline in September year on year. This
marked the fourth largest decline so this year and came as
real wages dropped for the seventh consecutive month.

The high year on year September decline was exaggerated
because in September 2019 consumers rushed to buy
goods in advance of the consumption tax increase in
October of that year which pushed up spending.

However, the economy is beginning to revive after the
worst postwar slump in the second quarter of the year as
exports have increased. The government is expected to
announce the plan for extra stimulus measures by the end
of November.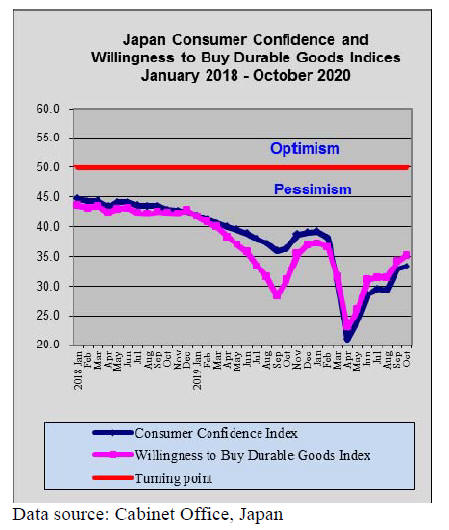 Manufacturers cut back on machinery orders
The value of orders for machinery by Japanese
manufacturers, a gauge of economic prospects, fell by
4.4% in September from the previous month.

In the July-September period orders increased almost 8%
compared to the second quarter. In the final quarter of
2020 it has been forecast that there could be a further
decline in private-sector orders.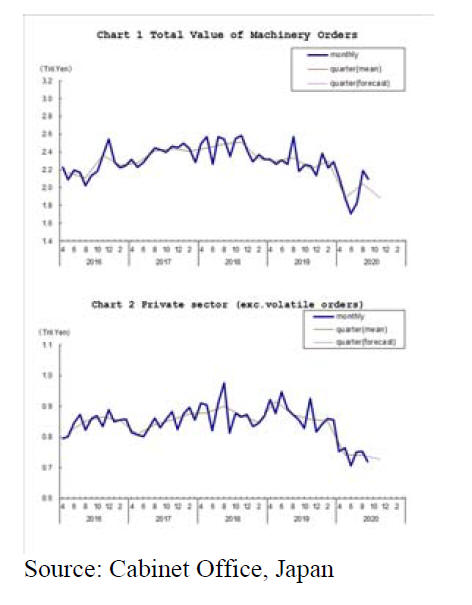 Yen steady despite uncertainty in US election outcome
The Bank of Japan (BoJ) is monitoring foreign exchange
rates following Joe Biden¡¯s victory in the US presidential
election as there is concern that uncertainty will drive
inflows to the yen which would undermine export growth
upon which the Japanese economy is very dependent.

After Trump¡¯s surprise victory in the 2016 US presidential
election the yen strengthened drastically. This time round
there has been some inflows to the yen but there has been
only a modest strengthening to around 104 to the dollar
from about 105 prior to the US election result.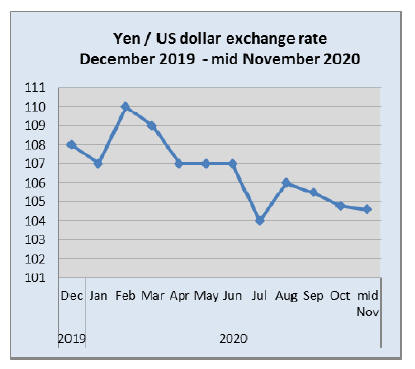 Land prices fall ¨C first drop in 3 years
According to the Land, Infrastructure, Transport and
Tourism Ministry average prices for land in Japan fell this
year the first decline in three years as the pandemic caused
a drop in demand for commercial properties.

The rapid growth in the tourism sector pushed up demand
for commercial land prior to the pandemic and average
land prices had been moving higher for the first time in 27
years since the collapse of the country¡¯s bubble economy
in the early 1990s. If the pandemic is not brought under
control in the coming months land prices may fall further.

Kengo Kuma and Associates (KKAA)
an architectural firm in Japan has designed asemi-open
and temporarily placed pavilion for events which can be
deconstructed and moved. The designers used a steel
frame as the structure¡¯s base over which CLT panels were
overlaid to create a multi-paneled façade. The CLT panels
were made from Japanese Cypress.

See: https://www.yankodesign.com/2020/11/13/a-glitteringtimber-pavilion-in-tokyo-is-preparing-for-a-journey-back-hometo-the-hiruzen-mountains/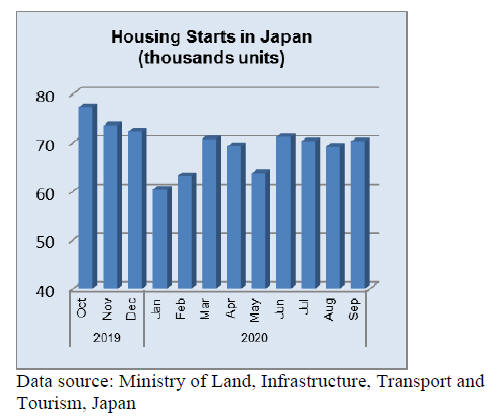 Import update

Furniture imports
With available data on the value of furniture imports for
the first 8 months of the year it is possible to gauge the
impact of the pandemic. Imports of wooden office, kitchen
and bedroom furniture (HS940330/40/50) fell as could be
expected as economic activity was curtailed because of a
lock-down and because consumers stopped spending in the
early days of the pandemic.

Imports of bedroom furniture recovered quickly in the
second quarter of the year but it was not until the third
quarter that imports of wooden kitchen furniture started to
recover. With the adoption of ¡®work-from-home¡¯ culture
demand for office furniture held up well and imports
increased from the end of the first quarter.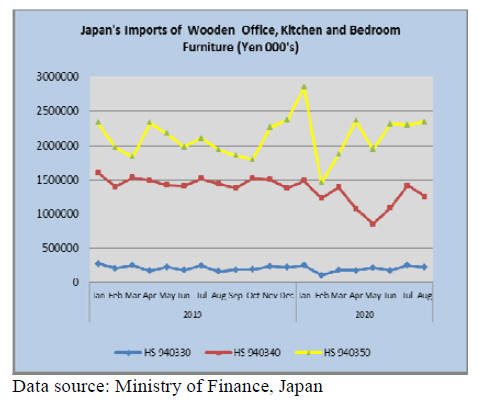 Office furniture imports (HS 940330)
The value of Japan¡¯s August imports of wooden office
furniture (HS940330) marked a correction with a 12%
month on month fall. Year on year, wooden office
furniture imports are up 45% which probably reflects the
new and well established ¡®work-from-home¡¯ culture.

For the past 5 years China, Poland and Italy have been the
main shippers of HS 940330 but recently sourcing has
become more diversified and in August exporters in
Malaysia secured a 7% share of the value of imports, up
by a factor of x8 from July and the best performance so
far.

As was the case in previous months, China secured the
largest share of imports at 62% followed by Poland with
an almost 11% share with Portugal and Malaysia making
up most of the balance.

Kitchen furniture imports (HS 940340)
Three suppliers, the Philippines, Vietnam and China once
again captured the largest share of Japan¡¯s imports of
wooden kitchen furniture HS 940340 but all three saw the
value of shipments in August fall both month on month
and year on year. Japan¡¯s imports of wooden kitchen
furniture fell 13% year on year and by 11% month on
month.

Exporters in the Philippines accounted for 41% of Japan¡¯s
August imports, Vietnam 38% and China 11%. Imports
from Thailand double giving Thai shippers a 4% share of
the value of August imports.

Bedroom furniture imports (HS 940350)
Year on year, the value of Japan¡¯s August imports of
wooden bedroom furniture HS 940350 was up over 20%
and there was a modest (2%) month on month increase.

Shipments from manufacturers in China and Vietnam
accounted for over 90% of August wooden bedroom
furniture imports with China providing 60%, about the
same as in July and Vietnam 31%, up on July imports. SE
Asian exporters in Malaysia and Thailand between them
secured around 5% of the value of August imports.

Trade news from the Japan Lumber Reports (JLR)
The Japan Lumber Reports (JLR), a subscription trade
journal published every two weeks in English, is
generously allowing the ITTO Tropical Timber Market
Report to reproduce news on the Japanese market
precisely as it appears in the JLR.

For the JLR report please see:
https://jfpj.jp/japan_lumber_reports/

Struggling plywood mills in Malaysia and Indonesia
There are successive mill operations of Malaysian and
Indonesian plywood manufacturing plants. Climbing labor
cost puts pressure on management then plywood export
prices for Japan continue depressed then came corona
virus epidemic so they are cornered in predicament.

Shing Yang, the largest plywood manufacturers in
Sarawak, Malaysia stopped one mill¡¯s plywood
manufacturing and became veneer producing 0lant in last
July. Shing Yang produces about 40-50,000 cbms a month
of plywood by three plants, out of which 20,000 cbms are
for Japan market. Another major plywood manufacturer,
WTK closed down one of three mills.

In Indonesia, two companies stopped the operation at the
end of August. Both companies were producing about
5,000 cbms a month of .thin plywood, floor base and block
board for Japan market. Even running mills are forced to
reduce the production. Reason of stop of operations is
climbing producing cost by higher labor cost. In
Indonesia, minimum wage has been increased every year.
In last January, it was raised by 8.5% all over Indonesia.

In Malaysia, many plywood mills reply on migrant
workers from Indonesia and when the wage in Indonesia is
raised, Malaysian mills need to match the wages to have
them stay in Malaysia. Poll tax is necessary to hire
Indonesian workers in Malaysia so rising labor cost is
becoming heavy burden to plywood mills. Also log
procurement is becoming difficult not only by weather
factor but harvest restriction by environmental reasons so
log cost has been rising.

With these reasons, plywood mills in both countries suffer
deterioration of profit margin. To improve it, they have
tried to increase the export prices for Japan market but to
no avail by depressed market of Japan. In particular, the
orders from Japan decreased after the corona virus
epidemic in 2020 and the governments restrict movement
of people between countries and states in Malaysia and
Indonesia, which makes hard to secure labor force. Under
this situation, many plywood mills decided to shut-down.

Rainy season this year started in September, two months
earlier than normal years. Log cost would climb in rainy
season so there will be more mills shutting down in the
fourth quarter.

Log demand in China
World wood market got chaotic by outbreak of corona
virus and impacted import of export of wood products.
Large wood consuming country of China suffered the
same and log import in the first half of 2020 decreased but
arrivals of beetle damaged European logs are steady and
the demand recovered in the second half. Percentage of
imported logs is high from Russia and New Zealand then
European beetle damaged logs are becoming another
major source.

In 2019, logs from New Zealand are about 17-18 mil.
cbms, about 3% more than 2018 and logs from Russia are
5-6mil. cbms, 27% less. European logs are estimated about
7-8 mil. cbms, 470% more.

Removal of beetle damaged logs is priority matter in
Europe and more volume is expected in next year and on.
Despite corona virus epidemic, European supply sources
prefer to sell to China probably because of prices.
Meantime, Russian logs declined because of export duty
and logs from the U.S.A. decreased triggered by the trade
war between two countries.

In the first half of 2020, New Zealand logs decreased by
more than 25%, Russian logs decreased by more than 30%
and logs from the U.S.A. contracted by more than 45% as
both supplying countries and China suffered extreme
slowdown of economic activities to fight with corona
virus.

European logs are big relief for China but total softwood
log import in the first half of 2020 is more than 16% less
than the same period of 2019.

World market recovered after the summer and log demand
in China got active so that New Zealand radiate pine logs
for China increased both in volume and price to make up
slow first half.

Russian supply in future is uncertain after the president
Puchin mentioned to ban export of logs and semi-finished
wood products after 2022. To supplement Russian supply,
China would increase import of New Zealand radiate pine
and European beetle damaged logs.

Plywood
Tight supply of domestic softwood plywood continues and
shortage feeling is spreading. Regular orders are filled
without any problem but additional spot orders need
minimum of one week waiting for delivery. Tightness was
on particular items like thick panels but now standard
commodity item of 12 mm takes time.

In particular, in Western Japan, orders from Kyushu are
busy for restoration of typhoons and heavy rain damages
so delivery takes time but now even in Tokyo market,
orders from precutting plants are climbing so immediate
delivery is getting difficult. Market prices are tightening
and low offers are gone.

The manufacturers seek for timing to increase the prices to
the level before the prices weakened. Distributers are
prepared to hear price hike proposal in any day.

Imported South Sea plywood in Tokyo market suffers
several short items. Record low arrivals results in rapid
decrease of port inventories. With dull movement, dealers
procured short items in distribution inventory but now
standard plywood and 12 mm concrete forming panel and
structural panel are getting tight rapidly.

Domestic logs and lumber
Log supply is increasing gradually with higher log prices
since last August but the supply is not getting enough
compared to normal years so log supply is not enough all
over Japan so log prices continue climbing in the regions
where large sawmills are like Kyushu and Northern Kanto.

Particularly in Northern Kanto, where is close to
consuming market of Tokyo, increase of log prices is
conspicuous. By higher log cost, sawmills have been
asking higher lumber sales prices so lumber sales prices
have started climbing since middle of October but log
price increase is much faster than lumber price hike.

Normally in every year, log supply increases in October
and November but low log prices since last spring, which
discouraged log suppliers so this year¡¯s log supply in fall
is much less than normal years and sawmills aggressively
procure logs. 3 meter post cutting cedar log prices in
Northern Kanto are 16,500 yen when the prices in other
regions are about 12,000-13,000 yen. 4 meter sill cutting
cypress log prices are 19,000-20,000 yen all over Japan,
which is the highest in one year.

Lumber demand is increasing particularly for nonresidential
buildings so impact of COVID-19 is not as bad
as initially feared. Since sawmills and lumber dealers have
been asking higher prices for more than a month, lumber
prices are finally firming. 3 meter KD cedar 105 mm post
prices are about 48,000 yen and 4 meter KD 105 mm sill
are about 58,000 yen.

With uncertain future market, there is no speculative
purchase with high prices. Sawmills continue to suffer
high log cost and not high enough lumber sales prices.

Honda Lumber developed water repellent plywood
Honda Lumber (Tokyo) and Meiwa Sangyo (Tokyo) have
developed new type of Vietnamese plywood for crating.
This is named ¡®water and mold block plywood for
packaging¡¯. Water repellent and anti-mold agent Sumika
Environmental Science developed are sprayed over
plywood.

Six months is assumed for period of use from
manufacturing plywood in Vietnam, shipping to Japan,
spraying process and opening of packages at the
destination.

Normally packages are covered with blue plastic sheet to
prevent from rain water but with this process, such works
are not necessary so that labor cost is saved and helps keep
cargoes inside package from getting wet even if packages
are left for long time by congestion.

This project started by request of large logistic company
and they plan to keep the inventory at major ports like
Yokohama, Moji, Nagoya and Hakata and by customers¡¯
request, the inventory will be stored at other ports like
Sendai, Osaka and Kobe.

For the time being, handling volume will be about 450
cbms a month. Initially, they are sold to the company
requested to make this product then it will start marketing
in open market since 2021.