4. INDONESIA
Furniture and handicraft exports to US and EU beat
expectations
Indonesia continues to see growth in wood product exports
to the US despite the impact of the global pandemic. The
Minister of Environment and Forestry has indicated that
exports to the US rose around 16% year on year in the
period January to October 2020.

The good performance of Indonesia's wood products
sector is not confined to exports to the US as January to
October exports to the EU were also higher by around
10% year on year.

Indroyono Soesilo, Chairman of APHI (Asosiasi
Pengusaha Hutan Indonesia), applauded the changes in tax
and non-tax regulations introduced by the government in
order to contribute to increasing exports.

For example the government has lowered the export duty
on exports of from 15% to 5%. In addition to relaxing
tariffs, the government has adjusted regulation and duties
on processed merbau, white meranti and yellow meranti.

See:
https://foresthints.news/forestry-exports-to-us-retain-positivegrowth-despite-covid-19/
and
https://ekonomi.bisnis.com/read/20201025/9/1309487/eksporveneer-kini-hanya-dikenakan-tarif-5-persen

The Furniture and Handicraft Association has indicated
that output from the furniture sector is recovering despite
the ongoing impact on demand of the pandemic. This is in
contrast to the situation in the first quarter of the year
when orders collapsed.

Regina Kindangen from HIMKI said that the Association
members appreciated the stimulus measures provided by
the government to SMEs in the home decor and furniture
sectors.

Regina continued saying SMEs are currently experiencing
better times even though Indonesia is experiencing
economic recession as it sees consumers in the importing
countries have a high degree of willingness to spend on
furniture and handicrafts. The domestic sector should get a
boost from adoption of the Omnibus Law through which
the government intends to reduce imports of goods that
can be made domestically.

See: https://bisnis.tempo.co/read/1400365/pandemi-globalmulai-terkendali-kinerja-ekspor-industri-mebelpulih?page_num=2

and
https://ekonomi.bisnis.com/read/20201029/257/1311072/industri-mebel-dan-kerajinan-mulai-siuman

In related news, the Ministry of Trade has set a benchmark
export price for processed meranti wood products. This
determination was made after the Ministry of Finance
amended export duties for certain dimensions of meranti.
Details are in Ministry of Trade Regulation Number 86 of
2020.

See: https://bisnis.tempo.co/read/1399872/mendag-tetapkanharga-patokan-ekspor-kayu-olahan-meranti/full&view=ok

Panel sector hard hit by pandemic
The Indonesian Wood Panel Association (Apkindo) has
said the Indonesian wood panel industry has been is hard
hit by the impact of the pandemic and forecasts that
production this year will be down by nearly a quarter.
Panel production in the first nine months of the fell 24% to
2.35 million cubic metres. Adding to the concern of
Apkindo is the decline in export prices.

Gunawan Salim, speaking for Apkindo, noted the
pandemic and heavy rains which disrupted harvesting and
log transport drove down production levels. He suggested
the pandemic will continue to impact production and
demand throughout the second half of this year. Demand
for wood panels, especially in the traditional Japanese
market, has been trending down.

Another trade investigation may open door for
Indonesia
The US government is currently conducting an
investigation of Vietnamese wood product exports and the
Indonesian Ambassador to the US, Muhammad Lutfi, said
this was a good opportunity for Indonesian exporters to
expand market share in the US.

The Ambassador reported that the Indonesian Embassy in
Washington had created a mechanism to bring together US
importers and Indonesian exporters.

See: https://rmco.id/baca-berita/ekonomi-bisnis/52914/indonesialirik-ekspor-kayu-ke-as

Take advantage of GSP says Minister
The extension of the Generalised System of Preferences
(GSP) facility announced by the US government in
October is expected to drive increased rattan product
exports to the US according to the Minister of Trade, Agus
Suparmanto.

Indonesian rattan product exports in the first 8 months of
this year reached US$357 million a decline of 4%
compared to the same period in 2019. The main export
markets are the US with an export share of 41% .followed
by the Netherlands (8%) and Germany (7%).

See: https://www.validnews.id/GSP-Diharap-Geliatkan-Ekspor-Rotan-SSS

In related news the government is urging SMEs to take
advantage of the GSP facility to increase exports to the
US. The Minister of Cooperatives and SMEs, Teten
Masduki, said the extension of the GSP facility by the US
comes at a time when Indonesian SMEs need all the help
they can get.

The Ministry will assist with international certification
support including product certification by the US Food
and Drug Administration (FDA) and the US Ministry of
Agriculture. It will also offer incentives for SMEs whose
products qualify for the GSP.

See: https://nasional.kontan.co.id/news/pemerintah-dorongumkm-manfaatkan-fasiltitas-gsp-tingkatkan-ekspor-ke-as

5. MYANMAR
Continuing impact of COVID-19
The economic impact of the second wave of the COVID-
19 pandemic has been more severe on Myanmar
businesses than the first wave, according to the latest
World Bank survey of the private sector. The survey, the
fourth in a series of eight planned, was conducted in
September and covered 500 firms.

Despite COVID-19, domestic investments for fiscal 2019-
20 were more than Kyat 1.88 trillion, which is around
Kyat 200 million higher than in the previous fiscal year.
Approval was given to over 130 Myanmar businesses to
invest in nine sectors during the period. The Bank report
says in fiscal 2019-20, over 23,000 jobs were created as a
result of Myanmar domestic investments.

Revenue rates for private plantation and community
forest logs
The Forest Department has announced revenue rates
(royalty fees) for the logs, posts and poles harvested from
plantations and community forests. Teak and padauk logs
attract the highest rate at 1500 Kyats (About US$1.15) per
cubic ton and for other hardwoods rates are as low as 3-
500 Kyats per cubic ton. The rate for logs from
community forestry is chargeable at double the rate for
plantation logs.

Data release in transparency push
The Ministry of Natural Resources and Environmental
Conservation (MONREC) website provides information
on the conservation, forest governance and trade data for
the past 5 years.

According to the information on the website there are
79,151 acres of private plantations, 111,490 acres of stateowned
plantations and 519,250 acres of community
forests. In addition, 1,292,486 trees have been replanted
in the past three years.

From the available data it can be roughly interpreted that
timber industries purchased logs at a value of around
US$578 million from MTE and exported products at a
value of US$882 million.

On 12 November the Myanmar Timber Enterprise sold
about 4,100 tons of Inn-Kanyin logs and the price varies
from US$500 to 735 per ton.

Japan to assist with Dawei Special Economic Zone
It has been reported that the Japanese government has
offered to participate in the development of the Dawei
Special Economic Zone (SEZ) according to U Myint San,
Vice Chair of the SEZ management committee.

Myanmar is hoping for financial and technical support
from Japan to begin construction of the long-delayed SEZ
which is expected to be one of the largest in South East
Asia and eight times larger than the Thilawa SEZ in
Yangon.

The new SEZ will be located 20 kilometres north of
Dawei, capital of Tanintharyi Region in Myanmar's
southeast coast bordering Thailand.

Myanmar election
Myanmar peacefully concluded its general election on 8th
November and the National League for Democracy (NLD)
party secured a majority.
6. INDIA
Agricultural sector could save the economy
The Indian economy was hit hard by the Covid-19
pandemic in the first half of 2020. Projections from the
IMF suggest India's GDP growth is expected to contract
over 10% in 2020, one of the steepest contractions among
emerging markets.

But a revival could come from one of its 'invisible' and
often-least report sectors, agriculture. There is a growing
awareness in the country that this year's harvest will be
above average because of favourable weather and this will
put extra money into the hands of farmers and disposable
incomes.This good news is in contrast to the situation
facing companies in urban areas which are struggling to
boost their sales devastated by the pandemic.

Consumer confidence sharply down
The Reserve Bank of India's consumer confidence survey
in September showed that for the third consecutive month
more people were pessimistic about economic prospects.
The consumer confidence index was at a record low of
49.9% in September.

The Ministry of Finance recently introduced measures
aimed at lifting consumer spending but economists have
questioned if the new measures can spur long-term
growth. One measure which could help the timber sector is
the extensive, interest free long-term loans offered by the
state governments for infrastructure spending.

According to Jahangir Aziz, head of emerging markets
economics at JPMorgan "What India needs right now is
income support so that when the infection becomes more
manageable and restrictions are lifted, consumers and
businesses would have the financial stability to borrow
and invest."

See:
https://rbidocs.rbi.org.in/rdocs/Publications/PDFs/CCS09102023E6F5FCA08F4C4BAB9F599F5D9DC754.PDF
and
https://www.pib.gov.in/PressReleasePage.aspx?PRID=1663722

High freight rates and container shortage – Ministry in
discussion with shipping lines
India's Ministry of Commerce recently met with
representatives of container shipping lines to discuss the
current container shortage and rising freight rates. This
comes close behind action by the US and Chinese
authorities aimed lowering record high freight rates on the
trans-Pacific route.

The Federation of Indian Export Organisations said freight
charges have increased between 30-50% on some routes
and that disruption of container movements, which caused
a shortage of capacity, was partly to blame. In the period
April-September 2020 India's exports declined 17% while
imports fell 35%.

See: https://www.hellenicshippingnews.com/indian-ministry-tomeet-container-shipping-lines-oct-21-amid-calls-to-addresssevere-shortage-high-rates-sources/

Government shops not to sell imported goods
The Indian Ministry of Defense is aiming to ban the sale
of thousands of imported items at its stores (Canteen
Stores Department - CSD) as part of efforts to promote
domestically manufactured goods under the
'Aatmanirbhar Bharat' scheme.

The CSD runs one of the largest retail store chains in India
with over 3,500 stores across the country. In a government
order in October the Ministry of Defense stated that
meetings had been held with the three Services and with
those from the CSD to advance the Atmanirbhar
Bharat, known internationally as the 'Made in India'
movement.

Plantation teak stocks drop pushing up prices
Retail prices for wooden furniture, particularly teak items
have risen by 10-15% over the past few months even as
demand weakened due to the impact of the pandemic
lockdown.

The Times of India quotes the president of Kandla Timber
Association as saying prior to the pandemic there were
around 5,000 containers of teak arriving at Indian ports but
this number has fallen dramatically creating a steep drop
in teak stocks.

The Times reports "the Kutch's timber industry, India's
biggest timber production hub, is facing acute shortage of
teak wood after it resumed operations since the unlock."

See:
http://timesofindia.indiatimes.com/articleshow/78004216.cms?utm_source=contentofinterest&utm_medium=text&utm_campaign=cppst

Under the present circumstances it is difficult to provide a
clear picture of plantation teak C&F prices. The price
indications below do not reflect the changing freight rates.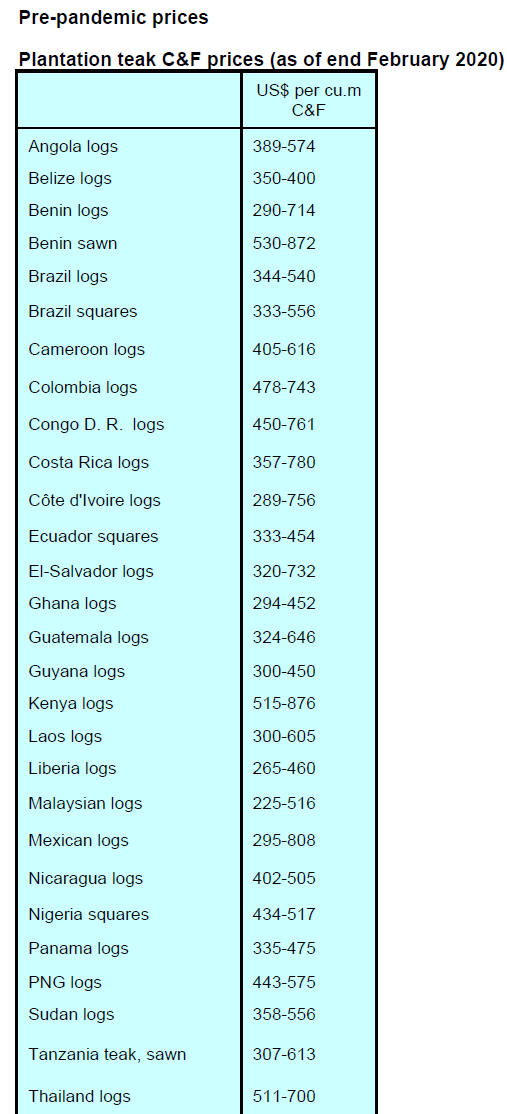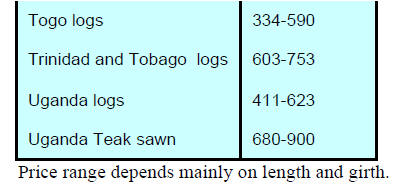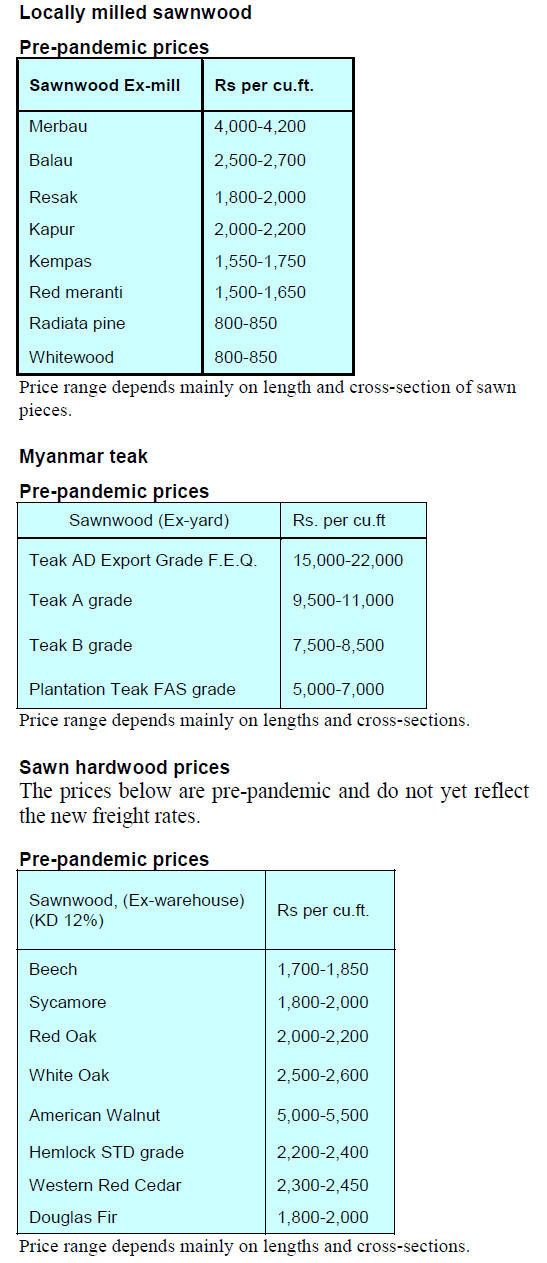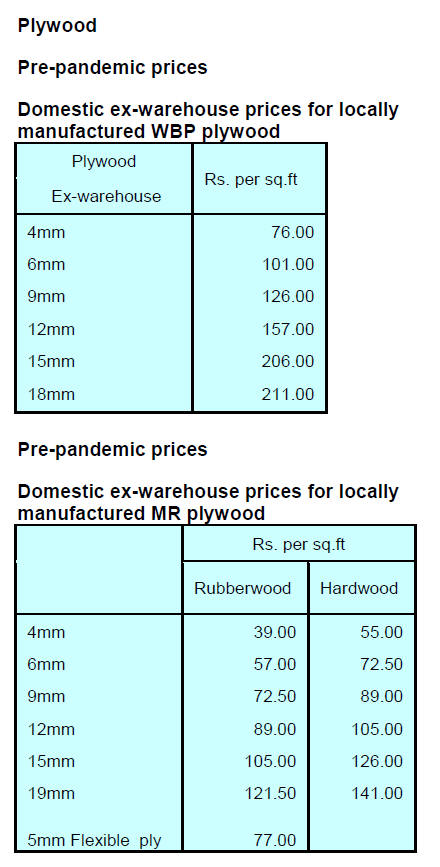 7. VIETNAM
Vietnam signs emissions reduction agreement
The Ministry of Agriculture and Rural Development
(MARD) and the World Bank (WB) - the trustee agency
of the Forest Carbon Partnership Facility (FCPF) have
signed an Emissions Reduction Purchase Agreement
(ERPA).

The FCPF will pay Vietnam US$51.5 million if the
country fully implements its commitments, under which
the north-central and central provinces of Thanh Hoá,
Nghệ An, Hà Tĩnh, Quảng Bình, Quảng Trị and Thừa
Thiên-Huế are to reduce CO2 emissions by 10.3 million
tonnes in the period 2018-2024.

MARD must periodically report on the volume of
emissions after it is confirmed by an independent
international agency after which payments will be made
for the purpose of developing sustainable forests and
forestry land management.

Deputy Minister of Agriculture and Rural Development
Hà Công Tuấn said the payment for results-based
emissions reduction is part of efforts to implement the
reduction of greenhouse gas emissions in line with the
Reducing Emissions from Deforestation and Forest
Degradation (REDD+) international framework.

See: https://vietnamnews.vn/environment/803826/viet-nam-wbsign-emissions-reduction-purchase-agreement.html

Private sector commitment on development of
Vietnam's timber industry
On 9 November 2020, in Ho Chi Minh City,
representatives of multiple associations signed the
Commitment on Sustainable and Responsible
Development of Vietnam's Wood Industry. This
Commitment represents a comprehensive package of
actions toward sustainable and responsible development of
the wood industry sector of Vietnam.

The associations that signed the commitment were; the
Vietnam Timber & Forest Products Association and 7
affiliated associations, including the Vietnam Timber and
Forest Product Association, the Binh Duong Furniture
Association, the Handicraft and Wood Industry
Association of Dong the
Forest Products Association of Binh Dinh, the
Handicraft and Wood Industry Association of Ho Chi
Minh City, the Thanh Hoa Timber and Forest Product
Association, the Vietnam Plywood Association and the
Vietnam Wood Chips Association.

Vietnam has emerged as a major wood and wood product
producer and exporter and the private timber sector
players realise that timber legality assurance across the
entire supply chain is vital to business development. In
September this year the government issued Decree No.102
regulating the implementation of the Vietnam – EU
Agreement on Forest Law Enforcement, Governance and
Trade (VPA/FLEGT).

With the signing of this Commitment Vietnamese timber
enterprises have demonstrated determination to support
government efforts to sustain Vietnam's position as a
leading producer and exporter of wood products. The
document signed commits the signatories to:

 strictly comply with Decree No. 102/2020/ND-CP
Decree (VNTLAS Decree) dated September 1,
2020 of the Government on Viet Nam Timber
Legality Assurance System (VNTLAS) to assure
all activities relating to importing, exporting,
harvesting, transporting, buying, selling and
processing of wood products are legally
implemented.
 support the Government of Vietnam in enhancing
inspection and supervision of imported wood,
especially tropical wood imported from
risky/non-active geographic areas set out in the
VNTLAS Decree.
 request all members of the associations to strictly
comply with VNTLAS Decree; absolutely not to
use risky wood for manufacturing wood products
to meet demands from local and overseas
markets.
 call on the corporate community to promote the
use of locally planted wood and wood imported
from low risk sources; priority is given to wood
harvested in certified forest.
 promote the development of the domestic market
in the direction of using legally sourced wood,
enhance wood traceability, transition from risky
imported wood to locally planted wood as well as
that of wood products made of locally planted
wood and low risk imported wood.
 request the Government of Viet Nam to issue a
public procurement policy towards completely
eliminating risky wood species from public
procurement, giving priority to products made of
plantation wood.
 closely collaborate with related authorities to
detect, prevent and avoid commercial fraud and
investment circumvention in wood industry
sector, solicit transparent and responsible trade
and investment operations to generate higher
value for the wood sector.
 call on the business community and relevant
stakeholders to join hands in building a
sustainable forestry, enhancing the protection of
natural forests, conserving biodiversity,
encouraging the expansion of certified forest and
supporting the development of improved
livelihood for forest reliant communities.

To proceed with the implementation of this Commitment,
each association will develop a road-mapped Action Plan
and allocate sufficient resources for its effective
implementation.

These Action plans will include the following
components:

(1) Collaborate with State's authorities to propose,
counter-audit and implement related mechanisms and
policies effectively;

(2) Advocate training and provide information for
member businesses, encourage business association,
including links with tree growers and micro-business
households from wood villages;

(3) Coordinate with media and relevant stakeholders for
long-term communication campaigns aimed at improving
images of the wood industry in production, trade, markets
and products development, contribute to promote the
development of a responsible and legal Vietnamese timber
industry and a sustainable forestry sector.

The leaders of the committed associations have reiterated
their statement "WE SAY NO TO ILLEGAL TIMBER".

As an immediate step in the implementation of the
Commitment and a joint effort to overcome the severe
damage caused by the natural disaster in the central
Vietnam in October – November this year, the signatories
have decided establish Green Vietnam Fund.

See: https://goviet.org.vn/bai-viet/doanh-nghiep-che-bien-go-noikhong-voi-go-bat-hop-phap-9204

Export update
Vietnam's wood and wood product exports increased
further in October 2020. In the first 10 months of 2020
export earnings from wood and wood product exports
totalled US$9.8 billion (14% up year-on-year), while
wood and wood products imports stood at US$2.0 billion
(-3% year-on-year).

At the end of October 2020 the export of wood and wood
product plus non-wood forest products from Vietnam were
valued at US$ 10.3 billion.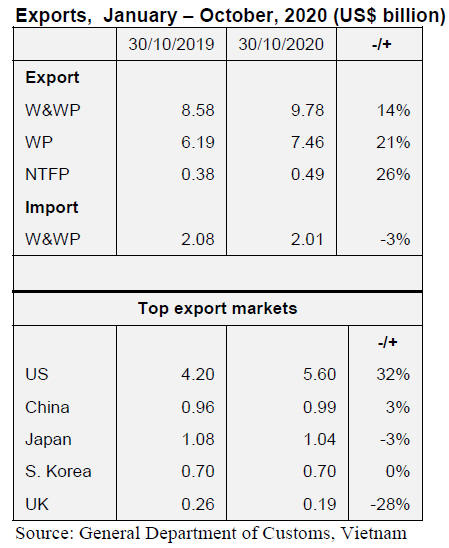 8. BRAZIL
Evolving Standards for wood products
The Brazilian Association for Mechanically Processed
Timber (ABIMCI) has reported significant progresses in
the standardisation of timber products.

As the coordinator of the Brazilian Wood Committee (CB-
31) of the Brazilian Association of Technical Standards
(ABNT), ABIMCI focuses on establishing minimum
performance standards for wood products with the aim of
expanding market acceptance.

In October this year technical standards for sawnwood,
wooden doors and wooden-frames were published. Rule
ABNT NBR (Brazilian Technical Standard) No.16864
consolidates an important stage in the process of
developing a standard for sawnwood which aims to
establish its greater use in civil construction, in the
packaging segment, for furniture and for general use.

The committee for wooden doors approved part 3 of
ABNT NBR 15930 that refers to wooden doors for
buildings and deals with doors with special characteristics,
including requirements for acoustic door, fire resistant and
accessibility.

For the wood-frame construction standard one of the main
demands and expectations of the wood sector is in relation
to the development of the standard for wooden houses
(light wood frame).

The expectation of ABIMCI is that the national
consultation, an official stage in a process for the
preparation of a technical standard (NBR) that allows
interested parties to evaluate the proposed contents and
present suggestions/contributions will take place this year.

Operation Green Brazil extended
Operation 'Green Brazil' (Operação Verde Brasil) aimed
at combating illegal deforestation and forest fires in the
Amazon with support of the Armed Forces began in May
2020 and has been extended until April 2021.

The government decided to send troops to the region in
order to take action against those committing
environmental crimes. According to the Brazilian
government, R$ 400 million was allocated to the
Operation and there is unspent funds to allow the
extension.

The National Institute for Space Research (INPE) has
reported that forest fires in the Amazon in 2020 have
already exceeded those from the previous year. According
to INPE, 89,604 hot spots were detected by satellites so far
this year. In 2019, 89,176 were detected.

INPE´s deforestation alert system has reported that
deforestation in the Legal Amazon registered 964 sq. km
in Septembert his year, down 34% from September 2019.
That follows a 27% decline in July and a 21% decline in
August compared to 2019 when deforestation in the region
hit the highest level since 2008.

The alerts were made by the Real Time Deforestation
Detection System (Deter), which emits signals of changes
in forest cover for areas larger than 3 hectares, both for
areas that are fully deforested and for those in the process
of forest degradation.

Domestic demand recovering and exports of most
wood products rising
At the beginning of the pandemic there were forecasts of
reductions in domestic demand and exports, notably of
solid wood products. The expectation was for a decline in
domestic and international demand for all forest products
throughout 2020 and into 2021.

After six months and with the pandemic affecting 30
million people, the scenario is markedly different from
that forecast. The Brazilian domestic market is already
showing signs of recovery with resumption of civil
construction and exports of most wood products have
increased.

Although there was a drop in exports for some products,
overall there was growth in the first seven months of this
year. Exports of veneers stand out although export
volumes are still small. However, other products such as
non-coniferous roundwood exports increased 23% year on
year to a record 700,000 cu.m.

International demand for wooden doors expanded over
20% with some 70% of exports going to the US. Exports
of value-added products were expected to be severely
impacted by the pandemic but this proved wrong. The
pandemic did affected exports at the beginning of the year
but the situation has changed dramatically over the past
two or three months.

Comparing August 2020 with the same month in 2019
exports of tropical plywood almost doubled, pine plywood
exports were up 45% and pine sawnwood exports
increased 68%. However, furniture exports have not yet
recovered.

This picture is totally different from that foreseen at the
beginning of the pandemic when a 30% to 40% reduction
in Brazilian exports of solid wood products was projected.

Source: Revista Referência Florestal (October, 2020)
https://www.yumpu.com/en/document/read/64591979/outubro-2020-referencia-florestal-223

Furniture exports fall even with favorable exchange
rates
With less than two months left to the end of 2020,
Brazilian furniture exports have not risen as in some other
producer countries despite the highly favourable exchange
rate which has clearly benefitted wood panel exporters. In
the case of furniture, 2020 is expected to end with export
earning at about the same level as in 2017, that is around
US$650 million.

Between January and September 2020 furniture exports
totalled US$465.2 million, 10% less than in the same
period of 2019. The main exporters are concentrated in the
southern region of the country. The states of Santa
Catarina, Rio Grande do Sul and Paraná together account
for 80% of total exports with half of this coming from
Santa Catarina.

Among the states that exported over US$1 million in the
first 9 months of the year Rio de Janeiro in the south
eastern region, showed the greatest expansion a doubling
of exports going from US$929,000 to US$1.9 million
dollars. At the other extreme is the state of Pernambuco in
the north eastern region of Brazil where exports dropped
38%.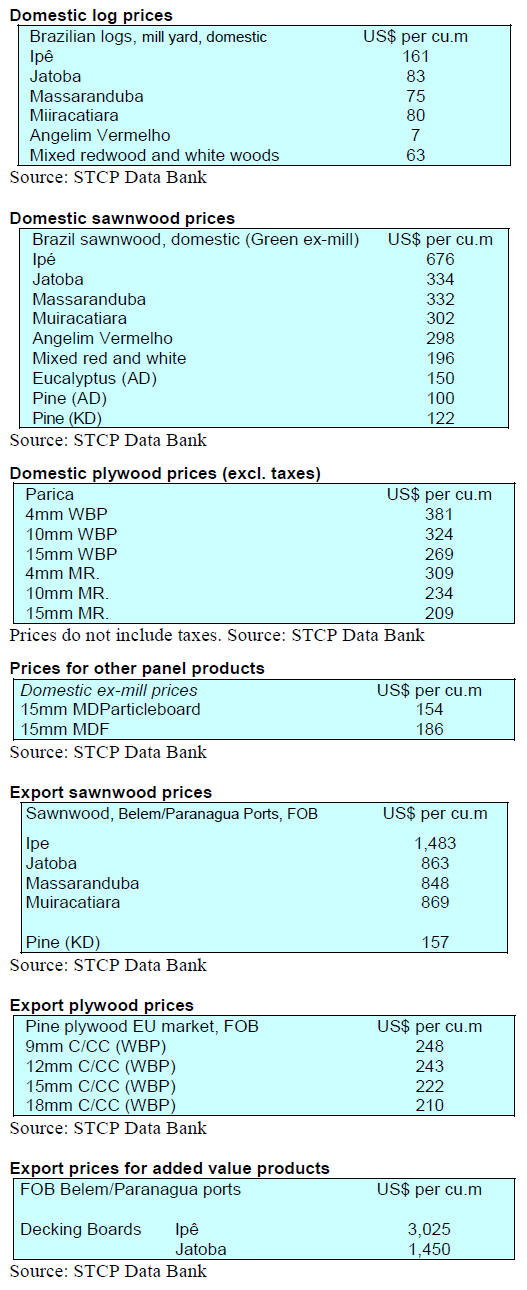 9. PERU
Forest concessions study in the final stage of
preparation
The National Forest and Wildlife Service (SERFOR) is in
the final stage of finalisation of its study on the
functioning and effectiveness of the timber forest
concession model from the economic, financial,
sustainability and legal perspectives so as to develop an
improved model for Peru.

It has been more than 15 years since government held
public tenders for forest concessions. Over this time more
than 800 concessions were granted covering an area of
about 10 million hectares.

For the preparation of the study, information dating back
15 years was collected on concessions in Loreto, Ucayali
and Madre de Dios. This data has been ordered, analysed
and will be reported online.

The study will make it possible to understand how the
forest structure has been impacted and what measures
must be taken in order to improve the ecological
sustainability of forest concessions.

Participation of women in the forestry sector
In order to evaluate the participation of women in the
forestry sector the National Forest and Wildlife Service
(SERFOR) reported on a study 'Challenges of female
employment in the forestry sector: a first approximation'
prepared through cooperation with the German GIZ.

The report contains testimonies of the situations of women
who work in the forestry sector and their difficulties in
participating in this area especially in the forest use stage.
It concludes with proposals for a public policy to improve
working conditions and raise awareness among institutions
on the role of women in forestry. The report recommends
that companies would do well to recruit more women
professionals.

ADEX: forest plantation plan needed
A report by the CIEN-ADEX Global Business and
Economy Research Center indicates that the pandemic will
result in around one million jobs being lost so that it is
vital that economic activities be stimulated.

The timber sector is identified as one where economic
reactivation should be focused. According to figures from
the ADEX Data Trade Business Intelligence System in
2019 Peru exported wood products worth US$124 million
by way of contrast exports from Chile were worth over
US$5 billion despite the country having only 17 million
ha. of commercial forests.

The Center reported that over the past 50 years around ten
million hectares have been deforested in Peru with most
being the consequence agricultural expansion. The current
challenge is to fully value forest resources as they have
enormous potential.

ADEX reported that some 3 million ha. of degraded land
in Ucayali, Huánuco, San Martín, Loreto and Madre de
Dios has been abandoned by migrant farmers and ranchers
and suggested medium and long-term financing plans are
needed for the implementation of forest plantations in
these areas.