4. INDONESIA
Indonesia looks to sign regional trade deal in
November
Indonesia expects to sign the Regional Comprehensive
Economic Partnership (RCEP) in November According to
government officials quoted in the Jakarta Post, ASEAN
member countries, with Australia, China, Japan, New
Zealand and the Republic of Korea as participating
countries, had finished negotiating the technical aspects of
the deal and had carried out the legal "scrubbing" of the
text.

The participating countries, which collectively account for
nearly one-third of the global economy, are expected to
sign the RCEP in November, about eight years after
negotiations began. Around US$95 billion (61.6%) of
Indonesia's total exports were channelled to RCEP
countries in 2019.

Anda Nugroho, a researcher at the Fiscal Policy Agency,
estimated that the trade deal would raise Indonesia's gross
domestic product by 0.05 percent in 2032. The country's
timber, paper and electronics industries were projected to
benefit, said Mr Nugroho.

The agreement will not come into force until at least six
ASEAN countries and three partners have ratified it, a
process that could take up to two years.

See:
https://www.thejakartapost.com/news/2020/10/27/indonesiaexpects-to-sign-rcep-in-mid-november.html

Ministry of Foreign Affairs supports furniture
entrepreneurs to explore new markets
Exports of Indonesian furniture and handicrafts to Latin
America and the Caribbean amounted to only US$38.4
million in 2019, which was 0.39% of the region's total
imports (valued at US$9.73 billion). The Ministry of
Foreign Affairs will hold an online seminar on 9–11
November 2020 aimed at supporting furniture and
handicraft manufacturers and exporters to tap into this
largely unexploited market.

The participation of Indonesian entrepreneurs in the
event is expected to increase Indonesia's exports in the
furniture and handicraft sector, as well as exports of
Indonesian products in general, to the 33 countries in
the Latin American and Caribbean region.

See: https://www.radarbangsa.com/ekobis/27767/kemlu-dukungpengusaha-mebel-tembus-pasar-amerika-latin-dan-karibia

Furniture industry sees increasing demand trend
Export demand for Indonesian furniture and handicraft
products is increasing in the last quarter of 2020,
according to industry sources, largely because of the
ongoing trade dispute between China and the United
States.

Deputy Chairman of the Association of Indonesian
Furniture and Handicraft Industries Abdul Sobur said there
had been an increase in orders since September 2020,
especially from the United States.

He said it was now more difficult for Chinese products to
enter United States markets, opening up space for others.
"It is a good opportunity because US demand is increasing
more compared to other countries," said Mr Sobur.

See:
https://ekonomi.bisnis.com/read/20201014/257/1305103/industri-mebel-klaim-tren-permintaan-meningkat

Plantation forests the future of Indonesia's biomass
energy
Indroyono Soesilo, Chair of the Association of Indonesian
Forest Concessionaires (APHI), said that at least 34 APHI
member companies are interested in investing in biomass
energy through the Energy Plantation Forest Program to
increase the country's use of biomass energy in the form
of wood pellets, woodchips and sawdust.

According to Mr Soesilo, energy plantation forests
constitute the future of Indonesia's biomass energy,
offering a sustainable source of biomass energy raw
material for local power plants as well as for export.

See:
https://ekonomi.bisnis.com/read/20201023/99/1309008/hutantanaman-energi-masa-depan-energi-biomassa-indonesia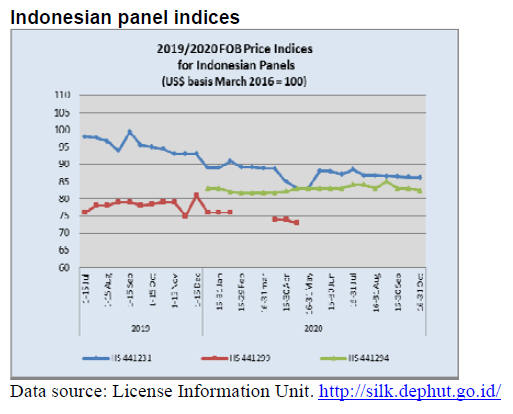 5. MYANMAR
MONREC issues order on teak tree ownership
Myanmar's Ministry of Natural Resources and
Environmental Conservation (MONREC) recently issued
an order clarifying the ownership of teak trees. According
to the order signed by Minister Ohn Win, teak trees in
private plantations belong to those people and entities who
have invested in them.

Under the Forest Law of 1992, teak trees planted and
grown anywhere in the country are owned by the state, but
this has been a point of contention for private plantation
investment and community forestry.

The new Forest Law, enacted in 2018, enables the
ownership of teak trees by individuals and organizations
under certain conditions. If registered with the Forest
Department, teak trees in community forests and the
household compounds of individual citizens, and on any
other private and public lands, will now belong to those
relevant people or groups, according to the order. The
change may pave the way for the use of teak trees as
collateral for bank loans.

MONREC clarifies documents demonstrating legality
In another development, MONREC has issued a statement
clarifying which documents will be available to
demonstrate the legality of export consignments under
Myanmar's rules and regulations. According to Myanmar
exporters, some competent authorities in the EU require all
the documents listed in the chain-of-custody (CoC) dossier
developed by MONREC in 2018.

According to the recently issued statement, the CoC
dossier was published for the purpose of assisting
international timber traders to legally complete the timber
extraction, milling and marketing process in Myanmar, but
it did not necessarily mean that all documents in the CoC
dossier would be provided with export shipments.

According to the statement, timber from Myanmar is legal
when accompanied by 14 documents in accordance with
existing rules and regulations. The 14 documents comprise
four from the Forest Department, eight from the Myanma
Timber Enterprise, one from the Trade Department and
one from Customs. The statement urged EU operators to
buy and import only timbers from Myanmar that meet the
requirements of the European Union Timber Regulation.

The statement referred interested parties and operators to
the Joint Focal Group (JFG) for further information. The
email address of JFG is: jfgtimbertrademm@gmail.com

See: http://www.monrec.gov.mm/news/1230

European Chamber of Commerce signs investment
MOU
Myanmar's investment agency, the Directorate of
Investment and Company Administration, has signed a
memorandum of understanding with the European
Chamber of Commerce with the aim of attracting more
investment from the EU.

The signing comes as Myanmar drafts an economic reform
and recovery plan to address the impacts of COVID-19.
The EU's total investment in Myanmar reached nearly
US$7 billion (MMK 9 trillion) in 2019, accounting for
8.6% of all foreign direct investment (FDI) in the country.

The European Commission said trade between the EU and
Myanmar reached €3.4 billion (MMK 5.2 trillion) in 2019.
The EU accounted for 11 percent of Myanmar's trade.

Foreign investment target achieved despite COVID-19
According to the Myanmar Investment Commission, the
country secured US$5.7 billion (MMK 7.3 trillion) in FDI
in the 2019–20 fiscal year (which ended on 30
September), up by US$1 billion (MMK 1.3 trillion)
compared with the previous financial year.

Under the Myanmar Investment Promotion Plan, the
government set a target to attract US$5.8 billion (MMK
7.46 trillion) in the 2019–20 fiscal year and fell short by
US$110 million.

See: https://www.irrawaddy.com/news/burma/myanmar-signseus-eurocham-investment.html

6. INDIA
Government to "disengage" from forestry and
environment institutions
The government is considering a proposal to disengage
from five institutions currently under the Ministry of
Environment and Forests after a review of 16 autonomous
bodies under the ministry.

The Department of Expenditure, which conducted the
review, recommended that the government phase out its
budget support by 25% per year for the Wildlife Institute
of India, the Indian Institute of Forest Management, the
Indian Plywood Industries Research and Training Institute,
the CPR Environment Education Centre and the Centre for
Environment Education.

The proposal involves converting the institutes to
autonomous institutions or deemed universities; under the
plan, the Indian Plywood Industries Research and Training
Institute would ultimately be largely funded by the
plywood and panels industry.

See:
http://timesofindia.indiatimes.com/articleshow/78724775.cms?utm_source=contentofinterest&utm_medium=text&utm_campaign=cppst

Real estate market goes upbeat
Sentiment in India's real estate industry is turning
optimistic, according to an index tracked by Knight Frank.
The Real Estate Sentiment Index Q3 2020 Survey of
developers, banks, financial institutions and private equity
players operating in the sector notched a score of 40 points
in July–September, up from a record low of 22 in the
previous quarter but still in the "pessimistic" zone (a score
above 50 indicates optimism).

Fifty-seven percent of survey respondents thought that the
economy would grow in the next six months, thereby
improving conditions in the sector. Knight Frank
attributed the upbeat outlook to the "remarkable upturn
seen in the real estate business, especially in the residential
segment, in the third quarter of 2020 as a result of the
unlocking process".

See: https://www.financialexpress.com/industry/sentiment-inreal-estate-remains-pessimistic-in-jul-sep-outlook-turns-positivesurvey/2111540/

Economy picks up
India's economy gathered pace in September, with five of
eight indicators (including exports – see below) tracked by
Bloomberg News improving and the other three remaining
steady. Economists at the Reserve Bank of India attributed
the recovery to the release of pent-up demand after the
lockdown imposed in March to contain COVID-19.
Nevertheless, the improvement may be insufficient to
prevent the economy from contracting overall in the
financial year to March 2021.

See:
http://timesofindia.indiatimes.com/articleshow/78907398.cms?utm_source=contentofinterest&utm_medium=text&utm_campaign=cppst

Exports grow in September
India's exports of goods rose in September for the first
time in six months, registering almost 6% growth, yearon-
year and hitting US$27.6 billion. Exports have
recovered much faster than imports, indicating operational
resilience in a very tough year.

According to the United Nations Conference on Trade and
Development (UNCTAD), global trade fell by 5% in the
third quarter of 2020 compared with the same period last
year, which nevertheless was an improvement on the 19%
year-on-year plunge in the second quarter of 2020.
UNCTAD expects the frail recovery to continue in the
fourth quarter.

See: https://swarajyamag.com/economy/exports-have-bouncedback-sharply-after-the-covid-19-lockdown-india-needs-themomentum-to-continue

and
https://www.thehindu.com/business/india-recorded-exportgrowth-of-4-in-september-unctad/article32914365.ece

Pre-pandemic prices

Plantation teak C&F prices (as of end February 2020)
In light of the pandemic, there is a lack of information on
import prices for plantation teak logs at Indian ports.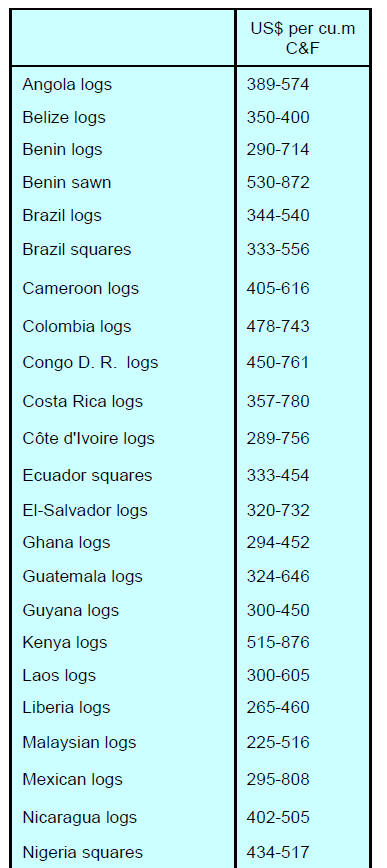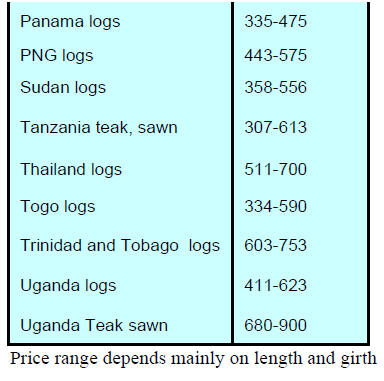 Locally milled sawnwood
Prices for imported hardwood sawlogs have become
volatile and there is a shortage of containers as well. The
prices shown here are as given previously, due to a lack of
new information.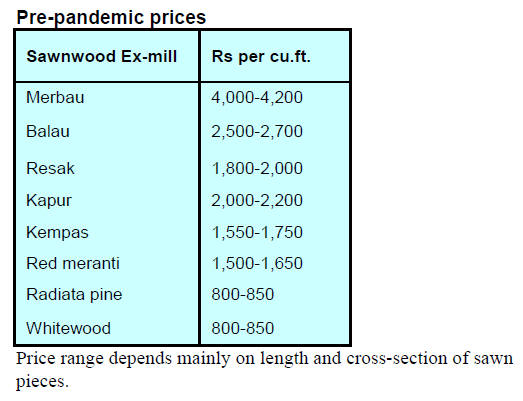 Myanmar teak
There is a lack of timber supply from Myanmar. The rates
shown here are as given previously, due to a lack of new
information. The effects of price rises in Myanmar will be
known when conditions normalize.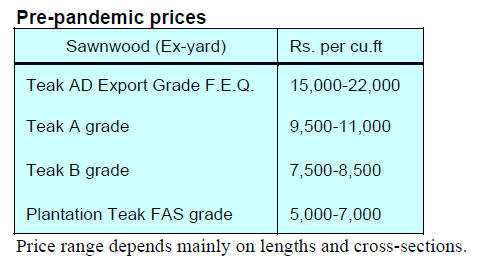 Sawn hardwood prices
The market is showing signs of revival and demand will
rise when business conditions normalise. The prices
shown here are as given previously due to a lack of new
information.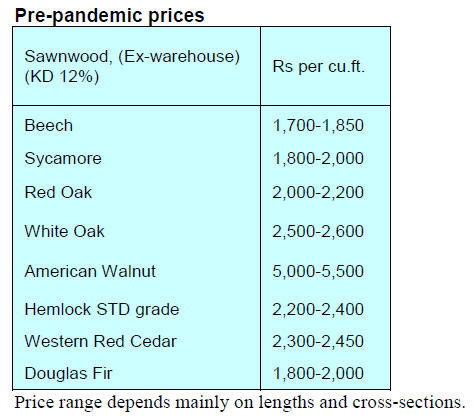 Plywood market
Plywood production and sales are improving but plywood
imports have not increased. Workers have been returning
to their jobs and full operations are expected by year end.
Current prices are as given below.

Pre-pandemic prices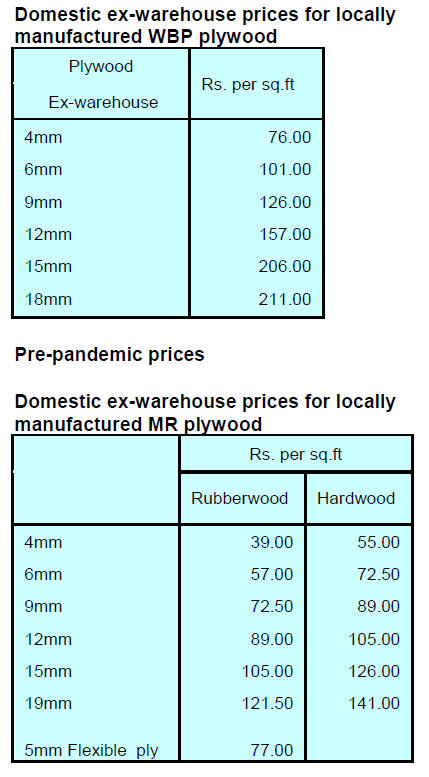 7. VIETNAM
Viet Nam looks to tighten legality control on imported
timber
The Vietnam Timber and Forest Product Association
(Viforest) convened a seminar on 16 October on the
identification and control of risks associated with
exporting and importing Vietnamese wood products.

Participants heard that the development and activation of
geographic origin and timber species risk categories will
be important for ensuring the legality of imported timber.

To fulfil commitments under the Voluntary Partnership
Agreement on Forest Law Enforcement, Governance and
Trade (VPA/FLEGT), Prime Minister Nguyen Xuan Phuc
issued Decree 102/2020/ND-CP on 1 September 2020
stipulating regulations for importing and exporting timber
following a risk-based approach.

Under the decree, the management of imported timber will
be based on the application of risk management measures
to prevent, detect and promptly handle violations, ensuring
that timber is imported legally and creating conditions that
enable organizations and individuals to comply with the
law.

Imported timber will be subject to criteria for categorising
countries into positive or non-positive geographic regions
and for identifying the types of timber considered risky to
import into Viet Nam.

At the seminar, Viforest chair Do Xuan Lap said building
and activating a list of geographic region and species risk
categories was necessary for maintaining and developing
the industry and fulfilling the government's commitments
to the international community. In addition to timber from
domestically planted forests, Viet Nam still imports raw
materials, including from tropical countries in Africa as
well as Cambodia, Lao PDR and Papua New Guinea.

See: https://www.phnompenhpost.com/business/vn-lookstighten-legality-control-imported-timber

Vietnamese acacia farmers suffer sharp drop in
woodchip price
Wood and wood products exported from Viet Nam
comprise wooden furniture, woodchips, wood-based
panels and wood pellets. In recent years, Viet Nam has
emerged as one of the world's top woodchip exporters. In
2019, it exported 13 million bone dry tonnes (BDT) of
woodchips, mostly to China and Japan, earning US$1.67
billion (18% of the total wood and wood product export
revenue).

According to VNFOREST, Viet Nam had 192 woodchip
companies in 2019 with a production capacity of 14.9
million BDT. Due to the impact of COVID-19 and the
consequent decline of paper demand, the price of
woodchips exported from Viet Nam declined by US$15–
18 per BDT in the first eight months of 2020.

The raw material for woodchip production in Viet Nam
derives from about 1 million farmer households, who
collectively maintain around 3 million ha of commercial
acacia plantations. These farmers, who stand at the
beginning of the acacia wood value chain, are bearing the
losses caused by the sharp decline in woodchip price.

Consequently, many Vietnamese woodchip producers
have decided to shift to plywood and laminated wood
production. These further-value-added products are also
expected to incentivize famers to extend rotations and
produce larger logs for high-end woodworking.

See: https://goviet.org.vn/bai-viet/doanh-nghiep-dam-go-doimat-nguy-co-pha-san-9166

Exports grow in 2020
Export revenue in the Vietnamese wood and wood
products sector was US$7.3 billion in the first eight
months of 2020, up by 9%, year-on-year. Of this, wood
product exports were valued at US$5.5 billion, up by 14%
and accounting for 75% of the total (up from 71% in the
same period in 2019).

The United States was the top destination for Viet Nam's
wood and wood product exports in the first eight months
of 2020, at US$3 billion (up by 27%, year-on-year), which
was 55% of total exports.

Exports grew by nearly 11% to both China and Canada in
the same period. In contrast, exports to the UK and France
declined by 35% and 15%, respectively.

Viforest pointed out that there has been a drop in office
and bedroom furniture exports this year compared with the
same period last year, but exports of kitchen and bathroom
furniture have been on the rise.

Viforest Chairman Do Xuan Lap said that items with
strong export growth are benefiting from the US
antidumping and antisubsidy duties on similar Chinese
products, which have encouraged US firms to switch to
Viet Nam to partly make up for supply shortages.

Nguyen Liem, Chairman of the Lam Viet JSC's Board of
Directors, said COVID-19 has also given a boost to the
wood industry, especially kitchen cupboard and bathroom
cabinet sales, because people are spending more time at
home during the pandemic and thus have more demand for
house repairs and furniture.

See: https://en.vietnamplus.vn/wood-product-makers-told-totake-actions-to-optimise-us-market/188571.vnp

Imports decrease, improving the trade balance
Viet Nam's imports of wood and wood products in
January–August 2020 were valued at US$1.5 billion,
down by 8%, year-on-year. At the end of August 2020, the
country's surplus of wood and wood product exports over
imports was about US$5.8 billion.

FDI enterprises spent US$467 million importing wood and
wood products into Viet Nam in the period January–
August 2020 (down by 5%, year-on-year).

Thus, net exports by FDI enterprises amounted to US$2.5
billion over the period.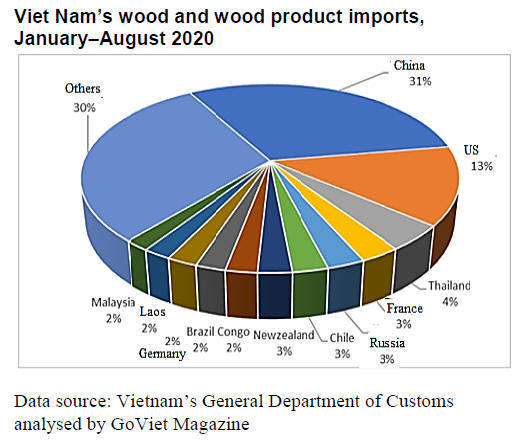 See: https://goviet.org.vn/bai-viet/doanh-nghiep-dam-go-doimat-nguy-co-pha-san-9166

Viet Nam imports more from China
China continues to be the top supplier of wood and wood
products to Viet Nam, at US$475 million in the first eight
months of 2020. This amounts to an increase of 30%,
year-on-year, and accounts for 31% of Viet Nam's total
wood and wood product imports, by value. In contrast,
Viet Nam's wood and wood product imports dropped by
11% from the United States, by nearly 6% from Thailand
and by just over 7% from France.

8. BRAZIL
Investments in forest sector will reach BRL 35.5 billion
in 2023
The Brazilian Tree Industry (Ibß), which brings together
forest-based companies producing bio-products and
biomaterials for national and international markets, is
predicting that investments in the forest sector will grow to
about BRL 35.5 billion in 2023, directed towards the
expansion of forest plantations, processing facilities,
technology and science.

This investment amount would be almost double that in
the four years from 2016 and 2019 (BRL 18.0 billion).
According to Ibß, the high level of planned investment
shows the confidence of the sector in the growth of the
green economy and consumer preferences for traceable
products that have originated in renewable sources and
that absorb and store carbon dioxide.

In 2019, for the first time, the forest plantation sector
achieved a total gross revenue of BRL 100 billion. The
contribution to the trade balance was US$10.3 billion, the
second-best result in the last decade.

This industrial value chain represents 1.2% of national
gross domestic product and generates 1.3 million jobs
across the country. The coming investments for expansion
could create a further 36,000 jobs.

Furniture cluster continues recovery after historic
losses
An analysis of revenue for September 2020 by the
Furniture Industry Association of Bento Gonšalves
(Sindmˇveis) has confirmed a continuing recovery in the
furniture industry there. Bento Gonšalves is the country's
main furniture cluster, with more than 300 companies. The
cluster generated revenue of BRL1.31 billion between
January and August 2020, which was a nominal growth
rate of 2.6% compared with the same period in 2019.

Revenue in the furniture sector reached BRL4.67 billion in
the state of Rio Grande do Sul as a whole, a nominal
decline of 2.7%, year-on-year.

The Bento Gonšalves furniture cluster added 92 net jobs
from January to August, an increase of 1.6%. The
furniture industry in the state of Rio Grande do Sul still
had a negative balance of 262 jobs, however, down by
0.8% since January.

March and April were the worst months in history for the
Bento Gonšalves furniture cluster, but a gradual recovery
began in May and is continuing, notwithstanding the many
economic uncertainties ahead.

Despite the incipient recovery in revenue, exports from the
Bento Gonšalves furniture cluster fell by 7.3% in January–
September 2020 compared with the same period in 2019,
to US$31.5 million. In the state as a whole, the drop was
19% in the same period, year-on-year, to US$116.5
million. Nationwide, furniture exports were down by 10%,
year-on-year, at US$456 million.

In the Sindmˇveis analysis, the better performance of the
Bento Gonšalves furniture cluster compared with the state
overall and nationally was due mainly to exports to the
United States, Peru and the United Kingdom. Despite the
negative overall export figures, foreign markets have
mitigated the effects of the pandemic on the revenue and
industrial performance of many furniture-exporting
companies.

In addition to the difficulties caused by trade uncertainties
and a decrease in purchases, Brazilian furniture
manufacturers are suffering from delays in the delivery of
raw materials and their rising cost.

Big boost in Brazilian wood exports
Brazilian exports of wood-based products (except pulp and
paper) amounted to US$286 million in September 2020,
an increase of 20.8% compared with September 2019
(when the value was US$236.6 million).

Pine sawnwood exports increased in value by 35.6%, from
US$38.2 million in September 2019 to US$51.8 million in
September 2020. The export volume increased by 52.9%
over the same period, from 192,400 to 294,100 cubic
metres.

Year-on-year, tropical sawnwood exports rose by 1.8% in
volume in September 2020, to 39,900 cubic metres, and by
7.7% in value (to US$15.4 million). Pine plywood exports
leapt in value by 88% in September 2020 compared with
September 2019 (from US$36.1 million to US$67.9
million).

In volume terms, pine plywood exports increased by
nearly 50% over the same period, from 159,900 to
239,500 cubic metres.

Tropical plywood exports increased in volume by 1.7% in
September, year-on-year (from 6,000 cubic metres to
6,100 cubic metres) but decreased in value by 11.5%, from
US$2.6 million to US$2.3 million.

Wooden furniture exports increased from US$49.3 million
in September 2019 to US$51.9 million in September 2020,
an increase of 5.3% over the period.

Tax incentive for Brazilian exports during the
pandemic
The Brazilian government approved Law No. 14.060 on
24 September 2020, which (according to the Ministry of
Economy) allows an exceptional extension, for one year,
of deadlines for complying with suspension and exemption
drawback regimes.

These regimes make Brazilian exporters more competitive,
relieving taxes on imports and local purchases of inputs
used in the production of goods destined for international
markets. The forest sector is one of the beneficiaries of
this law, given the large volume of exports by various
segments.

The new legislation originated in Provisional Measure No.
960 issued on 4 May 2020 on the actions taken by the
federal government to reduce the impacts of the COVID-
19 pandemic on the Brazilian economy. According to the
Secretariat of Foreign Trade of the Ministry of Economy,
325 concessionary drawback exemption acts expire this
year, and the Secretariat authorized input replacement of
inputs in the order of US$942.3 million.

Of this authorized amount, US$424.9 million (about 45%
of the total) refers to operations that, under the new law,
may be carried out in 2021. In 2019, US$49.1 billion was
exported with the use of the drawback mechanism, which
was 21% of Brazil's total foreign sales in the period.

The tax exemption includes the Import Tax, the Tax on
Industrialized Products, the Contribution to PIS/Pasep and
the Contribution for Social Security Financing.

Specifically, in the suspension regime, the exporter does
not need to pay the Additional Freight for the Renewing of
the Merchant Marine (AFRMM) and the Tax on
Operations Related to the Circulation of Goods and on the
Provision of Interstate, Intermunicipal and
Communication Services imposed on external purchases.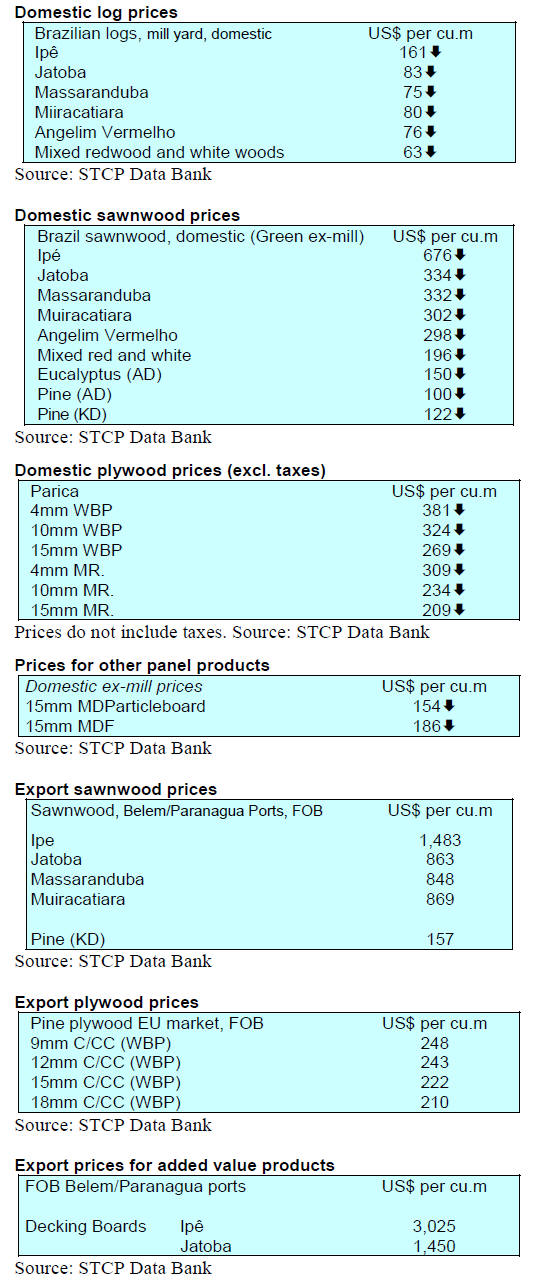 9. PERU
SERFOR launches app to facilitate access to forest
regulations
The National Forest and Wildlife Service (SERFOR) has
launched a mobile-phone and web app to provide forestsector
actors with greater access to forestry and wildlife
regulations.

SERFOR's executive director said that the app would be
especially important given the current situation created by
the pandemic, which limits face-to-face meetings between
government, the private sector and other actors.

The app was developed in cooperation with the Forest
Resources and Wildlife Supervision Agency (OSINFOR),
the regional governments of Loreto and Ucayali, the
USAID Forest Program and the US Forest Service.

Exports of veneer, plywood and furniture decrease
According to Peru's Association of Exporters (ADEX),
the country exported veneer and plywood worth US$1.4
million FOB between January and July, a drop of 9.1%
compared with the same period last year. The exported
products went mainly to Mexico (94%, with an overall
reduction in value of 2.5%, year-on-year) and El Salvador
(4.4%).

Peru exported furniture worth US$1.7 million in the first
seven months of the year, a drop of 18% compared with
the same period last year. Exports to the United States
were down by about 8%, year-on-year, but still accounted
for three-quarters of the total.

Exports to Italy, the second-largest destination for
Peruvian furniture, plummeted by 40% in the first seven
months of the year.

More than 100 specialists trained in forest fire
management
SERFOR provided virtual training for more than 100
specialists from 20 regions across the country in late
August on the prevention and control of forest fire, with an
emphasis on financing and methodologies for the training
of native communities.

The international forum, "Forest fire risk management
against climate change", was also held as part of the
training, in which experiences from neighbouring
countries in the monitoring centres of Argentina and
Brazil were shared.

Further training aimed at strengthening forest fire risk
management is planned for coming months.