Japan Wood Products Prices
Dollar Exchange Rates of 10th October 2020
Japan Yen 105.62

Reports From Japan
Manufacturer sentiment improves
Sentiment among the largest Japanese manufacturers
improved in September from an 11-year low but remains
negative according to the latest Bank of Japan (BoJ)
Tankan survey. The Tankan index represents the
percentage of companies reporting favorable conditions
minus the percentage reporting unfavorable ones.

The Ministry of Labour has reported that the number of
workers laid-off due to the impact of the corona epidemic
was over 60,000 in mid-September and that the pace of
increase in lay-offs increased in September as employment
opportunities deteriorated. Non-regular workers comprised
over 80% of those laid off.

The government has presented a more optimistic economic
assessment for the first time in 15 months.

The Cabinet Office index of business conditions rose in
August, the second consecutive monthly improvement.
The recent improvement reflects the gradual resumption of
economic activity throughout the country.

According to the Japan Center for Economic Research the
country¡¯s GDP growth for August was plus 0.6% and this
was due almost entirely to improvement in external
demand in the EU, and ASEAN.

See:
https://translate.google.com/translate?hl=en&sl=ja&u=https://www.jcer.or.jp/&prev=search&pto=aue

Business travel
Japan and South Korea now allow business trips between
the two countries which were halted because of the
coronavirus pandemic. The entry of expatriates and other
long-term residents as well as business travelers can now
travel provided they have tested negative for the
coronavirus and they provide internal travel itineraries.

Consumer confidence surges
The Cabinet Office has reported Japan's consumer
confidence improved in September by the second-largest
margin ever. It was the biggest improvement since June
this year and July 2004, when the index rose by 4.4 points
on each occasion, the largest increase since the survey
began on a monthly basis in April 2004.

The improvement was put down to the slowing rate of
corona virus infections in the country and the government
travel subsidy programme ¡®Go to¡¯ which aims to revive
domestic tourism.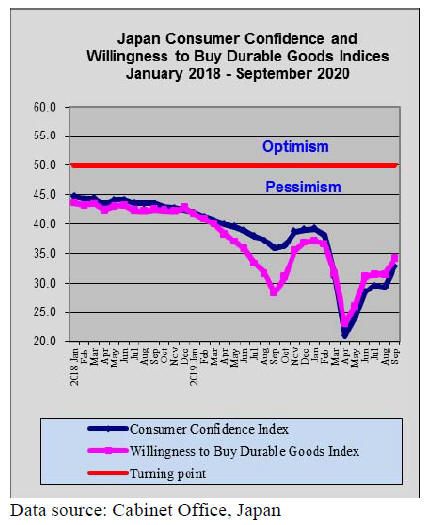 Government to strengthen its digital capabilities
Problems with managing the various subsidy programmes
in response to the coronavirus pandemic have highlighted
the need for Japan to address its digital capabilities. The
government has realized the need to strengthen
digitalisation in both the public and private sectors.

The Prime Minister intends to launch a digital agency to
advance reforms and make a necessary and concentrated
investment from the standpoint of evaluating and
rebuilding a robust digital system for government.

The government has apparently shifted its priority to the
economy, with travel to and from Tokyo now eligible for
subsidies in the Go To Travel campaign.

See:
https://www.japantimes.co.jp/news/2020/10/04/national/katsunobu-kato-digitalization/

Yen/dollar curve flattens once more
For around two weeks the yen has been appearing to
strengthen against the US dollar only to be pulled down by
political issues in the US. Financial markets responded to
news that US politicians are close to a stimulus deal and
this took the pressure of the yen as a safe haven and took
the steam out of any upward strengthening.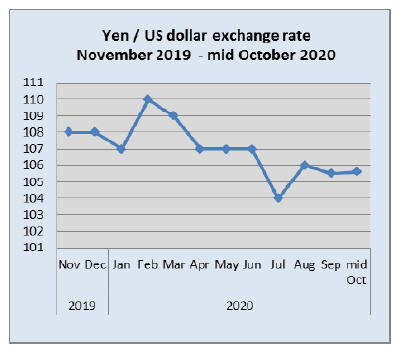 Thousands of homes damaged or washed away
In 2019 and again this year Japan suffered severe damage
from floods brought on by typhoons. Thousands of homes
have been destroyed or severely damaged and the Cabinet
Office reports that As of 1 October 7,895 people from
almost 3,500 households, were still living in temporary
housing as their homes were damaged.

The damage from the typhoon was made worse as in
hundreds of places man made river embankments
collapsed despite meeting central government's standard.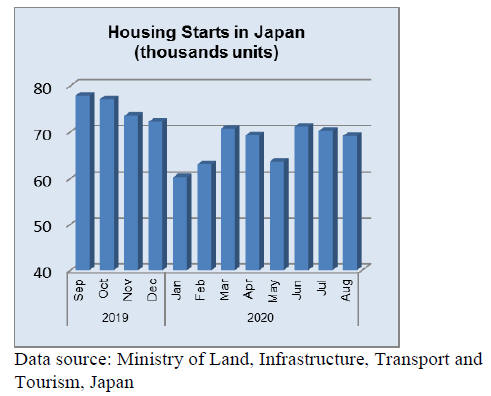 Import update

Furniture imports
The June 2020 upturn in the value of Japan¡¯s wooden
kitchen and bedroom furniture stalled in July with only
imports of wooden kitchen furniture building on the
advances made in the previous month. July consumer
sentiment and the consumer willingness to buy durable
goods (incl. furniture) rose slightly after the sharp June
rebound.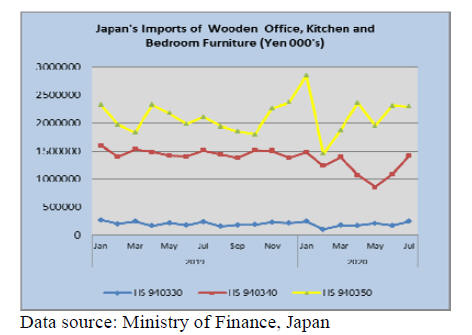 Office furniture imports (HS 940330)

July office furniture imports
The value of July imports of wooden office furniture
(HS940330) rose around 45% from a month earlier but
year on year the value of imports was flat.

July saw the emergence of a new supplier into the list of
top 20 shippers of wooden office furniture, Austria.
Shipments from Austria accounted for 4% of the value of
all July imports. Shippers in China dominated imports
accounting for over 50% of the value of imports but July
shipments were only around the same level as in June. In
contrast, shipments from the Philippines grew four fold to
capture 9% of monthly imports.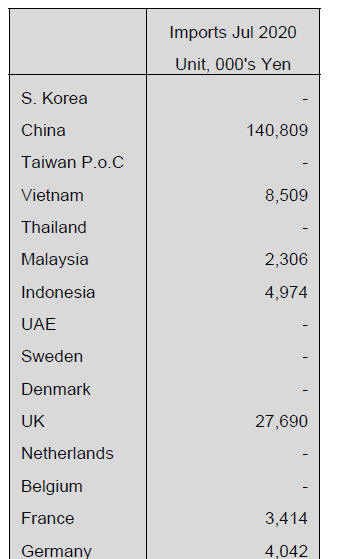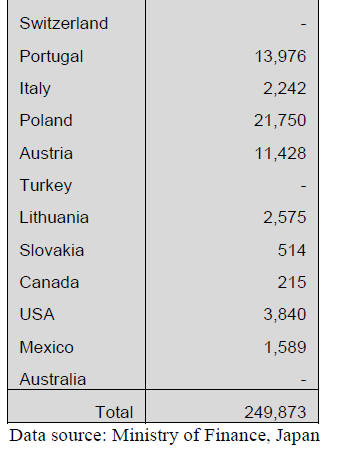 Kitchen furniture imports (HS 940340)

July kitchen furniture imports
Three suppliers, the Philippines, Vietnam and China
accounted for over 90% of the value of Japan¡¯s imports of
wooden kitchen furniture.

The top shipper in July was the Philippines at 41% of
imports followed by Vietnam, 38% and China 13%.
Shipments from the Philippines and Vietnam were up
sharply in July (both up over 60% from a month earlier) as
were shipments from China which rose 27%.Month on
month, July shipments rose 37% but year on year they
were down 6%.

Bedroom furniture imports (HS 940350)

July bedroom furniture imports
The value of Japan¡¯s July imports of wooden bedroom
furniture (HS940350) was up a modest 3% year on year
but were little changed from June levels.

Shipments from China were at around the same level as in
June but shipments from Vietnam dropped 12%. There
was a rise (20%) in the value of imports from Malaysia the
third largest shipper in July.

Imports from China and Vietnam accounted for over 90%
of imports of HS 940350.

Trade news from the Japan Lumber Reports (JLR)
The Japan Lumber Reports (JLR), a subscription trade
journal published every two weeks in English, is
generously allowing the ITTO Tropical Timber Market
Report to reproduce news on the Japanese market
precisely as it appears in the JLR.

For the JLR report please see:
https://jfpj.jp/japan_lumber_reports/

Share of main members of wooden house
Main structural members of wooden house are changing.
The Japan Forest products Journal makes the survey every
year to see how use of main materials changes year after
year. This is 22nd survey and previous surveys percentage
of use of main members but since this time, used volume
is adopted instead of percentage so that comparison to
preceding year is impossible.

Responded are all major post and beam wooden house
builders. Total number of houses they built is 54,044 units,
average per company is 2,456 units. Total volume used for
post is 181,000 cbms and for beam is 296,000 cbms. Sill is
59,000 cbms. Standard lumber is 232,000 cbms so total
volume is 768,000 cbms.

Volume used per unit is 3.4 cbms of post, 5.5 cbms of
beam and 1.1 cbms of sill. Share of post is 66.8% of cedar
laminated while redwood laminated is 9.5% and
whitewood laminated is 7.2%. Redwood laminated is top
in beam with 46.6% share then KD Douglas fir is second
with 26.2%. KD cypress is top in sill with 39.4% share
then redwood laminated is second with 26.2%.

Share of laminated lumber is 94.0% in post, 72.3% in
beam and 54.5% in sill. Share of solid wood for post is
3.1% of KD cedar and 2.5% of KD cypress so solid wood
is no more main material.

Meantime, KD solid wood Douglas fir for beam is 26.2%,
second to top redwood laminated lumber. In sill, 39.4% of
KD solid wood cypress is top

Lumber inventory in Tokyo port
Lumber inventory is Tokyo port had been increasing then
since July, it started declining. Reason is declining new
orders in fear of demand contract by corona virus
epidemic after the summer. The inventory is expected to
keep declining with increasing speed. Housing starts were
forecast to decrease by 30-40% this year but until July,
they are holding with only 10% less so now supply
shortage is feared.

In August, incoming was 50,000 cbms while outgoing was
59,000 cbms. This is the first time that outgoing exceeded
incoming since last March. July end inventory was record
high of 162,000 cbms. Now outgoing volume is more than
incoming so end of October inventory would be about
126,000 cbms, 20% decrease in three months.

Main factor of inventory increase is Russian lumber. Total
volume for the first seven months is 139,000 cbms, 36.3%
more than the same period of last year and July end
inventory was 62,000 cbms, almost double of last
December inventory. Then the importers reduced purchase
after July so August incoming was 7,000 cbms, about half
of July.

Incoming in September and October is less than 10,000
cbms so October end inventory would drop down to
39,000 cbms, which is about 40% higher than October last
year. Inventory of European lumber at the end of August
was 47,000 cbms but the incoming in September and
October largely declined so the inventory at the end of
October would drop down to 40,000 cbms. Compared to
September last year, it is 35% less so oversupply is solved.

The largest drop is North American lumber. Low arrivals
continued after long strike by major Canadian supplier
since July last year so the inventory at the end of July was
35,000 cbms, 30% less than July last year. August arrivals
were 13,000 cbms, 35% less than July and supply in
September and October continues low so that the
inventory at the end of October would be about 25,000
cbms, 50% less than July end.

Contracted volume in the third quarter was low since
domestic major Douglas fir lumber manufacturer reduced
the sales prices but the North American lumber market
skyrocketed while Japan receded so offer for the fourth
quarter largely reduced by the suppliers so incoming
volume in November and December would decrease for
sure so North American lumber inventory would be way
off balance by December.

Plywood
There is difference between domestic and imported
plywood. Domestic softwood plywood movement hit the
bottom and started recovering but imported plywood
market continues stagnant. Market prices of domestic
softwood plywood have hit the bottom and firming since
the manufacturing plants firmly refuse to accept low
offers.

The manufacturers¡¯ inventory has kept falling for four
straight months and it takes one to two weeks waiting for
thick plywood delivery. There is active demand for
restoration of typhoon damages in Kyushu so there are
waiting time of commodity item of 12 mm panels.

The demand for precutting plants seems to be increasing
toward December and the manufacturers continue
production curtailing program. Movement of imported
plywood lacks vividness.

The market prices are calming. Port inventories are tight
and new arrivals are limited but by lack of demand, there
is no panic in the market.

Rebounding domestic log prices
Market prices of domestic logs had been sliding for nearly
six months then since late July, log production decreased
and the market prices bottomed out in the regions west of
Northern Kanto.

In main log supplying regions, prices of A class logs
suitable for lumber manufacturing are climbing.

In Hokkaido and North East, log market continues weak as
log consumption for plywood and paper and pulp remains
sluggish. October and on is full logging season so that
price increase should simmer down but overall log market
should become steady but total demand is less than last
year so if log supply increases all at once, the prices may
collapse again.

Log price increase in August and September was induced
by supply tightness, not by demand increase so log
suppliers are afraid of another price drop once the supply
increases.

Cypress log prices had been trending about 15,000-18,000
yen per cbm but the prices dropped record low since last
spring in many regions to12,000-13,000 yen. Then the
prices recovered during rainy season of July and by
September, all the regions show recovery. Presently, there
are strong inquiries on 4 metre sill cutting cypress logs and
the prices are 17,000-18,000 yen all over Japan and in
Western Japan, the prices are as high as 19,000 yen.

JAS certificate on super thick plywood
Seihoku Plywood (Tokyo) has acquired JAS certificate on
50 mm thick softwood structural plywood.

It has developed 200 mm plywood, which will be used for
11 stories all wood building Obayashi Corporation will
build. So far, plywood of thickness of 30 mm has been
distributed as floor use but Seihoku intends to develop
market of much thicker plywood. It will respond to
requests of thick plywood based on 50 mm.

JAS certificate on 50 mm thick panel is the most thick
plywood among structural plywood. JAS certificate
obtained is for 100% cedar plywood but larch and cedar
can be used either with single species or combined. The
maximum size is 4x10 (1,200 mm x 3,030 mm) but others
like 3x6 and 2x6 can be made. 50 mm panel is 15 plied
with veneer of 3 mm or thicker.

Japanese plywood industry has been pursuing to make thin
and high quality plywood and veneer by delicate
technology but development of thick plywood for flooring
triggered development of thick plywood. New wood
products like CLT and LVL promote development of thick
plywood.

In the U.S.A., since 2015, super thick plywood named
¡®Mass plywood panel¡¯ (MPP) is developed and is actually
used for buildings. Seihoku is anxious to develop market
of thick softwood plywood so it immediately started
manufacturing and made 200 mm thick 57 plied larch
plywood.

The building Obayashi plan to build will start up next year
and the shipment of the product has started already. 100
cbms of the product will be used. Looking at this
development, requests to make 36 mm and 45 mm
plywood are made from other users.

Seihoku thinks that thick plywood is suitable for flooring
as it solves vibration and sound noise problem. Cost
performance is better than CLT so there is possibility of
various uses.