4. INDONESIA
Better than expected exports
The value of Indonesia's wood product exports in the first
8 months of 2020 amounted to around US$7.2 billion.
This was almost 7% down compared to the same period
last year when exports earned over US$7.7 billion.

In spite of the ongoing global pandemic wood product
exports for the first three quarters of the year jumped to
US$8.3 billion, only just below the US$8.5 billion earned
in the same period in 2019.

The Ministry of Environment and Forestry (KLHK) has
congratulated the private sector on this performance
achieved in the face of great difficulties. The Minister said
the government will continue to implement measures to
support the sector so it can avoid a downturn.

FORESTHINTS.NEWS quotes the Ministry Secretary
General, Bambang Hendroyono, as saying "The
improvement in export performance means that we remain
in alignment with our efforts to avoid lay-offs, as much as
possible, in the forestry business sector. This is among our
minister's top priorities."

See: https://foresthints.news/real-time-data-shows-impressiverebound-level-of-indonesias-forestry-exports/

No new harvesting permits in 66 million ha. of forest
In a press conference the Director of Inventory and
Monitoring of Forest Resources (IPSDH) of the
Directorate General of Forestry Planning and
Environmental Management (PKTL), Belinda Arunarwati
Margono, announced that the Ministry of Environment
and Forestry (KLHK) will not allocate harvesting permits
in an area of 66 million hectares of natural forest and
peatland.

This decision is contained in a ministerial decree number
SK. 4945 / MENLHK-PKTL / IPSDH / PLA.1 / 8/2020
"Determination of Indicative Map of the Termination of
Issuing New Permits (PIPPIB) period II for Primary
Natural Forest and Peat Land in 2020."

Ms. Belinda said the Directive has taken into account
changes in spatial planning, input from the community,
updating of licensing data, as well as the results of a field
survey of physical conditions.

See: https://nasional.kontan.co.id/news/klhk-hentikanpemberian-izin-baru-di-6627-juta-ha-hutan?page=2

South Korea's biggest investor in Indonesia's forestry
The Minister of Forestry of the Republic of South Korea,
Park Chong-ho, has reported that 15 Korean companies
have invested in creating almost 170,000 ha. of plantations
in Indonesia and that this exceeds Korean forestry
investment in other countries thus making Indonesia an
important partner for the Korean forestry sector.

This news was announced at the recent Indonesia-Korea
Forest Cooperative Committee (IKFCC) where the two
countries signed several agreements including a
Cooperation Framework for Forestry Priority
Programmes, an agreement for the revitalisation of the
Korea-Indonesia Forest Center and the signing of an
agreement for the rehabilitation of burned peatlands.

The Indonesian Minister of Environment and Forestry, Siti
Nurbaya, expressed her appreciation for the South Korean
government's support for Indonesia.

See: https://www.antaranews.com/berita/1749745/indonesia-jadinegara-investasi-kehutanan-terbesar-bagi-korsel

Government asked to review raw material regulations
On behalf of the national furniture industry, Tbk, Halim
Rusli President Director of PT Integra Indo Cabinet, has
requested a review of current regulations to support the
survival of the sector. He said he urges the government to
review regulations, particularly raw material import
regulations which are a handicap to the sector.

He argued that domestic suppliers do not have the capacity
or capability to supply the materials needed by the
furniture and craft industry. The impact of this he said that
export growth is hampered.

The Director of PT Multi Manao Indonesia, Budianto, also
mentioned that the SVLK regulation is a disincentive for
many because it has increased the cost of doing business.
At the same time he acknowledged that the SVLK has
opened new opportunities and helped remove the stigma
suffered by the timber industry it is just too expensive to
apply.

The government has been asked to simplify licensing
procedures and remove the legality requirements for
Timber Administration (TUK) permits and also ease the
requirements for raw material imports.

See: https://www.liputan6.com/bisnis/read/4373811/selamatkanindustri-mebel-pemerintah-diminta-tinjau-regulasi-bahan-baku

Job creation Bill raises concern
The government recently passed the controversial
legislation on job creation which is intended to deliver a
radical change the labour market and in natural resources
management by improving bureaucratic efficiency and
cutting 'red tape' especially for business permits and
decisions on investment. This change has not been well
received and thousands have demonstrated saying the law
is too pro-business and will undermine worker rights.

See:
https://www.thejakartapost.com/news/2020/10/06/indonesiapasses-jobs-bill-as-recession-looms.html

Concerns have been raised that the new law eliminate a
requirement that Indonesian provinces have a forest cover
of 30%. This, say commentators, could increase forest
land clearance and escalate conflicts over land and
indigenous rights.

In commenting on the revisions KLHK Minister, Siti
Nurbaya Bakar, said the purpose of the new laws is to
simplify licensing procedures and overcoming barriers to
job creation for the new workforce. She said "The Job
Creation Law is also important in resolving chronic
problems related to forest area conflict".

See: https://www.tribunnews.com/nasional/2020/10/09/menterilhk-uu-cipta-kerja-untuk-penciptaan-lapangan-kerja-danpenyelesaian-konflik-kehutanan?page=3

Global investors have warned that the revisions to the law
puts jobs and forests at risk. Reuters has reported many
international investors expressed concern on the law
revisions saying they have concerns about the negative
impact of certain environmental protection measures
affected by the Omnibus Bill on Job Creation.

In an open letter to the Indonesian government, Peter van
der Werf, Senior Engagement specialist at Robeco, said
"While the proposed regulatory changes aim to increase
foreign investment they risk contravening international
best practice standards intended to prevent unintended
harmful consequences from business activities that could
deter investors from Indonesian markets."

See: https://www.robeco.com/en/media/news-item/2020/openletter-to-the-indonesian-government-on-the-omnibus-bill-on-jobcreation.html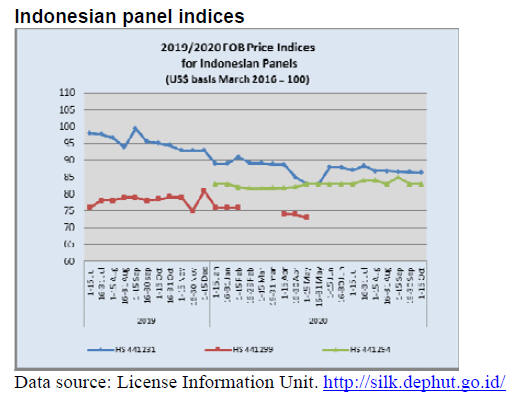 5. MYANMAR
No timber processing
Yangon is still under a strict lockdown and the quarantine
facilities are being expanded to cope with a recent surge in
infections. All production at wood processing mills has
stopped and the lockdown has been extended to 21
October.

However, the so-called CMP factories (Cut Manufacturing
Production factories such as garment factories) can resume
if they meet the Class A Anti-Covid Measures. The
government instruction is not so clear for non-CMP
factories.

As of early October the country has reported around
10,000 infections and over 200 fatalities linked to the
virus. The lockdown is having a serious impact on the
livelihoods of residents, especially the poor. The local
media reports around 6,000 people are quarantined in the
city.

Domestic travel out of Yangon is forbidden and the ban on
international commercial flights has been extended until
the end of October.

MTE launches teak production map
The Myanma Timber Enterprise (MTE) is responsible for
the traceability and legality of timber harvested and in a
move to increase transparency the MTE has made
available a map showing teak production by area in 2019-
2020.

The map can be found at:
http://www.mte.com.mm/index.php/en/annoucements/1359-8-10-2020-3

MTE explains that by clicking on a location information
such as type of forest, compartment number, geographic
and administrative location, number of trees harvested and
the tonnage and Forest Department hammer marks and
Extraction Agency hammer marks can be found.

In addition, MTE has launched a trial QR Code system to
improve access to tracking information. The Myanmar
timber sector has welcomed the MTE effort to develop ITassisted
transparency in support of traceability.

Assistance from Japan
The Japanese Embassy in Myanmar has provide some
details of a bilateral agreement set to deliver emergency
loans to Myanmar. The Embassy says Japan is helping
with economic projects concerning the COVID-19 disease
and COVID-19 Economic Relief Plan. The loans will be
low-interest and a grace period including suspension
period will be 40 years.

Export earnings
While timber exports earned just US$138 million between
October 2019 and August 2020 the agricultural sector
earned more than US$3 billion. Myanmar exports
agricultural products, animal products, fishery products,
forest products, finished industrial goods and timbers.

Union Minister for Commerce, Dr. Than Myint, said total
trade value in the current financial year was expected to
reach US$34 billion including US$18 billion in export
earnings.

World Bank Survey
The World Bank surveyed Myanmar private enterprises in
May, July and August covering the services, retail,
wholesale, manufacturing and agricultural sectors. It said
35% of firms were micro-businesses and 40% were small.
Medium-sized firms made up 19% of the study and large
firms constituted 6%.

The Bank found that 81% of the firms were affected
negatively by COVID-19 in May and 79% in July. It said
86% of manufacturing firms faced negative impacts in
May, 80% in July and 76% in August.

Teak log tender postponed
Because of the corona virus second wave the September
tender sale was postponed. The suspension of the Forest
Department control measures for timber exports continues.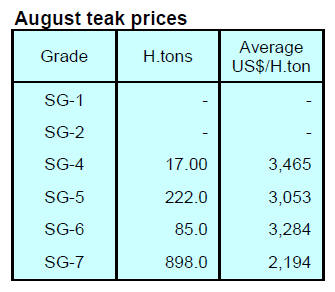 6. INDIA
September rise in exports the first for 7 months
By mid-October India had over 6.6 million recorded
corona infection cases, second only to the US but, despite
to continual spread of the virus, efforts are being made to
revive the economy and these are bearing fruit as a few
economic activity indicators are showing improvement as
people get back to work.

In the first days of October there was a 14% rise in power
consumption, the pace of decline in diesel fuel sales
slowed considerably, fees from road tolls are rising, rail
freight volumes were up 15% in September and exports in
September were up over 5% year on year.

The September rise in exports was the first for seven
months. At the same time imports continued to decline,
albeit at a slower pace.

Together with a rise in goods and services tax collection, a
rise in the purchasing managers' index (PMI) and rising
auto sales there are signs of economic recovery after GDP
fell 24% in the first quarter of fiscal 2020.

Plantation teak
Freight rates continue to be volatile due to uneven
import/export volumes which have been made worse by a
shortage of container boxes. It will take time for trade
flows to return to normal, only then will importers have an
opportunity to decide on price increases.

Under present circumstances it is difficult to provide a
clear picture of plantation teak C&F prices. The price
indications below do not reflect the changing freight rates.

Locally milled sawnwood
Traders report sustained demand in the moffusil (rural)
markets while demand in the cities is almost zero as
timber markets are closed because of recent surges in
infection rates.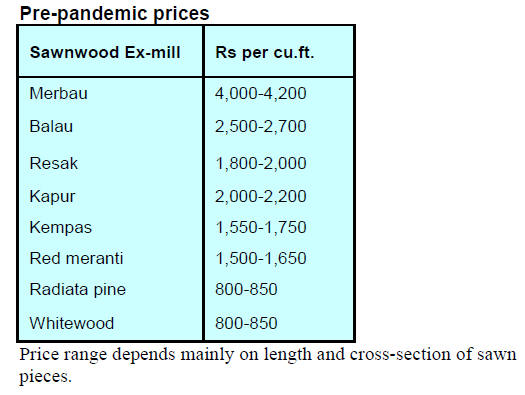 Myanmar teak
There have been no new teak shipments from Myanmar.
The prices below are only indicative of the time before the
pandemic. When Indian importers begin to negotiate
shipments it be possible to report on the impact of price
increases expected for Myanmar teak.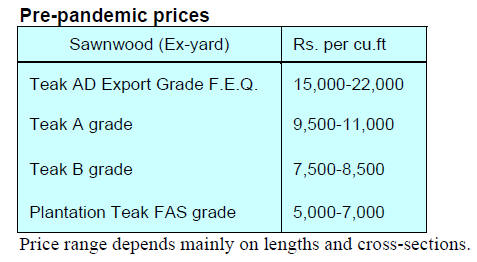 Sawn hardwood prices
Much of the imported hardwoods are used for export
furniture manufacture. As international trade is expanding
this has resulted in a revival of demand for hardwoods in
India.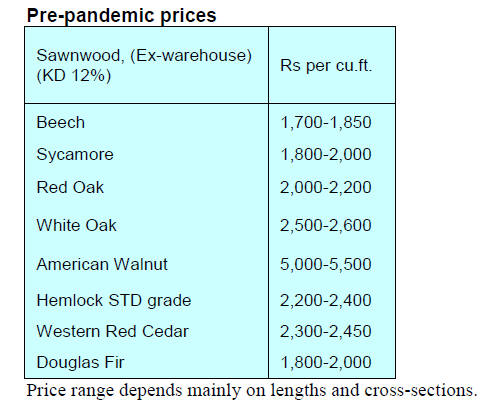 Trade news
During these difficult times many of the usual sources of
trade news have suffered disruption. The alternative news
sources are now webinars which provide some industry
updates and these continue to focus on self-sufficiency and
how post-corona demand may develop.

Plywood
Production and sales of plywood are improving but
because prices for imported plywood are easing domestic
manufacturers have no opportunity to raise panel prices.
Mills are steadily ramping up production as workers have
returned.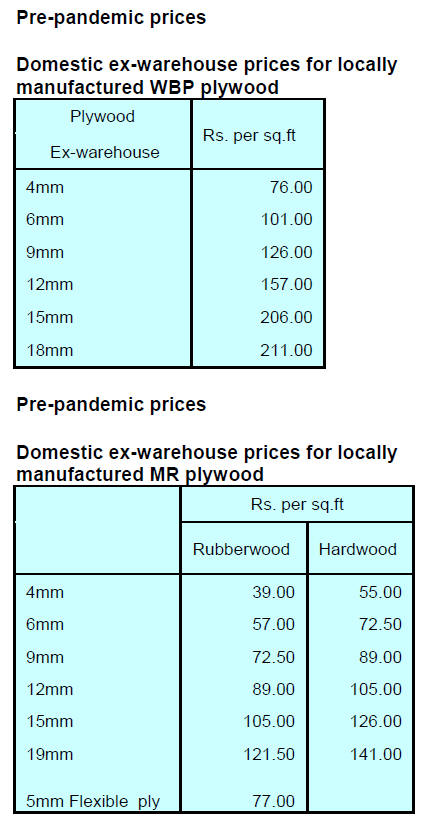 7. VIETNAM
US initiates investigation of log imports and
intervention in currency practices
The US Trade Representative (USTR) is initiating an
investigation of two issues with respect to Vietnam,
Vietnam's acts, policies and practices related to the import
and use of timber and practices that may contribute to the
undervaluation of its currency.

US Trade Representative, Robert Lighthizer said,
"President Trump is firmly committed to combatting
unfair trade practices that harm America's workers,
businesses, farmers and ranchers.

Using illegal timber in wood products exported to the US
market harms the environment and is unfair to US workers
and businesses which follow the rules by using legally
harvested timber.

In addition, unfair currency practices can harm US
workers and businesses that compete with Vietnamese
products that may be artificially lower-priced because of
currency undervaluation. We will carefully review the
results of the investigation and determine what, if any,
actions it may be appropriate to take, he said."

See: https://ustr.gov/about-us/policy-offices/press-office/pressreleases/2020/october/ustr-initiates-vietnam-section-301-investigation

and
https://ustr.gov/about-us/policy-offices/press-office/pressreleases/2020/october/ustr-initiates-vietnam-section-301-investigation

The USTR has released two notices and requests for
comments concerning the investigation under Section 301
of the Trade Act of 1974 regarding certain of Vietnam's
acts, policies and practices.

The first notice announces that the USTR is initiating an
investigation of Vietnam's import and use of timber that is
illegally harvested or traded. The USTR seeks comments
regarding the investigation due by November 12, 2020.

The USTR notice says:
Exports of wooden furniture to the US exceeded US$3.7
billion in 2019 and Vietnam is one of the largest global
exporters of wood products.

 It appears that most timber exported from Cambodia
to Vietnam crosses the border in violation of
Cambodia's log export ban.
 Aspects of the importation and processing of this
timber also may violate Vietnam's domestic law and
be inconsistent with the Convention on International
Trade in Endangered Species of Wild Fauna and Flora
(CITES).
 The USTR is investigating whether Vietnam's
practices related to the import and use of illegal
timber are unreasonable or discriminatory and burden
or restrict US commerce.

Comments are requested to address the following:
 The extent to which illegal timber is imported
into Vietnam
 The extent to which Vietnamese producers,
including producers of wooden furniture, use
illegal timber
 The extent to which products of Vietnam made
from illegal timber, including wooden furniture,
are imported into the United States.
 Vietnam's acts, policies or practices relating to
the import and use of illegal timber
 The nature and level of the burden or restriction
on US commerce caused by Vietnam's import
and use of illegal timber
 The determinations required under section 304 of
the Trade Act of 1974, including what action, if
any, must be taken

See: https://public-inspection.federalregister.gov/2020-22270.pdf

Valuation of Vietnamese currency
The second notice announces that the USTR is initiating
an investigation of Vietnam's acts, policies and practices
related to the valuation of its currency. Written comments
must be received by November 12, 2020.

The USTR notice says:
Analysis indicates the Vietnamese dong, which is closely
tied to the US dollar may have been undervalued by 7% -
8.4% in 2017 and 2018. Evidence indicates that the
Vietnamese government actively intervenes in the
exchange market.

The investigation will focus on whether Vietnam's
interventions through the State Bank of Vietnam (SBV) in
exchange markets and other related actions that contribute
to the undervaluation of Vietnam's currency are
unreasonable or discriminatory and burden or restrict US
commerce.

Comments are requested to address the following:
 Whether Vietnam's currency is undervalued
and the level of the undervaluation
 Vietnam's acts, policies or practices that
contribute to undervaluation of its currency
 The extent to which Vietnam's acts, policies
or practices contribute to the undervaluation
 Whether Vietnam's acts, policies and
practices are unreasonable or discriminatory
 The nature and level of burden or restriction
on US commerce caused by the
undervaluation of Vietnam's currency
 The determinations required under section
304 of the Trade Act of 1974, including what
action, if any, must be taken

See:
https://www.federalregister.gov/documents/2020/10/08/2020-22271/initiation-of-section-301-investigation-vietnams-actspolicies-and-practices-related-to-currency

and
https://home.kpmg/us/en/home/insights/2020/10/tnf-ustrrequests-comments-section-301-investigations-vietnam.html

8. BRAZIL
'Amazônia Viva' Inspection operation results
The 'Amazônia Viva' operation, which is part of the
Command and Control strategy of the 'Amazônia Agora'
(Amazon Now) in Para State plan has already resulted in
the seizure of over 3,000 cu.m of wood and stopped forest
operations in an area of around 100,000 hectares.

'Amazônia Agora' is the main strategy adopted to prevent
illegal harvesting and forest fires which, in turn,
contributes to lowering emission of greenhouse gases. The
Operation covers 15 municipalities and the location of
deforestation is mapped from satellite data provided by the
National Institute for Space Research (INPE).

The State implementing team comprises the State Force to
Combat Deforestation and inspectors from the State
Secretariat of Environment and Sustainability (SEMA).
The team recently shut down a clandestine sawmill, seized
tractors, trucks, chainsaws and timber. In August, the third
phase of the 'Amazônia Viva' operation had already
resulted in a 60% decline in deforestation in state forests
compared to the same period of 2019.

According to SEMA the 'Amazônia Viva' operation is
from previous efforts in that is an on-gong operation and is
slowly changing the culture of deforestation in Pará State.

Furniture prices increased
A Brazilian Institute of Geography and Statistics (IBGE)
survey has determined that furniture prices in the first 8
months of 2020 increased around 7% as manufacturers
passed on the higher production costs due to higher prices
for raw materials. Ex-factory furniture prices in August
increased by 3%, twice as much as in the previous month
and wholesale furniture prices are expected to keep rising.

Brazilian furniture export overview
Exports by the furniture sector earned US$361.6 million in
the first eight months of this year according to the
Brazilian Association of Furniture Industries (Abimóvel).
This represents a decline of 12% year on year.

Of the total, furniture exports to the United States
accounted for 40% of total exports and were up 3%
compared to the same period in 2019. The increase in
exports to the US was driven by firm American retails
sales of furniture. The second largest market was the UK
with a 9% share of exports but in this market there was a
decline of over 20% in export earnings. Uruguay was the
third placed market at 7% and exports were down 13% as
of August.

The main exporting states were the three states in the
South Region. Together, the states of Santa Catarina
(42%), Rio Grande do Sul (27%) and Paraná (14%)
accounted for over 80% of Brazil's furniture exports in the
first eight months of the year. All experienced a drop in
the value of furniture exports compared to last year.

Brazil furniture imports were valued at US$107 million in
the first eight months of the year, a 19% decline compared
to the same period of last year. China was the main source
of imports (76%) followed by Italy (5%) and the United
States (3%). Most imports were destined for São Paulo
followed by Santa Catarina and Rio de Janeiro.

Programme to export carbon credits
The Ministry of the Environment has published guidelines
for the first government programme for a carbon credit
market. The project entitled 'Floresta+ Carbono' aims to
promote a regulatory environment favourable to the
carbon credit market.

The initiative seeks to encourage the generation of credits
for the preservation of natural forests. The federal
government will not invest money in the sector but will
help ensure the credits recognised.

According to the Ministry, Brazil will be an exporter of
carbon credits. The expectation is that the "Forest+
Carbon" programme could involve a trade worth R$1
billion a year. The biggest beneficiaries will be owners of
unexploited natural forests. The owners of these forests
can sell credits to companies that want to offset carbon
emissions.

In the past few months several companies have committed
to become carbon neutral and to achieve this they will
need to buy credits.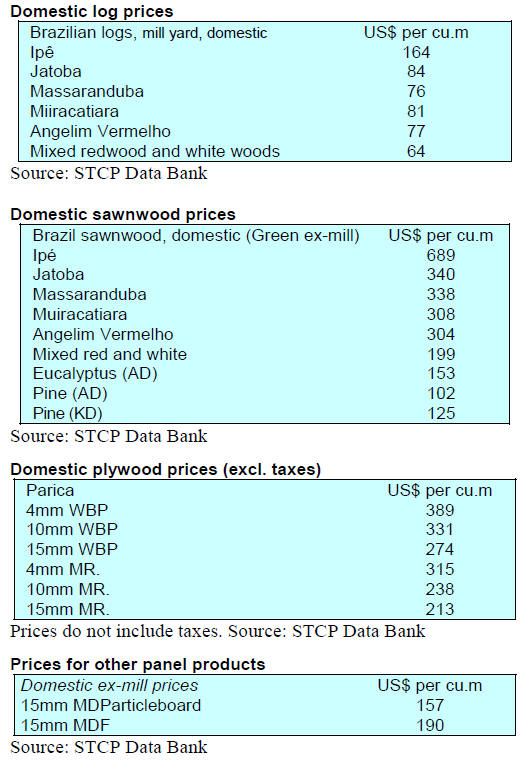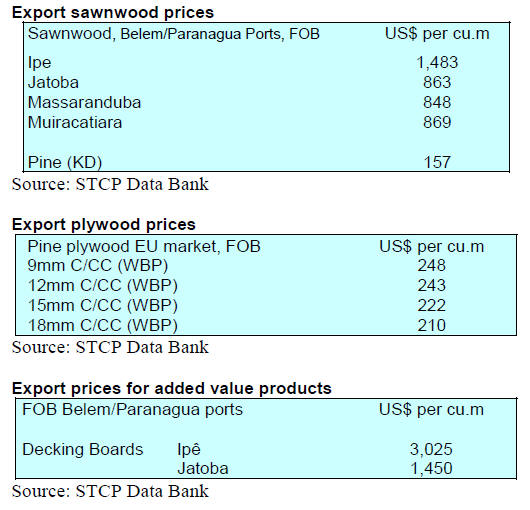 9. PERU
Financing programme for plantations
Thousands of small forest producers can now access the
Direct Financing Programme for Forest Plantations, an
initiative that offers loans for the development and
commercialization of forest plantations.

The National Forest and Wildlife Service (SERFOR) has
reported that the programme has available over US$14
million and they hope it will be applied to create around
16,500 hectares of forest plantations which could generate
about 35,000 direct and indirect jobs. The programme will
be implemented up to December 2023.

Ministries join forces to promote timber consumption
SERFOR, the Ministry of Housing and Construction and
Sanitation and the Ministry of Production, through
CITEmadera, have mounted a joint effort to promote
demand for wood products and boost the economy of
micro and small entrepreneurs in the forestry sector.

During a discussionthemed "Sustainable Timber Business
in the Housing Sector", the Vice Minister of Development
and Agrarian Infrastructure and Irrigation, Carlos Ynga,
and the Executive Director of SERFOR expressed the
view that to contribute to economic revival it is necessary
to promote policies to bring life back to the forest sector.
The various ministries will conduct regional events in
areas badly affected by the corona control measures.

Remote monitoring project for forest supervisions
The control measures introduced to address the corona
pandemic have made it difficult to monitor forest activities
while complying with the necessary provisions of social
distancing.

For this reason, beginning in March, FOREST, a
USAID/US Forest Service programme has provided
technical assistance to OSINFOR for the design and
implementation of techniques for remote forest
monitoring. This work began in Madre de Dios and will be
replicated in the Loreto and Ucayali regions.

SIGO advances to provide better information to the
sector
September was an important month for SIGOsfc,
OSINFOR's management information system. Use of this
system has increased over the years as it can provide alerts
to authorities, statistical reports and information that
defines the risk level in forest management plans.

As part of the SIGO 3.0 project, which aims to improve
current services and offer new tools for decision-making,
OSINFOR received new servers that will improve the
support and availability of data.

The SIGO 3.0 project has the technical support of the
alliance between the US Forest Service and USAID. The
ongoing project seeks to strengthen supervision and
oversight efforts to improve the legality of the sector.

Among the expected changes are: first, a better integration
and inter-operability of SIGO with other public
information systems which will allow better coordination
and joint efforts to guarantee the legal trade in wood. The
first phase of the SIGO 3.0 system is expected to be
completed in December.