Japan Wood Products Prices
Dollar Exchange Rates of 25th September 2020
Japan Yen 105.58

Reports From Japan
Open to travel but quarantine necessary
Japan is considering opening the country to all travelers
beginning in October. Currently only business travel is
allowed. Those entering the country will still be required
to complete a two-week quarantine period before being
allowed to join the general public and inbound traffic will
be limited to 1,000 people per day.

However, the Japanese government has suggested that
travelers who obtain a negative PCR test within 72 hours
of arrival and agree to have another test done upon arrival
may be able to avoid the 14-day quarantine. This has not
yet been confirmed.

Consumer price index dips
Cabinet Office data is showing consumer confidence fell
in August for the first time in four months, dragged down
by concerns about the rise in virus infections. In other
news, the Ministry of Internal Affairs has reported a
decline in the August consumer price index. This was the
first drop in three months and is likely the result of the
government¡¯s subsidised travel programme which brought
down the cost of hotel accommodation. The pace of
decline in prices was the fastest in almost four years.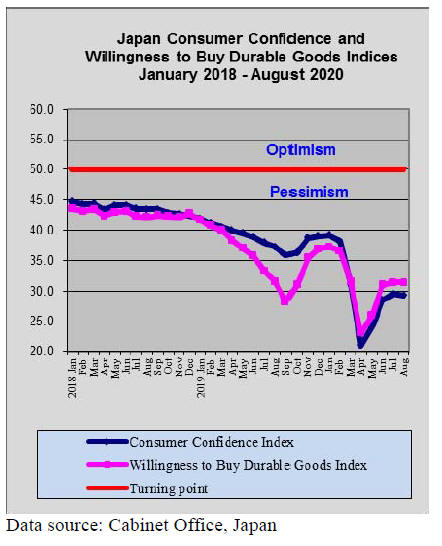 The Bank of Japan Governor, Haruhiko Kuroda, has
indicated the Bank is watching the trends in consumer
prices and unemployment and is ready to increase stimulus
measures if job losses heighten the risk of deflation.

Yen hits seven-week high against the dollar
Government data shows that around 30% of Japanese are
65 and above with only 12% being under 15. This puts a
lot of people at risk from the corona virus.

Despite these risks and the crushed economy the foreign
exchange market currently likes the Japanese yen which
hit a seven-week high against the US dollar in September
rising to 105.30. The yen also strengthened against the
Australian dollar, the British pound and the euro. That is
clearly yen strength and not just US dollar weakness.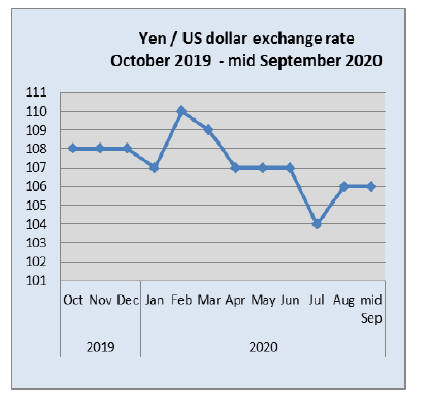 Land prices drop, the first decline in 4 years
The average land price in Japan fell this year, the first
decline in three years as the coronavirus pandemic caused
a drop in demand for building sites by commercial
property builders.

This is in stark contrast to the March 2020 survey by the
government which report that the average price of all types
of land across Japan had risen for a fourth straight year
and that the price of residential land in some rural areas
had increased for the first time in 27 years. Behind the
early 2020 price increase was aggressive buying by
overseas investors.

Uncertain prospects for a recovery of economic activities
are impacting real estate investment. Unless economic
conditions show improvement in the coming months more
areas will see land price fall. In areas outside the three
metropolitan areas the average price of commercial land
was down 0.6% and residential land prices dropped almost
1%.

Among the surveyed sites, the island city of Miyakojima,
Okinawa Prefecture, recorded the highest land price rise
with commercial and residential land prices jumping
around 38% year on year boosted by resort hotel
development.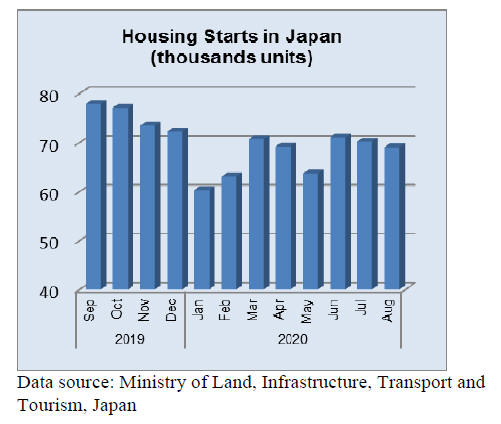 Import update

Wooden door imports
Japan¡¯s July imports of wooden doors (HS441820)
increased, building on the rise seen in June. July wooden
door imports were up 5% month on month but were down
14% year on year.

In July the main shippers of wooden doors to Japan were
China (47% of June imports)but this was down
significantly from the 68% share of imports in June. Other
shippers in July were the Philippines (23%), Indonesia
(6%) and a new-comer, South Korea (4%).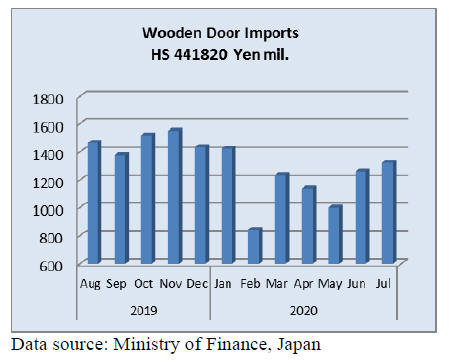 Wooden window imports
Japan¡¯s imports of wooden windows (HS441810), while
small, have been consistent since March. In June there was
a slight increase in the value of imports and this continued
in July when a 5% month on month rise was evident. A
year on year comparison is however less positive as the
was a 28% decline in July 2020 imports compared to
August 2019.

Two shippers China and the US accounted for almost 80%
of the value of July imports of wooden windows. The only
other shipper was the Philippines which contributed a
further 17% to the value of imports.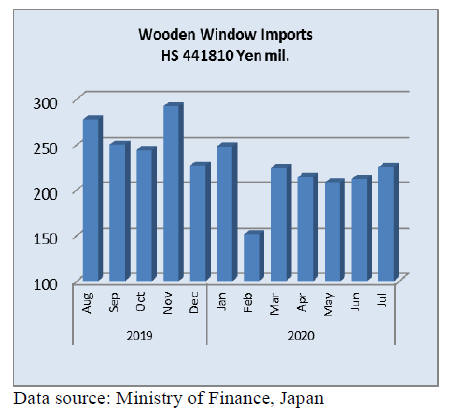 Assembled wooden flooring imports
The pattern of two consecutive declines in the value of
assembled flooring imports first seen at the beginning of the year
repeated itself in May and June.

While April imports drove imports back up to around the
monthly average the rise in July was insufficient to repeat this
thus underlining the steady decline in the value of imports this
year. Compared to June, the value of imports in July were around
30% higher but year on year July imports were 34% down.

Of the various categories of flooring imported HS 441875
accounted for 67% of July imports as it has done in past months
and was supplied mainly by shippers in China and Vietnam.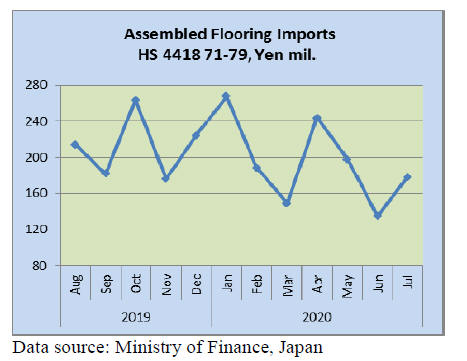 Plywood imports
It has been only shippers in China which have managed to
maintain their level of exports (albeit small) of plywood to
Japan, the other main shippers, Indonesia and Malaysia
have seen a steady decline in the volumes imported.

In July, the volume of shipments from Malaysia was down
24% year on year and shipments from Indonesia were
down 10% year on year. Vietnam has been a steady
supplier of plywood to Japan for several years but has seen
shipments decline over the past few months.

Year on year, July plywood imports (HS441210-39) were
down 22% and month on month there was a 15% drop in
the volume of imports. Of the various categories reported
HS441231 accounted for over 80% of imports with a
further 5% each being of HS441233 and HS441234.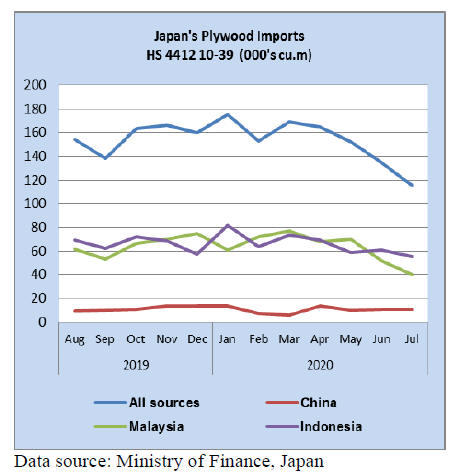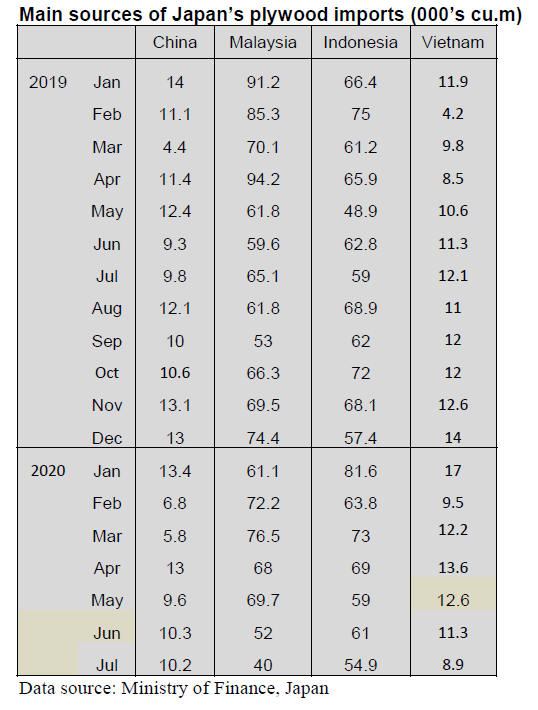 Trade news from the Japan Lumber Reports (JLR)
The Japan Lumber Reports (JLR), a subscription trade
journal published every two weeks in English, is
generously allowing the ITTO Tropical Timber Market
Report to reproduce news on the Japanese market
precisely as it appears in the JLR.

For the JLR report please see:
https://jfpj.jp/japan_lumber_reports/

Road map to expand large wooden structures
announced
The Ministry of land, infrastructure and transport tied up
with the Forestry Agency made up the road map to expand
large scale wooden buildings market scale to one trillion
yen by 2030. This is publicized on the website in late
August.

Large scale wooden building means to exclude low
buildings of three stories or less and the market scale as of
2018 is 500 billion yen and the target is to double this to
one trillion yen by 2030.

To materialize the target, there are problems and necessary
activities as large buildings in urban areas require high fire
resistance and as they becomes higher, stronger materials
are needed so future activities require to develop high fire
proof and high durable wooden materials.

Todays¡¯ technology and products are not good enough to
permeate in terms of versatility and cost. Sample of design
should be made to make it easier by considering safety of
high rise architecture.

Durability of outer shell of wooden building should be
considered and the standard should be made up. At the
same time, training is necessary to secure necessary
personnel who are in charge of designing and actual
construction works. It is necessary to have stable supply of
wood to materialize the target so road map is made up to
improve productivity and safety of forestry by promoting
smart forestry as a set of the above road map.

As concrete activities, forestry cloud and ICT production
system will be introduced nationwide with unified
standard and develop function of automation, remote
control of logging machines.

Plan to extend life of wooden buildings
The wooden home builders association of Japan is
developing high durable wooden house with 35 building
materials companies. The plan is to extend life of wooden
house from about 30 years to 85-90 years.

To make durable outer skin of house, manufacturers of
high quality, durable roof and exterior wall are selected
and design and construction with such materials will be
discussed.

To give longer life to wooden built houses has been
general demand for many years but about 30 years¡¯ life of
wooden house has been tacit understanding in housing
society.

Actually majority of building materials manufacturers
think that it is general standard of 30 year¡¯s life of the
materials they make.

The Association came up with hypothesis that outer skin
of the house like roof and exterior wall may be reason of
short life and formed development project then 35
companies joined and discussions continued until last
August with 23 companies to make durable outer skin of
wooden building.

Present assumption is that if 40-45 years life roof material
is used, only one time reroofing makes life of 80 -90 years.
Compared to 30 year¡¯s life roof materials, initial cost is
higher for longer life materials by about 200,000-300,000
yen. Reroofing cost of 30 years life materials would be
1.2-1.5 million yen but longer life materials¡¯ reroofing
cost would be 50-60% lower so life cycle cost would drop.
In short, house buyers have option to choose short life
house or long life house.

Wood pellet production in 2019
The Forestry Agency disclosed wood pellet production in
2019. The production increased by 12% from 2018 but
supply of imported pellet has been sharply increasing so
that self-sufficiency rate remains low at 8.4%. Selfsufficiency
rate of wood pellet in 2014 was about 57%
then it has been dropping year after year.

Production of wood pellet in 2019 is 147,321 ton, 12.1%
more than 2018. Use of wood pellet is 142,454 ton for
fuel, 12.9% more so it is 97% of total wood pellet. Main
use is power generation and utilization of heat.

Large house builders¡¯ increasing orders
Eight major house builders report that the orders¡¯ amount
exceeded that of the same month of last year after one year
and four months. Bottom is about 65% in April and May
then the orders have kept recovering month after month.

Since last July, event of sales campaign at the house
exhibit locations reopened so the sales resulted in order
amount. However, large builders comment that the
demand is moving to low cost builders because of
uncertain income in future and demand to reduce the
prices is increasing. Negotiations now take more time than
before.

It is first recovery since April 2019. April 2019 was the
last month of rush-in orders before the consumption tax
hike and the starts had kept sliding down month after
month so the tax hike reaction finally ended after sixteen
months together with influence of various measures to
stop corona virus epidemic.

The amount compared to the same month a year earlier in
August 2019 was 91% then August 2020 is 108% so the
demand has recovered to April 2019. Ordered amount of
three companies among eight majors exceeded since last
July. Then in August, they increased to five companies.

Low cost and unit built for sale builders draw more buyers
so that their recovery is more than the majors.

Eight majors are Sekisui House, Daiwa House, Sekisui
Chemical, Panasonic Homes, Misawa Homes, Asahi Kasei
Homes, Mitsui Home and Sumitomo Forestry. Low cost
builders are Tama Home, Yamada Home, Hinokiya Group
and two others.

South Sea(tropical) logs and lumber
Log import is more than 10% less than last year but users
have enough inventory. Sarawak, Malaysia could go into
rainy season in any day but the users in Japan feel
confident that PNG supply should satisfy their needs.
Indonesian mercusii pine laminated free board prices
dropped in late July in Indonesia but with limited volume
in distribution channels, the prices are settling down.

Chinese South Sea lumber has started moving after August
but demand for renovation of stores continues slow due to
coronavirus restrictions.