4. INDONESIA
Boosting exports to Japan
The Chargé d'affaires of the Indonesian Embassy in
Tokyo, Tri Purnajaya, said Indonesia has the opportunity
to increase exports of wood products to Japan because
Indonesian products have a good reputation in Japan.

To expand export sales the Chargé d'affaires said that the
Indonesian Embassy in Tokyo is ready to help increase
processed wood products export especially plywood.

He pointed out that exports of Indonesian wood products
to Japan in 2019 were worth around US$1.55 billion
which he estimated was around 8% of all Japan's wood
product imports.

However, the pandemic has disrupted trade and poses a
huge challenges. In the first half of 2020 Indonesia's wood
product exports to Japan fell around 4%.

Nevertheless, Tri Purnajaya is optimistic because demand
for wood products in Japan is still high and as the
economy recovers so will consumption.

A representative of the Indonesian Wood Panel
Association (Apkindo), Handjaja, said Indonesia is a
major global plywood exporter. Plywood exports were
worth US$1.7 billion in 2019. He further said Indonesian
plywood meets the required quality standards in Japan and
is verified legal under the SVLK.

See: https://republika.co.id/berita/qgi4fn349/ekspor-produkkayu-olahan-masih-punya-ruang-ditingkatkan

Removing obstacles in the furniture sector
The government, through the Representative Council of
Indonesia (Dewan Perwakilan Rakyat Republik
Indonesia,DPR), is committed to removing obstacles faced
by the furniture makers in securing legal wood raw
materials.

In a press statement Deputy Chairman of the DPR,
Rachmat Gobel, said "Commitment to complete work
must be the main key for all parties with their respective
main duties and functions. Thus, the investment that
comes in must be effective and produce results, not an
investment that in the long term is detrimental to
Indonesia".

He continued, saying he had learned of the problems in a
dialogue with furniture and crafts manufacturers who
pointed out that the export potential of the national
furniture and handicraft sector could rise to US$5 billion
over the next five years provided the timber raw materials
were available.

Furniture industry representatives asked for the
elimination of a number of export regulations that
suppress their potential to maximize added value.

See: https://ekonomi.bisnis.com/read/20200916/9/1292542/dprdorong-penyelesaian-hambatan-usaha-di-industri-mebel

Indonesia strong in South Korean Plywood Market
Indonesian plywood gained a firm market share in the
South Korean market during the first half of this year.
Apart from Indonesia and Vietnam the South Korean
plywood market is also important for Chinese plywood
producers.

Recent reports show South Korean plywood imports
reached US$391 million in the first half of which US$133
million was from Indonesia followed by Vietnam with
US$127 million.

Vietnam producers attracted an anti-dumping investigation
by South Korean authorities. In a final decision after a
nine-month investigation, South Korean regulatory
authorities issued anti-dumping duties of up to 10.65
percent for 5 years on cerain Vietnamese plywood
producers.

The decision to impose anti-dumping duties on
Vietnamese plywood requires approval from the Minister
of Strategy and Finance by the end of this year.

See:
https://ekonomi.bisnis.com/read/20200918/12/1293534/geservietnam-indonesia-kuasai-pasar-kayu-lapis-korsel-segini-nilainya

UK market confident on Indonesia's wood products
The Indonesian SVLK legality verification system and
FLEGT licensing makes Indonesia a low risk source of
tropical timber in the UK.

Between November 2016 to September 2020, Indonesia
reported 27,500 documents for 730,000 certified timber
shipments worth US$1 billion exported to the UK
according to the Charge d'Affaires Embassy of the
Republic of Indonesia (KBRI) London, Adam M. Tugio.

Adam said FLEGT is an important hallmark for retailers in
the UK as it ensures transparency. Today, more British
consumers are adopting ethical purchasing and demand
proof of legality for the wood products they purchase
along with assurances that the products purchased have
not resulted in deforestation.

Adam explained that British consumers appear willing to
buy certified sustainable products at a premium price. This
change in behavior has given importers hope that the
British government can provide incentives for the use of
sustainable wood by the UK timber industry.

See:
https://ekonomi.bisnis.com/read/20200924/257/1296105/pasaringgris-makin-percaya-produk-kayu-lestari-indonesia

In related news, Deputy Minister of Environment and
Forestry, Alue Dohong, in his remarks on a webinar 'UK
Market Update for FLEGT Timber Product: Indonesia's
Timber as Sustainable Partner for UK Market' held on 23
September said that that the SVLK won the trust of
international buyers because Indonesian wood products
come from legal sources.

In the webinar, Lord Goldsmith, UK Minister of State for
Pacific and the Environment, said that the commitment to,
and legality standards of Indonesian wood products makes
it easier for UK importers and consumers and that he
appreciates the cooperation between Indonesia and the UK
over the past two decades in developing strong compliance
standards for sustainable wood.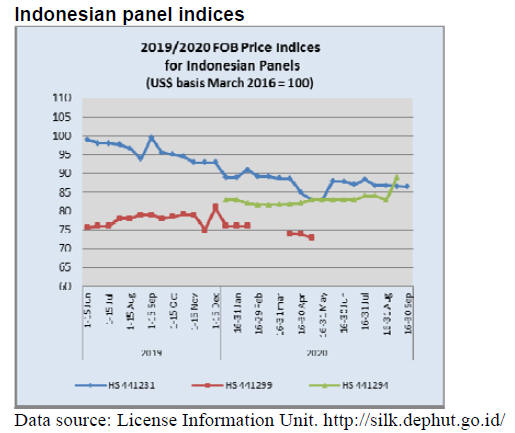 5. MYANMAR
All timber production ceased
An explosive second wave of Covid-19 infections has
shocked the country. Cases have now topped 10,000 with
226 confirmed deaths. The Ministry of Health and Sports
(MOHS) imposed strict 'stay-at-home' restrictions for
Yangon from 24 September.

Only businesses involved in banking and financial
services, petrol stations, food and cold storage,
pharmaceuticals, purified water distribution and
production of daily personal items have been exempted
from the order. As a result, all wood processing industries
in the area covered by the lockdown have ceased
production.

It is difficult to assess the impact on the industry and
exports. The current lockdown will be reconsidered in
early October. If the lockdown is extended for a month the
impact on the manufacturing sector and wood processors
may be severe.

The ban on foreign visitors and domestic travel has been
extended to the end of October. The ban on domestic
travel will disrupt preparations for the general election due
in a few weeks. While economic growth has not been
listed as one of the top three priorities in the ruling party's
manifesto, politicians are paying more attention to the
private sector ahead of the upcoming November elections.

Support for workers
Officials in the Yangon Region Government are
discussing plans to provide financial assistance to workers
who cannot get to work because of the travel ban.

Workers who have made Social Security Board (SSB)
contributions will receive 40% of their wages as financial
assistance and assistance will be provided to those who
have not contributed to the SSB.

See: https://www.mmtimes.com/news/myanmar-govt-distributecash-workers-without-social-security.html

Border trade suspended
Myanmar's official border trade with China has
completely ceased as China has closed the Ruili crossing.
Ruili is the main border town adjacent to Muse in
Myanmar. Muse sees the busiest border trade with China
which averaged around 4.57 billion kyats (US$3.5 million)
per day before the pandemic.

Ruili, in China's Yunnan Province, is under lockdown and
all residents are to be tested for COVID-19 after two
allegedly illegal immigrants from Myanmar tested
positive.

Reports say about 400 trucks with goods from Myanmar
are stranded in Muse and around 100 trucks are stuck in
Jiegao between the border and Ruili so traders are
searching for warehouses to temporarily store the goods.

South Korea seeks to boost trade to support a
recovery
Myanmar and South Korea have agreed to enhance trade,
investment and energy cooperation to help ease the
COVID-19 downturn. During an online meeting of the
bilateral Joint Commission for Trade and Industrial
Cooperation it was agreed that economic ties be expanded
and infrastructure projects should proceed.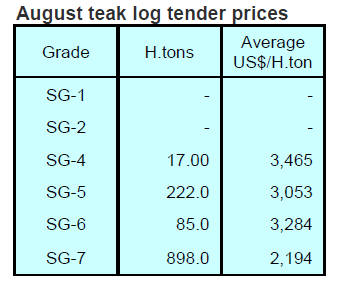 6. INDIA
Sound agro-forestry plan but little progress
Agro-forestry practices are gaining popularity in the
country as the mix of commercial trees and crops
geneartes early sources of income some of which can be
used for tree crop maintenance.
Agro-forestry is being promoted to supply commercial
timbers such as sandalwood, agarwood and red sanders
mixed with other hardwoods such as teak, laurel
(Terminalia tomentosa), haldu (Adina cordifolia), kalam
(Mitragyna parviflora), rosewood (Dalbergia latifolia),
sissoo( D.sissoo) and other local species.

Interest is growing in the so-called 'five storey' agroforestry
comprising native hardwood trees, exotics
between the hardwoods, Fruit trees, vegetables and
climbers and underground spices.

In related news, at the 10th Sustainability Summit
organised by the Confederation of Indian Industry (CII),
Union Environment Minister, Prakash Javadekar,
explained the Central government's decision to reforest
degraded forests through public-private partnership (PPP)
mode.

The National Agro-forestry policy 2014, which emphases
farm forestry and agro forestry, has not resulted in much
progress on ground. Commentators in India say there is a
need to scale-up already-developed agro-forestry models
using indigenous species for ecological sustainability and
economic expansion as over the past 10 years timber
imports have jumped to more than US$5 billion because
domestic timber resources are limited and demand has
surged.

For more see: http://www.risiinfo.com

Government urged to boost investment
The United Nations Conference on Trade and
Development (UNCTAD) has forecast an almost 6%
decline in India's GDP for 2020 and is urging the
government to continue measures to boost investment and
consumer spending.

The UNCTAD report 'From Global Pandemic To
Prosperity for All: Avoiding Another Lost Decade' says
"In the case of India, the baseline scenario is a sharp
recession in 2020 as strict lockdown measures to stem the
virus's spread brought many productive activities to a halt
across the country,".

See:https://unctad.org/en/pages/PressRelease.aspx?OriginalVersionID=570

Plantation teak
Indian importers have commented that freight rates have
become more volatile as there is shortage of containers.
They anticipate this situation will prevail for some time.

Under the present circumstances it is difficult to give a
clear picture of C&F prices for imported teak.

Locally milled sawnwood
There has been a modest rise in demand for hardwoods
mainly in the smaller cities in rural areas. The timber
markets in the main cities are still affected by the corona
control measures and the recent rise in infections has
disrupted the economic recovery.
The prices below do not, as yet, reflect the increased
freight rates.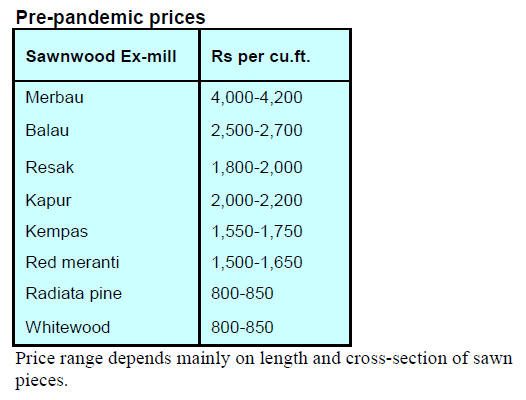 Myanmar teak
As tender prices for logs in Myanmar have been rising
Indian importers are anticipating exporters will be asking
for higher prices when shipments of teak to India resume.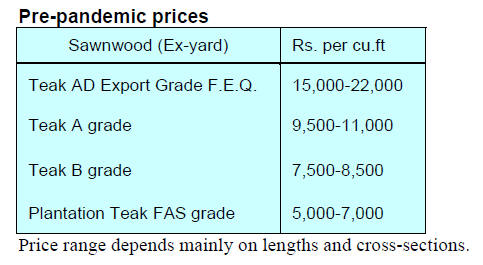 Sawn hardwood prices
A modest revival in demand was seen recently but the
pace of improvement has been very slow such that any
further rise in demand will be dependent on business
conditions stabilising.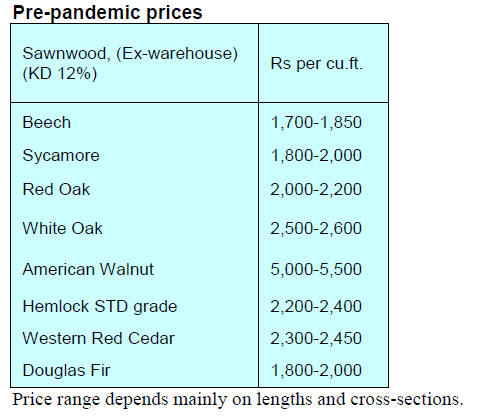 Plywood
Millers say that a rise in demand has allowed them to lift
production slightly and that sales are improving. Domestic
producers want to raise prices as production costs have
risen but with prices for imported panels falling they have
no opportunity to raise prices for panels.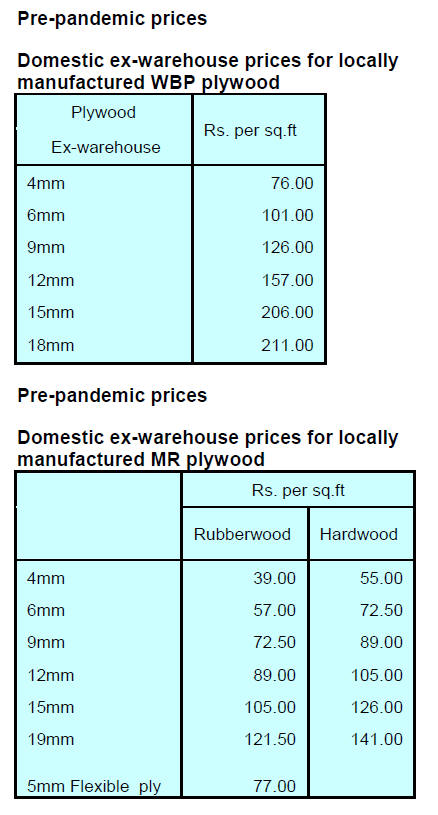 7. VIETNAM
Vietnam top exporter of veneer and plywood
The US Globaltrade magazine has republished a story
from an Indexbox market forecast illustrating that, in value
terms, the largest hardwood veneer and plywood suppliers
to the US in 2019 were first Vietnam, China and Canada
with a combined 45% share of total imports. Other
suppliers were Indonesia, Russia, Cambodia, Malaysia,
Spain, Brazil, Ecuador, Italy and Uruguay, which together
accounted for a further 43%.

See: https://www.globaltrademag.com/the-american-hardwoodveneer-and-plywood-market-vietnam-replaces-china-as-topforeign-supplier/

and
https://www.indexbox.io/store/us-hardwood-veneer-andplywood-market-analysis-and-forecast-to-2020/

Export/import update
In spite of the pandemic by mid-2020 Vietnam's wood and
wood product (W&WP) export earnings topped US$7.9
bil., a year-on-year growth of 11%. Wood product exports
reached US$5.9 bil., with a year-on-year growth of 16%,
while the export of NTFPs amounted to US$391 mil., 22%
up.

In total, on 15 September 2020 exports of W&WP plus
NTFPs were valued at US$8.249 billion, an increase of
12% against the same period of 2019. With this impressive
growth rate in 2020 total W&WP exports (plus NTFPs)
are expected to be over US$12 billion keeping Vietnam
amongst the top 5 global wood product exporters.

In contrast, W&WP imports into Vietnam up to September
were reported at US$1.7 billion, a year-on-year decline of
7%.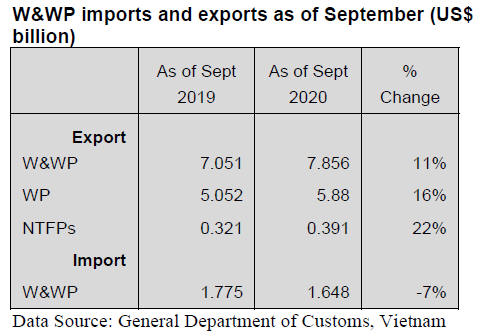 EU welcomes VNTLAS
In a September 2020 press release, Giorgio Aliberti,
Ambassador of the European Union to Vietnam
commented on the completion of the Government Decree
on the Vietnam's Timber Legality Assurance System
(VNTLAS) which aims at implementing the annex with
the same title of the EU – Vietnam Voluntary Partnership
Agreement (VPA) on Forest Law Enforcement,
Governance and Trade (FLEGT).

The press release continues saying "Ambassador Aliberti
trusts in Vietnam's continued commitment to the VPA,
which entered into force last June and active pursuit of the
VPA's objective to manage all types of forests sustainably
and provide a legal framework aimed at ensuring the
legality of the production of timber and timber products,
irrespective of whether the timber originates from within
or outside of Vietnam.

The preparation of the VNTLAS decree provided for
consultation with VPA stakeholders, including the VPA
multi-stakeholder core group in 2019 and the EU is
grateful for the opportunities for dialogue, which
continued during and beyond the VPA Joint
Implementation Committee meeting in June 2020.

The VNTLAS decree addresses important elements of the
VPA related to the import and export of timber and timber
products. It also provides the basis for an Organisation
Classification System, albeit one specific to enterprises
engaged in processing and exporting timber and thus
lacking some core elements foreseen in the VPA.

Such a system covering importer and domestic producer
organisations alike is foreseen in the VPA as a tool to
facilitate legality assurance throughout the supply chain in
Viet Nam and is a core element of the VPA."

The press release continues, "The EU looks forward to
seeing how Vietnam will in future extend the scope to
address legality, not only at the point of import and expor,
but importantly for operators involved in harvesting,
trading and processing of domestic as well as imported
timber and for products destined to all markets"

For the full press release see:
https://eeas.europa.eu/delegations/vietnam/85283/node/85283_en
8. BRAZIL
Real strengthens against the US dollar
Brazilian inflation measured by the Consumer Price Index
(IPCA) stood at 0.24% in August 2020, the highest value
for the month since August 2016 (0.44%). The average
commercial exchange rate ended August 2020 at
BRL5.46/US compared to the average in July 2020
(BRL5.28/USD).

However, the Brazilian real moved to a one-month high in
late September due to signs of a steady economic recovery
in the country and due to a weaker US dollar. The real rose
almost 1% to 5.246 to the dollar after data showed private
sector economic activity rose in August at its fastest pace
in seven years.

Revenue stream stabilise for furniture cluster
The Bento Gonçalves furniture cluster continues to report
improved output. The Furniture Industry Association of
Bento Gonçalves (Sindmóveis) has said the accumulated
revenue up to July this year was R$1.1 billion.

The cluster includes about 300 companies in the
municipalities of Bento Gonçalves, Monte Belo do Sul,
Pinto Bandeira and Santa Tereza. March and April 2020
were the worst months in the history of the furniture
industry in the Bento Gonçalves furniture cluster. In
contrast furniture companies in Rio Grande do Sul saw a
decline in revenues of around 6% year on year over the
same period.

As production is increased manufacturers are experiencing
delays in the delivery of raw materials and higher costs. In
addition to the demand for veneers the furniture industry
depends on prompt delivery of furniture hardware, paints
and varnishes, coatings, adhesives, paper and packaging.

Furniture industry revenues will probably improve in the
coming months but for 2020 are unlikely to match those in
2019. The performance of the furniture sector depends on
firmer internal and external demand and the speed of an
economic recovery.

IBAMA launches improved tracking system
In September IBAMA (Brazilian Institute of the
Environment and Renewable Natural Resources) launched
SINAFLOR+ which is an improved version of the former
SINAFLOR (National System for the Control of the
Origin of Forest Products) created in 2012 to guarantee
control in the management of wood, tracking it from its
origin.

According to IBAMA, in the old system the linkage
between harvested wood and the tree in the forest was
made by random sampling. In the new system
SINAFLOR+, trees for selective logging are 100%
identified by geo-referencing and all products can be
traced back to the exact point from which the log was
originally harvested. In addition to preventing fraud, the
system has an electronic signature and QR code. The new
system aims to ensure greater transparency and stricter
timber and forest products control.

SINAFLOR+ also has an integrated control panel for the
user with tools that go from history (logging permit) to
intelligent search, facilitating the management of logging
permits and pending issues by the entrepreneur. The
system has been tested since August by more than 500
trained users including members of environmental
agencies and IBAMA´s technicians and inspectors.

See: http://aquiacontece.com.br/noticia/meioambiente/12/09/2020/sinaflor-ibama-lanca-sistema-antifraudepara-combater-o-desmatamento/155903

Export update
In August this year Brazilian exports of wood-based
products (except pulp and paper) increased 25.6% in value
compared to August 2019, from US$233.5 million to
US$293.1 million.

The value of pine sawnwood exports increased 36%
between August 2019 (US$35.0 million) and August 2020
(US$47.5 million). In volume terms, exports increased
56% over the same period, from 176,400 cu.m to 275,300
cu.m.

In contrast, the volume of tropical sawnwood exports
declined 11% , from 41,300 cu.m in August 2019 to
36,600 cu.m in August 2020. The value of exports
dropped but only by around 4% from US$15.3 million to
US$14.7 million over the same period.

Pine plywood exports earnings increased 52% in August
2020 in comparison with August 2019, from US$39.3
million to US$59.9 million. There was an increase in the
volume of exports but only by 38% over the same period,
from 173,900 cu.m to 239,100 cu.m signaling an
improvement in unit prices.

Brazil's exports of tropical plywood increased around 2%
in August but the value of exports dropped almost 20%
from 5,800 cu.m (US$ 2.6 million) in August 2019 to
5,900 cu.m (US$ 2.1 million) in August 2020.

On a brighter note Brazil's exports of wooden furniture
increased from US$47.1 million in August 2019 to
US$52.6 million in August 2020, an almost 12% rise.

Rising furniture exports from Rio Grande do Sul
Furniture production in the state of Rio Grande do Sul has
started to recover after two difficult months for the sector.
Production in July increase over 40% compared to June
with the manufacture of 7.1 million pieces according to
IEMI - Market Intelligence.

For the Association of Furniture Industries of the State of
Rio Grande do Sul (Movergs) the sector's performance is
far from ideal for 2020 but, gradually, businesses are
recovering.

In July 2020, exports from Rio Grande do Sul state
increased 13%, totaling US$ 13.0 million. In August,
exports increased by 23%, totaling US$16.0 million. The
states of Santa Catarina, Rio Grande do Sul and Paraná,
together, accounted for 85% of the values exported in
August, followed by the state of São Paulo, which ranked
4th.

The United States is the main destination for furniture
exports of the state of Rio Grande do sul (22% of exports),
followed by Peru (12.3%) and Uruguay (12.2%). Exports
to Colombia and Peru in August grew 173% and 137%,
respectively compared to the previous month.

Lower forest sector exports from Acre
The state of Acre in the Amazon region is one of the
largest producers of tropical timber in Brazil and proudly
boost of the lowest rate of deforestation in the Amazon
region.

According to the Ministry of Economy, in August 2020
exports from Acre totalled US$2.42 million and imports
US$0.46 million. In the year to August exports totalled
US$23.9 million and imports, US$1.72 million. Compared
to August 2019, August 2020 exports fell 4%. The share
of forest sector exports in total August exports was 37%, a
considerable drop when compared to the same period last
year (52%).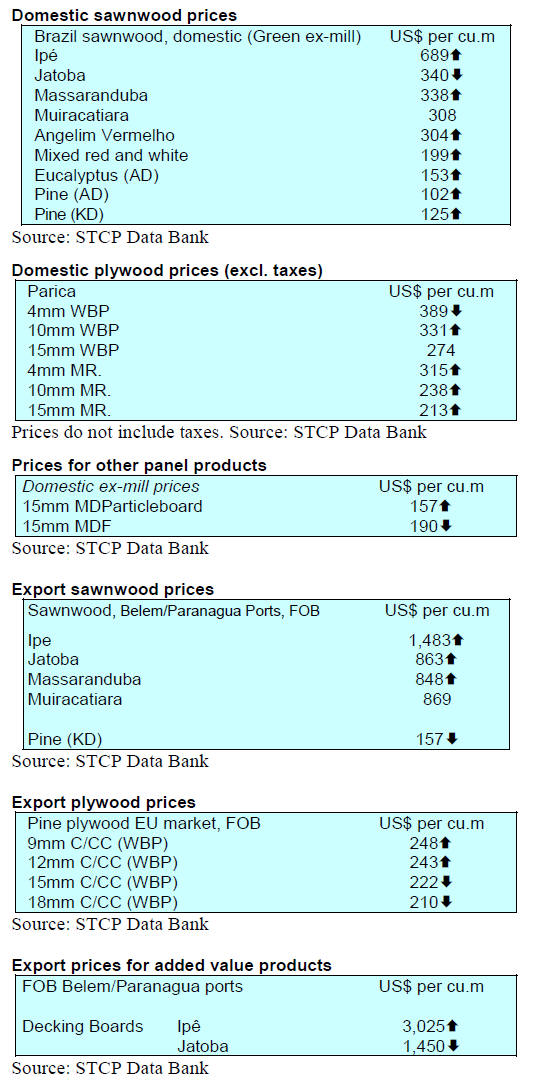 9. PERU
Surge in January and February sawnwood exports lifts
1st half earnings
According to the Association of Exporters (ADEX)
sawnwood exports between January and July were worth
US$12.9 around 5.5% higher than in the same period last
year. The good performance is due to firmer demand from
China.

The manager of the Extractive Industries and Services
Sector in ADEX, Lucía Rodríguez, said while the year
started well for exporters, production was seriously
disrupted in March, April and May. However, prospects
for annual sales are looking positive.

In January sawnwood sales increased around 75% year on
year and in February they were more than double the value
of February 2019 exports. However the following three
months there were declines of 20% in March, 63% in
April and 68% in May.

The main market destination for sawnwood in the first
seven months of the year were China (US$5.5 million)
followed by the Dominican Republic (US$2.7 million)
despite suffering a drop of about 39%.

The third ranked market was Mexico (US$1.8 million)
down 56% year on year. Sawnwood exports to Vietnam
which were worth US$1.2 million in the first seven
months of the year grew almost 80% year on year.

Forest operations resume but production will be lower
this year
Paralysis of timber operations due to the emergency
measures shortened the harvesting season when log
extraction is allowed.

Although some restrictions have been lifted and forest
operations have resumed it will not be possible to recover
100% of the production.

Certified forest management expands
Despite the difficult times initiatives to protect and
responsibly use tropical forests continue and FSC
certification of forest management has expanded.

This year two new areas in the Ucayali region have been
certified. To-date, the forestry companies Consolidado
Sepahua Tropical Forest SAC and Nuevo San Martín SAC
manage 313,430 hectares of certified concessions in the
country (around 30% of the total certified area). Of this
area, 295,507 hectares are destined to forest production
and 17,923 hectares are protected.

SMEs to get subsidised access CITEmadera services
The Technological Institute of Production (ITP) will offer
small and medium-sized enterprises vouchers with a value
of around US$1,200 which can be used to access the
technological services provided by the CITE network.

This is aimed at entrepreneurs who have been affected
during the State of Emergency and are in a vulnerable
situation. The services available include technical
assistance for product design and development, for
laboratory testing, productive support and training.

See:
https://www.gob.pe/en/institucion/citemadera/noticias/296398-mipymes-recibiran-vales-hasta-por-4300-soles-para-acceder-alos-servicios-del-citemadera