Report from North America
Tropical hardwood imports rose in July
July imports of sawn tropical hardwood rose 16% month
on month but at 12,596 cubic metres, the volume of
tropical hardwood imports was down more than 40% from
July 2019. Year-to-date imports remained down 39% up to
July.

Imports from Ecuador fell by 28% in July and are down
72% year-to-date. Imports from Brazil rose 21% in July
but only to a level about 15% less than that of the previous
July, with year-to-date imports up to July being down by
22%.

Similarly, imports from Malaysia rose sharply from weak
June numbers but remain down 40% year-to-date. On a
positive note, imports from Indonesia more than doubled
in July over June and are now ahead of last year by 8% for
the year.

Imports of jatoba rose 20% in July and imports of keruing,
virola and meranti all increased sharply in the month yet
all still lag 2019 totals year-to-date.

Imports of balsa, sapelli and acajou d¡¯afrique all fell by
more than 10% in July and are down sharply for 2020.

Canadian imports of tropical hardwood held fairly steady
in July, rising by 2% over the previous month. Imports for
the year so far are down by 9%.

Hardwood plywood imports rose in July
US imports of hardwood plywood recovered somewhat in
July, rising by 13% for the month and bringing 2020 totals
even with 2019. Imports from China fell 3% in July,
ending a four-month streak of improvement after a sharp
decline at the beginning of the COVID-19 pandemic.

Imports from China are down 57% for the year. Imports
from other key trade partners: Russia, Indonesia,
Malaysia, Cambodia, and Vietnam all rose more than 10%
in July.

Veneer imports continue to catch up
Imports of tropical hardwood veneer continued to rally,
rising by 40% in July after improving 76% in June. Yet,
there is still much more ground to make up after imports
cratered in May.

Despite the gains, July imports were still down about 50%
from the previous July¡¯s figures, while year-to-date
imports are down by 30%.

Import volume was particularly volatile in July with
imports from Ghana and Cameroon nearly disappearing
while imports from Italy almost doubled and imports from
China grew by more than 850%.

Year-to-date imports from Cameroon are double what they
were last year, while imports from most other nations are
down by more than one-third.

Imports of assembled flooring spike to record level
The value of US imports of assembled flooring panels
jumped 29% in July to the highest level in more than 10
years at US$18.6 million. While increases in building
supply prices may have contributed to import value rises
in recent months, it was a more than 30% rise in the
import volume of panels that drove the jump in July.

The value of imports from Vietnam was up 68%, while the
value of imports from China and Canada rose 35% and
15%, respectively. Despite the record month, the value of
imports of assembled flooring panels is down 2% for
2020.

Imports of hardwood flooring also rose (12%) in July but
are still at a monthly level only about two-thirds of where
they were last July. Imports from China saw their
strongest month since February while imports from
Malaysia rose by 35%. Imports from Brazil were down
1% and are behind last year by 30% for the year. Overall
imports are down 33% year-to-date.

Moulding imports continue recovery, Malaysian scores
Imports of hardwood mouldings rose by 25% in July,
outpacing July 2019 imports by more than 10%. Imports
from Malaysia rebounded after two dismal months, rising
by just under 400%.

Due to the slump, imports from Malaysia are down 34%
for 2020. Imports from Brazil are even weaker, down
62% for 2020 after falling by 38% in July. Overall
imports are down 11% for the year.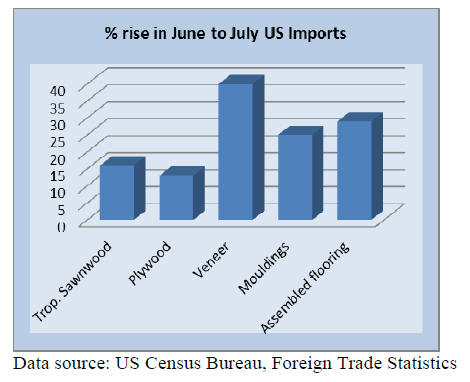 Furniture orders soared in June
New US residential furniture orders continued to bounce
back, with a 73% increase in June following up an even
larger percentage gain in May. According to the latest
Smith Leonard survey of manufacturers and distributors,
new orders in June were 30% ahead of June 2019.

New orders were up for 73% of the participants. In May,
new orders were down 8% from May 2019. ¡°We had
heard from many that June orders had really started to
come in better than expected but the increase over June
last year was more than we would have thought,¡± the
survey report said.

For the first half of 2020 new orders were down 16% from
the same period last year after an 18% decline reported
last month. Some 81% of the participants reported a
decline in orders year-to-date.

Shipments in June were down 7% from June 2019 which
was pretty much in line with the decline in orders reported
in May. The results were split, with roughly one-half of
the participants reporting increases and the other one-half
reporting a decline.

See: https://www.smith-leonard.com/2020/08/31/august-2020-furniture-insights/

Cabinet sales fell in July
US. cabinet manufacturers reported that cabinet sales were
down 5.8% in July 2020 compared to June, according to a
press release from the Kitchen Cabinet Manufacturers
Association (KCMA) on their monthly Trend of Business
Survey. Custom sales decreased 5.4%; semi-custom sales
increased 2.6%; and stock sales were down 10.8%
compared to the previous month.

US. cabinet manufacturers reported an increase in overall
cabinet sales of 3% for July 2020 compared to the same
month in 2019, Custom sales are up 0.9%, semi-custom
increased 3.6%, and stock sales increased 3%.

Overall year-to-date cabinet sales are down 2.9%. Custom
sales decreased 4%, semi-custom sales decreased 8.1%,
and stock sales are up slightly at 1% year to date.

See: https://www.kcma.org/news/press-releases/july-2020-trendof-business

Contract furniture, retailers expand home office
partnerships
The trend in ¡®work from home¡¯ has been experienced for a
number of years but the pandemic has resulted in an
escalation of this in the US. Today, workers stuck at home
are buying a lot of desks, chairs, and shelves to furnish and
expand home offices.

Some of the major contract manufacturers offer their
products through online stores but the choices are very
limited. Industry experts interviewed by the Woodworking
Network found that companies are increasing their
offerings and expanding their marketing through a number
of outlets.

It has been estimated that about 50% of US office workers
are working from home or elsewhere rather than their
company¡¯s offices. Many workers will return to the office
when the pandemic ends but it is likely that many will
continue to work at home, at least part of the time.