Japan Wood Products Prices
Dollar Exchange Rates of 10th September 2020
Japan Yen 106.16

Reports From Japan
Yoshihide Suga elected president of the ruling party ¨C
appointed Prime Minister
The three veteran Japanese policymakers, Yoshihide Suga,
Fumio Kishida and Shigeru Ishiba were vying for the post
of president of the ruling Liberal Democratic Party (LDP).
The winner is guaranteed to be named prime minister in
the Diet, given the LDP¡¯s overwhelming strength.

Under LDP party rules, the new leader will only serve out
the remainder of the previous Prime Minister Abe¡¯s threeyear
term which runs to September 2021.

A general election will have to be called by October 2021
when the four-year term of the members of the Diet's
lower house comes to an end.

On 14 September Yoshihide Suga was elected president of
the ruling Liberal Democratic Party thus ensuring he will
replace Shinzo Abe as prime minister. Suga is expected to
announce a new lineup of the party leadership within days.

Signs of economic recovery
Despite the contraction in Japan¡¯s economy in the second
quarter of 2020 there had, by the end of August been signs
of a rebound. However, continued weakness in private
consumption and exports, the two main drivers of the
economy, along with the current second wave of
infections, means a quick recovery is unlikely and the
country will be lucky if it can avoid a double-dip
recession.

Many analysts are quoted in the domestic press as saying
that GDP may rebound by as much as 10% in the July-
September quarter as a recovery in consumer spending is
anticipated.

Machinery orders
Machinery orders rebounded in July from a sharp fall the
previous month which comes as relief for an economy
buffeted by the pandemic. However, the outlook for
capital spending remains uncertain due to fragile global
business conditions.

The total value of machinery orders received by 280
Japanese manufacturers operating in Japan increased by
7% in July from the previous month. Private-sector
machinery orders, excluding those for ships and those
from electric power companies, increased in July.

See: https://www.esri.cao.go.jp/en/stat/juchu/2020/2007juchue.html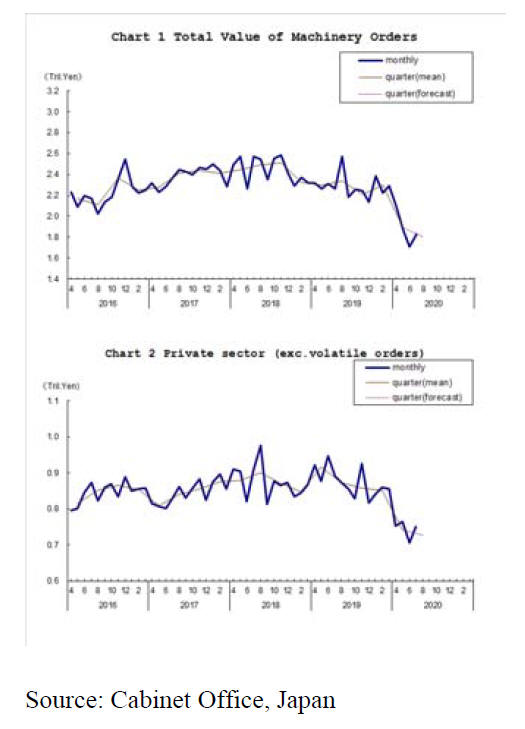 New PM commits to weak yen policy
The new Prime Minister, Yoshihide Suga a veteran
politician will face an enormous task to preserve one
aspect of Abenomics, the weak yen.

The domestic press speculates that Suga may be less
aggressive on fiscal easing than Abe, while still working
closely with the Bank of Japan to hold down the yen in
support of exports. However, at a press conference Suga
suggested the Bank of Japan still has room to expand
monetary easing.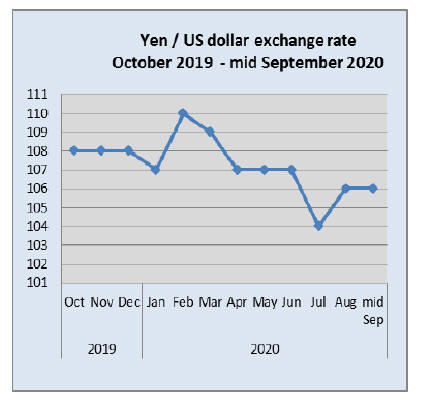 Builders report recovery in orders
The Japan Lumber Reports (JLR) has indicated that major
house builders are reporting a recovery in orders for new
homes. The JLR says ¡°Total new starts during April and
June were 12.7% less than the same period of last year and
owner¡¯s units were 18.2% less.

However, orders placed with major house builders started
recovering in June and lumber precutting plants report
orders by major house builders are increasing¡±.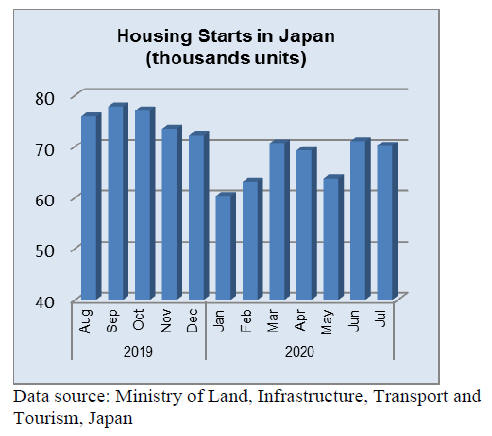 Import update

Furniture imports
The June 2020 uptick in the value of Japan¡¯s wooden
kitchen and bedroom furniture corresponds to the general
improvement in consumer sentiment and in particular the
steady rise in the consumer confidence index for
¡®willingness to buy durable goods¡¯.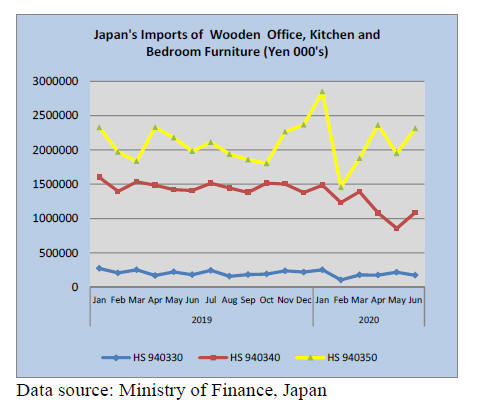 Office furniture imports (HS 940330)
The value of Japan¡¯s first half 2020 imports of wooden
office furniture (HS940330) fell 16% compared to the
value of imports in first half of 2019. Throughout the first
half of 2020 shippers in China have consistently captured
the largest share of wooden office furniture imports. It
remains to be seen if the efforts by the Japanese
government to encourage Japanese companies relocate out
of China will impact future sources of furniture imports.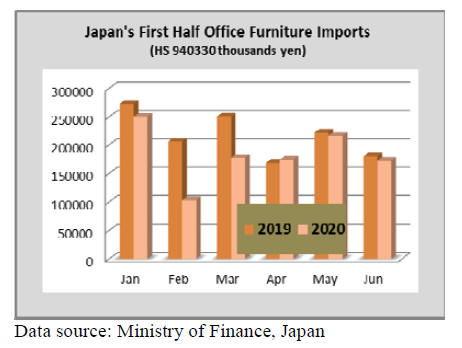 June office furniture imports
The value of June imports of wooden office furniture
(HS940330) was around the same as in June 2019 but
compared to May the value of June imports was down
20% following the sharp month on month rise in May.
The office furniture market in Japan has been feeling the
impact of the ¡®work from home¡¯ approach adopted by
many companies, some of which have already decided
¡®work from home¡¯ brings benefits and have begun to
downsize their office space requirements.

As was the case throughout the year most wooden office
furniture imports originated in China (80% in June). The
other shippers of note in June were the US (5%) and
Poland (4%). June shipments from China were around
13% down on May shipments, shipments from Poland
dropped 50% in June compared to May but shipments
from the US doubled.

Kitchen furniture imports (HS 940340)
The value of Japan¡¯s kitchen furniture imports in the first
half of 2020 was down almost 20% year on year.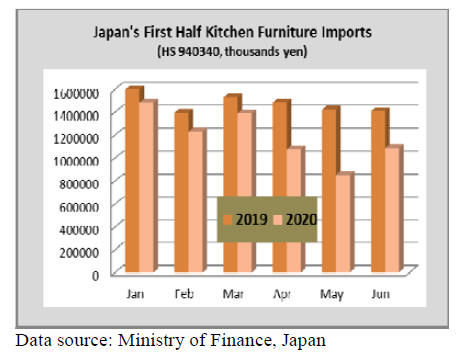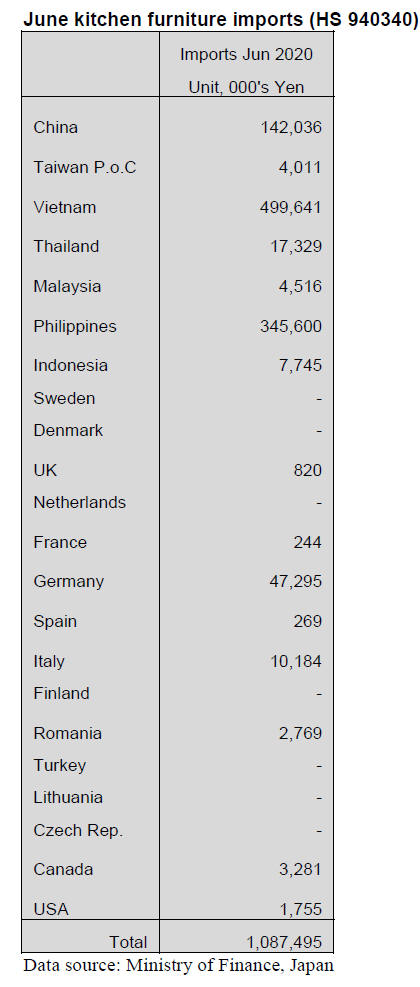 The value of June imports of wooden kitchen furniture
were surprisingly around 25% higher than in May and this
was during the partial lockdown.

The explanation for the increase in kitchen furniture could
be that, as in other countries when under lockdown, the
Japanese also turned to home improvements.

Each of the three main shippers, Vietnam, the Philippines
and China saw exports of wooden kitchen furniture to
Japan rise in June compared to May.

Vietnam shipped most in June (46% of June imports)
followed by the Philippines (32%) and China. Shipments
from each of the three main shippers increased in June
with a massive almost 70% increase from the Philippines.

Bedroom furniture imports (HS 940350)
Compared to the first half of 2019 the value of Japan¡¯s
imports of wooden bedroom furniture in the first half of
2020 rose slightly, something of a surprise since imports
of office and kitchen furniture were down year on year.

In these unusual times the most likely explanation for this
may be found in relation to the pandemic ¡®work from
home¡¯ style of work. It could be that many families had to
rearrange their bedrooms to create a work space.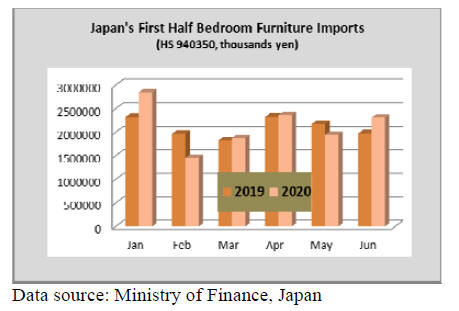 The value of Japan¡¯s June imports of wooden bedroom
furniture (HS940350) was up 17% year on year and also
up month on month (27%).

Shippers in China and Vietnam continued to dominate
Japan¡¯s imports of wooden bedroom furniture in June with
imports from China accounting for 58% of all HS940350
imports followed by Vietnam with 32% of imports.

The third largest shipper of HS940350 in June was
Malaysia was cornered a 4% of total June imports. In June
the value of shipments from China were 14% up on May
and shipments from Vietnam were up 18%.

Trade news from the Japan Lumber Reports (JLR)
The Japan Lumber Reports (JLR), a subscription trade
journal published every two weeks in English, is
generously allowing the ITTO Tropical Timber Market
Report to reproduce news on the Japanese market
precisely as it appears in the JLR.

For the JLR report please see:
https://jfpj.jp/japan_lumber_reports/

Recovering housing orders
Since last June marketing activities by major house
builders restarted after the state of emergency during April
and May for coronavirus epidemic.

Order values bottomed in April and May and have been
increasing since June for eight major house builders,
which specialize custom ordered houses.

It is everyone¡¯s concern that how house quarantine period
of March and May would influence new housing starts.

Total new starts during April and June were 12.7% less
than the same period of last year and owner¡¯s units were
18.2% less. Orders for large house builders started
decreasing since last March. Decreasing starts during the
second quarter match declining orders for precutting plants
by 10-20%.

Precutting plants see that orders would decline from
September because of absence of housing orders during
March and May because orders for precutting plants are
about six months after house builders firm up orders from
house buyers.

Orders for major house builders started recovering since
last June and precutting plants report orders by major
house builders are increasing.

Eight major house builders¡¯ suffered about 30% less
orders from the same month in 2019 and speed of recovery
is slower than other builders because major builders take
time to firm up orders after potential buyers visit house
exhibition sites meantime builders to sell units built for
sale lost orders until last April but orders sharply
recovered. Some builders firm up orders in 40-50 days
after catching potential buyers.

Average ordered value for eight major builders (Sekisui
House, Daiwa House, Mitsui Home, Misawa Home,
Sumitomo Forestry, Panasonic Homes, Asahi Kasei
Homes and Sekisui Chemical Industry) was 77% less than
the same month last year in March, 64% in April, 67% in
May, 85% in June and 91% in July.

Meantime, for six other builders, which sell unit built for
sale and low cost models, average ordered value in March
was 80% of the same month in 2019, 99% in April, 121%
in May, 117% in June and 125% in July.

Imported lumber in depressed market
In Japan lumber market, price competition started by
sluggish demand among various products and this results
in drop of export prices of producing countries.

With pessimistic forecast, demand shrinkage seems to
come so that purchase of main items is decreasing but
some items like Russian lumber and European structural
laminated lumber supply is more than last year.

Meantime, North American lumber market rebounded
sharply by recovering housing starts in the U.S.A. and
production curtailment by sawmills so future export prices
of logs and lumber from North America would be firm.

Start of price war is domestic produced Douglas fir
lumber. The largest manufacturer of Douglas fir lumber in
Japan reduced the prices of KD Douglas fir beam by
2,000-3,000 yen per cbm in last May so KD Douglas fir
beam prices are 49,000 yen per cbm delivered, which is
the lowest in seven years since 2013.

The reason is that the prices of competing European
laminated redwood beam were 54,000-55,000 yen, 2,000-
3,000 yen higher than KD Douglas fir beam then the
fourth quarter prices of European products were about
53,000 yen and the prices got closer. Four domestic
laminated lumber manufacturers decided to compete so the
price war has started between domestic made Douglas fir
lumber and European made laminated beam.

The export prices by the European suppliers rebounded in
the second quarter but supply pressure continues.

Total supply through May of medium size laminated
lumber was 12.3% more than 2019 and small size was
11.8% more so the prices of domestic produced beam
dropped down to the same level of 53,000 yen. Drop of
KD Douglas fir beam lumber prices influenced export
prices of other Douglas fir lumber.

North American suppliers maintained the prices by
supplying proper volume to meet actual demand in Japan
and domestic lumber prices followed the export prices but
now domestic supply prices dropped first and the export
prices follow so the export prices dropped by about 3,000
yen per cbm compared to previous quarter.

However, this pattern is no longer workable after the
North American lumber market recovered steeply so it is
likely that the export prices of North American lumber
would go up in next quarter.

Russian lumber supply last year was limited but the
arrivals have been increasing since last spring and Tokyo
Bay ports¡¯ inventory at the end of June was 63,000 cbms,
2.6 times more than last year and price drop by oversupply
is feared.

Price war weakens Japan¡¯s purchasing power and it is
necessary to have certain limit of price drop to maintain
Japan¡¯s purchasing power when the market is rebounding
elsewhere in the world.

Orders for new housing in April and May dropped
considerably by the State of Emergency order, which
would impact housing starts in August and September. It
is apparent that new housing starts this year will be much
less than last year, which influences building materials
demand. Competition will be harder between imported
products and domestic, solid wood and laminated lumber.

Plywood
Movement of plywood in the market continues stagnant
but the price skidding stopped. Plywood manufacturers
decided not to accept any lower offers and the dealers and
trading firms agreed on as price reduction does not help
move any more volume so the users gave up asking lower
prices and feel that the present prices seem to be the
bottom. The manufacturers plan to produce for actual
demand only to tighten the market.

12 mm structural softwood panel prices are 900-930 yen
per panel delivered, 100-150 yen lower than September
last year.

Imported plywood supply has been very low so that some
items are short in the market so the importers and dealers
now sell cautiously with limited on-hand inventory. The
price decline has stopped but with weak demand, it is risky
to place new orders for the importers so they place orders
with absolute minimum.

Future arrivals do not seem to increase and it is hard to see
how supply and demand balance would move.

Market prices of 12 mm structural panel are 1,200 yen per
sheet delivered, 100 yen lower than September last year.

Log and lumber export for the first half of 2020
Total log export volume for the first six months of this
year is 636,356 cbms, 3.7% more than 2019. Cedar is
553,591 cbms, 5.6% more and cypress is 76,658 cbms,
10.1% more.

Lumber export is 74,068 cbms, 0.6% more. Cedar is
41,144 cbms, 8.5% less and cypress is 19,177 cbms,
27.4% more. Log export in the first quarter decreased
because of slump in China but export for other markets is
steady from the beginning of the year. Export to China
recovered in the second quarter so total log export
increased over 2019.By species, cedar export for China is
0.8% more.

The volume dropped by 29% in the first quarter by corona
virus epidemic but it increased by 23.4% in the second
quarter. For other destinations, Korea is 37.8% more,
Taiwan is 25.1% more and Vietnam 320% more.

Cypress log export for China is 6.6% more and for Korea
8.2% more and for Taiwan 26.5% more. Vietnam
increased by three times and exceeded Taiwan volume.
New market of Vietnam is increasing the volume of both
cedar and cypress but like China, cedar and cypress may
be processed and export for Japan market.
On lumber export, the volume for China and Philippines
steadily decreasing and Korean market is not steady.
Lumber export for the U.S.A. is increasing every month.