4. INDONESIA
Exports fall, many furniture businesses close
The Chairman of the Indonesian Furniture and Craft
Industry Association (HIMKI), Supriyadi, said the value
of Indonesia's exports of furniture and crafts will likely
fall below US$1.2 billion by the end of this year and the
downturn in exports is already having a major impact on
companies, many of which have either stopped operating
or cut production. This has resulted in job losses in the
sector and until domestic and international demand picks
up prospects are bleak.

The Director General of Small, Medium and Various
Industry of the Ministry of Industry, Gati Wibawaningsih,
agreed with the forecast export earnings saying this year
furniture and craft exports will not reach the US$2.4
billion level achieved before the pandemic.

The General Chairman of the Association of State-Owned
Banks (HIMBARA), Sunarso, has emphasised that the
Bank would help small and medium industries in this
sector by bringing together HIMKI members and
potenetial buyers at an event in Jakarta in December.
Sunarso also said that he would work with HIMKI to find
solutions to the issue of raw material supply.

See:
https://ekonomi.bisnis.com/read/20200825/257/1283113/eksporlesu-ini-cara-himbara-bantu-industri-mebel-nasional

On a brighter note, HIMKI predicts that in 2021 the
furniture and craft market will return to normal as it
expects demand in the second half of this year will slowly
start improving.

See: https://jogja.tribunnews.com/2020/09/01/industri-mebeldiprediksi-mulai-normal-pada-tahun-2021

In related news, the Indonesian Furniture and Handicraft
Association (Asmindo) conducted a survey on the impact
of the pandemic on furniture & craft SMEs in 24 central
areas in Indonesia.

This survey was conducted 2-8 July and attracted
responses from 1,160 out of 2,500 Asmindo member
companies in 24 regions.

The survey revealed that 60% of respondents experienced
order delays from the domestic market which amounted to
Rp.173.46 billion and 86% of respondents experienced
order delays in the export market with a value of Rp.545
billion.

Furthermore, 30% of respondents experienced order
cancellation in the domestic market amounting to Rp65
billion with 40% of respondents experiencing export order
cancellations with a value of Rp225.52 billion.

See: https://www.wartaekonomi.co.id/read303156/pengusahamebel-curhat-penundaan-hingga-pembatalan-order

Increase productivity to boost timber exports
Indroyono Soesilo, Chairman of the Association of
Indonesian Forest Concession Holders (APHI), has
reported there was a decline in the performance of the
forestry sector in the first half of this year and to boost
exports when demand returns, it will be necessary to
improve productivity and the efficient use of natural forest
resources.

Indroyono expressed his appreciation of government
policy initiatives to encourage improvement in natural
forest-based upstream and downstream sector
performance. The initiatives include relief from payments
to the Reforestation Fund, relief from levies on forest
product production, relief on land and building taxes, the
reduction in export taxes on some products and easing of
regulations on importing used plywood machinery.

To increase exports he said the Association must continue
to work together to strengthen market intelligence and
digital marketing and e-commerce and he recommended
establishing an intensive dialogue with Indonesian
Embassy officials in countries importing from Indonesia to
devise ways to boost demand.

Along with efforts to boost exports, domestic consumption
of timber and processed products needs to be encouraged,
said Indroyono.

See: https://republika.co.id/berita/qg9l1q370/aphi-perlu-naikkanproduktivitas-untuk-genjot-ekspor-kayu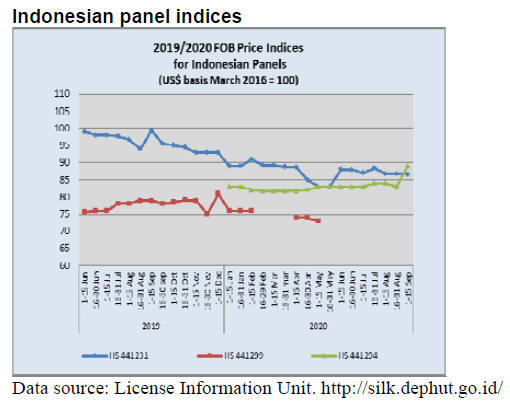 5. MYANMAR
Second wave - Export control procedures temporarily
suspended
Manufacturers in Yangon have been advised that
beginning 25 September the Forest Department will cease
its control procedure for issuing the Certificate for
Legality of Forest Products (CLFP) as a precautionary
measure against an apparent second wave of Codid-19.

The number of confirmed cases in Myanmar soared during
to over 3,000 on 14 September. The resumption of control
procedures will be decided on how the current Covid-19
infection rate expands.

The control procedure comprises many steps beginning
with the delivery of logs which were purchased through
the Myanma Timber Enterprise (MTE) open tender, the
cutting permit and the outturn measurement all of which
are required before the CLFP is issued.

According to the current control procedure, logs can only
be purchased from MTE and milling must be carried out
under the supervision of Forest Department (FD) which is
also responsible for checking input and output volumes
and details of the number of pieces in a consignment.

Quantitative control is also applied during container
stuffing and the container is sealed by the FD before it
leaves the factory. A container will only be accepted at the
port if the Customs Department verifies the intact of seal.

This suspension of issuing a CLFP may have an impact on
the exporters who have recently been active in securing
logs during the recent MTE tender where bid prices were
higher reflecting manufacturers plans to resume full
production after the slowdown over the past months.

The purchase price of SG6 and SG7 teak logs at the most
recent sale rose by about 14%. A comparison of July and
August sale prices is shown below.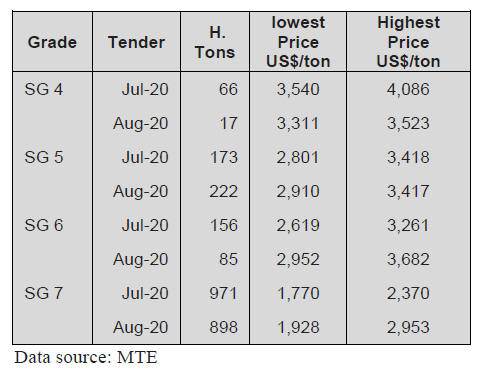 Second wave – public officers to work from home
The National Committee for Prevention, Control and
Treatment of COVID-19 has announced that only 50% of
public sector workers should report to their offices, the
other half will work from home.

The announcement also stated that government employees
will have to report to the authorities if they suspect they
are infected or have COVID-19 symptoms or if someone
close to them is unwell. A remote working scheme for
government employees was adopted in April and May
when the outbreak of COVID-19 started but it was
cancelled in June.

The same committee has also announced it will, through
the Ministry of Finance, continue with the relaxation of
some regulations and will extend financial support to
businesses until year end.

The measures include extension of tax relief to prioritised
sectors from September 30 to December 31. The Ministry
of Planning, Finance and Industry had, under Notification
1/2020, extended the corporate income tax and
commercial tax payment deadlines for cut, make, pack
(CMP) businesses, hotel and tourism firms and small and
medium-sized enterprises until September 30 without
incurring any penalty. The measure also exempts exporters
from the 2% withholding tax on exported goods until 20
September.

Under Notification 3/2020, income tax payments for the
second to fourth quarters of the financial year have been
extended to December 31. Monthly commercial taxes
from March to November can also be paid by 31
December.

Since April, local businesses in selected sectors have been
able to apply for a 12-month soft loan from the
government at an interest rate of 1%. However, many were
unable to qualify for the funds due to incomplete
documentation and other reasons.

See: https://www.mmtimes.com/news/myanmar-extendsfinancial-support-measures-local-businesses.html

Discussion on investments which may impact
biodiversity
In late August the Myanmar Centre for Responsible
Business in cooperation with the Environmental
Conservation Department of the Ministry of Natural
Resources and Environmental Conservation (MONREC)
held a workshop for staff involved in investment in sectors
which may have a negative impact on biodiversity. These
sectors include oil and gas, mining, tourism and
agriculture.

U Hla Maung Thein, Director General of the
Environmental Conservation Department, highlighted the
Government's policy framework on conservation of
biodiversity and protection of the environment specifically
mentioning the 2019 National Environmental Policy, the
Myanmar Sustainable Development Plan, the 2015 EIA
Procedure and recent laws such as the Protection of
Biodiversity and Conservation Areas Law and the Forest
Law.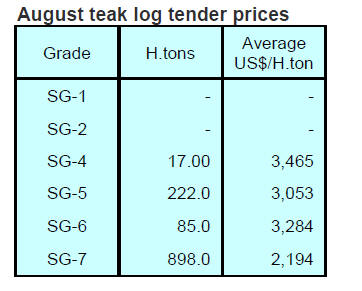 6. INDIA
Early signs of rise in economic activity
Early August economic data has shown that an economic
revival has begun with indicators such as power and fuel
demand, rail freight demand and car sales recovering.
However, this comes with a hefty price as the corona virus
infection rates continues to soar. A turn-around would be
welcomed as the Indian economy contracted almost 25%
in the second quarter compared to the same period in the
previous year.

However, IHS Markit economist Shreeya Patel has said, in
contrast to the good news jobs continue to be lost.

Read more at:
https://economictimes.indiatimes.com/news/economy/indicators/indias-factory-activity-grows-for-first-time-in-five-months-inaugust/articleshow/77865605.cms?utm_source=contentofinterest&utm_medium=text&utm_campaign=cppst

Work-from-Home here to stay
Work-from-Home, especially for the IT sector, seems as if
it is here to stay and this will have a profound impact on
the housing sector creating opportunities for IT workers
and others given the chance to work from home to locate
to less costly areas.

That work from home will be the new normal can be
judged by the moves being made by IT giants to have the
government amend labour laws which the government
seems ready to do.

Private sector proposes new partnership with
government
Twenty CEOs of India's leading businesses have called
for collaboration between government, businesses and
civil society to achieve inclusive growth and reduce
India's carbon emissions in line with the Paris Agreement.

Specifically, 8 priorities have been identified where
businesses can work with the government and civil society
to stimulate green growth and create a more resilient India:

 invest in social infrastructure, ensuring greater
access and resilience
 accelerate the power sector transition and clean
mobility adoption
 deploy solutions for growing and managing food
suppy
 invest to achieve Land Degradation Neutrality
 pioneer green manufacturing
 transform the green building revolution as the
new norm
 invest in research for clean energy sources
 provide access to green finance to support
emission saving measures

See: https://www.wbcsd.org/Overview/About-us/Ouroffices/India/News/Indian-business-leaders-sign-statement-for-agreen-recovery

Teak and mahogany seedlings for farmers
Farmers with unused land are being encoraged to plant
commercially demanded trees. Forest Department
nurseries have available seedlings ready to distribute.

Under the central government 'National Mission for
Sustainable Agriculture' all states were provided with
funds to raise commercial species such as teak, mahogany,
red sanders as well as prickly padauk (Vengai in Tamil).

In most areas seedlings are ready for distribution but due
to the corona virus farmers have been unable to collect the
young trees.

Plantation teak
Shipments of plantation teak have started to arrive as more
supply countries ramp up their harvesting, transport and
port operations. Traders report more countries are offering
shipments of teak but domestic consumption has not
returned to pre-pandemic levels and prices are flat.

C&F prices at Indian ports from various sources continue
within the same range as provided earlier.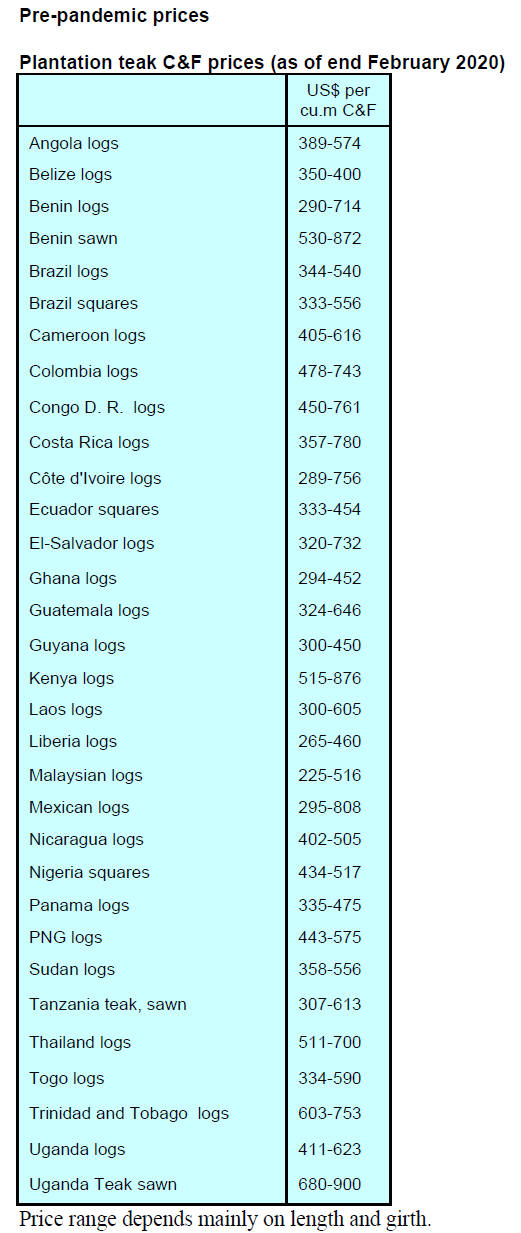 Locally milled sawnwood
Demand for locally milled hardwoods has started to firm
especially in the main urban areas where construction
activity and manufacturing is revving up. Demand for
timber and wood products in the rural areas is currently
stronger than in the cities.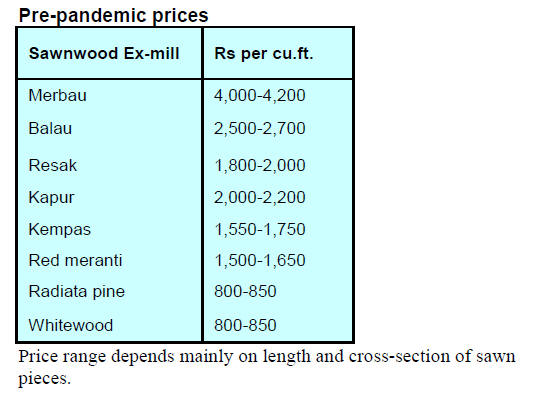 Myanmar teak
The trade in Myanmar teak is on 'pause' at present. There
have been no new shipments in months so what little
demand there is is being met from stocks.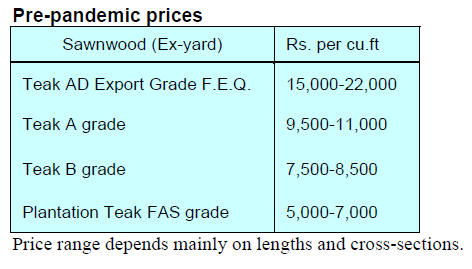 Sawn hardwood prices
Sales of imported sawn hardwood has shown some life
recently and this should continue as the government
encourages businesses to get safely back to work.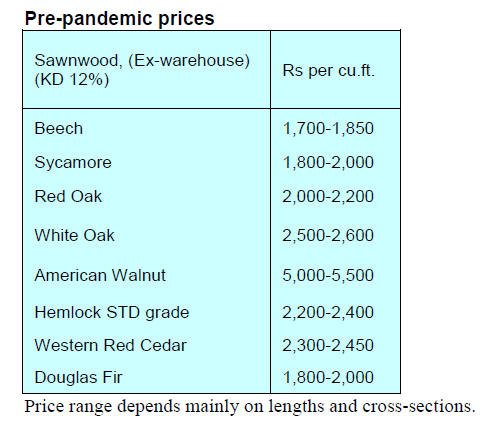 Plywood
Plywood production and sales are improving and mills are
happy to see firming demand as they are keen to raise the
prices as domestic log prices for plywood timbers such as
poplar, casurina and eucalyptus are rising.

One notable feature of the current business is that
deliveries are going first to those who can pay cash.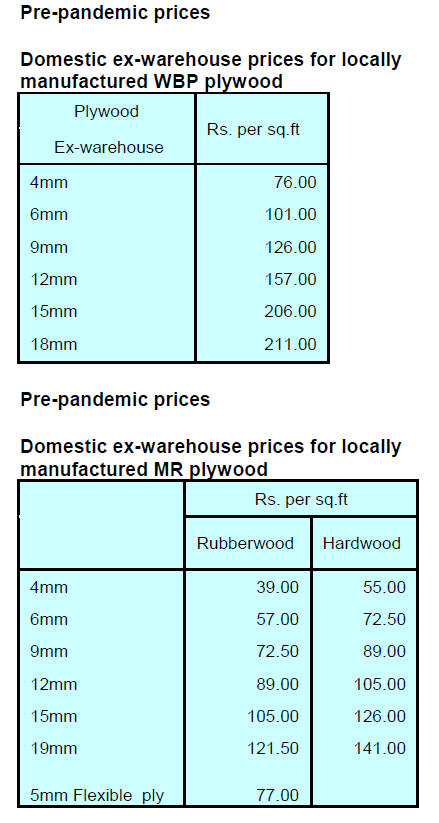 7. VIETNAM
Regulations for Vietnam's Timber Legality Assurance
System published
On 1 September 2020 the Prime Minister of Vietnam
issued Decree No. 102/2020/ND-CP on Vietnam's Timber
Legality Assurance System (VNTLAS).

The Decree includes 6 chapters and 30 articles providing
for the legal structure in support of Vietnam's legal
timber for import and export as well as criteria, authority
and procedures for classifying timber processing and
exporting enterprises and for the issuance of FLEGT
licenses to be issued by Vietnam's CITES Management
Authority.

According to the Decree, legal timber can be defined as
timber, wood products exploited, imported, confiscated,
transported, traded, processed and exported in accordance
with the provisions of Vietnamese laws and regulations, of
international treaties to which Vietnam is a signatory and
the relevant laws of the country where timber is harvested
for export to Vietnam.

The Government of Vietnam assigned the Ministry of
Agriculture and Rural Development the major
responsibility for implementing the new regulations in
coordination with related ministries.

In December 2018 the Ministry of Agriculture and Rural
Development of Vietnam issued Decision No. 4852/QDBNN-
TCLN on the Implementation Plan of the Voluntary
Partnership Agreement on Forest Law Enforcement,
Governance and Trade (VPA/FLEGT) between Vietnam
and EU. With this VPA/FLEGT Implementation Plan and
the VNTLAS recently put in place Vietnam is expected to
celebrate first FLEGT licenses in 2021.

See: https://wtocenter.vn/chuyen-de/16110-decree-no-1022020nd-cp-on-vietnamese-legal-timber-security-system

and
https://wtocenter.vn/chuyen-de/16112-decision-no-4852qd-bnntcln-on-issuing-the-implementation-plan-of-the-vpa-flegtagreement-between-vietnam-and-eu

Exports continue to surprise
Vietnam earned US$7.83 billion from forest product
exports in the first eight months of 2020, up 10.3% yearon-
year, accounting for almost 30% of agricultural sector
exports.

The export value of wood and wood products in the same
period was US$7.32 billion, up 9.6% over the same period
last year. The export of non-wood forest products surged
almost 22% in the first 8 months of this year.

The main markets remain US, Japan, China, the EU and
the Republic of Korea accounting for almost 90% of
exports. Timber sector's imports fell 9.3% in the period.

See: https://en.vietnamplus.vn/eightmonth-wood-exportturnover-up-103-percent/182402.vnp

Analysts believe this year Vietnam will achieve its 2020
export target of US$12 billion for wood product exports
despite the impact of the COVID-19 pandemic.

Ngoc Ngoi, General Director of the Vinafor Saigon
Company, said to achieve the export target the industry
needs to innovate an example being the Handicraft and
Wood Industry Association of Ho Chi Minh City initiative
in developing an online trading platform to connect local
wood and furniture businesses with foreign partners.

According to the General Department of Forestry,
Vietnam still has many opportunities to expand export
markets and increase export of wooden products.
Vietnam has ratified free trade agreements with many
partners such as the EU, Japan, Chile and the Republic of
Korea.

See: https://en.vietnamplus.vn/vietnam-likely-to-gain-exporttarget-for-timber-and-wooden-products/182860.vnp

8. BRAZIL
Furniture prices increased as input costs rise
The Brazilian Institute of Geography and Statistics (IBGE)
has reported that in July this year furniture manufacturers
increased prices by almost 1.5%, this compares to the half
percent decline reported for July 2019. The price increase
introduced in July reflects the higher costs of inputs
which, until July, the manufacturers were absorbing.

The accumulated price increase between January and July
was 4.4%. At the current rate of increase year end could
see a 6% rise in prices.

Preliminary determination clears Brazil of dumping
mouldings
The Brazilian Association for Mechanically Processed
Timber (ABIMCI) has reported that the US Department of
Commerce (DOC) issued a preliminary determination in
its antidumping duty investigation of imports of wood
mouldings and millwork products from Brazil. The DOC
determined that Brazil has not practiced dumping.
Shippers in China were not so lucky as some have been
penalized with heavy duties.

This is a preliminary determination and may be subject to
review but, for now, this is positive news for Brazil. The
final determination will be known in December.

The activities of the ABIMCI Moulding Committee
continue to gather information for the defense the injury
process (which runs parallel to the antidumping process)
through meetings with the producer companies and with
business attorneys.

EU to strengthen environmental requirements in trade
agreements
A motion by the European Parliament's International
Trade Commission calls for the European Union to
strengthen the environmental protection requirements in
its trade agreements. While this is just a recommendation
with no legislative power it does highlight the growing
trend in the European Union to use its commercial and
financial weight to achieve its environmental policies.

The document says that the EU is a significant importer of
commodities with environmental and forestry risk and
therefore must implement measures to ensure that its
demand and investments follow its responsible economy
policy.

The commission recommends "that all new trade or
investment agreements and updates to existing ones
include more ambitious environmental and climate
provisions in relation to the conservation and sustainable
management of forests, including" protection of
indigenous peoples and the rights of local communities ".

The European Union is Brazil's second largest trading
partner and the largest direct investor in the country, and
the EU member countries have declared that deforestation
in the Amazon may be an obstacle to the approval of the
agreement between the EU and Mercosur.

Negotiation of the free trade agreement was concluded in
2019, but the agreement needs to be approved by the
European Council, the European Parliament and national
and regional parliaments.

The document says that trade and international
cooperation are important tools for the consolidation of
higher standards of sustainability and that the EU should
strengthen cooperation with exporters in combating
organised crime, encouraging scientific research,
innovation in biodiversity, "green business" and circular
economy.

See: https://amazonasatual.com.br/europeus-exigem-provas-deque-produtos-nao-sao-de-areas-desmatadas/

Forest sector exports suffer in first half 2020
In the first six months of this year Brazil's exports of
wood products were worth US$4.2 billion representing 8%
of all Brazilian agribusiness exports but, compared to the
first half of 2019, earnings were 24% lower according to
the Brazilian Tree Industry (IBÁ).

The biggest decline in wood product exports was of the
main product, pulp where there was an almost 30% year
on year decline. Pulp exports were worth US$3.1 billion
this first half compared to US$4.4 billion in 2019. The
weight of pulp exports increased slightly year on year
totalling 10.3 million tonnes. Brazilian pulp production
expanded in the first half of the year despite the pandemic.

Paper exports also fell, dropping 7% to US$950 million. In
terms of weight there was an increase of 2% in export
sales. Sales in the domestic market in the first half were
2.4 million tonnes. Wood-based panel exports also fell,
dropping 9%, to US$124 million or 580,000 cu.m. Sales in
the domestic market totalled 2.8 million cu.m.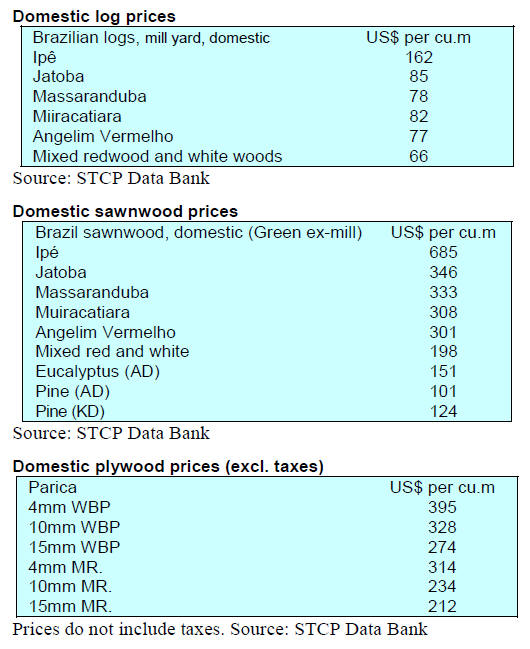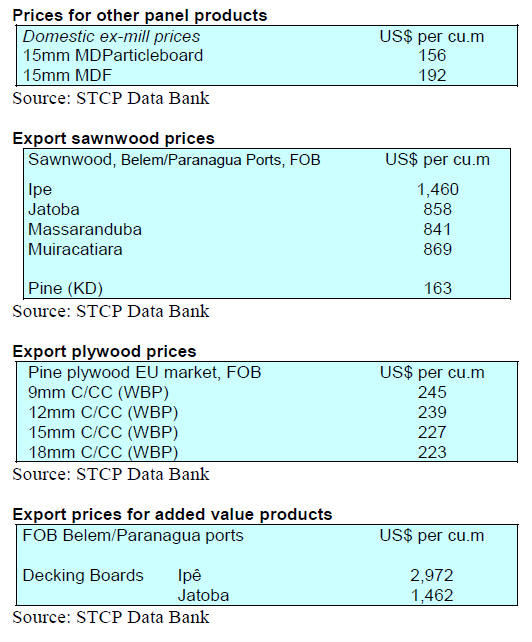 9. PERU
China, the main buyer throughout the year
China was the main buyer of Peruvian wood products
throughout the year to August with purchases worth
US$37.6 mil. while the second place was Mexico with at
US$19.5 mil. says the Association of Exporters (Adex).
Adex explained that the United States was in third place
with wood product imports of US$14.7 mil.

Other significant buyers were in Hong Kong (US$3.7
mil.), the Dominican Republic (US$2.4 mil.) and New
Zealand (US$1.6 mil.). New markets reported in the
period January-August were Lithuania, Bulgaria, the
Philippines, Senegal and Austria.

Between January and August forestry sector exports
totalled US$90 million reflecting a year on year decline of
41% according to Adex. The main categories exported
were semi-manufactured products at US$36 million,
sawnwood US$34 million and plywood/veneers, US$9
million.

Exports of other products are smaller for example
furniture and its parts around US$5 million, followed by
builders woodwork, other manufactured products and
particleboard.

New listing of forestry company
The Lima Stock Exchange held its first virtual session and
celebrated inclusion of Amazonian Forests (BAM) to its
portfolio. This company was listed in the Alternative
Securities Market (MAV) in July of this year and has
currently already made two placements for an amount of
US$2 million.

Bosques Amazónicos is a forestry company whose
mission is to finance the conservation of Amazonian
ecosystems and the restoration of degraded lands, through
investment in commercial and forestry plantations and the
sale of carbon credits.

Amazon regions unite to prevent forest fires
During September and October specialists from the
regional governments of Loreto, Madre de Dios, Ucayali,
San Martín and Amazonas will participate in a "Virtual
Training on Risks from Forest Fires" organized by
SERFOR. Topics to be addressed include risk
management, legal framework, generation of information
and forest fire surveillance.

This training has the support of the National Service of
Natural Areas Protected by the State (SERNANP), the
Peruvian Society of Environmental Law (SPDA), the
Center for Amazonian Scientific Innovation (CINCIA),
Rainforest Alliance, Law, Environment and Natural
Resources (DAR) and the FOREST Program of USAID
and the US Forest Service (USFS).

Information campaign for plantation owners
In order to support those who have registered their forest
plantations in San Martín, SERFOR and the Regional
Government of San Martín will undertake a campaign to
guide producers on current procedures. SERFOR supports
regional authorities in promoting registration in the
National Registry of Forest Plantations where procedure
are simple and free.

According to current regulations all plantations, whether
for production, protection or restoration installed on
private land must be registered in the National Registry of
Forest Plantations.