3. MALAYSIA
Export performance January to April
National trade statistics for the first four months of this
year illustrate the impact of the pandemic on the
performance of timber exporters. Export earnings for the
period January to April 2020 fell 10% year on year to
RM6.4 billion.

Sawnwood export volumes for January to April 2020
dropped 36% in volume year on year and by 38% in value
(399,934 cu.m and RM734.5 million). Exports of
sawnwood to the EU in April were badly affected,
dropping 65% year on year to 2,599 cu.m.

In contrast, exports of MDF in April fell just 2% to 38,366
cu m but were reported to have increased in value
compared to the previous month.

In April wood product exports to ASEAN countries fell
47% to 3,575 cu m from 6,801 cu m in the previous
month. Exports to Indonesia and the Philippines dropped
by 23% and 86% to 2,083 cu m and 438 cu m respectively.
However, Vietnam increased its buying by 16%.

While there was a recovery in plywood exports in April,
cumulative exports for January-April 2020 were down 5%
in volume year on year and by 13% year on year in value.
April exports to ASEAN and East Asia increased by
around 5% to 95,517 cu m compared to the previous
month.

April exports of mouldings increased 11% month on
month in volume and by (a surprising) 157% in value to
8,981 cu.m worth RM32.6 million.

Moulding exports for the period January to April 2020
decreased by 34% in volume and by 28% in value to
57,731 cu.m worth RM219.4 million as compared to the
corresponding period in 2019. Exports to the EU for April
were recorded at 4,006 cu.m, a decline of 40% compared
to the previous month.

Rubberwood export quota
The Ministry of Plantation Industries and Commodities
has tentatively approved the sawn rubberwood export
quota for 2020 at 50,000 cu. m.

All registered exporters are required to apply for the sawn
rubberwood quota. The approval of quotas is subject to the
current export requirement as well as MTIB control
mechanisms. From 1 July 2019 exports of finger-jointed
rubberwood products were subject to an export ban.

Paulownia considered for plantation programme
A technical committee recently met to discuss the
Government's proposal to include paulownia as one of the
approved species in the Forest Plantation Development
Programme which will provide soft loans to eligible
companies participating in the programme.

Representatives of a company familiar with paulownia
briefed the committee on the mechanical properties of the
wood, planting and maintenance methods, seedling
propagation, pests and disease control and timber
utilisation.

Plywood export prices
Traders based in Sarawak reported the following July
export prices:

4. INDONESIA
Furniture industry needs help to be ready for demand
up-turn
Indonesian furniture manufacturers are optimistic that
production will be back to normal by the end of the first
quarter of 2021 but, because average production utilisation
will be stuck at around 30%, they asked the government to
provide support for the industry so that it can be ready to
take immediate advantage of the anticipated rise in
demand at the end of the first quarter 2021.

The optimism of the industry hinges on the relaunch of the
Indonesia Furniture Expo (IFEX), which is scheduled to
take place at the end of the first quarter of 2021, assuming
that a vaccine has become available. Abdul Sobur,
Secretary General of the Indonesian Furniture and Craft
Industry Association HIMKI, said last year IFEX attracted
12,000 buyers.

Despite the request for direct financial support submitted
to the Ministry of Industry, the Association has not had a
response. Because of this Sobur said the Association will
instead propose an easing of costs associated with imports
of raw materials by furniture exporters at least at this
critical time when government efforts are focused
pandemic control measures.

See:
https://ekonomi.bisnis.com/read/20200817/257/1280197/industri-furnitur-minta-stimulus-hadapi-lonjakan-permintaan-2021

Furniture entrepreneurs – firmly 'No' to log and raw
rattan exports
Supriyadi, General Chairman of HIMKI in Cirebon is still
strongly objecting to attempts to allow log and raw rattan
exports which, he said, would run counter to the
downstream development programme launched by the
government.

Supriyadi said he was concerned that there were people
who wanted the government to allow log and raw rattan
exports saying this is more practical and profitable than
exporting finished goods in the form of furniture and
crafts.

Supriyadi was reported as saying "We (the Association)
firmly reject the opening of the export of logs and raw
rattan materials because if it is opened the raw materials
will be exported massively as happened with rattan raw
materials several years ago."

See: https://www.antaranews.com/berita/1678690/kalanganindustri-mebel-jangan-buka-ekspor-kran-kayu-log-dan-rotan

Trade surplus for July 2020
Indonesia recorded a trade surplus of US$3.26 billion in
July 2020 as exports improved to US$13.73 billion and
imports slowed to US$10.47 billion according to the
Central Bureau of Statistics (BPS). The BPS Head,
Suhariyanto, said the July surplus is higher month on
month and year on year.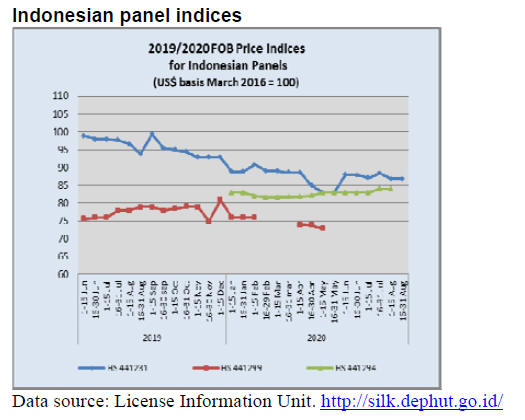 5. Myanmar
Another step forward as some travel restrictions lifted
In another move to stimulate their economies, Japan and
Myanmar have agreed to relax border controls for
foreigners and long-term residents. This is particularly
important for Japanese companies which have operations
in Myanmar. The next step will be to ease restrictions and
allow short-term business travel.

See:
https://www.japantimes.co.jp/news/2020/08/25/national/japanmyanmar-reopen-borders/#.X0yziZIzbIU

MTE Tender Sale
In the August the Myanma Timber Enterprise (MTE)
tender the MTE offer around 1,200 tons of teak lLogs and
over 5,000 tons of other hardwoods. As of 31 August the
results form the sale were not available. The August sale
was only the second since sales were suspended in March.

Covid-19 cases surge in Rakhine State
In early August it appeared that Myanmar had stemmed
the spread of the corona virus as there were only a few
infections confirmed over the past three months.

Against this background it came as a surprise when the
Ministry of Health reported new 16 cases in Rakhine
State. On 30 August the number of cases rose to 319 in
Rakhine State. The Authorities issued 'Stay at Home'
orders for the more than 3 million people in Rakhine State.

Border Trade
Trade between Myanmar and other members of the
Association of Southeast Asian Nations (ASEAN) reached
over US$9.9 billion in the first nine months of this fiscal
year.

Between October 2019 to June 2020 Myanmar earned
over US$3.6 billion from exports to ASEAN member
states while imports from ASEAN totalled US$6.3 billion
with Thailand, Singapore and Malaysia being the main
trading partners.

In related news, the border trade with China, Thailand,
Bangladesh and India continues to flourish. The Ministry
of Commerce estimates the value of trade at 18 border
trade camps exceeded US$9.6 billion between October
2019 and August this year of which over US$6.45 billion
was exports.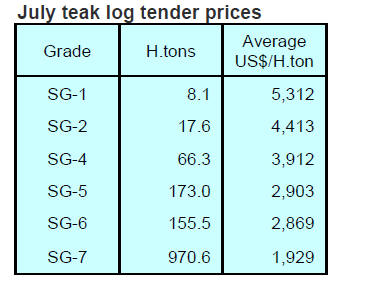 6. INDIA
Impact of pandemic on housing
The pandemic has drastically altered the work style for
many and, with the prospect of 'work from home' being
here to stay in many sectors, commentators on the real
estate sector see a change coming in investment
preferences in the real estate sector.

As house prices are unlikely to rise for some time and with
home loan interest rates at record lows new homebuyers
may consider first looking at larger homes and secondly
looking for homes in areas out of the main cities as they
no longer have a daily commute.

This is especially likely for IT workers who can now
abandon the formerly popular 'walk-to-work' culture to
one that focusses on the home environment.

Today, the work from home concept has become the new
driver of investment decisions by homebuyers. The focus
of the buyers is less on proximity to office but more on the
at-home comfort, amenities and affordability of the
project.

Reeza Sebastian, President, Residential Business,
Embassy Group has identified a growing interest among
Indian home buyers in gated townships which provide
security and recreation facilities. She points out that most
of the new gated townships, because they demand large
areas of land, have been established in areas with good
acceee but out of the urban areas.

See: https://www.youtube.com/watch?v=AwtLR_9E6gM

Association appeal - Plant trees to supply industry
An appeal has emerged from some timber sector
associations for the planting of trees that are the raw
material for the wood products sector.

A large number of mills in India are dependent on
imported hardwood and softwood logs and the asociations
are asking that planting be focussed on species that can
substitute for imports.

The suggestion is that domestic species such as pali
(Palaquium ellipticum), poon (Calophylum tomentosam),
bijasal (Pterocarpus marsupium), laurel (Terminalia
tomentosa), rosewood (Dalbergia latifolia), sissoo
Dalbergia sissoo), mango (Mangifera indica), jamun
(Eugenia jambolana), neem (Azhadirachta indica), arjun
(Terminalia arjuna) and teak (Tectona grandis) should be
planted.

Over 80,000 sawmills and handicraft enterprises are ready
to use domesitc resources to give a boost to selfsufficiency
calls by the authourities.

Two new industrial parks for Punjab
The Punjab Cabinet has approved the construction of
industrial parks for an integrated manufacturing cluster
over 2,000 acres on land near Mattewara in Ludhiana and
at Rajpura in Patiala District. The initiative is seen as core
in accelerating industrialisation and job creation.

According to a spokesperson, the Mattewara project site
had been under active consideration of the state
government for several years and it was originally
conceived and pursued by the industries department. The
integrated manufacturing cluster near Rajpura will be
developed with the help of the National Industrial Corridor
Development Corporation on 1,000 acres of government
and panchayat (village) land.

Plantation teak
Traders report the arrival at Indian ports of a few
shipments of teak logs and say more shipments are being
despatched from the supply countries. However, trading
conditions have been completely disrupted by the
lockdowns and a recovery in demand and shipments is a
long way off.

C&F prices at Indian ports from various sources have not
changed from pre-pandemic levels.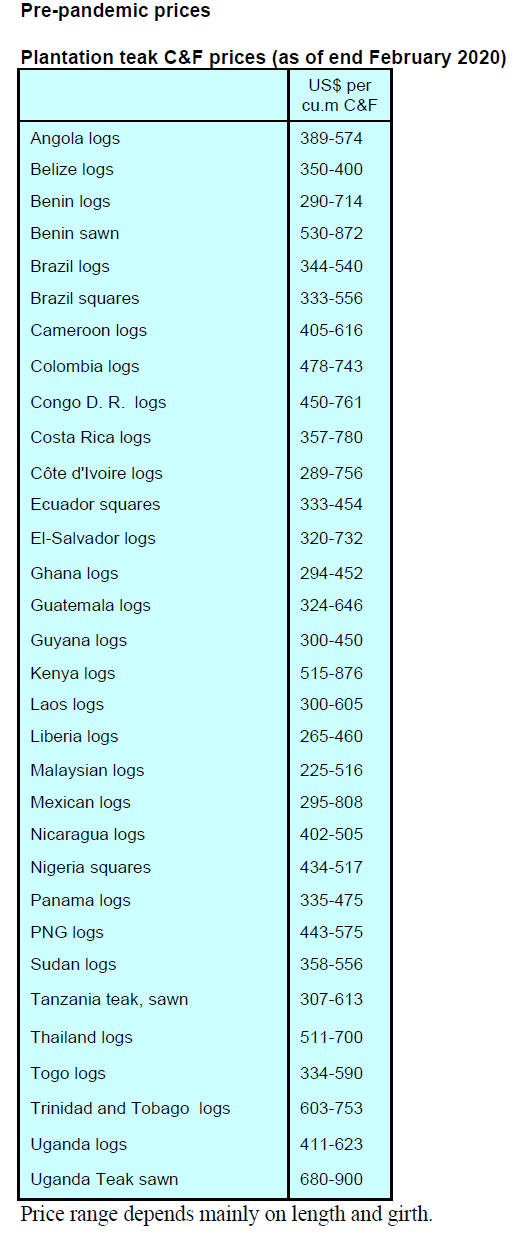 Locally milled sawnwood
While most urban markets are still locked down analysts
report there has been a modest revival of demand for
imported hardwoods in some rural areas.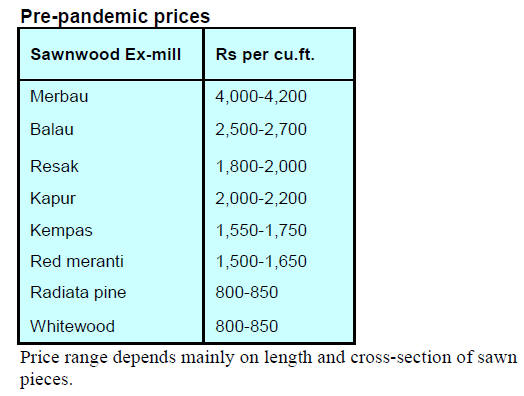 Myanmar teak
What little trade there is in Myanmar teak is being
conducted from previously landed stocks. There have been
no new arrivals from Myanmar.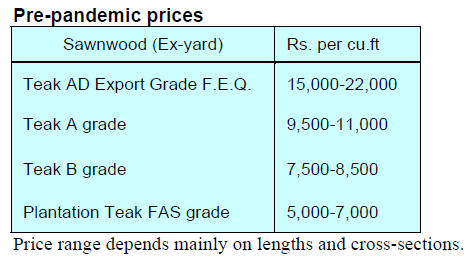 Sawn hardwood prices
Importers say they have no confidence to place orders with
overseas sawnwood shippers as what little demand there is
can be satisfied from existing stocks.

Reports suggest oak is gaining in popularity and there has
been a price rise in some areas. On the other hand, demand
for walnut has weakened.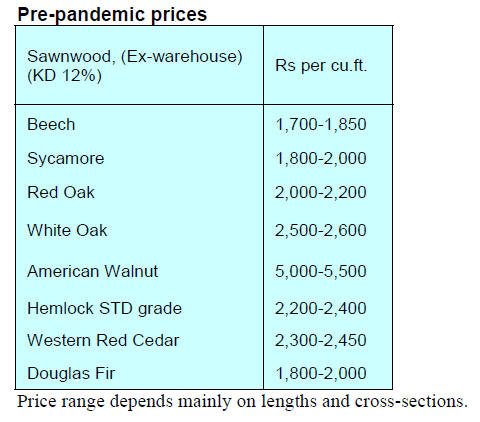 Plywood
Plywood mills are making efforts to identify domestic log
sources. In some states plans are being made to expand the
number of wood processing plants to support India's selfsufficiency
drive.

Mills are also busy trying to automate operations as much
as possible to overcome the persistent problem of labour
shortages. Plywood prices are unchanged.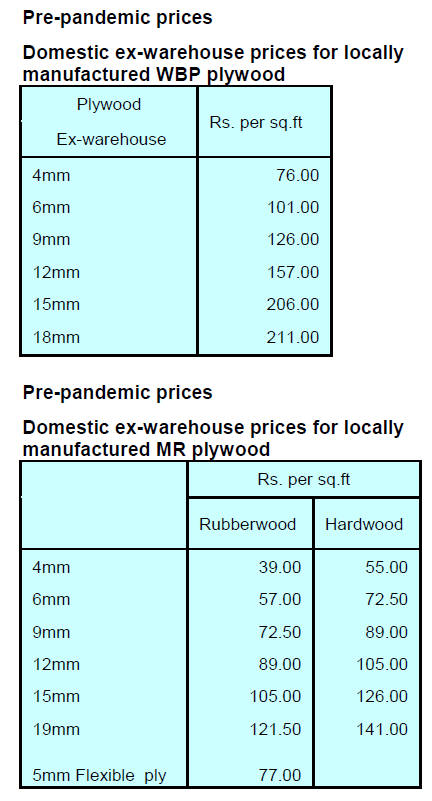 7. VIETNAM
Stunning first half exports
According to Vietnam Customs, at the end of June, wood
and wood product (W&WP) export revenues amounted to
US$4.903 billion, 4% up compared to the same period of
2019 and 22% higher than in May.

The W&WP export growth over the first 6 months of 2020
demonstrates the strong resilience of the Vietnamese wood
industry despite the impact of COVID-19 control
measures. The US, China, Japan, South Korea and EU are
the top destinations for Vietnamese W&WP exports.

First half export up-date
As the top market the US accounted for 52% of total
export revenues or US$2.53 billion, up 18% year-on-year
in the first half. In particular, exports to the US in June
increased by 42% compared to May.

W&WP exports to China contributed 13% to total exports
at US$648.5 million, 12% higher than the same period of
2019. In June 2020, exports to China declined by 12%
month on month.

The Japanese market consumed US$587.5 million in
exports equivalent to 12% of total W&WP export revenue.
In June, export to Japan rose US$75.57 million but this
was 9% down against May.

Exports to EU-27 dropped to US$254.47 million or 5% of
the total export revenue in the first half of 2020. June
exports totaled US$39.8 million, 8% up compared to May.

W&WP shipped to South Korea in the first half of 2020
were worth US$400.38 or around 8% of all first half
exports but were down 5% over the same period of 2019.
Exports during June have been reported as US$ 56.39
million, 27% down compared to May.

W&WP export to other markets including Australia, India,
Taiwan P.o.C, Malaysia, UK, Indonesia and the
Philippines declined during the first half of 2020, while
exports to Hong Kong, Canada and Thailand grew.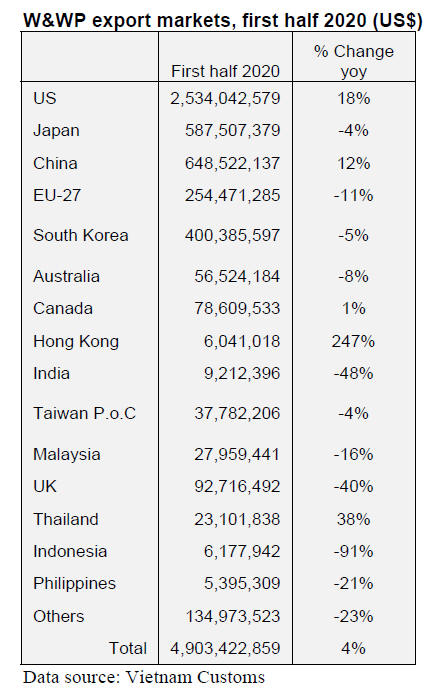 Wooden furniture, chair, woodchip, plywood/laminated
wood and wood pellets remain as the top export
commodities.

The export of these 5 commodities made up 92% of the
W&WP export revenue during the first 6 months of 2020.

Wooden furniture: The export of this group of wooden
products generated US$2,25 billion in the first half 2020,
6% higher compared to the same period of 2019 and
accounted for 46% of W&WP export earnings. Of
significance is that June exports of wooden furniture
increased 48% over the previous month.

Chairs: Chair exports alone were valued at US$0.93
billion a 10% year on year rise. In June, chair export stood
at US$203.3 million, 51% higher than that was recorded
in May.

Woodchips: The value of woodchip exports earned
US$0.81 billion, 6% down year-on-year and contributed
16% to total W&WP export earnings. Woodchip exports
in June were valued at US$88.7 million a decline of 21%
compared to the previous month.

Plywood/Laminated wood: Exports of these wood-based
panels earned at US$0.34 billion, a 6% year on year rise.
In June, plywood/laminated wood product exports fell
29% compared to May.

Wood pellets: The earning from wood pellet export
accounted for US$0.15 billion, 17% down compared to
what was achieved over first half of 2019. Wood pellet
exports accounted for just 3% of W&WP export revenues
in the first half 2020. In June woodpellet exports were
19% down compared to May.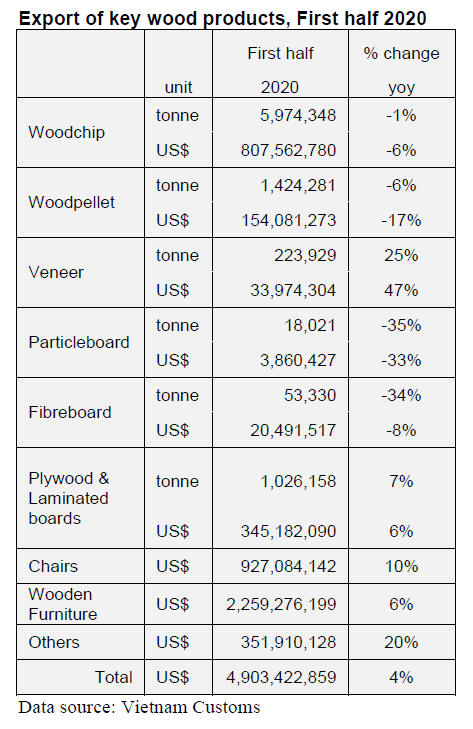 8. BRAZIL
Concessions to be allocated in Amapá national forest
The Ministry of Agriculture, Livestock and Supply
(MAPA) has authorised the allocation of concessions in
the Amapá National Forest (FLONA do Amapá). This was
done based on provisions in the Annual Forest Grant Plan
(PAOF) 2020 which listed the Amapá National Forest
among federal public forests available for harvesting
concessions.

The Brazilian Forest Service (SFB) is the managing body
for Federal Public Forests and forest concession activities.
The areas set to be allocated were subject to assessment by
the Chico Mendes Institute for Biodiversity Conservation
(ICMBio) which also provided management plans for the
areas.

ICMBio allocated approximately 58% of the total area of
Amapá FLONA for the sustainable harvesting and the
allocated area will be divided into four Forest
Management Units totalling 265,000 hectares.

Currently, there are 18 concession contracts in operation at
the federal level distributed in six national forests in the
states of Pará and Rondônia which total more than one
million hectares.

On average, four to six trees are logged per hectare and the
concessionaire can only return to the same area for
additional harvesting after 25 to 35 years.

Slide in Bento Gonçalves furniture sales bottoms-out
According to the Furniture Industry Association of Bento
Gonçalves (Sindmóveis), in the first half of 2020 Bento
Gonçalves furniture manufacturers were severely impacted
by the pandemic control measures and saw a decline in
revenues and reduced production. Revenues in the first
half of the year amounted to R$826.59 million, down
almost 3% year on year. However, this was a better
performance than furniture sales in the entire state of Rio
Grande do Sul which dipped over 10%.

While March and April 2020 were the worst months for
sales in history for the furniture industry of the Bento
Gonçalves, May and June sales started to recover
according to Sindmóveis, despite the accumulated losses
in the first half, the furniture sector seems to have
managed to stem the decline in sales. The expectation is
that the numbers will continue to improve in the second
half of this year but still finish the year negative.

Sindmóveis pointed out that the national furniture industry
has suffered more than the general average of the
processing industry. The fall in furniture manufacturing in
Brazil was 19% in the first half of 2020 when compared to
the same period in 2019 while output in manufacturing in
general fell only 12%.

One of the main problems during the first half was delays
in the delivery of raw materials due to the isolation
measures that stopped production and hampered logistics.

Export update
In July 2020 the value of Brazilian exports of wood-based
products (except pulp and paper) increased 14.8%
compared to July 2019, from US$234.1 million to
US$268.8 million.

The value of pine sawnwood exports increased 24%
between July 2019 (US$39.4 million) and July 2020
(US$48.9 million). In volume terms exports increased
38% over the same period from 199,100 cu.m to 275,200
cu.m.

In contrast the volume and value of tropical sawnwood
exports declined with a 35% drop in volumes from 47,400
cu.m in July 2019 to 30,900 cu.m in July 2020. The value,
exports fell 34% from US$18.3 million to US$ 12.0
million over the same period.

The value of pine plywood exports increased almost 57%
in July 2020 in comparison with July 2019, from US$31.7
million to US$49.6 million. The volume of exports
increased almost 58% over the same period, from 134,700
cu.m to 212,700 cu.m.

Sadly, tropical plywood exports declined in volume (-
39.3%) and in value (-39.4%), from 8,400 cu.m (US$3.3
million) in July 2019 to 5,100 cu.m (US$2.0 million) in
July 2020.

There was a slight decline in the value of wooden furniture
exports which went from US$47 million in July 2019 to
US$ 46.6 million in July 2020.

Way forward to 'new normal' difficult to envision
In late June 2020, FAO organised a Covid-19 Forestry
Webinar Week event. The presentations and discussions
focused on the economic, social and environmental
impacts of the crisis caused by Covid-19 and noted the
impact will be different in each country.

The participants noted quantification of the impact and the
way forward to a 'new normal' is still difficult foresee as
there is a great diversity of situations and a lack of
information.

In terms of the economy, recovery will depend on the
demand for Brazilian wood products both domestically
and in international markets.

Brazil's exports of wood products are concentrated in a
few countries such as the US, China and some European
countries. Each country has a different recovery track with
less impact expected for pulp than for solid wood
products.

In the US, for example, beginning in March, there was a
sharp reduction in the construction of houses which led to
a 30% drop in the production of sawnwood. On the other
hand, in the second quarter of 2020, China increased log
imports from Brazil.

In general, export prices for solid wood products have
declined in recent months. However, the effect on the
export industry was relatively small as a result of the
currency depreciation which generated a false perception
of the impact of the pandemic on business.

Acre state wood exports remain stable
Total exports from the state of Acre totalled US$3.3
million in July 2020 according to the Ministry of
Economy. Forest sector exports in July 2020 increased by
53% compared to the same month of the previous year.

In the first half of this year wood product exports from
Acre state remained stable compared to the same period in
2019. The top five markets in 2020 by export values were:
the United States (32.5%), France (20.6%), the
Netherlands (14.4%), China (12%) and Portugal (4%).

UK law to challenge exporters
Brazilian exporters are anxious to see how the British
government's plan to introduce a law requiring companies
to ensure that imports do not contribute to
deforestation. This law aims to reduce the UK's
deforestation footprint associated with the supply of
commodities such as soy, palm oil, beef, cocoa, pulp and
paper.

See: http://www.madeiratotal.com.br/reino-unido-obrigaraempresas-a-rastrear-desmatamento-no-exterior/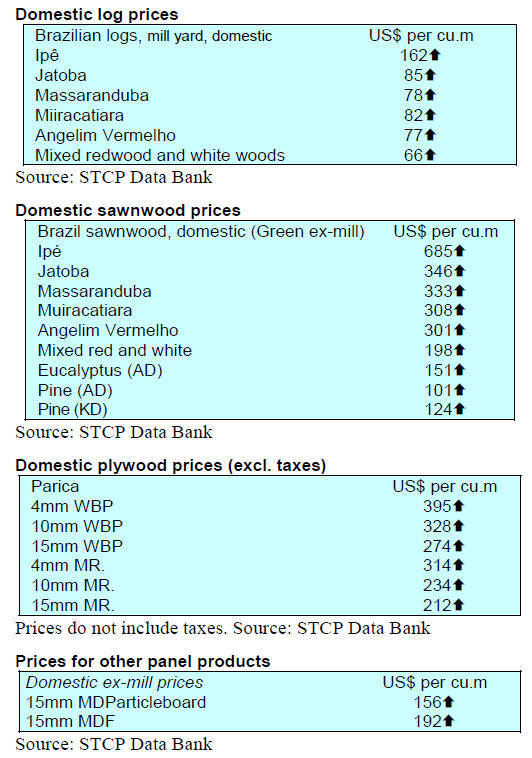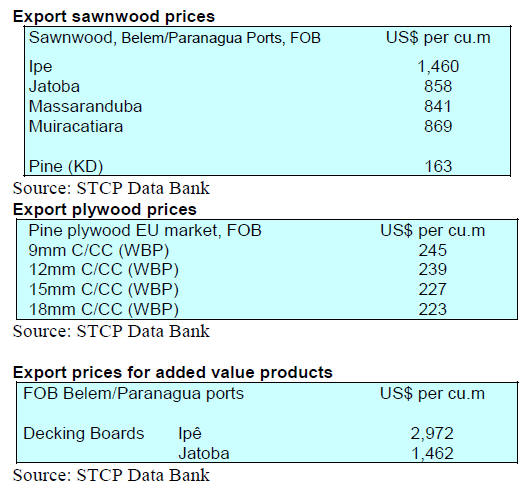 9. PERU
Timber sector severely affected by pandemic
The Peruvian timber sector has been severely affected by
the pandemic isolation measures and all productive sectors
including. The wood and furniture sectors are some of the
worst affected.

Export data for the first half of 2020 show that it was only
in January and February when trade was undisturbed, the
downturn began in March. The closure of borders,
confinement and other measures taken worldwide
contributed to the decline in demand for wood products.

Exports in the first half of 2020 were US$28 million a
decline of over 50% compared to the same period of 2019
(US$61 million).

The timber sector in Peru contributes just 1% to GDP but
it provides around 300 jobs for every US$1 million
exported. In 2019 the sector generated about 300,000
direct and indirect jobs.

In the first half of the year there was a decline in the
export value of all wood products such as sawnwood,
decking, wooden flooring, plywood, veneers, wooden
furniture and wooden furniture parts.

Commentators write "The Peruvian reality is not different
from other countries in the region, for example, in Brazil
there was a drop of 43%, in Chile there was a decline of
24%, in Ecuador of 20%, however, Peru registers the
sharpest decline in the region".

Fenafor fair rescheduled for 2021
Due to the pandemic which has been affecting the majority
of timber fairs worldwide the National Forest Fair
(Fenafor) has been rescheduled for 25 - 28 November
2021.

Fenafor is the only fair for the wood sector in the country
where machinery, supplies, accessories and services for
the forestry wood and furniture industries are exhibited.

Measures proposed for survival of the timber sector
As a consequence of the pandemic timber industry
production fell drastically in the first half of the year.
What little production there utilised logs that were
harvested last year.

The Committee for the Wood and Derivatives Industry of
the National Society of Industries (SNI), chaired by
Alfredo Biasevich Barreto, presented proposals to the
government on measures that could be taken to reactivate
the sector and create the basis for medium and long-term
survival.

The Committee presented the following suggestions:
 Promote an effective reactivation of the
construction sector, since this activity generates
demand for the primary and secondary
transformation of wood;
 Prioritise the public purchase of products made
with Peruvian wood for schools;
 Ensure flexible approval of management plans for
the forest concession harvesting;
 Do not relax the traceability controls that ensure
wood raw materials are of legal origin;
 Raise the drawback percentage so that wood
exports do not lose competitiveness;
 Revive the Forestry Board, which has not had
meetings since May in order to once again
discuss and solve the problems that affect the
sector;
 Establish the minimum area for future forest
concessions at 80,000 hectares since it has been
found that this area provides for profitable,
sustainable and successful businesses (currently,
areas can be as low as 5,000 hectares and the
maximum is 40,000 hectares).

Forest fires double that of last year
The Satellite Monitoring Unit of the National Forest and
Wildlife Service (Serfor) reported that, between January
and August 2020, 838 forest fires were detected
nationwide, 121% more than in the same period in 2019.

The most affected departments were Puno and Cusco, with
144 and 141 fires respectively; followed by Huánuco and
Junín with 73 and Ayacucho with 67.

According to Serfor one of the main causes of these fires
is the burning of agricultural residues and natural pastures.

Serfor has alerted those responsible for fires that causing
forest fires and burning the forest resources that are part of
the heritage are Very Serious Offenses according to
Section 29763 of the Forestry and Wildlife Law. The
penalties range from 10 to 5000 Tax Units (UIT) and the
Penal Code provides for prison sentences.