US Dollar Exchange Rates of 10th August 2020
China Yuan 6.946
Report from China


National standard for inflammable particleboard
released
The national standard for inflammable particleboard has
been released and will become effective as of 1 February
2021.

Sharp decline in log imports through Zhangjiagang
Port
According to data from China Customs, log imports
through Zhangjiagang Port between January and May fell
sharply to 1.54 million cubic metres valued at US$303
million, down over 60% in volume and value.

The main supply countries were Papua New Guinea and
Solomon Islands from which log imports were 816,000
cubic metres and 448,000 cubic metres accounting for
53% and 29% of the total log imports through
Zhangjiagang Port. However these import volumes were
down over 60% year on year.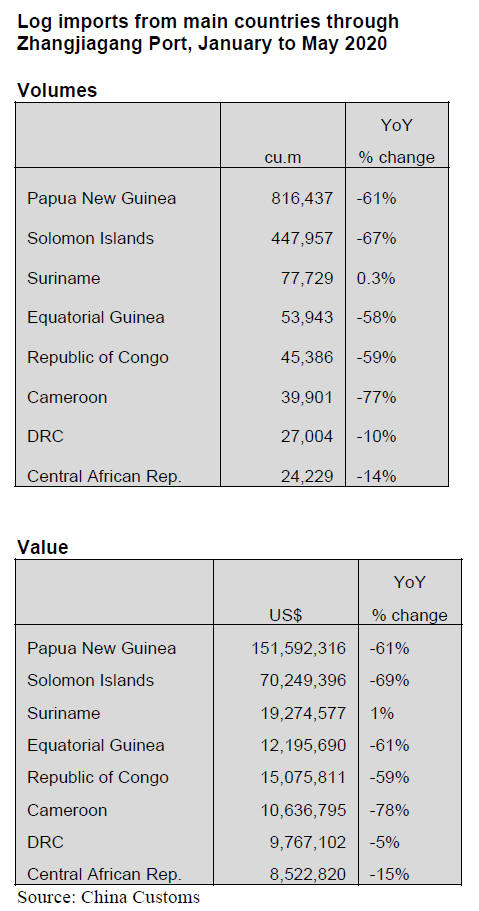 Zhangjiagang also handled logs from Suriname, Equatorial
Guinea, the Republic of Congo, Cameroon, DRC and
Central Africa Republic. Log imports through
Zhangjiagang from Suriname rose slightly, from all other
countries imports fell significantly compared to the same
period in 2019.

Sharp decline in sawnwood imports through
Zhangjiagang Port
China Customs has reported a year on year decline in
sawnwood imports through Zhangjiagang Port between
January and May 2020. Imports fell to just 3,949 cubic
metres valued at US$2.07 million, down 92% in volume
and 93% in value respectively.

The main supply countries was the Republic of Congo at
3,661 cubic metres valued at 1.89 million accounting for
over 90% of the sawnwood imports handled by the Port.
Year on year imports from the Republic of Congo were up
sharply. In the period reviwed, Zhangjiagang Port also
handled small quantities of sawwood from Mozambique,
Equatorial Guinea and Tanzania.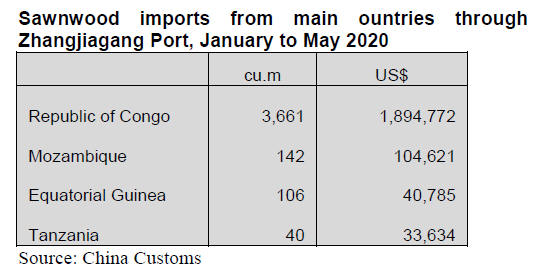 China-ASEAN Timber Industry Zone in Teng County
A signing ceremony launching work on the China-ASEAN
International Timber Industry Zone project was recently
held in Teng County, Wuzhou City, Guangxi Province.
This will involve an investment of about RMB20 billion.

Construction is expected to take five years and will be
done in three phases. The construction of the zone will
start this year and the main infrastructure will be
completed and operational within two years.

The overall construction of the project is expected to be
completed by December 2025. When fully operational it is
anticipated that the Zone will have an annual turnover of
around RMB50 billion and will provide 30,000 jobs.
Timber will be imported through Qinzhou Port.

There will be more than 25 primary processing enterprises
with an annual capacity of 2 million cubic metres in
addition there will be around 10 downstream processing
enterprises in the Zone which will extend over area of
more than 5 million hectares. The Zone is expected to
become a major regional forest products processing Zone.

See: http://www.gx.chinanews.com/gxgd/2020-08-04/detailifzysqns1244276.shtml
and
http://zwgk.qinzhou.gov.cn/auto2521/bmwj_2875/201906/t20190619_2909541.html

Canada Wood Ltd and Yangxin government to promote
wooden frame buildings
Strategic cooperation was recently formalized between
Canada Wood China (Shanghai) Co, Ltd and Yangxin
County government in Shandong Province aimed at joint
promotion of modern wooden frame buildings.

The two sides will apply modern wooden frame building
technology and prefabricated building system to meet to
the requirements of building energy conservation and
residential industrialisation in China. The initiative will
also promote an industrialisation and prefabricated
building strategy for Yangxin County.

See:
https://www.sohu.com/a/410794457_120267334

First trading Centre for forest rights
It has been reported that a forest rights trading centre had
been established in Qintang District, Guigang City,
Guangxi Zhuang Autonomous Region.

Guigang City and the Guangxi Forest Rights Trading
Center will operate the trading centre which is expected to
inject new life into the wood processing industries in
Guigang City.

Wood processing has become one of the leading industries
in Guigang City and enterprises in the City are important
in the distribution plywood and veneer production.
Guigang City is called the wood panel capital of Southern
China.

There are more than 3,500 wood processing enterprises in
Guigang City with more than 150,000 employees.

Despite the pandemic the output of wood processing
industries in Guigang City increased around 10% over the
same period of 2019. The production of wood-based
panels reached 7.5 million cubic metres.

See:
https://baijiahao.baidu.com/s?id=1674503988410264215&wfr=spider&for=pc