4. INDONESIA
Indonesia's trade emissaries promoting wood
products
The Indonesian Ambassador to Germany, Arif Havas
Oegroseno, has said that since the Indonesian Timber
Legality Verification System (SVLK) was implemented in
2013 and recognised by the European Union in 2016,
exports of Indonesian forest products to Europe increased
sharply and reached US$1.1 billion in 2019 of which just
US$156 million was the value of exports to Germany.

The export market potential for Indonesian timber industry
in Germany is substantial and to capture a greater share of
that market Indonesian producers need to address the
concerns of German consumers and emphasise legality
verification and the sustainability of Indonesia's forest
resources.

In the first half of this year exports of Indonesian wood
products to Germany were worth US$64 million, down
18% year on year.

Speaking to the press, Nils Olaf Petersen from the German
Timber Trade Association said that Indonesian exporters
should not be too worried about this short term decline
anticipating second half results will be much better.

Opportunities in Germany for Indonesian exporters
include demand for wood chips for biomass energy and
Albesia 'Lightwood'. In addition, the Ambassador said
timbers such as meranti, bangkirai and teak are of interest
in Germany.

Much the same sentiment was expressed by Sulaiman
Syarif, the Chargé d'Affaires of the Indonesian Embassy in
Brussels, who reported the Embassy, in collaboration with
the Forestry Community Communication Forum
(FKPMI), held an Indonesia/Belgium Virtual Business
Meeting on Wood Products and Furniture.

It was agreed that close cooperation between the
Indonesian government and the private sector in the
country is needed to develop markets in the EU.

Alexander de Groot, a representative from the Association
of Belgian Wood and Furniture Industry Entrepreneurs
said that Indonesia has a comparative advantage with the
Forest Law Enforcement, Governance and Trade (FLEGT)
certification for its wood products.

Commenting on exports to the EU, Indroyono Soesilo,
General Chairman of the Association of Indonesian Forest
Concessionaires (APHI), who is also the Chairman of the
Indonesian Forestry Community Communication Forum
(FKMPI) said exports of Indonesian wood products to
Europe in 2019 reached US$1.1 billion of which US$106
million was from exports to Belgium, the fourth largest
importer of Indonesian wood products in Europe after
Britain, the Netherlands and Germany.

Robert Wijaya of the Indonesian Furniture and Handicraft
Industry Association (Asmindo) said that the planned
warehousing facilities for Indonesian products at Antwerp
Port will be a great help and should be realised as soon as
possible.

Boosts to furniture exports to Azerbaijan and Eastern
Europe
The Ministry of Trade (Kemendag) is ready to increase
exports of furniture products to Azerbaijan and Eastern
Europe. This is expected to help maintain the trade
balance amid the Covid-19 pandemic.

The Minister of Trade, Agus Suparmanto, has said his
ministry continues to promote the export of Indonesian
furniture in Azerbaijan and across Eastern Europe market
in an effort to boost income and achieve a positive trade
balance.

The Director General of National Export Development,
Kasan, recently said several strategies were in play to
boost Indonesian furniture exports in the global market
notably the relaxing of export and import regulations for
the export sectors, strengthening competitiveness and
optimising e-commerce opportunities. Much of the
emphasis recently has been on strengthening exportoriented
SMEs through export assistance programmes.

See: https://www.medcom.id/ekonomi/bisnis/GbmYVoobkemendag-incar-ekspor-furnitur-ke-azerbaijan-dan-eropa-timur

Support for Indonesia's commitment to legal timber
production
The United Nations Food and Agriculture Organisation
(FAO) has launched several new projects to support the
production and trade of legal timber in Indonesia.

These projects will enable Indonesian forestry sector
stakeholders to achieve the legality goals set out in the
EU-Indonesia Voluntary Partnership Agreement (VPA).
The projects will be implemented through the FAO-EU
FLEGT Programme.

See: http://www.fao.org/in-action/eu-fao-flegt-programme/newsevents/news-details/en/c/1302136/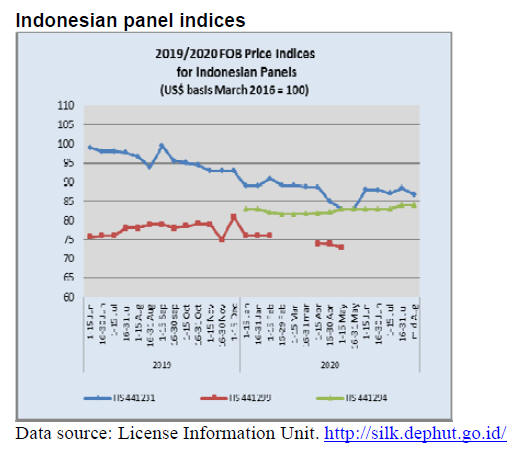 5. Myanmar
Assurances of transparency from MTE
The Myanma Timber Enterprise (MTE) has issued a letter
in which it assures the transparency of the timber supply
chain in the country and its support for production and sale
of legal and sustainable timber. The letter also clarifies the
role of MTE as a State-Owned Enterp
rise under the State-
Owned Economic Enterprise Law.
The letter was released at a time when EU importers are
struggling to meet the requirements of the EUTR,
particularly when it comes to Myanmar teak as the country
is considered a high risk source of timber.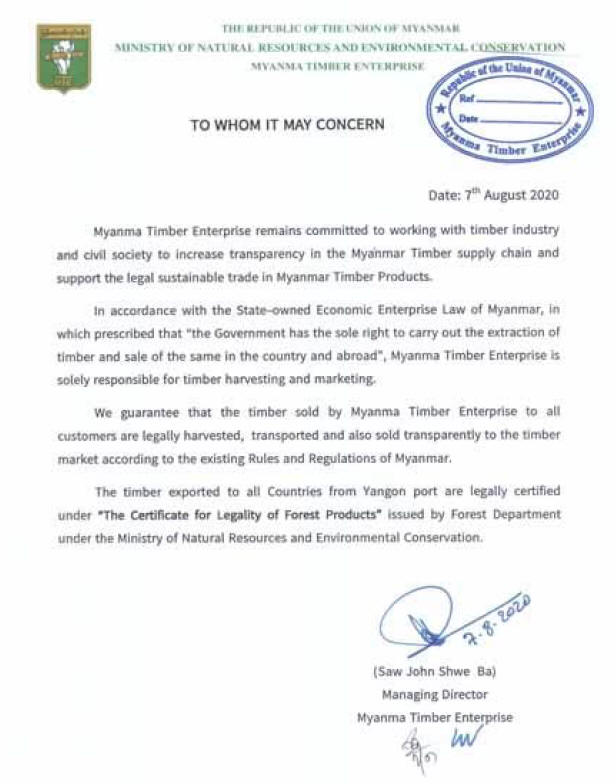 See: http://www.mte.com.mm/index.php/en/annoucements/1340-the-certificate-for-legality-of-forest-products

Support for home owners
The Construction, Housing, and Infrastructure
Development Bank (CHID) announced that it will suspend
housing loan repayments for customers whose incomes
have been affected by the pandemic. CHID Bank has been
reducing interest rates for its housing loans gradually in
accordance with the instructions of the Central Bank of
Myanmar.

In related news, State Counsellor, Daw Aung San Suu
Kyi, has said the government will continue to provide
support for the construction sector so as to create
additional job opportunities.

Economic rebound very possible
A July report by the Oxford Business Group (OBG) has
suggested Myanmar's economy could recover faster than
many regional countries as it is able to benefit most from
China's recovery. The report even suggests that, because
of government actions to deal with the impact of the
pandemic, the country may avoid negative growth in 2020.

The government action has reduced the burden on
households and for businesses through changes in the
export/import licensing system and through reduced taxes
and interest rates. The government also established a fund
to support businesses.

See: https://oxfordbusinessgroup.com/myanmar-2020

Large industrial Zone for Mon State
Union Minister for Investment and Foreign Economic
Relations, Thaung Tun, has said Myanmar will construct
Special Economic Zones (SEZ) in the Mon State and West
Yangon. The Mon State Zone will be the largest in
Myanmar.

Regarding location, Deputy Minister Set Aung said the
new SEZs will be located in an area that can connect to the
Greater Mekong Sub-Region East-West Economic
Corridor and in an area that where a deep-water sea port
can be constructed.

See:
https://elevenmyanmar.com/news/myanmar-to-build-sezconnecting-greater-mekong-sub-region-east-west-economiccorridor-west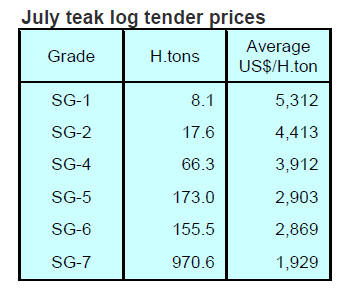 6. INDIA
Migrant workers slowly returning to their city jobs
Migrant laborers who had left for their rural homes after
corona virus lockdowns are either returning themselves or
being brought back by their employers to project sites in
cities.

Since the country has already entered 'Unlock 2.0',
projects that were stalled due to the lockdown have
resumed work, though with just half of their capacity as
most of the labourers are yet to return. According to recent
data from the Mumbai Metropolitan Region Development
Authority, thousands of workers have been brought back
to work so projects can restart.

Some real estate developers are sponsoring the return of
migrant workers and also facilitating their quarantine.

Import wood to help supply furniture manufacturers
The Minister of Commerce and Industry has said furniture
should be made in India as there are skilled people here
who can make good furniture. To facilitate this it will be
necessary to identify affordable wood raw materials. He
mooted the idea of duty free imports of raw materials as
India does not have sufficient forests to supply industry's
needs.

The Minister said he is not against imports as India cannot
manufacture everything it needs adding, the pandemic has
alerted the country to the need to be more self-reliant.

See:
https://economictimes.indiatimes.com/news/economy/foreigntrade/affordable-simple-import-of-wood-to-help-promotefurniture-manufacturing-in-india-piyushgoyal/articleshow/77115247.cms?utm_source=contentofinterest&utm_medium=text&utm_campaign=cppst

Export order books improving but labour shortage an
issue
The Federation of Indian Export Organisations (FIEO)
Director General, Ajay Saha and the Export Promotion
Council for Handicrafts (EPCH) Executive Director,
Rakesh Kumar, have reported that export order books at
manufacturers are expanding but the immediate problem is
the labour shortage.

Orders are coming mainly from the US and European
countries.

The Apparel Export Promotion Council (AEPC)
Chairman, A Sakthivel, said orders are now arriving so it
will be possible to increase exports.

Plantation teak
Importers have begun placing orders for plantation teak
logs so shipments from producing countries will be
arriving in a about a month. C&F prices at Indian ports
from remain as previously reported.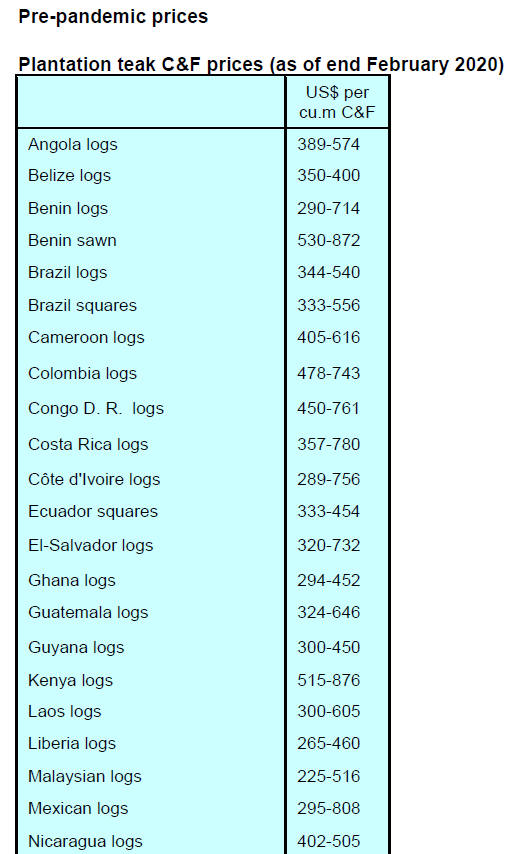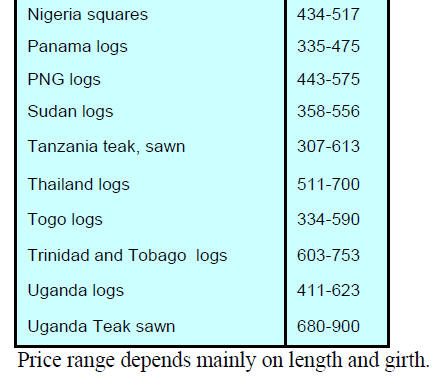 Locally milled sawnwood
Most of the markets in the main cities remain closed so
there are few sales of imported hardwoods.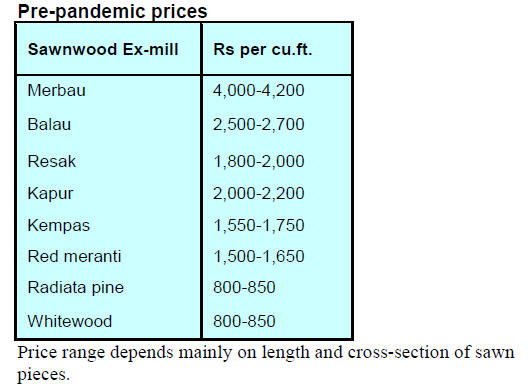 Myanmar teak
No recent shipments from Myanmar have been reported.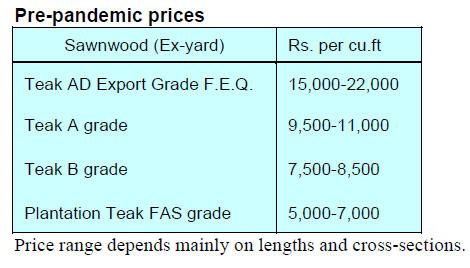 Sawn hardwood prices
At present there are virtually no arrivals of US hardwoods.
Imports of US sawnwood and logs are likely to increase
once the pandemic is under control as there are growing
calls for greater self-sufficiency in wood product
manufacturing.

As manufacturing plants and work on major building
projects are stalled there are few sales.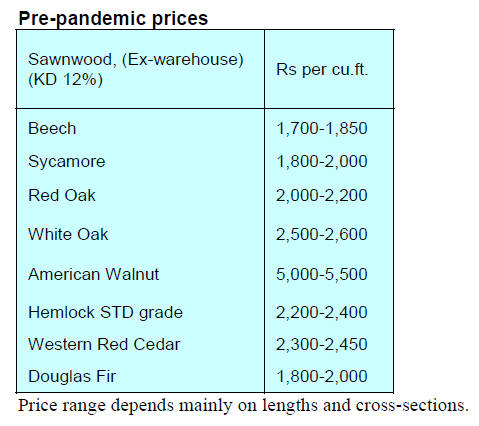 Plywood
A campaign to boycott Chinese goods led by Indian
businesses is gaining momentum and this, along with calls
by the government for greater self-sufficiency, will
inevitably impact the plywood sector when businesses
resume full operations.

Trade in plywood has partially resumed in towns where
the lockdown has been eased and suppliers in Indonesia,
Malaysia, Vietnam and Russia are actively promoting their
plywood products in anticipation of a decline in plywood
imports from China.

See:
https://retail.economictimes.indiatimes.com/news/industry/moretrade-bodies-join-campaign-to-boycott-chinese-goods/76761700
and
https://retail.economictimes.indiatimes.com/news/industry/traders-body-to-launch-china-quit-india-campaign-on-august-9/77399381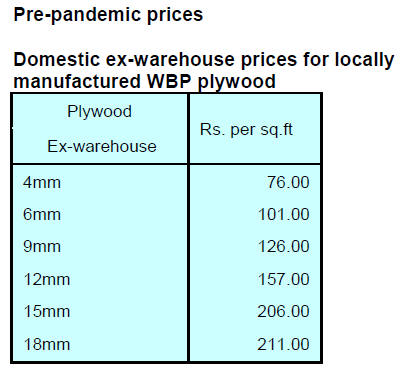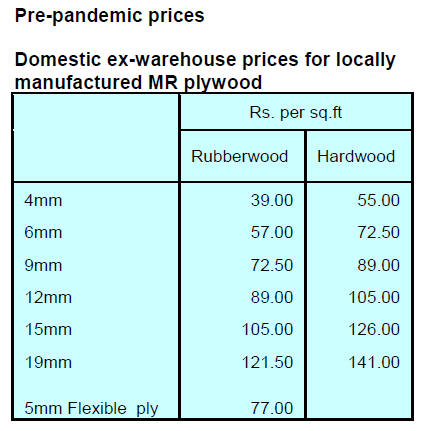 7. VIETNAM
EVFTA to boosts exports to EU
The EU is one of the top 5 markets for wood and wood
products (W&WP) exported from Vietnam. In 2019 the
W&WP exports to the EU (then including the UK) was
reported at US$865 million.

With the European Union – Vietnam Free Trade
Agreement (EVFTA), which entered into force on 1
August 2020, Vietnam's W&WP export to EU are
expected to penetrate new markets rather than just France,
Germany, Netherlands, Belgium, Denmark and Spain as
was the case prior to the EVFTA.

The EVFTA tax reduction/exemption applicable to
W&WP imported from Vietnam into EU are as follows:

W&WPs enjoying 0% import tax immediately upon
EVFTA becoming effective
W&WPs under HS group 4401- 4409, previously subject
to taxation between 2-4%, now enjoy 0% tax entering EU
markets. These W&WPs accounted for 1% of Vietnams
exports to the EU in 2019.

W&WPs under HS 4414/15/18/20/21 previously subject to
2.5-4% import tax will enter EU markets with 0% tax. The
value of these W&WPs shares 13% of total exports to EU.

Wooden furniture under HS 9403.40 - HS 9403.90
previously taxable between 2.7 -5.6% will enjoy 0% tax.
These W&WPs accounted for 7% of the export earnings in
2019.

W&WPs to benefit from 0% tax in 4-6 years
Before the conclusion of EVFTA, W&WPs under HS
4410 – 4412 attracted a 6-10% of import tax. These
products will benefit from 0% tax in the coming 4-6 years.
Currently, these products accounted for 1.3% of 2019
earnings.

W&WPs which are not affected by EVFTA
The current 0% tax will continue for HS 4413/17/16/19,
Seats (other than those of heading 94.02), whether or not
convertible into beds and parts thereof (HS 9401);
Wooden furniture of a kind used in offices (HS 940330);
Wooden furniture of a kind used in the bedroom (HS
940350), Other wooden furniture (HS 9403.60). The
export value of these W&WPs accounted for 78.2% of
2019 exports to the EU.

According to Ngo Sy Hoai, Vice President and Secretary
General, VIFOREST, with the EVFTA tax structures and
the FLEGT licenses set to be issued next year exports to
the EU should double over the next 5 – 7 years (from
US$865 million in 2019 to US$1.5 – 1.6 billion in 2025).

Source: VIFOREST Report on the Impacts of EVFTA to
Vietnam's wood industry sector

Exports beat expectations
Vietnam's W&WP exports in the first seven months of
this year amounted to just over US$6 billion, up 6%
against the same period last year according to the Vietnam
Administration of Forestry (VNFOREST).

In July alone the country earned nearly US$1.1 billion
from W&WP exports, surging 21% year- on-year.
However, export prospect in the coming months are not
positive given the complex developments of the pandemic
in Vietnam's key markets.

Between January and July this year Vietnam spent over
US$1.3 billion to import W&WP, a decline of 9.5% yearon-
year.

Vietnamese importers warned on legality of timber
imports
Annual imports of wood raw materials from Russia and
Ukraine used to be quite modest at around US$20 million,
mainly sawnwood and plywood and accounted for less
than 1% of the total imports from some 100 sources.

However, imports of raw material from Russia increased
sharply in 2018 and 2019. In the first five months of this
year wood imports from Russia were 85% above that in
2019. Vietnamese importers are now aware that legality is
an issue with timber from Russia and that they may face
problems of legality assurance when exporting products
manufactured from Russian raw materials.

Vietnamese importers have also been alerted to the risks in
importing wood raw materials from Ukraine.

Facing these risks, Le XuanQuan, Chairman of the Dong
Nai Association of Timber and Handicrafts (DOWA), said
that the local industries need to review their trade
procedures and report any suspicious shipments that arrive
in the country.

Do Xuan Lap, Chairman of Viforest, said that it is
necessary to form and promote horizontal and vertical
links between plywood enterprises and furniture
manufacturers to secure the supply chain from illegal
timber.

See: https://customsnews.vn/facing-a-series-of-legal-risks-whatshould-the-wood-industry-do-15234.html

Design and branding can lift industry earnings
To enhance the value of production Vietnamese wood
processing enterprises are looking to pay more attention to
the intangible added value earned from design and
branding. The Government has set an export goal of
US$20 billion by 2025 nearly double that achieved in
2019. To achieve thisthe timber industry cannot rely solely
on expanded output but will need to become more
imaginative especially as the days of cheap labour and
land are fading fast.

The economist Pham Phu Ngoc Trai has identified that
among the five core values in the wood processing sector;
product range, technology, design, brand and
sustainability, Vietnam has an advantage in product range,
technology and sustainability but misses out in terms of
design and brands. Addressing these two values will be
key for businesses to reach a higher level.

See more at: https://customsnews.vn/wood-industry-wants-tomove-to-higher-segment-14032.html

8. BRAZIL
Greater transparency in tracking wood origin
The National Environment Council (CONAMA) recently
approved two measures for the forest sector. First
Resolution N° 411/2009: was amended. This covers
standardisation of the nomenclature system and integration
of the National System for the Control of the Origin of
Forest Products (SINAFLOR) with state electronic
systems and secondly an extension of the period of
validity of forest management projects that expired during
the pandemic.

According to the National Forum of Forest-Based
Activities (FNBF) the amendment to the Resolution will
bring more security regarding the proof of the origin of
wood coming from forest concession areas.

Regarding the one-year extension of the timber harvesting
authorisations that expired during the pandemic period, the
FNBF explained that the measure is essential to enable the
continuity of interrupted operations. Producers are
requited to request an extension with the environmental
agencies in each state.

Another point in the amendment is the standardisation of
nomenclature which follows the Guide of Wood Products
(Glossário de Produtos de Madeira).

Currently, this Guide classifies the wood processing
according to the size of products but disregards the
variations that the wood may undergo such as swelling or
shrinking depending on moisture content.

This amendment will avoid classification errors. There
have been cases of shipments being seized due to the
overly rigid application of the Guide. Many such cases
have been overturned by the courts when it was
determined that there was no irregularity or illegality.

Mato Grosso industries benefit from changes in
transaction costs
The Union of the Timber and Furniture Industries of the
Northwest of Mato Grosso State (SIMNO) has stressed the
importance of Law N° 11.179 of 24 July 2020 which
establishes procedures for collection of fees for the
provision of public services by the State Secretariat of
Environment (SEMA) as well as the exercise of police
powers in environmental matters.

For SIMNO the law is important since will result in
reduced charges (cost for issuing documents, licenses and
registrations) not only for companies of the forest sector
but also in general as the law covers all sectors. Until the
recent change the fees charged in Mato Grosso were the
most expensive in the country which undermined the
competitiveness of Mato Grosso products.

Mato Grosso's exports suffering
The value of wood product exports by companies in Mato
Grosso State fell around 10% during the first 5 months of
this year compared to the same period last year, from
US$59.9 million to US$53.6 million according to the
Ministry of Industry, Foreign Trade and Services (MDIC)
and the Federation of Industries of Mato Grosso State
(FIEMT).

A FIEMT survey revealed that 90% of the industries in
Mato Grosso felt the impact of the pandemic on demand
and experienced a decline in revenue; around 40% of those
surveyed reduced production, 20% started a teleworking
system and 13% had to lay off employees.

According to producers of the Alta Floresta region, in
Mato Grosso State, in March 2020, sales were not
affected, but there was a production stoppage in April and
May.

The FNBF has pointed out that formal market demand has
a regulatory impact on the forest sector since sales are
only possible if the companies have all the required
documentation and are complying with the sustainable
forest management requirements. On the other hand,
illegally harvested timber enters the supply chain along
clandestine routes and hinders the businesses of companies
that operate legally.

First half export round-up
The Brazilian Association for Mechanically-Processed
Timber Industry (ABIMCI) has presented the data on
Brazil's exports of wood products in the first half of 2020.

In this period there was significant uncertainty regarding
the level of production as well as the level of consumption
in the importing countries.

After the first months of the pandemic and considering the
consolidated exports data in the first half of the year the
expectation is that export volumes in the second half will
recover.

According to ABMICI, the volume of pine plywood
exports in the first half 2020 averaged 171,000 cu.m per
month , just 6% lower than in the same period in 2019.

Export volumes of pine sawnwood were practically the
same as in the first half of 2019 averaging of 226,000 cu.m
per month. The volume of tropical sawnwood exports
show a slight drop in the first half of this year compared to
2019.

In contrast, tropical veneer exports increased significantly
in the first half of the year and exports of pine veneer
were stable and little changed from the same period in
2019.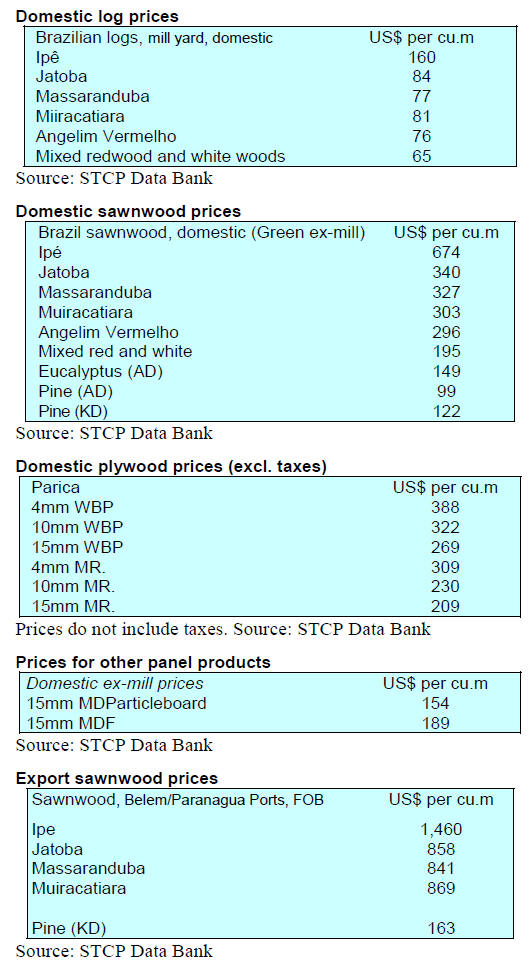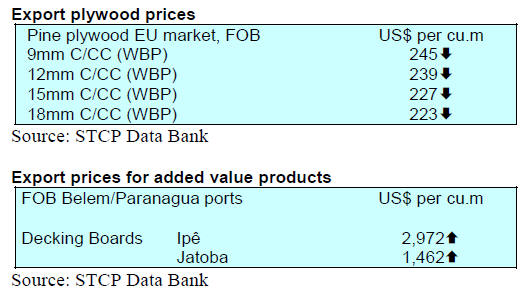 9. PERU
Wood product exports as of May 2020
The Association of Exporters (ADEX) has reported that
wood product exports in the first 5 months of this year
totalled US$29.1 million FOB, some 40% less than in the
same period in 2019.

Exports of semi-manufactured products accounted for
almost 60% of the total but were down 32% year on year.
Sawnwood exports accounted for around 30% of total
exports but export earnings were 22% lower than a year
earlier. For the other export products, mainly plywood and
veneer, export revenues fell 35%.

Of the US$26.5 million exported up to May most was
shipped to China (42% of exports but down 36% year on
year). Mexico was the second highest market accounting
for 10% of exports but here there was a 42% decline in
year on year earnings in May.

France and the United States were the third and fourth
highest imports in May but export earnings for these
market fell with a drop of 50% in the case of France and
over 60% in the case of the US.

Entrepreneurs join online course on forest plantations
Businessmen, producers, entrepreneurs and professionals
from the Ucayali region participated in the first specialised
course on forest plantations organised by the
Technological Institute of Production (ITP) through the
CITEforestal Pucallpa in virtual mode.

The event was implemented through seven virtual sessions
in which the following topics were discussed: genetic
improvement program, site selection, nursery production,
installation and management, evaluation and monitoring
and harvesting. In addition the utilization of native species
for plantations was discussed.

Finance made available to develop plans for SFM
The 'Program for the Promotion and Sustainable
Management of Forest Production' better known as KFW
has started. Around US$123 million has been allocated in
order to improve and complete forest management plans in
at least nine regions whose forest area amounts to almost
70 million hectares.

The National Forest and Wildlife Service (Serfor) has
reported the programme will run for five years and will
cover the departments of Ancash, Cajamarca, Huánuco,
Junín, Loreto, Madre de Dios, Pasco, San Martín and
Ucayali. The KFW programme aims to promote
sustainable forest management and productivity in an
effort to reactivate forestry activity, reduce deforestation,
mitigate climate change and address conservation of
biodiversity.

The programme aims to improve sustainable forestry
production over 160,000 hectares in five departments and
will identify at least 30,000 hectares in seven departments
to be used in the development of commercial forest
plantations which could attract private investment of
US$200 million in the next five years. The program will
be executed with funds from the Peruvian State and KWF,
a German Development Bank.

Osinfor's third version of SIGOSFC information system
launched
At the end of July the SIGOSFC Project v3.0 (Phase 01)
was officially launched. Through this the Forest Resources
and Wildlife Supervision Agency (OSINFOR) will
upgrade digital transformation in the organisation.
SIGOSFC is the information tool that, since 2012,
supports the supervision, inspection and evaluation
processes carried out by OSINFOR and provides
information to institutions in the sector and the public.

One benefit of this project will be integration of the public
sector entities (SNIFFS, IDER, PIDE) and private sector
technology platforms for the exchange of information.

Cedar stocks to be declared as CITES regulations due
to applied
The National Forest and Wildlife Service (SERFOR)
reported that, beginning 29August this year, all species of
cedar (Cedrela spp.) in Peru will be included in Appendix
II of the Convention on the International Trade in
Endangered Species of Wild Fauna and Flora (CITES).

This measure requires that harvested stocks must be
declared to the Directorate of Sustainable Management of
Forest Heritage of SERFOR. Only if stocks have been
reported will CITES export permits be issued.

Satellite technology to assess contribution of forestry
to the national economy
As part of the implementation of the Peruvian Forest
Satellite Account, professionals from the National Forest
and Wildlife Service (SERFOR) and the National Institute
of Statistics and Informatics (INEI) of the Presidency of
the Council of Ministers participate in a virtual internship
with experts from Costa Rica to learn about the experience
of creating environmental accounts.

This training is was a joint initiative of Peru, Costa Rica
and Germany and is part of the work to develop the Forest
Satellite Account, a key tool that will demonstrate the
importance of the forest and wildlife sector in the national
economy.

Currently, the contribution of the forest and wildlife
sectors to GDP is difficult to assess and is often
understated.

This work was carried out within the framework of the
Triangular Cooperation Project "Exchange of experiences
and capacity building for sustainable management and
generation of key information on the forest and wildlife
sector", and has the support of Germany through the
German Agency for Development Cooperation (GIZ).