Report from North America
US Bureau of Economic Analysis (BEA) news release
Real gross domestic product (GDP) decreased at an annual
rate of 32.9 percent in the second quarter of 2020,
according to the ¡°advance¡± estimate released by the
Bureau of Economic Analysis. In the first quarter of 2020,
real GDP decreased 5.0 percent.

The full text of the release on BEA's website can be found
at: www.bea.gov/news/2020/gross-domestic-product-2ndquarter-2020-advance-estimate-and-annual-update

The BEA says ¡°the decline in second quarter GDP
reflected the response to COVID-19, as ¡®stay-at-home¡¯
orders issued in March and April were partially lifted in
some areas of the country in May and June, and
government pandemic assistance payments were
distributed to households and businesses. This led to rapid
shifts in activity, as businesses and schools continued
remote work and consumers and businesses canceled,
restricted, or redirected their spending¡±.

Housing starts gains in June
Led by solid single-family production, US housing starts
increased over 17% in June to a seasonally adjusted annual
rate of 1.19 million units.

The US Commerce Department announced that singlefamily
starts increased 17% to an 831,000 seasonally
adjusted annual rate, after an upward revision from the
May estimate. The multifamily sector, which includes
apartment buildings and condos, increased 17.5% to
355,000.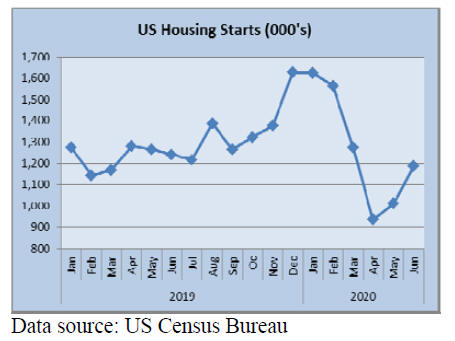 National Association of Home Builders Chief Economist
Robert Dietz said single-family construction expanded
from April lows due to lower inventories of new homes
but builders face challenges as costs are rising driven up
by rising sawnwood prices.

On a regional and year-to-date basis through June,
combined single-family and multifamily starts are 2.2%
higher in the Midwest, 0.2% higher in the South, 2.9%
higher in the West and 5.4% lower in the Northeast.

Overall permits increased 2.1% to a 1.24 million unit
annualised rate in June. Single-family permits increased
11.8 percent to an 834,000 unit rate. Multifamily permits
decreased 13.4% to a 407,000 pace. On a year-to-date
basis, permits are 3.4% higher in the South, 8.8% lower in
the Northeast, 2.3% lower in the Midwest and 3.9% lower
in the West.

See:
https://www.census.gov/construction/nrc/pdf/newresconst.pdf

Existing home sales - highest monthly rise in June
Sales of existing homes jumped nearly 21% in June
compared with May according to the National Association
of Realtors. This was the largest monthly gain since data
was collected and came after sharp declines over the
previous three months due to the pandemic. However,
sales were still 11% lower on an annual basis.

Each of the four major regions achieved month-on-month
growth with the West experiencing the greatest sales
recovery. Sales rose 4.3% month to month in the Northeast
and were 11.1% higher in the Midwest. In the South, sales
surged 26% monthly, and in the West sales jumped 31.9%.

This data represents contracts signed in late April and
May, that is, before much of the national economy began
to reopen and before the most recent surge in coronavirus
cases. Home sales could have been more robust had there
simply been more homes for sale. The supply of existing
homes available fell a remarkable 18% to just 1.57 million
homes at the end of June.

Cabinet sales well below last year
According to the Kitchen Cabinet Manufacturers
Association¡¯s monthly Trend of Business Survey,
participating cabinet manufacturers reported a significant
decline in cabinet sales of close to 17% for May 2020
compared to the same month in 2019. Custom sales were
down 12%, semi-custom sales decreased 23% and stock
sales decreased 14%.

See: https://www.kcma.org/news/press-releases/may-2020-trendof-business

Looking at the month-to-month comparisons, cabinet sales
were up 10% in May 2020 compared to April. Custom
sales increased 28%; semi-custom sales increased 7% and
stock sales increased close to 9% compared to the previous
month. This is a promising trend after the significant dip in
April.

But, year-to-date cabinet sales are down 4.3%. Custom
sales dropped 6%, semi-custom sales fell 9% and stock
sales were stable.

Survey signals optimism in manufacturing
Economic activity in the US manufacturing sector grew in
June with the overall economy notching a second month of
growth after one month of contraction according to the
latest Manufacturing ISM Report on Business.

ISM Chairperson, Timothy Fiore, said ¡°The growth cycle
has returned after three straight months of COVID-19
interruptions. Demand, consumption and inputs are
reaching parity and are positioned for a demand-driven
expansion cycle as we enter the second half of the year.¡±

Of the 18 manufacturing industries ISM surveys, 13
reported growth in June, with textiles, wood products and
furniture products reporting the most growth.

One wood products executive commented to ISM that
¡°The building industry continues to defy expectations, as
we continue to rebound stronger from the previous month.
Being an essential business across most states and a surge
in DIY projects has fueled the industry forward.

While the industry will follow the greater economy, we do
believe it will be more resilient than most due to potential
migration from larger cities and an undersupplied housing
market.¡±

See: https://www.ismworld.org/supply-management-news-andreports/reports/ism-report-on-business/pmi/june/

Consumer confidence retreats as pace of infections
rises
Consumer sentiment retreated in the first half of July due
to the increased pace of infections. The University of
Michigan's consumer-sentiment gauge snapped its twomonth
uptrend in July, an early sign that new outbreaks
are worrying consumers and an economic recovery will be
slowed.

Following the steepest two-month decline on record it is
not surprising that consumers need some time to reassess
the likely economic impact from the coronavirus on their
personal finances and on the overall economy.

The surprise decline arrived as US lawmakers debate
another fiscal stimulus bill. Congress faces mounting
pressure to pass more relief before the end of July when
the US$600 per week federal unemployment insurance
benefit will run out.

Many economists warn the disappearance of this
enormous federal stimulus, created in March, could hinder
the economic recovery and deprive millions of Americans
of a vital financial lifeline. More than 30 million people
are collecting what many recipients say is a crucial pillar
of financial support right now.