Report from North America
Economic activity flat lining
Given the reporting lag for most traditional economic
indicators, investors have turned to real-time data to assess
the US economy during the COVID-19 pandemic.
Economists at Jefferies write in a note to clients that their
in-house economic activity index has ¡®flat-lined¡¯.

Many of the Southern states are experiencing a significant
surge in coronavirus with coronavirus deaths rising in
Florida, Texas, and Arizona, even as they continue to
trend down nationally.

Regional data show particular economic weakness in
virus-hit states, where V-shaped recoveries are changing
to a W trend.

See: https://www.axios.com/coronavirus-surge-economicrecovery-stalls-ea0303a4-81d0-47ed-94e3-def1d3884ec9.html

Falling timber supply affecting construction sector
A shortage of sawnwood is affecting the construction
industry in what is usually its busiest time of the year. All
contractors are experiencing the supply crunch which
began with the onset of COVID-19.

The pandemic caused a big decline in supply as well as a
surprising increase in demand spurred by homeowner
renovations. Slower harvesting and production cuts have
also played a role.

Many of North America¡¯s biggest sawnwood producers
have significantly lowered output during the pandemic
while laying off hundreds of employees.

US importers request flexibility on formaldehyde
audits
In a 29 June letter, Cindy Squires, Executive Director of
the International Wood Products Association, wrote to US
Environmental Protection Agency Administrator Andrew
Wheeler requesting regulatory relief for Third-Party
Certifiers under the TSCA Title VI Composite Wood
Program concerning the requirement for on-site
inspections during the COVID-19 pandemic.

This request comes after the California Air Resources
Board provided guidance on procedures to allow
flexibility for TPCs to continue their oversight on
established and approved composite wood panel producers
when on-site inspections may be impossible due to global
travel restrictions.

Squires urged EPA take quick action to provide much
needed regulatory relief to allow TPCs under the TSCA
Title VI Composite Wood Program to conduct remote
¡°on-site¡± inspections of panel producers during the
ongoing COVID-19 pandemic.

See:
https://cdn.ymaws.com/www.iwpawood.org/resource/resmgr/enews/IWPA_letter_COVID_Relief_for.pdf

Tropical sawnwood imports sharply down
After a promising April, US imports of sawn tropical
hardwood fell by 39% in May, back to the level seen in
March. At 39,020 cubic metres, the volume of tropical
sawn hardwood imports were down more than 45% from
the previous May. Year-to-date 2020 imports are down
39%.

Imports from Indonesia were down by 55% in May but
remain a 26% head year-to-date. Imports from Brazil fell
by 21% and imports from Cameroon were off 35%.
Imports from Ecuador bounced back somewhat in May,
rising 49%, but still trail 2019 year to date by 73%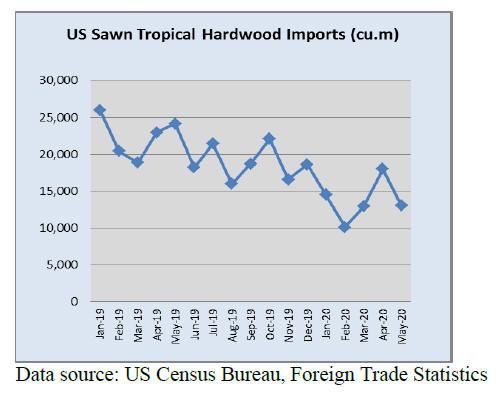 Imports of jatoba, sapelli, virola and ip¨¦ all fell sharply in
May. Virola is outpacing last year by 7% while imports of
jatoba are down 29%, sapelli is down 18%, and iIp¨¦ is
down 30%. Balsa is down a full 73% year-to-date, despite
gaining by 56% in May.

Canadian imports of tropical hardwood rose 78% in May
but were still nearly 10% lower than that of May 2019.
Imports are down 6% year-to-date.

Hardwood plywood imports make gains
US imports of hardwood plywood grew by 21% in May.
Imports from Malaysia quadrupled compared to April to
record, the highest volume since May of 2010.

Imports from Indonesia were also up sharply and are
ahead year-to-date by 47%. Imports from Russia and
Vietnam grew slightly in May and are ahead by 32% and
43%, respectively, year-to-date. Total US hardwood
plywood imports are up 13% through May.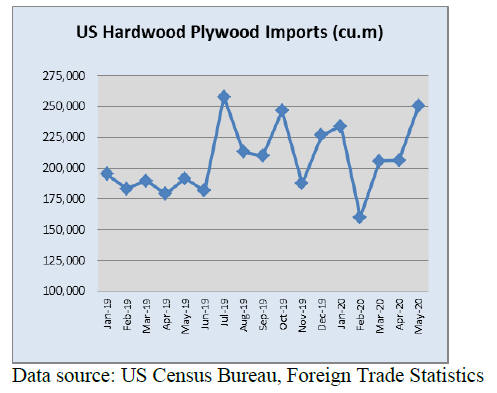 Veneer imports drop 44%
Imports of tropical hardwood veneer were down sharply in
May, falling 44%. After a promising gain in April, US
imports now lag behind 2019 year-to-date totals by 33%.

Imports from Italy, China, Ghana and Cote d¡¯Ivoire were
all down in April and are all off by more than 40% yearto-
date.

Despite falling to its slowest trade month in two years,
imports from India are down only 7% year-to-date. The
only trade partner doing better this year than last is
Cameroon, which is ahead by 128% year-to-date.

Assembled flooring imports up in May
US imports of hardwood flooring continued to slide,
falling by 3% in May. While totals were relatively flat for
the month, imports from China and Malaysia gained back
some of the market they had lost to Indonesia in recent
months.

Imports from China and Malaysia were up 51% and 90%
in May, while imports from Indonesia were down by 72%.
Still, year-to-date imports from China are down 58% and
imports from Malaysia trail by 67%, while imports from
Indonesia are up by 13% through May.

Imports of assembled flooring panels grew by 20% in May
but were still at a level nearly 30% down from May 2019.
While imports from China, Canada, and Vietnam all rose
sharply, their standing versus last year varies widely.

Imports from China are barely half that of 2019 year-todate,
imports from Canada are even with last year, and
imports from Vietnam are up 10% through May.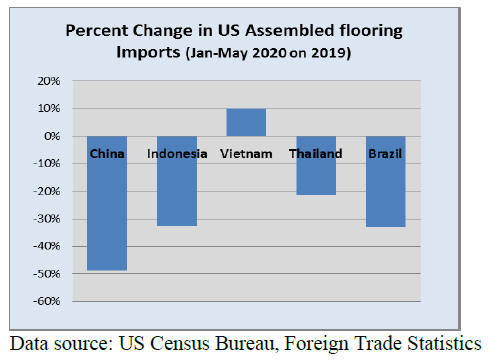 Moulding imports from China back to pre-crisis levels
US imports of hardwood moulding held steady in May,
falling a mere 2% from the previous month. But, much
like flooring, the sources of trade varied much more.

Imports from China rose 52%, the highest level since
September last year and slightly above May 2019.

China¡¯s gain was offset by sharp declines in imports from
Malaysia (down 80%) and Brazil (down 43%). Total
moulding imports are down 16% through May and are
down this year for all major trading partners.

Residential furniture orders continue steep decline
Residential new furniture orders in April 2020 were down
61% from April 2019 and down 52% from March,
according to the latest Smith Leonard Furniture Insights
survey of US manufacturers and distributors. As the
pandemic hit March orders were down 29% from March
2019.

The April results brought the year to date orders to a
decline of 21% after an 8% decline reported through
March.Shipments were down 50% from April 2019 and
March 2020. The April results pulled year to date
shipments down to a 15% decline.

Since shipments were not off as much as orders, it meant
that there was some shipping from stock so April stocks
dropped 8% from March. Smith Leonard officials expect
a significant decline again in the May results but not as
severe as in April.