Japan Wood Products Prices
Dollar Exchange Rates of 10th July 2020
Japan Yen 106.92

Reports From Japan
Thousands laid-off
The Ministry of Labour has reported that only 32,000
workers, so far, have been fired by their employers due to
the impact of the coronavirus pandemic adding that about
232,500 businesses are eligible for subsidies allowing
them to keep their workers on the payroll. The Ministry
reports having paid out over US$1.5 billion to companies.
The number of identified infections has been rising in
tandem with the increase in the rate of testing. Tokyo has
the highest number of cases and this has surged since
movement restrictions and restrictions on businesses were
eased.

Tokyo's cumulative infections reached 7,927, accounting
for nearly a third of the around 22,600 confirmed cases in
the country. None of those recently infected were in a
serious condition as most are in their 30s or younger.

Pace of decline in machinery orders slows
A survey of the value of machinery orders received by
manufacturers operating in Japan reveals there was a more
than 10% decline in May from the previous month. But,
says the report, private-sector machinery orders, excluding
for ships and those from electric power companies,
increased slightly in May.

The Chief Economist at Norinchukin Research Institute is
reported by the Japan Times as saying ¡°Japan¡¯s economy
may have hit the bottom in May but capital expenditure
likely won¡¯t turn for the better, as weak demand and the
risk of a second wave of infection discourage
manufacturers from boosting non-urgent spending.¡±

See: https://www.esri.cao.go.jp/en/stat/juchu/2020/2005juchue.html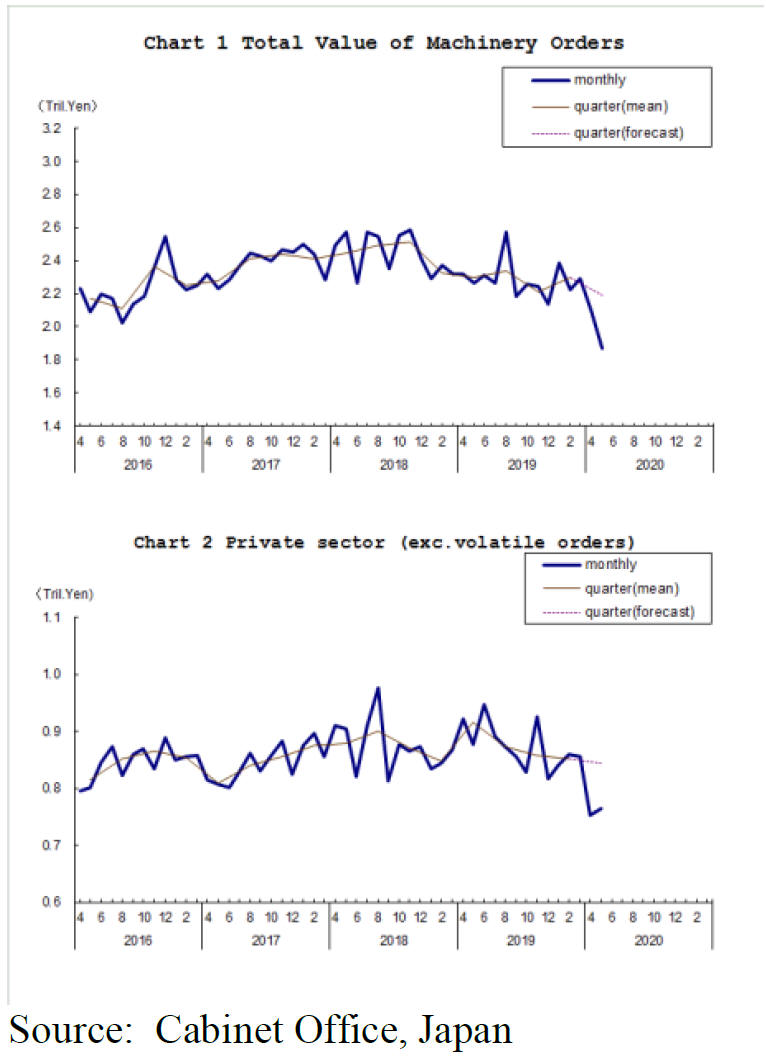 Consumer sentiment clawing back
Cabinet Office data shows that in June, for a second
consecutive month, Japan's consumer confidence index
rose but still remained well below pre-pandemic levels
despite the end of a nationwide state of emergency.

The index of sentiment among households for their
economic expectations for the coming six months jumped
marking the biggest reversal since the recent survey
method was introduced (see below).

The index for willingness to purchase durable goods rose
however, it should be remembered that a reading below 50
suggests pessimism.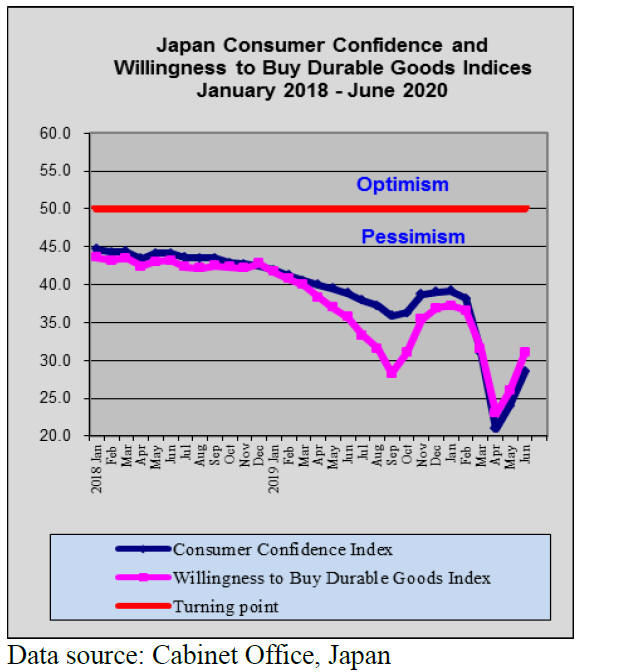 Yen more susceptible to global trends than domestic
economy
The US dollar remains weak as infections in the US and
around the world continue to increase which has raised
uncertainty about the prospects for a recovery in trade and
investment.

In Japan, the economic fundamentals are steady and it
seems that the yen/dollar exchange rate has more to do
with the pandemic impact around the world than the
performance of the domestic economy.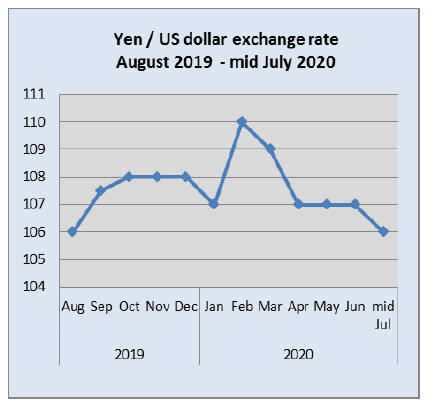 Housing starts forecast to 2030
Year on year, May housing starts were down 12% and
compared to April starts fell by more than 5%. May
marked the second consecutive decline in starts and for the
first 5 months of this year housing starts are off by 11%
which, given the impact of the pandemic control measures
and reduced business activity is better than expected.

However, according to a recent Nomura Research Institute
report, there is likely to be a significant drop in new
housing starts across Japan by 2030. Housing starts are
forecast to drop from 950,000 units in 2018 to 730,000
units in 2025. In 2030, total housing starts are forecast to
be only 630,000 units.

If this forecast is correct it will result in marked changes in
the structure of the domestic wood products sector as well
as in imports.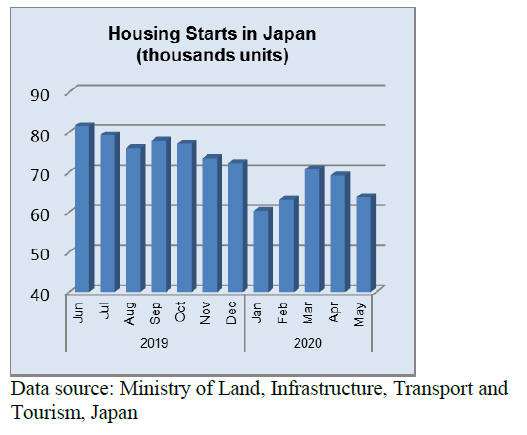 Import update

Furniture imports
Japan¡¯s April furniture import data present a mixed
picture. Wooden bedroom furniture imports continued the
upward trend advancing on the value of March imports, on
the other hand wooden kitchen furniture imports dipped.
Since the end of 2019 wooden kitchen furniture imports
have been on a downward path.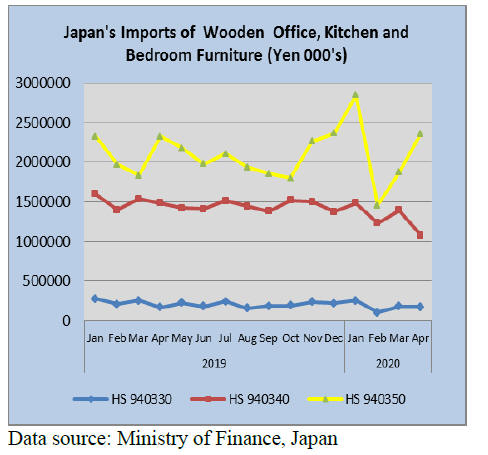 Office furniture imports (HS 940330)
The value of April imports of wooden office furniture
(HS940330) were around the same level as in March and
year on year the value of April imports were little
changed. At almost 80% of all April wooden office
furniture imports producers in China dominate the trade.
The other traditional shippers, Poland and Italy slipped
back, with each shipping around 3% of April¡¯s imports.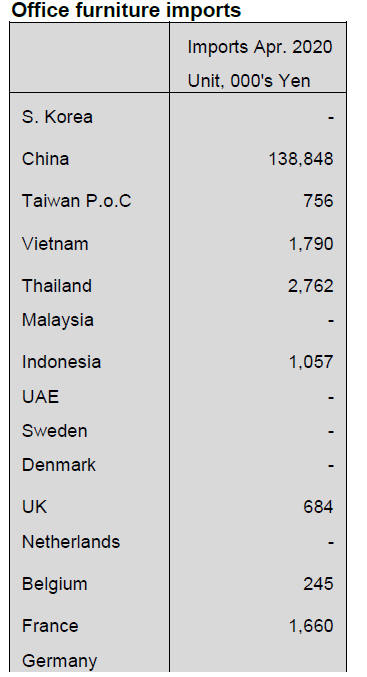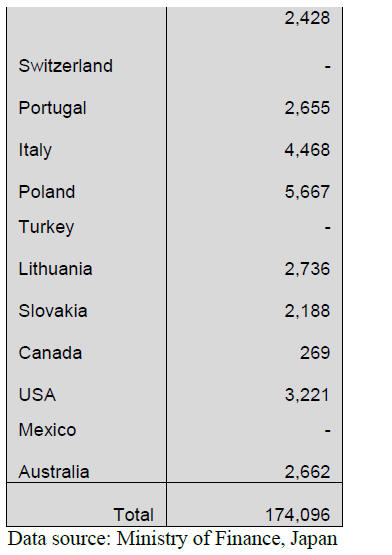 Kitchen furniture imports (HS 940340)
Japan¡¯s imports of wooden kitchen furniture slumped in
April. Year on year, the value of April imports was down
29% and compared to the value of March imports there
was a 22% decline in April.

The most notable change month on month was in the value
of shipments of wooden kitchen furniture from China
which jumped more than three fold. In April the main
shippers were, in order of value rank, Vietnam (49%) the
Philippines (23%) and China (17%). China¡¯s shipments in
March accounted for just 3% of imports.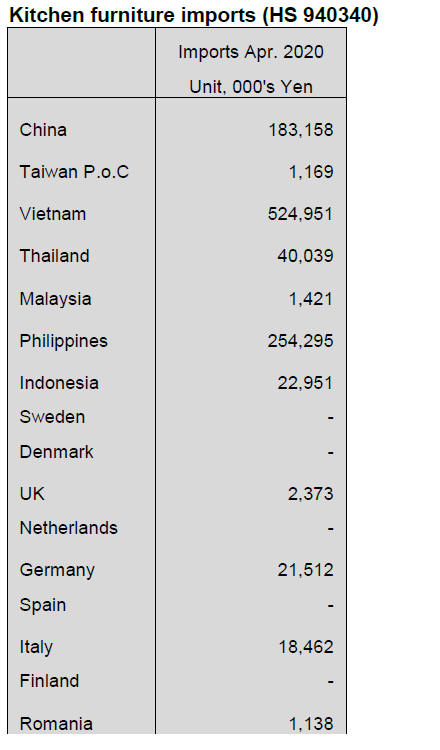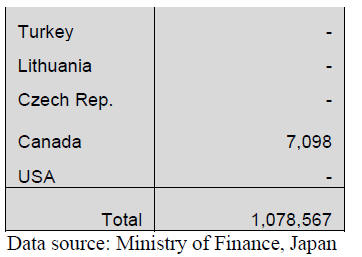 Bedroom furniture imports (HS 940350)
The additional rebound in the value of April imports of
wooden bedroom furniture (+26%), coming as it did after
the almost 30% month on month rise in March only
brought April imports level with those in April a year
earlier.

Exporters in two countries, China and Vietnam dominated
April imports of wooden bedroom furniture (HS940350).
Shippers in China accounted for just over half of all
arrivals in April followed by Vietnam at 37%. The other
main shippers, Thailand, Malaysia and Indonesia together
accounted for just 3% of Japan¡¯s imports of wooden
bedroom furniture.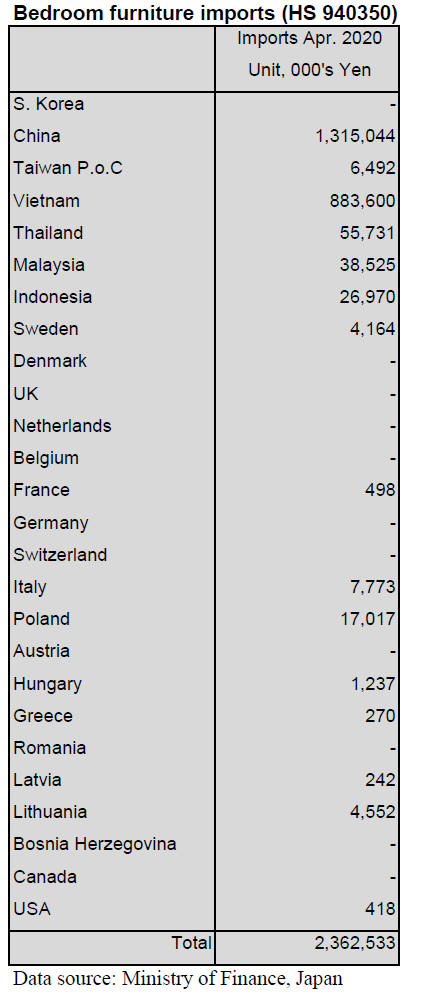 Trade news from the Japan Lumber Reports (JLR)
The Japan Lumber Reports (JLR), a subscription trade
journal published every two weeks in English, is
generously allowing the ITTO Tropical Timber Market
Report to reproduce news on the Japanese market
precisely as it appears in the JLR.
For the JLR report please see:
http://www.n-mokuzai.com/modules/general/index.php?id=7

Performance of building materials trading firms
For the term ended March 31, performance of four major
building materials trading firms and Sumitomo Forestry is
disclosed.

Corona virus incident is nothing to do with the
performance but imported plywood business did not
contribute by slump market in Japan. Consumption tax
hike in October last year generated rush-in purchase of
building materials and house appliances, which
contributed performance.

Four companies are Itochu Kenzai Corporation, SMB
Kenzai Co., Ltd., Sojitz Building Materials Corporation.
Building materials division of Sumitomo Forestry Co., Ltd
does not publicize current profit as the division.

Total sales of five companies maintained 1,200 billion yen
but profit decreased. In sales, imported plywood sales
decreased by 25.1 billion yen. Generally processed
building materials and house appliances were good but
plywood and lumber did not have any strength. While
imported plywood keeps losing ground, domestic
softwood plywood gained strength.

Housing starts for the period were 880,000 units plus,
7.8% less than previous period. This is first time that the
starts dropped less than 900,000 units after five years.
There are last minutes purchases before consumption tax
hike so building materials and some renovation works
moved rather actively.

Meantime, imported plywood and some commodity items
lost supply and demand balance and became money loser.
Itochu Kenzai is the only company registered increased
sales and profit. Others had decreased sales and profit.
Itochu Kenzai had record high sales and current profit and
ordinary profit was fourth highest. Consolidated sales are
the top in the past and ordinary profit is second high.

Sumitomo Forestry¡¯s sales increased by 9.8 billion yen by
sales of building materials but decreased by 16 billion yen
by lumber and plywood. Ordinary profit exceeded last
term except for profit of transfer of New Zealand
plantation business, which is registered as non-operating
income.

SMB Kenzai reduced the profit by 37% after loss by
business transfer and withdrawal of joint venture in
Australia is appropriated as special loss.
Sojitz Kenzai¡¯s sales have been over 160 billion yen but
the profit has kept falling for three straight terms since
2017. Major factor of sales drop is decrease of imported
plywood sales.

Toyo Materia suffered decreased sales and profit. For the
first time, sales of domestic plywood exceeded imported
plywood.Material sales to subsidiary precutting company
decreased after the company quit. For the company,
plywood sales had been the top but now it is replaced by
building materials sales.

After all, imported plywood business had been core
business for all major trading firms but not any more.

Daishin Plywood to quit
Daishin Plywood Co., Ltd. (Niigata prefecture) announced
that it will quit manufacturing plywood at the end of
March 2021 and dissolve the company. It has been
manufacturing South Sea hardwood plywood but
availability of logs from South Sea countries gets tougher
without any hope of recovery with climbing prices.
This is the largest hardwood plywood manufacturer in
Japan. It consumes about 6,300 cbms of logs a month to
produce 3,800 cbms of plywood.

Logs are 75-80 % of mersawa from PNG and 20% of
meranti from Sarawak, Malaysia.

Products are 1,250 cbms of three layered thin panel and
1,350 cbms of medium thick panel. These take about two
third of products and a balance is thick panel. Majority is
base panel of decorative plywood so secondary processors
are major customers.

It manufactured composite plywood with local cedar but
basically it manufactures products secondary processors
want, for which import plywood cannot deal with. The
annual sales are about five billion yen.

Up until 2018, combination of logs was 50% of Sabah,
Malaysia, 20% of Sarawak, Malaysia and 30% of PNG
then Sabah government banned log export in 2018 so the
combination failed and share of PNG increased. Then
PNG government increased log export duty with possible
export ban in future.

Log size got smaller so that recovery dropped. There is no
other source to replace PNG. Then came corona virus
pandemic and future demand of building materials looks
gloomy and profitability continues to drop so it finally
decided to give up.

The company started in 1957 in Tokyo then moved to
Niigata in 1965. Oshika Corporation, adhesive
manufacturer, became the owner in 2015.

South Sea log and lumber
Tropical hardwood log supply from PNG and Sarawak,
Malaysia has been steady although the volume is very
limited.

Log supply in both countries is tight. In PNG, log harvest
is decreasing after increase of export duty and dwindling
export to China.

In Sarawak, Malaysia log supply has been tight and local
plywood mills struggle to secure the necessary volume. In
Japan, Daishin Plywood, the largest tropical hardwood
plywood manufacturer announced to quit the business in
March next year. Tropical hardwood log demand will
further drop.

Japan Kenzai markets 100% domestic wood long
plywood
Japan Kenzai Co., Ltd. (Tokyo) has started marketing
100% domestic wood long length plywood since May.
Thickness is 9 mm and 12 mm. Veneer for 9 mm plywood
is pine core with cedar face and back and for 12 mm is all
cedar. This is first product of all cedar long length
plywood.
Sizes are 910x2,730 mm, 910x3,030 mm and 1,000x3,030
mm for both 9 and 12 mm. Manufacturer is Nisshin group
in Tottori prefecture.

Japan Kenzai submit sample to Japan Plywood Inspection
Corp. and tested JAS structural bending and cleared the
standard.

All domestic cedar structural plywood is now normal for
standard 3x6 plywood but for long plywood, imported
species like North American Douglas fir and Russian larch
are used for face and back in view of strength. Now by
selecting cedar veneer severely, all cedar long length
plywood is approved. It tries to make 100% cedar 9 mm
long panel.

Recovering Japan¡¯s log (and lumber) export
Japan¡¯s log export for the first four months is 367,411
cbms, 6.8% less than the same period of last year.Lumber
export is 46,159 cbms, 6.9% less.

Log export to China in March was down by 47.2% so total
decreased. Then export to China recovered in April so
total increased by 20%. Also log export to Taiwan and
Vietnam increased significantly. Lumber export to China
also increased in April. Lumber export to the U.S.A. has
been increasing steadily from January. Large drop of log
export to China in March is result of corona virus outbreak
in China.

Cedar log export to China in January was 10.1% less than
2019, February was 22.6% less. March was 44.9% less
then April was 20.5% more. Drop of small diameter logs
with top diameter of 15 cm or less was large but small log
export recovered in April. Log export to Korea in 2019
decreased but it increased by 16.7% for the first four
months then Taiwan was flat last year but it increased by
30% this year. Log export to Vietnam, which is new
market, increased by three times of 2019 although the
volume is small yet with 6,105 cbms. This is promising
market after corona virus problem is over.
As to cedar lumber export, export to China and
Philippines, two major market, decreased for the first three
months then China increased by 56.8% so total four
months is 3.4% more. Philippines continues weak in April.

Lumber export to the U.S.A. has been increasing steadily.
January was 44.5% more. February was 20.8% more.
March was 29.1% more and April was 48.0% more. There
is no impact of corona virus pandemic in the U.S.A. as to
cedar lumber market.