2. GHANA
Restocking African tree species
The Institute of Nature and Environmental Conservation
(INEC), a non-governmental organization, in collaboration
with the Ghana Forestry Commission, has launched a trial
project to restock an area in the Asenanyo Forest Reserve
with afromosia (Pericopsis elata).

The project, which also involves the Forestry Research
Institute of Ghana (FORIG) and Kwame Nkrumah
University of Science and Technology (KNUST), would
help prevent the extinction of species at risk. Funding for
this project comes from the Swiss based Fondation
Franklinia.

Ghana's Ports highly ranked
Recent renovations and expansion of Ghana's ports have
brought them to the forefront of the maritime transport and
supply chain in the West African sub-region. Port
operations have been upgraded with technology which has
improved efficiency and lowered costs.

The Ghana Revenue Authority (GRA) and the Ghana
Ports and Harbours Authority (GPHA), supported by an IT
and technology firm, streamlined operations to position
the ports to meet growing traffic.

According to a Bank of Ghana report the total number of
containers handled by Tema and Takoradi rose by over
12% year-on-year in the first quarter of 2020 despite the
disruption from restrictions to control the corona virus.

In related news, the GPHA has commissioned consultants
to develop plans for the construction of a new port at Keta
in the Volta Region.

See: https://www.bog.gov.gh/wp-content/uploads/2020/06/Real-Sector-Developments-May-2020-1.pdf

Start of AfCFTA postponed
The operationalisation of the African Continental Free
Trade Agreement (AfCFTA), initially planned 1 July this
year, has been postponed due to the current global crisis
which has disrupted economic activities and forced the
closure of borders and other restrictions. The AfCFTA
agreement aims to progressively reduce and eventually
eliminate customs duties and non-tariff barriers on goods
and allow free provision of services.

The AfCFTA secretariat is located in Ghana where the
government is reviewing policies so as to become more
self-sufficient through supporting domestic investment in
import substitution industries.

In related news, the Ghana Export Promotion Authourity
(GEPA) is aiming for US$10 billion in export earnings
from non-traditional exports (NTEs) by 2028 and has a
National Export Development Strategy programme geared
specifically to take advantage of opportunities from
AfCFTA.

Exports of NTEs earned around US$2 billion annually
over the past decade. The aim of the GEPA is to diversify
the country's exports.

See: https://www.bbc.com/news/world-africa-53325743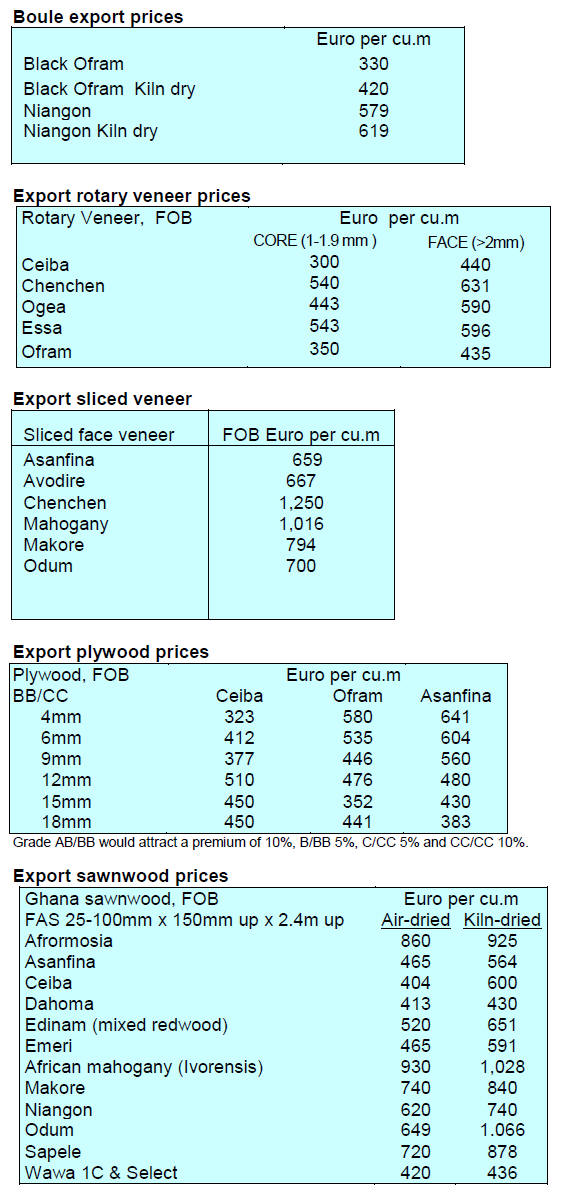 3. MALAYSIA
Recovery phase 1 to run to the end of August
The implementation of three stages of Movement Control
Orders (MCO) helped contain the pace of infection spread.
Now the third MCO has ended the government announced
a new Recovery MCO (RMCO) that started 10 June and
will be assessed at the end of August.

Under the RMCO many restrictions which were enforced
during the previous stages have been lifted but everyone is
still required to abide by the 'standard operating
procedures' from the previous MCO.

Interest rate cut – an all-time low
Business sentiment remains weak even though most
businesses have resumed work and the services and retail
sectors have seen a marked improvement but now many
businesses face the problem of how to service loans taken
during the lockdown. The central bank has cut interest
rates to an all-time-low in an effort to support companies
as they begin hiring again and to encourage consumer
spending.

Additional strategy to boost tree plantations
The Sarawak State Forest Department (FD) has adopted a
new strategy to boost reforestation by engaging small
companies and the involvement of Native Customary
Rights (NCR) landowners. The aim is to ensure that by the
end of the 12th Malaysian Plan (2022), better progress can
be made through cooperation communities and in
developing the land under their care.

The FD has reported that 63% of the land in Sarawak is
covered with forests. Sarawak has about 1.6 million
hectares of NCR land but much has been cleared for oil
palm plantations.

PEFC plywood exports to Japan
A Sarawak based company is benefitting from demand for
certified plywood in the Japanese market and is
successfully marketing its PEFC plywood.

The company has focused on increasing PEFC certified
coated concrete panel (CCP) plywood production given
the growing demand in Japan.

See: https://www.thestar.com.my/business/businessnews/2020/07/06/ta-ann-rides-on-higher-demand-from-japanmarket-for-pefc-certified-plywood-products
No Fair? so go online to develop markets
A online platform (MIFF Furniverse) will be launched in
August by the company behind the Malaysian
International Furniture Fair. The aim is to connect
manufacturers with buyers from around the world.

MIFF Furniverse will launch three separate live market
events for the Asia Pacific market, the North and South
America market and the Europe, Middle East and Africa
market.

See: https://www.furnituretoday.com/buying-groups/malaysiafurniture-show-organizer-launches-online-market-events-inaugust/
4. INDONESIA
Association calls for more efforts to expand exports to
the EU
Chairman of the Association of Indonesian Forest
Concessionaires (APHI), Indroyono Soesilo, has called for
more efforts by the Indonesian embassies in Europe to
identify market opportunities for wood products.

He pointed out that the European Union is the fourth
largest export destination for Indonesian forest products
after China, Japan and the United States. In 2019,
Indonesian forest product exports to the European Union
earned more than US$1 billion.

Indroyono said the pandemic had dented exports of
Indonesian forest products to Europe. In the first 5 months
of 2020 there was a 17% year on year decline in the value
of exports.

The Indonesian Ambassador for Belgium, Luxembourg
and the European Union, Yuri Thamrin, reported that
demand for forest product in the EU member states is over
US$150 billion annually but Indonesia's share of the
market is very low. Yuri suggested it would help if
Indonesia had warehousing facilities for Indonesian wood
products at one of the main ports to raise efficiency and
lower the logistics costs.

See:
https://industri.kontan.co.id/news/wah-potensi-ekspor-produkkehutanan-ke-uni-eropa-capai-us-152-miliar-per-tahun

In related news, Indroyono said APHI is optimistic about
the market penetration in some countries such as South
Korea where exports in 2019 topped reached US$700
million. Even during the first 5 months of this year exports
continued to rise. He suggested that South Korea should
consider adjusting import tariffs to encourage more
imports from Indonesia.

Association - Indonesia yet to become a global player
in furniture market
Setyo Wisnu Broto, Secretary General of the Indonesian
Light Wood Association (ILWA) in Sukoharjo, Central
Java considers that Indonesia has a long way to go before
it can take its place as a force in the global wood and
furniture business.

See: https://republika.co.id/berita/qd3yst349/ilwaindonesia-tertinggal-dalam-bisnis-kayu-dan-mebel-dunia

While proudly reporting export revenue this, in the past,
has not been presented alongside the global value of
furniture exports. If it had, he said, it would show
Indonesia lags far behind other countries.

He expressed concern that the furniture sector suffers
because the government issues regulations that are not
pro-business and counterproductive.

In addition, the timber and furniture industries have failed
to modernize processing and management skills. He also
pointed out that the banking sector is not well informed of
the potential for furniture exports which is behind its
reluctance to support the industry with competitive loans.

Reduce dependence on imports
The Ministry of industry is looking for way to boost the
role of domestic small and medium enterprises in
supplying inputs for larger companies in order to reduce
reliance on imported goods.

Gati Wibawaningsih, Director General of Small and
Medium Enterprises in the ministry said they have
initiated a programme to help a group of SMEs with brand
registration, packaging advice as well as with information
on National Industrial Standards (SNI).

This programme is part of the government's efforts to
increase the role of small businesses which contributed
over nearly 60% to the country's economy. The ministry
has set itself a target of slashing Indonesia's raw material
imports by up to 35% by 2022.

https://www.thejakartapost.com/news/2020/07/01/ministry-wants-to-increase-smes-role-in-big-business-supplychains.html

1 million mandays of job opportunities created
The government continues to expand the Forest and Land
Rehabilitation (RHL) programme which generates over 1
million mandays of day work opportunities in Java. The
Minister of Environment and Forestry (LHK), Siti
Nurbaya Bakar, asked the staff to increase the activities
under the programme.

Multi-business model for forestry
The Secretary General of the Ministry of Forestry, who is
also the Acting Director of the Ministry of Environment
and Forestry's Sustainable Production Forest Management
(PHPL) activitie,s said that the utilisation of the
production forest area needs to be optimised. The focus
should be on the total resource not only wood products
and should involve utilisation of as non-wood forest
products and environmental services.

In this regard the Ministry recently issued a innovative
policy of through Regulation P.01/2020 covering
'Procedures for Application, Assignment and
Implementation of the Multi-business Model of Forestry
for Forest Concession Holders in Production Forests'.

This, said Bambang, is the first step in development of a
multi-business model for forestry and integrates the
utilisation of wood products with non-timber wood
products from agroforestry or silvo-pastural activities.

https://www.beritasatu.com/nasional/653261-klhkoptimalkan-pengusahaan-hutan-untuk-atasi-krisis-pangan

Norway announces first payment for reduced
deforestation in Indonesia
The Norwegian government has approved the first resultsbased
payment to Indonesia for reduced emissions from
deforestation and reduced forest degradation in the country
covering the period 2016-17. This is the first time Norway
has paid Indonesia's for achieving results in emission
reductions according to the domestic press.

The first payment from Norway for Indonesia's success in
reducing deforestation and forest degradation went
through an international standard verification process
carried out by an independent third party appointed by
Norway.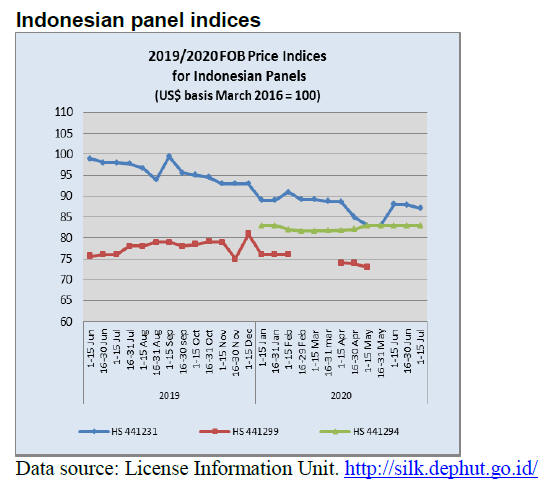 5. MYANMAR
Resumption of MTE tenders sales eagerly awaited
The Myanma Timber Enterprise (MTE) will resume tender
sales on 27 July. Sales have been suspended for four
consecutive months from March. However, there has been
no announcement by MTE as yet. Some of the local mills
are now running low on log stocks and there are reports of
resale of logs from earlier tenders.

Bago Region Minister acts on illegal logging
The Regional Minister of Forestry (Bago Region) has
stated there has been an increase in illegal logging in the
Bago Yoma Range where the 10-year logging ban has
been in place since 2016-17.The Bago Yoma Range has
more than a million hectares of rich natural forest land. In
response the Minister proposed activating an existing
regulation which restricts entry into the forest.

In related news, the Forest Department recently seized a
container packed with undocumented padauk. The
contents of the container were declared as non-wood
products in an attempt to avoid submitting the required
documents verifying the shipment was legal.

According to the current regulations exporters are obliged
to present documentation showing the raw material for the
wood products being shipped was purchased from the
MTE. This is a prerequisite to securing the official export
permit.

Covid-19 Relief Fund
The government has announced that around 70% of the
initial Covid-19 Relief Fund to support the economy has
been distributed to SMEs, mostly in the garment
manufacturing, hotel and tourism sectors since April this
year.

In addition the government has provided loans totalling
Kyats 101 billion to over 3,000 businesses impacted by the
pandemic. The Government set aside funds amounting to
5% of GDP for its Covid-19 Economic Relief Plan.

Deferral of interest payments offered by EU member
states
In a letter sent to the Union Minister of Planning, Finance
and Industry U Soe Win, EU member states Austria,
Finland, France, Germany, the Netherlands and Poland
announced the deferral of interest and capital payments
representing US$ 98 million [134.5 billion MMK] or
approximately 20% of Myanmar's overall scheduled debt
service for that period.

"Today's announcement from Team Europe is part of our
coordinated global response to the COVID-19 crisis," said
EU Ambassador Kristian Schmidt, who signed the letter
together with the ambassadors from the six EU Member
States.

EU member states have granted Myanmar debt relief in
the past. Austria, Finland, France, Germany, the
Netherlands and Poland are currently the only EU
countries to which payment are due this year.

See: https://eeas.europa.eu/delegations/myanmarburma/81921/eu-announces-usd-98-million-1345-billion-mmkdebt-suspension-myanmar_en

Overseas worker remittances are huge
According to the Central Bank of Myanmar, remittance
from Myanmar migrant workers exceeded US$1 billion
for the period April 2019 to March 2020.

Remittance from Malaysia were the highest at US$258
million from 578,000 Myanmar citizens working there
followed by Singapore US$170 million, US$11 million
from workers in Thailand with the balance from workers
in a host of other countries.
6. INDIA
June exports held up well in June
The Indian Minister of Commerce and Industry has
reported that the value of India's exports in June is forecast
to be only around 10-12% lower than in the same period
last year. This is in contrast to the 60% decline in April
export values.

The minister emphasised that the focus of the government
is on sustainable growth and partnership with the private
sector.

Rural demand recovers, a good first step
Favorable monsoon weather which boosted harvests plus
government support for rural communities has resulted in
a modest recovery of demand in rural areas. Trends in
some so-called 'high-frequency' indicators such as sales of
tractors and fertilisers suggest many rural communities are
recovering faster than the urban areas.

The government pumped almost US$20 billion into the
rural economy after March through various welfare
programmes and state-sponsored buying of crops,
according to a report by CitiBank.

The Center for Monitoring Indian Economy says the rural
unemployment rate has fallen from a peak of 26% in the
first week of May to around 7.3% in the week ending 21
June, almost back to pre-lockdown levels. Unemployment
in the major cities is still above pre-lockdown levels.

See:
https://www.cmie.com/kommon/bin/sr.php?kall=warticle&dt=2020-06-16%2010:02:45&msec=733

Importing logs and sawnwood into India
The Directorate of Plant Protection, Quarantine and
Storage (DPPQS) under the Ministry of Agriculture,
Cooperation and Farmers Welfare (MOA) regulates the
import of logs into India.

Species that are listed under VI and VII of the Plant
Quarantine (PQ) order 2003 may be imported into India
provided the requirements in these schedules and also the
general import requirements listed under Section 9
(Requirement of Import of Wood and Timber), Chapter II
(General conditions for import) of the PQ order are
followed.

Under the current Plant Quarantine Order 2003, updated as
of 18 December 2018, the import of wood and wood
products requires fumigation/heat treatment/kiln dried to
be noted on the phytosanitary certificate issued in the
supplier country.

According to the PQ Order timber/wood with or without
bark shall be fumigated prior to export with methyl
bromide (MBR) at 48 g/cu.m for 24 hours at 21 degrees
Celsius or above, or an equivalent thereof, or any other
treatment approved by the Plant Protection Adviser,
Government of India.

The treatment method shall be noted on the Phytosanitary
Certificate issued by the supplier country.

Imports of sawnwood are also regulated by the DPPQS,
Ministry of Agriculture, Cooperation and Farmers
Welfare.

Shipment of sawn or sized wood with or without bark
must be either fumigated with methyl bromide at 48
g/cu.m for 24 hours at 21 degrees Celsius or above, or an
equivalent thereof, or kiln dried at 56℃ for 30 minutes
(core temperature of wood) or heat treated at 56℃ for 30
minutes (core temperature of wood) prior to shipment. The
treatment shall be noted on the Phytosanitary Certificate
issued at the supplier country.

The Indian domestic timber sector has proposed phasing
out the requirement for methyl bromide fumigation as it is
toxic and classified as a class 1 ozone depleting substance.
Alternative treatments are said to be under consideration.

Pomoting bamboo and sandalwood plantations
The Khadi and Village Industries Commission (KVIC) is
exploring the potential for investment in sandalwood and
bamboo plantations.

A sandalwood tree matures in 10 to 15 years and can be
sold for Rs10-12 lakh. A variety of bamboo, Bambusa
Tulda, used for making Agarbatti (incense) sticks could
provide a regular income says the Commission.
Consideration is being given to planting sandalwood and
bamboo on vacant land.

See: https://www.deccanherald.com/national/west/kvicpromotes-bamboo-sandalwood-plantation-854020.html

Plantation teak
Traders report some plantation teak shipments have started
to arrive and are being transported to end-users. At
present there are no reported changes in the price range for
logs. C&F rates for Indian ports from various other
sources continue within the same range as given earlier.

Locally sawn hardwood prices
As most of the sawnwood markets are yet to reopen there
has not been any change in prices.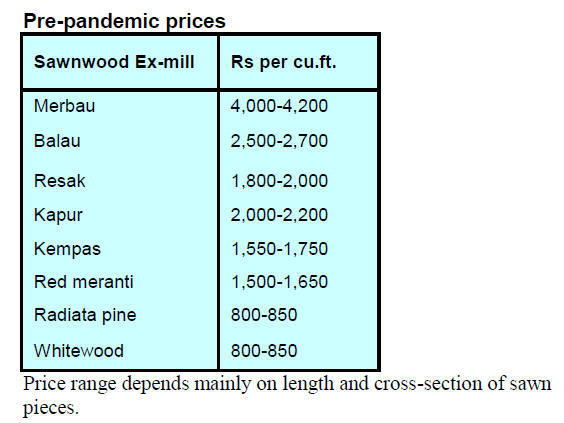 Myanmar teak prices
For the time being trade in imported Myanmar teak has
stopped.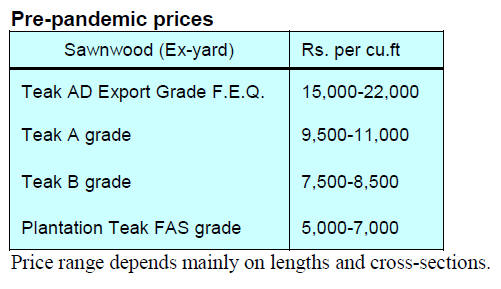 Sawn hardwood prices
Production at most manufacturing units has not resumed
and sales are virtually non-existent.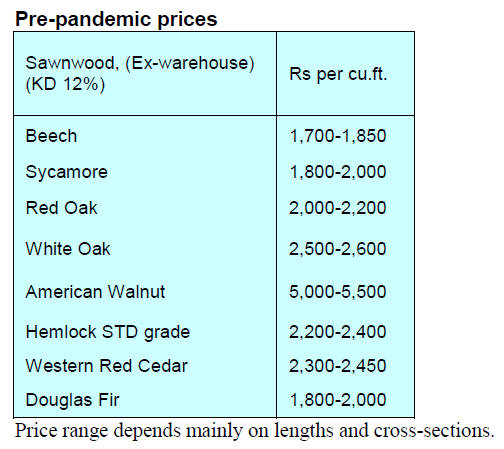 Plywood
Plywood production and sales of plywood have resumed
in many places as India adopts its 'Phase-1 of Mission
Begin'. Where production has resumed, sales are reported
to be about 40% of pre-pandemic levels. While demand
has started to rise analysts report the biggest problem
facing manufactures is finding workers.

As raw material costs are starting to rise manufacturers are
talking about a possible 5- 7% price increase but, under
the current weak market conditions, have decided to wait.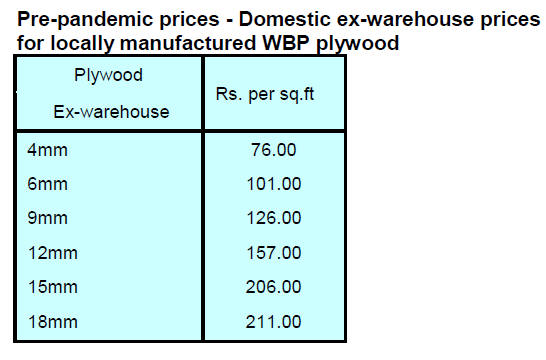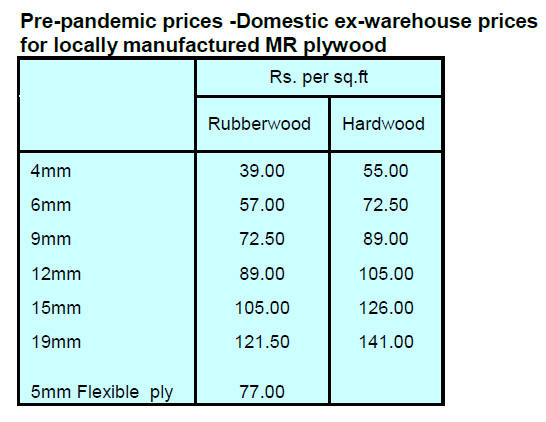 7. VIETNAM
Woodchip prices crash – weak demand in Japan blamed
Woodchip producers in many provinces of Vietnam are
suffering from rapidly declining prices. Last year the
average price of woodchips exported from Vietnam was
around US$128/BDT while in the first half of 2020 this had
dropped to between US$116 – 120/BDT.

The main reasons for the slump in price are said to be weak
demand in the Japanese market as the pulp and paper
industry in Japan has cut production due to lower falling
domestic demand and the actions of Chinese importers who
have grasped the opportunity to force down prices.

Japan and China together account for around 90% of
woodchip exports from Vietnam.

In response, some Vietnamese enterprises are restructuring
their business to produce wood-based panels (laminated
boards/MDF) or furniture making. Last year Vietnam
exported about 13 million BDT of woodchips and earned
US$1.7 billion.

See: https://zingnews.vn/dam-go-e-am-chat-cao-nhu-nuipost1086257.html

Foreign investors pump millions into plywood sector
According to the General Department of Foreign Investment
in the years between 2015 and the first half of 2020 Vietnam
approved investment from 11 countries in 53 plywood
projects worth US$243 million.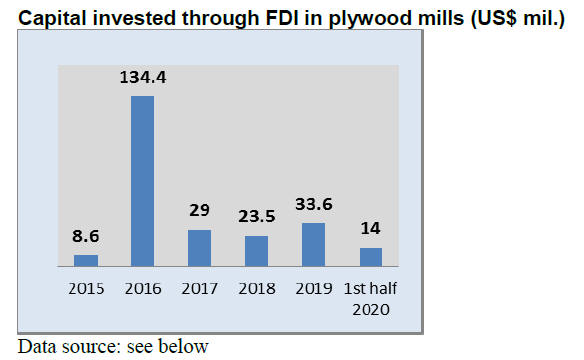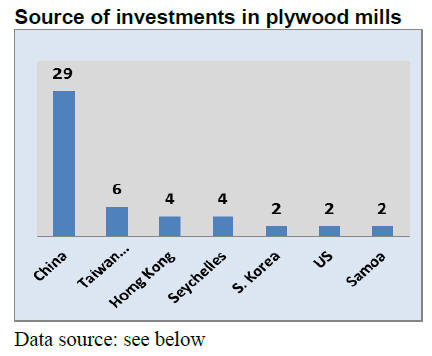 Data source: VIFOREST, FOREST TREND, HAWA, BIFA,
FPA Binh Dinh, DOWA: Vietnam's plywood industry - Current
status and countermeasures to mitigate risks and strengthen
sustainable development

In 2019 Vietnam exported 2.03 million cubic metres of
plywood and earned US$685.4 million equivalent to 7% of
all wood and wood product exports. In spite of the
pandemic, in the first six months of this year Vietnam has
exported 0.90 million cubic metres of plywood earning
US$287 million, an increase of 14% year on year.

Plantation target steadily achieving
During the first 6 months of 2020, Vietnam planted
106,300 ha. of commercial tree plantations which was
around 48% of the plantation target for the year. The total
re-afforested area planned for 2020 is 220,000 ha.

Suspicions that Chinese components used in 'Made in
Vietnam' wood products
The United States Department of Commerce has launched
an investigation into whether certain hardwood plywood
products completed in Vietnam are using components
sourced in China.

See:
https://www.federalregister.gov/documents/2020/06/17/2020-13075/certain-hardwood-plywood-products-from-the-peoplesrepublic-of-china-initiation-of

The investigation is looking into whether components
from China such as assembled cores, multi-ply core panels
or individual core veneers are being combined in Vietnam
with other components such as face and/or back veneers
produced in Vietnam or a third country to circumventing
antidumping and countervailing duty orders on plywood
from China.

A Notice by the International Trade Administration on 17
June 2020 says: "In response to allegations of
circumvention from the Coalition for Fair Trade in
Hardwood Plywood (the petitioner), the Department of
Commerce (Commerce) is initiating country-wide anticircumvention
inquiries to determine whether certain
hardwood plywood products (plywood) completed in
Vietnam using plywood components (face veneer, back
veneer, and/or either an assembled core or individual core
veneers) manufactured in the People's Republic of China
(China), or Chinese components (assembled cores, multi9
ply core panels, or individual core veneers) combined in
Vietnam with other components (face and/or back
veneers) manufactured in Vietnam or third countries, are
circumventing the antidumping duty (AD) and
countervailing duty (CVD) orders on plywood from
China."
8. BRAZIL
Floresta+ Programme encourages preservation of native forests
On 3 July this year the Ministry of the Environment
(MMA) adopted the 'Forest+ Program' (Programa
Floresta+) through an Administrative Ordinance n°
288/20. This ordinance aims to strengthen the preservation
of the Brazilian natural forest.

The initial project activities will be carried out in the Legal
Amazon covering all nine states in the Amazon basin.
Around R$500 million from the Green Climate Fund will
be earmarked for activities that improve, conserve and
recover natural forests.

The programme is aimed at supporting individuals, legal
entities, community groups and others who conduct
environmental service activities in areas of natural
vegetation or support natural forest recovery. According to
the MMA this is the largest programme of payments for
environmental services in the world.

The Administrative Ordinance says that monitoring,
surveillance, firefighting, research, tree planting,
environmental inventory and agroforestry systems are
considered environmental services that bring effective and
relevant results for the improvement, conservation and
protection of natural vegetation.

The next steps in the 'Forest+ Program' involve the
definition of methodology, valuation and verification of
environmental services, the creation of the National
Register of Environmental Services and regulations
governing payment for environmental services.

May furniture output reverses much of earlier losses
In May 2020 industrial production of furniture expanded
7% compared to April, reversing two consecutive months
of declines (-9% in March and -19% in April). In contrast
overall industrial production in May fell over 20%, the
second highest drop since records were kept.

The May result, however, was not enough to overcome the
accumulated decline in furniture production for the year
to-date, which went from -18% to -22% from April to
May.

Possible impact of new NAFTA
On 1 July 2020 the new agreement between the US,
Mexico and Canada (USMCA) came into force replacing
the North American Free Trade Agreement (NAFTA). The
Brazilian Business Coalition (Coalizão Empresarial
Brasileira - CEB), has published a report on the new
agreement.
According to the Coalition, the USMCA signatories
account for 17% (US$225.4 billion) of Brazilian exports
and 21% (US$177.3 billion) of Brazilian imports.

The Coalition underlined some of the possible impacts for
Brazil:
-- as free trade was maintained, Brazilian
companies with operations in Mexico or in the
US will not suffer increased costs with any new
tariffs;
 --rules of origin have become less flexible,
reinforcing verification and certification of
origin;
 --Expanded rules for sanitary and phytosanitary
measures based on science;
 --and uncertainties regarding the potential of the
Brazil-Mexico trade given that the US
government said that Mexico is committed to
buying US agricultural

Among the main changes in the agricultural and
environmental sectors the CEB report highlights the
following:
-- maintenance of zero tariffs for agricultural goods;
-- reducing export subsidies and increasing
transparency in this area
-- increasing the effectiveness of customs
inspections checking wild flora at ports of entry
 --creation of robust and modern mechanisms for
public participation and environmental
cooperation
 --support for sustainable forest management

US, the top export market for Bento Gonçalves
furniture cluster
Data from the Special Secretariat for Foreign Trade and
International Affairs analysed by the Furniture Industry
Association of Bento Gonçalves (Sindmóveis) shows that
in the first half of 2020 the furniture cluster of Bento
Gonçalves, Brazil's main furniture cluster, saw a 10%
decline in exports to US$19 million.

Exports from Rio Grande do Sul fell by 22% and for all of
Brazil the drop was 17% between January and June 2020.
However, among exports to the other main markets by the
Bento Gonçalves furniture cluster there was growth in
exports to Colombia, Peru and the United Kingdom.

According to Sindmóveis, companies operating through ecommerce
were the least affected by the pandemic and
some earned more than in the same period of last year.

For the domestic and foreign markets furniture sales by the
furniture cluster of Bento Gonçalves dropped 9.5% and by
11% for manufacturers in Rio Grande do Sul. Sindmóveis
anticipates there will be significant declines reported in the
coming months but by the end of the year business should
be improving.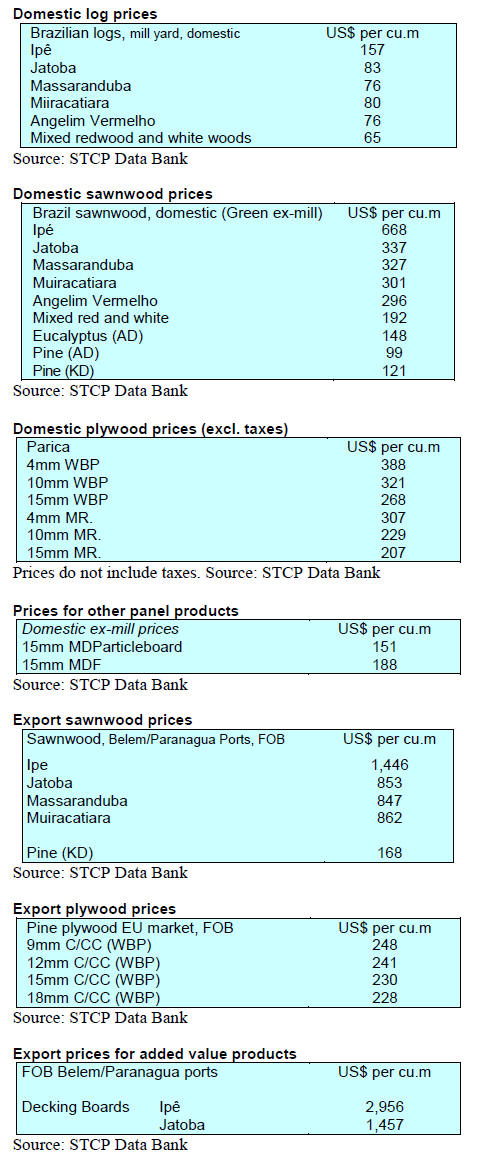 9. PERU
Lockdown lifted
On 16 March Peru implemented a lockdown at a time
when there were less than 100 coronavirus cases in the
country. Despite the quick action by the government, Peru
now has the third-highest number of cases in the
Americas, after the US and Brazil.

On 30 June the government revised the lockdown
switching to what it calls"Phase 3" of its economic
recovery. Now Stores can open with 50% customer
capacity, restaurants but not bars can open with 40%
customer capacity and hotels and travel agencies are
allowed to operate. Before reopening, businesses must
present their public health plan to the Peruvian authorities
and await approval.

In related news, the president of the Association of
Exporters (ADEX), Erik Fischer Llanos, welcomed the
decision of the government allowing full resumption of
external trade activities as this will help revive the
economy.

Export update
The Exporters Association (ADEX) has reported that
between January and April, wood product exports were
down around 35% to US$26.5 million FOB. In the same
period last year exports were worth US$41 million.
In the same 4 month period exports of semi-manufactured
products accounted for over half of all export but saw a
45% decline year on year.

Sawnwood exports accounted for over 30% of export
earnings and surprisingly 2020 earnings were over 20%
higher than in 2019. In contrast, export earnings from
veneer and plywood dropped over 25%.

Of the US$26.5 million exported in the first 4 months of
this year China continued to be the main market
accounting for around 40% of all wood product exports
(mainly sawnwood). But, the value of earnings from China
in 2020 was down over 20% compared to the same period
in 2019.

Mexico was the second largest market at 11% of exports
but here the value of exports dropped over 30%. France
and the United States are in third and fourth placed
markets and in both the decline in export sales was well
over 50%.

Deforestation in Peruvian Amazon slowed during
lockdown
During the period of mandatory social isolation decreed by
the government as a preventive measure to COVID-19 the
Ministry of the Environment, quoting the Early
Deforestation Alerts (ATD) of the National Forest
Conservation Programme, has reported that deforestation
in the Amazon forests in the country dropped year on year
by almost 30%.

It is reported that in the period from the start of the
lockdown up to May, 7,000 hectares of forest loss was
identified. The Ucayali region had the greatest loss, says
the Ministry.