US Dollar Exchange Rates of 25th June 2020
China Yuan 7.0811
Report from China


Housing demand recovering but not retail sales
China's housing market crashed in the first quarter of 2020
due to the impact of the corona virus lockdown but began
a recovery in April which continued steadily into May.

Data from the National Bureau of Statistics shows that
house prices firmed in most of the major cities in May. In
Beijing, Shanghai, Shenzhen and Guangzhou May new
home prices rose almost 1% month-on-month. In the
¡®second and third-tier¡¯ cities prices rose but by a little less
than in the main cities.

In May, prices of pre-owned home in the main cities rose
just over 1% month-on-month and increases were reported
in the second and third tier cities.

The National Bureau of Statistics press release on real
estate sales up to May says investments in housing
developments continued to grow but were still slightly
down year on year.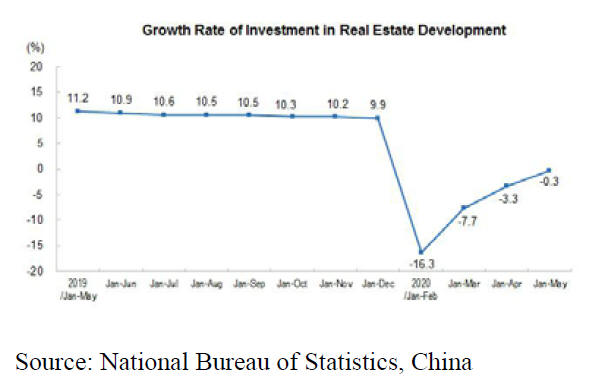 See:
http://www.stats.gov.cn/english/PressRelease/202006/t20200616_1760454.html

The other positive news is that retail sales are continuing
to grow from the low in the first months of this year but
May sales are still down around 3% year on year. The
home furnishings retail sector has been badly impacted
and year on year May sales of home furnishings were
down over 17%.

See:
http://www.stats.gov.cn/english/PressRelease/202006/t20200616_1760480.html

New Solid Waste pollution law released
A revised law on Prevention and Control of Environment
Pollution Caused by Solid Waste will become effective 1
September 2020. This law will help speed progress zero
import of solid waste. The law increases penalties for noncompliance
with solid waste management regulations to a
maximum of RMB5 million.

See: http://www.cwp.org.cn/vip_doc/17559795.html

Pests found in shipments of logs from Canada
Reports are circulating that some port authorities in China
have detected harmful organisms in imported Canadian
logs. China has requested the Canada authorities to
investigate and take measures to resolve the issue.

The authorities in Canada say they received 16
notifications of non-compliance from China related to the
discovery of pests in some shipments of hardwood and
softwood logs and is investigating.

See: http://www.msn.com/en-xl/asia/top-stories/china-askscanada-to-investigate-pests-found-in-logs/ar-BB15BaO9?li=BB12J0nL

2020 Building Decorations and Materials Exhibition
postponed
With the corona virus rebound in China and with Beijing
becoming country's highest-risk location, the orgainsers of
the 2020 China (Beijing) International Building
Decorations and Materials Exhibition decided to postpone
the event until March 2021.

The organisers pledged to maintain communication with
exhibitors and to develop online promotion to ensure the
2021 event is a success.

Guangdong tops forest industry output again
The value of output by the forestry industries in
Guangdong has maintained it number one position for the
11th consecutive year.

It has been reported that the value of forest industry output
in Guangdong Province in 2019 rose 79% to RMB841.6
billion, increasing RMB372.5 billion over 2018. The value
of forestry industry output exceeded RMB100 billion in
Guangzhou, Shenzhen, Foshan and Dongguan cities.

The area of forest cover in Guangdong Province stands at
almost 59% and the forest standing volume is estimated at
over 570 million cubic metres. Forest products industries
have a long traditional in Guangdong and there have been
rapid developments in recent years.

The output value of woodbased panels, furniture, wood
(bamboo) flooring, woodbased pulp, paper and rosin has
been among the highest in the country for many years. The
output value of the secondary industry, represented by
furniture, wood bamboo flooring and paper making was
RMB544.6 billion in 2019.

The Province has established more than 110 large scale
forest products markets for offline sales and logistics
trading platforms have been established to support the
forestry sector develop large scale, intensively managed
and professionalism.

See: https://gzdaily.dayoo.com/pc/html/2020-06/21/content_131548_705874.htm

Rubbewood centre established in Nankang
A China Wood Value Promotion and Sustainable
Development Center and a rubber wood industry alliance
have come together to establish a RubberWood Scientific,
Research and Culture Center in Ganzhou City, Jiangxi
Province, a manufacturing centre for home furnishing.

The new Center will support and strengthen the Nankang
furniture industry clusters, promote the development of the
rubberwood furniture industry and extend the advantages
of the area.

The Center will research the distribution of global
rubberwood resources, the status and characteristics of
rubberwood in China as well as the relationship between
the development of the rubberwood industry and the
national "Belt and Road" initiative.