Japan Wood Products Prices
Dollar Exchange Rates of 25th June 2020
Japan Yen 107.157

Reports From Japan

Economy in an ¡°extremely severe situation¡±
In the period January and March the government
confidently described the economy as ¡®recovering
moderately but quickly reversed that view as infections
spread and a lockdown became inevitable.

By May the government said that private consumption was
¡°decreasing rapidly,¡± the result of the ¡®stay-home¡¯
recommendation.

The most recent pronouncement from the Cabinet Office
said ¡°The economy is still in an extremely severe situation
due to the novel coronavirus but the decline in business
activity has slowed in response to improving private
consumption¡±. However, as of June, private consumption
was well below normal and businesses are still facing the
challenge of recovery.

see
https://www.japantimes.co.jp/news/2020/06/19/business/economy-business/economics-worsening-coronavirus/#.XvVdovIzbIU

Two economic pillars, exports and tourism badly
dented
Data from the Ministry of Finance shows Japan's exports
declined almost 30% in May and imports dropped 26% as
global growth was undermined by the pandemic. May was
the second consecutive month Japan recorded a trade
deficit.

Economic growth in Japan relies on two pillars, trade and
tourism. Both international and domestic tourism has been
brought to a halt by the travel, stay-home and socialdistancing
restrictions aimed at curbing the spread of
COVID-19 and trade with major partners has fallen
sharply.

Exports to the US dropped more than 50% and to
Australia dropped 59%. Imports from the US fell around
28% while those from Australia were down 29%. In
contrast, in May trade with China had started to recover.

Retail sales slow to recover
Consumer sentiment has not recovered in Japan and May
retail sales were down again illustrating the impact the
pandemic lockdown measures had on consumer
confidence. The continued downturn could result in the
economy stuck in recession longer than forecast.

Retail sales fell 12% year on year in May as consumers
shunned major purchase on items such as cars, household
furniture and even clothing. The drop in May followed an
almost 14% drop in April.

The government hoped private spending, which accounts
for more than half of the economy, would recover
especially as it is in the process of handing out Yen
100,000 to every resident in the country.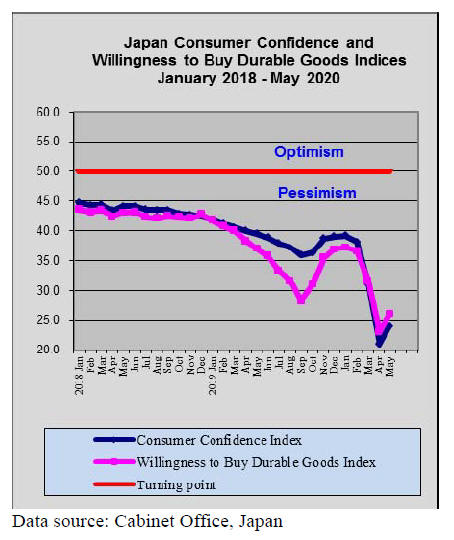 Changing work styles
The Japan Times has reported a recent survey that most
respondents would be in favor of telecommuting (working
from home) even after the coronavirus is contained. The
main reason cited was the chance to eliminate the stress
from commuting. Another reason stated was this would
allow them to live and work from places with cheaper
housing.

On the down-side, respondents said one problem with
remote work is that there are somethings that can only be
done in the office and some said they would miss the
workplace interaction. Several of the major companies
have indicated they will continue with work-from-home
arrangements even when the emergency is over.

See:
https://www.japantimes.co.jp/news/2020/06/22/business/japantelecommuting-continue/#.XvLguO0zbIU

Rising uncertainty and weakening fundamentals - the
formula for yen volatility
Demand for a safe haven could, once again, fuel a
strengthening of the yen driven by an unchecked rise in
coronavirus cases especially in the US and escalating
global trade tensions.

Tensions between the United States and its major trading
partners have pushed risk aversion to the fore as the
possibility of imposition of US$3.1 billion of tariffs on EU
imports is possible. Rising uncertainty and weakening
fundamentals are the formula for currency volatility and a
rush to ¡®safe-haven¡¯ yen but at present the yen/dollar
exchange rate has remained stable at around Yen 107 to
the dollar.
Decline in orders reported by house builders
Major house builders in Japan are seeing orders decline
while builders of low cost homes have not experienced
this according to the Japan Lumber Reports.

Immediately the corona virus outbreak emerged in Japan
almost all builders stopped their active sales campaigns
and switched to alternative promotion strategies.

May 2020 housing starts fell 20% year on year but having
achieved 80% of year on year starts at the height of the
pandemic is a remarkable achievement.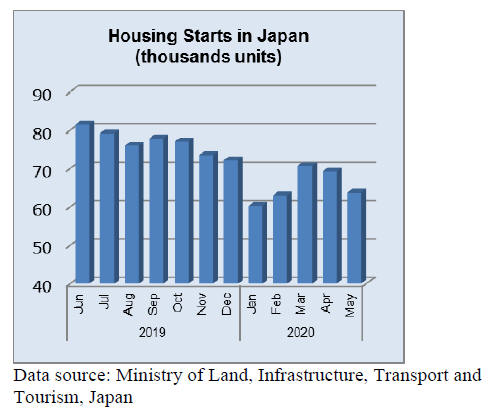 Import update

Wooden door imports
Year on year, the value of wooden door imports in April
dropped a further 16% adding to the year on year decline
seen in March. April import values for wooden doors
(HS441820) dipped 8% from March.

As in previous months shippers in China and the
Philippines dominated Japan¡¯s April 2020 imports of
wooden doors (HS441820). The main shipper, China
accounted for a massive 70% of total door imports, up
sharply from the 47% in March.

Shippers in the Philippines saw a decline in market share
in April slipping to just 11% from the 24% contribution in
March. The third largest shipper in April was Indonesia
which contributed a further 9% to all wooden door
imports.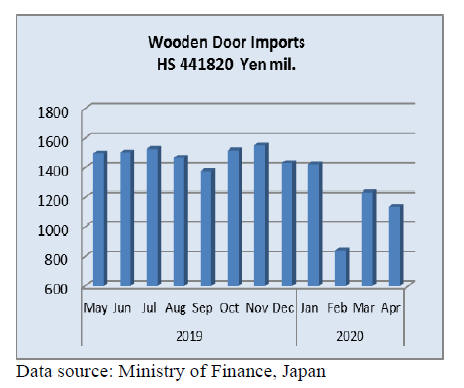 Wooden window imports
The value of wooden windows (HS441810) imports into
Japan in the first four months of 2020 mirrors the trend
seen with wooden door imports, a steep decline in
February followed by a recovery in March and then a
slight drop in April.

Year on year, April window imports continued the
downward trend observed this year. The value of April
imports was 16% below that of April 2019 and month on
moth there was a 4% decline.

Shipments from manufacturers in China took a large share
of imports in April, rising to 45% from the 39% in March.
Imports from the US, the second largest shipper in April
were at the same level as in March but it was shippers in
the Philippines which saw a sharp decline in shipments,
dropping to just 8% in April from 18% in March.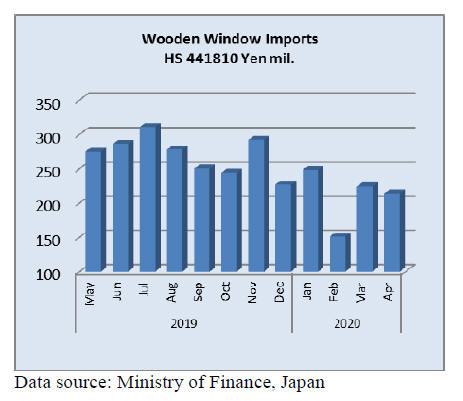 Assembled wooden flooring imports
In both February and March there was a decline in the
value of month on month imports of assembled wooden
flooring (HS441871-79) but in April there was a
correction bringing the total value of imports back up to
the levels observed of the past months. Year on year the
value of April assembled wooden flooring imports were
flat but month on moth there was a huge 64% increase.

Two categories of imports HS441875 and HS441879
accounted for most of the flooring imports. The largest
value of imports was of HS441875 (66% of imports)
followed by HS441879 (25% of imports). Manufacturers
in China accounted for most of the HS441875 while
imports of HS441879 were fairly even split between
Australia (an unexpected source), Indonesia and China.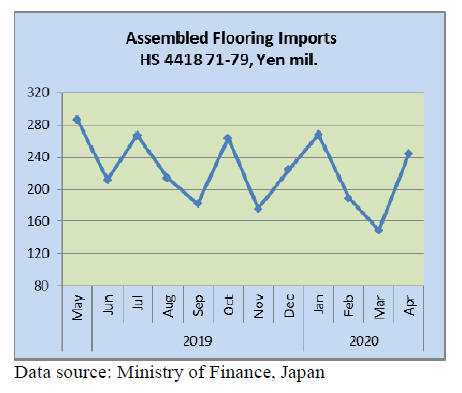 Plywood imports
Over the 12 months to April 2020 there has been a slight
increase in Japan¡¯s imports of plywood from the top three
shippers, Indonesia, Malaysia and China. However, April
import volumes were 10% less than in April 2019 but held
steady compared to the volumes that arrived in March.

Indonesia and Malaysia are the top shippers of plywood to
Japan accounting for over 80% of all plywood imports. In
April arrivals from Indonsia were at the same level as in
March but arrivals from Malaysia dipped 11%.

China is the third ranked plywood supplier to Japan and in
April shipments almost doubled. Exporters in Vietnam
have a consistent market share in Japan and in April
shipments of plywood rose around 10% month on month.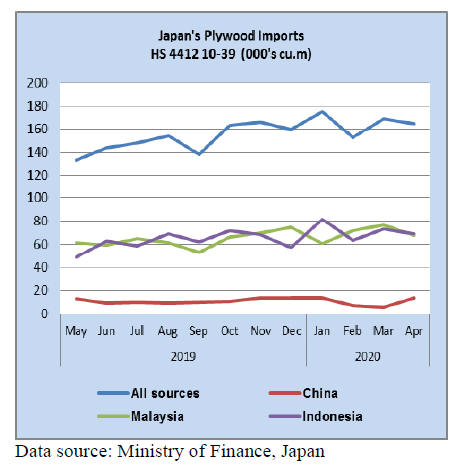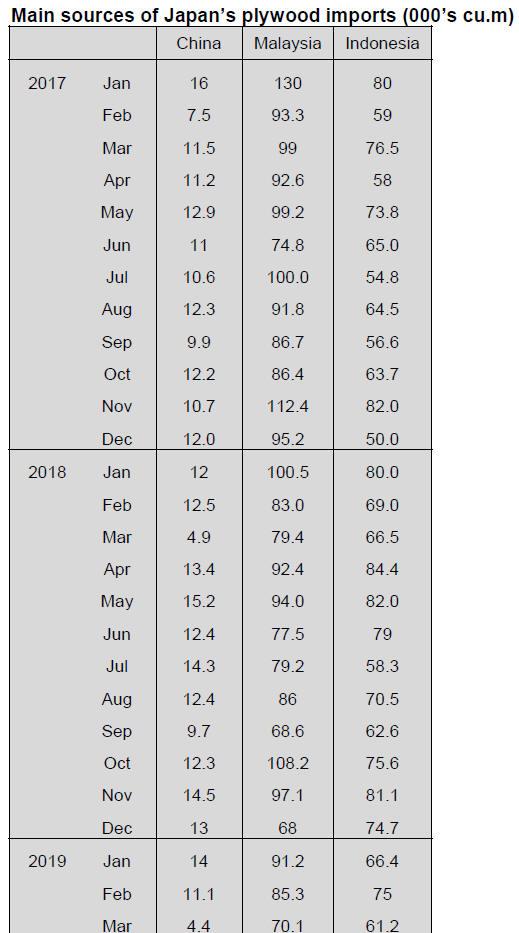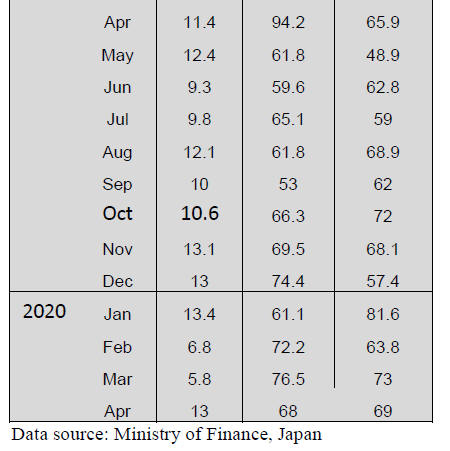 Trade news from the Japan Lumber Reports (JLR)
The Japan Lumber Reports (JLR), a subscription trade
journal published every two weeks in English, is
generously allowing the ITTO Tropical Timber Market
Report to reproduce news on the Japanese market
precisely as it appears in the JLR.

For the JLR report please see:
http://www.nmokuzai.com/modules/general/index.php?id=7

Plywood manufacturers hold prices
Softwood plywood manufacturers have been reducing the
production and try not to accept low offers.

The inventory is 1,100 cbms less to 173,600 cbms.
Trading firms and wholesalers are becoming bearish by
stagnating movement of building materials after the state
of emergency was announced to stop infection of corona
virus in April. Plywood manufacturers are considering to
reduce the production further to stop skidding of the
market.

Average monthly production of softwood plywood in the
first quarter was 257,500 cbms then April was down to
231,900 cbms. April movement was not so active but
precutting plants held the same pace of operation so orders
were normal and the prices were held up but in May,
precutting plants started reducing purchase volume with
weak outlook in coming months.

Sales activities by trading firms and wholesalers are
largely restricted of face to face negotiations so that only
means now is by telephone or e-mail.

Market prices are weaker now at about 990 yen per sheet
delivered on 12 mm 3x6 , about 10 yen lower and
wholesalers say that it is now difficult to get over 1,000
yen per sheet on 12 mm 3x6. 24 mm 3x6 panel prices are
also down by 20 yen at about 2,000 yen.

Plywood logs
Domestic plywood manufacturers had been increasing the
production for last five years, supported by active demand.
Softwood plywood production in 2019 was 3,200,200
cbms.

This is increase of 631,200 cbms in five years. Log
consumption has been climbing with increased production.
In 2019, total logs consumed for plywood manufacturing
was 5,448,000 cbms, 1,230,000 cbms increase in five
years. In this, domestic logs are 4,745,000 cbms, increase
of 1,389,000 cbms.

Imported logs used for plywood manufacturing are
703,000 cbms, increase of 161,000 cbms. Share of
domestic logs for plywood manufacturing is now 87.1%.

Logs for plywood manufacturing were South Sea
hardwood logs in 1960s then after the resources of tropical
hardwood declined, use of softwood logs such as Russian
larch became dominant in 1970s and on together with New
Zealand radiate pine logs and North American species.

Supply of imported logs fluctuated by supplying countries¡¯
situation and the cost also fluctuated by yen¡¯s exchange
rate. In these days, use of domestic softwood logs was
difficult by various technical reasons but such problems
were solved by technical advance.

Plywood plants used to locate ocean harbor, handy to
accept imported logs brought by ocean going ships but
recent newly built plywood mills are all located inland,
convenient location to collect nearby local logs.

Mills¡¯ production capacity is based on collectable log
volume from nearby timberland to save long transportation
cost. In other words, plywood mills¡¯ concern is stable
supply of logs so the mills make agreement of logs supply
with log suppliers and forest unions in an effort to
establish stable supply sources.

Another concern is stable supply of minor species like
larch, cypress and fir. Supply of these species fluctuate by
season and has high risk of natural disaster. In October last
year, strong typhoon with heavy rain hit Nagano area and
damages the forest in the area and larch supply got very
tight.

As to imported species, supply of plywood logs continues
tight. Russian larch logs are imposed high export duty.
South Sea hardwood log supply is restricted by
environmental reasons. Canadian Douglas fir logs are not
available after the major log supplier, Mosaic Forest
Management stopped harvest by low market prices of logs.

The fundamental plan of forest and forestry set by the
government requests to expand annual log consumption by
plywood mills to 6,000 M cbms by 2025. For this,
plywood mills feel that it is possible if demand of nonstructural
plywood and of thick structural panel increases.

Actually, plywood mills succeeded to expand the market
of thick 24 and 28 mm structural panels for sheathing. In
last few years, demand of non-structural panels such as
softwood floor base and softwood coated concrete forming
panel has increased. These products used to be made of
tropical hardwood plywood but the supply from South Sea
countries continues to decline year after year so the
composite floor manufacturers have to look for
substituting materials.

By unexpected incident of corona virus outbreak since
early this year, economic activities have been stagnated
and plywood mills started production curtailment since
last March so production expansion is facing difficult time.

Plywood
Both domestic and imported plywood market is inactive.
With uncertain future market, users limit purchase volume
at minimum and not to carry.

inventory. Face to face sales negotiations are prohibited,
sales keep dropping week after week. Market atmosphere
is getting pessimistic.

Domestic softwood plywood market is becoming bearish.
Sales activities became difficult after the state of
emergency was declared in April so movement of all
building materials get slow. Market prices are holding but
salesmen tend to accept low offers.

Precutting plants are losing orders of custom built units
but builders are relatively stable so amount of orders
precutting plants is not dropping so much yet but they feel
uneasiness to future orders.

Plywood manufacturers¡¯ inventory has been held down by
production curtailment since April. They try to produce
what the market demands.

The movement of imported plywood gets slower. Large
construction companies stopped construction works in
April but restarted in late May but movement of concrete
forming panels is sluggish. There is mixed information as
to actual construction works so it is hard to grasp actual
situation.

There are two different opinions as to imported plywood.
One is shortage may occur by supply tightness. Another is
surplus may occur by sharp demand drop. With such
uncertain future market, it is hard to place new orders.

Orders for house builders in April
House builders, which offer low cost houses, had more
orders in April than last year. Other major house builders
suffer declining orders so this makes clear difference
between large builders and smaller builders. Both large
builders and smaller builders stopped direct sales
campaign after corona virus outbreak but there are
difference of management of house exhibition sites, price
range and main market regions.