4. INDONESIA
Welcome increase in timber exports to China
Wood product exports to China between January and May
this year increased despite the pandemic. Indroyono
Soesilo, Chairman of the Association of Indonesian Forest
Concessionaires (APHI), suggested that this was because
Indonesia has a niche market in China. The products
exported included high quality plywood, paper products,
handicrafts, chips and builders' woodwork.

Wood product exports to China for the first 5 months of
2020 were worth US$1.143 billion up around 1% from the
same period last year. However, the overall value of wood
product exports January to May 2020 fell 8%.

See:
https://www.kabarbisnis.com/read/28100364/china-jadipenyelamat-ekspor-produk-kayu-ri-di-tengah-pandemi

Indonesia's exports and imports plunged at a rate not seen
since the 2009 financial crisis. The impact on the economy
has been severe and calls have been made for a reduction
in interest rates to slow the slide.

May exports totalled around US$11 billon an almost 30%
decline year on year. Imports have also been hit hard
dropping over 40% year on year in May.

Foreign investment in furniture sector continues
The Secretary General of the Indonesian Furniture and
Crafts Industry Association (HIMKI), Abdul Sobur, said
Indonesia is attracting investment in the furniture sector by
Chinese companies and this is expected to continue and
will help the country recover from the impact of the
pandemic.

According to Sobur, there have been investments by
Chinese enterprises in Central Java, West Java and there
are prospects for investments in Batam. Exports are the
main business for around 85% of the HIMKI members.

The Central Statistics Agency reported furniture and parts
exports fell from US$507 million in the first 4 months of
2019 to US$498 million in the same period this year.

In addition to attracting foreign investment Sobur said that
domestic furniture manufacturers had introduced
significant production efficiencies to survive the pandemic
such as raising labour productivity, efficient marketing,
reduction of energy use and reducing transaction costs.

See:
https://ekonomi.bisnis.com/read/20200616/257/1253505/peluang-investasi-asing-mebel-ditingkatkan

East Kalimantan plywood a favourite in Middle East
markets
Between January and June this year data from the
Balikpapan Agricultural Quarantine office shows that
manufacturers in East Kalimantan shipped wood products
42 times to the Middle East.

The Quarantine Agency issued six phytosanitary
certificates for plywood to be shipped to the Middle East
mainly to the United Arab Emirates (UAE) and Oman.

See: https://www.medcom.id/ekonomi/bisnis/PNgW367N-kayulapis-kaltim-disukai-pasar-timur-tengah

National Forestry Council Strengthened
The National Forestry Council (DKN) is charged with
strengthening supervision of the Ministry of Environment
and Forestry (KLHK) policies. The Chairman of the
Presidium of the DKN, Bambang Hendroyono, said the
DKN is a strategic partner of the Ministry of Forestry and
its members are foresters.

The DKN consists of five chambers, government,
community, non-governmental organization (NGO),
business chamber and an academic chamber.

Bambang said he hopes the DKN can contribute through
providing advice and input to develop of government
forest policies such as those related to forest governance,
forest management, accelerating social forestry and
community empowerment including conflict resolution,
adapting to climate change and revitalising forestry
businesses.

Tech boost to boost trade and investment
As economic growth slowed because of the coronavirus
pandemic Indonesia has begun digitalising some
administrative processes to make trade and investment
easier.

For example, Australian exporters can now use electronic
certificates of origin in order to claim free trade agreement
entry for goods shipped to Indonesia, a move welcomed
by the Australian Trade and Investment Commission
(Austrade) according to Sally Deane a senior trade
commissioner for Austrade.

Indonesia and Australia are signatories to the
Comprehensive Economic Partnership Agreement (IACEPA),
which enters into force on 5 July this year.

Deane said that both governments should expand the use
of digital channels to allow the business communities in
each country to enjoy virtual business matching or product
showcasing as currently international travel is restricted.

See: https://www.thejakartapost.com/news/2020/06/24/ridigitalizes-trade-investment-to-spur-economy-amidpandemic.html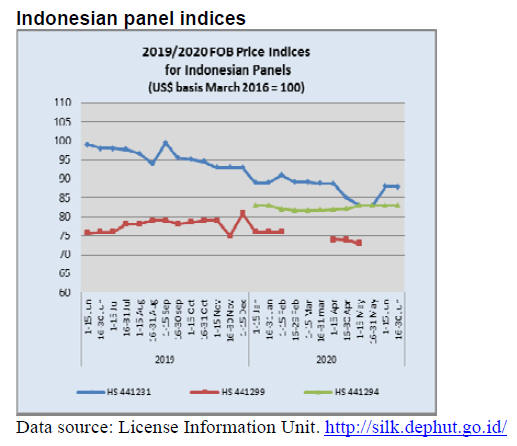 5. MYANMAR
Myanmar extends virus control measures
The government has announced the pandemic control
measures will remain in place until 15 July. This is the
fifth time the control measures have been extended since
they were first introduced in April.

Myanmar has reported a total of 293 cases up to 27 June.
The most recent cases detected over the past several weeks
have been in returnees who are now undergoing
quarantine.

Unemployment
The Ministry of Labor, Immigration and Population
(MOLIP) has said around 250,000 Myanmar workers have
lost their jobs due to the pandemic both locally and
internationally adding that more than 110,000 Myanmar
workers returned from overseas after losing their jobs. The
ministry found work for many returnees in those industries
that have managed to resume operations.

See: https://www.irrawaddy.com/news/burma/quarter-millionmyanmar-workers-left-jobless-due-covid-19.html

Loans to Businesses
The Economic Remedy Committee for Businesses
affected by COVID-19 has granted loans valued at around
US$6.3 to 290 businesses affected by pandemic. In
addition, the ministry has postponed the deadline for the
payment of income tax and commercial tax to 30
September.

Industrial parks authority established
A long-awaited law governing industrial parks that
establishes a new regulatory body with real powers is
aimed at punishing polluters and eliminating land
speculation. Observers comment that a better understand
of the scope of the new initiative will only become clear
the accompanying regulations are known. Myanmar has
more than 60 industrial zones across the country.

See: https://www.mmtimes.com/news/myanmar-revampgovernance-industrial-zones-under-new-law.html

'New'normal' MTE tender sales
The Myanma Timber Enterprise (MTE) through its Wood
Base Industry Department has decided to conduct tender
sales via electronic bidding for hardwood veneer. The
MTE has not sold any logs for the past four months and
the processing industries are very short of raw materials.

It is not yet clear when the Export Marketing and Milling
Department (EMMD) will conduct tender sales for logs as
restrictions on commercial activities have been extended
to 15 July.

There are three departments under MTE:
 The Export Marketing and Milling Department
(EMMD) is selling logs in US dollars to domestic
mills for processing for export;
 The Local Marketing and Milling Department
(LMMD) is selling logs in local currency for
milling for domestic consumption;
 The Wood Base Industry Department is selling
some value-added products such as veneer but
not regularly.

The EMMD usually conducts sales in the third or last
week of every month. However, it is not yet clear how
harvesting has been affected. Initially, MTE set the harvest
10,000 HTs of teak and 285,000 HTs of other hardwood
for 2019-20.

Previously MTE announced that its harvesting capacity
was not enough to harvest the total quantity of 295,000
HTs so will use the private sector under strict terms and
conditions.

National forest monitoring project
The Governments of Myanmar and Finland recently
launched a project to allow for monitoring of forests in a
manner that is sensitive to local conditions. The five-year
project will be led by FAO with financial support from the
Government of Finland.

The Finnish Ambassador said "forest monitoring is part of
Finland's support for Myanmar to mitigate and adapt to
climate change. It is important that conflict sensitivity and
human rights remain in the core of the forest monitoring
work in order to ensure that it benefits all people,
including ethnic minorities.

Building a conflict sensitive and a human rights-based
methodology to forest monitoring is a key target during
the first phase of the program. This includes answering
questions on openness of data and building trust between
the villagers and forest authorities on the use of data."

See: http://www.fao.org/news/story/en/item/1293235/icode/

Revised growth forecast
The latest report from the World Bank says Myanmar's
economic growth could drop to 0.5% this fiscal year as the
country has been severely hit by the impact of the
pandemic.

According to the Bank if Myanmar controls the domestic
spread of the coronavirus and the global economy swiftly
recovers GDP growth could recover in the 2020-21 fiscal
year. The Bank warned exports will likely remain weak
for the rest of the fiscal year due to supply chain
disruptions and weak international.

Investment policy review
Myanmar has finalised its second Investment Policy
Review (IPR) with the help of the Organization for
Economic Cooperation and Development (OECD). This
has identified policy reforms to make the country a more
attractive destination for investment for both foreign and
local investors.

Myanmar faced a significant decline in foreign investment
from US$9.5 billion in fiscal 2015-16 to US$6.6 billion in
2016-17 and US$5.7 billion in 2017-18 after Western
investors turned away from the country due to the Rakhine
crisis.

See: https://www.mmtimes.com/news/govt-allocate-k15-trillioncovid-19-support-next-year.html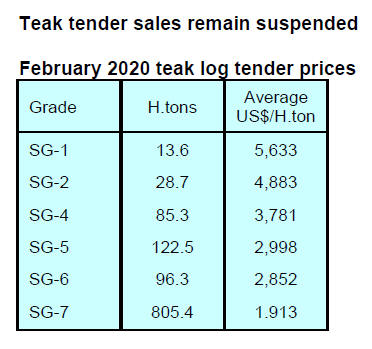 6. INDIA
Falling prices – interest rate cuts likely
Wholesale prices in India fell over 3% in May according
to the Ministry of Commerce, much faster than anticipated
as the economy contracted for the first time in decades
because of the coronavirus pandemic.

Behind the decline was weak consumer demand and in an
effort to support the economy the Reserve Bank of India is
expected to review interest rates.

See:
https://economictimes.indiatimes.com/news/economy/policy/indias-falling-prices-give-rbi-room-to-ease-policyfurther/articleshow/76383901.cms?utm_source=contentofinterest&utm_medium=text&utm_campaign=cppst

Workers slowly returning from home states
As the restrictions on the movement of people are lifted
and as companies resume operations workers who had left
for their home states are slowly returning to work.

The government has estimated that around 15,000 migrant
workers who had left Maharashtra during the lockdown
are returning to the state every day and an approximate
11,500 workers were returning to Mumbai, Thane and
Navi Mumbai daily.

The domestic media has reported that, in order to resume
operations, some construction companies have provided
tickets for technicians to fly from their home states to
project sites. The rise in the movement of people will
increase the risk of the spread of infection.

Working from home –what to look for in a new home
The Coronavirus pandemic is likely to bring about a
change in the residential market in India according to
Sunita Mishra writing for Housing.com who asks 'What
will buyers look for in a property in the post pandemic
era?'

In response to the pandemic many people have
successfully adapted to working from home and
companies may continue with this approach post
pandemic.

Those working from home have made changes at home to
accommodate this work style but for many this has been a
problem because of limited space. As a consequence
demand for homes with dedicated home-work space is
likely to increase. The real estate website PropTiger.com
has said demand for larger homes is likely to expand.

See: https://housing.com/news/what-will-home-buyers-expect-ina-post-coronavirusworld/?utm_source=internal&utm_medium=email&utm_campaign=subscribersDigest

Plantation teak
Despite business operations slowly resuming there has
been virtually no trade in plantation teak and there are no
price movements to report.

Locally sawn hardwood prices
As there were no sales prices there are no price
adjustments to report.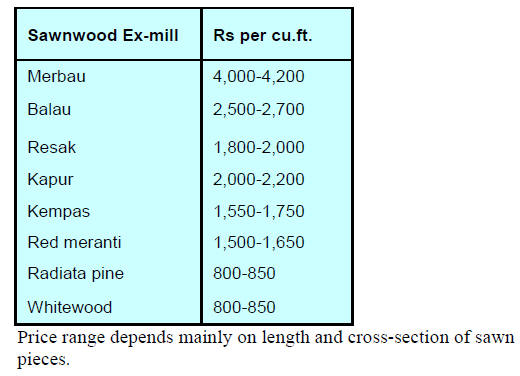 Myanmar teak prices
As there were no sales prices there are no price
adjustments to report.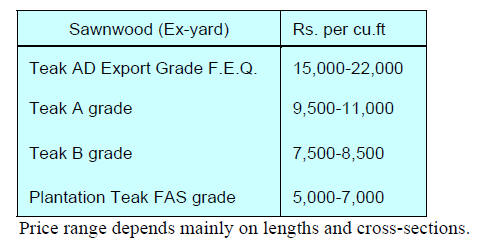 Sawn hardwood prices
As there were no sales prices there are no price
adjustments to report.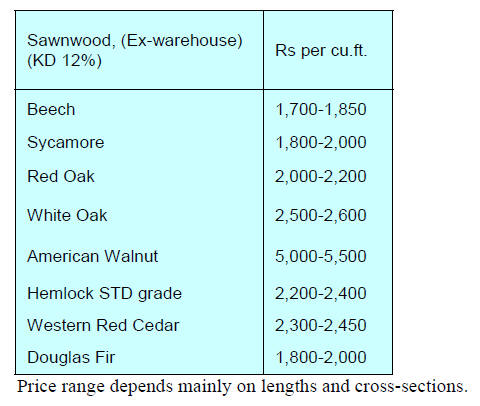 Plywood
Plywood production and domestic sales have resumed as
India adopts its "Mission Begin phase 1". In those parts of
the country where infection rates are low normal working
has been permitted. Dealers have started trading but
mostly on a cash basis as many buyers have exhausted
credit facilities.

As demand begins to expand in these areas the biggest
problem, say analysts, is the availability of workers. Once
this situation improves, industrial activity will expand.

Plywood prices are as previously reported.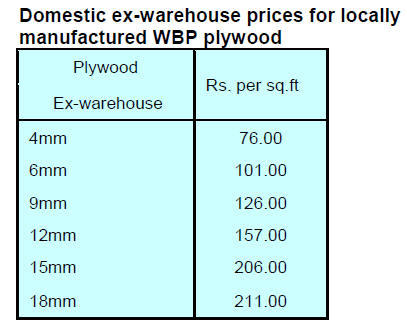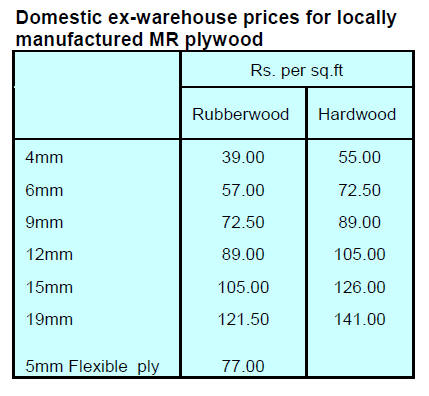 7. VIETNAM
Vietnam W&WP product export/import update
Between January and 15 June 2020 the value of Wood and
Wood Product (W&WP) exports from Vietnam was
US$4.528 billion (WP exports: US$3.189 billion, W
exports: US$1.339 billion). Over the same period exports
of both W&WP increased around 2% compared to the
same period of last year.

This growth is far below the expectation of the
Vietnamese timber industry sector. However, in the
context of export chain disruption caused by the pandemic,
the growth rate is acceptable.

W&WP imports (mainly raw materials) into Vietnam were
worth US$1.022 billion between January and 15 June
2020, down by 10% compared to the same period in 2019.
The sharp decline in orders from overseas customers due
to the pandemic outbreak is the reason behind this decline.

Forecast W&WP export earnings for this year could be
around US$11.0 billion, a modest 5% year-on-year
growth. In 2019, the growth rate was over 18%.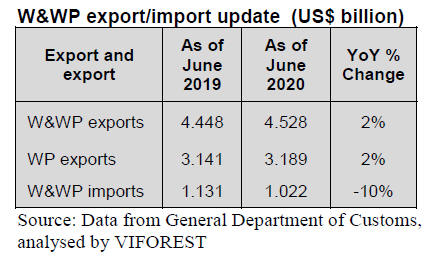 Vietnam's exporters face trade barriers
Vietnam's W&WP exports are facing more and more trade
protection measures, including anti-dumping,
countervailing and anti-circumventing measures imposed
by various importing countries.

As of June W&WP exports have attracted 7
allegations/investigations and these are having a
significant impact on exporters.

In 2015, India imposed anti-dumping duties on the US$3
million MDF imported from Vietnam. In 2019, South
Korea decided to place a similar tax on made-in-Vietnam
plywood when the annual value of plywood exported from
Vietnam to South Korea was at US$170 million.

More recently, on 17 June 2020 the US started
investigations on hardwood plywood which may result in
penalties. The US has applied anti-dumping and
countervailing measures on the same product from China.

Analysts comment "the target of this possible anticircumvention
tax is not aimed at Vietnamese hardwood
plywood. Instead, this operation aims to assure the
efficiency of trade remedies measures applied on imports
from other country. Last year, the value of plywood
products shipped from Vietnam to US amounted to over
US$300 million."

Source: https://www.moit.gov.vn/web/guest/tin-chi-tiet/-/chitiet/bo-cong-thuong-tich-cuc-ho-tro-nganh-go-xu-ly-vu-viec-hoaky-%C4%91ieu-tra-chong-lan-tranh-thue-phong-ve-thuong-mai-19748-22.html

Plans for Central Highland provinces
The Minister of Agriculture and Rural Development,
Nguyen Xuan Cuong, speaking at a recent meeting in the
Central Highlands, urged the local authorities to raise the
sense of responsibility among forest owners on forestry
protection and development. He called on local agencies to
prepare a strategy for the development of the forestry
sector for the period 2021-2030 with a vision to 2050.

The Central Highland region has nearly 2.6 million ha. of
forest or about 17% of the total in Vietnam (forestry cover
was estimated at around 46% in 2019).

Despite restrictions on harvesting in natural forests there
has been extensive clearing with around 15,750 ha. being
lost in 2019. The three provinces seeing the largest extent
of natural forest loss in 2019 were Dak Lak, Dak Nong,
and Gia Lai, areas where deforestation, illegal exploitation
and smuggling of wood products are major problems.

The Director General of the Vietnam Administration of
Forestry, Nguyen Quoc Tri, said the aim is to have the
Central Highlands provinces protect all existing natural
forest areas and to raise the total forest area to 2.72 million
ha. and forest cover of 49% by 2030.

See: https://en.vietnamplus.vn/minister-requests-efforts-forforestry-protection-development/177276.vnp

8. BRAZIL
The forest sector pre- and post- Covid-19
The Bahia State Association of Forest-based Companies
(ABAF) has said it is bracing for a hard blow to the
economy and timber sector. Brazil experienced an
economic downturn in 2015 and 2016 and just as the
country was recovering from that crisis it now faces a
recession due to the pandemic.

The expectation is that the forest sector will be affected
but the Association says the sector is resilient with good
prospects to remain competitive.

ABAF estimates that demand for wood in the world could
expand between 2 and 2.5% over the next 12 months
which will create opportunities for Brazilian companies.

Optimising the benefits from the forestry sector
During the 37th Ordinary Meeting of the Public Forest
Management Commission (CGFLOP), the Brazilian
Forest Service (SFB) emphasised the contribution the
forestry sector can make in generating jobs and income.

The main challenge, according to SFB, is to bring together
all public and private institutions involved with the forest
sector to capture the most from the sector. The SFB
presented information on forest concession contracts
highlighting as of December 2019 there were 18 contracts
signed for an area of around 1 million hectares.

Measures taken by the SFB to mitigate the economic
impact of the pandemic in the forest concession contracts
were also reported. Among them is the extension of the fee
payment date for the first quarter of 2020, from April to
December 2020.

SFB also presented the Annual Forest Grant Plan (PAOF
2021). The main highlight is the inclusion of three
National Forests (Florestas Nacionais – FLONA) called
Humaitá, Iquiri, and Gleba Castanho in the Investment
Partnership Program of the federal government.

Representatives from the Forest Monitoring and Auditing
Coordination spoke about measures taken by SFB
regarding incursions in the FLONAs forest concession and
presented information on the technology used by the SFB
to identify affected areas such as the Forest Exploitation
Detection System (Detex) which utilises drones and
satellite images.

Export update
In May 2020, the value of Brazilian exports of woodbased
products (except pulp and paper) dropped 13.5%
compared to May 2019, from US$ 273.3 million to US$
236.3 million.

The value of pine sawnwood exports declined 9% between
May 2019 (US$47.7 million) and May 2020 (US$43.3
million). In terms of volume exports increased almost 7%
over the same period, from 235,000 cu.m to 250,700 cu.m
signalling falling unit prices.

Tropical sawnwood export values also dropped sharply (-
33% in volume), from 52,200 cu.m in May 2019 to 35,200
cu.m in May 2020. However the value of exports dropped
just 31% from US$20.9 million to US$14.5 million, over
the same period.

The value of pine plywood exports fell 16% in May 2020
in comparison with May 2019, from US$47.1 million to
US$39.6 million and there was a corresponding fall in the
volume of exports over the same period, from 181,500
cu.m to 155,800 cu.m.

The bad news continued with tropical plywood exports
which declined almost 60% in volume and 54% in value,
from 9,100 cu.m (US$3.5 million) in May 2019 to 4,000
cu.m (US$1.6 million) in May 2020.

As could be anticipated the value of exports of wooden
furniture fell from US$48.2 million in May 2019 to
US$31.8 million in May 2020, a 34% tumble.

Between January and April 2020 Brazil's furniture
exports fell 10% year on year and this was due to the
impact of the pandemic on global trade. Analysts are
forecasting another weak year for furniture exporters.

In the first four months of this year the four major
furniture exporting states (Santa Catarina, Rio Grande do
Sul, São Paulo and Paraná) which account for around 85%
of national furniture exports experienced a drop in sales.

The total exported until April reached US$189.2 million
compared to US$210.6 million in the same period last
year.

Court reverses SINAFLOR suspension
The media outlet, Só Notícias, has reported that on 10
June the Regional Federal Court (TRF – Tribunal
Regional Federal) revoked, the suspension of operation of
the National System for the Control of the Origin of Forest
Products (SINAFLOR) of IBAMA (Brazilian Institute of
the Environment and Renewable Natural Resources) in 26
municipalities in the states of Mato Grosso, Pará,
Amazônia and Rondônia, the main tropical timber
producing states in the Amazon region.

Timber companies and producers located in the affected
municipalities were prohibited from using the SINAFLOR
for the issuance of documents to harvest timber, transport
and commercialize forest-based products for about 20 days
which resulted in heavy losses.

See: https://www.sonoticias.com.br/economia/trf-determinaretomada-do-sistema-que-regulamenta-as-atividades-florestaisem-mato-grosso-e-mais-3-estados/

Only last year, the forest-related activity transacted R$2.2
billion in these 26 municipalities. The estimate is that
around 700 timber companies were affected by the
suspension decision.

The National Forum of Forest Based Activities
emphasized the court's decision guarantees the resumption
of legal activities in the region of the Legal Amazon
through authorised harvesting, processing and export of
forest products through the control and inspection system
of the Brazilian Institute of Environment and Renewable
Natural Resources (IBAMA).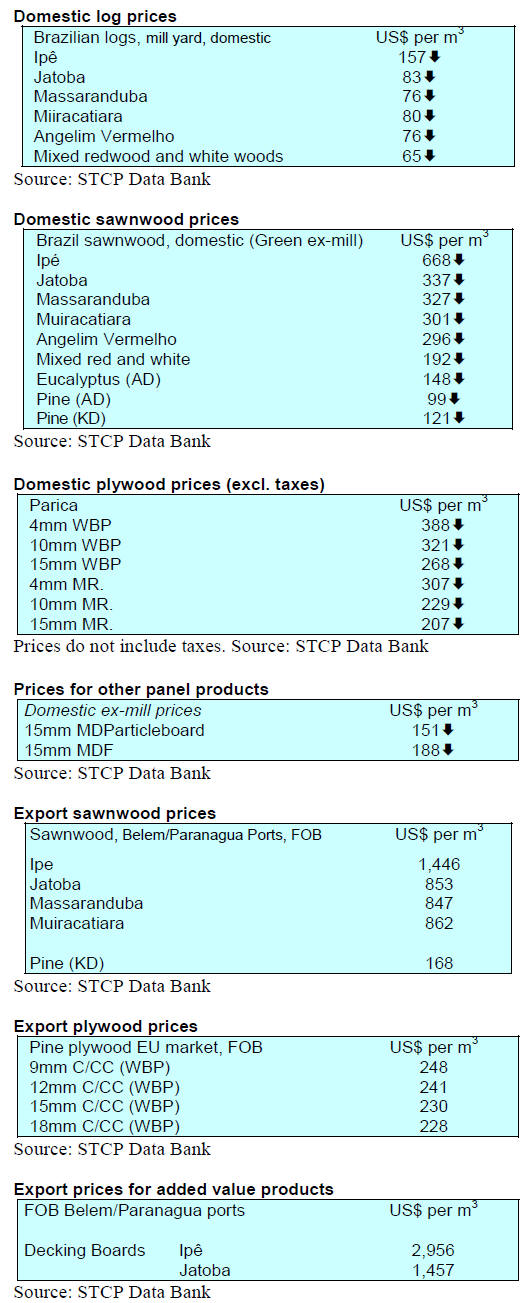 9. PERU
First quarter 2020 exports
The Exporters Association (ADEX) has reported that in
the first quarter 2020 wood product exports reached
US$24.7 million FOB. This represents a decline of almost
20% compared to the first quarter 2019 (US$31 million
FOB). Semi-manufactured products accounted for 58%,
but were down 35% year on year. Sawnwood accounted
for 31% but was down 50% year on year.

The main market for sawnwood in the first quarter was
China with a 43% share. Exports of sawnwood to China
increased 5 fold in the first quarter. Other markets for
sawnwood were the Dominican Republic (down 13%) and
Mexico (down 14.5%).

While still in negative territory exports of veneer and
plywood held up better, dropping just 8% year on year,
however, veneer and plywood exports are small
accounting for around 3% of all wood product exports.

Of the US$24.7 million exported up to March, China was
the main destination with a share of 40% but there was a
13% year on year decline. France was the second most
important market in the first quarter accounting for 11% of
exports but there was a huge, 33%, drop compared to the
first quarter last year.

Mexico and the United States were the third and fourth
placed destination with exports to the US making up 11%
of all exports (down 27% year on year). Exports to Mexico
dropped 46% in the first quarter.

Forest sector back to work
When the government announced the plan for the gradual
reactivation of its economy in four phases determined
efforts were made to include the forestry sector which was
paralysed during the lockdown.

The forestry and wood processing sectors have gradually
gained recognition for its potential for development in the
country. Prioritising the resumption of activities in the
forestry sector was effectively articulated by the
authorities in Ucayali, Loreto and Madre de Dios, which
constituted an Amazon forest block.

Forestry representative form this Amazon block presented
a common agenda with 25 initiatives for the economic
reactivation of the sector within the framework of
COVID-19 recovery. This was presented to its regional
governments, the Ministry of Economy and Finance
(MEF) and the Ministry of Agriculture (MINAGRI).

The agenda included legislative initiatives (regional and
national in nature), actions for the approval and execution
of forest management plans, reactivation of transport
activities, transformation and commercialisation of the
forest production chain; incentives and promotional
actions such as the promotion of public purchases and
financing proposals for the private sector.

During the lockdown period the authorities in the three
regions prepared various initiatives.

The Loreto region, for example, approved three public
investment projects in favour of the forestry sector worth
more than US$4 million to support entrepreneurs in the
sector and promote rapid reactivation. In the case of
Madre de Dios, the authorities prioritised the production of
Brazil nuts (non-timber forest products) within their
reactivation plan.

The regional governments of Ucayali, Loreto and Madre
de Dios have already proposed to the MINAGRI and the
MEF the urgent need for additional budgets for this year.

SERFOR and MEF offer bigger budget for the forestry
sector
In 2019, for the first time, the Ministry of Economy and
Finance (MEF) provided an additional budget of more
than ten million soles for the regional forest authorities of
Loreto, Ucayali and Madre de Dios. This meant a budget
increase, on average, of 100% compared to the total
budget of the previous year.

Of equal importance was the decision at the end of April
this year when the MEF, in the midst of the paralysis of
the sector due to the pandemic, approved the updated
Budget Program 0130 (PP0130) "Competitiveness and
Sustainable Use of Resources Forest and Wild Fauna".

The main improvement of the new version of PP0130 is
the inclusion, for the first time, of forest control and
surveillance activities.

This new element comprises three additional activities
related to Forest Surveillance and Forest Resources; to the
Surveillance and Control in the Access and Use of the
Forest and its Forest Resources; and to the Surveillance
and Control in the Transport of Forest Resources from the
Origin (Forest) to the Destination (Primary
Transformation Center).

For implementation work will be undertaken to provide
technical assistance to SERFOR, OSINFOR and the forest
authorities of Loreto, Ucayali, Madre de Dios and San
Martín, so that they can make a convincing and wellarticulated
2021-2023 budget schedule under updated
PP0130.

Increased imports of wooden furniture
In April 2020, Peruvian imports of wooden furniture
reached US$4.4 million, an increase of 25% compared to
the same month of 2019 (US$3.6 million).

Brazil remained by far the main supplier in April-2020 at
US$3 .5 million followed by China (US$208,000) and
Spain (US$140,000). The main importers of wooden
furniture in April 2020 were the two main home
improvement stores.