Japan Wood Products Prices
Dollar Exchange Rates of 10th June 2020
Japan Yen 107.12

Reports From Japan

US$300 billion extra budget has been approved
A record almost US$300 billion extra budget has been
approved by the Japanese government aimed at financing
struggling companies, providing payroll subsidies,
supporting low income households and expansion of the
health care sector. The government has assessed that the
country is facing its worst economic crisis in decades but
the new expenditure will add to the public debt.

Some 30% of the extra budget will go to help small firms
where a rent subsidy is proposed. A massive budget has
been agreed as a coronavirus reserve fund if there is a
serious second wave of infections. Some economists say a
third or even a fourth extra budget may be needed. The
extra government spending has pushed the country¡¯s fiscal
health to become the worst among major economies.

Business sentiment at 11 year low
The recent business sentiment survey conducted by the
Ministry of Finance and the Cabinet Office shows
business sentiment among large Japanese companies in the
second quarter fell to the lowest in 11 years as the impact
of the coronavirus control measures hit both
manufacturing and non-manufacturing sectors.

The Business Sentiment Index in the second quarter was
the lowest since the first quarter of 2009 during the global
financial crisis following the collapse of Lehman Brothers
Holdings the previous year. The latest figure is also worse
than that in the April-June quarter of 2011 after a massive
earthquake and tsunami that hit northeastern Japan.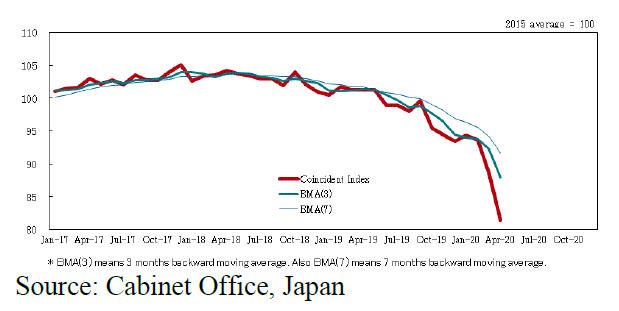 In related news, the total value of machinery orders
received by 280 manufacturers operating in Japan fell over
8% in April from the previous month and private-sector
machinery orders (excluding volatile ones for ships and
those from electric power companies) declined by 12.0%.

Forecasts for the April-June period suggest machinery
orders could drop a further 5% with private sector
machinery orders also set to fall further.

Care needed when looking at unemployment statistics
Unemployment data from Japan¡¯s Statistics Bureau
reported a rate of just 2.6% in April, the latest monthly
data. In contrast to other countries where lockdowns have
decimated companies such low unemployment is unreal.

As always the devil is in the detail as the data exclude an
estimated 4 million people who while still ¡®attached¡¯ to
their companies but are not working and may or may not
be collecting a salary. Including this stock of ¡®grey
unemployment¡¯ then the figure jumps to around 12%, still
a remarkably low figure compared to other countries.

See:
https://www.japantimes.co.jp/news/2020/06/07/business/economy-business/official-jobless-rate-japan-ignoresleave/#.Xt2prXkzbIV

First quarter GDP beats expectations but economy still
in a recession
Cabinet Office GDP data for first quarter 2020 were much
better than anticipated but this did not alter the picture of
the Japanese economy being in recession.

GDP declined 0.6% in the first quarter 2020 compared to
the previous quarter, better than the expected 1%
contraction. A series of April data including exports and
factory output indicate Japan is experiencing the worst
economic slump for half a decade.

The Bank of Japan is continuing its policy of trying to
stimulate demand but this approach has been questioned
by some who say the focus should be on supporting
struggling businesses rather than trying to spark overall
demand as consumers are fearful of what may lie ahead
and are in no mood to spend.

Easing of travel for businesses
Australia, New Zealand, Thailand and Vietnam are the
first countries from which nationals will soon be welcome
in Japan. To begin with Japan will allow up to 250
business people such as executives and engineers to enter
the country.

Japan currently bans entry to nationals or those having
visited 111 countries and regions. Discussion are ongoing
for polymerase chain reaction (PCR) testing of people
leaving Japan for those countries that are again open to
visitors that can prove through testing that they are not
infected.

Consumption set to rise as businesses re-open
The data on household spending in April fell shows an
11% decline year on year, the fastest pace ever recorded as
the coronavirus control measure forced people to stay
home and job insecurity became a major concern.

However, the decline was slower than forecast. While
analysts anticipate consumption will begin rising in June
as businesses re-open after the national lockdown, any
rebound will be slow and fragile.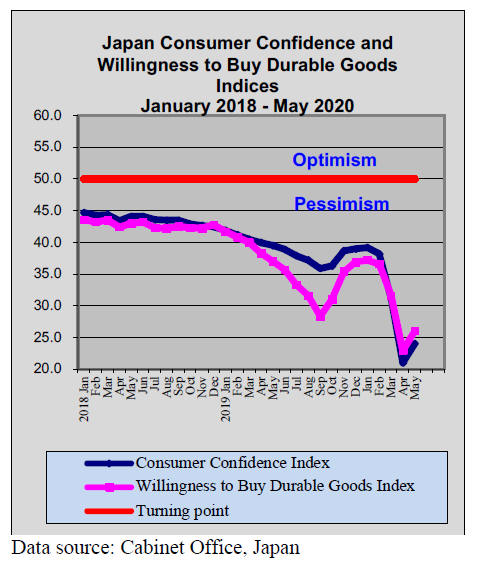 Dollar slides but yen remains steadye
In the first two weeks of June the US dollar dipped against
most major currencies as a result of the extensive protests
in the US and because prospects for the US economic
recovery have become less clear. The much hoped for ¡®V¡¯
shaped recovery now appears to be unlikely.

The uncertain economic outlook in the US resulted in
some money movements to the yen but this was not as
significant as in other periods of crisis and the yen moved
only in a narrow band.

Also pushing the dollar lower were the grave projections
from the US Federal Reserve which said it will take years
for the US economy to regain the jobs lost as a result of
the pandemic.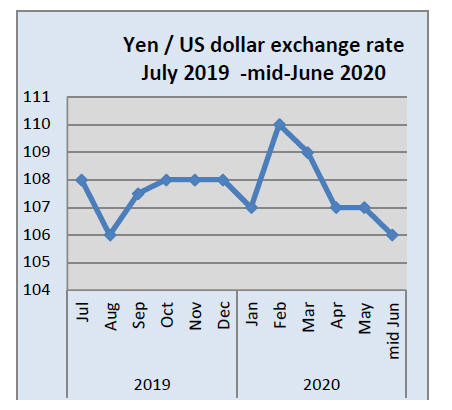 The US Federal Reserve Chairman said that the US
economy could see unemployment lingering at around
10% this year and that interest rates are likely to remain at
a near-zero level until 2022 at the earliest. The US
economy is forecast to contract by 6.5 per cent this year
according to the Fed.

Decline in orders for new homes
Major house builders in Japan have reported falling orders.
A survey of the seven main builders revealed that orders in
April 2020 were just 65% of that in April 2019 and the
lowest for 3 years. The Japan Lumber Reoprt has said
Asahi Kasei Homes reported a 40% decline in orders and
had temporarily closed its show houses.

For more see the contribution from the Japan Lumber
Report on page 15.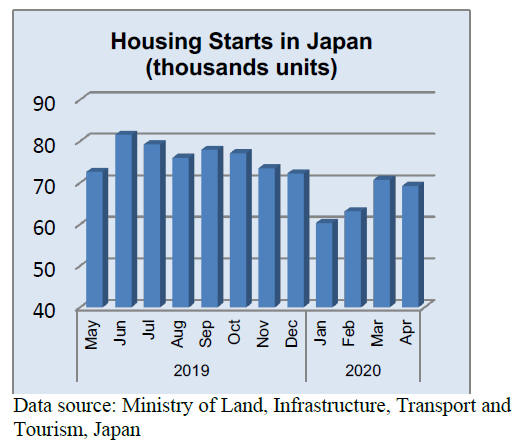 Furniture imports
The value of Japan¡¯s first quarter 2020 imports of wooden
office furniture (HA940330) dropped 27% year on year
and there was a drop of 9% in the value of wooden kitchen
furniture (HS940340) compared to Q1 2019. In contrast,
the value of Q1 2020 wooden bedroom furniture
(HS940350) remained at the same level as in Q1 2019.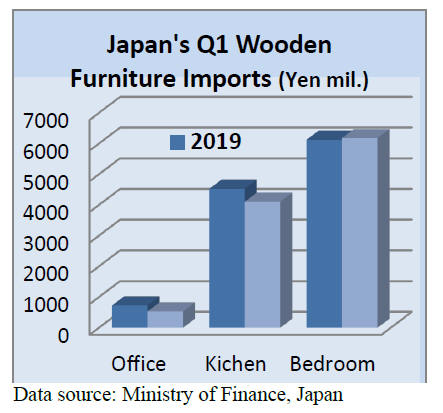 Office furniture imports (HS 940330)
March saw a steep increase in the value of wooden office
furniture imports despite the weak business sentiment.
But this was not enough to lift the value of imports back to
March 2019 levels. March 2020 imports were down
around 30% month on month.

Imports of office furniture (HS940330) in March 2020
from China surged by a factor of three compared to a
month earlier. Chinese shippers captured a 62% share of
Japan¡¯s March imports of wooden office Furniture
maintaining their position as the main suppliers.
Traditional suppliers, Poland and Italy, contributed around
6% each to Japan¡¯s March imports.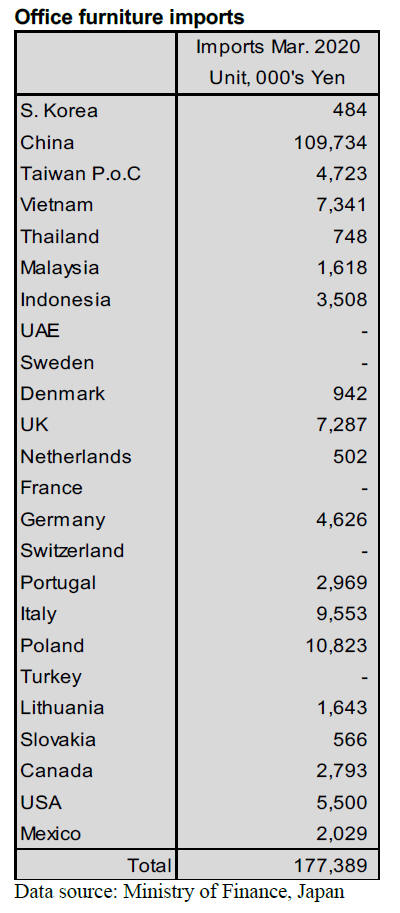 Kitchen furniture imports (HS 940340)
As a result of a 40% increase in the value of wooden
kitchen furniture from Vietnam, the country just topped
the previous top shipper, the Philippines from which the
value of shipments to Japan in March were at the same
level as a month earlier.

Vietnam and the Philippines accounted for almost 90% of
Japan¡¯s imports of wooden kitchen furniture (HS940340)
in March 2020. In March 2020 there was a steep, over
50%, decline in shipments from China.

Year on year, Japan¡¯s imports of wooden kitchen furniture
(HS940340) in March dropped almost 9% continuing the
downward trend from February. Month on month, the
value of March imports of wooden kitchen furniture
dropped around 12%.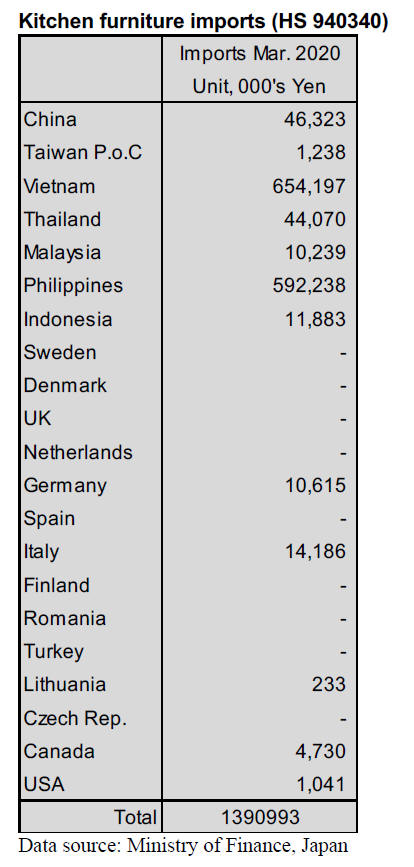 Bedroom furniture imports (HS 940350)
The value of wooden bedroom furniture imported into
Japan in March 2020 rebounded by almost 30% from the
decline seen in February.

Imports from Vietnam, the top supplier in March, rose
15%, there was an almost 50% rise in shipments from
China and shipments from both Malaysia and Thailand,
while small, rose sharply. However year on year the value
of March 2020 imports were flat.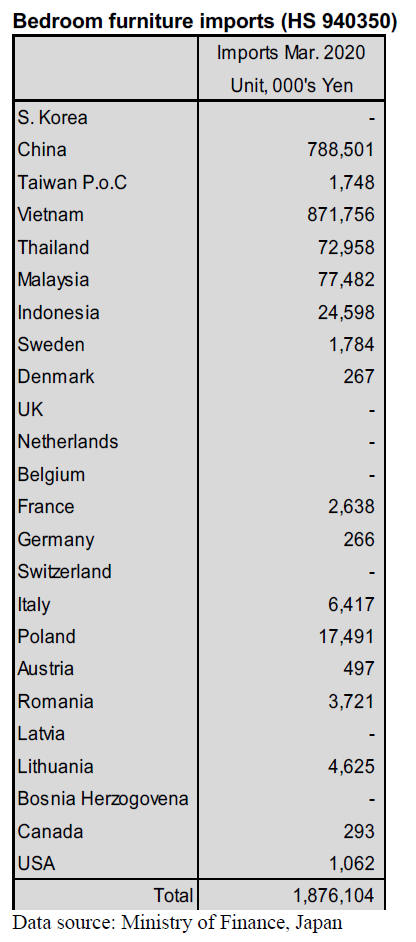 Trade news from the Japan Lumber Reports (JLR)
The Japan Lumber Reports (JLR), a subscription trade
journal published every two weeks in English, is
generously allowing the ITTO Tropical Timber Market
Report to reproduce news on the Japanese market
precisely as it appears in the JLR.

For the JLR report please see:
http://www.nmokuzai.com/modules/general/index.php?id=7

Corona virus hazard
The Japan Forest Products Journal made emergency
survey regarding corona virus pandemic by sending out
questionnaires to 300 companies and 131 responded.
Questions are measures to minimize impact of corona
virus pandemic, the most concerned matters, forecast of
housing starts of this year and estimate of performance
result.

There are many comments that this is unprecedented
incident so there is no material to judge future market
since it is not cyclical business fluctuation. Many sound
like resignation or pessimism.

Gathering of people is prohibited and everything is
cancelled, disrupted and postponed. All the economic
activities are hampered and degree of stagnation is getting
deeper day after day.

The government lifted state of emergency for all
prefectures but there is fear of second and third wave once
restriction is eased. For prevention of infection, human
contact is prohibited and self -imposed quarantine at home
is recommended so working people stay home and do
telecommunication. Large cities become ghost town
without crowd and all type of consumer activities died
down.

Housing starts have been dropping month after month.
Consumption tax hike in last October is first blow then
came corona virus outbreak, which is second blow.

Housing starts were less than the same month a year
earlier for nine consecutive months since last September
and this would continue for months to come and decline
should be steeper in coming months.

Housing starts of following year of Lehman shock in 2009
dropped by 305,000 units. In 1973, housing starts after the
first oil shock dropped by 589,000 units and similar drop
would come from now on.

Some comment that this incident may be paradigm shift to
change stereo type and established system. This is
beginning of new life style and working style to accept
teleworks like e-learning and remote diagnoses with
doctor and tele conference with zoom.

Anyway influence to demand of building materials is
uncertain yet but market confusion is inevitable and
damages business management severely. With declining
housing starts, demand for building materials would surely
decrease. Sawmills and plywood mills have already started
curtailing the production by dropping orders and log
supply is becoming excessive.

Other parts of the world is suffering the same trouble so
the supply from overseas sources may become tight but
the concern is stronger to drop of the demand in Japan.

Large drop of orders for major house builders
April orders for large house builders declined
considerably. Quarantine at home started in March and
people visiting model house exhibition sites decreased
largely and sales promotion events are cancelled as face to
face negotiations became prohibitive by corona virus
infection.

Every year, series of holidays in early May draw many
potential buyers to the exhibition sites. Potential buyers
visit various model houses and make up their mind later so
number of visitors is a sort of guideline for future housing
starts.

Eight major house builders disclose orders compared to
the same month a year earlier. April orders by seven
companies are only 65% of April last year, the lowest in
last three years. Asahi Kasei Homes, which closed
exhibition sites, dropped by 40%.

March number was 77% but March last year was much
higher than usual year with 128% because of rush-in
orders before the consumption tax raise. This was the
highest in three years. March orders were almost flat with
January and February orders.

March is book closing month so that builders push sales
with some discount and buyers know this so they firm up
order in March unless there is any reason to wait after
March.

Major house builders say that potential buyers would
decide which builder they prefer after two to three months
of the visit but sales campaigns stopped in late February
and sales activities practically stopped for March and
April. Visitors to the exhibition sites in May are limited of
potential buyers with reservation so the number of visitors
was less than half of normal year. Number of visitors in
early May is normally the largest in a year and orders
would increase toward summer but this year is different
and future looks gloomy.

Lehman shock in September 2008 shook every sector of
economy and housing starts started dropping since
December 2008 and decrease of housing starts had
continued for 16 months to March 2010. Real recovery
started in summer of 2010 so it took nearly two years to
recover.

Housing starts in 2009, following year of Lehman shock,
were 788,410 units, 28% less than 2008 and the lowest.
Owner¡¯s units were down by 11% but condominiums were
58% less and units built for sale were 21% less.

Many condo builders went bankruptcy in this year.
Difference this time is that developers are more firm after
shaky ones are all gone.

Since human contact is now prohibitive, house builders are
losing contact with potential buyers and new measure
should be developed and one is virtual housing exhibition
named.

My home market¡¯ people who are looking for new house
can find favorite model house by internet or smart phone.
Number of access to the web site continues increasing
month after month. This could be a new way for marketing
houses but changing past business style is not so easy for
marketing people of house builders.

Supply adjustment by the national forest
Demand for domestic logs has been declining since last
March and the prices are dropping so four regional forest
management offices of North East, Kanto, Chuubu and
Kyushu decided to reduce log harvest.

For standing timber with cutting contract, time limit is
extended for one year without any penalty so the
harvesters have option of cutting time. This should reduce
logs harvested only by restriction of time limit without any
market. It is unusual that multiple regional office decides
to reduce harvest uniformly. Other regions of Hokkaido,
Kinki chuugoku and Shikoku plan to have supply
adjustment meeting in May.

National forest regional office holds supply adjustment
meeting once every three month after investigation
through log suppliers, processing plants and forest unions
to find out demand and supply of logs with price trend
then it decides if the supply should increase or reduce.

Kyushu regional office is the first one to take step for
harvest reduction in March because log export to China
sharply decreased after corona virus pandemic so log
inventory is swelling up and log prices are dropping.

Other six regional offices were not aware of such crisis in
March yet but in April after the state of emergency was
declared, things changed so much that Kanto, North East
and Chuubu office held special meeting in late April to
decide supply reduction.

North East office reports that lumber demand suddenly
dropped and log inventory is increasing at yards, plywood
logs are oversupplied by production curtailment by
plywood mills and restriction of receiving logs by mills,
some paper manufacturing plants limit buying logs. Kanto
office reports drop of log prices and Chuubu office reports
future orders of lumber is uncertain and operation of
sawmills and precutting plants keeps dropping month after
month.

Only active field is biomass power generation business.
Supply shortage of logs for power generation is feared so
that timber with heavy percentage of low grade should not
be included for time limit extension since logs for biomass
power generation have been smoothly consumed and some
of plywood logs are sold as biomass logs.

South Sea (tropical) logs
Plywood mills using South Sea hardwood logs have ample
orders to supplement tight supplied hardwood plywood
from Malaysia and Indonesia and they carry two to three
months log inventory.

Log supply in April was satisfactory. It was feared that
entry restriction of foreigners for corona virus infection by
PNG may influence log supply but there is no serious
impact so far. Log harvest continues in Sarawak, Malaysia
but the volume is very limited. Movement of South Sea
lumber has been very inactive.

The supply is also low. Supply of Indonesian mercusii
pine laminated free board is low because of series of
holidays after Ramadan, Islamic fasting.

Wood supply statistics in 2019
The Ministry of Agriculture, Forestry and Fisheries
disclosed 2019 wood supply statistics.

Total log supply for lumber, plywood and wood chip
manufacturing was 26,348,000 cbms, 0.7% less than 2018.
Domestic log supply increased by 1.1% as log supply for
lumber and plywood manufacturing increased.

Imported log supply decreased by 9.0%. Share of domestic
logs in total log supply increased by 1.6 points to 83.1%.
Although housing starts in 2019 were 905,000 units, 3.9%
less than 2018, domestic log supply for lumber increased
by 2.5%. Imported logs for lumber decreased by 8.4% and
lumber import decreased by 4.5% so domestic logs
covered some of imported products share.

As to lumber shipment by use, that for construction
decreased by 2.7% but that for engineering works
construction, which is all domestic wood, increased by
18.4%. For plywood manufacturing, domestic logs
increased by 5.6% while imported logs decreased by
11.6%.

Since plywood imports decreased by 15.8%, domestic
share increased. Two plywood mills and one LVL plant
started in 2019, which contributed increase of domestic
wood consumption. By species, cypress increased by
35.0% and spruce and fir by 18.6%.

Logs for wood chip manufacturing are practically all
domestic wood, which was down by 7.0%. This is three
straight years decline. Imported wood chip increased for
2017 and 2018 but it decreased by 2.2% in 2019.

Domestic wood chip production decreased by 7.7%, the
lowest in last ten years. Demand of wood chip for
particleboard and hardboard was firm in 2019 but that for
pulp and paper decreased.

Imported log volume in 2018 was less than five million
cbms then in 2019, it was less than 4.5 million cbms.

Based on the forest and forestry fundamental plan set in
2016, target of domestic log supply and utilization for
2020 is 15,000,000 cbms for lumber manufacturing,
5,000,000 cbms for plywood and wood chip
manufacturing, six million cbms for fuel and one million
cbms for other use like export and mushroom farming,
making total of 32,000,000 cbms.

Based on 2019 result, accomplishing target volume for
lumber and wood chip for pulp looks very unlikely and
target for 2025 of 18,000,000 cbms for lumber and
6,000,000 cbms for pulp chip manufacturing seems very
remote.