4. INDONESIA
Expanded stimulus to fight impact of pandemic
The Indonesian government has expanded its financial
stimulus package by almost US$50 billion. The package is
set to strengthen the healthcare system, apply more
resources to social welfare and provide protection for
Indonesian businesses at risk from bankruptcy.

The Minister of Finance, Sri Mulyani Indrawati, said the
emphasis will be on countering the negative economic
impact of the pandemic on Indonesian society and
businesses and to keep economic growth pegged at zero.

Support for SMEs is particularly important. A recent
survey by the International Labor Organization (ILO) has
revealed that the majority of small and medium enterprises
(SMEs) in Indonesia had been forced to close their
businesses, either temporarily or permanently, due to the
impact of the pandemic on consumption.

In related news the Ministry of Manpower and
Transmigration has estimated that some 1.7 million
workers have either lost their jobs or been laid-off and this
will push the unemployment rate to 7%. Minister Ida
Fauziyah said this 1.7 million is already over 50% of the
2.9 million estimated to be without work.

The figures above are at a variance with the estimate 3
million laid-off made by the Deputy for Commerce and
Industry Coordination in the Ministry for Economy. The
National Development Planning Agency (Bappenas)
previously estimated that this year unemployment
could rise to 4.2 million.

See: https://en.tempo.co/read/1351070/millions-laid-offdue-to-covid-19-pandemic-as-of-june

Jakarta lockdown eased
The Governor of Jakarta has said restrictions will soon be
gradually eased to allow economic activity to begin.

First restrictions on offices, restaurants and retail outlets
will be eased but enterprises must limit the number of
people attending as it is too early to fully lift social
distancing rules.

Measures put in place to counter the spread of the virus in
Jakarta and across the country have weighed heavily on
businesses and has contributing resulted in massive job
losses. The decision to ease restrictions in Jakarta comes
after a similar decision in the country's most populous
province of West Java.

The central government has separately announced it plans
to reopen the country to foreign tourism as early as
September.

Plywood exports to US on the increases
Agus Suyono, Head of the Samarinda Agricultural
Quarantine Center has reported that plywood export to the
US during the first quarter of 2020 amounted to almost
600 tonnes worth around Rp5.56 billion. This first quarter
performance represents an 8% increase compared to a year
earlier.

He also reported exports to China, India, the Philippines,
Singapore and Thailand in the first 4 months of 2020
totalled 4,914 cubic metres earning Rp.49.89 billion.

According to Agus despite the pandemic plywood exports
to the US have continued largely unaffected and he puts
this down to Indonesia's rigorous safety and health.

Furniture makers appreciate new orders from US
buyers
Some good news from furniture craftsmen in Solo, Central
Java, work has started on recently received orders from
buyers in the US. Irawan Mintorogo, Head of Marketing
for the Soloraya Furniture and Craft Industry Community
(Kimkas) in Solo said there had been a period when no
orders were arriving but that has now passed. He pointed
out that buyers in the US were the first to place orders
unlike buyers in the EU who are still hesitant.

See: https://www.suara.com/bisnis/2020/06/03/154354/parapengrajin-mebel-di-solo-mulai-garap-pesanan-dari-as
Positive news as levels of forest loss continue to drop
The World Resources Institute (WRI) says on its website
"In positive news, primary forest loss in Indonesia
decreased by 5% in 2019 compared to the year before,
marking the third year in a row of lower levels of loss."

It should be borne in mind that primary forests defined by
the WRI refer to a 30% minimum tree cover density. This
WRI definition of primary forests is different from the one
used by the Indonesian government which defines primary
forests as undisturbed forests that have never been
exploited or disturbed by humans. Under this
definition, the Indonesian ministry of Environment and
Forestry stated from over the 2 years to the end of 2019
less than 100,000 hectares of primary forest were lost.

https://www.wri.org/blog/2020/06/global-tree-cover-loss-data-2019
Data from the and
https://www.dw.com/id/indonesia-berhasil-tekan-deforestasi/a-53676334

Forest Rehabilitation and Reclamation regulation
The Indonesian government has issued Regulation (PP)
No. 26 of 2020 concerning Forest Rehabilitation and
Reclamation. This regulation aims to ensure optimal
benefits from land and forests for the welfare of the people
of the country. The regulation also addresses the need to
restore, maintain, and improve the function of forests and
land in order to increase productive capacity to support
life.

See: http://www.apbi-icma.org/en/regulation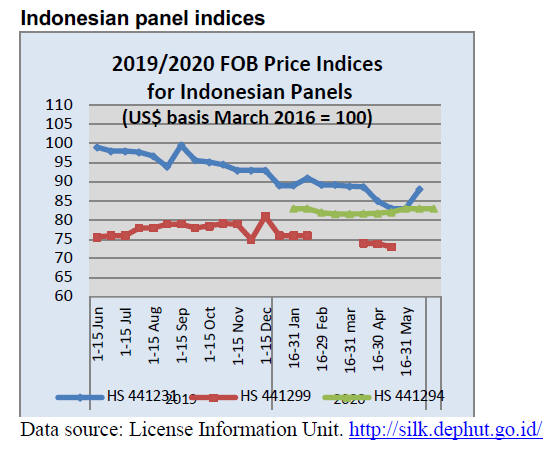 5. MYANMAR
'New normal 'life begins in Yangon
The correspondent reports that life in the capital has begun
the 'new normal'. Government offices are open but there
are still restrictions on when schools will reopen.
International flights in and out of Yangon International
Airport are still restricted and this will be reassessed at the
end of June. Many businesses, once having satisfied
government inspections for virus prevention measures, are
reopening.

Figures released by the Health and Sports Ministry show
the number of corona virus cases in Myanmar as of
13 June was 261, with six deaths. The country has tested a
total of 45,926 people in Myanmar for the coronavirus and
it has been found that most recent infections are among
quarantined workers returning from overseas.

See: https://www.mmtimes.com/news/myanmar-extends-covid-19-control-measures-flight-restrictions.html

Myanmar responds to news reports on EIA
investigation
Kyaw Zaw, Deputy Permanent Secretary of Ministry of
Natural Resource and Environmental Conservation has
disputed the recent Environmental Investigation Agency
(EIA) report which he says suggests illegal teak from
Myanmar is being shipped to Europe. Kyaw Zaw said the
Ministry of Natural Resource and Environmental
Conservation will respond immediately to the misleading
news coverage of the EIA report.

Kyaw Zaw is quoted by the local media, Irrawaddy
Online, as saying, "I can accept if they (EIA) say we need
to make changes to meet their (EU) timber regulations.
But they said the exports are illegal, prompting us to
respond strongly. What they said is wrong. We oversee
timber production and export licenses are issued by the
Ministry of Commerce and the Customs Department is
responsible for collection of duties and clearance."

For the full story see:
https://www.irrawaddy.com/news/burma/myanmar-condemnsreport-illegal-teak-exports-eu.html

The Irrawaddy article reports a manager of a Yangonbased
timber factory as saying, on condition of anonymity,
that the Myanmar Forest Department applies tough
measures to guard against the illegal export of teak and
other hardwoods.

When asked for comments, Barber Cho, Secretary of
Myanmar Forest Certification Committee, said the
authorities and timber industry in Myanmar understand
very well the EUTR which aims to prevent the arrival in
the EU of illegal wood products.

He said, "We have to respect the EUTR as this is the
regulation governing all wood products imported into the
EU, not only those from Myanmar.

In comments to Cho, Myanmar exporters said
international buyers of Myanmar timber were of the
opinion that, when it comes to teak imports into the EU,
Myanmar teak seems to attract more attention than imports
from other countries.

Kyaw Zaw was adamant that all consignments cited in this
investigation were shipped according to the rules and
regulation in Myanmar. These regulations requires the
reporting of details such as product type, species, quantity,
name of exporter and consignee in the EU and such
consignments from Myanmar can never be of illegal
timber. Whether documents for such shipments are
sufficient to satisfy the EUTR is another issue not related
to allegations of illegal transportation.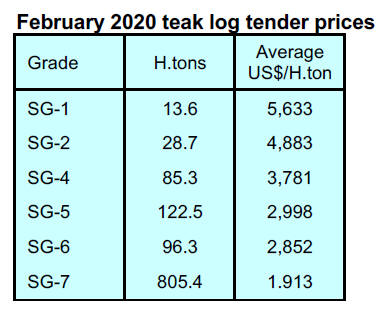 6. INDIA
No wholesale prices indices for timber
The Office of Economic Adviser, Department for
Promotion of Industry and Internal Trade has advised that
in view of the limited transactions of products in the
wholesale market in April 2020 due to spread of Covid-19
pandemic, it has decided to release price movement for
selected product groups. Timber is not included.

The press release from the Ministry of Commerce and Industry
can be found at: https://eaindustry.nic.in/pdf_files/cmonthly.pdf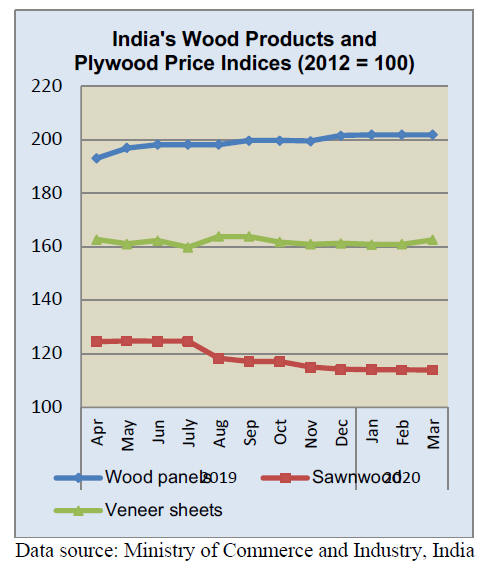 Workers returned to home states but no jobs
The Centre for Monitoring Indian Economy (CMIE) has
reported on the plight of migrant workers who, because of
the lockdown, had to leave their city jobs and had no
alternative to travel back to their home States. Having
returned home they have found there are few employment
opportunities.

CMIE cites some examples saying in Bihar State
unemployment went from 15% pre-pandemic to over 45%
between March and April. In Jharkhand in eastern India
unemployment went from 8% to 47%.

The government has rural employment schemes but there
are doubts that these schemes can absorb all the returnees.

Around 100,000 migrant workers have returned to
Jharkhand and a further 700,000 more are expected. In
Bihar some 650,000 migrant workers have returned and
the list continues. The Central government has estimated
that around 3 million migrant workers are trying to return
to their home states.

Analysts comment" the monsoon is expected to be normal
this year but on everyone's mind is when will the
restrictions be lifted and when will shops, trade and offices
be back to normal? India has never experienced such a
calamity and now the call is for greater self-sufficiency".

This has resulted in calls for the country to improve the
availability and distribution of locally produced items to
boost employment, reduce dependence on imports, save
foreign exchange and boost industrial activity.

The timber sector has called for a relaxation of the
regulations governing the establishment of wood
processing enterprises. In particular calls have been made
for the plantation sector to be expanded through both State
and Central government incentives.

Planting of fast growing species like melia dubia, poplar,
eucalyptus, acacia, rubberwood, teak, gmelina and
Casuarina along with bamboos' and rattans should be
encouraged.

Plantation teak
Owing to current local and international situation there is
virtually no trade in plantation teak. Prices for the spring
of 2020 are shown below as a reference point.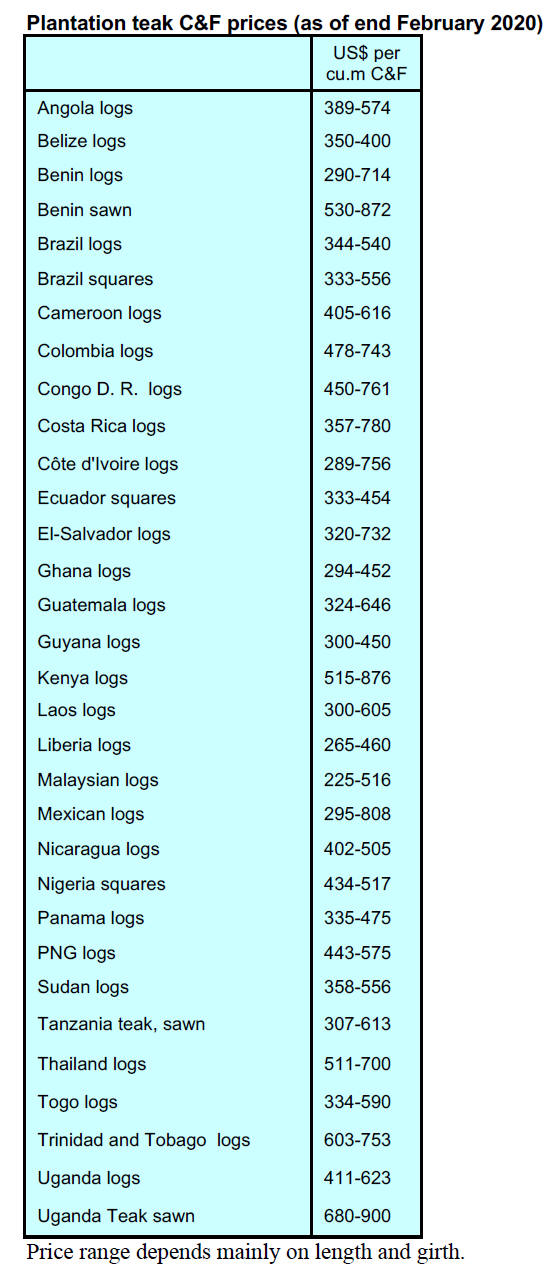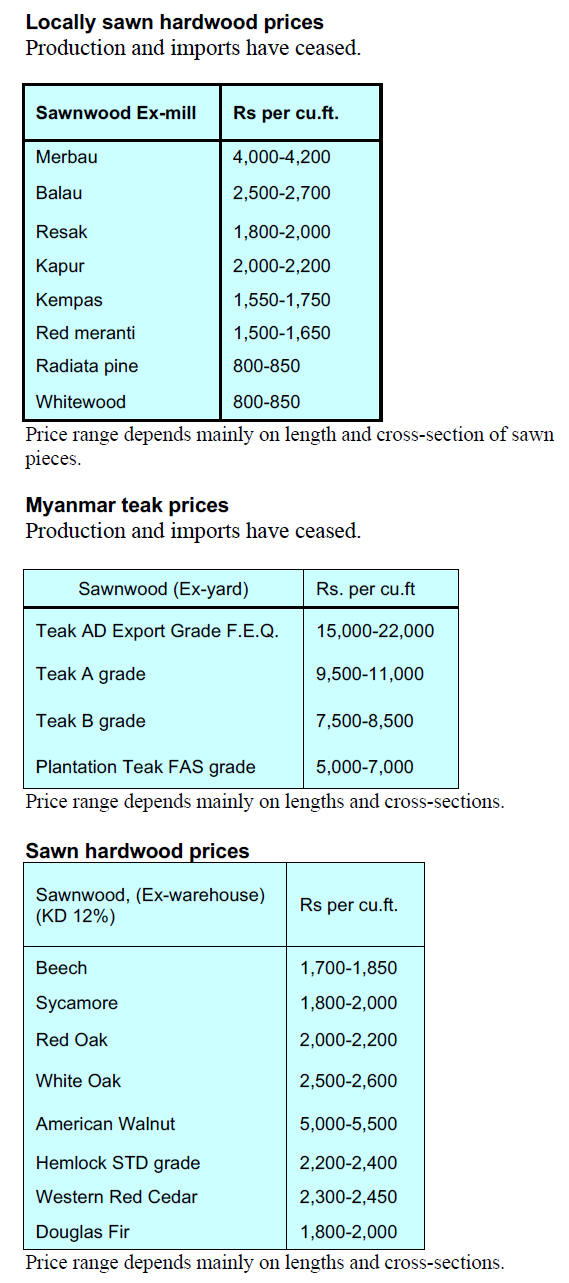 Plywood
Production and sales of plywood have resumed as
restrictions under the government's 'Phase-1 of Mission
begin' have been eased. In those parts of the country
where the infection rates are low full production has
resumed.

The Karnataka and Kerala Plywood Manufacturers
Associations have jointly announced a price increase of
7% and 5% respectively. This, they point out, is to cover
increased cost of labour, timber and chemicals. Across the
country however prices remain unchanged as shown
below.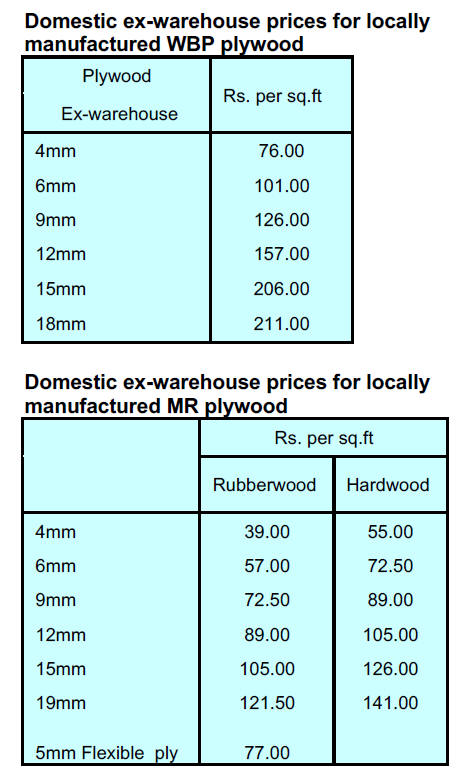 7. VIETNAM
Wood product exporters to benefit from Vietnam/EU
trade deal
The government in Vietnam has ratified the Vietnam/EU
trade deal which, it is hoped, will help boost the country's
manufacturing sector and exports. The deal, when it takes
effect in July this year, means the EU will cut tariffs on
over 80% of Vietnamese goods, Vietnam will lift close to
50% of its import duties on EU exports and phase out the
rest over 10 years.

The EU-Vietnam Free Trade Agreement (EVFTA) is
expected to open the door wider for Vietnamese exports to
the EU and help the Vietnamese economy regain its
growth momentum following a difficult period due to the
coronavirus outbreak.

Bilateral trade in 2019 was around US$60 billion, of
which Vietnamese exports accounted for US$40 billion, a
modest figure given the EU is the world's second largest
import market with an annual value of US$2,338 billion.
The EVFTA will create greater opportunities for Vietnam
to increase its exports especially of garments, footwear,
farming and wood products.

See: https://www.vietnam-briefing.com/news/vietnam-eu-tradeevfta-ratified-vietnam-national-assembly.html/

Dismal April exports
Statistics from Vietnam Customs shows that exports of
wood and wood products (W&WP) during April 2020
were worth US$697 million, down by 29% compared to
March but 19% higher than in April 2019.

April wood product exports, in particular, fell sharply
dropping around 35% to US$434 million against previous
month and by 25% compared to April 2019. Despite the
declines in April W&WP exports remain in the top 6
groups of Vietnamese export commodities.

In the first four months of this year WP exports alone
amounted to US$2.272 billion, up by 2% compared to the
same period in 2019 and accounted for 69% of total
W&WP exports, down slightly year on year.

In previous years exports to the US, the top buyer of
Vietnam's W&WP accounted for around 50% of total
exports but in the four months to April this dropped by
39%.

With the pandemic yet prevailing in US and several EU
countries and the global economy facing a severe crisis
exports of W&WP and NWFP will fail to reach the target
of over US$12 billion set for 2020 (in 2019, exports of
W&WP plus NTFP was reported at US$11.18 billion).

Export markets
Due to the impact of the pandemic on global trade April
2020 W&WP exports to the main markets dropped
compared to previous months. However, in the first four
months of 2020, W&WP exports to the EU and China
were still rising, by 13% in the case of the EU and by 23%
in the case of China. However, this growth is unlikely to
be sustainable.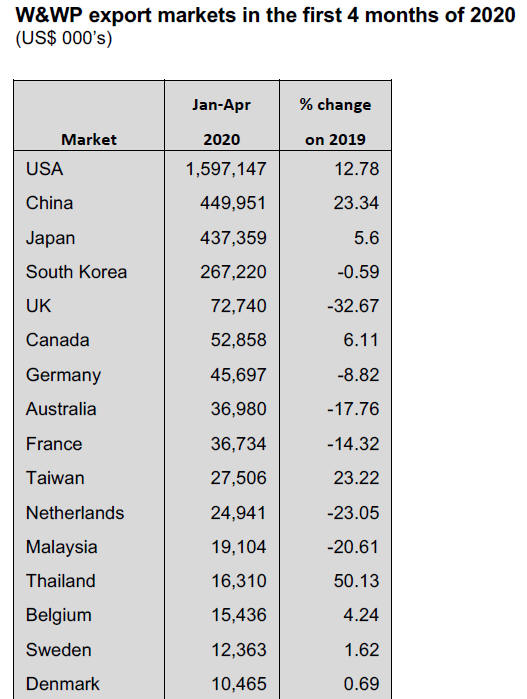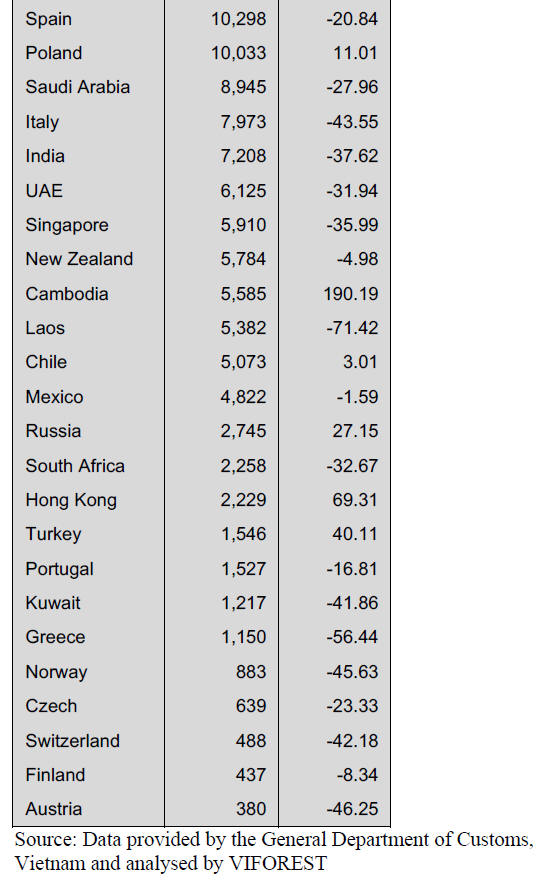 April timber imports
W&WP imports into Vietnam in April 2020 fell after the
increase in March 2020. The accumulated W&WP imports
into Vietnam over the first four months of 2020 amounted
to US$731 million, down by 5.8% against the same period
of the last year.

Import sources
In April 2020, the value of W&WP imports from several
markets, including Thailand, Laos and Malaysia, increased
by 26.59%, 43.04% and 59.21% respectively compared to
March 2020. W&WP imports from the US and China
dropped slightly in April while imports from Brazil,
France, New Zealand, Russia and Germany fell sharply.

In the first four months of 2020, China was the largest
W&WP supplier to Vietnam at US$208 million, up by
41% over the same period of the last year and accounted
for 28% of total W&WP imported into Vietnam. The
second largest supplier was the US but here the value of
imports dropped almost 10%.

In contrast, W&WP imports into Vietnam from Thailand,
Chile and Brazil fell by 11%, 24% and 14% respectively
over the same period of 2019.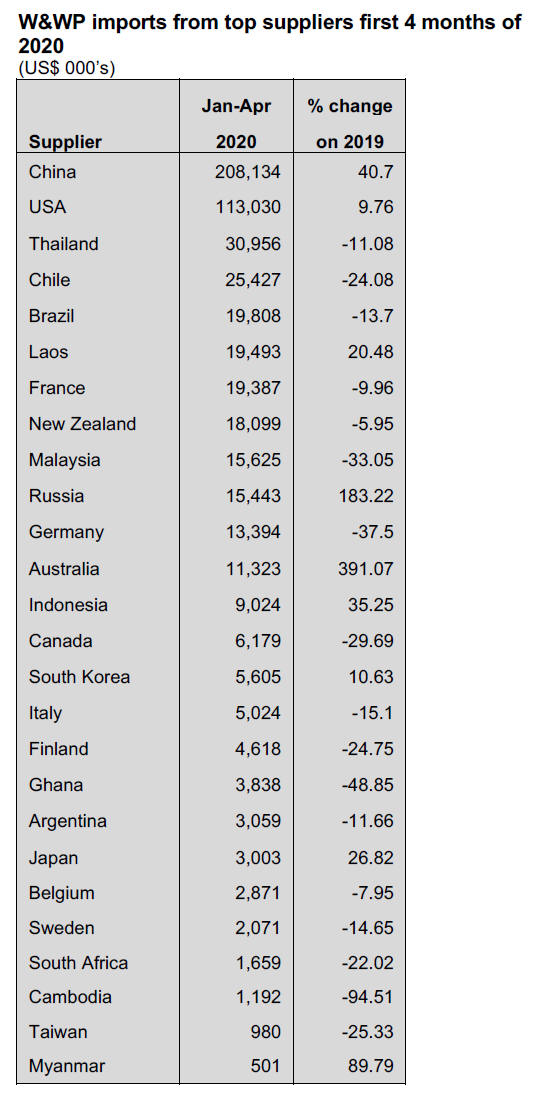 8. BRAZIL
Furniture production suffers record fall
The Brazilian Institute of Geography and Statistics (IBGE)
has published industrial production indices since 1998
and, until April this year, the furniture sector has never
experienced a decline like the over 75% month on month
decline in April or as much as the year on year decline of
almost 60%.

The April figures resulted in the accumulated loss of
almost 18% in the first 4 months of this year.

The IBGE data was much worse than expected even taking
account of the massive suspension of business activities.

Timber producers seek extension of harvest deadline
Concession holders in Brazil have requested extension of
the harvesting deadline because the pandemic control
measures have delayed operations.

According to estimates by the National Forum for Forest-
Based Activities (FNBF) timber sales will drop by up to
60% this year such that it will be impossible to balance
production and sales in the 2020 harvest season which
began in May.

The peak of the harvest season is between June and
August when rainfall is lowest allowing safe harvesting
and transportation. However, with the drop in sales and
market uncertainties, many producers will either reduce
harvest volumes or suspend harvesting to avoid financial
losses that would be inevitable as accumulated stocks
could deteriorate if they accumulate beyond market
demand.

The FNBF has asked the Ministry of the Environment to
consider extending the harvesting period allowing
producers to harvest approved volumes during the next
harvest season. Producers are granted logging permits
(Timber Harvest Authorizations - Autex) by the competent
agencies to ensure harvests are sustainable and follow
management plans.

Paranaguá Container Terminal (TCP) expects rise in
wood product exports
TCP, the company that manages the Paranaguá Container
Terminal in the Port of Paranaguá, Paraná State in the
southern region of Brazil foresees an increase in timber
export shipments.

The Paranaguá Terminal has been handling around 2,600
containers per month this year and this is expected to grow
to 3,500 containers per month. Among the products
exported are plywood, sawnwood and veneers. The
outlook is for the resumption of full services after thirteen
years with regular weekly services that serve the East
Coast of the United States, one of the main destinations for
exports of wood products.

TCP's export warehouse covers 12,000 sq.m and is
designed to handle multiple products at any one time. The
warehouse is located close to the dock thus, simplifying
logistics and reducing costs.

Plantation sector achieves US$ 2 billion in first quarter
exports
According to the Brazilian Tree Industry (Ibá), in the first
quarter of 2020 exports by the plantation forest-based
industry reached US$2 billion. Pulp exports totalled
US$1.5 billion, while paper exports were worth US$451
million and wood-based panels US$68 million. The
sector's trade balance reached US$1.8 billion (-27.5%).

In the first quarter of this year, China continued as the
main Brazilian pulp market purchasing US$719 million.
Latin American countries are the major destination for
wood-based panels (US$38 million) and paper (US$262
million).

According to Ibá, sales of wood-based panels by Brazil
totalled 1.6 million cubic metres in the first quarter 2020.