Report from North America
Housing starts plunge by the most ever recorded
The Commerce Department reported that US housing
starts in April plunged by the most ever recorded as
sweeping lockdowns to contain the pandemic continued to
slam the housing market. Residential starts slumped 30%
from the previous month to a seasonally adjusted annual
rate of 891,000, the lowest level since 2015.

Building permits fell 21% from March to a seasonally
adjusted annual rate of 1.07 million, a five-year low.

The slump in applications to build was the biggest since
July 2008. Single-family housing starts dropped 25% to a
rate of 665,000, also a five-year low. Home building fell in
all four regions last month.

Next month's report may show a rebound in construction
as the housing market begins to stabilise. US homebuilder
sentiment rose by more than expected in May following a
record drop in April. In addition, mortgage applications
increased in the last weekly survey from the Mortgage
Bankers Association.

In related news, US Existing-home sales dropped in April,
continuing what is now a two-month drop in sales brought
on by the pandemic, according to the National Association
of Realtors. Each of the four major regions experienced a
decline in month on month and year on year sales, with the
Western US seeing the greatest dip in both categories.

Total existing-home sales dropped 18% from March to a
seasonally adjusted annual rate of 4.33 million in April.
Overall, sales decreased year on year by 17% from a year
ago (5.23 million in April 2019). April¡¯s existing-home
sales are the lowest level of sales since July and the largest
month on month drop since July 2010.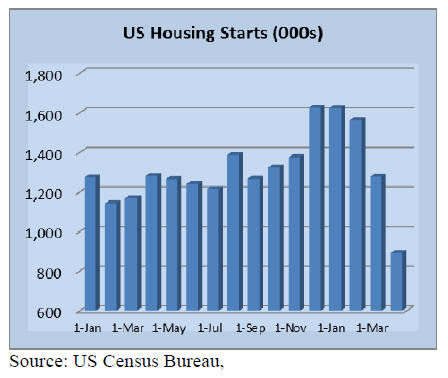 Homebuilder confidence posts solid gains
After the sharpest one-month drop in the history of the
index in April, homebuilder sentiment bounced back
slightly in May as US builders saw a quick rebound in
interest from buyers.

Confidence in the market for single-family, newly built
homes drove the index 7 points higher in May to 37
according to the National Association of Home
Builders/Wells Fargo Housing Market Index. Anything
above 50 is considered positive, so sentiment remains in
negative territory. The index stood at 66 in May 2019 and
hit a recent high of 76 in December 2019.

Sentiment plunged an unprecedented 42 points in April, as
the pandemic shut down much of the economy and job
losses soared. Homebuilding continued, deemed an
essential business but buyers pulled back decisively.

Now, buyers appear to be shopping again, in person and
virtually. Record low mortgage rates are also helping with
affordability.

Cabinet Sales up 5.4% for March
According to a press release from the Kitchen Cabinet
Manufacturers Association (KCMA)¡¯s monthly ¡®Trend of
Business Survey¡¯, participating cabinet manufacturers
reported an increase in cabinet sales of 5.4% for March
2020 compared to the same month in 2019. Sales of
custom cabinets increased 2.7%, semi-custom increased
slightly at 0.5%, and stock sales were up 9.4%.

The March numbers were strong as well. Cabinet sales
overall were up 12% compared to February with custom
up 11%, semi-custom sales up 10%, and stock sales up
14% compared to the previous month. Year-to-date
cabinet sales increased 6.4% overall with custom sales up
5.4%, semi-custom sales up 0.8%, and stock sales up
10.6%.

Survey participants include stock, semi-custom, and
custom companies whose combined sales represent
approximately 70 percent of the US kitchen cabinet and
bath vanity market.

See: https://www.kcma.org/news/press-releases/march-2020-trend-of-business

Sawn hardwood prices fall then reverse direction
The cost of many construction materials has trended down
recently and hardwood sawnwood prices in April were
down almost 9% from a month earlier according to the
Bureau of Labor Statistics (BLS) Producer Price Index
Report for April. Falling energy prices were said to
account for much of the decline.

The April BLS price index of materials and components
for construction was down 0.3 percent from March, before
seasonal adjustment but still it was 0.5 percent higher than
a year ago.

However, rising demand stemming from a surge of do-ityourself
projects by consumers working at home coupled
with restricted supply due to mills operating at a lower
capacity led to an upsurge in sawnwood prices in April
according to the National Association of Home Builders.

Pandemic hits hardwood exports to China
In the first two months of 2020 the total export value of
US hardwoods to China and Southeast Asia was US$241.5
million, down 7.6% compared to the same period of 2019.

In the first two months of this year the value of hardwood
exports to China declined almost 15% year on year to
US$167 million. On the other hand, US hardwood exports
to the Southeast Asian markets showed a promising
growth despite the pandemic as export value reached
US$74.4 million, up 14% year on year with Vietnam
accounting for 84% of total hardwood exports.