4. INDONESIA
Output from timber sector fell around 10% in April
The current pandemic has put enormous pressure on
timber companies which have found the flow of orders
from international markets has collapsed.

The Chairman of the Association of Indonesian Forest
Concessionaires (APHI), Indroyono Soesilo, said that
output from the timber sector fell around 10% in April and
that he expects a steeper decline in May.

He commented that action by the government in relaxing a
range of regulations to ease the burden on companies is
helping with maintaining the work force.

He proposed some further steps including expanding the
implementation of the Timber Legality Verification
System (SVLK) at the global level, strengthening market
intelligence for Indonesian manufacturers, arranging
business meetings and trade missions, and boosting the
function of the Indonesia Timber Exchange (ITX).

The Indonesian Ambassador to South Korea, Umar Hadi
said the potential for expansion of Indonesian processed
wood products sales based on SVLK to South Korea offers
opportunities as South Korea has a law on 'Sustainable
Use of Timber'. In addition, he said South Korea's
economic growth depends heavily on international trade.

https://ekonomi.bisnis.com/read/20200518/99/1242254/dampakvirus-corona-pengusaha-hutan-berharap-pemulihan-pada-paruhkedua-2020

Upstream/Downstream integration would benefit
furniture sector
Wang Sutrisna, Finance Director of PT Integra
Indocabinet Tbk (WOOD), has said furniture sector
companies in Indonesia feel that government policies are
not encouraging growth in the sector and should be
reviewed.

See:
https://entrepreneur.bisnis.com/read/20200510/263/1238481/pentingnya-optimalisasi-industri-mebel-dari-hulu-ke-hilir

Wang said that despite having a huge potential there is a
lack of upstream/downstream integration in the sector
which in other countries delivers many benefits.

SVLK important for boosting exports
The Coordinating Minister for Maritime Affairs and
Investment, Luhut Binsar Pandjaitan, stressed the
importance of the Timber Legality Verification System
(SVLK) related to sustainable forest management to meet
export market demand for verification of legality.

In related news the Minister of Industry, Agus Gumiwang
Kartasasmita, proposed that SVLK be mandatory in the
upstream wood processing industry but voluntary in the
downstream wood processing industry as this would ease
the burden on SMEs.

The Secretary General of the Ministry of Environment and
Forestry, Bambang Hendroyono, said the Ministry plans to
make it easier for SMEs to comply with the SVLK
regulations and would be providing incentives for the
SME sector.

51 million hectares of protected areas
Siti Nurbaya, Minister of Environment and Forestry said,
at a panel discussion during the 'World's Forests 2020'
(SOFO 2020) hosted by FAO, that while Indonesia's
annual deforestation was over 3.5 million hectares in the
period 1996 to 2000 it has fallen sharply to 0.44 million
and will continue to fall.

Deforestation rates have declined sharply during the
period of the present government which is committed to
meeting global targets for forest security.

The Minister said Indonesia has 51 million hectares of
protected areas or more than 28% of the land and her
ministry is working hard to develop a protected area policy
to connect fragmented animal habitats separated due to
concession allocations.

See: https://republika.co.id/berita/qar1o5330/deforestasimenurun-bukti-komitmen-pemerintah-lindungi-hutan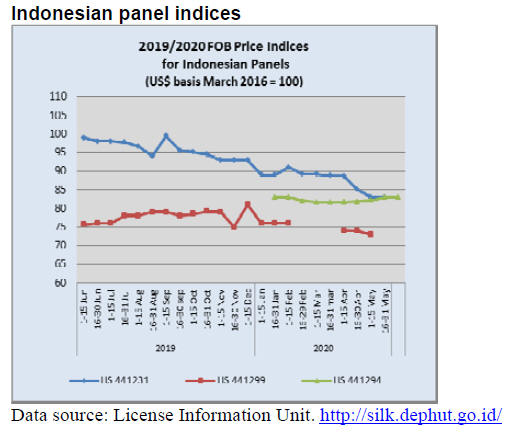 5. MYANMAR
Pandemic update
As of 27 May 2020 there were 206 confirmed cases out of
21,593 tested since the first case was confirmed on 23
March. Yangon is the 'hot-spot' with 161 cases, of which
82 are being treated in hospital.

The authorities in Myanmar warn that the country is likely
to face a surge in cases because of the scheduled
repatriation of about 30,000 migrant workers from
Thailand. All returnees will be required to stay at
quarantine centres for 21 days.

Myanmar has not implemented a lockdown as yet but
transportation between Yangon and other cities remains
restricted and only a few domestic air routes are operating.

In Yangon only some areas have 'stay home' restrictions.
Other measures in the city include a ban on gatherings of
more than five people and social distancing. Restaurants
remain closed but shopping malls have re-opened but with
limited operating hours.

Tender sale postponed again – millers fear log
shortage
As a result of the suspension of the Myanma Timber
Enterprise (MTE) log tender sales for the three months
from March to May, manufacturers have started to worry
about a hardwood and teak log shortage.

Usually the tender sale in April is suspended because of
the Myanmar New Year Holiday but this year the
extended suspension of sales is likely to cause a problem
for export millers.

The MTE also suspended tender sales for logs and
sawnwood destined for domestic consumption which are
priced in Myanmar Kyats. Analysts comment that the
MTE must be facing financial problems as there has been
no income for three months. According to manufacturers
in Myanmar, MTE has, in an effort to assist timber buyers,
extended the repayment schedule for at least another one
month from end of May.

According to The Confederation of Trade Unions in
Myanmar (CTUM), 47 factories in Yangon have either
closed or reduced their workforce, making 6,355 factory
workers redundant. Most are from the garment sector and
so far there have been no shut-down in the wood products
sector.

CTUM says at least 10 more factories have reduced their
workforce since it compiled its figures, some of them
temporarily but others permanently.

Some of wood industries have reduced their workforce
laying off mainly daily wages workers, the most
susceptible in this downturn. A few timber plants have
reduced the number of working days and some have
allowed voluntary resignation.

State Counsellor Daw Aung San Suu Kyi has said
rebuilding employment opportunities will be at the top of
the agenda in the post-coved period.

See: http://www.mizzima.com/article/over-6300-factoryworkers-yangon-region-lose-jobs

Illegal timber seized
The local media has quoted the Director of the Forest
Department in the Mandalay Region as reporting seizure
of over 1,400 tons of illegal timber in the region in the first
five months of this year. The seized timbers comprised
over 200 tons of teak, over 200 tons of other hardwoods
and close to 1,000 tons of other timber products.

Zaw Win Myint, Director of the Forest Department, said
concerted action in cooperation with other Departments
against smugglers can greatly reduce illegal logging and
smuggling.

This year there have been 421 smuggling cases in which
120 smugglers were arrested and 66 various types of
machinery seized.

Ethnic groups urged to conduct virus health education
The Peace Commission and Committee for Coordination
with Ethnic Armed Organizations has presented medical
supplies to the Ethnic Armed Organizations (EAO) in
Yangon.

Dr. Tin Myo Win, Chairman of Peace Commission and
Committee for Coordination with Ethnic Armed
Organizations, urged the ethnic groups to conduct virus
health education based on the medical advice from the
Ministry of Health and Sports. Dr. Tin Myo Win urged the
ethnic groups to effectively use the medical supplies for
fighting against the virus.

IMF Loan
Myanmar's Union Parliament approved a proposal to seek
US$700 million in loans from the International Monetary
Fund (IMF) to plug budget deficits resulting from
increased spending on economic recovery, health sector
improvements and social security.

Myanmar has forecast the budget deficits to widen this
fiscal year made worse by the extra spending needed to
mitigate the impact of pandemic on the economy.

U Maung Maung Win, Deputy Union Minister for
Planning, Finance and Industry, said the government needs
to increase stimulus spending to revive the economy,
upgrade the health sector and provide cash and food for
low-income households even as government income
declines.

In related news Myanmar will also receive some US$1.8
billion in financial support for development projects from
the Asian Development Bank.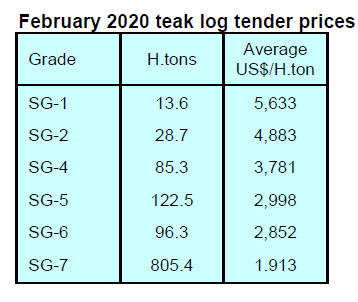 6. INDIA
Powerful cyclone causes immense damage
The powerful cyclone (Amphan) that slammed into the
coastal region on the India/Bangladesh boarder is said to
have caused damage estimated at US$13.2 billion dollars
in West Bengal alone according to the state government.

Pandemic update
There were 66,330 serious coronavirus patients in India as
of 20 May. Happily around 40% of the total had
recovered. Maharashtra is badly affected and continues to
report high numbers of cases. It was the first state to
confirm over 40,000 coronavirus cases. Delhi, the national
capital reported 11,659 cases.

However Tamil Nadu had the highest number of
coronavirus cases (13,967) after Maharashtra. The
Lockdown in India was extended until 31May 2020.

Analysts write "the public and trade are tired as the
economy suffers for want of action. Workers have been
frustrated and millions of them have left their work sites
and returned to their home states. The industry feels that
their return, even when the lockdown ends, will take time
so it is very doubtful the industry can return to normal
quickly".

The government has announced plans for a further easing
of restrictions. From 8 June, restaurants, hotels, shopping
centres and places of worship will be allowed to re-open in
the least affected areas but in areas with a high numbers of
infections the lockdown will remain.

Over half the timber mills in Kandla remain closed
The timber industries in Kandla import annually around 4
million cubic metres of timber accounting for
approximately 65% of India's total timber imports. There
are nearly 2,000 saw mills and more than 100 plywood
units in the proximity of Kandla port where 80,000-
100,000 direct labourers are employed.

Despite the central government's easing of restrictions of
work it is estimated that well over half the mills in Kandla
remain closed and commentators in India say it could take
years for industrial output to get back to pre-crisis levels
as demand has collapsed.

When the timber mills closed thousands of workers were
laid-off and headed back to their home states to wait out
the crisis. Navneet Gajjar, president of Kandla Timber
Association has been reported in Financialexpress.com as
saying it could take at least a year to bring normalcy in the
industry as those labourers who have gone back to their
states will not return for 5 months.

The other problem facing the industry is the huge stock of
imported timber at the ports awaiting collection. Importers
say, currently, they cannot pay the 18% GST and 5%
import duty in which case the timber the timber would go
to Custom bonded warehouses. Eventually the importers
will have to collect the timber and at that time will be
presented with a extra bill for storage.

For more see:
https://www.financialexpress.com/industry/asias-largest-timberindustry-incurs-rs-1500-crore-loss-due-to-coronavirus/1958302/

US urged to relocate from China to India
The US is currently exploring with India, Australia, Japan,
New Zealand, South Korea and Vietnam options on
diversifying supply chains to eliminate dependence on
China to create what has been dubbed an "Economic
Prosperity Network" of trusted partners.

To drive this initiative the Indian government has been
discussing with US companies amendments to the tax and
labour laws that would make India a favoured destination
for companies. Several Indian states have taken the
initiative to streamline investment procedures and are
looking for the central government to keep up the
momentum on this initiative.

Read more at:
https://economictimes.indiatimes.com/news/economy/foreigntrade/india-looks-to-lure-more-than-1000-american-companiesout-ofchina/articleshow/75595400.cms?utm_source=contentofinterest&utm_medium=text&utm_campaign=cppst

Plantation teak
Due to current international situation new business
transactions are at a stand-still. C&F prices have not been
updated as there has been no trade.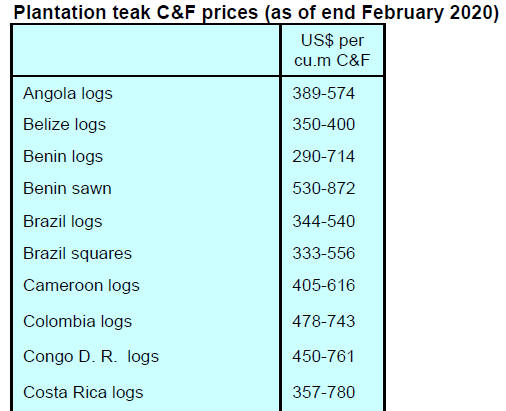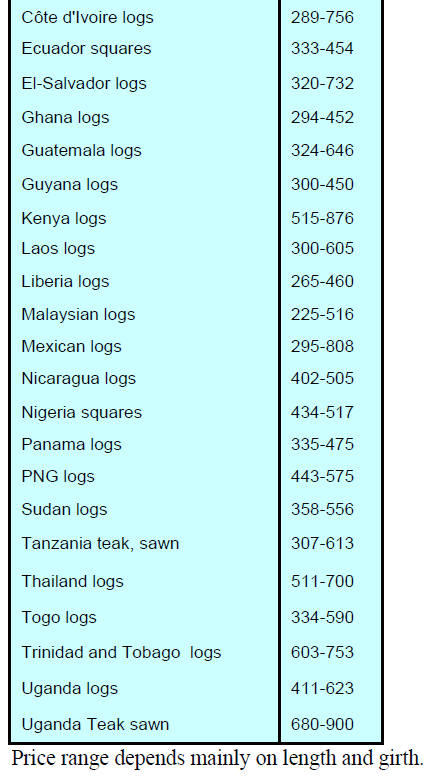 Locally sawn hardwood prices
Production and imports have ceased.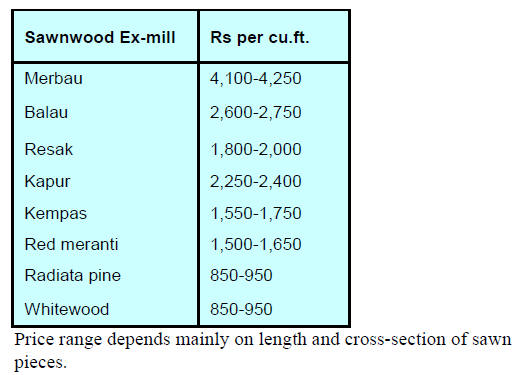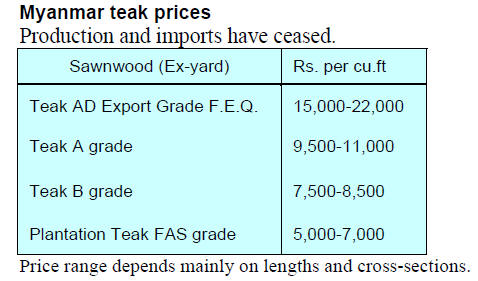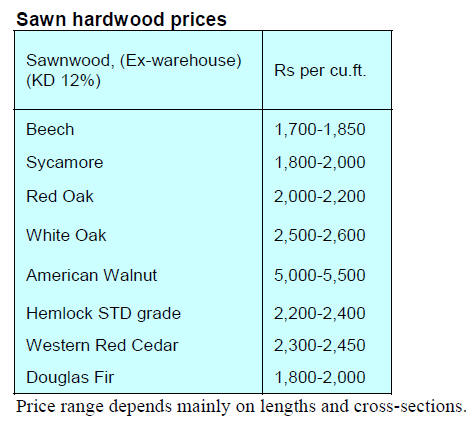 Plywood
Production and sales have ceased due to the Lockdown in
heavily affected areas and most of the workers have
moved back to their states. But in some states where the
virus spread is minimal, resumption of production has
been permitted but few mills are taking advantage of this.

Recently the Karnataka and Kerala Plywood
Manufacturers Associations meet to consider how to
respond to the current situation and announced the
intention to increase plywood prices to cover the
anticipated increased cost of labour, timber and chemicals.

As most other states are under lockdown price adjustments
are still under consideration and the final picture will
emerge only after the Lockdown is lifted over the entire
country.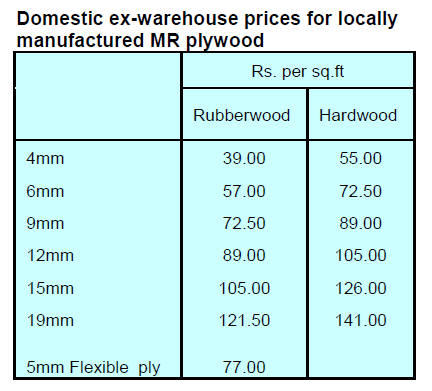 7. VIETNAM
COVID 19 update
As of 25 May Vietnam's Ministry of Health confirmed a
total of 325 cases of the corona virus of which 267 have
recovered and been discharged from hospital. No deaths
have yet been reported. Between 16 April and 25 May no
new cases caused by community transmission have been
recorded.

The government is maintaining its suspension on entry
into Vietnam by non-nationals, including people with a
Vietnamese visa exemption certificates. Only Vietnamese
nationals, diplomats and designated highly skilled workers
are allowed to enter the country. All persons entering
Vietnam must undergo medical checks and 14-day
quarantine upon arrival.

Economic growth prospects
The International Monetary Fund has stated that
Vietnam's economic growth may slow to belowr 3% this
year but may pick up to 7% in 2021. Vietnam has entered
a "new normal" as the Government has allowed the
reopening of businesses including non-essential services
except for entertainment businessses.

Timber industry among those most affected by
pandemic
According to VIFOREST, the timber sector is expected to
resume its growth momentum from the third quarter of
2020.

At a recent meeting to decide on support for the timber
sector, Dr. Nguyen Xuan Cuong, Minister of Agriculture
and Rural Development, highlighted 4 measures to boost
post-covid recovery in the timber industry.

 Policy interventions to support over 5,000 sector
enterprises in accessing the government's
US$10.8 billion credit support package, lower
interest rates, delay in the collection of taxes and
land fees and financial assistance for employers
and employees.

 As Vietnam has emerged as one of a few
countries effectively managing the impact of the
virus support will be provided to capture market
opportunities in those consumer countries that are
resuming business activities. Encouragement will
be given to initiatives such as trade fairs and
other forms of off-line trade development as well
as online marketing of wood products.

 The industries in the sector will be assisted to
review and revise their business strategy to adapt
to the "new normal" as preparation for the
anticipated economic 'take off' beginning in the
third quarter of this year.

 Support for restructuring of the sector toward
sustainable development through promoting large
timber plantation establishment, diversification of
export markets and intensifying value adding of
made-in-Vietnam wood products and developing
Vietnam as a world leader in wooden products.

Vietnam intends to deepen integration into the global
wood product supply chain with well-developed brands
and highly ethical corporations. The Minister also mention
the opportunities in the domestic market of almost 100
million wage earners.

For more see:
http://tongcuclamnghiep.gov.vn/LamNghiep/Index/bon-nhomgiai-phap-lon-khoi-phuc-nganh-go-4183

First Vietnam Forest Certification certificates granted.
On 17 May 2020, the Vietnam Administration of Forestry
(VNFOREST) granted the first domestic forest
certification certificates to 3 companies in the Vietnam
Rubber Group (VRG). These first certificates cover 11,400
ha. of rubber plantations managed by Binh Long, Phu
Rieng and Dau Tieng Rubber Companies.

In 2019, Vietnam became 50th member of PEFC and the
Vietnam Forest Certification Scheme (VFCS) was
recognised worldwide. Achieving these first VFCS has
marked a turning point in the cooperation between
Vietnam and PEFC.

See: https://en.nhandan.com.vn/business/item/8676602-first-114-000-ha-of-rubber-recognised-with-sustainable-forestmanagement-certificate.html

8. BRAZIL
Pandemic control measures by Federal government
and action by companies in the forest sector
The increase of corona virus cases in Brazil has put
pressure on the Federal Government to adopt more active
measures to contain the spread. However, the most
effective procedure, according to the Ministry of Health, is
social isolation.

The role of the Federal Government in support of
businesses has, so far, been limited to the release of
credits, financial resources and the temporary suspension
of some taxes while the State Governments are responsible
for effective control measures.

As for the forest sector, the main measures adopted by the
Federal government are as follows:
"Corona-voucher": Law 13.982/20 provides an emergency
basic income of R$600 to informal, self-employed and
those workers without fixed income.

Credit for employment maintenance: Provisional Measure
no. 935/2020 releases a credit of R$51.6 billion for
employment maintenance. The amount is earmarked for
the implementation of the "Emergency Benefit for
Employment and Income Maintenance".

This programme aims to reduce the social impacts related
to the pandemic through the payment of financial aid to
workers who have reduced working hours or suffered
contract suspension.

A measure to support those whose working hours and
wages have fallen (Provisional Measure no. 936/2020)
aims to prevent mass layoffs due to the virus. This
arrangement allows companies to negotiate with
employees for up to 70% of the employee's working hours
and wages without the intervention of labour unions and
will run for three months. This measure creates a top-up
benefit paid by the government and provides employment
stability.

According to Provisional Measure No. 938/2020, 'Release
of financial resources for states and municipalities' the
Federal government will release up to R$16 billion to
states and municipalities for four months. The funds
guarantee the maintenance of funding made available last
year even with the fall in Federal and State revenues.

Administrative Ordinance n° 897/2020,' Suspension of
FGTS payment' provides for the suspension of FGTS
payment (Fund for Employment Time Guarantee/Fundo
de Garantia do Tempo de Serviço) for March, April and
May.

Zero IOF on credit: Decree n° 10.305/2020 reduces to zero
the 'Tax on Financial Operations' (IOF - Imposto sobre
Operações Financeiras) charged on credit operations.
Currently, the IOF for credit operations is 3% per year.

Some companies in the forestry sector have been helping
the public. For example Suzano Papel e Celulose, a
Brazilian pulp and paper conglomerate announced that it
will start distributing 159 respirators and 1 million face
masks.

Klabin, the biggest paper producer, exporter and recycler
in Brazil started construction and purchased equipment for
the immediate installation of 10 ICU beds and 40
infirmary beds at the Telêmaco Borba regional/ Campaign
Hospital.

Veracel Celulose joined with partner companies to donate
more than 86,000 health and hygiene items to the health
departments of the municipalities of Porto Seguro and
Eunápolis.

Bracell, another pulp sector company donated 18
respirators, 350,000 face masks, 40,000 medical aprons,
33,500 surgical gloves, 680 face shields, 250 medical
goggles, 164 protective coveralls and 4,000 cleaning and
hygiene items to states where it operates.

Crisis in the Bento Gonçalves furniture cluster
With revenues of R$384 million in the first quarter 2020
the Bento Gonçalves furniture cluster recorded a 3.3%
decrease in revenue compared to the same period in 2019.
However, the decline in revenue at 1.38% in the first
quarter for all sectors in the state of Rio Grande do Sul
was not as high as in the furniture sector.

The March figures were particularly bad according to the
Secretariat of Finance in Rio Grande do Sul. March data
was negative and it is likely that this will continue into
April.

The performance of the international trade sector also
weakened dropping over 7%, driven down by the over
35% quarter on quarter drop in trade with the US in 2020.

According to the Furniture Industry Association of Bento
Gonçalves (Sindmóveis) an improvement is expected from
the second half of the year, with economic activity
recovering from the 3rd and 4th quarter of this year but job
recovery will extend into 2021.

According to the Furniture Industry Association of Bento
Gonçalves (Sindmóveis) the Bento Gonçalves furniture
cluster includes about 300 industries in the municipalities
of Bento Gonçalves, Monte Belo do Sul, Pinto Bandeira
and Santa Tereza and many are already feeling the effect
of the pandemic on their businesses.

First quarter exports are not encouraging says Sindmóveis
and there have been around 2,600 layoffs by furniture
companies in Bento Gonçalves and around 40% of the
companies have introduced reduced working hours.

The Brazilian Association of Furniture Industry
(ABIMÓVEL) commented that the furniture sector was
the eighth largest production sector in the country and is a
major employer with some 260,000 direct jobs in the
sector.

ABIMÓVEL expects that things could worsen if there is
no quick recovery of the economy, if trade does not
resume, if credit lines are not made available and if
support for micro, small and medium-sized companies is
not provided.

Export update
The value of April 2020 exports of wood-based products
(except pulp and paper) declined around 3% compared to
April 2019, from US$245.8 million to US$239.0 million.

April pine sawnwood export values were slightly down
year on year from US$46.0 million to US$45.6 million
this year. In contrast export volumes increased 11.0% over
the same period, from 221,300 cu.m to 245,600 cu.m.

The volume of tropical sawnwood exports decreased year
on year a massive 30% in April, from 45,200 cu.m in
April 2019 to 31,400 cu.m in April 2020. The value of
exports also dropped by about the same percentage
US$18.5 million to US$12.6 million over the same period.

Pine plywood exports bucked the downward trend
increasing 24% in value in April 2020 compared to April
2019, from US$40.1 million to US$49.9 million. The
volume of exports also rose jumping over 35%
from147,800 cu.m in April 2019 to 200,900 cu.m in April
this year.

However. Both the volume and value of tropical plywood
exports dropped in April. The volume was down 29%) and
the value dropped 19% from 8,600 cu.m (US$3.2 million)
in April 2019 to 6,100 cu.m (US$2.6 million) in April
2020.

The export market for wooden furniture has weakened
sharply and the value of exports declined from US$44.4
million in April 2019 to US$25.8 million in April 2020,
almost a 42% drop.

Brazil-US trade facilitation
The Brazilian timber industry, represented by the Brazilian
Association for Mechanically Processed Timber
(ABIMCI), recently sent a written request to the
governments of Brazil and the United States urging both
sides to facilitate trade and good practices between the two
countries.

This came about because of the joint initiative of the
Business Coalition for the Facilitation of Trade and
Barriers (CFB), led by the Brazilian National
Confederation of Industry (CNI), the US Chamber,
Amcham and 28 other entities, including ABIMCI.

The request includes binding commitments in priority
areas such as customs modernisation and trade facilitation,
good regulatory practices, electronic commerce and
combating corruption. The Coalition believes that a
proposal for a trade modernisation agreement could be
reached without the need for the involvement of Mercosur
or legislation of the United States.

The document also states that, if implemented, the
proposal would reduce costs, increase trade and bilateral
investment and would also represent a first step towards a
more comprehensive future trade agreement.

According to ABIMCI, this initiative is timely due to a
close relationship between the two countries and because
the current pandemic is affecting the economies of both
countries significantly. Joint action in areas that enable
better synergy for businesses would be beneficial, says
ABIMCI.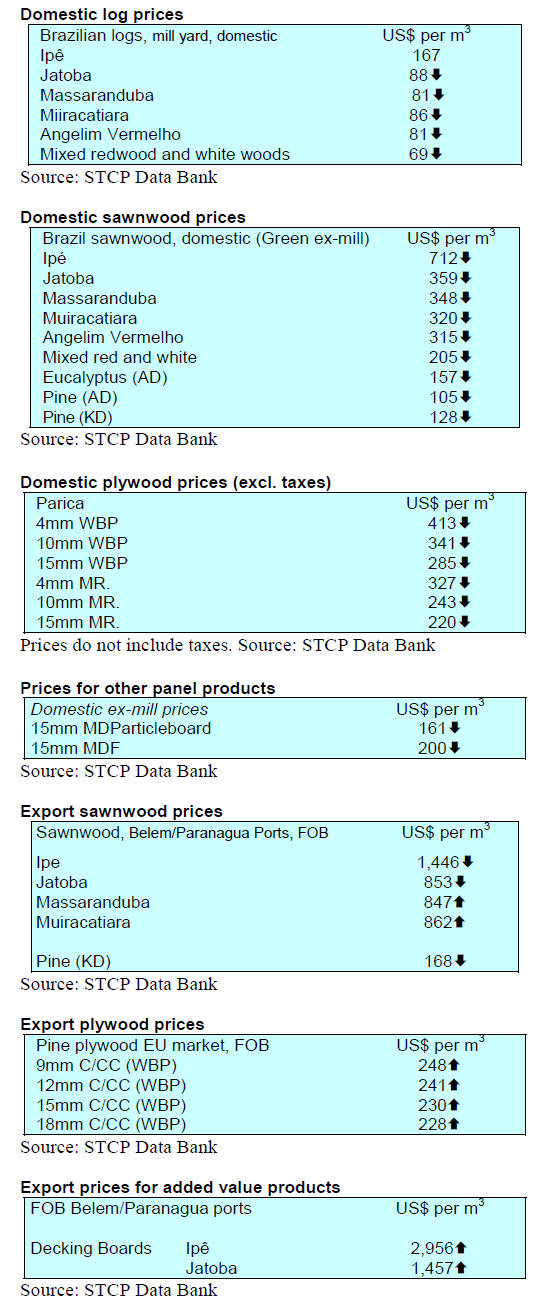 
9. PERU
January exports down 20%
The Exporters Association (ADEX) has reported that in
January Peruvian timber exports were worth US$9.1
million FOB, this represents an almost 20% decline from
the US$11.2 million export earnings in January 2019. In
January 2020 exports of semi-manufactured products
accounted for 54% of total exports while sawnwood
accounted for a further 37% share. The export value of
both groups of products was down year on year.

Of the US$9.1 million exported in January, China was the
main market with a 43% share which was up significantly
year on year. Mexico was the second largest market in
January with 12% share but here export earnings dropped.
Other markets of note were France and Denmark.

Expansion of certified forests
Despite the difficult times the world is facing due to the
pandemic initiatives to protect and responsibly harvest
tropical forests continue. FSC forest management
certification has expanded steadily in Peru as companies
and communities adopt more responsible harvesting
strategies. This year two new certified areas located in the
Ucayali region have been reported.

Online legal timber information system
The National Forest and Wildlife Service (Serfor) has
announced that in early 2021 its online system to help
verify the legal origin of Peruvian timbers will be
operational. The National Forest and Wildlife Information
System (MC-SNIFFS) will collect and report the
information generated at each stage of the production
chain from origin to market.

Recently a review was conducted with managers and
specialists from Serfor and the regions with technical
support provided by the USAID Pro-Bosques Project. To
ensure efficiency and transparency efforts are being made
to develop an effective and integrated computer system.

In the coming months a review processes will be
conducted with forest managers in the Loreto, Ucayali,
San Martín and Madre de Dios regions in order to
consolidate a proposal for Serfor and the regional
authorities in the Peruvian Amazon.