Report from North America
Survey finds 63% of US wood manufacturers remain
operational
A recent survey by the Wood Component Manufacturers
Association provides insight into the challenges faced by
member businesses in the midst of the pandemic.

Forty-nine companies, including manufacturers of interior
wood components, architectural wood components,
furniture components, lumber and dimension stock, and
technology, equipment and tool providers, responded to
the survey, which was conducted in April.

When asked if their companies were open or closed for
business, 63% said their operations remained open as
essential businesses. Allowed to choose multiple
responses, more than 65% said their manufacturing facility
and offices were open as they complied with current social
distancing requirements, while 14% said they were open
for important appointments only.

Of those businesses classified as closed, approximately
20% had essential personnel reporting to the facility while
others worked from home, 8% reported it had some staff
working from home, and 6% said they were fully closed
except for emergencies.

See:
https://www.woodworkingnetwork.com/news/woodworkingindustry-news/survye-reveals-impact-covid-19-componentsmanufacturing-industry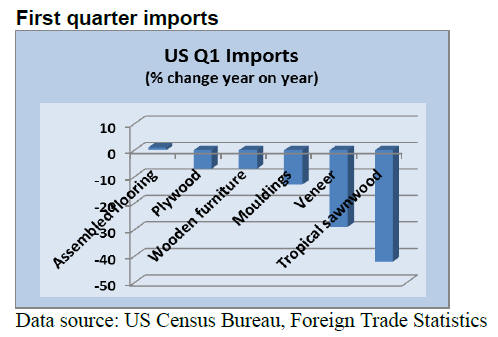 Despite pandemic imports of hardwood products
rebounded in March
US imports of wood products rebounded in March, albeit
to still-diminished levels, after a dismal February. Imports
of tropical hardwood, plywood, veneer, flooring and
mouldings all saw gains in March.

However, imports from China fell steeply across the board
even after several months of decline while imports from a
number of countries rose sharply to fill the need,
suggesting that US importers are modifying their supply
chains.

The import data is encouraging considering that March
was the first month where businesses across the US were
under severe restrictions.

However, it is too soon to say what the full economic
effect of the pandemic may be on the US where to
infection and mortality rates are the highest in the world.

Much of the U. wood products industry remains operating
as the US Department of Homeland Security has identified
the industry as an essential critical infrastructure
workforce in the nation¡¯s response to the coronavirus
pandemic.

US sawn tropical hardwood imports rise
US imports of sawn tropical hardwood recovered
somewhat in March, growing by 28% from February¡¯s
record low. The 12,950 cubic metres imported is more
than one-third less than that of March 2019.

Through the first quarter of 2020, imports are down 42%
year to date. Imports from Ecuador fell by 14% in March
and are down 74% year to date. Imports from Brazil,
despite increasing by 62% in March, are 40% behind 2019
year to date.

Imports of jatoba, sapelli, ipe, and acajou d¡¯Afrique all
rebounded in March, but remain well behind last year¡¯s
imports year to date. Imports of balsa fell by 18% in
March and lag 2019 by 74% year to date.

Canadian Imports of tropical hardwood fell by 5% in
March but remain 4% ahead of 2019 year to date. Imports
to Canada from Ecuador more than doubled in March to a
level not seen in nearly three years. Canadian imports
from Ecuador are up more than nine-fold over 2019 year
to date.

Surge in hardwood plywood imports
US imports of hardwood plywood grew by 29% in March.
The volume was nearly 8% higher than that in March 2019
and was up 6% over 2019 year to date. Imports from
China fell by 67% in March and year to date are only half
of last year¡¯s first quarter total. Imports from Indonesia
and Ecuador were up sharply in March.

Italy tops list of veneer shippers to US
A surge in imports from Italy helped US Imports of
tropical hardwood veneer recover from a dismal February
as March imports rose by 56%. Despite the gain, the
month¡¯s imports still lagged behind March 2019 import
levels by over 30%.

Imports from Italy more than quadrupled in March and
imports from Cote d¡¯Ivoire more than doubled. Imports
from several other countries were also volatile, but in the
negative direction: imports fell sharply from China (down
77%), Ghana (down 68%), Cameroon, (down 77%) and
India (down 65%). Year to date, imports are down by
29% through the first quarter of the year.

Modest rise in hardwood flooring imports
US imports of hardwood flooring rose by 12% in March.
While the value of imports has remained somewhat
consistent, the sources of supply has shifted drastically.

Imports from China fell by 85% to its lowest level in more
than 10 years, while imports from Brazil dropped 99%, to
a level not seen in three years. Meanwhile, imports from
Malaysia and Indonesia grew by 64% and 145%
respectively.

Year to date, imports are down 23% through the first
quarter. Imports for March were 20% less than that of the
previous March.

Imports of assembled flooring panels from China also fell
sharply in March dropping 80%. Year to date, imports
from China are down 32% through the first quarter.

US moulding imports showed slight gain
US imports of hardwood mouldings rose 2% in March but
were down more than 18% from March of 2019. Imports
from China fell by 40% to the lowest level in more than a
decade while imports from Malaysia dropped by 30%.

Imports from Brazil made up the difference, rising more
than three-fold from a disastrous February. Total year to
date imports are down 13% with year to date imports from
China down 55% through the first quarter.

US GDP shrank n the First Quarter
Gross Domestic Product fell 4.8% in the first quarter
according to Commerce Department numbers that provide
the first detailed glimpse into the damage the coronavirus
wreaked on the US economy.

This marked the first negative GDP reading since the 1.1%
decline in the first quarter of 2014 and the lowest level
since the 8.4% plunge in Q4 of 2008 during the worst of
the financial crisis.

The biggest drags on the economy were consumer
spending, nonresidential fixed investment, exports and
inventories. Consumer expenditures, which comprise 67%
of total GDP, plunged 7.6% in the quarter as all
nonessential stores were closed and the cornerstone of the
US economy was taken almost completely out of
commission.

Durable goods spending tumbled 16.1% while
expenditures on services were down 10.2%. Exports
dropped 8.7% while imports fell 15.3%, including a 30%
drop in services.

Steep rise in unemployment claims
Another 3.2 million Americans filed first-time claims for
unemployment benefits during the first week of May,
increasing the US jobless rate to 14.7%, the Department of
Labor reported. That brings the total number of
seasonally-adjusted initial claims filed since mid-March to
33.5 million.

Initial claims are considered a proxy for layoffs or
furloughs, and that level represents about 21% of the
March labor force. For April, the US Bureau of Labor
Statistics reported that the US economy lost 20.5 million
jobs, by far the biggest drop since the US began tracking
the data in 1939.

These numbers are staggeringly high; weekly jobless
claims were hovering in the 200,000s in the last few years
before this crisis. However, the number of initial claims
has fallen each week since peaking at 6.9 million in the
last week of March.