US Dollar Exchange Rates of 10th May 2020
China Yuan 7.083
Report from China

First quarter GDP reflects virus control impact
The measures taken by the government to stop the spread
of the corona virus outbreak resulted in an almost 7% drop
in GDP in the first quarter 2020. This was the first
quarterly contraction since the data series began in 1992
according to the National Bureau of Statistics (NBS).

To support the economy and help struggling businesses
the government has taken a series of measures including
cutting interest rates on loans, expanding bank liquidity to
encourage lending and cutting or waiving taxes. Measures
to help the unemployed and low-income households are
being implemented.

The NBS has reported the utilisation rate of manufacturing
capacity in the first quarter of 2020 was 67%, almost 9%
lower than the same period of last year.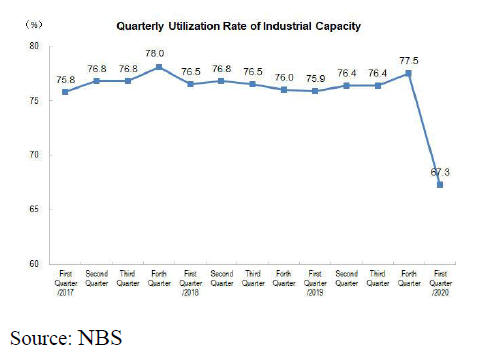 Plywood exports crumble
According to China Customs, in the first quarter of 2020,
China¡¯s plywood exports were 1.85 million cubic metres
valued at US$787.6 million, a drop of 85% and 82%
respectively over the same period in 2019.

The main markets for plywood exports in the first quarter
were the Philippines (131,000 cu.m), UK (129,000 cu.m),
Japan (125,000 cu.m), UAE (111,000 cu.m), Vietnam
(105,000 cu.m) and Saudi Arabia (104,000) all of which
were significantly down year on year.

First quarter plywood imports were 35,068 cubic metres
valued at US$26.85 million, a decline of around 80% in
both volume and value. Over 70% of China¡¯s plywood
imports are from five countries, Russia (16,002 cu.m),
Indonesia (4, 886 cu.m), Malaysia (3,368 cu.m), Vietnam
(1, 547 cu.m) and Japan (1, 290 cu.m).

Sharp drop in wooden furniture exports and imports
China Customs data is showing that in the first quarter of
2020 the value of China¡¯s wooden furniture exports fell
84% year on year to US$3.104 billion.

The main markets were the USA (US$882 million), Japan
(US$254 million), UK (US$211 million), Australia
(US$188 million), South Korea (US$150 million) and
Canada (US$119 million) all dropping around 80%
compared to the first quarter 2019.

China imports small amounts of furniture which, in the
first quarter 2020, were worth US$203 million, down 80%
year on year.

Rise in the value of wooden doors output in 2019
The total output value of wooden door in 2019 reached
RMB153 billion, an increase of 4% over the same period
2018. The export value of wooden doors was USD639
million, down 6% from 2019.

Custom made home furnishings are an important new
market in China and this has spread to wooden doors
enterprises. In 2019 eight major custom-made home item
manufacturers (Piano, Holike, Topstrong, Shangpin, Olo,
Sogal, Jinpai, and Zbom) achieved sales of RMB25.991
billion, up 17% year on year.

China's wooden door market index (WDMCI) in the first
quarter of 2020 shows that, once the worst of the
pandemic was over, market demand has gradually
improved. Further improvement will depend on how the
housing market develops.

http://www.forestry.gov.cn/xdly/5188/20200317/104457637191269.html

Decline in the value of output in Guangdong
The value of wood processing industries in Guangdong
fell 52% to RMB75.212 in the first quarter of 2020. The
value of output wood processing industries, wood-based
panel industries, wooden furniture industries and bamboo
and rattan furniture industry was RMB1.089 billion,
RMB3.299 billion, RMB16.391 billion, RMB0.58 billion,
down 43%, 35%, 31% and 20% respectively. In general,
flooring enterprises have fared better and they have a
steady flow of raw material.

Ensuring stable national timber supply
The production and international trade in timber raw
materials for Chinese enterprises has been disrupted by the
pandemic.

Because of the dependence of Chinese manufacturers on
raw material imports the current disruption to trade flows
has meant companies have had to diversify sources and
they have also started discussing the development of
overseas forest resources and timber procurement in order
to maintaining the stability of the global timber supply
chain.