Japan Wood Products Prices
Dollar Exchange Rates of 10th May 2020
Japan Yen 107.13

Reports From Japan

State of emergency partially lifted
27 of Japan¡¯s 47 prefectures have, as of 14 May, relaxed
the ¡®stay-at-home¡¯ requests issued in response to the
spread of the corona virus but the nationwide state of
emergency is still in place giving prefectural authorities
discretion on what to relax.

The prefectures where restrictions have been eased do not
include 13 prefectures with a relatively high number of
corona cases, including Tokyo, Osaka and Hokkaido
which says the government require "special caution."
Despite the easing residents are asked to avoid
nonessential travel, not to cross prefectural borders and
avoid crowded and poorly ventilated areas.

The same day the easing of restrictions was announced the
government said it will prepare a second extra budget to
finance measures to ease the impact of the pandemic on
businesses and households. In April the government
agreed a US$240 billion supplementary budget for the
current fiscal year which began in April.

The measures introduced to try and limit the spread of the
corona virus have had a big impact on the economy
driving growth to the lowest in almost a decade. Business
confidence has slumped dramatically with the index for
business confidence dropping sharply, even faster than
immediately after the Great East Japan Earthquake and
Tsunami.

The Japanese Cabinet Office maintained its assessment
that economic conditions are ¡°worsening¡± as factory
production and household spending continue to slow. The
pandemic has impacted every country and job losses due
to lockdowns and failing businesses in Asia alone are
estimated at 68 million.

Japan has not been immune to job losses even though it
has maintained a fairly low unemployment rate over the
years.

The pandemic and the nationwide state of emergency
drastically changed the fortunes of many workers in Japan
and the national unemployment rate was around 1% higher
in January even though the full impact of the lockdown
had not hit. With zero income and diminishing cash
reserves many businesses are under pressure to lay off
workers.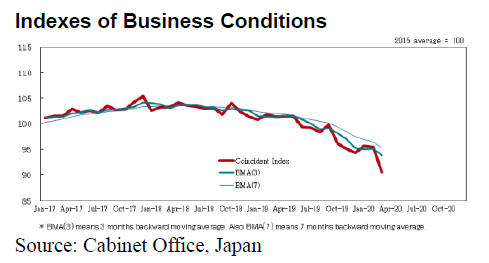 Too heavy dependence on one source
The Japanese government plans to provide subsidies to
Japanese companies with overseas production sites to
relocate back to Japan or to Southeast Asian countries as
the pandemic has highlighted the dependence of Chinese
manufacturing plants and how supply chains can be
quickly disrupted.

The local media has reported a US$2.2 billion allocation
will be incorporated into the government¡¯s emergency
stimulus package to help firms diversify their supply
chains. The initiative came after many manufacturers,
especially car makers, suffered a shortage of parts
produced in China. Japan is heavily dependent on factories
in China producing wood products and where Japanese
companies have plants in China they too will be viewing
the need to diversify supply chains.

Retail sales evaporated in March
March factory output fell at the fastest pace in five months
according to the Cabinet Office analysis and retail sales
dropped sharply. Factory output dropped almost 4% in
March month on the sharpest fall in since October last
year.

On the domestic front the Japan Department Stores
Association said that sales in March fell over 30%, the
largest drop ever recorded mainly because the number of
overseas visitors to Japan fell to almost zero. The
Association has said April figures are likely to be worse.

On the other hand, online sales have been rising as people
adjusted to having more time at home, mothers had to
cook for the families who stay home and as home work
stations.

A lot of people have been able to work from home and
while this is viewed as a temporary measure it could be
here to stay which would have widespread impact on life
styles and consumption.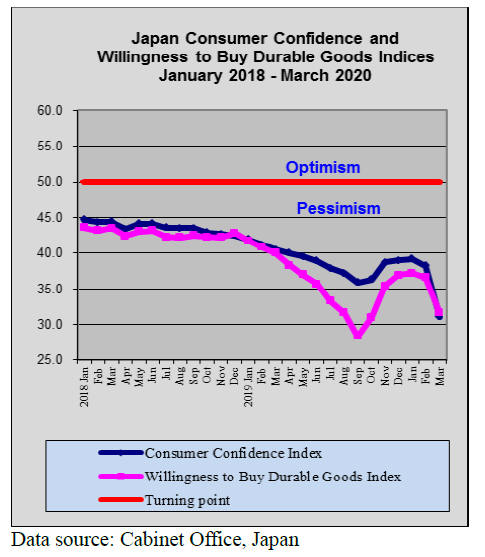 Japan pledges huge financial contribution to IMF for
poorest countries
As Japan tries to rescue its own economy a significant
financial contribution to the International Monetary Fund
has drawn praise from IMF Managing Director, Kristalina
Georgieva, who reported that Japan has pledged an
amount equal to about 20% of its GDP to respond to the
economic challenges in the world's poorest countries.

Japan, the world's third-largest economy, is the largest
contributor to IMF financial resources and the largest
contributor to the fund's concessional lending facilities.

Yen stability maintained
The yen maintained its stability against the US dollar in
early May on the back of comments from the Bank of
Japan (BoJ) that it would adopt additional monetary
stimulus to support the US$1 trillion stimulus efforts by
the government.

In testimony to the Japanese parliament, the Governor of
the BoJ said that the Bank would use all available tools
to stimulate the economy. Some analysts interpreted his
statement as suggesting printing money and driving
interest rates even lower.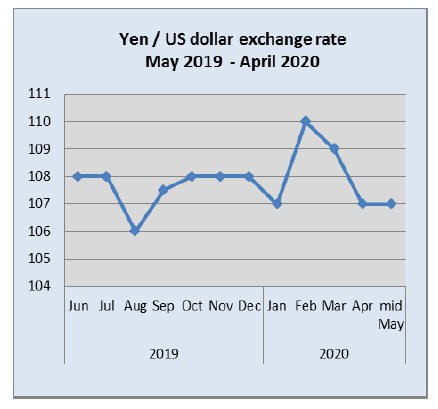 Work from home may be here to stay
Many home designers are already discussing how the
pandemic will impact residential designs. The home office
is top of the list for many architects who say the home
office should be quiet and away from everyday
disturbances but not isolated.

Space is another issue as is how air enters and exits a
home. It is likely that for some years people will be
spending more time at home than before even after the
pandemic is under control and this will drive then to think
in terms of sanctuary from a troubled world.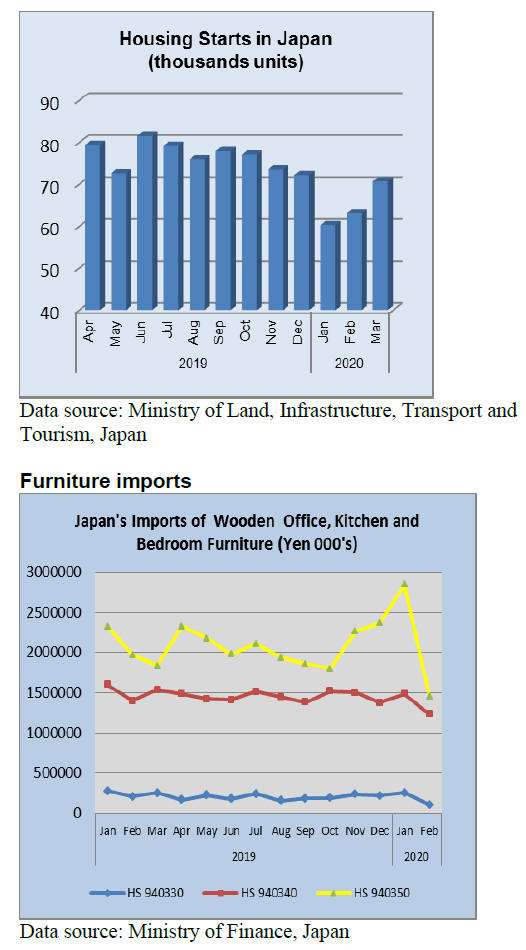 Office furniture imports (HS 940330)
Given the steep drop in business sentiment it is no surprise
that there was a considerable decline in wooden office
furniture (HS9940330) in February. Year on year, the
value of February imports was 35% down and compared
to a month earlier February imports crashed 59%.

Exporters in China, Poland and Italy featured as top
suppliers of wooden office furniture but in February there
was a new entrant in the top rank, Canada. Shippers in
China accounted for 29% of February imports followed by
Canada at 15% and Italy and Poland at around 10% each.

Kitchen furniture imports (HS 940340)
The Philippines and Vietnam accounted for over 85% of
Japan¡¯s imports of wooden kitchen furniture (HS940340)
in February, up some 10% from a month earlier. A further
8% of the value of imports was shipped from China
leaving little market share for others.

Year on year, Japan¡¯s imports of wooden kitchen furniture
(HS940340) in February dropped 9% but there was a rise
of around 12% compared to the value of January imports.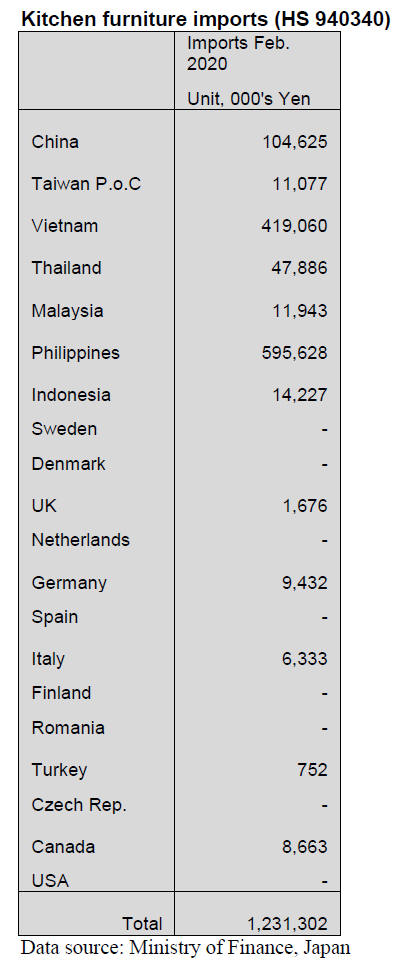 Bedroom furniture imports (HS 940350)
The value of February imports of wooden bedroom
furniture (HS940350) tumbled a massive 49% compared
to the value of January imports. Year on year, wooden
bedroom furniture imports dropped 26%.

Vietnam topped the list of wooden bedroom furniture
shippers in February accounting for just over half of all
Japan¡¯s wooden bedroom furniture imports however,
shippers in Vietnam saw the value of February shipments
drop 24%.

Manufacturers in China accounted for a further 36% of
Japan¡¯s imports of wooden bedroom furniture but there
was an almost 70% drop in the value of exports compared
to a month earlier.

Two S.E. Asian shippers Malaysia and Thailand were the
third and fourth ranked shippers in February and both
maintained market share.

Trade news from the Japan Lumber Reports (JLR)
The Japan Lumber Reports (JLR), a subscription trade
journal published every two weeks in English, is
generously allowing the ITTO Tropical Timber Market
Report to reproduce news on the Japanese market
precisely as it appears in the JLR.

For the JLR report please see:
http://www.nmokuzai.com/modules/general/index.php?id=7

Outbreak of corona virus
Worldwide pandemic of corona virus is giving huge
damage to the world economy. China, origin of the virus,
says the peak of pandemic is over but it continues
spreading in other parts of the world. There is no safe
place to evacuate in any part of the world. This is the first
experience for the people and nobody knows what to do
and how to end.

It is inevitable to see economic damages and we may face
unexperienced depression after the storm is over.

Business activities have already slowed down
considerably by the government request to stay home and
avoid human contact, which is the only way to curb
spreading of the virus. Major house builders had steady
orders until February then by request of staying home,
sales activities practically stopped since face to face
negotiation is basic between house buyer and house sales
man.

At the same time, many house exhibition sites are closed
so future housing starts would drop in populated regions.
Japanese house builders rely on supply of various
materials from China and while China suffered virus
outbreak, the supply stopped and Japanese house builders
were unable to complete house building and deliver on
time. The largest short item was toilet from China. House
is incomplete without toilet. Chinese supply is recovering
in April but Japanese demand may shrink.

In North America, new housing starts in the U.S.A. are
dropping by corona virus pandemonium so demand of
wood products is decreasing. Interior Canadian sawmills
are reducing the production to protect workers from virus
but at the same time, it is by depressed North American
lumber market.

China market is recovering since March and purchase of
logs restarted but supply side has corona virus problem in
Europe and New Zealand so the purchase is not as easy as
before.

In Japan, major laminated lumber manufacturer decided to
reduce the production by 30% by uncertain supply of
lamina from Europe. Lumber mills in Finland had a month
long strike so laminated lumber market in Japan is firm
now. Plywood mills in Japan have started production
cutback to restore deteriorating market.

Domestic log market is skidding by lack of demand and
the prices are falling. Only hope is restart of log export to
China. After all, demand for wood products is slowing but
the supply side also has problems so both seem to keep
shrinking worldwide.

Softwood plywood prices stopped skidding
Since middle of March, plywood manufacturers
announced production curtailment and are determined to
stick to their proposed prices and are not accepting any
low priced offers from the dealers. After new fiscal year
started in April, the market prices stopped skidding and
the prices are coming back up to 1,000 yen per sheet
delivered. In March the prices were down to 950 yen.

If the production is reduced as the manufacturers propose,
supply volume would be down by 80,000 cbms in April
and May and if the shipment recovers, the inventory
would drop down to 110 M cbms, which is record low
figures so the dealers started worrying future supply
tightness.

However, unfortunately corona virus pandemic started in
March and the market is now confusing and the movement
is getting slower so future demand is uncertain. Stay-athome
request hampers normal business activities and the
most important measure to stop spreading corona virus is
to avoid meeting people so telework at home is now main
style of business.

South Sea logs and lumber
Log production in Malaysia and PNG is dropping by
stopping measures of corona virus infections but the
Japanese users have ample inventory now so there is no
panic but future is uncertain. Chinese production of red
pine laminated free board and LVL is steady and shipment
for Japan is smooth.

Demand for laminated free board is firm for furniture
manufacturing and the Japanese users place orders earlier
in fear of repeated spread of corona virus. Indonesian
mercusii laminated pine board continues steady supply.
LVL movement is slower by depressed crating demand
and also for construction.

Firming export prices of PKS (Palm kernel shells)
Spot export prices of PKS from South East Asian
countries are firming after Malaysia supply is stagnating
due to lockdown for preventing spread of corona virus.
The buyers shifted the supply from Indonesia, where the
supply has been tight since last fall so the export prices
accelerate climbing.

In Malaysia, port inventory is dropping and even if there is
cargo at the ports, loading works stopped then palm oil
plants¡¯ operations are down and trucking to ports is
hampered by various restrictions so logistics of fuel
materials are confusing. Present spot base supply prices of
PKS in Indonesia are about US$105 per ton FOB. C&F
cost would be about US$140 per ton, which is about
US$10 higher than last January. Indonesia also suffers
corona virus so there is insecurity of Indonesian supply
too.

In Japan, there are power generation plants, which rely on
PKS as fuel. They are looking for substituting supply
sources or increase use of wood pellet to tide over. Since
corona virus problem is the first experience for everyone
so nobody knows how soon it would be over and future is
uncertain.

PKS inventory the power generating companies carry is
about half month to one month. They can continue
operating if they can find substituting sources even with
higher prices but based of FIT system, they cannot add any
extra prices onto sales price of electricity.

March PKS contract was cancelled on some generating
company but it increased use of domestic wood chip to
cover shortage of PKS.