1. CENTRAL AND WEST AFRICA
Regional update

Cameroon
The Prime Minister recently announced a 5 day extension
of the Government's virus control regulations measures.
At the same time he said support is being planned for the
most affected sectors as well as the most fragile
households. The government is aiming to re-open schools
on 1 June.

Ivory Coast
Abidjan is under strict quarantine and cut off from the rest
of the country. The government has not yet ordered a full
nation-wide lockdown hoping the sealing of Abidjan will
stop the spread of the virus. President Alassane Ouattara
declared a state of emergency on 23 March which has
been extended. The government has in place an almost
US$3 billion support package to address the impact of the
pandemic on the economy.

See: https://www.france24.com/en/20200406-crowd-in-ivorycoast-destroys-coronavirus-testing-centre

Democratic Republic of Congo
In the Democratic Republic of Congo the state of
emergency has been extended for 15 days. The country
announced its first corona virus case on 10 March and
infections have now spread to at least four provinces.

Borders remain closed to non-essential traffic and the ban
on travel between the capital and the country's 25
provinces is also banned. Kinshasa, with over 11 million
residents, is the epicenter of the pandemic in the country.

Pandemic updates on Central and West Africa can be found on
the ATIBT website:
https://www.atibt.org/en/impact-of-covid-19-on-timber-trade-4/Gabon

Forestry Minister issues instructions to operators
The Minister of Forests in Gabon has issued a letter with
wide ranging advice and guidance for timber companies
whom, he said, should prepare plans for eliminating the
risk of the corona virus infecting employees.

The letter explains that the Ministry has put in place
measures to ensure the operation of companies. It also
explains that ministry and forestry staff will remain at
work to assist companies, that the ministry will facilitate
transport authorisations and the smooth operation of the
ports. In addition, the ministry will provide travel
restriction waivers for essential company operatives and
management.

Other aspects included in the letter from the Minister
cover very detailed instructions on how forest based and
processing mills should be managed during the crisis and
deals with worker movement and sanitation measures to
prevent the spread of the virus.

On preparation for shipments the letter from the Minister
says systems for safe container stuffing have been put in
place in Owendo Port and the site will be under SNBG
management.

The Minister also explained that discussions are underway
on how best to financially support the timber sector. To
support company cash flow. SNBG has been authorised to
purchase and pay immediately for timber from operators
including kevazingo harvested before 2018.

Companies with other stocks are free to export as usual or
they can sell to SNBG. The government is urging
companies not to lay-off workers but, if this is
unavoidable, they must consult with the Ministry of
Labour.

Survey - Impact of pandemic on Gabon's timber sector

1. Are logging operations still working?
LOGGING STILL WORKING AT 70% DUE TO
RAINS.

2. Are mills/factories still working?
MILLS STILL WORKING, OUTPUT THE SAME AS
THIS IS KEEPING FINANCE UP.

3. Have forest sector workers been laid off?
LAID OFF: YES, ABOUT 20% OF LOCAL STAFF
AND 5% EXPATS.

4. Are laid off workers receiving payment either from
companies or government?
YES, THEY GET 50% OF THEIR BASIC SALARY
FROM COMPANIES.

5. Are companies already receiving government
support?
NO NOT AT ALL / NO SUPPORT ONLY ADVICE
AND SOME EASING OF RSTRICTIONS.

6. If so, what type of support?
SEE ABOVE

7. Compared to the 1st quarter last year, how are
inventories?
INVENTORIES ARE UNCHANGED. TYPE DEPENDS
ON THE MARKET.

8. Are companies still fulfilling orders placed precrisis?
SAWMILLS ARE STILL RUNNING. SOME CHINESE
HAVE CLOSED AND Staff LEFT THE COUNTRY.

9. Have orders been cancelled?
NOT BEEN CANCELLED BUT PRODUCERS ASKED
TO HOLD BACK AWAITING. OPENING OF PORTS
IN RECEIVING COUNTRIES.

10. Are domestic transportation systems for timber
functioning?
DOMESTIC TRANSPORT IS OK. NO CHANGES.
WITH OFFICIAL DOCUMENTS TRUCKS ARE
TRAVELING NORMALLY.

11. Are the ports open for:
PORTS OPEN FOR EXPORT AND IMPORT/ NO
PROBLEM.

12. Are containers readily available?
CONTAINERS ARE AVAILABLE . NO PROBLEM TO
GET FROM MAERSL, MSC,CSM AND CGA.

13. What will be the main challenges in ramping up
production?
LOOKING FOR OTHER/NEW MARKETS FOR
SALES.

14. Please estimate how long it would take to ramp up
production to pre-crisis levels?
ONE MONTH

15. What is your estimate of national lost sales % in Q1
2020 compared to Q1 2019?
THERE HAS NOT BEEN ANY LOST SALES. ONE
YEAR AGO THE CHINESE MARKET WAS
ALREADY WEAKENING.

MAIN PROBLEM IS THAT STOCKS ARE
INCREASING BECAUSE OF THE CLOSURE OF
SOME MAJOR PORTS IN IMPORTING COUNTRIES.

CURRENTLY BUYERS FOR THE CHINESE MARKET
ARE PLACING NEW ORDERS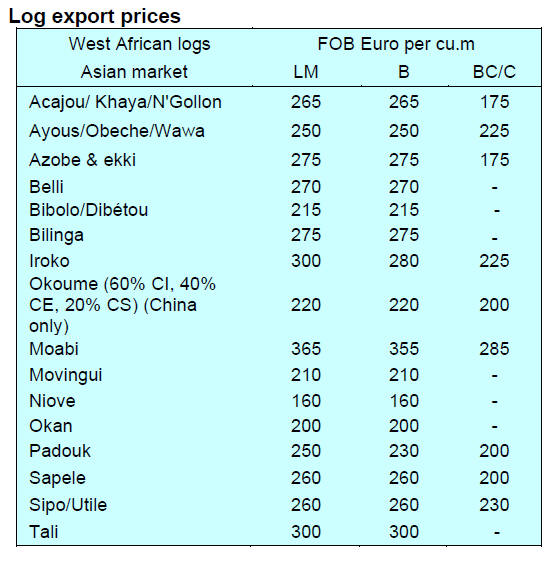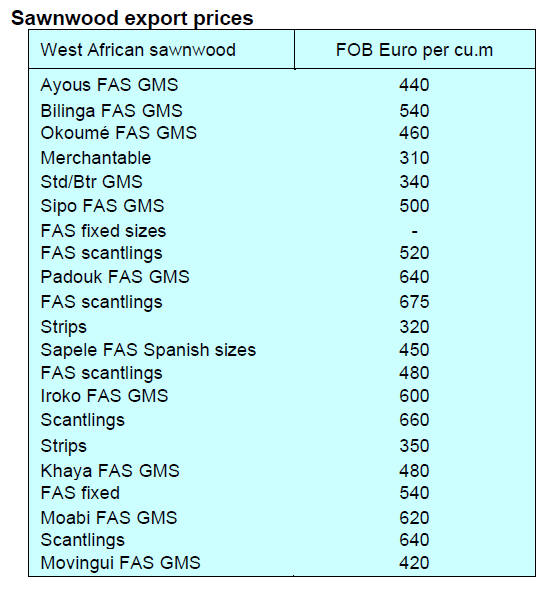 2. GHANA
Lockdown lifted - businesses re-open
On 20 April the government announced the lifting of the
3-week lockdown implemented in areas which had seen
virus infection clusters however, the ban on social
gathering and the social distancing requirements remain.
The wearing of face masks in public is now mandatory
across the country. This decision, according to the
President, was based on advice from experts after
extensive testing for the virus.

The mandatory use of masks has enabled businesses in the
manufacturing and wood processing industries to work
smoothly without any interruptions and staffing issues.

Businesses welcomed the decision and have re-started
operations. Some companies have reported they have
received financial support from government allowing them
to increase production of personal protective items for
domestics use and to offer to neighbouring countries.

The Ghana Union of Traders Associations, the Industrial
and Commercial Workers Union, the Institute of Chartered
Economics of Ghana and the Trades Union Congress
among others, have said the easing of restrictions is a
positive move which would allow the country to begin the
recovery process.

World Bank loan relief for Ghana
The G-20 nations agreed to suspend bilateral debt service
payments until the end of the year for 76 low-income
countries eligible for the World Bank's most concessional
lending via the International Development Association.

The list of eligible countries includes 40 sub-Saharan
African countries including Ghana's US$500 mil. debt and
interest payments.

This was announced by the President who said this will
allow the country to adopt flexible and responsive
financing of the recovery.

In related news, the IMF announced six months of debt
service relief for 25 low-income countries which could be
extended up to two years. In addition to this move, the
IMF also approved additional funding support for several
African countries, including Chad, Ghana and Senegal.

See: https://www.imf.org/en/News/Articles/2020/04/16/pr20165-board-approves-immediate-debt-service-relief-for-25-eligiblelow-income-countries

Port operations
Captain Emmanuel Ankamah, Deputy Director, Ship
Inspections and Marine Security at the Ghana Maritime
Authority has reported that there has been no disruption to
ocean cargo traffic in Ghana allaying fears of food
shortages. He said the statistics show that despite
lockdowns across the world vessels have continued to
dock in Ghana.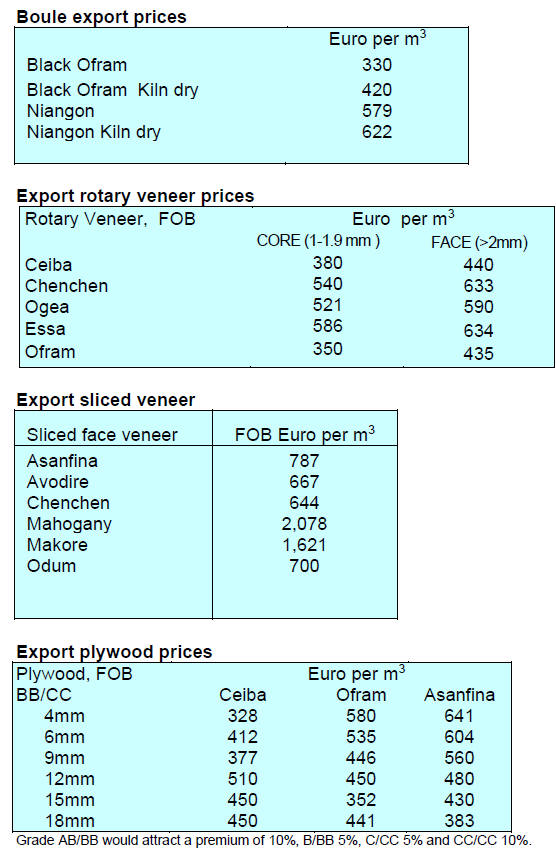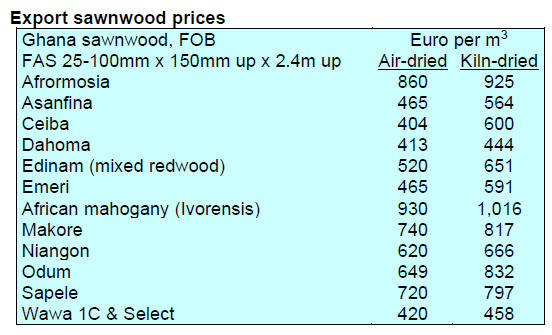 3. MALAYSIA