Japan Wood Products Prices
Dollar Exchange Rates of 10th April 2020
Japan Yen 107.76

Reports From Japan

State of Emergency in Japan - government announces
massive economic support
The state of emergency announced by the Japanese
government was widely welcomed by the private sector.
Hiroaki Nakanishi, chairman of the Japan Business
Federation, said this may avoid the collapse of the medical
system which had been likely if no measures to slow the
spread of the virus were introduced.

Nakanishi called on the government to ensure essential
services and important infrastructure continues to function.

The chairman of the Japan Association of Corporate
Executives also expressed support for the declaration of a
state of emergency saying that the country is "in a critical
situation where many lives could be at risk." Various
associations and business groups have urged the
government to provide financial support to citizens and
businesses.

On 7 April the government adopted its biggest-ever
emergency economic package worth 108 trillion yen
(US$990 billion), equivalent to about 20% of GDP. The
package includes cash handouts to businesses that have
been hit hard by the coronavirus pandemic.

The government has planned a two-phase economic
package to help workers and businesses survive the impact
of the corona virus in Japan. The first phase aims to
eliminate job losses and bankruptcies, the second phase of
the support package will try to drive a ¡°V-shaped¡±
recovery and include measures to stimulate consumer
spending and tourism as well as financial support for
regional economies.

Consumer confidence at 11 year low
The March consumer confidence indices plunged to the
lowest level in 11 years as the reality of the spread of the
corona across Japan dawned on the public. Sentiment
among households dropped to the lowest since March
2009 when the Japanese economy and global economies
were battered by the global financial crisis. A reading
below 50 suggests pessimists outnumber optimists.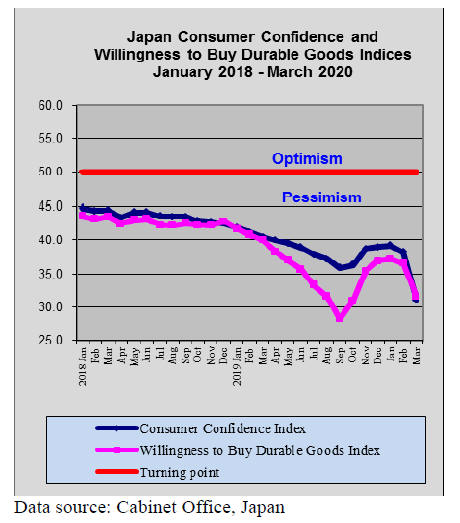 Yen volatility fades
The short term outlook for the US Dollar/Yen exchange
rate has become a little more predictable now that the
volatility over the past months has settle down. The recent
yen weakness against the dollar has been welcomed in
Japan where growth depends very much on exports.

From around yen 103 to the dollar at its strongest the yen
is now at around 107 to the US dollar, a level that was
seen pre-pandemic. Not surprisingly business sentiment
among large Japanese manufacturers turned sharply
negative in March, the first time in seven years, driven
down as they witness weak export demand.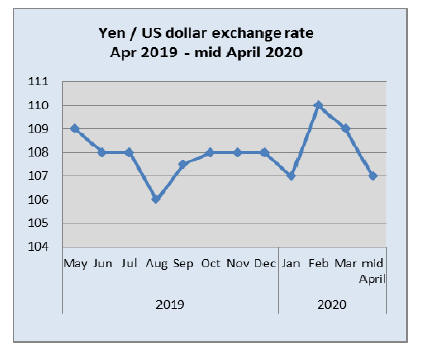 Construction activity slowed dramatically
On 8 April Japan began a month-long state of emergency
with strict measures proposed for Tokyo, as well as nearby
Kanagawa, Saitama and Chiba prefectures and Osaka,
Hyogo and Fukuoka, the worst hit prefectures.

The government has provided details of how the hardest
hit prefectures, should respond to slow the spread of the
virus. As of 14 April several other prefectures had gone
ahead and announced their own State of Emergency.

As a result of the measures introduced construction
activity in Japan has slowed dramatically.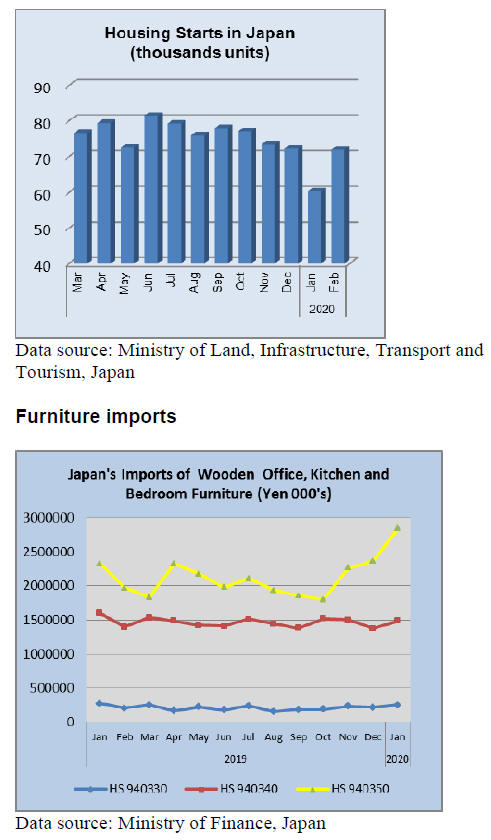 Office furniture imports (HS 940330)
Exporters in China, Poland and Portugal continue to
dominate Japan¡¯s imported wooden office furniture
(HS940330) sector. In January 2020 these three shippers
accounted for over 80% of the value of wooden office
furniture imports however, in January shippers in
Indonesia doubled their market share of imports to climb
to around the same value as imports from both Portugal
and Poland.

Year on year Japan¡¯s January 2020 imports of wooden
office furniture declined by 8% but there was a 15% rise in
January imports compared to the previous months.
Already in January some companies had been asking staff
to work from home as a result of the corona virus risk.

Office furniture retailers had already started to see a rise in
demand for home work stations and by the end of April
there was a strong demand even for second hand office
furniture especially from individuals rather than
enterprises.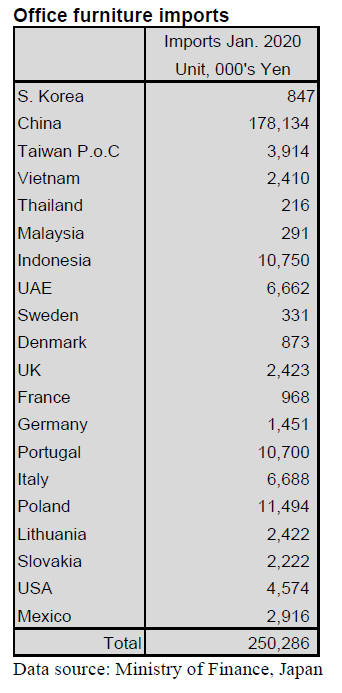 Kitchen furniture imports (HS 940340)
The value of Japan¡¯s January 2020 wooden kitchen
furniture imports, while being down 7% year on year, was
up around 8% from December.

Japanese house builders were affected by a slow-down of
exports of kitchen supplies from Chinese suppliers and
some builders faced delays in completing the interior
house fittings.

The Philippines and Vietnam accounted for over 70% of
Japan¡¯s imports of wooden kitchen furniture (HS940340)
in January with a further 14% of the value of imports
being shipped from China leaving little market share for
other shippers.

January 2020 shipments from Vietnam, the biggest
supplier in January were up 19% but the Philippines saw a
10% decline in shipments. Surprisingly there was a 36%
surge in shipments from China in January, most likely due
to fears that the corona virus could spread and disrupt
production and shipments.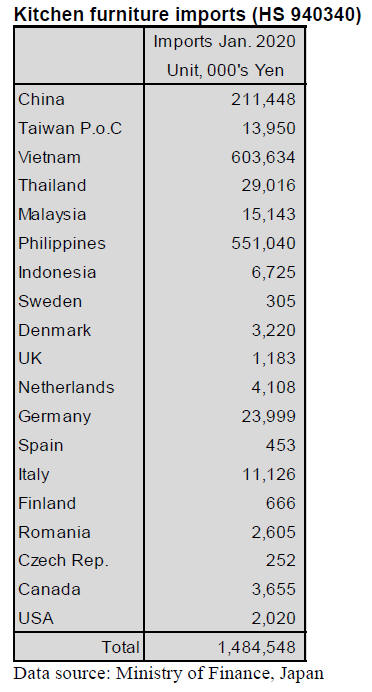 Bedroom furniture imports (HS 940350)
As was the case with kitchen furniture, Japan¡¯s imports of
wooden bedroom furniture in January 2020 from China
surged over 30% compared to the value of imports in
December 2019.

Shipments from China made up around 55% of the value
of Japan¡¯s January 2020 imports. The second largest
shipper was Vietnam (35%) with much of the balance
being supplied by manufacturers in SE Asia.

Year on year, the value of January 2020 imports of
wooden bedroom furniture were up 22% and month on
month there was a 20% increase.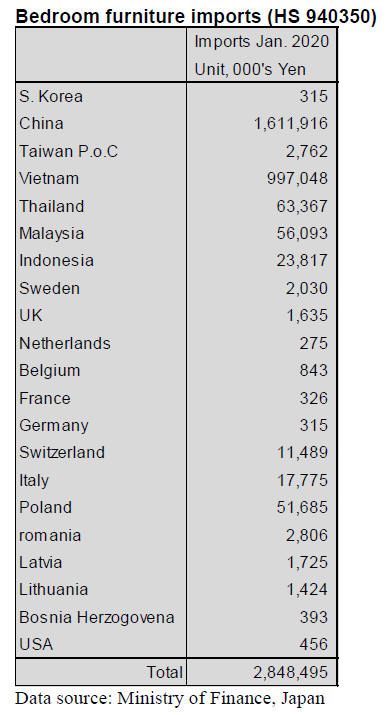 Trade news from the Japan Lumber Reports (JLR)
The Japan Lumber Reports (JLR), a subscription trade
journal published every two weeks in English, is
generously allowing the ITTO Tropical Timber Market
Report to reproduce news on the Japanese market
precisely as it appears in the JLR.

For the JLR report please see:
http://www.nmokuzai.com/modules/general/index.php?id=7
Plywood mills¡¯ production curtailment starting
Hayashi Plywood Industrial Co., Ltd. (Osaka)
manufactures softwood plywood at Maizuru and Nanao
plant. To deal with dropping sales, it has started reducing
the production by 10% since last month and March
production is down by 15%. With dropping orders from
precutting plants and large house builders, it plans to
curtail the production by 20% since April.

Demand for softwood plywood had been active until last
January then since February, the orders sharply declined.
At the same time, wide spread of corona virus infections
caused delay of delivery of new houses by shortage of
necessary appliances like toilet, wash basin and interior
finishing materials, which resulted in slowdown of
plywood orders.

The market prices of softwood structural panel in Osaka
market dropped down to 990-1,010 yen per sheet delivered
and lower offers like 970 yen are being made by dealers,
which need more sales before book closing in March.

Ishinomaki Plywood Co., Ltd. (Miyagi prefecture)
announced that it will reduce the production for March and
April by 15% after having experience of slowing orders
since late February by direct users of precutting plants
then corona virus epidemics makes future market foggy so
it decided to curtail the production sooner. The first
quarter is demand slow season so it is normal that the
market weakens but mills have kept running full to prepare
busy spring demand but this year is different.

South Sea (tropical) logs and lumber
Supply and demand of South Sea logs are well balanced in
Japan now but in PNG entry and exit of foreign visitors
are banned between middle of March and middle of April
although there is no corona virus infection in the country
so log inspection by foreign visitors is not possible now.

In Sarawak, Malaysia, stay-at-home order is issued
between March 18 and March 31(now extended) so the
operations stop.

Administration offices to issue harvest permit are also
closed. Weather is improving after rainy season is over but
local plywood mills have very little orders and activities
are limited by corona virus outbreak.

In China, corona virus disease seems to have peaked out
and red pine free board and LVL manufacturing plants in
Dalien have already restarted operation but some plants
have not enough workers back yet and transportation is
still stagnating so the supply has not fully recovered yet.

In Japan, the yen¡¯s exchange rate shot up to 102 yen per
dollar in early March and there are large orders at that time
but the volume is necessary for works after April and it
was not large speculative purchase.

Production curtailment by Meiken Lamwood
Meiken Lamwood Corporation (Okayama prefecture),
laminated lumber manufacturer, has started reducing the
production by 30%. Reasons are slowing demand of
laminated lumber and the largest reason is possible delay
of lamina supply.

It is not supply side reason but shipping reason. Loaded
containers come through hub ports like Hong Kong and
Shanghai for transshipment but functions of such hub
ports are largely reduced by wide spread of corona virus
infections in China and empty containers are short by port
congestion in these ports so European suppliers are not
able to load lamina into containers.

It is hard to predict how soon port congestion would be
over so Meiken is trying to economize use of lamina.
Meiken produces about 11,000 cbms of laminated post and
20,000 cbms of redwood laminated beam a month at peak
time but now production of post is about 8,000 cbms and
of beam is about 13,000 cbms.

It will continue curtailed program until lamina supply is
fully secured. Meiken says the orders are dropping since
last January so reduced production is enough to satisfy the
orders.

Disrupted supply from China resuming
Since outbreak of corona virus infections in China, various
supplies of house appliances stopped since February and
house builders in Japan are unable to complete and deliver
newly built houses.

Mainly shortage is house appliances like toilet dishwasher
and kitchen parts. These are furnished after 80% of house
construction completed. There are mounting order balance
and it is said that normal condition will not be until June.

Order balance of toilet is said to be much more than
10,000 pieces. When people get panicky, there is always
speculative orders and some dealers carry seven times
more orders than normal time. Chinese manufacturing
plants are getting back to the operation gradually.

Import of European softwood lumber in 2019
Total import of European softwood lumber import in 2019
was 2,563,961 cbms, 0.1% less than 2018. The volume
was less than 2,600,000 cbms for two straight years.

The prices of KD stud, lamina and genban were weak. In
particular, KD stud prices dropped much after the
inventories swelled up in Japan since middle of the year.
Lamina prices were affected by weak Euro prices of
finished products of post and beam with cautious purchase
by the users in Japan. The volume of planed products like
KD stud was 972,067 cbms, 13.2% more than 2018 but
others like lamina and genban were 1,591,429 cbms, 6.7%
less.

Export prices of whitewood KD stud maintained history
high level of about Euro 360 per cbm C&F by busy orders,
which stimulated supply for Japan but the market in Japan
started stagnating, resulted in heavy inventory.

The supply side started reducing the supply since middle
of the year and major supplier skipped September
shipment to restore the market but it was not uniform
move by the suppliers so that the monthly supply exceeded
monthly supply of the same month of 2018 for the first
three quarters and the supply finally started dropping in
the fourth quarter but it was not dramatic supply
curtailment.

Export prices of lamina and genban stayed low despite
rising log cost in supply regions because lamina and
genban users in Japan held the purchase by minimum as
the future market is hard to forecast in depressed market.

The export prices of whitewood and redwood lamina were
Euro 230-240 per cbm C&F and of genban were about
Euro 260. Supply side struggled to secure the profit with
these prices.

Bearish mood stopped after lamina prices are up for the
first quarter 2020 as orders are getting active after lamina
inventories by laminated lumber manufacturers are down.

Japan¡¯ log and lumber export in 2019
Total value of exported logs in 2019 was 34.614 billion
yen, 1.3% less than 2018. This is the first decline in seven
years since 2012.

Log volume increased to China, the main market but
lumber volume stayed flat. China took 947 M cbms of
logs, 2.2% more than 2018 and 64 M cbms of lumber,
0.1% more. Japan relies on China as to log export market
since China¡¯s share of log export is 83.6%. Volume for
other markets like Taiwan, Philippines and Korea all
declined although total increased slightly.

Total log volume exported was 1,133,259 cbms, 0.3% less
than 2018 and lumber was 147,153 cbms, 0.8% more.

By species, for China, 87.9% is cedar and 10.1% is
cypress. The value for China was flat for total year of
2019 but in the second half, monthly amount declined as
China bought sizable volume of beetle damaged logs from
Europe. China market in 2020 is suffering impact of
corona virus epidemic and total economy will definitely
stagnate so log export volume from Japan would be down
considerably.

For Korea, the value dropped by 9.8% but lumber export
value increased by 17.6% with the volume of 10,590
cbms, 26.5% more so trend is shifting from logs to lumber.

For Taiwan P.o.C. total export value dropped by 7.1%.
Log volume was down but lumber increased with value of
409 million yen, 13.0% more so same as Korea.

Lumber export for the U.S. market rapidly grew during
2016 to 2018 but the pace is slowing now. The volume
2019 was 24,332 cbms, 7.2% more than 2018. Majority is
cedar lumber for exterior use like decking and fencing.
The volume is expected to keep increasing.

North American log import in 2019
Total imported volume of North American logs in 2019
was 2,431,433 cbms, 4.8% less than 2018. This is three
straight years¡¯ decline. Toa, the second largest Douglas fir
lumber manufacturing mill, which consumed about
400,000 cbms of logs a year, withdrew from the business
in late 2018 so total decrease was expected from the
beginning but other mills tried to cover up short fall of
Toa¡¯s supply so total decrease of logs was only about
120,000 cbms. Busy production of plywood mills
contributed more consumption of North American logs.

By source, supply from the U.S.A. was 1,537,006 cbms,
6.5% less and from Canada was 894,427 cbms, 1.6% less.
Total Douglas fir was 2,202854 cbms, 6.5% less. Douglas
fir lumber is facing severe competition with European
laminated beam lumber so the suppliers agreed to reduce
log.

Hemlock log supply was 132,051 cbms, 7.0% less. Other
species like spruce, yellow cedar and red cedar all
increased but absolute volume is small.

For 2020, Canadian supply would decrease because
Mosaic Forest, the largest log supplier, stopped log harvest
since last November.