4. INDONESIA
Incentives for manufacturers - Timber industry
responds
The government has introduced a fiscal stimulus package
for the manufacturing sector which, while being generally
welcomed, there have been some negative responses.

The Indonesian Furniture and Crafts Industry Association
(HIMKI) has said the support being offered, while helping
labor-intensive SMEs, it will not have an impact on
export-oriented companies where the urgent problem is a
lack of competitiveness in international markets.

Abdul Shobur, Secretary General of the HIMKI said the
industry appreciates the initiative, although it does not
answer the main problem in terms of strengthening
competitiveness because it is a temporary measure.

In related news, the Director General of Small, Medium
and Miscellaneous Industries, Ministry of Industry, Gati
Wibawaningsih, pointed out the ministry has been
developing a national strategy to increase exports of the
furniture and craft industry as the furniture industry was
among five industries with the highest value growth in
2019.

According to Gati, efforts are being made to ensure the
supply raw materials for the manufacturing industries
through development of a Material Center capable of
delivering quality raw materials.

Gati said "This Material Center will be a platform for
consolidating and integrating logistics activities for Small
and Medium furniture manufacturers.

Commenting on the supply of raw materials the Minister
for Cooperatives and SMEs, Teten Masduki, said that
while Indonesia's furniture exports are still small there are
opportunities for expansion as the country has domestic
raw materials but he admitted raw material management
supply chains need to be more efficient.

Teten emphasised that the synergy between the
government, business players and associations needs to be
ramped up to a higher level.

See: https://industri.kontan.co.id/news/begini-respon-pelakuindustri-kayu-terhadap-insentif-fiskal-untuk-sektormanufaktur?page=all

Game changing policies in response to the corona
virus impact
Agus Suparmanto, Minister of Trade, has revealed that his
Ministry is to present game changing policies in response
to the corona virus impact. He said the pandemic calls for
national economic stabilistion and the government has
new fiscal and non-fiscal stimuli to offer. The Ministry, he
said, is committed relaxing export regulations and
regulations on raw material imports.

To accelerate exports the Ministry has relaxed, eliminated
or simplified export documentation. A Ministry of Trade
Regulation No. 15 of 2020 has been issued concerning
export of wood products.

This new regulation eliminates the mandatory export VLegal
Customs Document and Surveyor Report (LS) for
318 HS codes and will enter into force in May this year.

Previously, exporters of wood products were required to
have V-Legal and LS Customs documents for 360 HS
codes for all wood products. It is reported that the Ministry
of Environment and Forestry will maintain the V-Legal
system and issue V-Legal documents if requested by
companies exporting to the EU.

See:
http://www.neraca.co.id/article/129340/dampak-covid-19-kemendag-terapkan-kebijakan-stimulus-ekonomi-ii

https://www.thejakartapost.com/news/2020/03/13/indonesia-torelax-restrictions-to-speed-up-imports-exports-amid-virusthreat.html

https://www.thejakartapost.com/news/2020/03/16/indonesiadeploys-second-stimulus-amid-market-rupiah-routs.html

Civil society expresses dismay at relaxation of the Vlegal
requirement
Several civil society groups have expressed dismay at the
relaxation of the V-legal requirement saying this
undermines Indonesia's credibility in international
markets. They say since it was adopted the SVLK and Vlegal
system has resulted in increased trade in Indonesian
wood products.

In a press release, the Coordinating Ministry for Economic
Affairs on March 13, 2020 stated, the policy of removing
V-legal document from export requirements documents
was a non-fiscal stimulus in the context of handling
Covid-19. The implication is that there will be a relaxation
of export restrictions including those for the timber sector.

According to Muhamad Kosar of the Forestry Independent
Monitoring Network (JPIK), elimination of mandatory Vlegal
document requirements for export products is a
mistake because, in the long term, this will reduce the
credibility of Indonesian wood products and make it
difficult for the small-medium timber industry to establish
direct business with international buyers.

See: https://kompas.id/baca/humaniora/ilmu-pengetahuanteknologi/2020/03/19/legalitas-kayu-diperlemah-langkahmundur-indonesia/

In related news, the Indonesian Civil Society Coalition has
sent a letter to the President asking for the revocation of
Trade Regulation No. 15 of 2020 as this change is
considered detrimental to efforts of improving Indonesia's
forest governance.

See; https://kompas.id/baca/humaniora/ilmu-pengetahuanteknologi/2020/03/20/desak-permendag-dicabut-koalisimasyarakat-sipil-surati-presiden/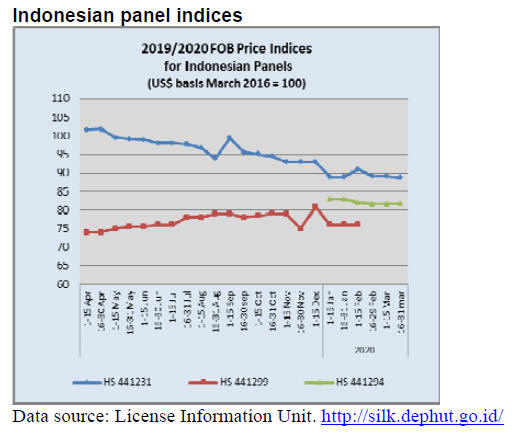 5. Myanmar
Corona virus
Myanmar reported its first confirmed cases of coronavirus
in two men who had recently travelled to the United States
and the United Kingdom. Thousands of migrant workers
have returned to villages across the country in recent days
from Thailand, which has confirmed hundreds of cases,
raising fears of further spread of the virus in Myanmar.

Forest Department alone cannot prevent cross border
smuggling
According to the Forest Department, illegal timbers are
being seized almost every day largely as a result of the
Community Monitoring and Reporting System (CMRS)
developed by the Forest Department to combat the illegal
harvesting and transport of timber.

The identity of those reporting under the CMRS is not
made public and calls can be made to the Forestry
department Hot Lines. As efforts have been stepped up to
apprehend those involved in illegal harvesting there have
been instances when Forest Department Personnel have
been attacked.

The local media has quoted the Bago Region
Forest Minister, Dr. Saw Nyi Win, as saying that all
unauthorised roads that are used by those involved in
illegal harvesting and trade will be destroyed. Bago Yoma
is the 'home' of Myanmar's natural teak and a 10-year
harvesting moratorium has been in place since fiscal 2016-
17.

The domestic Daily Eleven newspaper quoted a Forest
Department official as saying between 2016 and 2019
160,000 tons of illegal teak was seized and 23,000
offenders including 59 foreigners were apprehended.

Speaking at a recent seminar, U Tin Aye, former director
of the Forestry Department and now acting Secretary of
Myanmar Forest Association said timber is smuggled to
China and other neighbouring countries but the scale of
the illegal activities is such that the Forestry Department
alone is not capable of preventing these cross border
activities.

Conflict between the government and ethnic groups and
the lack of cooperation among relevant ministries is
exacerbating the problem, he added.

See: https://mmbiztoday.com/forestry-dept-unable-to-stemtimber-smuggling/

Investment inflows in first months of year encouraging
The Myanmar Investment Commission (MIC ) issued 60
foreign investment permits in the first 2 months of this
year worth around US$1.4 billion. A further 27 permits
were issued to Myanmar Citizen worth US$160 million.
These investments could generate over 3,500 jobs.

March tender postponed – online offer of teak and
padauk
The Myanma Timber Enterprise (MTE) postponed the 26
March tender as a precaution against the corona virus. For
the first time MTE uploaded an offer of teak and padauk
logs from a stockiest. The MTE made it clear that
interested buyers can directly contact the seller.

More information can be found
at: http://www.mte.com.mm/index.php/en/tenders/wood-baseindustry-dept-tender/1325-2332020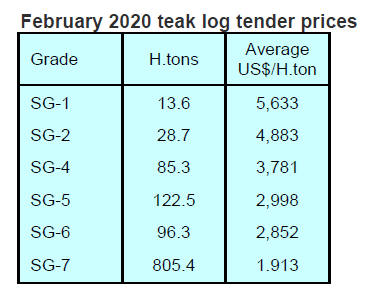 6. INDIA
Real estate body seeks government support for home
owners
The National Real Estate Development Council
(NAREDCO-UP) has approached the Ministry of Finance
suggesting deferment of housing loan instalments for 12
months, a moratorium on project loans for 2 years and the
quick processing of building plans and other to support the
industry.

The Haryana chapter of Confederation of Real Estate
Developers' Associations of India (CREDAI) has asked
the Haryana government for relaxation in rules and
regulations for the developers to help the sector survive
the current crisis pointing out that the real estate sector
contributes to 10% of the National GDP and is the secondlargest
employer in the country.

The Indian residential real estate sector has suffered a
severe slowdown over the past decade according to a
report from PropTiger Report which says there was only a
slight rise in prices across the main property markets
because of weak consumer sentiment.

See: https://housing.com/news/demand-slowdown-causes-pricesto-go-down-in-indias-major-residential-markets-proptigerreport/?utm_source=internal&utm_medium=email&utm_campaign=subscribersDigest

February exports rise but prospects for March are grim
Ministry of Commerce data has shown February 2020
exports (all goods) rose almost 3% year on year, the first
expansion in seven months. Imports also increased by
around 2.5%.

Oil imports, an indicator of economic prospects, increased
14% in February however, March data will look very
diffrent as the government has ordered a "complete" 21
day lockdown for all of India's 1.3 billion people.

Plantation teak prices
Until the current corona virus pandemic has been
overcome all businesses are facing disruption. There were
few transactions in the plantation teak import sector and
business confidence has been undermined by exchange
rate volatility. The Indian rupee was at around Rs76 to the
US dollar in late March.

Traders report that shippers in Brazil and Ghana have
recently been offering higher girth logs which would
normally stimulate imports but importers are waiting for
the currency markets to stabilise. They are also waiting to
see where freight rates are heading as there has been a rise
as space availability has become an issue along with
disruptions to loading and discharging.

Until businesses can get back to normal trading it is not
possible to anticipate price trends. Import plantation teak
prices as of the end of February are shown below.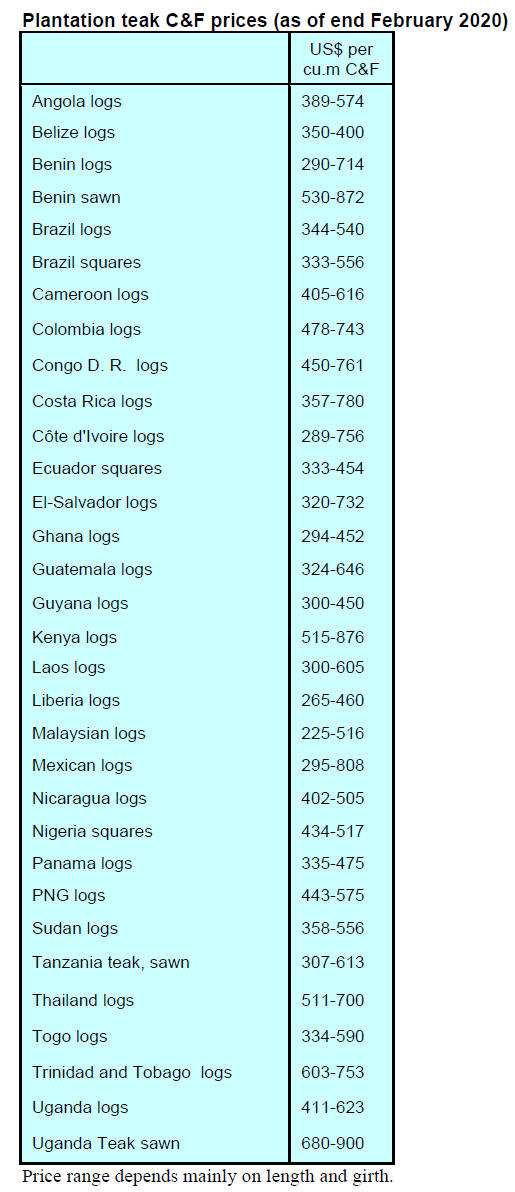 Locally sawn hardwood prices
Ex-mill sawn hardwood prices were unchanged at the end
of March but analysts expect these will rise, reflecting
replacement costs at the new exchange rate which has
driven the rupee lower against the US dollar.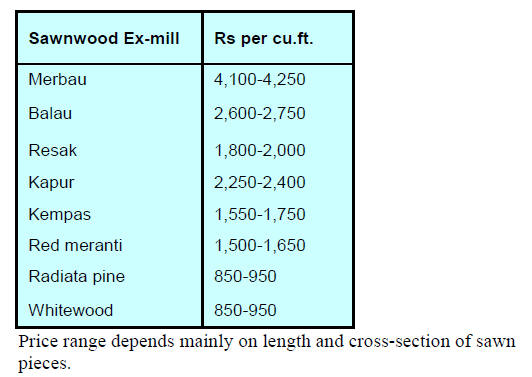 Myanmar teak prices
Ex-yard teak prices will likely follow hardwood prices
higher because of the weaker rupee. The extent of the
change cannot be assessed at present as exchange rates are
too volatile.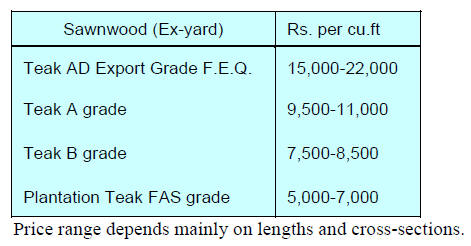 Sawn hardwood prices
Prices are holding as reported in early March.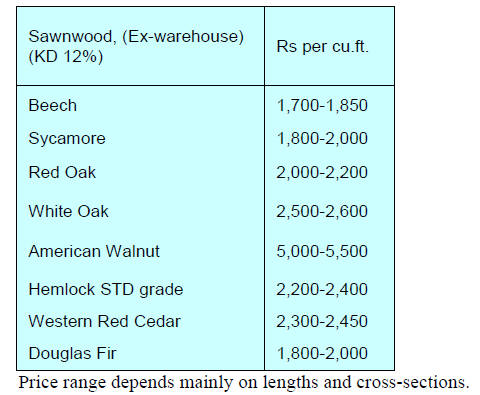 Plywood
Plywood log prices have been driven up because new mills
have begun operation and competition for logs has
increased. A few mills have been trying to raise plywood
prices but, unless there is an industry wide move to adjust
prices, the market will resist any rise.

Plywood associations from the various States are trying to
negotiate a uniform price rise but these efforts have been
hampered by the rapidly changing price structures for
imported plywood. Until there is some stability in supply
and demand listed prices remain unchanged.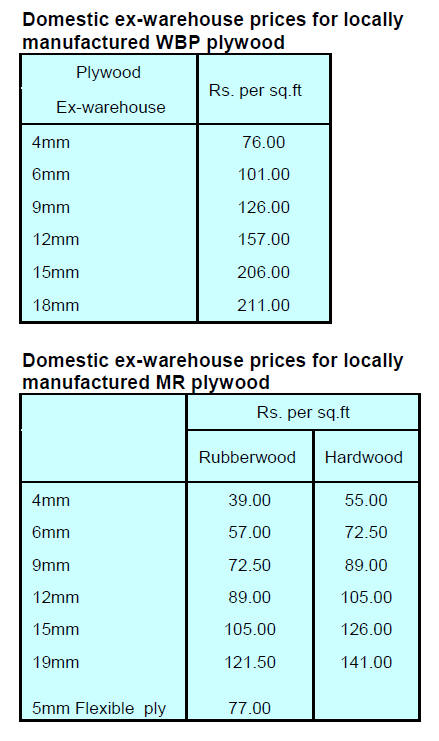 7. VIETNAM
Wood products trade in first two months of 2020
In the first two months of 2020 wood and wood product
(W&WP) exports earned US$1.564 billion (18% up over
the same period of 2019).

With the corona virus outbreak W&WP exports to 5 major
destinations (US, EU, Japan, South Korea and China),
which accounted for over 80% of Vietnamese W&WP
export last year, are expected to decline sharply in the
coming 3-4 months as transport and shipping has been
disrupted.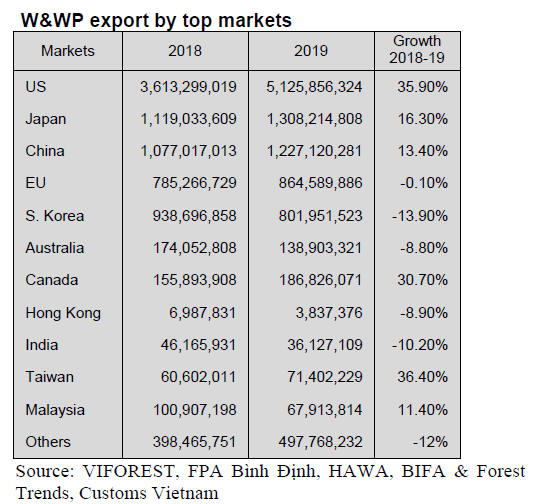 During Jan-Feb, 2020 W&WP shipped to US were valued
at US$795 million and represented 51% of all exports and
were higher by 36% compared to a year earlier.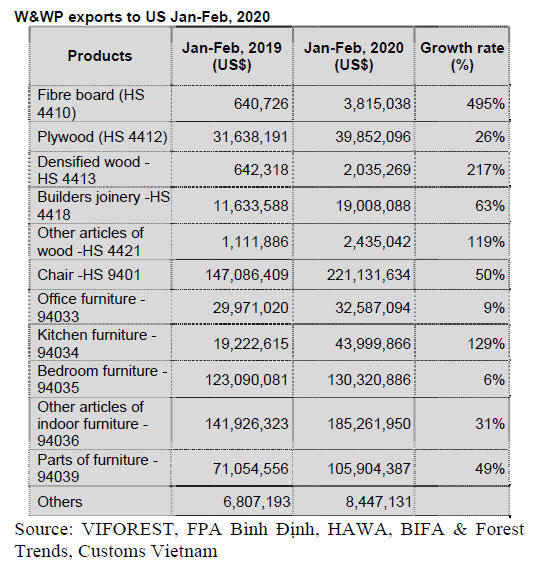 In Jan-Feb 2020 exports of wood products increased:
woodchip (+21%), veneer (+25%), particleboard (+16),
chairs (+29%), indoor furniture (+20%).

In contrast, exports of some other products declined: wood
pellet (-45%), sawnwood (-23%), fibreboard (-53%) and
plywood (-2%).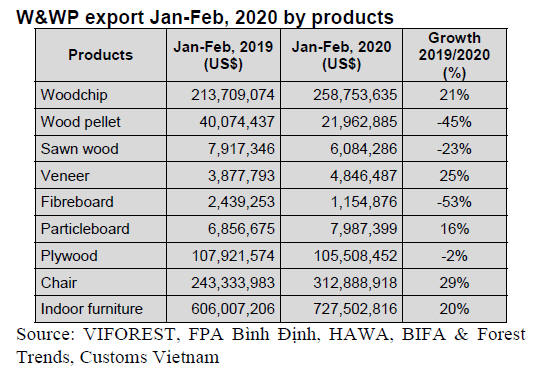 W&WP imports
In the first 2 months of 2020 W&WP imports totalled
US$329.6 million, down 14% against the same period in
2019.

The decline of W&WP imports included declines in
log/roundwood (-35%), sawnwood (-24%), particleboard
(-8%) and plywood (-12%). On the other hand, imports of
sliced and rotary veneers increased by 22% and 20%
respectively.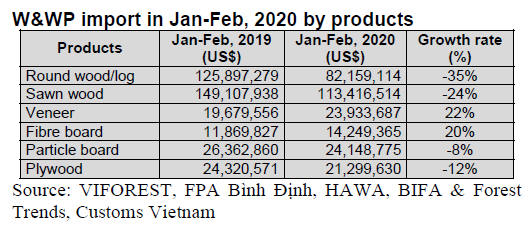 In Jan-Feb 2020, W&WP imports from all top suppliers
dropped sharply; African suppliers - 43%; Chile - 38%;
EU - 20% and US - 8%. On the other hand imports from
China and Laos increased by 43% and 16% respectively.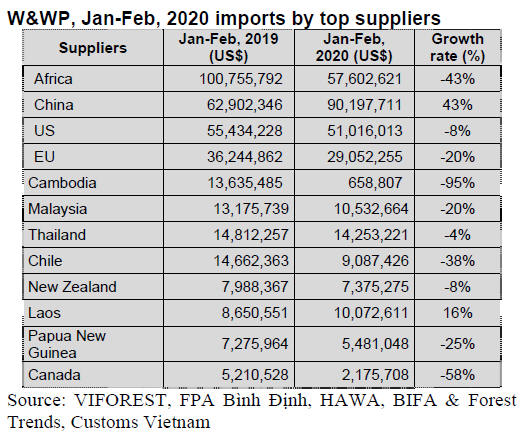 Import summary
US: In Jan-Feb, 2020, round wood/log import from US
decreased by 45%, while sawn wood reduced by 2%
comparing with that of Jan-Feb, 2019.

EU: Import of round wood/log and sawn wood from EU
declined by 16% and 25% relatively.

Africa: Import of round wood/log from Africa diminished
by 46 % and sawn wood - 36 %.

China: Import of wooden furniture from China recorded
at 248.7 % from US$ 5.1 million up to US$ 17.9 million.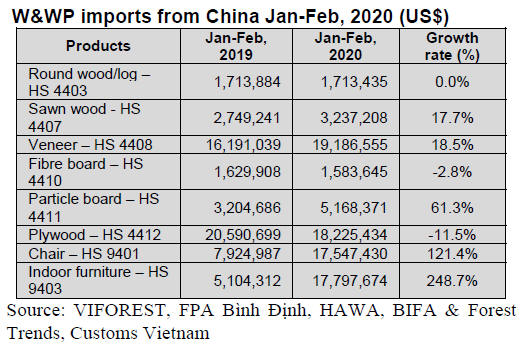 FDI in the timber wood industry
In 2019, there were 99 new FDI projects added to wood
industry sector of Vietnam, including 56 new projects
developed by Chinese investors.

W&WP export by FDI enterprises
In 2019, there were 663 FDI enterprises exporting W&WP
from Vietnam (25% up compared with 2018). Export
earnings by these enterprises amounted to US$4.95 billion
(48% of the total Vietnamese W&WP export revenue).

The growth rate of W&WP exports by FDI enterprises was
equal to that of the number of newly setup enterprises
(25% up).

In Jan-Feb, 2020, W&WP exports by other enterprises
were reported at US$652 million, 9% up year on year.

W&WP imports by FDI enterprises
In the first 2 months of 2020, import spending by FDI
enterprises was recorded at US$ 123 million, 13% up
against that of 2019.

Impact of corona virus
Woodchip: Last year, woodchip exports earned US$1.7
billion, equal to 16% of the total export revenue.

There were 3 major consumers of Vietnamese woodchips,
China (58%), Japan (30%), South Korea (4%). As a
consequent of the virus outbreak in these 3 markets
woodchip prices fell by US$ 2-3 per BDT to
US$127/BDT.

In the coming months, woodchip prices are expected to
drop further by as much as US$ 3-4 per BDT.

Delayed shipments add to the cost of transportation and
logistic and undermine profitability.

Because of the virus outbreak in China, woodchip
companies have reduced orders and pushed down prices
by around 10%. This gloomy situation is a dis-incentive to
commercial plantation owners many of whom are farmers
and there is a danger that the well stablished acacia wood
supply chain could be permanently disrupted.

Plywood: The export of Vietnamese plywood to the US is
facing a serious issue associated with the decision by the
US Department of Commerce to accept request from the
Coalition for Fair Trade in Hardwood Plywood to
determine whether certain plywood products that are
assembled or completed in Vietnam are covered under the
antidumping and countervailing duty orders on certain
hardwood plywood products made in China.

The concern is that plywood made-in-Vietnam may be
subjected to US antidumping and countervailing duties
similar to that of China. From the beginning of March US
importers have stopped ordering plywood from Vietnam.

Other W&WPs: With the corona virus spreading in the
main markets, importers have asked for delayed shipment
or even cancellation of orders. Consequently, most
Vietnamese wood product manufacturers have to reduce
production, reduce staff or just close factories and wait for
a market recovery.

Maintaining the labour force to avoid social unrest and
being prepared to re-activate production when the
pandemic is controlled is a major challenge for both the
Government and individual manufacturers.

According to Ngo Sy Hoai, Vice President and Secretary
General of VIFOREST, following two decades of
continued double digit growth the likelihood of nongrowth
or negative growth of Vietnamese W&WP exports
in 2020 is very high.

8. BRAZIL
Request for extension of tax deadline
In view of the uncertainties as a result of the corona
pandemic, on behalf of furniture manufacturers, the
Furniture Industry Association of the State of Rio Grande
do Sul (MOVERGS) has asked the State government for
an extension of the deadline to pay the Circulation of
Goods and Services tax.

MOVERGS has said the tax burden for the sector is an
urgent issue as they fear the slowdown in sales will
undermine their cash flow and put their survival at risk.
MOVERGS represent companies employing around 2,700
workers.

The association also mentioned a sharp drop in production
is anticipated and this will impact suppliers of other
production inputs.

Monitoring Amazon logging gets a tech-boost
The Brazilian Forest Service (SFB) and the Operations
and Management Center of the Amazon Protection System
(CENSIPAM) recently concluded a Technical Cooperation
Agreement for joint development of a methodology for the
detection, mapping and monitoring of selective logging in
areas under forest concessions.

The use of advanced technologies by SFB has been a
boost to the management of Brazilian forest resources.
However, because many technologies are franchised, the
continuous monitoring of selective logging activities is
limited because of the shortage of human resources and
infrastructure to carry out satellite image processing of
large areas like the Amazon forest.

Analysts comment that the use of optical images for the
detection of selective logging can be weakened due to the
often intense cloud cover in the Amazon region. The use
of this new radar imaging technology will allow the
monitoring of selective logging at any time of the year and
would provide an opportunity for automated alerts and
saving on the field monitoring processes.

Export update
In February 2020, Brazilian exports of wood-based
products (except pulp and paper) declined almost 14% in
value compared to February 2019, from US$251.7 million
to US$217.3 million.

The value of February pine sawnwood exports dropped
around 10% year on year from US$44.2 million in 2019 to
US$39.9 million this year. In terms of volume, exports
increased 2.6% over the same period, from 213,500 cu.m
to 219,100 cu.m.

Tropical sawnwood export volumes also declined year on
year in February dropping 17% from 39,600 cu.m in
February 2019 to 32,700 cu.m in February 2020. The
value of exports also dropped by around 9%, from
US$15.9 million to US$14.5 million, over the same
period.

Pine plywood export earnings also fell in February this
year dropping a massive 32% compared to February 2019
from US$53.5 million to US$36.2 million. The volume of
exports dropped but only by around 15% over the same
period, from 194,700 cu.m to 166,300 cu.m.

The downtrend continued with tropical plywood exports
which fell 50% in volume and 52% in value, from 10,800
cu.m (US$4.0 million) in February 2019 to 5,200 cu.m
(US$2.0 million) in February 2020.

In contrast wooden furniture export earnings in February
2020 increased from US$40.3 million in February 2019 to
US$43.3 million in February 2020.

Documento de Origem Floresta (DOF) now sufficient
authorisation for exports
At the end of February, IBAMA issued an "interpretative
order", suspending the Normative Instruction (n° 15/2011)
which required exporters to secure specific authorisation
from IBAMA for timber exports.

According to IBAMA it is now sufficient that forest
products export are accompanied by a document of forest
origin (Documento de Origem Floresta – DOF) as required
under the National System for the Control of the Origin of
Forest Products (SINAFLOR).

The export DOF serves to verify the transport of wood to
the port while the Normative Instruction was the
authorisation for export.

When IBAMA first issued its regulation 15/2011 it argued
that the Brazilian Forest Code distinguishes between the
transport and storage license (DOF) and the export
authorisation. The IBAMA regulation for example
stipulates inspections and other export controls that the
DOF does not require.

However, timber exporters successfully argued that there
is no need for the specific export authorisation because it
was encompassed in the SINAFLOR process.

On its part, IBAMA understood the argument saying the
Forest Transport Guide issued by the States that is a state
transport document is valid instead of a export
authorisation from IBAMA.

It has been reported that the president of IBAMA,
Eduardo Fortunato Bim, received a note of thanks from
the Center of Industries of Pará (CIP) for having agreed
the export of native wood products without the need for an
IBAMA authorisation.

For more see:
https://www.terra.com.br/noticias/ciencia/sustentabilidade/madeireiros-agradecem-presidente-do-ibama-por-liberar-exportacaosem-autorizacaoespecifica,c75f0124340be69b7a7979ed483c4a0536g9uwmi.html

20% drop in exports in late March
Brazil's exports have been affected by the corona
pandemic. According to the FecomercioSP International
Relations Council, some companies have already
postponed shipments to China and others are renegotiating
import contracts due to the recent appreciation of the
dollar.

Data from the Ministry of Economy revealed a 20% drop
in the exports in the second week of March compared to
the previous week (from US$962 million to US$ 770
million) as a result of a decline in exports of mainly semimanufactured
goods (-33.9%), basic goods (-21.5%) and
manufactured goods (-11.6%) wood products are included.

In the current situation volatility in foreign exchange
markets makes negotiations difficult. In addition, some
manufactured products include imported components and
the strong dollar pushes up the final price of the products.

Fecomercio SP emphasises that there is a need to monitor
how the Brazilian and international markets behave during
the crisis and that exporters should bank guarantees for
shipments in order to minimize the risk of non-payment.

Correction:
In our previous report we stated that AMIF had undertaken a
survey of forest plantations, the survey was actually undertaken
by Canopy Remote Sensing Solutions and the data provided to
AMIF.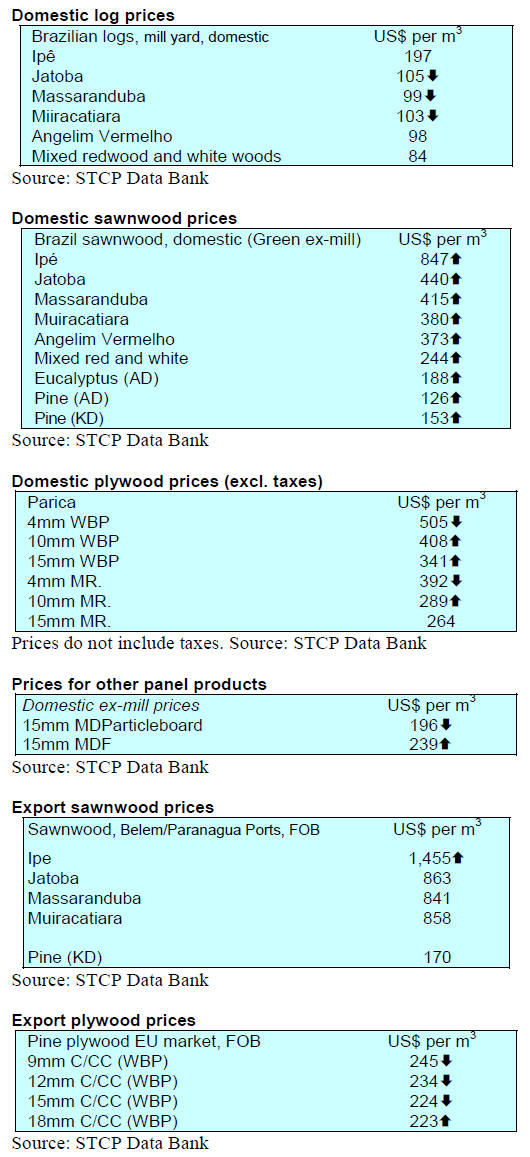 9. PERU
Imports of composite boards 40% higher in the first
month of the year
In January 2020 Peru's imports of composite boards were
valued at US$9.07 million, some 40% higher than in
January 2019.

Ecuador was the main supplier recording an almost 19%
year on year increase to US$3.5 million. Chile was the
second largest shipper of composite boards to Peru in
Janaury (US$2.05 million). Shipments from Spain and
Brazil also increased in January 2020.

Expanded State purchases will boost the forestry
sector
An expanded forestry sector is essential for job creation
and social inclusion for those living in remote forest areas
of the country where there are limited job opportunities.
The president of the Association of Exporters (ADEX),
Erik Fischer Llanos, made a strong case for increased state
purchases of wood and forest products during a workshop
to explore state purchasing policies.

Fischer said the public sector has always been a wood
products consumer but to spur the forestry sector and to
encourage investment the state should increase its
consumption. He called on companies in the sector to
work towards delivering high quality legal wood products
for domestic consumption.

He added that many timber enterprises focus their
marketing on international markets as the domestic market
is not attractive because, among other things, the
competition from products manufactured from raw
materials of unknown and often dubious is severe.

Purchases of wood products by the State totalled around
US$34.5 million in 2019 and consisted mainly of
furniture, products for infrastructure development and
sawnwood.

Exports fall during the first month of 2020
Peruvian exports in January 2020 totalled almost US$3.7
million, down 4% year on year. Analysts point out that a
decline in January exports has been observed in previous
years. Export products were shipped to 124 destinations,
seven fewer than in January last year. The main markets
were China (26%), the USA, Canada, South Korea,
Switzerland, India, Chile and the United Arab Emirates.

The most important subsector for exports was agribusiness
(US$706.6 million) where there was an increase but this
was insufficient to compensate for the drop in textile
exports (-34.6%), clothing (-14.7%) and wood products (-
19.5%).