4. INDONESIA
Sharing experiences in addressing illegal timber trade
Speaking in the Annual Session of the Enforcement
Committee of the World Customs Organization
Committee) in Belgium Yuri O. Thamrin, the Indonesian
Ambassador to Belgium said Indonesia continues to
collaborate with the European Union in combating the
illegal trade in wood products and this collaboration can
be an example for other countries.

The WCO Secretary General, Kunio Mikuriya, agreed
saying the experience of Indonesia in addressing trade in
illegally harvested wood products needs to be shared with
law enforcement and Customs administrations in other
countries.

During the meeting, Ambassador Yuri asked the EU to
strengthen their policies so that countries that satisfy EU
regulations have an advantage over others that do not.
Yuri reiterated Indonesia's strong commitment to stamp
out the trade in illegal wood products saying he hopes EU
importers will not buy illegal wood from any country.

Government acts to alleviate impact of corona virus on
timber industry
Susiwijono Moegiarso, Secretary of the Coordinating
Ministry for the Economy, announced that in cooperation
with other ministries the government is preparing
economic stimulus packages to address the impact of the
corona virus.

A focus of measures proposed will be how to address the
depletion of raw materials for manufacturers and
exporters, said Susiwijono. It has been learnt that
consideration is being given to simplifying the rules on
export trade. These include changes to the Timber Legality
Verification System (SVLK) for wood products, to
phytosanitary certification and certification of origin. Also
under consideration is relaxing import regulations for raw
materials.

The aim of the proposed measures is to accelerate imports
and reduce logistics costs.

For more see: https://bisnis.tempo.co/read/1315308/4-paketkebijakan-ekonomi-antisipasi-pasokan-bahan-bakumenipis/full&view=ok

In related news the Chairman of the Indonesian Chamber
of Commerce and Industry (Kadin), Rosan Roeslani,
specifically said it would be desirable to ease restrictions
on both raw materials and ancillary products needed
during manufacturing.

Rosan pointed out that supply chains have been disrupted
due to the virus and this is a serious issue for
manufacturers as it is difficult, in a short time, to find
alternative sources previously supplied from China which
accounts for a large proportion of raw materials and
auxiliary goods supply to Indonesia.

See: https://tagar.id/imbas-corona-kadin-minta-pemerintahrelaksasi-impor

US decision may mean loss of market share for
Indonesia
The US government's decision to exclude Indonesia from
the list of developing nations can affect its current account
balance according to the Institute for Development of
Economics and Finance (Indef).

Indef has urged the government to try and reverse this
decision which will make Indonesia's exports to the US
more expensive and could result in failing market share in
the US. The US is a major market for Indonesia's textiles,
garments, footwear, rubber, furniture and electronics and
exports were worth over US$17 billion last year.

IFEX 2020 Postponed
The Indonesian Furniture and Craft Industry Association
(HIMKI) and Dyandra Promosindo has confirmed
postponement of the Indonesia International Furniture
Expo (IFEX) 2020.

See: https://pressrelease.kontan.co.id/release/kepentingankesehatan-di-atas-segalanya-himki-dan-dyandra-tunda-pameranifex-2020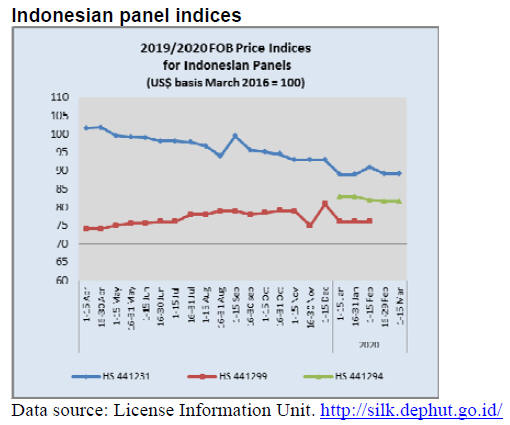 5. Myanmar
Karen National Union encouraging forest conservation
The domestic press in Myanmar has reported that one of
the major ethnic groups in Myanmar, the Karen National
Union (KNU), has said it will introduce conservation
measures and forest demarcation and inventories to
combat deforestation. The plan entails encouraging the
'taungya' system in village owned forests.

Harvesting for basic needs will be permitted but
commercial scale harvesting will be prohibited. The report
says the KNU Forest Department has established 39
village-owned forest plots, 29 permanent forest areas and
3 protection forests. It has been estimated that around 60-
65% of forests are in ethnic minority States.

Forestry sector contribution to the economy
According to the Ministry of Commerce, earnings
generated by the forestry sector in 2018/19 totalled
US$174 million. In addition, the Myanma Timber
Enterprise, the Forest Department and private companies
in the formal sector alone account for over 4% of national
employment according to a Myanmar Extractive Industries
Transparency Initiative (MEITI) report.

There is huge employment in the 'informal' timber sector
and as investments in the forestry and wood processing
sector increase so do employment opportunities.

However, companies face huge challenges in meeting
current domestic and international timber production and
export requirements and it has been rumoured that one of
Myanmar's top timber exporters is likely to cease business
by year end.

Initiatives to support forestry sector
There are several initiatives aimed at supporting the timber
sector strengthen forest management and wood product
manufacturing. While not yet confirmed it is understood
the World Bank is preparing a support package aimed
mainly at plantation development.

In related news, the World Bank and the Korea Forest
Service recently signed a forest cooperation agreement to
support forest restoration, community forest conservation,
ecotourism and landscape restoration. One of the first
countries that could benefit from this is Myanmar.

See: http://www.businesskorea.co.kr/news/articleView.html?idxno=41686

Winding down community FLEGT preparedness
Recently the Forest Department and Fauna and Flora
International held a workshop to formally end the project
"FLEGT Preparedness for Small Holder Timber Producers
in Myanmar".

This project was supporting community forestry
production of verified legal timber. There are around
200,000 ha. of recognised community forest, both natural
forest and plantations, in Myanmar.

Public events cancelled
In response to the corona virus outbreak the Myanmar
government has announced restriction on mass gatherings
and public events including the traditional Thingyan water
festival until the end of April. The media reports that no
cases of the corona virus have been detected so far in the
country.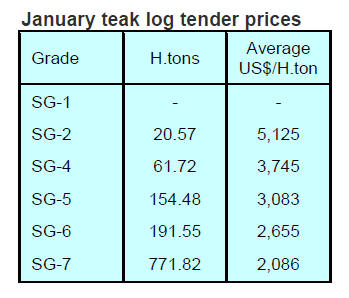 6. INDIA
Lower prices for veneer but price index unchanged
The official Wholesale Price Index for 'All Commodities'
(Base: 2011-12=100) for January 2020 rose to 122.9 from
122.8. The index for the group 'Manufactures of Wood and
of Products of Wood and Cork' remained unchanged at
133.1 despite a slight fall in prices for veneers.

Already in January there were signs of a slow-down in
manufacturing put down to the impact of the corona virus
risk and analysts say the import/export trade is
experiencing some slow down because shipping
opportunities have fallen as shipping companies respond
to the virus risk.

The annual rate of inflation based on monthly WPI in
January 2020 stood at 3.1% compared to 2.6% in
December 2019.

The press release from the Ministry of Commerce and Industry
can be found at: https://eaindustry.nic.in/pdf_files/cmonthly.pdf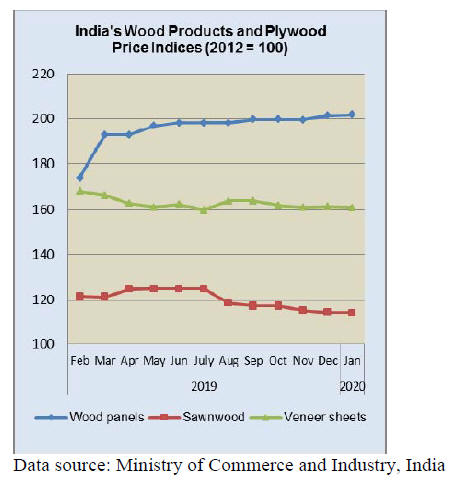 State government moves to boost housing
In its 2020-21 budget the Maharashtra government
reduced stamp duty on property purchases. The lower
rate will apply in the areas falling under the Metropolitan
Region Development Authority and municipal
corporations of Pune, Pimpri-Chinchwad and Nagpur.

Currently, home buyers in Mumbai pay a stamp duty of
6% plus a 1% registration charge. In Pune, the stamp duty
currently is 6%. According to Housing.com this could
boost home buyer sentiment in the affected residential
markets of the state.

See: https://housing.com/news/stamp-duty-land-deals-mmrrecovered-per-2017-18-rates/?utm_source=internal&utm_medium=email&utm_campaign=subscribersDigest

Disrupted supply chains
Indian companies are now facing disruptions of their
operations as the effects of the corona virus spread. The
biggest impact at present is on trade with China which has
expanded to over US$90 billion in recent years with the
Indian economy becoming ever more reliant on imports
from China.

Indian imports from China, at around US$75 billion last
year, are far above the roughly US$20 billion in exports
from India to China.

See:
https://www.forbes.com/sites/krnkashyap/2020/03/04/indiaseconomy-feels-the-pain-of-the-coronavirus-outbreak-inneighboring-china/#15b78b50d7cc

New record for US hardwood exports to India
According to a presentation by the American Hardwood
Export Council (AHEC) 2019 was a record year for US
hardwood exports to India with the value of sawn
hardwood and veneer exports totaling US$6.448 million.
Statistics were compiled from United States Department of
Agriculture (USDA) data released in late February 2020.

AHEC revealed that in 2019 sawn hardwood shipped from
the US to India increased by 72% in value to US$2.356
million and by 140% in volume to 4,082 cubic metres.
Exports of US hardwood veneer to India increased by 4%
to US$ 4.092 million.

According to AHEC, restricted domestic hardwood
availability, together with firm growth in the retail
furniture, handicraft and hospitality sectors drove demand
for a wide range of species making India an attractive
long-term prospective market for US hardwoods.

The top six American hardwood timbers exported in 2019
were hickory (1,229 cu.m), red oak (920 cu.m), walnut (
282 cu.m), white oak (358 cu.m), ash (356 cu.m) and
maple (240 cu.m).

For more see:
https://www.americanhardwood.org/en/latest/news/new-recordfor-us-hardwood-exports-to-india

Increased import duty an issue for Ikea
In the latest budget the Indian government increased
import duties on furniture from the present 20% to 25% a
move aimed at supporting domestic SME furniture
makers.

It has been reported that an executive of Ikea, which has
stores in India, met with the government to explain the
increase will impact its business which is centered on
providing affordable furniture but that the company will
do its best to absorb the rise in the import duty.

Ikea said, though the government's recent increase in
customs duty on imported furniture will have an impact on
its business it will not pass on the increase to customers.

See::
https://economictimes.indiatimes.com/industry/services/retail/ikea-not-to-pass-on-duty-hike-impact-on-imported-furniture-tocustomers/articleshow/74339902.cms?utm_source=contentofinterest&utm_medium=text&utm_campaign=cppst

Domestic online furniture retailer sees earnings rise
Pepperfry, one of India's online home furniture retailers
has reported solid revenue growth for 2019. Co-founded
by former eBay employees the company began as with a
focus on fashion and lifestyle but then moved to include
furniture.

Read more at: https://yourstory.com/2020/01/furnituremarketplace-pepperfry-financial-results

Plantation teak prices
Traders report that freight rates have begun to rise, an
indirect response to a slowing of container traffic due to
virus control measures. This has slowed down the
movement of shipments. Plantation timber prices have not
moved reflecting to steady but now uncertain demand
prospects.

C&F rates at Indian ports for teak timbers from multiple
sources continue in the range as given earlier. Importers
are carefully watching exchange rate movements and the
rupee has weakened a bit and is trading at around Rs.73 -
74 per US dollar.

Locally sawn hardwood prices
Prices remain as reported at the end of February.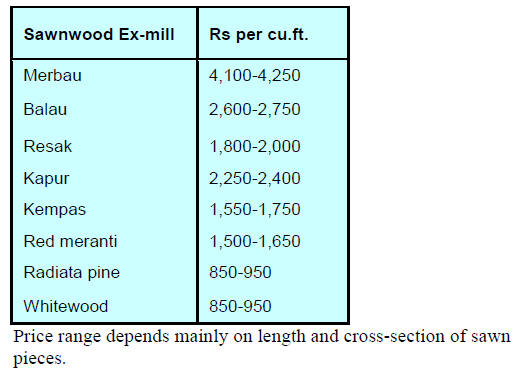 Myanmar teak prices
Prices remain as reported at the end of February.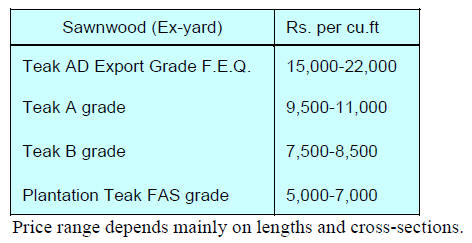 Sawn hardwood prices
With more than adequate supplies, even in the face of a
modest rise in demand, prices are holding as reported at
the end of February.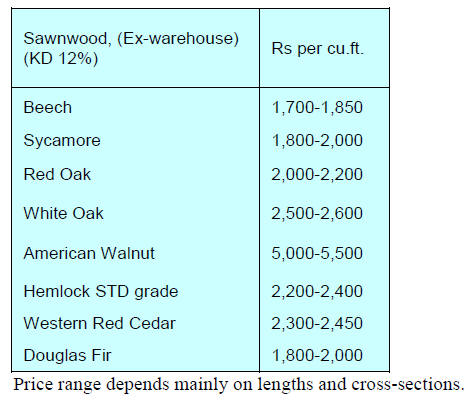 Plywood
Plywood wholesale prices have not moved since the end
February report despite some improvement in demand
which has lasted for a few months. The main worry among
manufacturers is that domestic and imported raw material
costs may rise due to disruptions in production and trade
brought on by responses to the corona virus.

China has emerged as a supplier of panels in the Indian
market and as many plants in China have resumed
production supplies have not been affected.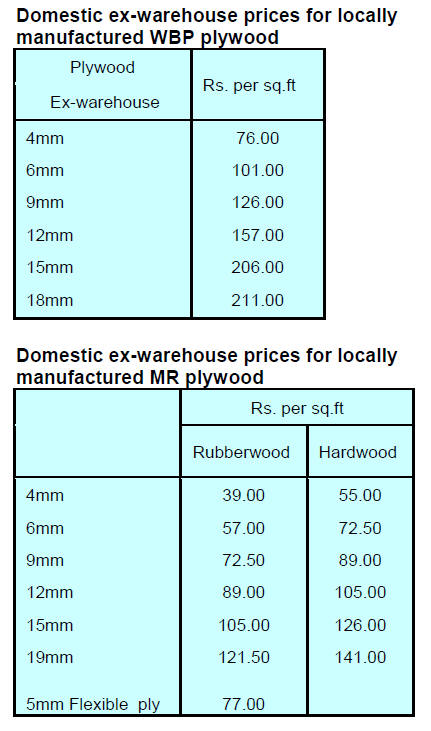 7. VIETNAM
Vietnam's imports from Africa
Africa, in general, and Cameroon, in particular, has
become a top supplier of roundwood and sawnwood for
Vietnam.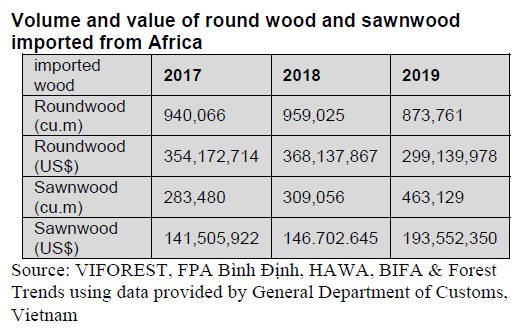 Roundwood imported from Africa into Vietnam
In 2019, Vietnam imported 873,700 cu.m of roundwood
from various African countries with value of US$299
million (a decrease of 9% of volume and 19% of value
over the comparable period of 2018).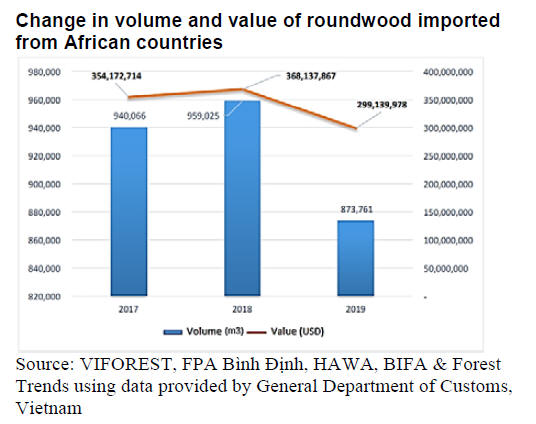 Cameroon top roundwood supplier for Vietnam
In 2019, Cameroon exported 495,500 cu.m of roundwood
to Vietnam worth to US$181 million.

In recent years imports of African roundwood into
Vietnam has declined in both volume and value.

Of special note is the fact that Cameroon alone has been
exporting around half million cu.m of roundwood to
Vietnam. Though, in 2019, both the volume and value of
roundwood exported by Cameroon to Vietnam has
declined however, this country still remains as the top
roundwood supplier for Vietnam.

Imported wood species
Tali/okan, doussie, sapelli, padouk are the 4 top imported
species.

Tali/okan, doussie, sapelli and padouk are the major
imported species. In 2019, import of tali/okan roundwood
amounted to 333,600 cu.m equivalent to US$ 123.7
million.

Hoàng Diệu and Cảng Xanh in the South of Vietnam and
several ports belonging to Hải Phòng City in the North are
top delivery ports for wood imported from Africa into
Vietnam.

Sawn wood import volumes and values
In 2019, the volume of sawnwood imported from Africa
into Vietnam was 463,000 cu.m (an increase of 50% over
the comparable period of 2018) worth US$193.5 million
(an increase of 32% over the comparable period of 2018).

The increase of sawn wood import is in contrast to the
decline in roundwood imports from Africa to Vietnam.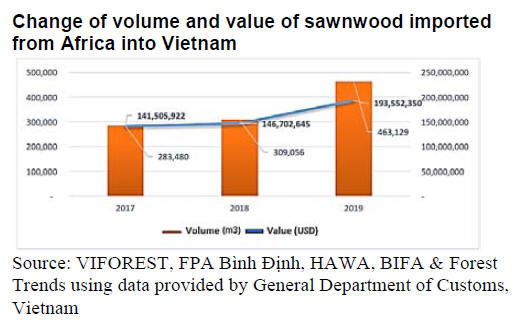 Cameroon, Gabon, Nigeria, Angola, Ghana and South
Africa are top listed suppliers of sawnwood for Vietnam in
both volume and value. The volume and value of
sawnwood imported from Cameroon, Nigeria, Angola and
South Africa sharply increased, while from Gabon and
Ghana dropped in continuum.

In 2019, in particular, the volume of sawnwood imported
from Cameroon doubled over the comparable period of
2018 and the value increased correspondingly. The import
of sawnwood from Gabon showed a contrary trend with a
decrease of 95% and 83% in volume and value relatively
as compared with the same period of 2018.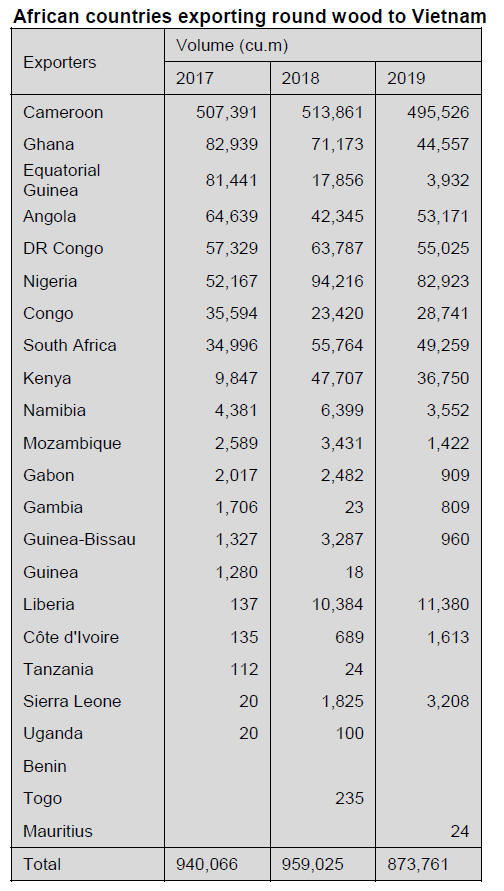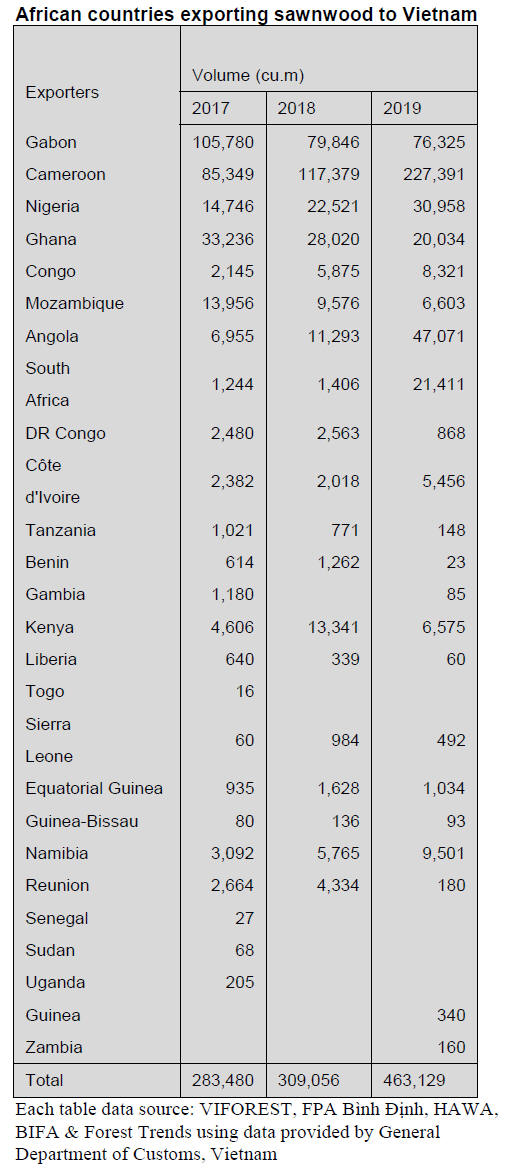 Imported species
As with logs, tali/okan topped the imported sawnwood
species. In 2019, Vietnam imported from Africa 216,300
cu.m of tali/okan roundwood equivalent to US$104.6
million.

Following tali/okan, doussie ranked number 2 with
106,400 cu.m (US$44.9 million) amongst sawnwood
species imported from Africa into Vietnam.

In addition, mussibi/rosewood is listed as the top imported
species.

It is noted that, in 2019, the import of sawnwood of
various species, including tali/okan, doussie and rose
wood have increased considerably. In particular, the
volume of imported tali/okan sawnwood has increased by
1.4 times (1.25 times in value) against 2018.

Most of sawnwood imported from Africa into Vietnam
arrives at Hai Phong City in the North of Vietnam.

8. BRAZIL
More plantations than first assessed in Minas Gerais
The Forest Industry Association of Minas Gerais (AMIF)
has adopted advanced techniques for surveying and
monitoring forest plantations in the state in order to
facilitate traceability.

According to the most recent survey carried out by AMIF,
the forest plantation area, including all species, totalled 2.3
million hectares almost 18% higher than announced after
an earlier survey. Of the species planted eucalyptus still
represents the highest percentage. AMIF says there is
scope to introduce more species such as Australian cedar,
African mahogany and rubberwood.

Wood products produced in Minas Gerais State are
consumed mainly by the steel industry and pulp industries
as well as being used to produce laminate flooring, woodbased
panels and sawnwood.

Furniture industry growth in Mato Grosso State
Although the major furniture clusters in Brazil are located
in the Southern Region the furniture industries in Mato
Grosso do Sul State has performed well. The furniture
industry anticipates a growth of up to 20% in the Gross
Production Value (GPV) for 2020. If this is correct sector
output would go from R$205.5 million in 2019 to R$246.6
million this year.

According to the Inter-municipal Union of the Furniture
Industry in Mato Grosso do Sul (SINDMAD/MS), in
recent years the furniture sector in the state has
experienced difficulties resulting in stagnation of output
and sales. However, since December 2019 the sector saw
an increase in sales which has generated an expectation of
growth of 20%.

The furniture industry in the State has 372 manufacturing
plants which together employ 2,700 workers according to
the Industries Federation of the State of Mato Grosso do
Sul (FIEMS).

The challenge for the sector is to better structure the
furniture industry as there are many small woodworking
plants which often work in the informal sector. According
to SINDMAD sales by the furniture industry are closely
linked to the civil construction sector which projects
growth of 2% this year.

Wood and wood products half of Acre state exports
Acre State is one of major timber producing states in the
Amazon Region together with Pará and Mato Grosso.
According to the Ministry of Economy, more than half of
the goods exported by the state of Acre are wood and
forest products.

Exports from Acre were US$3.3 million in February 2020
and of this 60% was of forest products. While wood
products accounted for around 40% much of the balance
was of Brazil nuts.

In February the markets for Acre exports were Hong Kong
(US$548,000, 17%), China with 16%, the United States
with 13% and Peru with 12%.

Forest plantation sector stable in 2019
The latest IBÁ (Brazilian Tree Industry) report, pointed
out that in 2019 exports of forest products totalled US$9.7
billion. Pulp exports earned US$7.5 billion while paper
products earned US$2 billion and wood-base panels
US$265 million.

In 2019, China remained the main market for Brazilian
pulp with exports amounting to US$3.2 billion. In
contrast, markets in Latin America are mainly for woodbased
panels (US$164 million) and paper (US$1.2 billion).

According to IBÁ, 2019 was a year of an adjustment for
the forest industry. Despite the country's sectoral challenge
and economic instability the sector maintained its
contribution to national exports. Looking to the future,
investments of about R$32.9 billion are anticipated.
Between 2014 and 2017, investments were around R$20
billion such that the forecast investment demonstrates the
long-term and sustainable vision of the entire sector.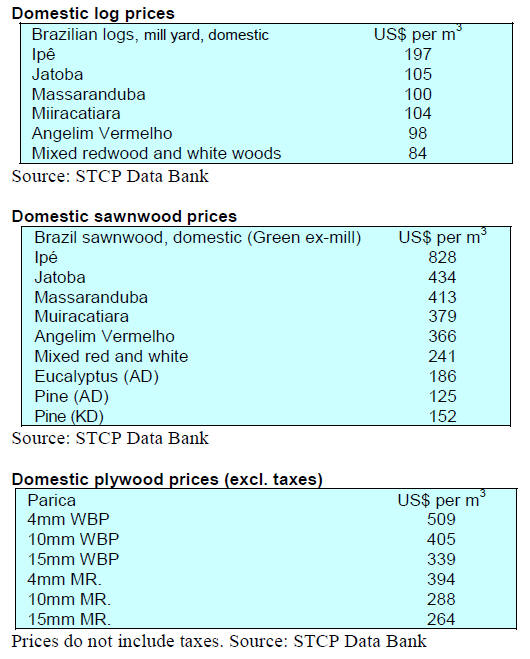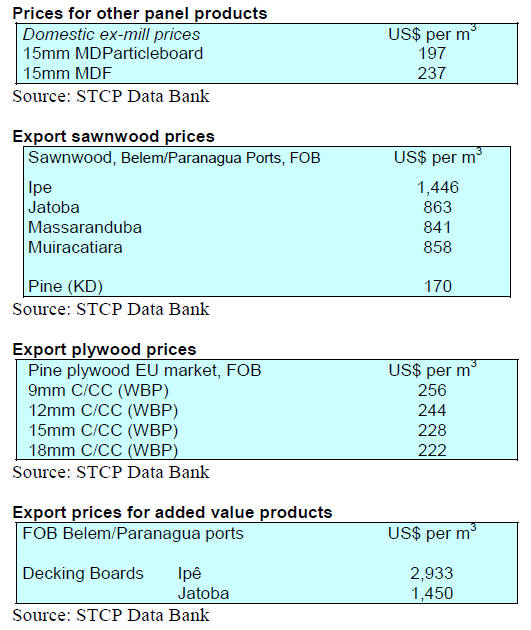 9. PERU
Traceability and transparency - the benefits of the
'Operations Book'
Following extensive training of regional government
officers in Madre de Dios, Loreto and Ucayali by the
National Forest and Wildlife Service (SERFOR), on 2
March 2020 authorised forest land title holders began to
use the 'Operation Book' to record harvesting.

The 'Operations Book' is of vital importance in supply
chain management as it allows traceability and
transparency contributing to the fight against illegal
activities. The information in the 'Operations Book' will
serve as an input for the preparation of the forest transport
guide and to check harvesting against approved
management plans.

Support on forest fire management
For the first time, Peru has a roadmap for forest fire
management that provides an inter-sectoral plan for forest
fires management.

The development of the roadmap was led by the National
Forest and Wildlife Service (SERFOR) with technical
support from the USAID FOREST program and the US
Forest Service.

The roadmap has been prepared by an inter-sectoral group
made up of institutions including SERFOR, the National
Service of Natural Areas Protected by the State
(SERNANP), the Fire Department, the Fire Department
Firefighters, the National Institute of Civil Defence
(INDECI), the Ministry of Culture and the Joint Command
of the Armed Forces.

An exchange of experiences is key to training of worldclass
forest fighters and two Peruvian brigades travelled to
California during the high fire season to participate in a
specialised 60-day course with elite brigades in US forest
fire service.

OSINFOR showed progress in its management
In late February forestry sector stakeholders came together
at the invitation of the Organism for the Supervision of
Forest Resources and Wildlife (OSINFOR) to share
experiences on progress in management in the sector.

According to OSINFOR, implementation of forest
management plans has improved significantly. According
to the OSINFOR Management Information System
(SIGOSFC), the extent of over harvesting and under
reporting harvests has fallen significantly.

In related news, an agenda for further institutional
strengthening of OSINFOR has been developed with
support of Hank Kashdan, the now retired Associate Chief
of the US Forest Service.

The work will focus on three themes: institutional
strengthening, territorial coordination, and capacity
development in communities. This initiative was made as
possible with the support provided to OSINFOR by the
USAID FOREST program and the US Forest Service.

Regional independence allows for flexible budget
management
It has been reported that in 2019 the forest authorities in
Loreto, Ucayali and Madre de Dios successfully
negotiated for additional budgets from the Ministry of
Economy and Finance.

The extra money was used to strengthen activities that
regional governments conducts on prevention, control and
surveillance issues on activities that threaten forest and
wildlife resources; forest and wildlife zoning; national
forest inventory and permanent production forests; and
granting rights of access to forest and wildlife resources
and follow-up and verification actions.

Audits revealed that over 90% of the extra budget
allocations were efficiently utilised.

The Ministry of Economy and Finance has a facility to
provide extra budgetary support and in 2019 it was the
first time that a forest authority requested an additional
budget directly from the ministry. This was possible as
beginning last year the three regions have greater
independence in the administration of their own resources.