Japan Wood Products Prices
Dollar Exchange Rates of 26th February 2020
Japan Yen 109.59

Reports From Japan

Economy likely to contract in 2020
The Japanese economy shrank 1.6% in the fourth quarter
of 2019 according to a report from the Cabinet Office. The
decline from the third quarter was the largest drop since
2014. The sudden weakness in growth has been blamed on
the rise in consumption tax in October from 8% to 10%
and the impact of unseasonal and deadly typhoons.

Consumer spending, which underpins the Japanese
economy, has shown almost no expansion since the 2014
increase in consumption tax and this is related to the
steady decline in nominal wage growth.

If a negative impact on Japan¡¯s growth from the corona
virus outbreak is factored in it is possible that Japan¡¯s
economy will contract this year. The has epidemic forced
many Japanese manufacturers in China to suspend
operations in Chinese cites affected by the virus which has
disrupted the supply of components needed by Japanese
companies. The domestic press has quoted analysts as
saying a recession now looks almost inevitable.

The government has moved to boost the economy through
a massive stimulus package but if the spread of the
coronavirus is not contained a recovery could be delayed.
The year has not started well for Japan with exports
dropping and tourist arrival plummeting. In the year of the
2020 Tokyo Olympics there are serious challenges ahead.

The local media has reported that the government and the
Bank of Japan (BoJ) are ready to act if the fallout from the
coronavirus outbreak on the economy broadens.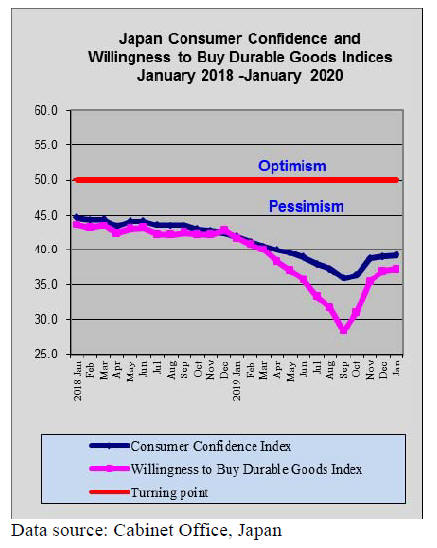 Sharp drop in machinery orders
Cabinet Office data has shown Japan¡¯s core private-sector
machinery orders fell at the fastest pace since 2018 and
orders posted their largest drop in 15 months in December
with a 12.5% decline from the previous month.

The fall in orders, seen as a leading indicator of capital
spending, followed an 18.0 percent jump in November, the
biggest increase since in April 2005, boosted by one-off
orders for railway stock. The 12.5%t fall marked the
sharpest decline since September 2018 when they dropped
17%.

On a quarterly basis, core orders fell 2.1% in the October-
December period, with the Cabinet Office projecting a
5.2% decline in the quarter to March.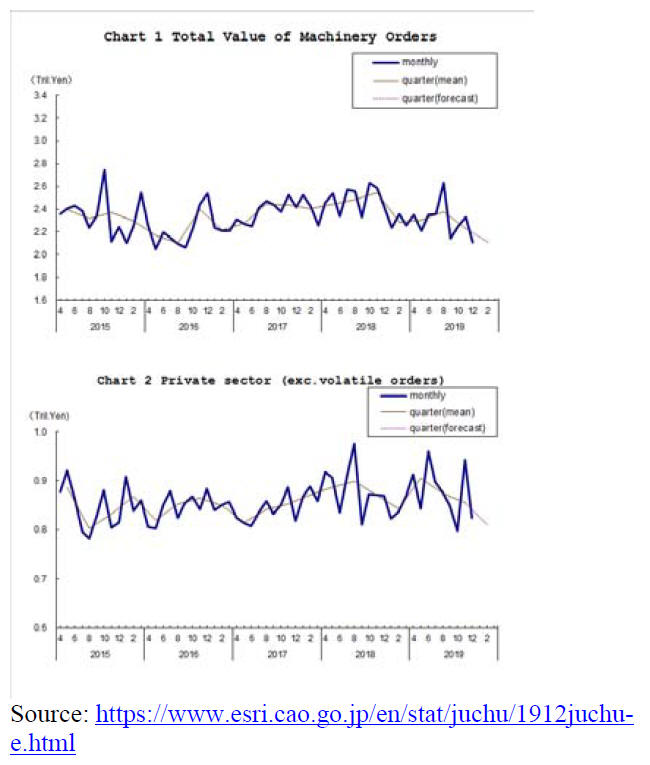 Yen ¡®safe-haven¡¯ status in question
Takeshi Minami, Chief Economist at the Norinchukin
Research Institute, has been quoted as saying the yen may
lose its status as a "safe-haven¡±. Other analysts say a virus
epidemic in Japan would likely undermine confidence in
the economy and spur yen selling.

In the aftermath of the 2008/9 global financial crisis
overseas funds poured into Japanese yen and this trend has
been observed several times when risks to the global
economy are perceived as serious.

In a reversal of this trend, in the current coronavirus crisis
money has not moved to the yen and, in fact, over the past
two weeks the yen has weakened against the US dollar.

See: https://english.kyodonews.net/news/2020/02/0cd8ce9104b2-focus-japans-yen-may-lose-tatus-as-safe-haven-asset-amidvirus-spread.html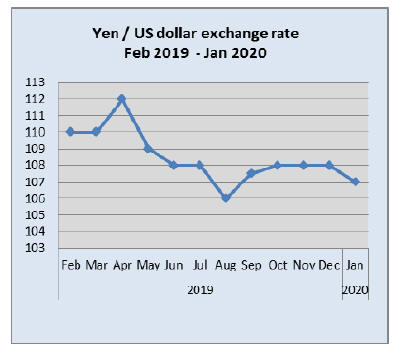 Housing starts at record low
Data from the Ministry of Land, Infrastructure, Transport
and Tourism shows January 2020 housing starts at 60,340
where down over 10% year on year. The January decline
follows on from steady declines that began in October
2019.

Housing starts at 60,340 were the lowest since the current
data set was compiled by the ministry and this was despite
a rather mild winter in many parts of the country. Ministry
data is also showing.

New orders for homes received by the main contractors
dropped 17% year on year in January cancelling out the
19% rise in December.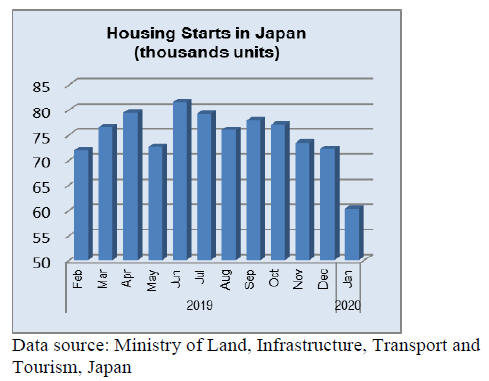 Import update

Wooden door imports
Two shippers, China (62%) and the Philippines (23%),
accounted for most of Japan¡¯s wooden door (HS441820)
imports in December repeating their performance in
previous months. When imports from Indonesia and
Malaysia are included then these four shippers provided
over 90% of Japan¡¯s December wooden door imports.

Year on year December wooden door imports were flat as
was month on month imports. However, compared to the
value of 2018 imports there was a 3% increase recorded in
2019.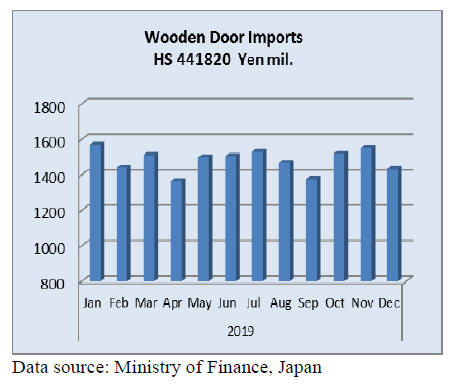 Wooden window imports
Apart from the surge in wooden window (HS441810)
imports in November 2019 there was a steady decline in
the value of imports from mid year which closely mirrors
the trend in housing starts (see above).

As in previous months, December 2019 imports of
wooden windows were dominated by shipments fro China
(51%) and the Philippines and the US (around 20% each).
Year on year the value of Japan¡¯s wooden window imports
were down 21% and December imports were down by
around the same amount compared to November 2019.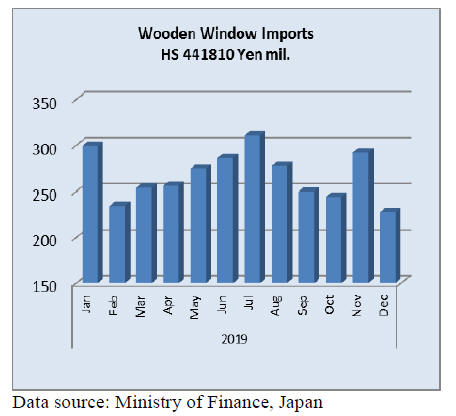 Assembled wooden flooring imports
As in previous months three categories of assembled
flooring dominate Japan¡¯s imports, HS441873, 75 and 79.
HS441875 accounted for over 75% of December imports
with most originating in China (51%) followed by
Malaysia (21%) and Indonesia (17%).

HS441879 was the second largest category of imported
assembled flooring at 15% of total December imports. The
top three suppliers of this category were Thailand (32%),
Indonesia (24%) and China (22%).

Just 8% of December assembled flooring imports were of
HS441873 with China being the mains shipper (55%)
followed by Italy (25%) and Thailand (18%).

Year on year wooden flooring imports (HS441871-79) in
December 2019 were up 8% and compared to a month
earlier there was a 27% increase in the value of imports of
assembled wooden flooring (HS4471/73/75/79). 2019
imports of assembled wooden flooring dropped 8%
compared to the value of 2018 imports.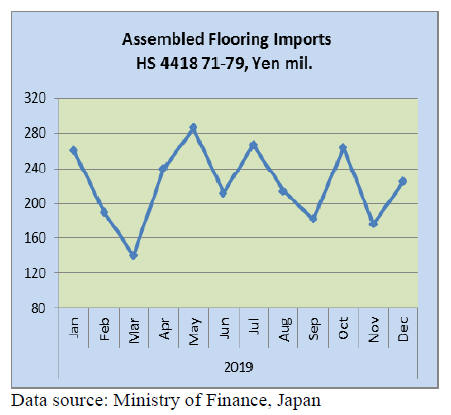 Plywood imports
Year on year, December 2019 imports of plywood
(HS441210/31/33/34/39) were unchanged but month on
month there was an 8% decline in the volume of imports.

Around 90% of December plywood imp0rts were of
HS441231 followed by HS441234 (5%) HS441233 (3%)
and HS441239 (2%).

The volume of plywood imports from Malaysia in 2019
dropped 18% compared to 2018 and there was a 13%
decline in imports from Indonesia and a 13% decline in
imports from China over the same period.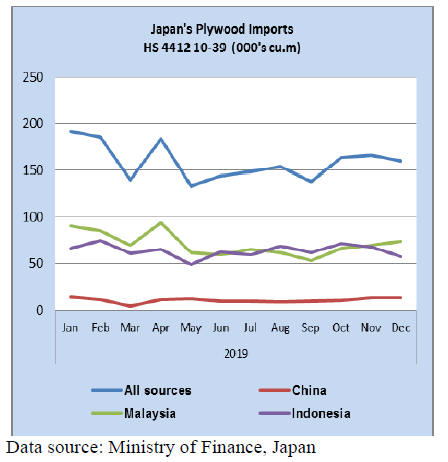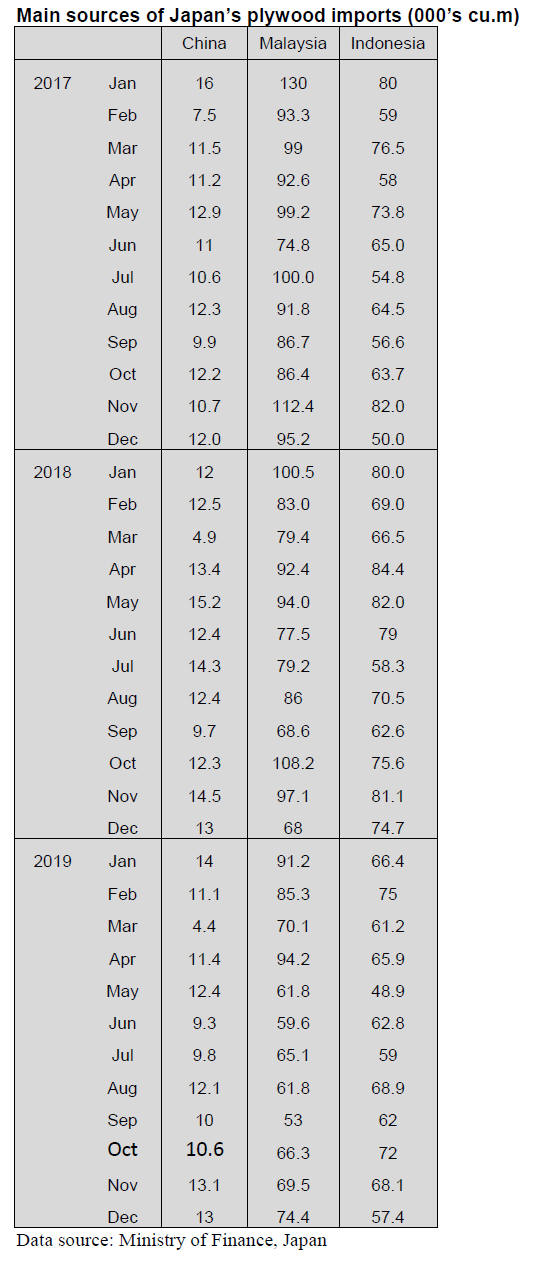 Trade news from the Japan Lumber Reports (JLR)
The Japan Lumber Reports (JLR), a subscription trade
journal published every two weeks in English, is
generously allowing the ITTO Tropical Timber Market
Report to reproduce news on the Japanese market
precisely as it appears in the JLR.

For the JLR report please see:
http://www.nmokuzai.com/modules/general/index.php?id=7

Housing starts in 2019
Total starts in 2019 are 905,123 units, 4% less than 2018.
The starts decreased for three consecutive years. Owner¡¯s
units and units built for sale increased but rental units
decreased by 54,000 units. This is the lowest in five years
since 2014.

Owner¡¯s units increased in the first half of the year
because of rush-in orders before the consumption tax
increase. Woodbased units decreased by 3% or about
16,000 units with 523,319 units.

Housing starts in 2013 recorded 980,000 units before the
consumption tax increased from 5% to 8%. In 2014 and
2015, the starts decreased down to about 900,000 units
then by extreme low housing loan mortgage rate, the starts
recovered to 960,000 units in 2016 and 2017. Since 2018,
by over built of rental units, total starts have started
declining.

In particular, rental units increased to about 420,000 in
2016 and 2017 then in 2018, they decreased by about
23,000 units and by 54,000 units in 2019. In these two
years, about 77,000 units decreased. Rental units in 2019
are 342,289, 13.7% less, 13.7% less. This is the first time
in seven years that rental units are below 350,000 units.

Owner¡¯s units are 288,738, 1.9% or 5,503 units more, the
first increase in three years but the starts compared to the
same month a year earlier, first seven months are higher
then five months from August to December are lower than
the same month a year earlier.

Units built for sale are 267,696, 4.9% or 12,433 units
more, which is five straight years increase. This is the first
time in five years that the starts exceeded 260,000 units.
Especially detached units built for sale increased for four
straight years with 147,526, 3.6% or 5,129 units more.
This is the second highest record next to 1996¡¯s 147,944.
Condominiums are 117,803, 6.6% or 7,293 units more and
they have held level of over 110,000 units for six straight
years.

2x4 units are 109,625, 6.3% or 7,363 units less. This is
three consecutive year¡¯s decline and is the first time in
seven years that they did not reach 110,000 units since
2012. Decrease of rental units impacted 2x4 starts.

Looking at December starts, start of all types of owners¡¯
unit, rental unit and unit built for sale are lower than the
same month last year. Total starts of 72,174 units in
December are the lowest in eight years since 2011.

Wood based units of 42,822, 8.6% less than December
2018 and this is six straight months decline. This is also
lowest month in eleven years. Decline of owner¡¯s units
and rental units are serious. Rental units in December are
27,611, 10.3% or 3,177 units less. In nine months from
April to December, degree of drop is 15.5%, much larger
than 13.7% for total twelve months.

Owner¡¯s units are 22,294, 8.7% or 2,121 units less, five
straight months decline and degree of drop is getting larger
month after month and large house builders comment
there is no sign of recovery.

Russian log export
Regarding log export from the Far East Russia, the
Russian government announced companies¡¯ name, which
can have preferential duty on log export. Quota by this
preferential duty is 4,000,000 cbms on whitewood, larch
and fir. In 2020, RFPG will have about 60% quota but
preferential duty rate is raised to 13% from 6.5%.

On log export from the Far East, export duty is reduced for
companies, which have certain percentage of export of
processed products like lumber, veneer and wood chip in
total sales. For 2020, requested processed percentage is
raised to 30%,5 points more than 2019.

Top ranking RFPG¡¯s quota volume is 2,300,000 cbms then
Terneiles with 779,000 cbms, Rinbunan Hijau (RH) with
761,000 cbms. RFPG¡¯s volume is reduced by 8.3% but its
share is about 60% in total. Terneiles is up by about 22%
and RH is up by 40%.

Even with preferential duty with quota, 13% duty is heavy
so quota given companies will not be able to increase log
export easily. Standard log export duty rate in 2019 was
40% then in 2020, it is 60% and 2011 will be 80%.

Due to high export duty, log export from Russia continues
declining and in 2019, total log export for Japan from
Russia including the Far East would be less than 100,000
cbms so Russia¡¯s policy to export processed products has
steadily progressing.

Russian softwood log import to Japan for the first eleven
months was 95,541 cbms,19.7% less than the same period
of 2018. In particular, larch log import from the Russian
Far East decreased much with about 62,398 cbms, 35.5%
less. Larch has been mainly used by the Japanese plywood
mills but by higher log export duty, the demand is shifting
to Russian made veneer.

Survey on use of wood biomass energy
The Forestry Agency announced survey on use of biomass
energy in 2018 in December 25, 2019. Main fuel for
power generation of wood chip and pellet increased but
fire wood for heating did not increase.

Raw materials of wood chip of imported wood chip and
sawmill and plywood residue increased but building scrap
wood did not increase and slight increase of unused fiber
in the woods. Majority of energy is consumed for power
generation or in-house use. As FIT system based power
generation facilities increase, use of biomass fuel climbs.

By type of fuel, increase of wood pellet is conspicuous.
Wood pellet production in 2018 was about 130,000 ton,
3.8% more than 2017 but imported pellet climbed to about
1,060,000 ton, 109.2% more and imported fuel will
increase further in coming years.

Total number of power generator by wood based fuel was
290 in 2018, 26 more than 2017. 135 are for outside sales
of electricity based on FIT system, 27 more. Cogeneration
facilities are109, nine less. Steam turbines are
231, eight more and takes 80% share and gasifications are
44, 18 more.

Plywood
Production and shipment of domestic manufactured
plywood continue brisk but movement of imported South
Sea hardwood plywood remains stagnant. Movement of
domestic plywood in wholesale channels has started
slowing a bit but that of direct deals to precutting plants
continues firm.

At this time of last year, the market confused by shortage
of trucks so the deliveries delayed until late February but
there is no such problem this year.

In late December and early January, availability of trucks
was hard so some deliveries delayed and plywood mills
struggle to manage shipment with very low inventories.
There is no strong momentum of the demand generally in
the market but precutting plants¡¯ demand continues strong
and there is no request for postponement of deliveries yet.

Orders for month of February to plywood manufacturers
are normal. The manufacturers are anxious to build up
the inventory as they have been as low as 0.4 month.

Movement of imported plywood continues sluggish.
Movement of concrete forming and structural panel, which
were rather firm until late last year, is now slowing. Some
short items are fulfilled by late December arrivals but
overall inventory continues low.

Facing book closing of March end, the importers are hard
to place new orders now so procurement after Aprilis real
start of future supply.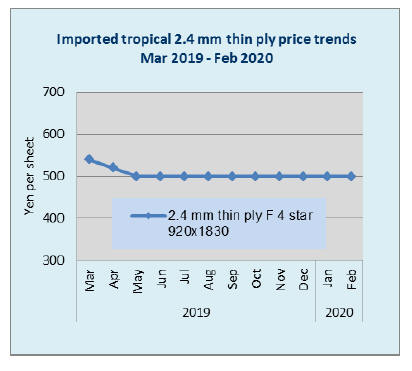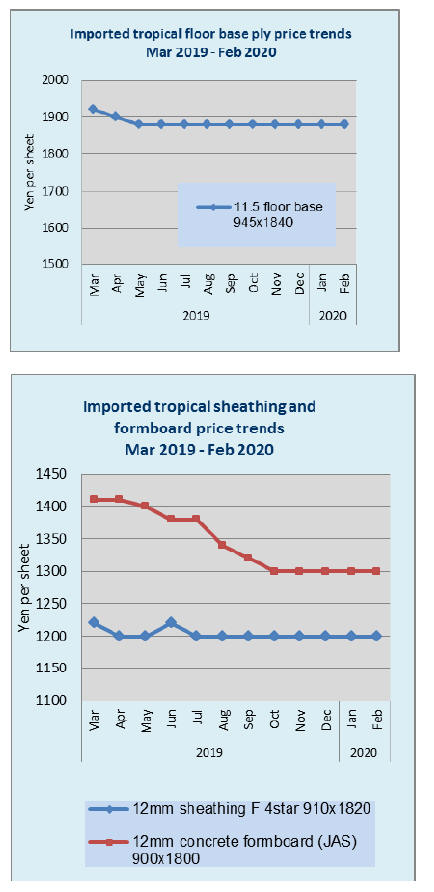 Review of 2019
European lumber and laminated lumber Japan market of
European lumber and laminated lumber maintained rather
active vigorousness following 2018 so that the prices
stayed up high then after April, the demand has started
weakening and the prices gradually declined.

The supply side was bearish and the export prices had
been skidding little by little and the export prices dropped
down tobreakeven point of supplying mills.

All the other markets were also in slump so there was no
chance to recover both on volume and prices for the
suppliers. Market prices of domestic product of
whitewood laminated post at the beginning of the year
were 1,890 yen per piece delivered and with firm demand,
further advance was expected and price increase was
necessary because cost of lamina was high at 38,000 yen
per cbm FOB truck port yard, which was too high for the
manufacturers of laminated post then the prices climbed to
1,900 yen by March.

However, the market turned weak after purchase of
precutting plants slowed down.

At the same time, European made laminated post prices
dropped so the prices of domestic product started sliding
with weak future arrivals of European products.

The same pattern was on redwood laminated beam. At the
beginning of the year, the prices of domestic made beam
were over 60,000 yen per cbm delivered then around June,
the prices dipped below 60,000 yen to 59,000 yen.

Normally June should be firm period as summer demand
season is coming but the inventory of precutting plants of
redwood beam was heavy so even when the precutting
business improved, the prices of redwood beam did not
change so the prices remained weak despite active
movement. For the third quarter, major suppliers settled
with about Euro 400 per cbm C&F but smaller suppliers
gave priority to move the volume so that they accepted
lower prices.

Profitability of European suppliers critically deteriorated
at this stage but export prices of the suppliers did not
improve because demand of all the other markets were
weak and Japan was only stable market so the supply
centered Japan, which resulted in drop of export prices.

Export prices of whitewood KD stud in the first half of the
year stayed record high. Euro 365 per cbm C&F was
proposed for March and April shipment. Fortunately the
yen¡¯s exchange rate to the Euro gradually shifted
favorably to the buyers so the high prices were accepted as
yen¡¯s cost did not exceed 50,000 yen plus per cbm FOB
port yard despite higher Euro prices.

The market turned when supply and demand balance
collapsed in July by increased supply so the market prices
were below 50,000 yen in late August and 47,000-48,000
yen were the main range in fall. Major supplier skipped
September shipment to restore the market to no avail so
the export prices dropped down to Euro 340 for November
and December shipment. It may take another quarter
before the balance recovers.

After firmness of Japan market changed, supply reduction
has started among European suppliers particularly
Scandinavian suppliers so volume of the proposal for the
first quarter seems to be less than normal quarter. Once
operation of laminated mills and precutting plants in Japan
gets busy, there is a good chance that the export prices
would rebound.

Outlook for 2020
There are many comments on tightening supply from
Europe. This is totally different from 2019 when the
supply pressure for Japan market was strong, which
resulted in poor profitability of the European
manufacturers. The supply has already been declining
from the first quarter 2020.

The key factor is beetle damage of whitewood mainly in
the Central Europe. It has started damaging since middle
of 2018 and degree of damage seems to worsen in 2020.

The European administration offices are demanding forest
products companies to remove damaged whitewood trees
immediately but there is no easy solution. Felled trees
cannot be left in the woods and logs must be disposed as
either logs or processed products so timber owners are
forced to sell at low prices.

However, Japan remains as one of the most stable markets
for the European suppliers so major suppliers plan to
export the same amount of products as 2019 but because
of shortage of log supply, many manufacturers will be
forced to scale down the production in 2020.Some
manufacturers see 20-30% reduction of production in 2020
so supply reduction may spread gradually.

If harvest and disposal of damaged logs have priority,
supply of sound logs is likely to drop probably in the
second quarter this year. Log shortage results in
production drop of lamina, which influences production of
laminated lumber.

Stud supply is the same and oversupply like 2019 is
unlikely in 2020.The first quarter negotiations on
structural laminated lumber and lamina were done in
December 2019 but by uncertain future of the market,
purchase was made for immediate future without any long
range view of possible supply shortage in the second half.
In Europe, demand of large scale wood building with CLT
is growing recently and there are new CLT manufacturing
plants starting up this year.

If lamina manufacturing plants give priority to
manufacture CLT materials, supply of traditional
laminated lumber and lamina may be reduced because
CLT is growing market and the market is in Europe, which
is advantageous in transportation cost.

With beetle damage problem and expansion of CLT
market in Europe, Japan needs to pay higher prices to
secure enough volume for the demand in Japan. In the first
quarter 2020, the export prices of whitewood laminated
post are about Euro 400 per cbm C&F and redwood
laminated beam are about Euro 400-410.

Imported cost in the yen is 52,000-53,000 yen per cbm
FOB truck port yard on both whitewood and redwood with
exchange rate of 121-122 yen per Euro. Lamina
inventories held by the manufacturers in Japan are now
down to proper level but the market prices of finished
products are finally bottoming out. To improve
manufacturers¡¯ profitability, sales prices need to be higher
than present level of 1,800 yen per piece delivered on
whitewood laminated post and 54,000-55,000 yen per cbm
delivered on redwood beam.

Over supply of whitewood KD stud has not been solved
yet so that the prices have not bottomed out yet. The
export prices shot up to record high Euro 350-360 per cbm
C&F in 2019 then they are down to Euro 330-340 now.
Some suppliers have been reducing the supply
intentionally to restore the market but there are still heavy
inventory of 3meter stud.

The market prices declined in the second half of 2019 and
present prices are 47,000 yen per cbm FOB truck port yard
but purchase by precutting plants continues inactive. After
EPA took effect, import duty is reduced step by step but it
has very little impact because the prices dropped much
more than reduction of the duty.

Review of 2019

North American lumber
For the North American lumber business in Japan, 2019
was year of hardship. Export prices of the North American
lumber peaked in 2018 and they had kept sliding. In Japan
market, before lower cost products arrived, the market
prices skidded first so that the importers and wholesalers
suffered loss on their inventories.

The largest hemlock lumber supplying company went onto
strike since July 2019, which continues now, and the
supplyof hemlock lumber drastically dropped. On SPF
lumber, the supply got shaky because of closure and
shutdown oflumber mills by log supply shortage and
depressed North American lumber market.

For 2x4 lumber users in Japan, drop of export prices
contributed to improvement of profitability but generally
the movement was dull. Among North American lumber,
item of the largest drop of export prices was SPF lumber.
Prices of SPF J grade 2x4-8 peaked in the third quarter
2018 at $700 per MBM C&F. They dropped down to
$490-500 in the third quarter 2019, 30% drop from the
peak. Arrived yen cost was 57,000 yen per cbm FOB port
yard at peak time then they were down to about 40,000
yen now.

At peak time, the demand of North American 2x4 lumber
shifted to European and domestic cedar lumber because of
high cost but before such demand was firmed in the
market, North American 2x4 regained the market by
dropped export prices.

However, drop of North American lumber market
squeezed profitability of North American sawmills and
since last July, closure of sawmills or temporary shutdown
continued successively. Canadian sawmills export large
amount of lumber to the U.S. market.

Since 2017, over 20% countervailing and anti-dumping
duty is imposed on Canadian softwood lumber to the
U.S.A. When the market prices skyrocketed in 2018, the
mills made money even with high duty but after the
market prices plunged, high duty becomes burden in
2019.Also log supply became tight after clean-up of
mountain pine beetle damaged timber. By this, the annual
allowable cut in B.C. has kept shrinking so the log prices
have kept climbing, which is another reason of sawmills¡¯
closure.

Despite sizable production reduction by major suppliers,
the fourth quarter export prices rebounded in small degree
and settled at $500-510 on J grade 2x4-8 as the buyers saw
that as long as the North American market is depressed,
supply for Japan would not decrease. Large premium of J
grade compared to the North American lumber market
prices is another reason of stable supply.

Export prices of KD Douglas fir lumber peaked in the
third quarter 2019 and have been declining. Compared to
the peak prices in third quarter 2018, the fourth quarter
2019¡¯s prices of $1,080-1,089 per MBM C&F were about
10% or $127-142 down. The arrived cost dropped down to
54,000-55,000 yen per cbm FOB truck port yard, 8,000
yen down from the peak time.

Market prices of hemlock lumber were the same as
Douglas fir until the third quarter but the supply changed
largely. Inventories of hemlock lumber swelled largely
since fall of 2018 so the largest supplier stopped the
production for four weeks during March and April 2019.
After the inventories dropped, the largest supplier¡¯s mill
went onto strike so the supply abruptly stopped.

Outlook for 2020
The most concern is strike of Western Forest Products in
B.C., which is the largest hemlock lumber supplier for
Japan market. The strike started in last July so it is more
than six months. Hemlock lumber prices are lower than
Douglas fir so it was supposed to grab market share of
Douglas fir lumber but without any supply, the market
share would decline sharply.

On SPF lumber, demand in Japan in 2020 would be less
because of drop of rental unit construction. 2x4 is heavily
used for apartment construction, which would keep
declining this year. The supply side has problem of mill
closures and log supply shortage. Arrivals of 2x4 lumber
for the first ten months last year was 891,843 cbms, 21.5%
less than 2018. The marketers see that as long as there isp
enough premium on J grade, the supply should have no
problem this year.