2. GHANA
Hosting AfCFTA could see Ghana attracting more
investment
The Ghana government has launched seven Technical
Working Groups (TWGs) to formulate strategies for
implementation of the African Continental Free Trade
Area (AfCFTA) which becomes operational this year. The
TWGs are expected to design national action programmes
for boosting intra-African trade.

The Minister for Trade and Industry, John Alan
Kyerematen who inaugurated the TWGs, explained their
work will involve areas such as trade policy alignment,
facilitation of trade, enhanced production capacity, traderelated
infrastructure and availability of trade finance and
information.

The AfCFTA has four components the Framework
Agreement; Protocol on Goods; Protocol on Services and
Protocol on Disputes Settlement the initiative is expected
to provide all African countries that ratified the agreement
enhanced market access across the region.

Currently, Ghana's intra-African exports account for
around 34% of total exports, mainly manufactured
products, which include plywood and other wood
products. Being the host for AfCFTA secretariat could
result in Ghana becoming an even more attractive
investment destination.

In related news, Michael Luguje, Director General of the
Ghana Ports and Harbours Authourity (GPHA), has said
major investments have been made which are expected to
improve operations at both the Tema and Takoradi Ports.
He said the investments made will ensure Ghana's Port
capacity and operations become an incentive for AfCFTA.
Ghana has two main seaports which also serve as
transshipment ports to the sub region.

Support to develop products to international standards
Dr. Afua Asabea Asare, Chief Executive Officer of the
Ghana Export Promotion Authority (GEPA) has appealled
to local manufacturers to register with their local offices to
take advantage of the support that GEPA can offer.

Local industries registered with the authority can be
provided with training, certification and advice on
packaging for example which would raise the
competitiveness of Ghana products in international
markets.

ATI launches operations in Ghana
A press release from the African Trade Insurance Agency
(ATI) has announced that the Government of Ghana is
now a full member of the African Trade Insurance Agency
(ATI) with shareholding valued at US$17.6 million with
support from the German government.

The press release explains that ATI plans to support Ghana
in several key areas of its economy.

Specifically, the institution can support Ghanaian banks by
providing access to credit insurance that will act as much
needed collateral.

This will, in turn, allow local banks to be able to lend
more to local corporates and ultimately help generate more
jobs in the economy while also strengthening the
competitiveness of local banks and boosting private sector
growth.

The government also stands to benefit from ATI's
entrance into markets. ATI can also support Ghana's drive
to increase trade with other African countries and
internationally in a number of ways.

Membership of ATI will help mitigate Ghana's investment
risks thereby unlocking additional investments as well as
lowering its borrowing costs. Now that Ghana is a full
member, ATI expects to review and potentially insure the
current set of projects valued at US$1.2 Bil.

In Ghana, ATI is hosted by The Ministry of Finance. The
Ministry is co-hosting a series of launch activities aimed at
informing the private sector and government agencies on
the benefits of using ATI's guarantee and insurance
instruments.

For more see: http://www.ati-aca.org/blog/ati-launchesoperations-in-ghana-presence-expected-to-boostindustrialization-and-debt-sustainability-efforts/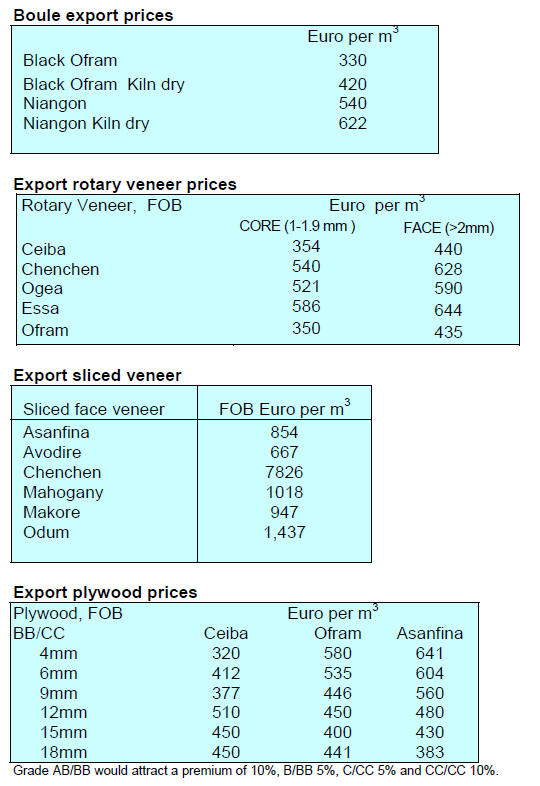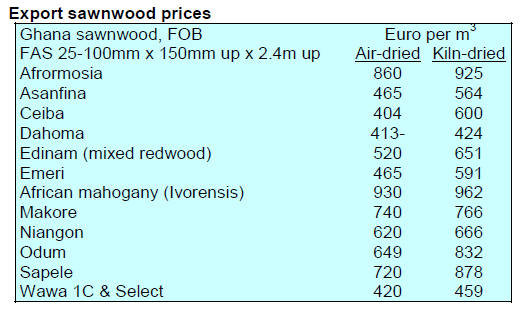 3. MALAYSIA
MIFF Rescheduled
The Malaysian International Furniture Fair (MIFF) 2020
has been rescheduled from 6-9 March to 30 June to 3 July
at the Malaysia International Trade and Exhibition Centre.

Informa Markets, the organiser of MIFF 2020, said this
decision was taken with regret after careful consideration
and close consultations with stakeholders. The problem is
that the risks from the current virus outbreak cannot be
accurately assessed and some countries have issued travel
advisories and companies are restricting travel of their
executives.

A one month delay will have little impact on retailers who
tend to prepare for the new season with orders placed
during the fair but if there are further postponements
retailers struggle to secure new designs for the coming
season. The greatest challenge now is the uncertainty.

MIFF is the biggest furniture trade show in Southeast
Asia. In 2019, the show drew over 600 Malaysian and
foreign exhibitors and more than 20,000 visitors including
over 6,000 international buyers.

For more information, visit
www.miff.com.my
or email info@miff.com.my

Government ready to support sectors hit by economic
downturn
Dr. Ong Kian Ming, Deputy International Trade and
Industry Minister has indicated that a government
economic stimulus package has been prepared to support
businesses affected by the economic down turn brought on
by the new coronavirus outbreak. The tourism, retail and
aviation sectors are being severely affected.

He said expressed optimism that businesses could expect a
rebound in the second half of the year and suggested
efforts should be made now so as to be prepared to attract
more overseas investment.

The National Institute Occupational Safety and Health
(NIOSH) has reacted to the rumours that as many as
100,000 people could lose their jobs if the virus outbreak
continues throughout the year.

Alice Lau Kiong Yieng, NIOSH chairperson said the
government will not allow the spread of the virus in
Malaysia to get out of control.

Tough time for plywood manufacturers in Malaysia
Malaysian plywood manufacturers have lost market share
in Japan, their key export market, due to stiff competition
from Indonesian suppliers and the sharp increase in local
production of plywood from domestic softwood resources.

Statistics from the Sarawak Timber Industry Development
Corp. (STIDC) reveal that Sarawak plywood export
volumes fell to about 1.12 million cubic metres, worth
RM2.26 bil (FOB), in 2019 from 1.43 million cubic
metres (RM3.03 bil) in 2018 and 1.74 million cubic metres
(RM3.27 bil) in 2017.

Despite the drop in sales, in 2019 Japan was the top buyer
of Sarawak plywood absorbing 733,051 cubic metres
(RM1.59 bil) or more than 70% of the state's total
plywood exports.

Sarawak log export volumes dropped to 1.29 million cubic
metres worth RM722.2mil in 2019 against 1.42 million
cubic metres valued at RM773 mil in 2018.

Sabah to have Tropical Forestry University faculty
Universiti Malaysia Sabah (UMS) is re-establishing
Tropical Forestry as a separate faculty to proritise the
importance of this sector according to UMS Vice
Chancellor, Datuk Prof. Dr. Taufiq Yap Yun Hin.

There was once an International Tropical Forestry School
but it was merged with other schools under the Faculty of
Science and Natural Resources. It is reported that the
faculty will become operational in September this year.
4. INDONESIA
IFEX postponed
Dyandra Promosindo of the Indonesian Furniture and
Craft Industry Association (HIMKI) has advised that the
Indonesia International Furniture Expo (IFEX) 2020 that
was scheduled to be held 12-15 March 2020 at the
JIExpo, Kemayoran, Jakarta has been postponed.

Verified legal timber exports continue to grow
Tri Nugroho, Director of the Multi-stakeholder Forestry
Programme Phase 4 (MFP4) has said exports from
Indonesia have moved in line with global market trends
for verified legal wood products and that Indonesia's
verified legal timber exports continues to grow with the
biggest markets being China, Japan, the United States and
the European Union.

China accounted for almost 30% of Indonesia's exports of
wood products in 2019 followed by Japan (12%), the
United States (11%), the European Union (9%). Other
significant markets were South Korea, Malaysia, Australia
and Vietnam.

China's new laws on buying, processing and transporting
illegal wood products should give a boost to Indonesia's
exporters said Tri. He believes there is an opportunity for
Indonesian furniture makers to secure greater market share
in those countries looking for verified legal wood
products, he said the main competition in international
markets for wooden furniture comes from Vietnam and
China.

In related news, Iwan Wibisono, Programme Manager for
the MFP4 said Indonesia's timber legality verification
system (SVLK) is playing an important role in ensuring
that harvesting is well managed and sustainable.

The UK's Department for International Development (DFID)
appointed Palladium, in collaboration with agencies within the
Indonesian government to deliver the fourth phase of the
Multistakeholder Forestry Programme in Indonesia (MFP4).
MFP4 supports Indonesia to achieve its objectives regarding
sustainable timber and community forestry.

For more see:
https://www.antaranews.com/berita/1290130/mfp4-svlk-bisaberkontribusi-dalam-pengurangan-deforestasi

Logistics and business travel disrupted by
coronavirus outbreak
Gunawan Salim, Executive Officer for Marketing and
International Relations in the Indonesian Wood Panel
Association (Apkindo), has reported that logistics and
executive business travel are being disrupted by the
coronavirus outbreak and this will inevitably lead to lower
production, sales and exports this year.

Gunawan also took the opportunity to remind the
government that exporters are waiting for a decision on the
requested reduction in veneer export tariffs from 15% to
5% percent. If the export tariffs are reduced Gunawan
believes that businesses can boost exports reversing a
down trend that has been observed over the past two years.

See:
https://ekonomi.bisnis.com/read/20200211/12/1199818/eksporkayu-olahan-terancam-virus-corona

ISWA Chairman on improving competiveness
The Indonesia Sawmill and Woodworking Association
(ISWA) Chairman, Soewarni, has said he doubts the
performance of exporters will improve this year because
of the weak global demand and because exporters see little
opportunity to raise prices or increase market share. The
other issue mentioned was that production costs continue
to rise.

Looking at prospects for 2020 Soewarni anticipates that
the performance of the industry will be about the same as
in 2019. The biggest problem is uncertainty and this is
affecting all industries in most countries, said Soewarmi.

The value of Indonesian wood product exports last year
was below target at around US$1.85 billion. Foreign
investment in the wood industry fell sharply from US$275
million in 2018 to just US$95 million in 2019.

Soewarni recommended action to improve
competitiveness of the timber sector in international
markets, the first being the elimination of VAT on round
logs, second, a simplification of local and export
regulations and thirdly, lowering the cost of credit.

See:
https://ekonomi.bisnis.com/read/20200212/257/1200232/tekanan-kinerja-ekspor-indutri-kayu-masih-berlanjut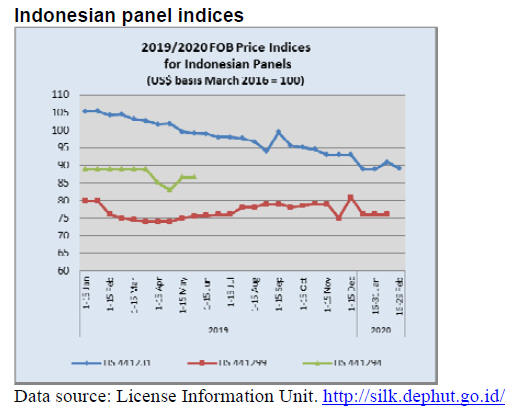 5. Myanmar
Myanmar India MOU on preventing illegal timber trade
Myanmar's President, U Win Myint, recently visited India
and along with Prime Minister Modi witnessed the signing
the 10 Memorandum of Understandings which cover
cooperation in prevention of illegal trade in timber,
protecting wildlife, development programmes in Rakhine
State, cooperation in medical research,
telecommunications, petroleum product development,
prevention of people trafficking and infrastructure
rehabilitation. India is a major market for Myanmar teak
products.

See: https://www.globalnewlightofmyanmar.com/president-uwin-myint-witnesses-signing-10-mous-on-second-day-of-visitin-india/

Timber smugglers jailed
The Myanmar Times has quoted a Forestry Department
official as saying a 10 year jail sentence has been handed
down to nine people convicted of attempted timber
smuggling. Court details say the group were found guilty
of trying to smuggle teak and processed wood products
from the Myanmar International Port in Ahlone township
in 2017.

A search following the initial seizure at the port uncovered
a large volume of illegal timber in several containers
stored in a compound in Mingaladon township, Yangon.
The search was extended and illegally harvested
padauk/tamalan, teak and kokko were discovered.

See: https://www.mmtimes.com/news/court-jails-9-people-timber-smuggling.html

FDI surging ahead
According to the Directorate of Investment and Company
Administration (DICA) up to mid February in the 2019-
2020 fiscal year, the Myanmar Investment Commission
(MIC) approved foreign investments worth almost US$2
billion. During the same period, the total FDI including the
extension of investments worth US$617 million amounted
to US#2.6 billion.

Greater investments are expected from Hong Kong,
Singapore and Thailand this year according to U Aung
Naing Oo, Permanent Secretary, Ministry of Investments
and Foreign Economic Relations.

Manufacturing businesses account for most of the
investment in the Thilawa Special Economic Zone
followed by trading and logistics.

See: https://elevenmyanmar.com/news/total-fdi-hits-2693-billion-usd and https://www.dica.gov.mm/en/media-releases

Correction/Clarification: In relation to the report from our
Myanmar correspondent on the cessation of VPA
negotiations with the EU and related activities of
Myanmar's Multi-stakeholder Group (MSG) which
appeared in MIS Vol. 24, No. 2 16-31 January 2020 and
specifically the statement that "…the MSG has to act
unaided to formulate a roadmap to strengthen forest
governance and law enforcement", the MIS correspondent
in Myanmar has clarified that in fact the MSG has been
invited by the EU to identify priority activities that could
potentially be supported through the FAO-EU FLEGT
Programme in 2020-21. The MIS has subsequently learned
from EU representatives (who, along with the FAO-EU
FLEGT Programme were not consulted for the original
report) that "the European Union has supported Myanmar
in implementing strategic FLEGT priorities through the
FLEGT Facility and the FAO-EU FLEGT Programme and
will continue to do so in the future" and that Myanmar has
applied for funding from the FAO-EU FLEGT Programme
for further multi-stakeholder meetings to prepare a work
programme for activities that could be funded by the
Programme from 2020-2021 and build capacity to submit
quality project proposals. EU representatives also noted in
relation to the statement in the original report "there is no
official announcement, from either Myanmar or the EU to
confirm suspension of support for VPA negotiations" that
VPA negotiations between the EU and Myanmar never
took place. Thus, a "suspension of support for VPA
negotiations" by the EU is impossible to announce. The
official position of the EU as regards VPA negotiations
with Myanmar is reflected on the webpage of the
Delegation of the EU to Myanmar: "Myanmar does not yet
meet the conditions necessary for negotiating a Voluntary
Partnership Agreement."

We regret any misunderstanding caused by the original
report.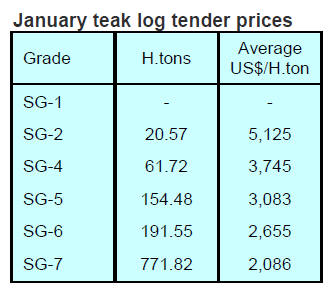 6. INDIA
Indiawood held as scheduled
The 11th Indiawood fair organised by NürnbergMesse, has
just ended at the International Exhibition Centre in
Bangalore, Bengaluru, India.

The organisers write "Indiawood boasts the presence of
woodworking machinery, woodworking equipment and
tools, parts and accessories, fittings and fixtures, raw
materials and other products. It is an international trade
fair that has been presenting eminent exhibitors and
professionals who are excellent in their field. The event
also provides benefits to both visitors and exhibitors and
promises quality time and memorable experience. Around
875 exhibitors are expected with 13 country pavilions. The
number of visitors expected is 75,000 making it India's
biggest fair for wood based industries".

Corona virus affecting supply chain
India relies on China for veneers, plywood, fibreboard and
particleboard raw materials for manufacturing but supply
chains have been disrupted by virus control measures and
this is impacting production and trade by Indian
companies. Many factories in India have stopped
operation or are running at reduced capacity for lack of
raw materials .Analysts write " the uncertainty of the
situation is making it all the worse".

Veneer mills in Gabon's SEZ facing weak demand in
Indian market
Weak demand in India for face veneers, along with the
availability of alternatives from South East Asian
countries, is reportedly affecting the operations of
companies in the Special Economic Zone in Gabon.

Some operators in the Zone are attempting to secure
special tax exemptions to overcome what, it is hoped, is a
temporary problem.

Another issue mentioned by traders familiar with the SEZ
operations is an reported limit on working hours. It has
been reported, but not independently confirmed, that
working hours are limited to 8 hours per day for five days
per week which is a challenge for companies wishing to
boost output.

Tax incentives for housing sector
Prime Minister Narendra Modi recently spoke at a
CREDAI conference and said the government was actively
encouraging construction of homes under the 'Housing for
All by 2022' initiative. The Prime Minister highlighted the
steps taken by to boost the real estate sector.

He said the new Real Estate (Regulation and
Development) Act (RERA) and the benami property
legislation are helping bring order and trust to the building
sector. This, he said, is reflected in the advance in the ease
of doing business and in efficient construction permit
approvals.

On tax incentives for the housing sector in the budget, the
Prime Minister said that these would benefit both the
developers and home buyers. The move to exempt people
earning up to Rs. five lakhs (just under US$5,000) from
payment of income tax could benefit the housing sector.

Plantation teak prices
Plantation teak prices remain in the range indicated below
and the rather quiet demand does not offer an opportunity
for importers to raise selling prices. Importers are carefully
watch for any disruption of supplies as a result of the
coronavirus but, as yet, do not report any change in
contract delivery dates.

The rupee has weakened slightly against the dollar (US$1
= 72 Rupee) which is a disincentive for C&F price
increases.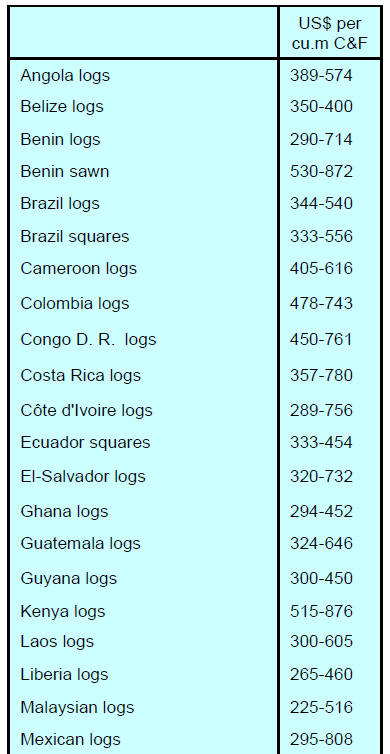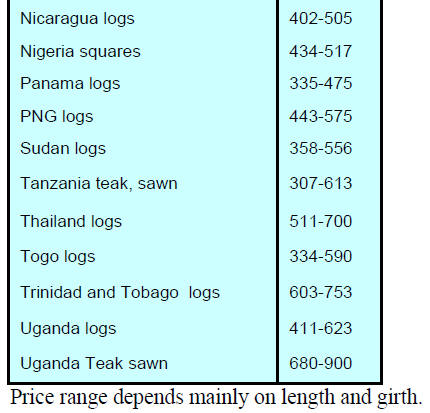 Locally sawn hardwood prices
Prices remain as reported in mid february.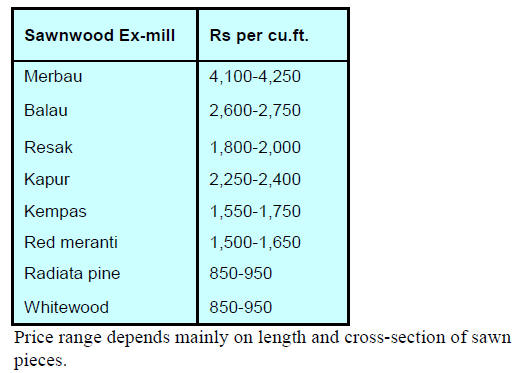 Myanmar teak prices
The general improvement in the Indian banking sector and
money market is said to be continuing. This, along with
government support for the real estate sector, should result
in a rise in demand for quality teak products from
Myanmar.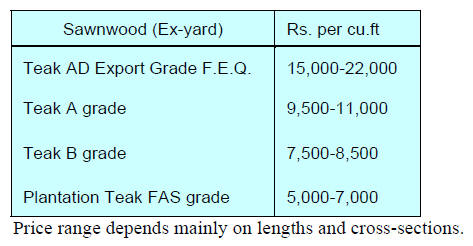 Sawn hardwood prices
Traders report that there are signs that demand is slowly
improving. Rates are steady and continue as here under.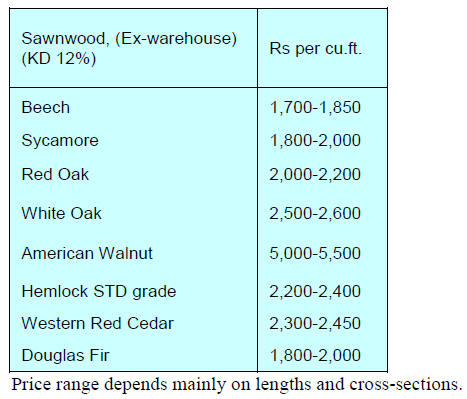 Plywood
Prices reported previously remain and are as shown below.
Plywood manufacturers have gained some relief from
falling face veneers prices and from an unexpected drop in
chemical and resin costs.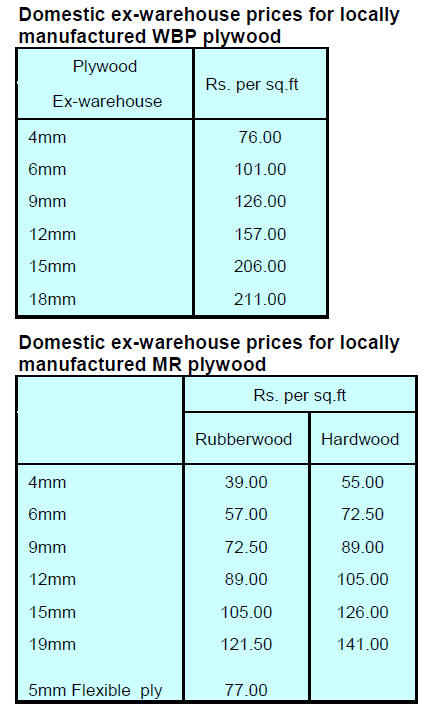 7. VIETNAM
Wood and wood product exports – January 2020
Because of the long Tet holiday in January wood and
wood product (W&WP) export earnings in the first month
of 2020 was reported at US$835 million, 25% less than in
the previous month and 15.3% less against January 2019.

Of the total, exports of WP earned US$608 million (73%
of total W&WP exports) but this was 28% less than in
December and 18% less than in January 2019.

In January 2020 W&WP exports by FDI enterprises
totaled US$333 million, down 22% year on year. W&WP
production and trade is expected to be impacted by the
new coronavirus, especially trade with China this threatens
the export earning target.

W&WP export destinations
In January 2020 W&WP exports to all main markets
dropped compared to January 2019. W&WP export to the
US were down 9%; Japan down 23% and South Korea by
32%.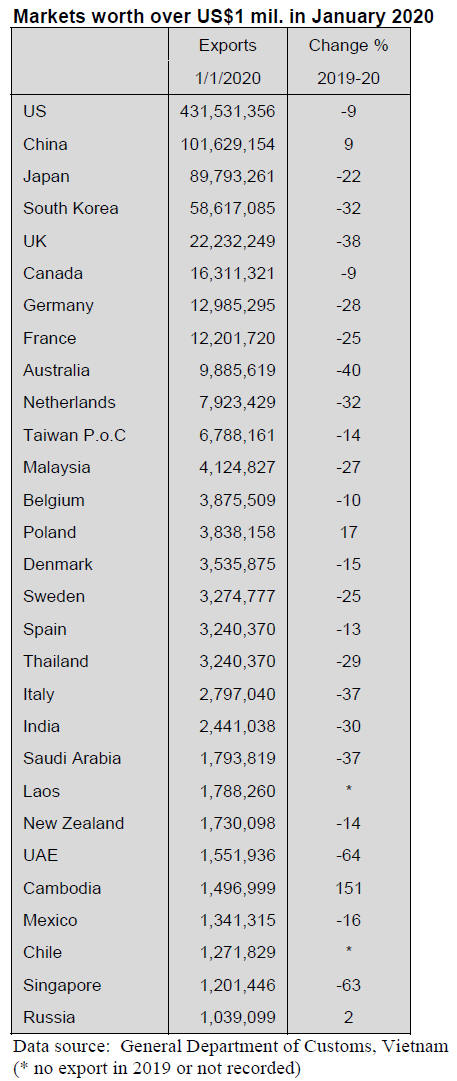 January W&WP imports
W&WP imports into Vietnam during the first month of
2020 dropped to the lowest level in 3 years to just US$169
million.

Imports by FDI enterprises
In January 2020 W&WP imports into Vietnam by FDI
enterprises amounted to US$53 million, 22% down year
on year. FDI imports accounted for around a third of total
W&WP imports.

China and Laos were the only two suppliers from which
imports of W&WP rose in January, all other suppliers saw
a decline in the value of their exports to Vietnam. US
W&WP exports to Vietnam dropped by 25%; Malaysia by
40% and France by 34%.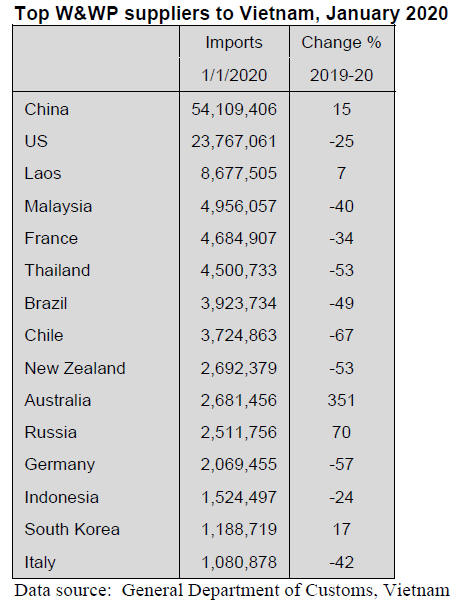 Vietnam's forest protection fund
According to the Board of Directors, in 2019 the Vietnam
Forest Protection and Development Fund (FPDF)
collected VND2,800 billion (over US$120 million)
through payment for forest-ecosystem services (PFES).
This is an innovative financing mechanism to support
sustainable forest management in Vietnam.

Funds are made available to rural inhabitants and farmers
who are contracted to protect 6.3 million ha of forest (43%
of the total forested area of Vietnam). Fees are also
collected from hydropower plants, water supply
companies and eco-tourism service providers. Beginning
this year the PFES will be extended to include industrial
facilities using water.

See: http://vnff.vn/tin-tuc/tin-trung-uong/2020/2/hoi-dong-quanly-quy-bao-ve-va-phat-trien-rung-viet-nam-hop-phien-lan-1/2020
8. BRAZIL
Draft bill - mandatory use of plantation wood
A draft Bill, 6187/19, under consideration by the Brazilian
Chamber of Deputies, if passed, would require forest
plantation owners to allocate at least 5% of production to
industries that are not part of the pulp and paper sector.
This legislation would apply to companies with planted
forest areas greater than 5,000 hectares.

The Bill proponents claim that around 30% of timber used
for civil construction and by other end-users is sourced
from natural forests and they claim that a large part of this
timber comes from illegal sources and in some cases
harvesting is carried out in an unsustainable manner
causing severe damage to the environment. The argument
put forward in support of the Bill is that reducing demand
for wood from natural forests by using plantation wood is
a way to combat uncontrolled exploitation.

The proposal will be assessed by the commissions for
Agriculture, Livestock, Supply and Rural Development;
Economic Development, Industry, Commerce and
Services; Environment and Sustainable Development; and
Constitution, Justice and Citizenship.

Domestic furniture sales rise in December 2019
It has been reported that domestic retail sales of furniture
in December 2019 rose 14% compared to December 2018.
There has been a steady improvement in retail furniture
sales. October 2019 sales were up 3.5% year on year, in
November the comparable figure was 7.4%.

The Brazilian furniture retail market expanded over 10%
in the fourth quarter of 2019, the highest rise since the
third quarter of 2017.

In Săo Paulo, which accounts for almost 30% of furniture
consumption in Brazil, there was an increase in retail sales
of almost 16% year on year. This positive trend in
domestic sales is said to reflect the improved economy and
manufacturers are hopeful that the positive trend extends
across the country because 2019 retail sales in the State of
Pernambuco dropped 8% and there was an almost 4%
decline in Ceará.

However, another important market where a recovery is
yet to be seen is Rio de Janeiro where 2019 sales were
down almost 2%. Out of the 12 states surveyed by the
Brazilian Institute of Geography and Statistics, only four
states recorded negative retail furniture sales growth.

Export update
In January 2020, the Brazilian exports of wood-based
products (except pulp and paper) declined 8.6% in value
compared to January 2019, from US$226.0 million to
US$206.5 million.

The value of pine sawnwood exports dropped around 15%
from January 2019 (US$43.9 million) and January 2020
(US$37.5 million).

In terms of volume, exports fell 1.6% over the same
period, from 211,100 cu.m to 207,700 cu.m.

The volume of tropical sawnwood exports fell 30% in
January 2020, from 41,500 cu.m in January 2019 to
29,000 cu.m in January 2020. The value of tropical
sawnwood exports fell 28% from US$17.7 million to
US$12.7 million over the same period.

The downtrend continued with pine plywood exports
which dropped 31% January 2020 in comparison with
January 2019, from US$38.4 million to US$26.5 million.
In volume terms exports fell 11% over the same period,
from 136,400 cu.m to 121,200 cu.m.

As for tropical plywood, exports also dropped. There was
a 50% decline in the volume and a 54% drop in the value
of exports from 10,600 cu.m (US$ 3.9 million) in January
2019 to 5,300 cu.m (US$ 1.8 million) in January 2020.

The only increase report for January 2020 was in exports
of wooden furniture, the value of which increased from
US$29.8 million in January 2019 to US$30.0 million in
January 2020.

ABIMCI - use of tropical timber resources hampered by
regulations and bureaucracy
The Brazilian Association of Mechanically-Processed
Timber Industry (ABIMCI) recently commented on the
current international market situation at an event to
celebrate the 50th anniversary of ABPM (the Brazilian
Wood Preservers Association).

The spokesperson for ABIMCI reminded the group that
Brazil has almost 500 million ha. of forest area but only
1.62% of this is forest plantations, a sector that provides
93% of the raw material for processing for export and the
domestic market. He claimed that the use of tropical
timber resources is hampered by excessive regulation and
bureaucratic obstacles. He also pointed out that the timber
sector accounts for almost 20% of total exports and it
comprises more than 182,000 companies that employ
around 600,000 employees.

The presentation continued saying few segments of the
Brazilian economy achieved an increase in production last
year and that the increase in exports was because domestic
demand was flat, the exchange rate was favorable for
exports and mergers and acquisitions in the forest sector
influenced production market dynamics.

Anti-dumping investigation of wooden frames involves
Brazilian makers
The Wooden Frame Committee of ABIMCI recently met
to assess the current situation in the wooden frame market.
The main agenda item for the meeting was the recently
filed petition by North American companies for
investigation of dumping of Brazilian and Chinese
products. Due to the unprecedented nature of this issue
ABIMCI has been working intensively to structure the
defense of the Brazilian product and in the process has
collaborated with member companies that manufacture the
product in question.

The first defense in the legal process before the United
States government has already started and a legal advisor
has been appointed to represent the case. Representatives
of ABIMCI member companies participated in the first
public hearing in Washington.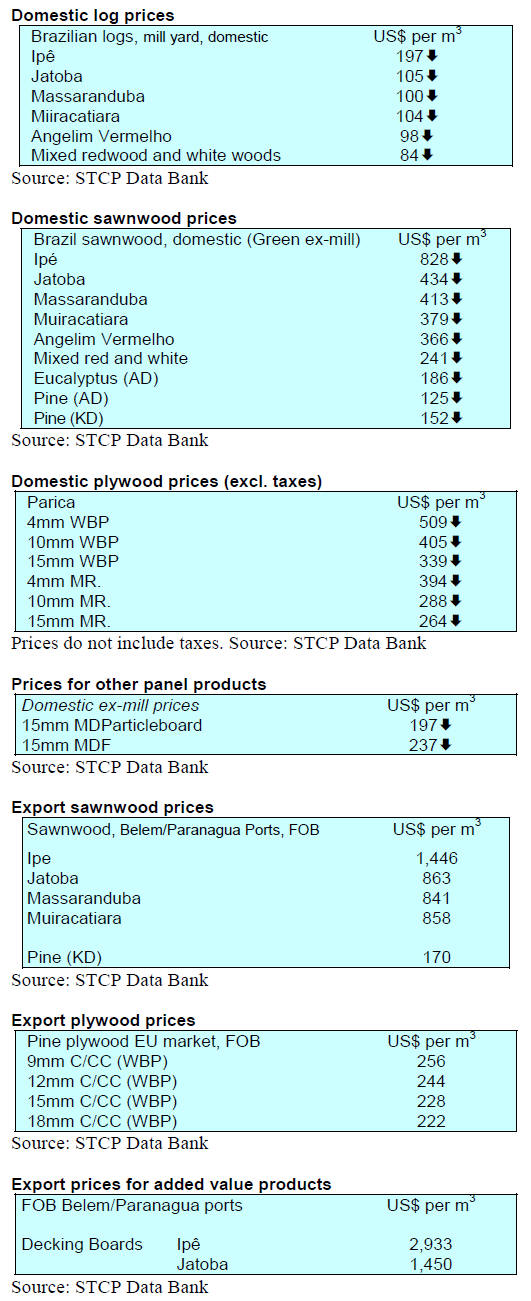 9. PERU
Timber exports between January and November 2019
According to information provided by the Association of
Exporters (ADEX), between January to November 2019,
Peruvian timber exports reached US$113.7 million FOB
compared to US$112.8 over the same period in 2018.

Of the US$113.7 million exported China continued as the
main market with a 40% share. However exports to China
dropped almost 4% in the period reviewed.

Mexico was the second largest export market with an 11%
share and here exports rose over 5% year on year. France
and the US each accounted for a roughly 9% share of
exports and there was a rise of 24% in exports to France
but a 17% decline in exports to the US.

Sawnwood exports between January and November 2019
earned US$23.8 million FOB up 11% year on year.

The main markets for Peruvian sawnwood were the
Dominican Republic with a 34% share, up 22% year on
year. The second largest market for sawnwood was
Mexico which absorbed 28% of all sawnwood exports. In
the same 11 months of 2019 China was the third ranked
market for sawnwood with a 19% share.

Forestry zoning in San Martín applauded
The Executive Director of the National Forest and
Wildlife Service (Serfor), Alberto Gonzales-Zúńiga
Guzmán, recently outlined the achievements of San Martin
in its forest zoning exercise and applauded the efforts
made in the region.

The Director said this achievement opens the way for the
Ministry of Agriculture, through the Serfor, to support the
government of San Martín in strengthening forest
management and developing strategies to promote
sustainable use of forest resources.

Tenders for forest concessions
Serfor has announced that in April it plans to call public
tenders for forest concessions for timber and non-timber
purposes over 15 million hectares, mostly located in
regions of the Amazon.

Guzmán said that the total concession area comprises, in
part, the eight million hectares previously allocated but
taken back by the State.

He explained that of the millions of ha. granted 19 years
ago, only two million ha. are being utilised and these are
mainly located in Madre de Dios. Most of the other
concession had either been abandoned or the concession
holder failed to pay the harvesting fee or did not properly
manage the forests which led to deforestation.

He added that, for this tender, taking into account the
lessons learned in the last 19 years, only people or
organisations that have proven technical, economic and
financial solvency will be invited to bid for concessions.

Guzmán has further reported that there are four investment
funds, two from the United States and two form Europe
that are interested in participating in future concession
tenders. One is for the exploitation of timber resources and
another three in the conservation of forests with purposes
of accessing the carbon bond market.

Strengthen capacity of the timber industry in Ucayali
The National System of Multi-annual Programming and
Investment Management (Invierte.pe), recently approved
an initiative called "Replacement of machinery of the
sharpening plant of the Center for Productive Innovation
and Technology Transfer (CITE) Forestry Pucallpa". This
will make available around US$2.5 mil. to the timber
sector.

With the aim of achieving technology transfer,
CITEforestal will fund the replacement of some wood
working equipment in Ucayali.

Through this investment CITEforestal will help modernise
its tool sharpening workshop with cutting-edge
technology. The investment will allow the acquisition of
equipment and machinery so that blades and tools are
correctly sharpened to produce accurately cut wood
products. The process of design and approval of this
investment has had technical assistance from the USAID
Pro-Forests Project.

Methodologies to detect forest degradation
Within the framework of the international cooperation
project between Japan and Peru, the Japan Forest and
Forest Products Research Institute and Serfor have
identified reliable and low-cost methodologies to estimate
and map deforestation, forest degradation and
afforestation.

These methodologies detect the change in forest use from
the determination of the variation of carbon stocks. With
this information control measures can be determined and
implemented in the face of possible threats of degradation
and deforestation. In addition, forest areas can be
identified and changes mapped.

The international cooperation project called "Development
of practical methods for monitoring changes due to
deforestation, degradation and afforestation under various
natural and social environments in Peru" was implemented
in the forests of Cusco for five years.