Report from North America
US 2019 imports: Sawn hardwood up, finished goods down
With import totals for 2019 now available it is known that US imports of sawn tropical hardwood increased by 12% but the good news ended there as imports of other categories of tropical hardwood products fell during the year that has just ended.

Hardwood plywood imports were down 7%. Tropical veneer imports fell by 19%. Hardwood flooring imports fell by 8% and assembled floor panels fell by 5%. Hardwood moulding imports declined by 26% and imports of wooden furniture fell by more than US$1.3 billion. Much of the loss can be attributed to decreased trade with China.

Tropical sawnwood imports
US imports of sawn tropical hardwood grew by 12% in 2019 to a total of 243,884 cubic metres compared to 217, 401 cubic metres in 2018. December imports gained 12% from November but were nearly 5% less than the previous December.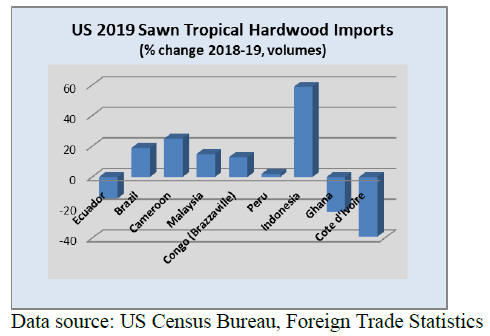 Sawnwood imports from Brazil rose by 23% in December and ended 2019 up 19% for the year to greatly outpace Ecuador as the top source for US importers in 2019. Brazil and Ecuador were dead even in imports in 2018, but imports from Ecuador fell by 14% in 2019.

The volume of imports from Cameroon, Indonesia, and Malaysia all grew sharply in 2019, while imports from Ghana fell by nearly a quarter and imports from Cote d¡¯Ivoire fell by more than one third.

Jatoba imports fell by 24% in December but ended the year up 79% over 2018 totals. The US imported more than 50,000 cubic metres of Jatoba, more than any other tropical hardwood. Of the most-imported woods, balsa imports fell by 13% in 2019, while keruing rose by 34%, sapelli rose by 15% and ip¨¦ imports edged up 3%. cedro, meranti and mahogany imports all fell in 2019.

Canada also imported more sawn tropical hardwood last year. Canadian imports grew by 5% in 2019 with greatly increased imports coming from Cameroon, Congo and Ecuador.

Imports of sapelli and iroko both grew by more the 50% in 2019 while mahogany and meranti imports fell.

Hardwood plywood imports
US imports of hardwood plywood fell by 7% in 2019 from a volume of 2.66 million cubic metres in 2018 to 2.42 million cubic metres for the year just ended.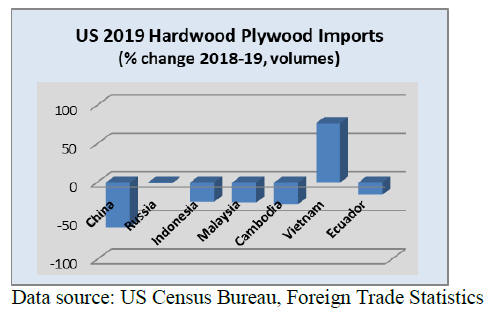 Imports from China were less than half of what they were in 2018, while imports from Indonesia, Malaysia and Cambodia all were down by about 25%.

Imports of Vietnamese plywood grew by 77% as the US market turned to new suppliers. While import volumes fell by only 7%, the overall spending by US importers on hardwood plywood fell by 20% in 2019, from US$1.95 billion to only US$1.56 billion. For December, import volumes were up 21% over November to a level 1% above that of December 2018.

Tropical veneer imports
US Imports of tropical hardwood veneer fell by 19% in 2019 as imports from China and Cameroon both declined by more than 50%. Imports from Ghana grew by 63% in 2019 and imports from India rose 15%.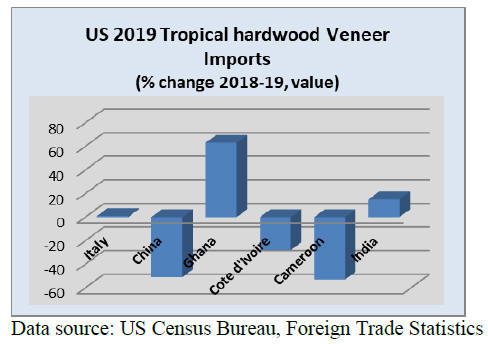 Imports from Italy, the largest supplier to the US by far, stayed flat in 2019, rising only 1%. December imports were up 20% over the previous month but trailed December 2018 imports by more than 25%.

Hardwood flooring imports ended down 8% in 2019
US imports of hardwood flooring fell for a fourth straight month in December and ended 2019 down 8% for the year.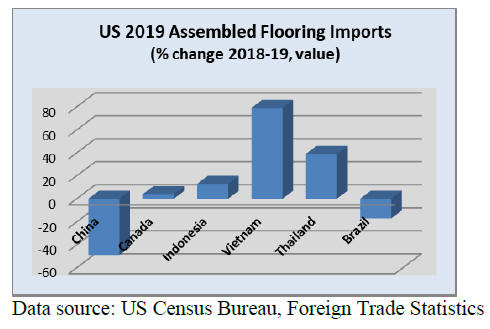 In 2019, imports from China and Vietnam were both less than one third of what they were in 2018. Meanwhile, imports from Brazil nearly doubled and imports from Indonesia and Malaysia increased by more than 20%.

Imports of assembled flooring panels were down 5% in 2019. Imports from China were down by 49%, while imports from most other countries improved. Imports from Vietnam and Thailand grew 79% and 39%, respectively.

Moulding imports fall again in December
US imports of hardwood moulding decreased by 26% in 2019. Imports were down 13% in December, falling for the fourth month in a row. While imports from Brazil and China were both up slightly in December 2019 totals for both were at a level about half of what they were in 2018. Imports from Canada and Malaysia both showed small gains in 2019.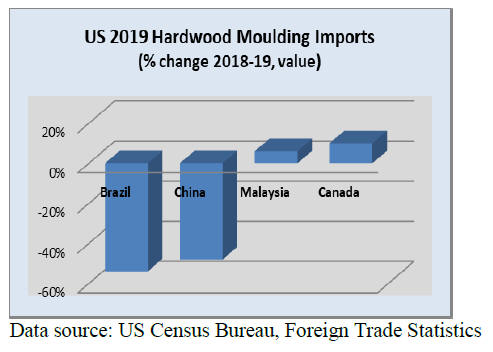 US wooden furniture imports dropped US$1.3 billion in 2019
The US imported US$18.5 billion of wooden furniture in 2019, about 7% less than it did in 2018. Imports from China were down by a third, while numbers from nearly every other trading country improved.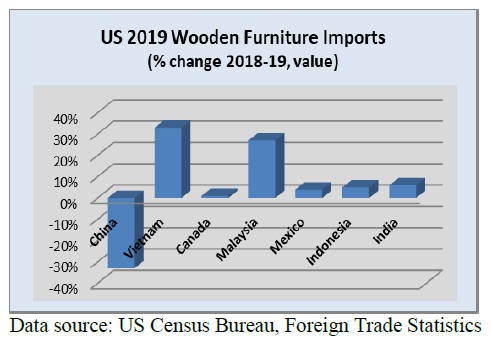 Vietnamese and Malaysian imports both grew by nearly one third for the year. Imports rose in December by 6% over the previous month but trailed December 2018 numbers by 16%.
(Source: US Census Bureau, Foreign Trade Statistics)

US economy strong in final quarter of 2019
The US economy grew 2.1% in the fourth quarter, closing out a year in which gross domestic product decelerated to its slowest pace in three years amid a continuing drag in business investment.

The GDP increase matched the third quarter and met expectations of economists surveyed by Dow Jones. For the full year, the economy grew 2.3%, below the 2.9% increase from 2018 and the 2.4% gain in 2017, the first year of Donald Trump¡¯s presidency, according to the initial estimate released by the Commerce Department.

The move in 2019 was well below the White House¡¯s projections following the 2017 tax bill that cut corporate and individual rates. The administration has said the stimulus would lead to GDP increases of at least 3%, but that hasn¡¯t happened yet. Economists saw the Q4 numbers as reflective of a broader trend toward steady but slower growth.

Imports fell 8.7% in the quarter, owing to a drop in consumer goods and motor vehicles.

Calls for ITC to investigate Chinese cabinetry import allegations
A bipartisan group of congressmen has called for the International Trade Commission (ITC) to enforce US trade laws "and protect the American cabinet and vanity industry from alleged Chinese dumping of kitchen cabinets across the US market."

In a 5 February letter sent to ITC Chairman David S. Johanson, more than 40 members of Congress expressed their support for American wooden cabinet and vanity manufacturers and their employees. They also urged the ITC to make sure US trade remedy laws are fully enforced when examining instances of Chinese kitchen cabinet dumping. Referenced in the letter is the more than 75% rise in Chinese cabinetry imports since 2015.

The ITC has been investigating wooden cabinet and vanity trade with China and is scheduled to hold a hearing on the issue February 20.

The Commerce Department is expected to issue its final determination later this month. If affirmative, the ITC is scheduled to make its final injury determination on or about March 30.

See:
https://usitc.gov/calendarpad/events/usitc_hearing_wooden_cabinets_and_vanities_china_.htm
and
https://www.woodworkingnetwork.com/news/woodworking-industry-news/bipartisan-letter-calls-itc-address-chinese-cabinetry-import

Warnings of fake ipe decking
One of the largest decking suppliers and manufacturers in the US, AdvantageLumber.com, is warning customers to be careful of "ipe Wood" and "Brazilian Walnut" decking products from other manufacturers - as often they're actually made of plastic.

"We haven't seen this level of deception in the wood industry since the furniture manufacturers of the early 90s tried pawning off particle board furniture as 'solid wood,'" says AdvantageLumber hardwood sales manager Jon Fletcher.

AdvantageLumber says some marketers are trying to fool buyers into thinking Ipe is a type of composite, or that cheaper products are real Ipe wood. An example they give is an advertisement for ¡°1in. x 6 in. Brazilian Ipe Solid Composite Decking Boards.¡±

For more see: https://www.woodworkingnetwork.com/news/woodworking-industry-news/advantagelumber-warns-fake-wood-decking-marketed-ipe-wood

US homebuilding ends 2019 at highest level in 13 years
US homebuilding surged to a 13-year high in December as activity increased across the board, suggesting the housing market recovery was back on track amid low mortgage rates.

Housing starts jumped 16.9% to a seasonally adjusted annual rate of 1.608 million units last month, the highest level since December 2006. The percentage gain was the largest since October 2016.

Data for November was revised higher to show homebuilding rising to a pace of 1.375 million units, instead of 1.365 million units as previously reported.

Housing starts soared 40.8% on a year-on-year basis in December. An estimated 1.290 million housing units were started in 2019, up 3.2% compared to 2018.

The housing market is regaining momentum after the Federal Reserve cut interest rates three times last year, pushing down mortgage rates from last year¡¯s multi-year highs.

The 30-year fixed mortgage rate has dropped to an average of 3.65% from its peak of 4.94% in November 2018, according to data from mortgage finance agency Freddie Mac.

Single-family homebuilding, which accounts for the largest share of the housing market, jumped 11.2% to a rate of 1.055 units in December, the highest level since June 2007. Single-family housing starts rose in the Midwest and the populous South. They, however, fell in the Northeast and West.

See: https://www.census.gov/construction/nrc/pdf/newresconst.pdf

Existing Home Sales Surge
US home sales jumped to their highest level in nearly two years in December. The National Association of Realtors has reported that existing home sales increased 3.6% to a seasonally adjusted annual rate of 5.54 million units in December, the highest level since February 2018.

Existing home sales rose in the Northeast, West and the populous South, butt sales fell in the Midwest.

Existing home sales, which make up about 90% of US home sales, surged 10.0% on a year-on-year basis in December. For all of 2019, sales were unchanged at 5.34 million units.

See: https://www.nar.realtor/research-and-statistics/housing-statistics

US created over 2 million jobs in 2019
The US economy created 145,000 jobs in December 2019 to end 2019 with the ninth straight year in which new hires topped the 2 million mark, but workers still aren¡¯t reaping a windfall from the strong labour market through rising pay.

The increase in new jobs fell short of the 165,000 forecast by economists polled by MarketWatch. Reports show most of the new jobs are being created in the large service side of the economy.

Retailers created 41,000 jobs, hotels and restaurants boosted staff by 40,000 and the health-care industry added 28,000 workers. In contrast, construction companies hired 20,000 people.

The economy created 2.1 million jobs for the full year, down from 2.7 million in 2018. Much of the decline reflects a slower US economy and a slump in manufacturing, but the tight labour market has also made it harder for companies to fill open jobs.