Japan Wood Products Prices
Dollar Exchange Rates of 10th February 2020
Japan Yen 109.77

Reports From Japan

Bank of Japan ready to expand stimulus measures
According to Masazumi Wakatabe, Deputy Governor at the Bank of Japan (BoJ), the Bank will expand its economic stimulus measures if the economy is at risk from a contraction brought on by weakening global demand and by heightened risks from the coronavirus outbreak which is already hurting corporate sentiment around the world. Wakatabe said risks remain high especially as it is unclear how the coronavirus epidemic will affect Chinese manufacturing and imports.

While Japan¡¯s economy appears to have contracted in the final quarter of last year the BoJ expects a recover this year.

Increase the consumption tax to contain Japan¡¯s massive debt says IMF
Reuters has reported that Paul Cashin, International Monetary Fund mission head for Japan, has warned that Japan¡¯s tourism, retail and export sectors will be affected by the coronavirus outbreak.

This has already been reported by hoteliers and retailers in Japan who saw massive hotel cancelations and a sharp drop in tourist arrivals and retail sales in February. The IMF will provide an update on economic prospects for Japan in its April global forecast.

The coronavirus outbreak, coming on the heels of the 2019 increase in consumption tax, is weighing on the economy. Household spending in Japan dipped almost 5% in December 2019 from a year earlier.

Following the 2019 tax increase to 10% household spending fell over 5% in October after the 2% decline in November. Under such circumstances consumers immediately cut back on discretionary spending and the household furniture sector is often an early victim.

In related news, the IMF has recommended that Japan incrementally raise its consumption tax to fund growing social security costs. The Fund also warned that Japan¡¯s public debt seems on track to rise to 2.5 times the size of the economy by 2030 unless the country does not have a credible fiscal policy.

The IMF said the consumption tax would need to be lifted to 15% by 2030 and to 20% by 2050 to finance surging costs because of the aging and shrinking population.

See; https://mainichi.jp/english/articles/20200211/p2g/00m/0na/019000c

Business conditions ¡®worsening¡¯ says Cabinet Office
Japan¡¯s Cabinet Office data is supporting the view that the country¡¯s economy may have entered a recessionary phase after a period of growth since December 2012.

The composite index of coincident economic indicators is ¡°worsening,¡± according to the Cabinet Office which reported conditions were ¡°worsening¡± for the fifth consecutive month.

The coincident index, which reflects current economic conditions, stood at 94.7 in December against 100 for the base year of 2015.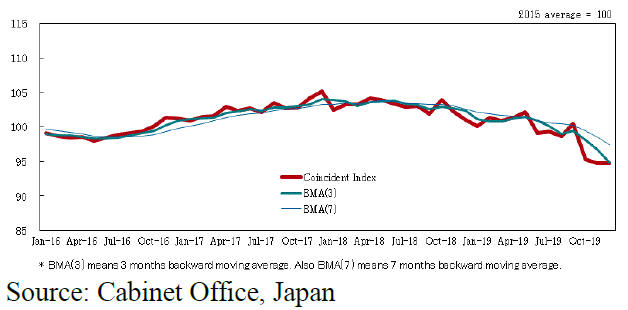 Tax and virus, a double whammy for consumption
The Japanese Prime Minister has instructed officials to prepare plans in readiness to mitigate the effects of the coronavirus on the economy. The media has reported that the government will compile emergency plans before the end of February.

In the face of weakened consumer confidence due to the consumption tax increase and because of the prospect of an economic slow-down as a result of the virus outbreak, there is little chance of an improvement in confidence in the January to March period.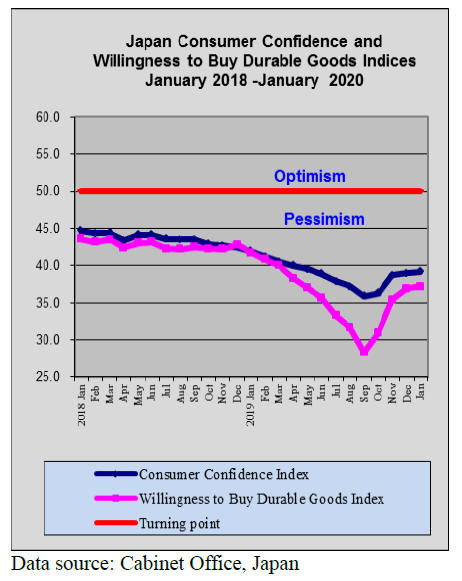 Yen dips to 110 but likely to strengthen
With diminished opportunities in Japan domestic investors are seeking returns outside of Japan which is putting a downward pressure on the yen/dollar exchange rate. In mid-February the yen was at around 110 to the US dollar and analysts are forecasting continued yen weakness in the short-term.

However, there is a general consensus that the yen is under-valued and that because Japan continues to have a very large current account surplus, over the medium to long-term a strengthening of the yen seems likely. The yen /dollar exchange rate is close to 110 for the dollar, the weakest it has been for many months.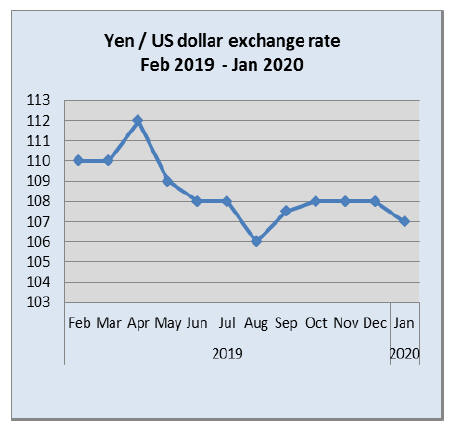 Business model built on abandon home remodelling
The latest survey has shown that Japan has around 8.5 million unoccupied homes and the number continues to rise as families now tend to live separately in their own homes and show no interest or cannot afford to maintain their parents empty house. The problem of abandoned homes is exacerbated where there is a drift of younger people to the cities.

For one new company in Japan, Katitas Co. this has become a business opportunity. Katitas buys old homes considered worthless in a country that spurns second hand everything, renovates them and sells them to people who have only modest incomes or as second homes to city folk.

Houses in Japan are not built to last like those in western countries and Japanese homes typically depreciated to zero over about 20 years and are often then replaced. A Ministry of Land report says sales of pre-owned houses represent just 15% of Japan¡¯s housing market the market compared with around 80% in the US.

See: https://katitas.jp/index_en.html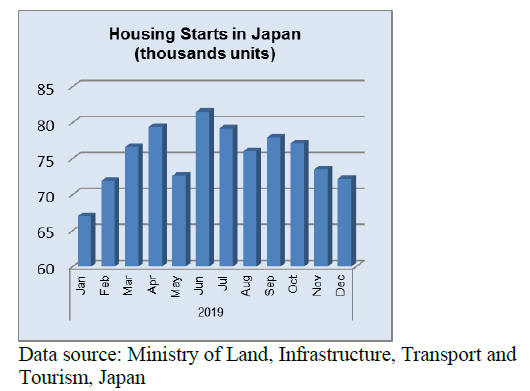 Import update

Furniture imports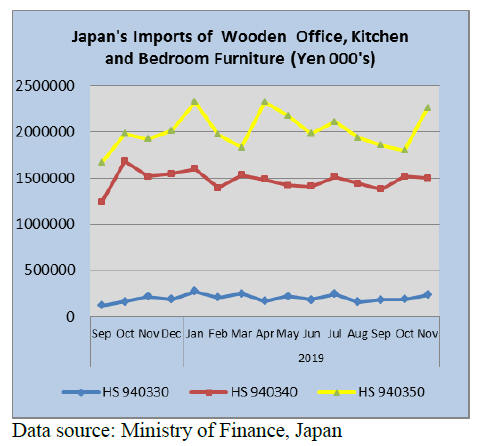 Office furniture imports (HS 940330)
The dominance of Chinese shippers of wooden office furniture (HS940330) to Japan extended into November 2019 where imports from manufacturers located in China accounted for around 70% of all wooden office furniture imports in the month.

The other main shippers were Poland and Italy, each contributing around 5% each to November imports. November imports from China were up over 30% adding to the 20% rise seen in October 2019.

Year on year Japan¡¯s November 2019 wooden furniture (HS940330) imports were up 8% and month on month there was a 25% rise.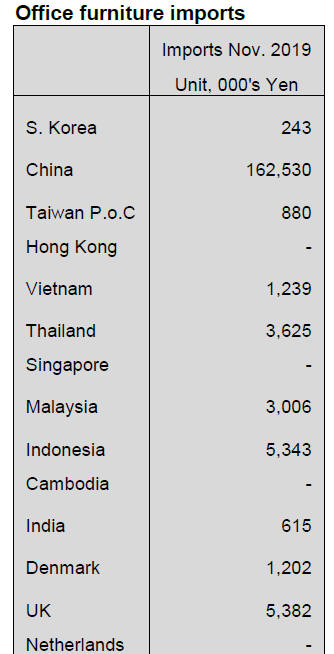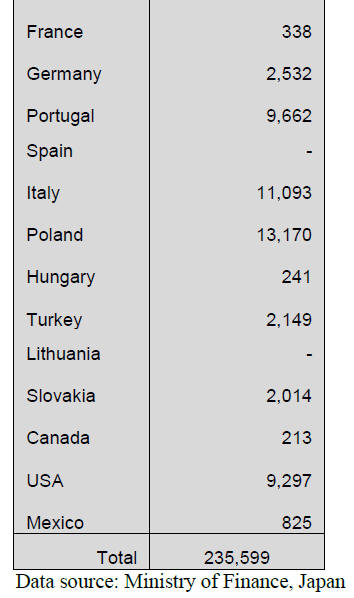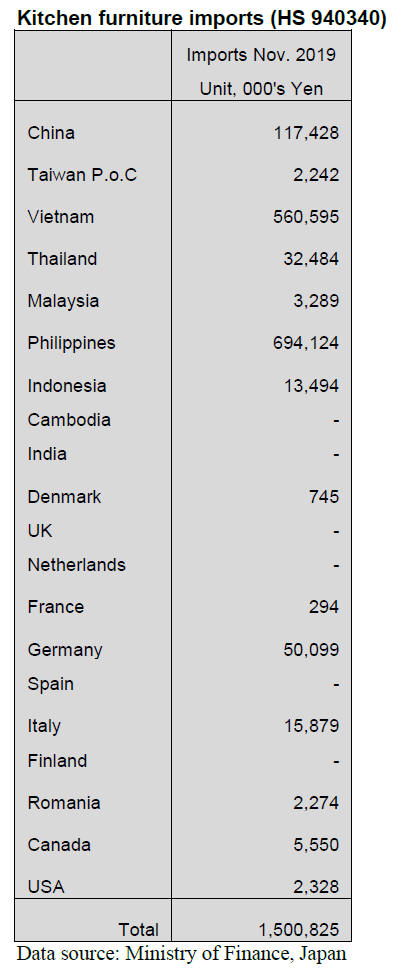 In contrast to the growth in imports of office furniture, Japan¡¯s November 2019 imports of wooden kitchen furniture were flat both year on year and month on month.

The top supplier in November was the Philippines at 46% of total monthly import values closely followed by Vietnam which contribute a further 37% to overall imports in November 2019.

Manufacturers in China are not big players in the wooden kitchen furniture segment in Japan contributing just 8% to total November 2019 imports.

After three months of consecutive declines November 2019 imports of wooden bedroom furniture (HS940350) reversed direction rising 26% month on month. The top two suppliers in November 2019 were China and Vietnam with shippers in Thailand and Malaysia capturing just 5% between them of November 2019 imports.

Year on year Japan¡¯s imports of wooden bedroom furniture in November 2019 were up 18% and there was a 26% increase in import values from a month earlier.

Trade news from the Japan Lumber Reports (JLR)
The Japan Lumber Reports (JLR), a subscription trade journal published every two weeks in English, is generously allowing the ITTO Tropical Timber Market Report to reproduce news on the Japanese market precisely as it appears in the JLR.

For the JLR report please see:
http://www.n-mokuzai.com/modules/general/index.php?id=7

Hot topics of 2019
2019 is remembered as the year with series of natural disasters. Series of typhoons hit Japan in summer months. Typhoon number 15 was small in size but had very strong wind. It passed through Tokyo Bay and damaged many houses in Chiba prefecture and resulted in many blowdown trees then typhoon number 19 brought record rain fall, caused devastated flood in many places as many river banks failed and many houses were inundated and submerged in regions north and north east of Tokyo.

Another issue is increase of consumption tax from 8% to 10% since October. Orders for housing before the tax hike were expected but there was not much upsurge. Housing starts were particularly impacted continuous decrease of rental units by overbuilt. Obviously boom of investment for building apartments by record low housing loan interest busted.

After all there was not much drop for overall housing starts despite large drop of rental units. This kept precutting plants busy all through the year and domestic softwood plywood demand continued robust all through the year. Two new plywood mills started in 2019 but there was no oversupply of softwood plywood. However, labor shortage and trucking shortage become headache for plywood manufacturers.

Constructions for the 2020 Tokyo Olympic Games peaked in 2019. The New national stadium was completed and this is unique structure with many wood products are used. Economy after the games is worried as there is not much stimulus after the Olympic boom is over.

World wood products market in all through 2017 and first half of 2018 was led by two big countries of the U.S.A. and China but after the trade war started between these two countries, demand in two countries sharply receded and the market plunged.

Development of super thick plywood
Seihoku Plywood (Tokyo) is developing super thick plywood with thickness of more than 50 mm and it is applying to obtain JAS certificate. This will allow Seihoku to participate in the new engineered wood market.

Presently the maximum thickness Seihoku is manufacturing is 32 mm. Manufacturing of thicker panel is the same as standard panel but there is limit of thickness for press so the process after press is used LVL line. Seihoku happens to have LVL manufacturing line so through production of super thick plywood is possible.

Thickness of veneer is 3.73 mm, thicker than standard veneer to make standard plywood. Species it uses is domestic larch. Veneer goes through veneer strength measuring machine and veneer with 100E -120 E strength is recovered to manufacture super thick plywood.

Subject of plywood industry is to manufacture thicker panel and non-structural panel. Thicker panel is aimed to become as new wood products to compete with lumber, laminated lumber and structural LVL and it becomes a new market for plywood manufacturers.

Seihoku has already succeeded to manufacture 200 mm thick plywood (width of 1,000 mm and length of 2,000 mm) by plying 57 veneers. This is used as structural material for woo based eleven stories high training facility Obayashi Corporation plans to build. 200 mm thick plywood is put in between two 150 mm thick structural LVL posts and tied with drift pins.

Plywood
Movement of domestic plywood in January continues active but that of imported plywood is getting slower and the importers are cautious in placing new orders to the suppliers in Malaysia and Indonesia.

Domestic plywood manufacturers have been experiencing very active shipments exceeding the production for last four months so that the inventories are down to minimum. The shipment continues busy in January and the users are asking quick delivery of delayed contracts and some plywood mills have started filling February orders already so the mills work hard to manage production and shipment.

Meantime movement of imported tropical hardwood plywood is getting stagnating. Up until early December last year the prices moved up on concrete forming panel and structural panel by rehabilitation demand of typhoon damages but by late December, such demand faded. Movement of coated concrete forming panels is slow by lack of demand. Some tight items are filled by arrivals during the New Year¡¯s holidays so the market prices are barely holding and chance of price increase is very remote so the prices seem to remain in bottom range.

The importers feel that it is risky to accept high priced offers by the suppliers because of weak market in Japan so future orders are declining.

South Sea log and lumber
Supply and demand of South Sea hardwood logs are well balanced. Producing regions of Malaysia and PNG are in rainy season so log production is low now but users in Japan have acquired enough logs.

Chinese purchase of PNG logs remains slow due to depressed market in China.

Movement of laminated free board of merkusii pine and Chinese red pine continues sluggish after round of the demand for shops and public facilities has been done for a time being. The inventory in distributing channel is limited so there is no surplus.

Domestic logs and lumber
Since beginning of the year, lumber orders have been much slower than normal years. Normally the orders last through month of January and some items are tight in supply but in this winter, inquiries on structural materials are very little so the dealers have hard time to sell.

Meanwhile log production has been very stable by favorable weather since last November in everywhere in Japan so that log market is weakening. Demand for logs has peaked in last November and December so January trading is quiet.

In Eastern Japan, logging road system damaged by typhoons in last summer and fall have not been repaired yet but overall log supply is recovering to normal year level or slightly low then in the areas west of Tokyo log supply is ample without any tightness so log prices are generally weaker.

In Eastern Japan, 3 meter post cutting cedar log prices climbed sharply after the typhoons in last fall but they are getting back down to 12,000-13,000 yen, 1,000 yen down from the peak and there are some low prices like 11,000 yen in some areas. Also prices of sill cutting cypress logs shot up steeply but they are now back down to normal like 17,000-18,000 yen, 1,000 yen down.

Demand for domestic lumber peaked in last November and orders started slackening in December. Outlook for new housing starts in February and March is uncertain so precutting plants and dealers have started reducing purchases. As log prices are softening, lumber prices are likely to go down and they are just watching how things turn.

Sawmills are reducing the production to tighten the market as the market prices are weak but are holding yet.

Apart from new housing, there are active demand for restoration works by typhoon damaged areas and ground retaining board of cedar and red pine, girder and floor joist of Douglas fir and cypress and cedar floor board are moving well.