Japan Wood Products Prices
Dollar Exchange Rates of 25th January 2020
Japan Yen 109.02

Reports From Japan

Coronavirus to undermine business confidence
On 28 January the Japanese authorities confirmed three
more cases of the coronavirus. These two new cases bring
the total number of infections confirmed in Japan to seven.

Yasutoshi Nishimura, Japan¡¯s Minister of State for the
Economy, has warned that the rapid spread of the
coronavirus could seriously undermine corporate profits
and factory production in Japan and also dampen exports.

The escalating outbreak has already damaged prospects for
Japan¡¯s tourism industry. China has banned all outbound
group travel in an effort to slow the spread of the virus is a
major blow to Japan¡¯s retail and tourism sectors which
rely on spending by Chinese visitors during the Lunar
New Year holiday.

Chinese tourists visiting Japan accounted for nearly 40%
of total spending by foreign tourists in 2019.

Weak international demand holding back growth
Japan¡¯s exports fell 6.3% year-on-year in December, the
13th consecutive decline. The poor performance has been
attributed to lower car sales to the US and weak demand
for machinery in China.

The government has continued to stress that weakening
external demand will hold down growth prospects for
some time but is pinning its hope for a recovery of global
trade on the preliminary US/China trade deal and quick
agreement on trade between the UK and the EU.

November rise in machinery orders propping up the
fragile economy
Data from Japan¡¯s Cabinet Office is showing that the total
value of machinery orders received by manufacturers
increased almost 4% in November compared to a month
earlier.

Private sector investment in November was one of the few
positive economic signals in both the second and third
quarter of last year. This was the highest month-on-month
changes in decades and analysts say this was a relief to the
government because business spending will help sustain
the fragile economy.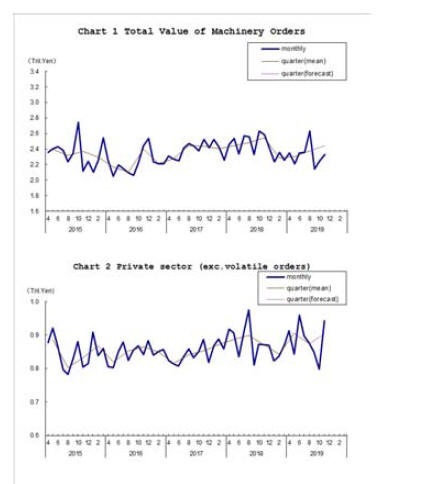 Relief as consumer confidence index remains steady
The Cabinet Office consumer confidence survey for
January showed that there was little change in sentiment
from a month earlier.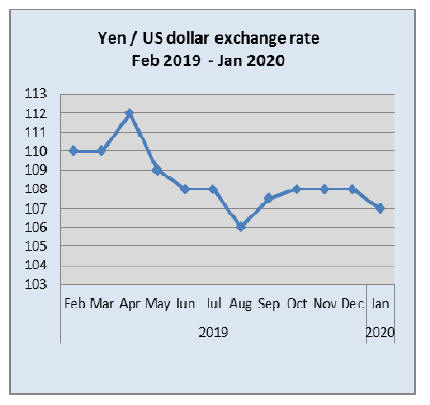 Among the four sub-sets of the consumer confidence
index that reflecting household¡¯s willingness to buy
durable consumer goods rose slightly as did the index for
employment prospects but the index for income growth
declined.

This is welcome news for the government as the index fell
to a 5 year low in the fourth quarter of 2019.

Yen gives up some early strength as virus risk
moderates
Concerns about the possible economic impact of the
spread of the coronavirus have, once again, driven money
into the so-called safe haven currencies, the Swiss franc
and the Japanese yen.

Over the past two weeks the yen has risen against the US
dollar. However, towards the end of January the yen/dollar
rate eased with the yen shedding some of its recent gains
because the risk sentiment eased, but this could be shortterm
depending on how the outbreak develops.

At this stage it is impossible to know how bad and how
widespread and how economically damaging the virus
outbreak will be.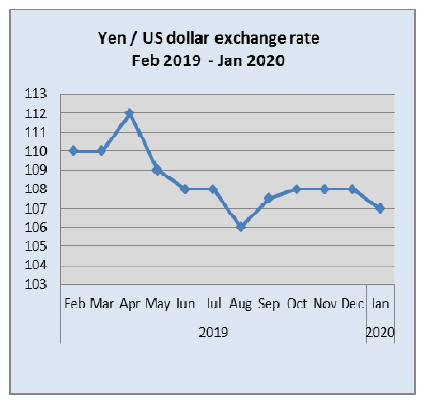 Disappointing year for house builders as starts fall
December and January are usually quiet months in the
residential housing sector primarily because weather
conditions worsen and because of the long New Year
holidays. In 2019 the slowdown in starts began in October
and continued to decline every month through to year end.

Housing starts in 2019 were 905,000 compared to 954,000
in 2018. Looking back to 2013 housing starts ended that
year at 979,000. Year on year, 2019 housing starts in
Japan dropped around 5%. In the last quarter of 2019 starts
declined every month.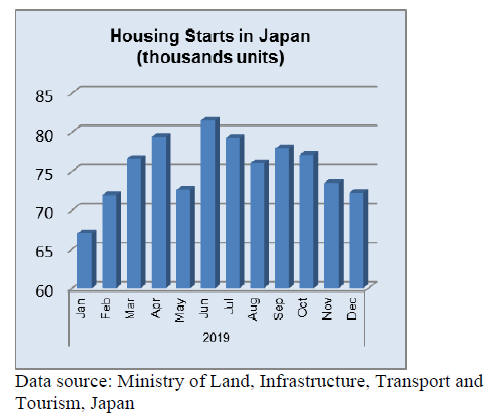 Import update

Wooden door imports
The value of Japan¡¯s imports of wooden doors in
November 2019 was almost the same as in October 2019
and compared to November 2018, a slight drop was
observed.

As has been the pattern in previous months, two shippers,
China and the Philippines, accounted for a high proportion
of Japan¡¯s wooden door imports and if imports from
Malaysia are included then these three shippers provided
over 85% of Japan¡¯s November wooden door imports.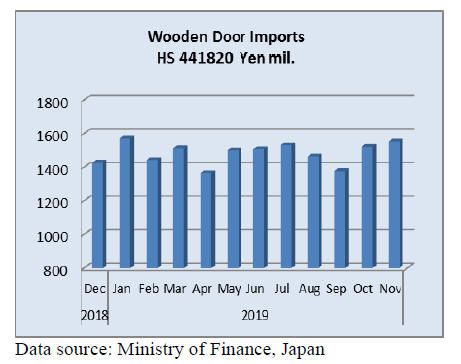 Wooden window imports
Year on year and up to November 2019 there was a steady
decline in the value of Japan¡¯s imports of wooden
windows. While November imports were some 20%
higher than a month earlier this was the more related to the
bi-monthly peaks and dips seen over the months. The
more telling statistic is that year on year wooden window
in imports were down 18% in November 2019.

Three suppliers, China, US and the Philippines accounted
for over 90% of November wooden window shipments to
Japan (China, 42%, the US 31% and the Philippines 19%).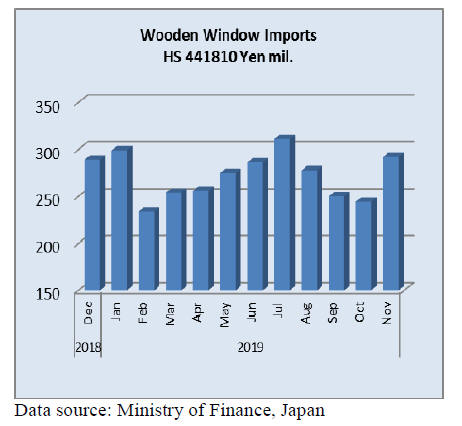 Assembled wooden flooring imports
The value of Japan¡¯s assembled wooden flooring imports
continued its ¡®see-sawing¡¯ between peaks and dips but a
closer look at the statistics reveals that over the 12 months
to November 2019 the average monthly value of imports
has been steady at around 220 mil.yen.

Year on year wooden flooring imports (HS441871-79) in
November were down just over 30%. As in previous
months most (74%) of the November assembled wooden
flooring imports were of HS441875 with China
contributing some 80% of shipments of the category.

Other significant shippers of HS441875 were Malaysia
and Indonesia. The second ranked category of flooring
imports in November was HS441879 accounting for 18%
of all assembled flooring imports with the main shippers
being Indonesia (48%) and Thailand (23%).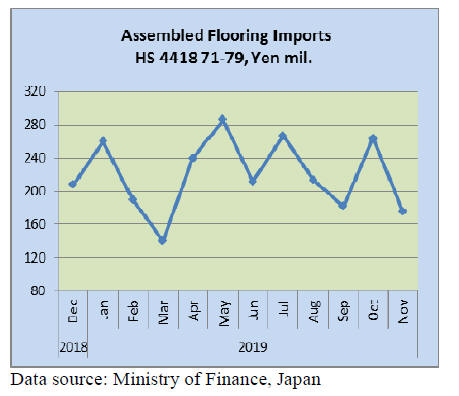 Plywood imports
The steady decline in Japan¡¯s imports of plywood
continued in November where, year on year, arrivals from
the two main shippers Malaysia and Indonesia were
sharply lower (-22%).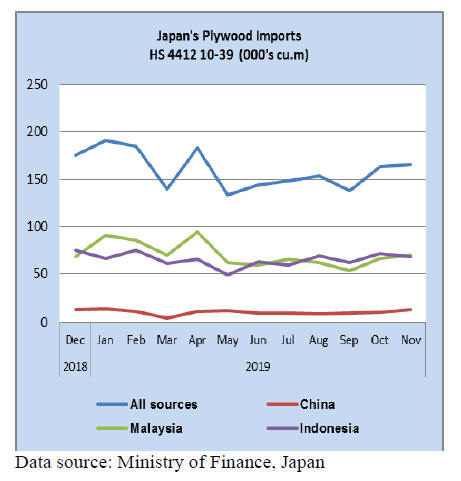 Imports reported as HS 441231 dominated Japan¡¯s
November plywood imports accounting for almost 90% of
arrivals. The other main category was HS 441234 (4%).
Year on year shipments of plywood from Malaysia were
down 28% in November and shipments from Indonesia
were down 16% year on year in November.

The other significant shipper of plywood is China and the
level of monthly imports of around 12,000 cu.m has
remained very consistent over the past 12 months.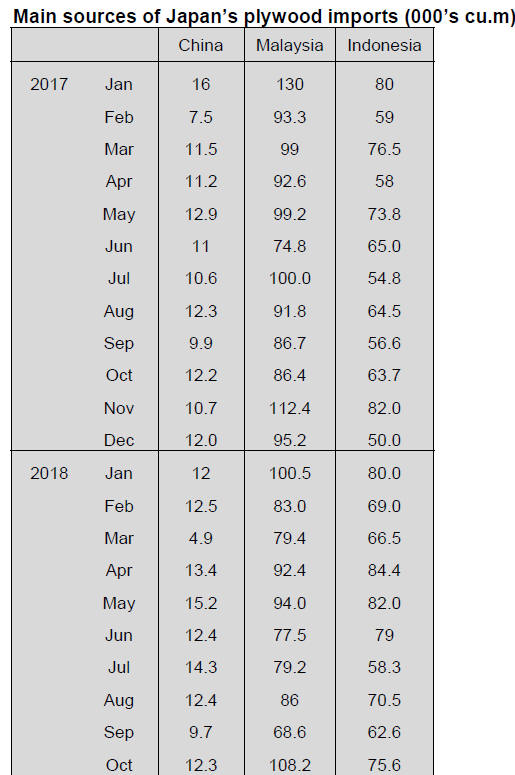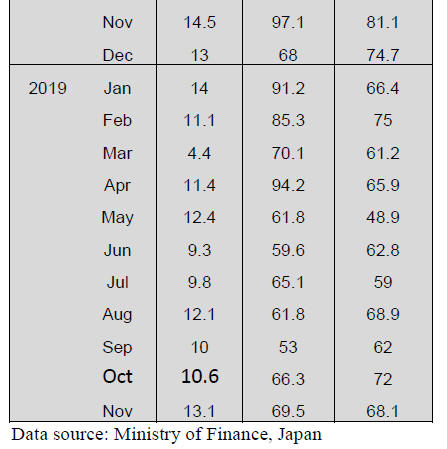 Trade news from the Japan Lumber Reports (JLR)
The Japan Lumber Reports (JLR), a subscription trade
journal published every two weeks in English, is
generously allowing the ITTO Tropical Timber Market
Report to reproduce news on the Japanese market
precisely as it appears in the JLR.

For the JLR report please see:
http://www.nmokuzai.com/modules/general/index.php?id=7

South Sea logs and lumber
Supply and demand of South Sea logs are well balanced
despite decreasing supply from PNG where rainy season
started. Quality logs for Japan market is especially tight in
supply. The Japanese plywood plants, which use tropical
hardwood logs, carry ample inventory then the shipment
of hardwood plywood is not so active.

PNG¡¯s log export prices are not climbing despite dropping
supply because main buyer, China continues dormant.

Movement of laminated free board of mercusii pine and
Chinese red pine is slow in Japan. The inquiries are
slowing after many interior finishing works are completed
by the year end. Order volume is getting smaller. Orders to
the suppliers continue with an expectation of improving
market and for building up inventory. There is no
influence to the market in Japan in prices.

Interview with the Minister of Forest, B.C. Canada
Honorable Doug Donaldson, the Minister of Forest,
Lands, Natural Resource operations and Rural
Development of British Columbia, Canada recently visited
Japan and the Japan Forest Products Journal had interview.
Trade mission of forest products from B.C. visited Japan
eight times in nine years to fortify trade tie with Japan.
This time, main objects are promotion of export of wood
pellet andpromotion to build medium and high wooden
construction by using CLT and NLT.

In B.C., Canada, cleanup of mountain beetle damaged
timber is over. To dispose of damaged timber, overall
annual allowable cut (AAC) expanded temporarily then
after the cleanup is done, AAC is reduced and by this
measure, there are closure of sawmills by log supply
shortage.

Meanwhile supply of wood pellet for Japan is rapidly
growing for fuel supply of biomass power generation and
it becomes one of major export items of forest products in
B.C. Regarding wood pellets, long term supply contract
was made between Pinnacle Renewable Energy and Mitsui
& Co., Ltd. The contract is to supply 100,000 ton of wood
pellet annually since 2023. This is effective utilization of
forest resources.

Wood pellet export for Japan in 2018 from B.C. was
686,000 tonne, which is 908% compared to 2014 and it
takes 70% share of imported wood pellet in Japan. Total
wood pellet export volume from B.C in 2018 was 2.5
million tonne. This is growing industry in B.C. and this
will bring more investment and generates local
employment.

Lumber industry in B.C. had tough year by worldwide
slump of forest products. By reduction of AAC, log supply
dropped. AAC before pine beetles occurred was 58-
67,000,000 cbms a year. Now it is 55,000,000 cbms. This
is twice as much as total harvest volume of timber in Japan
so B.C. can sustain wood products export for Japan.

PKS export prices finally climbing
Spot export prices of PKS (palm kernel shell) from South
East Asian countries started rebounding after producing
regions are in rainy season. PKS supply has been abundant
in expectation of increasing demand in Japan by
successive start-up of biomass power generation plants so
the prices have been low with over supply. After FIT
system is introduced in Japan, large wood biomass power
generation plants have been mushrooming on every
coastal sea ports, which use large amount of imported
wood fuel.

Wood pellet and PKS have already been used but more
consumption is expected after 2022-2023. Import of wood
fuel has been increasing largely. PKS import for the first
ten months is 1,270,000 ton, 15.4 % more than 2018 and
wood pellet import is 1,320,000 tonne, 56.1% more.
Further increase is expected after 2020.

Indonesian PKS export prices dropped less than US$70
per tonne FOB by buyers¡¯ market at one time in 2019 then
the prices bottomed out and had been aboutUS $75 until
last October. Then after November, they climbed up to
US$80-83. Ocean freight will be up by using low sulfur oil
so freight increase is about US$3-5 per ton. CIF prices are
now over US$110 and getting close to US$120. Domestic
market prices are about 14 yen per kilogram CIF for future
cargoes about 3 yen up.

With more large power generation plants starting up, there
is possibility that the export prices by the suppliers would
go higher but some comment that present price climb is
result of forest fires in Indonesia and start of rainy season
in Sumatra so it is caused by short term factors.

Domestic log and lumber market
As precutting plants' operations are at the peak now so that
the demand for lumber is robust. As to log supply, in the
Western Japan, log supply is ample and the demand and
supply are well balanced now.

Meanwhile, Eastern Japan suffered typhoon damages
during the summer so log supply is lower than normal so
that log prices are firming. In general, sawmills struggle
with high log cost and need to pass high cost onto lumber
prices.

For storm and flood restoration demand, movement of
small lumber and green lumber is active while structural
lumber is slow to move. KD lumber competes with
whitewood laminated lumber and North American
imported lumber but the prices of these are weakening
now.

In the Eastern Japan, log supply has been recovering
gradually after more than a month since typhoons hit the
areas but not enough to catch up the demand. Particularly
in Northern Kanto and Southern North East region,
cypress market is climbing rapidly and the prices are
2,000-3,000 yen higher than last month. Cypress sill and
girder are in high demand for restoration of floor damaged
houses. 4 metre cypress sill cutting log prices soared to
18,000-19,000 yen, same level of last year¡¯s peak prices.

Cedar purlin cutting log prices are up by 1,000-2,000 yen
as the demand for purlin and low cost board is in high
demand for rehabilitation works of damaged buildings.
This may be temporary hike.

Meanwhile 3 metre post cutting cedar log prices have no
price change like others as new house construction is not
active. In the Western Japan, cypress log prices are
weakening. 3 metre post cutting cypress log prices soared
to 25,000 yen in November but now they are down to
21,000 yen now. Lumber movement continues active
mainly for precutting plants.

In Eastern Japan, in typhoon and flood damaged areas,
demand for non-structural lumber is increasing like green
cedar square, batten, furring strip, rafter, brace, purlin,
retaining board and piling. Up until last summer, green
lumber prices were weak but after October the demand
tightened and 4 meter green cedar 90 mm square prices are
gone up to 25,000-26,000 yen and further increase is
likely.