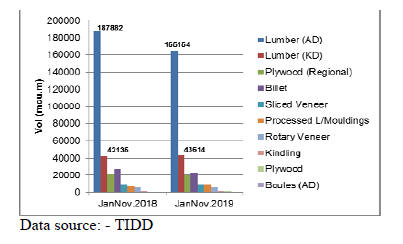 In both 2018 and 2019 the top export product was airdried
sawnwood followed by kiln-dried sawnwood.
However, while the volume of the former dipped from
2018 (187,882 cu.m) to 2019 (165,154 cu.m) the latter
increased from 2018 (42,1135 cu.m) to 2019 (43,614
cu.m).

Ghana's wood product exports up to November 2019 went
to the traditional market destinations of Asia (69%),
Europe (16%), Africa (10%), America (4%) and Middle
East (2%), with teak, wawa, ceiba, mahogany and niangon
as the leading species.

Local timber dealers cannot secure raw materials
Some domestic timber traders have appealed to the
government to review the emphasis on wood product
exports saying the domestic mills and traders cannot
secure sufficient raw materials to profitably continue in
business.

Traders obtain timber from local sawmills but these mills
are also facing problems in securing raw material
according to the local media. Analysts write, "in light of
this it is vital that the FC continues its crack-down on
illegal logging and mining". The current ban on chainsaw
milling was a bold step by the FC.

For more see: https://thebftonline.com/2020/economy/timber-export-collapsing-woodwork-industry/
Loan facility secured for 'One District One Factory'
initiative
Exim Bank in Ghana has secured a major source of
funding from Credit Swiss to finance more factories under
the 'One District One Factory' (1D1F) initiative. The
agreement was signed in London at a Ghana Investment
and Opportunities Summit. Investors in the 1D1F scheme
benefit from incentives for machinery and equipment and
corporate tax exemptions.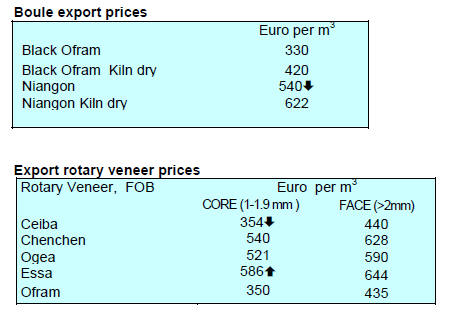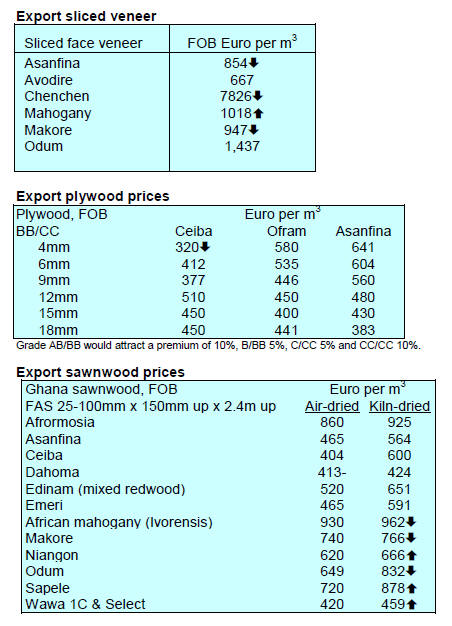 3. MALAYSIA
Lunar New Year Holidays – logging suspended
Timber businesses, like other businesses across Malaysia,
took a break during the lunar New Year. Logging camps
emptied as workers travelled home and mills closed, many
for as much as two weeks. With logging suspended for the
holidays there is concern in Sarawak that this will result in
delayed deliveries of logs to the mills. Analysts say the
recent period of bad weather has driven down mill log
stocks.

Central Bank rate cut reminiscent of cut during the
2003 SARS outbreak.
The Malaysian central bank, Bank Negara Malaysia, has
lowered interest rates by 25 points to 2.75%. While this
came as a surprise to many it is considered a wise move in
view of the increasing global headwinds, not least of
which is the recent coronavirus outbreak which could
impact the global economy.

The Bank has said that 2020 growth is expected to
gradually improve on the back of steady household
spending and an anticipated improvement in export
performance. Kenanga Research, which monitors growth
trends, said the move by the Bank is reminiscent of
decisions taken during the SARS outbreak in 2003 when
the bank cut interest rates.

Plywood makers see signs of growth in Japanese
demand
The Star newspaper in Malaysia has run a story saying,
while Malaysian plywood manufacturers have been badly
affected by the sudden drop in exports to Japan, its main
market, there could be a turnaround this year supported by
reconstruction in Japan after the severe damage to
infrastructure and homes from typhoons and flooding.

The Japanese government announced an extra budget for
fiscal. In this supplementary budget the government has
allocated around yen 2.31 trillion for reconstruction from
the 9th typhoon of the year (typhoon Hagibis) and other
recent disasters as well as to rebuild infrastructure.

Japan's plywood imports from Malaysia averaged 63,000
cubic metres in the first 9 months of last year but in the
final 3 months of 2019 there was a rise in imports to an
average of around 70,000 cubic metres per month.

For more see:
https://www.thestar.com.my/business/businessnews/2020/01/06/plywood-makers-may-see-rebound-in-exportsto-japan

5 year strategy to expand certification
In Malaysia there are 4.37 million hectares of PEFC
Certified Forests (as of 31 Dec. 2019) in 16 FMUs and 7
FPMUs. There are 378 PEFC Certificates for Chain of
Custody issued (as of 30 Nov. 2019). The Malaysian
Timber Certification Council has the ambition to expand
certification and has developed a 5 year strategy to
increase the number of certified FMU to 40 and the
number of timber companies certified under CoC to 600.

The MTCC strategy calls for expansion of the scope of
certification under the MTCS, greater acceptance and
recognition of MTCS-certified products both domestically
and internationally, closer collaboration with stakeholders
and increased efforts on communication, education and
public awareness and on embracing innovation and
technological advances.
4. INDONESIA
New SMEs business development centre in Jepara
Gati Wibawaningsih, Director General of Small, Medium
Industries in the Ministry of Industry has announced that
the ministry will open a material centre to support growth
of furniture SMEs so they can become more competitive
in international markets.

Gati said, the new centre will focus on capacity building in
production planning and inventory control, raw material
management and managing logistical activities. The
centre will also develop a machinery rental service
business.

See: https://www.validnews.id/Material-Center-IKM-Furnitur-Dibangun-di-Jepara-Qom

Need to upgrade rattan furniture to become
internationally competitive
At a National Workshop in Cirebon, West Java the
Indonesian Furniture and Crafts Industry Association
(HIMKI) agreed that the Indonesian rattan furniture sector
must be upgraded to become competitive internationally in
terms of design and cost.

HIMKI Chairman, Soenoto, said that Indonesia's rattan
furniture should have a more prominent place in
international markets as there are abundant rattan
resources in the country. The HIMKI agreed to prioritise
rattan furniture but also to continue to encourage nonrattan
furniture to compete in the world.

Trade deficit Narrowed in 2019
Indonesia's trade deficit narrowed last year as consumers
tightening their wallets which meant less imports.
According to the Central Statistics Agency (CSA) the
2019 deficit was around one-third of that recorded in
2018. Indonesia's exports fell around 7% in 2019 but
imports dropped even more sharply by almost 10%.

According to the CSA, agricultural exports were the only
sector that grew although this contribution to overall
exports was still small at 2%. Indonesia posted trade
surpluses with the United States, India and the
Netherlands. But the biggest trade deficits were with
China, Thailand and Australia. While the figures may
seem encouraging most of the declines in imports were of
raw materials which could signal slowing industrial
output.

See: https://jakartaglobe.id/business/indonesias-trade-deficitnarrows-by-third-in-2019

Ministry ends the collaboration with WWF
In a ministerial decree (No. 32 of 2020) the Ministry of
Environment and Forestry (KLHK) ended its collaboration
with the WWF Indonesia Foundation. All collaboration
agreements between the KLHK and regional governments
with WWF Indonesia have been terminated.

The decision to terminate the collaboration was based on
the results of an evaluation conducted by KLHK which
concluded that conservation and forestry based
cooperation had been unilaterally expanded in scope by
WWF Indonesia. In addition, WWF violated the substance
of the cooperation agreement including through a series of
social media campaigns and publication of reports that
were not factual.

See:
https://nasional.kontan.co.id/news/kementerian-lingkunganhidup-akhiri-kerjasama-dengan-wwf-ndonesia-ini-alasannya and https://ekonomi.bisnis.com/read/20200124/99/1193668/klhkputus-kerja-sama-dengan-wwf-indonesia

UK Minister - Brexit will bring opportunities for more
trade and investment
During a visit to Indonesia in mid-January this year British
Asia and Pacific Minister, Heather Wheeler, said Brexit
will offer opportunities for Indonesia and the UK to
negotiate a trade deal to bring down tariffs and drive trade
and investment. She highlighted the opportunities for
expanding wood product exports to the UK.

See:
https://www.liputan6.com/global/read/4155830/menteri-inggrissebut-dampak-brexit-ke-indonesia-sangat-bagus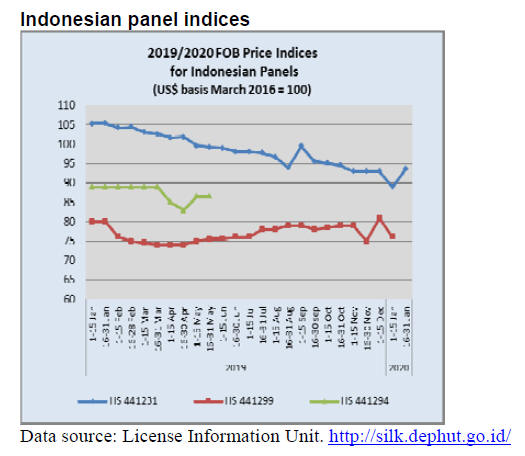 5. Myanmar
Preparatory VPA negotiations suspended
In November last year a delegation from the EU visited
Myanmar and met with members of the Multi
Stakeholders Group (MSG) formed specifically to
negotiate a VPA with the EU. The EU delegation also met
with representatives of the Forest Department and
Myanmar Forest Certification Committee (MFCC).

According to those participating in the meetings their
understanding was that the EU has suspended the
preparatory phase of VPA negotiations with Myanmar.
The result of this is that the MSG has to act unaided to
formulate a roadmap to strengthen forest governance and
law enforcement. This, says an analyst, can be interpreted
as the immediate prospects for FLEGT licensed timber
from Myanmar are dim.

In the absence of FLEGT licensing the alternative course
is to build another mechanism to satisfy the due diligence
requirements of the EUTR so as to maintain the market for
Myanmar timbers in the EU.

It is understood that work on a mechanism to meet legality
verification requirements in the EU will be supported by
FAO through a two year project. However, analysts write
"there is no official announcement, from either Myanmar
or the EU to confirm suspension of support for VPA
negotiations".

Cross border teak exports to Thailand
In November last year Myanmar exported some 100 tons
of teak sawnwood to Thailand via a cross border trade
arrangement being the first of around 1,100 tons set to be
shipped. The export process was witnessed by Minister
Ohn Win and supervised by the Forest Department, the
General Administration Department, the Custom
Department, the Immigration Department and the
Myanmar Police.

Statistics released by Ministry of Commerce show that
between April 2011 and November 2019 about 70 tons of
forest products have been exported through the cross
border trade arrangement. There are no official records for
the cross border trade with China most of which was
deemed illegal by the Myanmar government.

In a revision of its forestry laws China has included a
prohibition on enterprises in China buying illegally
sourced timber. Analysts comment that how the law will
be enforced is not yet clear. The local media in Myanmar
have welcomed the change but say the provincial
authorities in China may not strictly enforce the new law.

Positive growth prospects says World Bank
Growth in Myanmar is expected to pick up to 6.4 percent
in fiscal 2019-20 from 6.3pc in 2018-19 and 6.2 pc in
2017-18 as a result of the increasing government spending
and private investments on infrastructure, transportation
and communication, according to the World Bank.

According to the World Bank Myanmar Economic
Monitor report – 'Resilience Amidst Risk' economic
growth in Myanmar in the coming fiscal year will be
supported by a higher expenditure by the government on
infrastructure projects and communication. A forecast
increase in foreign investments in construction is also
expected to boost growth.

Other growth sectors identified by the Bank include
tourism and the services sector. The agriculture sector,
says the report, should receive a boost from higher export
demand.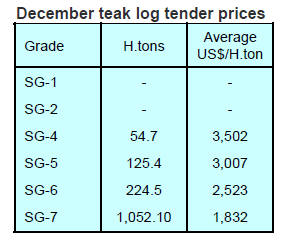 6. INDIA
Home sales fall 30% in one quarter
Indian Housing.com recently highlighted a report from
PropTiger.com that shows housing sales and new starts
fell during the third quarter of the financial year 2019-
2020.

The report on the third quarter fiscal 2019 indicates that
sales in India's nine main markets fell by 30% year-onyear
which drove developers to delay new building
projects which are over 40% down from the previous
quarter.

PropTiger says the high level of unsold residential housing
inventory is serious with stocks in the main markets
exceeding three quarters of a million.

For more see: https://www.proptiger.com/guide/post/real-estatereport-q4-2019-proptiger-datalabs-report

Satish Magar, president of CREDAI, has reminded policy
makers that the Indian real estate sector is the top nonfarm
employer and the sector makes a significant
contribution to the country's GDP. He says that sector
stakeholders are looking to the government to address the
downturn in the real estate sector in the 2020 budget due
to be announced in February.

The problem of falling home sales is particularly acute in
the 'affordable and mid-segment' home market where
some 40% of completed homes in the top eight cities
remain unsold.

More particleboard mills for Gujarat
In its recent magazine Plyreporter has news of prospects
for two new particleboard plants set to come online in
Morbi and Rajkot Gujarat, India's westernmost state.
Gujarat has been pioneer in the manufacture of woodbased
panels with more than 20 particleboard lines in operation
but panel makers say the supply of raw materials has
become a problem and that many mills are operating
below capacity.

The attraction of Gujarat for composite panel production,
says Plyreporter, is the availability of raw materials
especially residues from the large number of sawmills.

For the full story see:
https://www.plyreporter.com/article/61294/gujarat-to-have-moreparticle-board-plants-in-2020

Plantation teak prices
C&F prices remain steady within the same range as
reported in early January being largely influenced by the
stable rupee/US dollar exchange rate which is at around
Rs.71 to the dollar.

Ever the optimists, importers are still hopeful the GST
Council will consider a reduction to the 18% GST which,
they say, is a heavy burden. The Council is continuing its
review and there are hopes that some relief will be
announced in the 2020 budget due in February.

Locally sawn hardwood prices
Despite the slow housing market traders report domestic
market demand and import volumes remain balanced.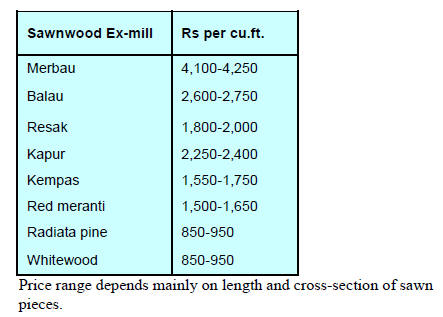 Myanmar teak prices
Despite the weak housing sector and tough trading
environment prices for Myanmar teak remain resilient, a
feature of products with high end market demand.

All eyes will be on the 2020 budget due next month for
stimulus to provide incentives for home buyers and thus
lift demand for housing.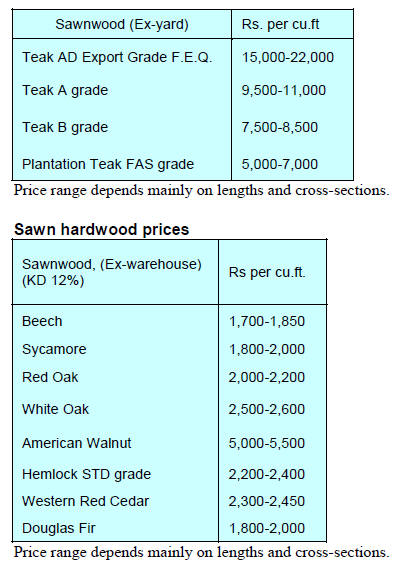 Plywood
Prices for plywood in the domestic market remain
unchanged from early January. Plywood manufacturers are
currently benefitting from a slight easing of prices for face
veneer from both SE Asian shippers and from companies
peeling veneers in Gabon.

Analysts write that MDF and particleboard are gaining
market share and with new production due to come online
competition will increase.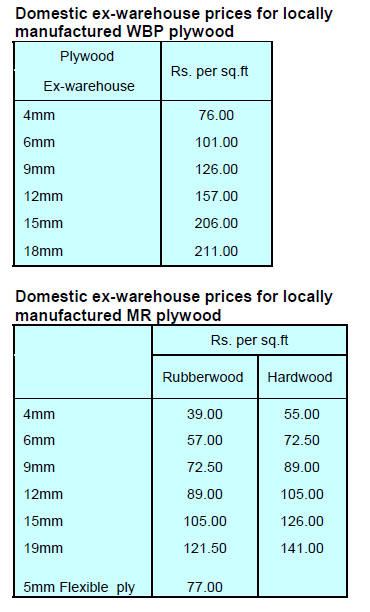 7. VIETNAM
Exports by Vietnamese-owned and FDI enterprises
According to Vietnam's Customs, in 2019 the total value
of wood and wood product exports from 2,392 enterprises
(Vietnamese-owned and FDI enterprises) amounted to
US$10.647 billion (19.5% higher than what was achieved
in 2018) lifting the wood and wood product export rank to
6th amongst Vietnamese export commodities.

(Wood defined as HS4401 – 4418. Wood Products defined
as HS9401 – 9421).

Of the total, wood product exports accounted for
US$7.783 billion (23.5% higher than 2018) and
contributed a 74% share of the total value of wood and
wood product exports. With the current trend, wood and
wood product exports are expected to grow at between 17–
20% in 2020.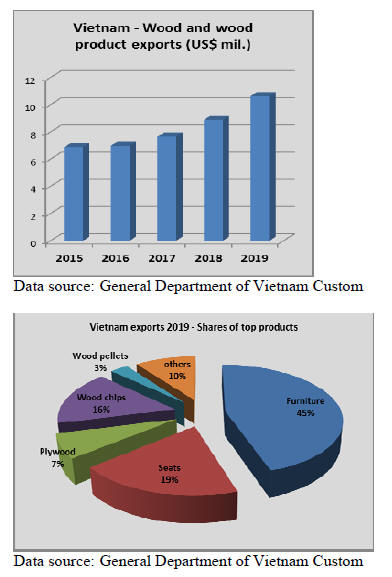 Wood and wood product exports by FDI enterprises
In 2019 the value of wood and wood products exported by
612 FDI enterprises amounted to US$4.71 billion, a 42%
of the total value wood and wood product exports from
Vietnam (up 20% on 2018). Wood product exports by FDI
enterprises were reported at US$4.34 billion or over 90%
of the total value of wood and wood product exports by
FDI enterprises.

Export destinations
In 2019, the US continued as the top market for Vietnam's
wood and wood product exports at US$5.33 billion, a
share of around 50% of all wood and wood product
exports. The growth in the market year on year was over
37%.

Japan was the second largest market accounting for 12%
of 2019 exports followed by China 11% and S. Korea 7%.
In contrast to the growth in the markets mentioned above
there were declines in exports to South Korea, Australia
and Malaysia dropped.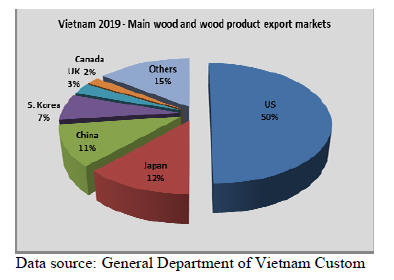 Wood and wood product imports and exports
Wood and wood product imports by Vietnamese-owned
and FDI enterprises in 2019 were valued at US$2.542
billion (10% up on 2018). In 2019 the value of wood and
wood products imported by FDI enterprises was reported
at US$775 million equivalent to 31% of total wood and
wood product imports and 16% up on 2018).

In 2019 China continued as the leading wood and wood
product supplier to Vietnam with shipments being worth
US$656 million (equivalent 26% of all wood and wood
product imports into Vietnam in 2019 followed by the US
at 13%. Wood and wood product imports to Vietnam from
Malaysia and Laos dropped sharply in 2019 (-69%
Malaysia and -27% Laos compared to 2018).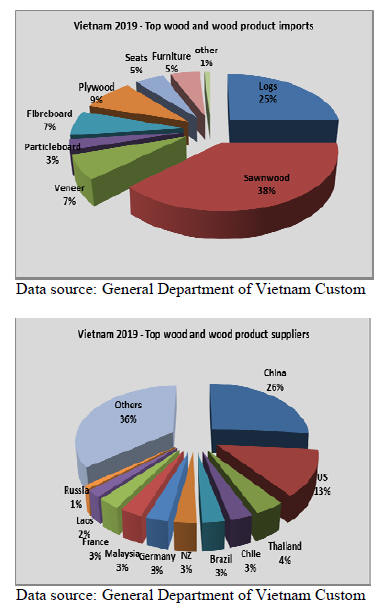 See: http://goviet.org.vn/bai-viet/tinh-hinh-xuat-nhap-khau-gova-san-pham-go-cua-viet-nam-nam-2019-9093

National certification standard announced
On 7 January 2020, the FSC national standard for Vietnam
was announced in Hanoi. This national standard is being
promoted as a tool for Vietnam to manage its forests
sustainably and at the same time promote responsible
wood processing and trade.

According to VNFOREST, Vietnam currently has over
around 200,000 ha. of FSC certified forests. The national
standard for Vietnam was developed in accordance with
FSC's system for the development and maintenance of
Forest Stewardship Standards.

This defines certification requirements for all forest
operations in Vietnam, including for Small and Low
Intensity Managed Forests.

A review of Forest Stewardship Standards is ongoing and
revised Principles & Criteria version 5-2 will be applied.
Current standards are valid until replaced by a new Forest
Stewardship Standard. According to Vu Thi Que Anh,
Country Director, FSC Vietnam, The national standard
will be effective from 1 May 2020.

See https://fsc.org/en/document-centre/documents/resource/426
and https://vietnamnews.vn/environment/571329/vns-national-foreststewardship-standard-effective-from-may.html

8. BRAZIL
Brazilian economy set for major change
At the 2020 World Economic Forum held in Davos the
President of Brazil outlined the reforms his administration
is planning. These, he said, include reducing the size of the
state, lowering taxes, improving social safety nets and
fostering greater business opportunities.

Brazil is the eighth-largest economy in the world and has
the sixth-largest population. The President said the new
reforms are "aimed at building a new Brazil – a safe,
secure, open, trusted and fully integrated member of the
global community".

He said the focus of the Brazilian administration will be
on balancing environmental sustainability with economic
growth. At the same Forum, the Brazilian Minster of the
Economy, a newly-established super-ministry, told
delegates that Brazil's economy is on course to grow by
2.5% this year, slightly higher than the government's
earlier forecast of 2.4%.

The new economy ministry has seven special secretariats –
finance; federal revenue; foreign trade and international
affairs; privatisation and disinvestment; productivity,
employment and competitiveness; bureaucracy reduction,
management and digital government; and social security
and work.

Furniture cluster in Amazonas faces difficulties
Transport and logistics issues as a result of the remote
location are hampering development of furniture
production in the state of Amazonas. Producers point to
competition with furniture clusters in the southern states of
Brazil and a lack of government investment in the
Amazonas clusters as the main issues needing to be
addressed.

In 2009, for example, the government announced that the
municipality of Tabatinga in the Três Fronteiras area of
Western Amazonas would receive R$6000,000
investments for development of the wooden furniture
production sector but, as of the end of 2019, there has been
no progress on this, say analysts.

Currently, the government's main support for the furniture
sector is through the Sustainable Development Agency of
Amazonas (ADS) and the Amazonas School Furniture
Regionalization Programme (Programa de Regionalização
do Mobiliário Escolar - PROMOVE) which provides
furniture to public schools through a partnership with 42
Amazonian furniture manufacturers.

However, furniture produced by PROMOVE uses both
hardwood and MDF and local SME furniture makers
complain it is difficult for them to also supply school
furniture as their source of raw material is mainly native
timber species and the availability of certified legal timber
is a problem.

Observers write "The challenge in the state of Amazonas
is to consolidate a furniture industrial cluster using only
certified timber and wood from forest plantation obtained
in a sustainable manner. "

Illegal logging crack-down in Mato Grosso
An operation called 'Pinga Fogo' was launched in the first
week of January to investigate illegal activities in Mato
Grosso. The operation was carried out by the State
Secretariat for the Environment (SEMA), inspectors of the
Mato Grosso Agriculture and Livestock Defense (INDEA)
and the Military Police Tactical Force.

During the operation inspectors seized a total of 1,340
cu.m of timber of which 470 cu.m was of Brazil nut
(Bertholletia excelsa), a species protected by law. In
addition 870 cu.m of other species was siezed. SEMA
estimates that this is the largest seizure of protected
species ever carried out in Mato Grosso. Four people were
arrested, three timber companies were penalised and
equipment seized because of non-compliance with the
legislation.

Export update

November
In November 2019, the Brazilian exports of wood-based
products (except pulp and paper) declined almost 19% in
value compared to November 2018, from US$301.0
million to US$244.9 million.

The value of pine sawnwood exports in November fell 3%
year on year from US$56.4 million in 2018 to US$ 39.0
million in November 2019. In terms of volume, exports
fell 23% over the same period, from 266,700 cu.m to
206,200 cu.m.

The volume of tropical sawnwood exports also fell
dropping 26%, from 55,800 cu.m in November 2018 to
41,400 cu.m in November 2019. The value of these
exports also dropped 17% from US$23.0 million to
US$19.2 million, over the same period.

In November 2019 pine plywood exports declined 39% in
value in comparison with November 2018, from US$59.1
million to US$35.9 million. In volume, exports fell 15%
over the same period, from 188,800 cu.m to 160,800 cu.m.

A similar drop was recorded for exports of tropical
plywood which fell 26% in volume and 33% in value,
from 11,400 cu.m (US$ 4.8 million) in November 2018 to
8,400 cu.m (US$ 3.2 million) in November 2019.

Wooden furniture export values also fell but only
modestly from US$48.9 million in November 2018 to
US$47.5 million in November 2019.

December
In the final month of 2019 the decline in exports
continued. The total value of Brazilian exports of woodbased
products (except pulp and paper) dropped 23% in
value compared to December 2018, from US$291.9
million to US$224.6 million.

Pine sawnwood export values declined 27% between
December 2018 (US$46.5 million) and December 2019
(US$34.0 million) and this decline extend to export
volumes which declined 18% in volume over the same
period, from 220,600 cu.m to 181,900 cu.m.

The volume of tropical sawnwood exports dropped 36%
from 52,400 cu.m in December 2018 to 33,400 cu.m in
December 2019. In terms of value exports decreased 30%
from US$22.1 million to US$15.4 million over the same
period.

The value of pine plywood exports declined 37% in
December 2019 in comparison with December 2018, from
US$57.3 million to US$35.9 million. In volume term
exports decreased 12.4% over the same period, from
192,300 cu.m to 168,400 cu.m.

As for tropical plywood, exports fell a massive 45% in
volume and 51% in value from 13,800 cu.m (US$5.5
million) in December 2018 to 7,600 cu.m (US$2.7
million) in December 2019.

The decline in wooden furniture export earning was
steeper in December than in November. The exported
value decreased from US$50.5 million in December 2018
to US$43.9 million in December 2019, 13% down.

2019 plywood export performance
Brazil's pine plywood exports in 2019 totalled 2,062,508
cu.m a decline of 9% year-on-year. Exports have
exceeded 2 million cubic metres annually for the past few
years having risen from 1.2 million cubic metres in 2014.
The main markets in 2019 were the US, UK, Belgium,
Mexico and Germany.

Export volumes of other products such as pine veneer
declined but exports of mouldings and engineered wood
flooring, which have remained stable in recent years, saw
a 16% decline in export volumes in 2019.

For the year in total tropical plywood exports were higher
than in 2018 but still well below levels in past decades.
The monthly average plywood export volume was 7,427
cu.m.

Bento Gonçalves furniture exports increased in 2019
The Bento Gonçalves furniture cluster, a major cluster in
Rio Grande do Sul State increased exports by over 10%
2019 compared to the previous year outperforming the
furniture industry in Rio Grande do Sul State and Brazil as
a whole.

The international market represents approximately 5% of
the total revenue of the cluster, which comprises 300
companies including those in the municipalities of Bento
Gonçalves, Monte Belo do Sul, Pinto Bandeira and Santa
Tereza.

Exports from the Bento Gonçalves furniture cluster have
been growing for the past four years rising from US$34
million in 2016 to over US$40 million annually.

The top 10 markets in 2019 were Uruguay, the US, Chile,
Colombia, Peru, Saudi Arabia, the UK, Mexico, Paraguay
and Panama.

There was a steep rise in exports of furniture to the UK
(+113% y-o-y) and the US (+135% y-o-y). There were
successes in reaching out to new markets such as Saudi
Arabia which now represents the sixth largest market for
furniture exported by the Bento Gonçalves cluster.
Uruguay remained the main destination for exports.

The main native timber species used for export production
in Brazil are cedar (Cedrela spp) and mahogany
(Swietenia macrophylla) used mainly for for sawnwood,
interior finishing and furniture along with ipe (Tabebuia
spp.) and freijó/brazilian-walnut (Cordia goeldiana) for
sawnwood, flooring, decks and furniture.

The expectation is that 2020 will be the best year for the
furniture industry since 2013. Strong domestic demand is
forecast for 2020 in addition to continuing increases in
exports.

An important event for the furniture sector this year will
be 'Movelsul Brasil' its 22nd edition and this should boost
demand in the domestic and international markets.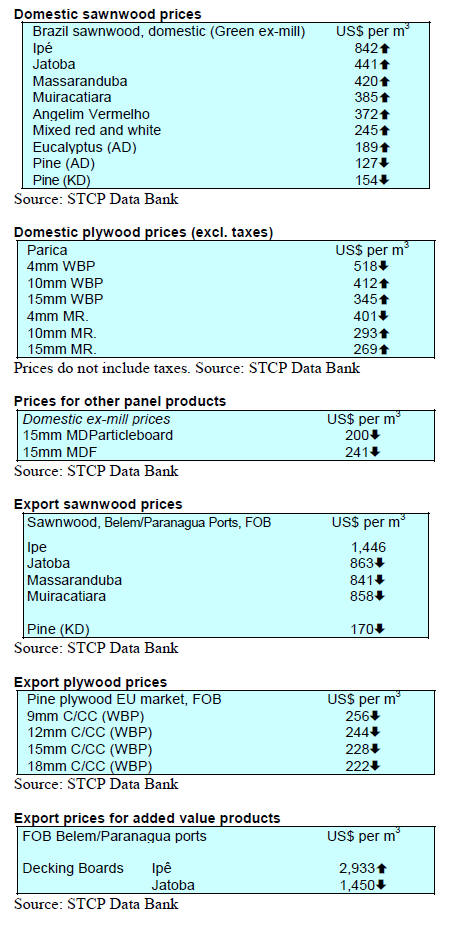 9. PERU
2019 export performance reverses declines in earnings
The Association of Exporters (ADEX) has reported that
Peru's sawnwood exports between January and October
earned US$19. 4 million, an almost 3% increase over the
same period last year thanks to a greater demand from
countries such as the Dominican Republic and Mexico.

Sawnwood accounted for 19% of the value of all wood
exported between January and October. being well below
the value of added value products, mainly flooring.

Sawnwood shipments to the Dominican Republic grew
over 20% to US$6.8 million and the country topped the
list of importers of Peru's sawnwood.

The second largest market was Mexico where shipments
earned US$6.1 million, some 36% up year on year. China
ranked third at US$2.8 million but there was a 33%
decline in shipments to this market. Peru also exported
sawnwood worth US$0.9 million to Cuba, US$0.7 to
Vietnam, US$0.6 to the US, US$0.5 to South Korea and
US$0.3 to New Zealand.

However, the 2019 export performance was disappointing
when it is recalled that in 2016 China imported sawnwood
valued at around US$10 million FoB.

According to the ADEX the modest rise in export earnings
in between January to October would suggest that total
2019 will exceed those of 2018. 2018 marked the fourth
consecutive decline in export earnings.

Advisory commission on forest and wildlife policy
installed
The National Forestry and Wildlife Commission
(Conafor), an advisory body for the National Forest and
Wildlife Service (Serfor), was installed on 21 January after
four years of delay.

The commission is an advisory which will advise the
Serfor Board of Directors and maintain coordination with
the institutions that are members of the National
Management System Forest and Wildlife (Sinafor). Seven
specialists from different disciplines will contribute to the
activities of Conafor.

The installation of this Commission is an advance in the
management of the sector and will strengthen the
institutional capacity and authority to implement the
forestry and wildlife laws and regulations, say analysts.

Training for native communities in use of Operations
Manual
Officials of regional governments and native communities
in Madre de Dios, Loreto, Ucayali and Selva Central will
receive training from Serfor on the application of guidance
in the recently released Operations Manual for reporting
information on timber harvests and processing.

The objective of the training is to improve the capacity on
following the Operations Manual which contains guidance
on how to record activities such as harvesting and
transporting timber from the forest. As of 2 March this
year the use of the Operations Manual will be mandatory.

The documents that will be generated by the Manual will
be vital in allowing for the verification of the legal origin
of wood products.

The training and technical assistance is being provided
through the USAID Forest programme and the US Forest
Service, the USAID Pro-forestry project, Forest Crime
projects of the United Nations Office on Drugs and Crime
(UNDOC), the Global Fund for Nature (WWF) and GIZ
Proambiente II.

Peruvian imports composite boards
Between January and November 2019 Peruvian imports of
composite boards were valued at US$92.9 million, a slight
decline compared to 2018.

Ecuador stood out as the main supplier in the first eleven
months of 2019 with a solid performance seeing a growth
of 15% in shipments to Peru which were worth US$42
million (2018: US$35 million).

Shipments from Chile dropped in the first eleven months
of 2019 (-28%) but Chile remained the number two
supplier. Other shippers were Spain and Brazil.