Japan Wood Products Prices
Dollar Exchange Rates of 10th January 2020
Japan Yen 109.46

Reports From Japan
Growth prospects depend on impact of stimulus package
Despite the governments almost US$250 billion stimulus
package analysts warn the economy is expected to grow
only modestly in 2020 as the rise in the consumption tax
and risks in the global economy are likely to undermine
sentiment and investment.

Japan¡¯s Center for Economic Research has forecast growth
at less than 0.5% in fiscal 2020. This was determined after
consulting 35 private-sector economists. At 0.5% this
would be the second-lowest growth rate in six years.

Growth in the Japanese economy is very sensitive to
exports and analysts point to falling exports for the past 12
consecutive months and how it is unlikely that the global
economy will revive to spur Japan¡¯s short-term economic
prospects.

Several commentators in Japan are speculating that the
Bank of Japan (BoJ) could revise up its economic forecast
for the new fiscal year beginning in April, anticipating a
boost from the government¡¯s stimulus package. Such a rise
would allow the BoJ to maintain its current policy.

Business sentiment in Japan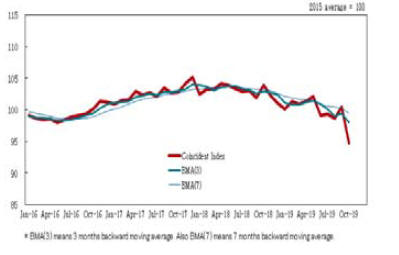 Source: https://www.esri.cao.go.jp/en/stat/di/di-e.html
Consumers reeling from tax hike
While there has been a recent rise in consumer confidence
the fourth quarter 2019 paints a different picture as
confidence dipped to a five year low. A recent BoJ survey
says consumers cut back on eating-out and shopping
immediately after the consumption tax increase signaling
that the prospects for the economy are, at best, fragile.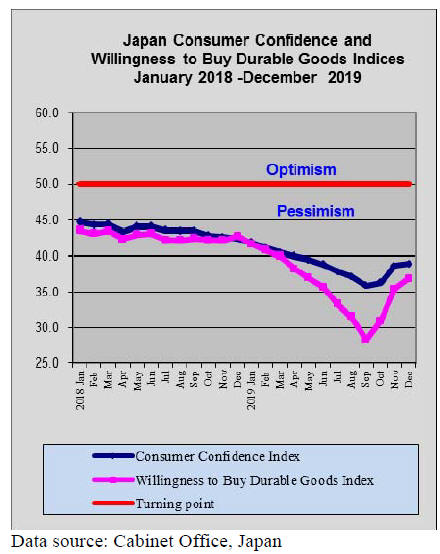 Yen plunges on Middle East tensions ¨C quickly
recovers
The Japanese stock market plunged and the yen/dollar
exchange rate surged in early Janauary as tension in the
Middle East prompted investors to seek the ¡®safe-haven¡¯
yen. The dollar briefly dropped to a three-month low
immediately after the Iran incident but within 5 days had
recovered bring the yen back to 108 to the dollar.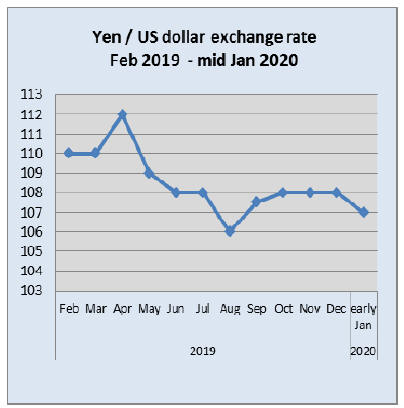 Disappointing November housing starts
November housing starts were down almost 5% from the
previous month and down over 12% year on year. The
decline in November was the third consecutive drop in
starts some of the decline can be attributed to the severe
storms Japan experienced in the autumn of 2019.

'Mass timber' for concept housing development
At a recent event in the US Toyota and its partner BIGBjarke
Ingels Group announced plans for a new concept,
high-tech ¡°Woven City¡± to be constructed on a site at the
foothills of Mount Fuji.

This, say the companies involved, will be a solar and
geothermal powered green city. The buildings will be built
using mass timber construction.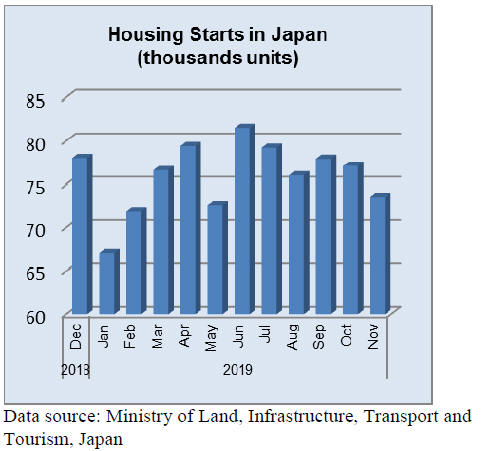 Import update

Furniture imports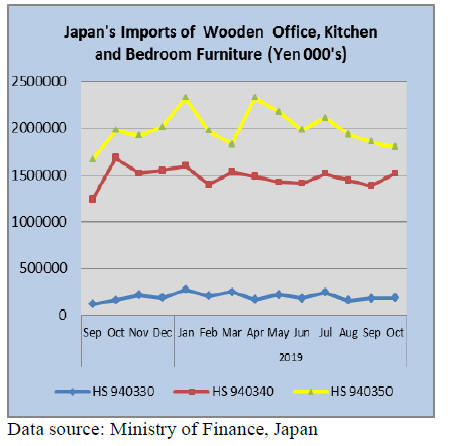 Office furniture imports (HS 940330)
Year on year, Japan¡¯s October 2019 wooden office
furniture (HS940330) imports were up 17% building on
the rise seen in September. Imports from China, the main
supplier, were up almost 20% in October, imports from
Italy, a regular supplier of office furniture to Japan, almost
doubled. In contrast, imports from Poland, also a major
supplier of wooden office furniture to Japan almost
halved.

The top three suppliers in October, China, Italy and Poland
accounted for around 75% of all wooden office furniture
imports. China alone accounted for 65% of October
imports.



Kitchen furniture imports (HS 940340)
The value of Japan¡¯s wooden kitchen furniture (HS
940340) imports in October reversed the decline witnessed
in the previous two months. Despite the turn-around in
October, year on year imports of wooden kitchen furniture
were down 10%.

The main suppliers of wooden kitchen furniture in October
were, as in previous months, the Philippines, Vietnam and
China. October shipments from the Philippines were up
10% month on month with Vietnam seeing an 8% rise
month on month and China recording a rise of over 60%.

As in previous months Germany and Italy feature in the
top 20 suppliers of wooden kitchen furniture but between
them have only around 2% of total October shipments into
Japan.



Bedroom furniture imports (HS 940350)
Year on year, the value of Japan¡¯s October 2019 wooden
bedroom furniture imports were down 9% and while
shippers in China maintained their dominance of imports
of wooden bedroom furniture (58% in October) there was
no increase in the value of imports over the previous
month.

The other significant suppliers are Vietnam, which held a
30% share of Octber imports, Thailand, 4% and Malaysia
3%. October shipments from Vietnam were down 14% in
October, shipments from Thailand dropped 18% in
October while shipments from Malaysia rose sharply.


Trade news from the Japan Lumber Reports (JLR)
The Japan Lumber Reports (JLR), a subscription trade
journal published every two weeks in English, is
generously allowing the ITTO Tropical Timber Market
Report to reproduce news on the Japanese market
precisely as it appears in the JLR.
For the JLR report please see:
http://www.nmokuzai.com/modules/general/index.php?id=7
Revision of Forestry Partnership Act
The Forestry Agency is making up revised Forest
Partnership Act for submitting to next year¡¯s ordinary
session of the Diet.

Objective is to activate and widen activities of the Forest
Partnership when demand of domestic logs is rapidly
increasing so by allowing of merger of the partnerships
and transfer of business to promote log sales and
maintenance of the forestland.

In fiscal year 2017, total amount of business by the
partnerships was 272 billion yen in which log production
and sales were 100 billion yen and forest maintenance was
160 billion yen. Target after ten years is total business of
315billon yen in which log sales of 120 billion yen and
forest maintenance of 160 billion yen.

Business expansion of the forest partnership has been done
by merger of the partnerships. After the revision is
officially authorized, local partnership remains and tying
up only business with other partnerships becomes
possible. In the concrete, business of one partnership can
be transferred to other partnership totally or partially. Also
business is split and be transferred. Agricultural cooperatives
are authorized to transfer of business and
merger or become stock company as means of
rearrangement of the system.

Also to strengthen management base by activating board
of directors, distinction of sex and age class should be
considered to encourage female and successors¡¯
generation become directors. Also at least one director
should be able to manage sales. Present law stipulates new
additional director has to be in the same generation with
others but this rule is changed.

Forestry owners¡¯ association is co-operative system by the
forestry partnership act and forest owners are official
member. There are 621 associations in Japan and number
of the association is 1.51 million. Forestland by the owners
is 1,640,000 hectares, 70% of privately owned forestland.

The businesses are forest maintenance of thinning,
clearing of underbrush and replantation then log harvest
and sales of logs. Production and sales by each unit has
been steadily growing but there are 319 associations,
which produces less than 5,000 cbms a year and 21
associations, which logs sales are less than 50,000 cbms.In
short, there are many small scale associations.

In viewing such reality, revision of the law is considered
to activate and increase the activities by tying up with each
other when demand for logs is increasing with larger
sawmills and start-up of biomass power generation plants
all over Japan. However, there are comments among
members that revision of the law does not guarantee
expansion of business unless there is financial assistance.
Manpower shortage is another obstacle.

Sumitomo Forestry¡¯s overseas housing business
Sumitomo Forestry (Tokyo) announced that total housing
sales in North America and Australia exceed 10,000 units
in current term ending December 2019. Overseas housing
business started in 2003 in Seattle, Washington, U.S.A.
then in China in 2004 and in Australia in 2009.

In current term, total sales in the U.S.A. are 7,920 units,
12.0% more than last term and 2,300 units (13.0% more)
in Australia making total of 10,220, 5.2% more. It started
working with Henry group in the U.S.A. in 2010 then
bought out five more house builders in the U.S. A. and
subsidized them to form consolidation group.

It now has developed the business in ten states of
Washington, Texas, California, Arizona, Virginia, North
Carolina, South Carolina, Pennsylvania, Utah, West
Virginia plus Washington, D.C.

Besides traditional 2x4 units built for sale, it has started
building town house for multi-family, which is easier to
buy. One of subsidiaries, Crescent Community builds
multi-family apartment and commercial buildings and
Mark III properties is engaged in development of property
for housing so business is diversifying now.

In Australia, standard of housing loan examination
tightened so the housing market is cooling down. In Asia,
it started development of detached unit and condominium
in Indonesia and Thailand but this would not contribute
business profit since large project like this would take
more than four years from planning to sales.

Plywood
Demand for domestic softwood plywood is robust and the
supply is getting tight in some areas because of shortage of
trucks .Imported plywood market lacks vigorousness with
weak demand. The supplying plywood mills in Malaysian
and Indonesia have kept pushing the export prices and
some items in Japan are short and the prices are gradually
climbing but not fast enough to catch up fast pace of
suppliers¡¯ price hike.

Movement of domestic softwood plywood is active all
over Japan. On top of orders from precutting plants,
wholesale channels are procuring materials for typhoons¡¯
and flood damages in Eastern Japan.

Orders for renovation and non-residential buildings are
also active. Domestic plywood manufacturers have been
running with full capacity to catch up busy demand and
the monthly shipment surpasses production.

With low inventories, some plywood mills started
restricting to take orders from new buyers and additional
volume even for regular customers.
Truck shortage becomes usual problem in December by
year end heavy cargo transportation so delivery delays a
week to ten days. Trucking cost is also climbing so the
manufacturers may have to pass this onto delivered prices.

On imported plywood, the importers have started
increasing the sales prices as the producing plants continue
to increase the export prices and reduce the production by
log shortage. Therefore, bottom feeling is spreading in the
market. The prices of concrete forming panel and
structural hardwood plywood are climbing with busy
demand for storm rehabilitation works.

Coated concrete forming panel movement is not busy
despite dropping inventory because of stagnating
demand for construction.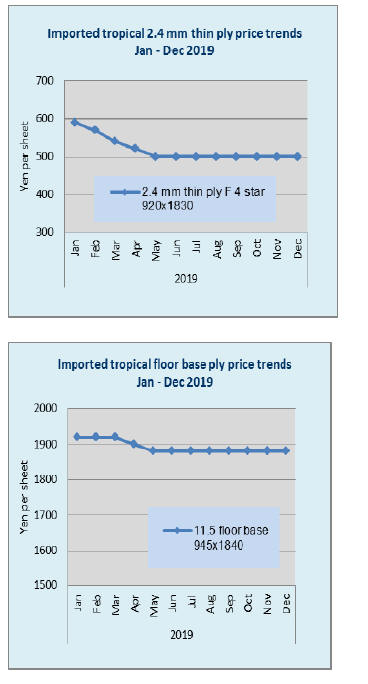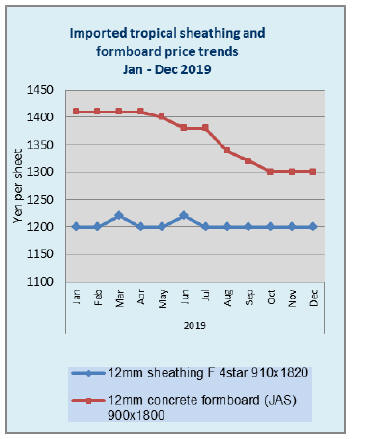 Domestic logs and lumber
Demand for domestic logs and lumber is steady as
precutting operations are peaking. Log supply in Western
Japan is ample so that the market is on weak side but in
Eastern Japan, log supply is scarce because of recent
typhoon and flood so log prices are climbing. Lumber
market prices are hard to increase because prices of
competing whitewood laminated umber and Douglas fir
lumber are softening so passing high log cost onto lumber
sales prices is difficult.

Post cutting cedar log prices soared but after log supply
recovered, prices dropped down. Cypress log prices are
2,000-3,000 yen higher than November and sill cutting
cypress log prices are 18,000-19,000 yen since cypress
lumber is used for repair of inundated houses. In Western
Japan, cypress log prices are dropping and sill cutting
cypress log prices are now 19,000 yen from 23,000 yen in
November.

Lumber movement is firm particularly KD structural
lumber for precutting plants and this seems to continue
through December. Wholesalers¡¯ lumber business dropped
down once after the consumption tax increase in last
October but it recovered gradually. Particularly in Eastern
Japan demand for board, taruki, sill and beam is picking
up for repair of flood damaged houses and retaining board,
piling and board for restoration works of land slide,
collapsed road and rivers.

Vietnam bans import of Chinese plywood
On the 12th of November 2019 the Vietnamese Minister
of Industry and Trade of Vietnam signed and announced
Circular No. 22/2019/TT-BCT on Temporary Suspension
of border-gate transfer business and temporary import of
plywood (HS 44.12) into Vietnam for re-export to US.
This Circular takes effect from December 27, 2019 to
December 31, 2024.

While export of Chinese plywood for the US is decreasing
by trade conflict and Vietnam is taking over such business
and export to the US is increasing but there is some
concern that some Chinese outfits are exporting Chinese
made farm products and industrial products as Vietnamese
products and ship out to the US through Vietnam to avoid
the increased duties in the US.

Since last June, the Vietnamese government tries to stop
such detour trade and tightened rules and penalties on
Chinese products, which are destined to the US as
Vietnamese products and this new regulation is one of
such restrictions.

Chinese supplies hemlock lumber
China National Forest Products, Tangshan, Hebei
province, China will start supplying KD hemlock genban
and green square for Japan market. It imports hemlock
logs from B.C., Canada. It has started trail shipment and
plans to supply 2,000 cbms a month. It plans to expand the
volume to 4,000 cbms a month.

This company is engaged in importing and marketing logs
and lumber and also in lumber manufacturing. It also
manages forestland and develops wood processing
complex. The mill has five band saws, edger, molder and
planer and has capacity of producing 5,000 cbms a month.

Dryers have 3,500 cbms capacity. Hemlock is dried for
two weeks with 65-70 degrees so 7,000 cbms can be dried
in a month. It uses North American species of hemlock,
Douglas fir, red cedar, spruce and Southern pine plus
radiate pine from New Zealand.

In the wood processing complex where sawmill is located,
there is MDF plant which can take sawmills¡¯ residue as
raw material. The port has four berths for 50,000 ton ship
and has fumigation yard. After the port opened in 2014,
total logs unloaded at the port is four million cbms, out of
which about 50% is Canadian logs. The mill has been
manufacturing concrete forming board but to make value
added products, it started supplying hemlock products to
Japan. Voyage to Tokyo takes only four days and it will
take order by container base.